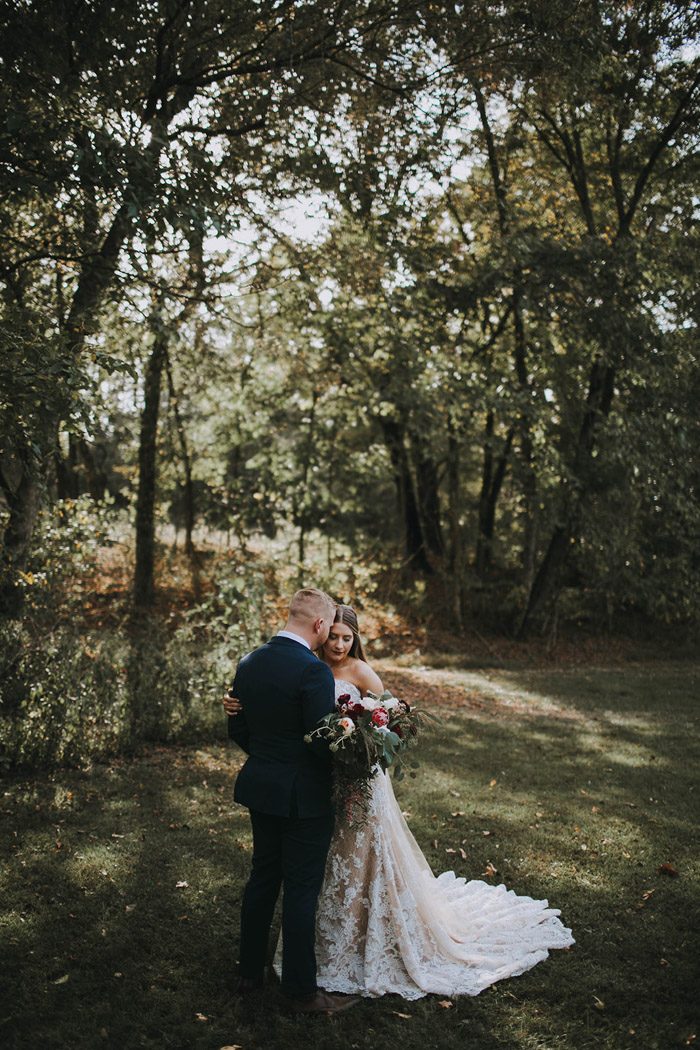 Between the views of the Ozark Mountains, the hand-painted teepee in the reception area, and the DIY details created by the bride's mother, Taylor and Lance's wedding at Hazel Valley Ranch was a bohemian dream with a modern twist. The bride channeled her inner bohemian goddess with a champagne lined lace dress by Martina Liana, which set the mood for the entire vibe of this special day. For the decor, they focused on macrame details, Persian rugs and antique candlesticks, and an assortment of autumnal blooms from ZuZu's Petals & Gifts and fresh eucalyptus from Bloomingful. For the food, they provided a BBQ and an assortment of pies to allow their guests to feel the comforts of home. In addition to the all beautiful details, the couple planned a special smudging ceremony performed by Lance's father to honor both families' Native American heritage. Freckled Fox Photography did a phenomenal job capturing every moment of this wildly romantic Arkansas wedding!
The Couple:
Taylor and Lance
The Wedding:
Hazel Valley Ranch, Fayetteville, Arkansas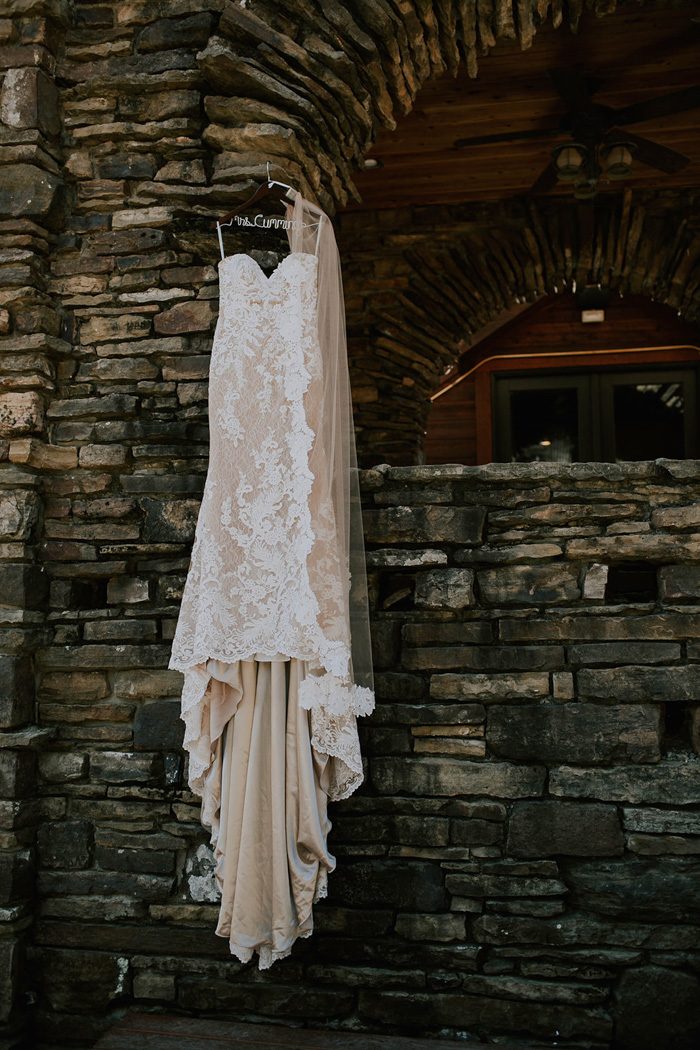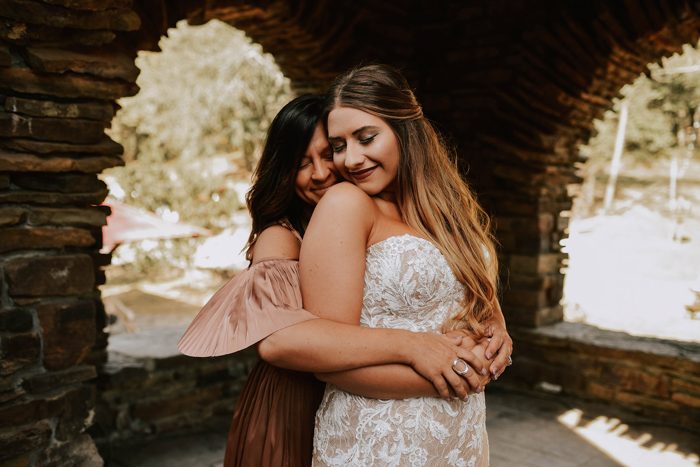 My wedding planning goddess of a mother found all the vintage Persian rugs and antique brass candlesticks we used, found our wicker peacock chair, made the macrame centerpieces we placed on our sweetheart table, and DIY-ed so many other beautiful details that we incorporated into the wedding!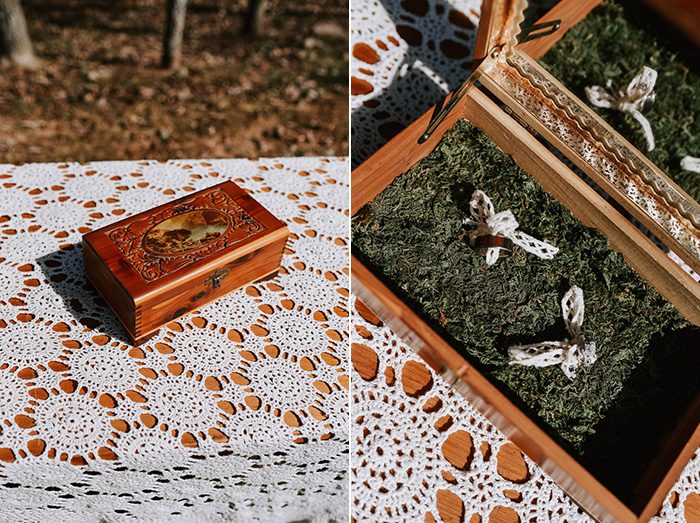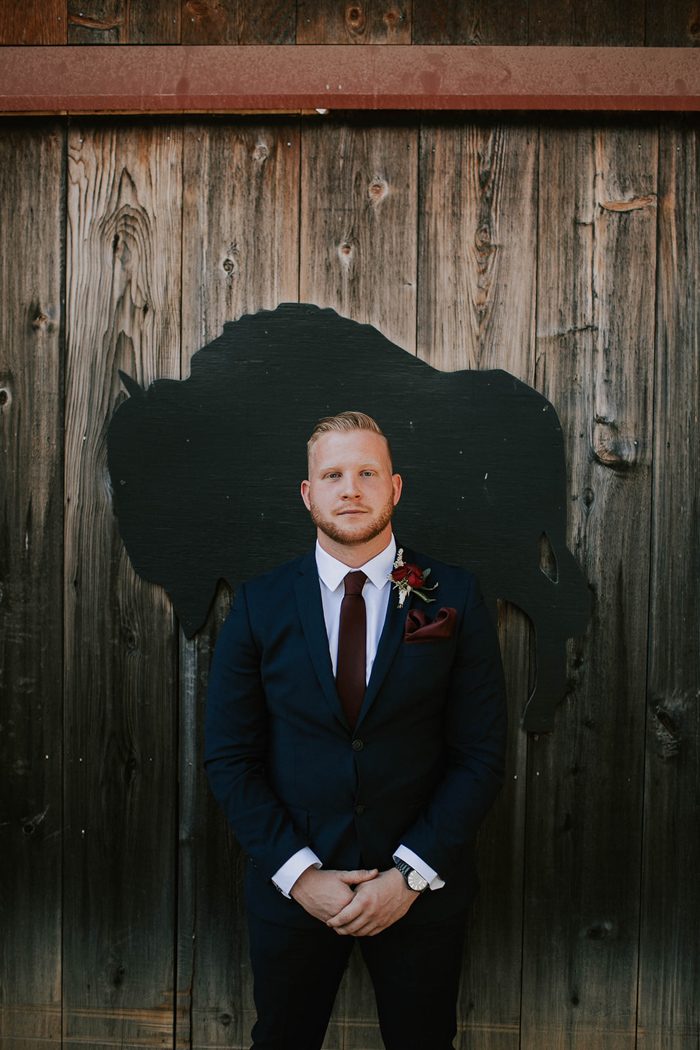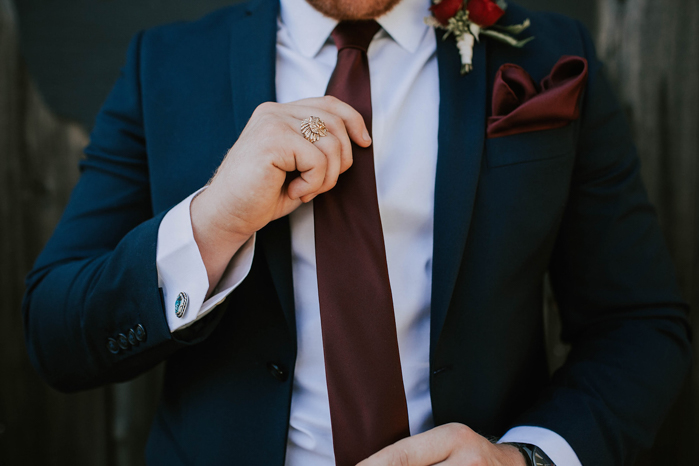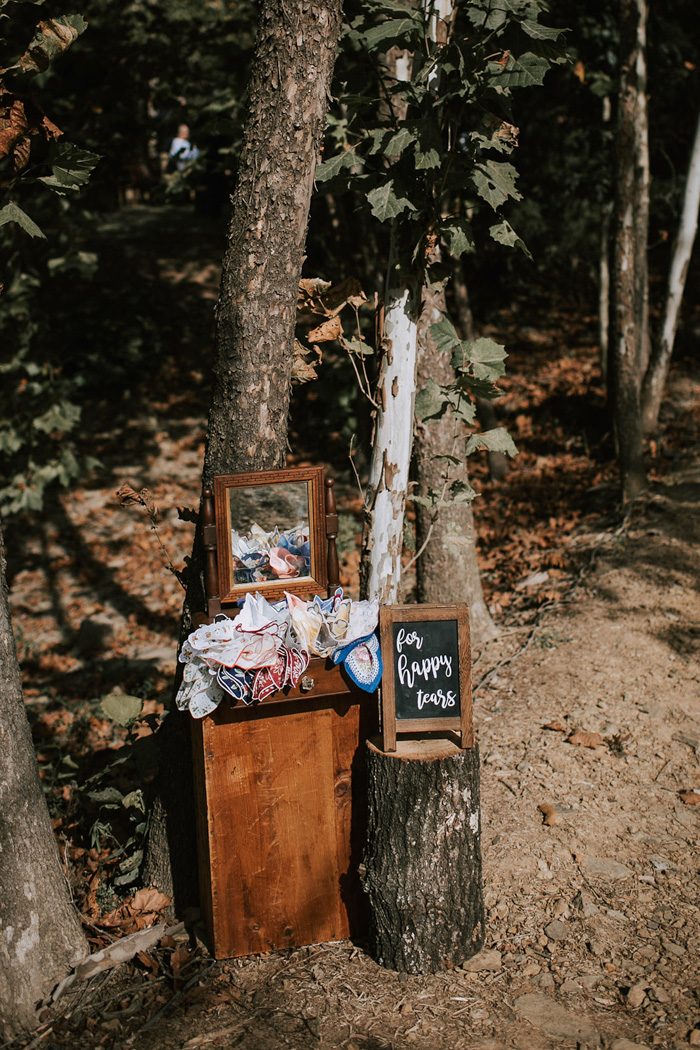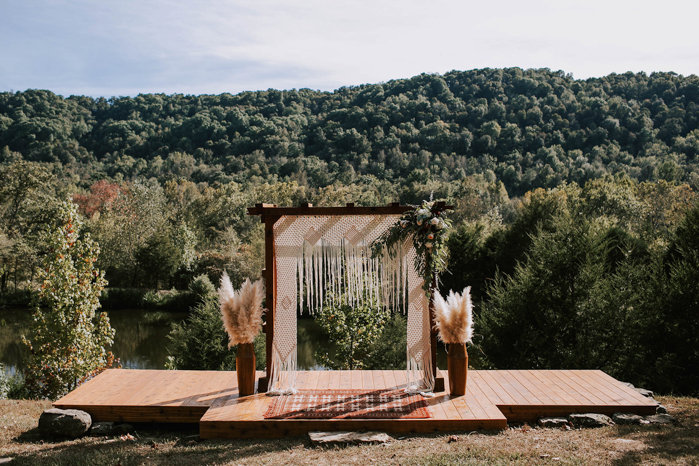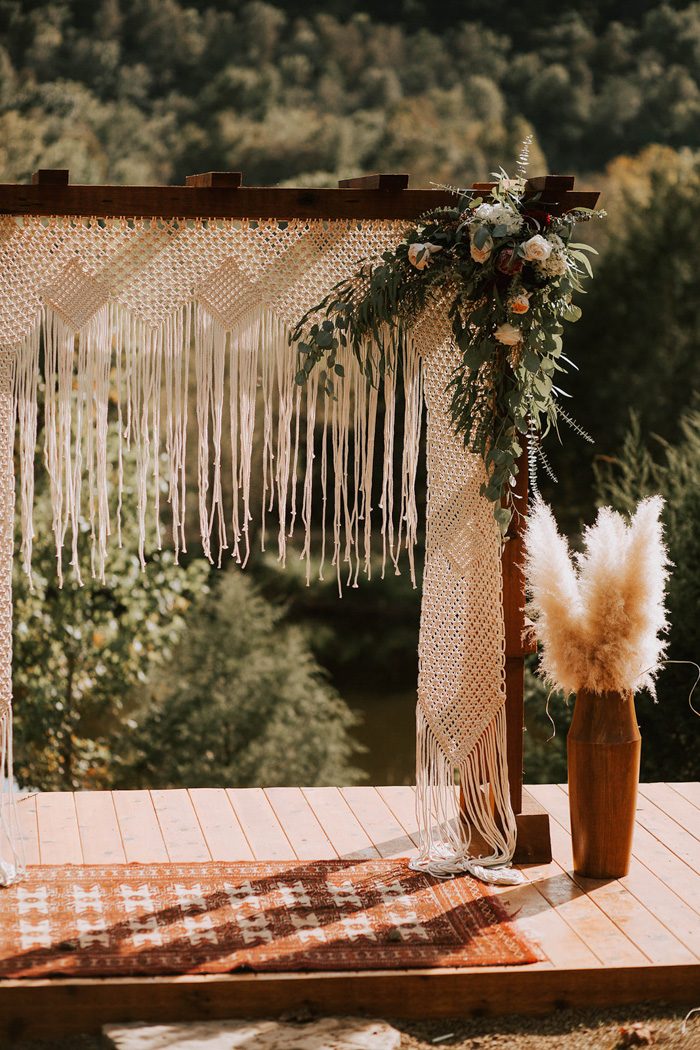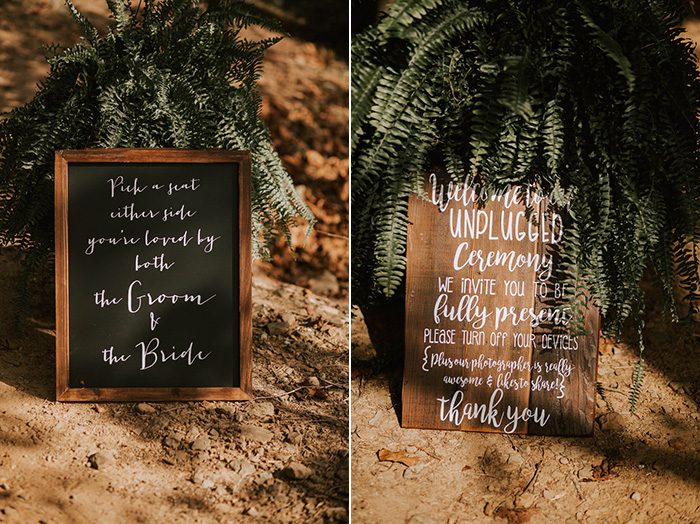 Lance's family are Lumbee Native Americans, and I have Shawnee Native American heritage in my family. So, we decided to incorporate Native American cultural tradition into our ceremony. Lance's father performed a smudging during our ceremony with sage that he bundled himself and the feather he that had been passed down through the Cummings family, which we received as a gift after the wedding. The smudging ceremony was a quiet spiritual process. Through silence, our friends and family radiated positive thoughts as we are "cleansed" as a couple. The only words spoken were by Lance's father, who said beautiful affirmations to each of us during the cleansing.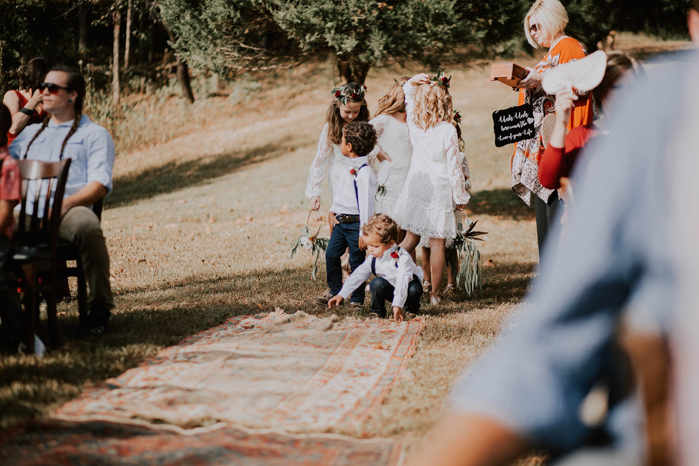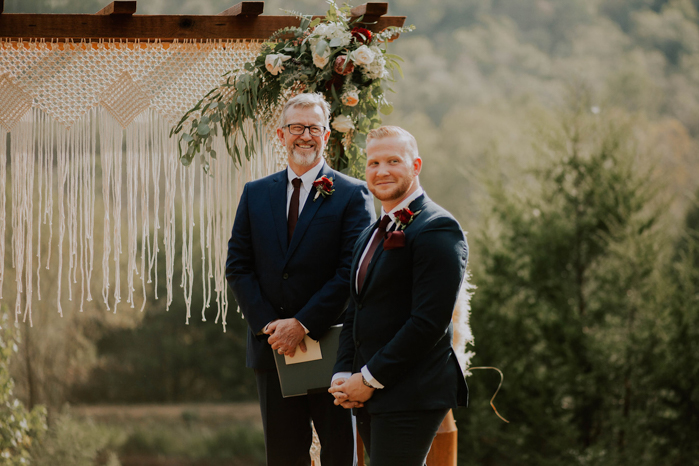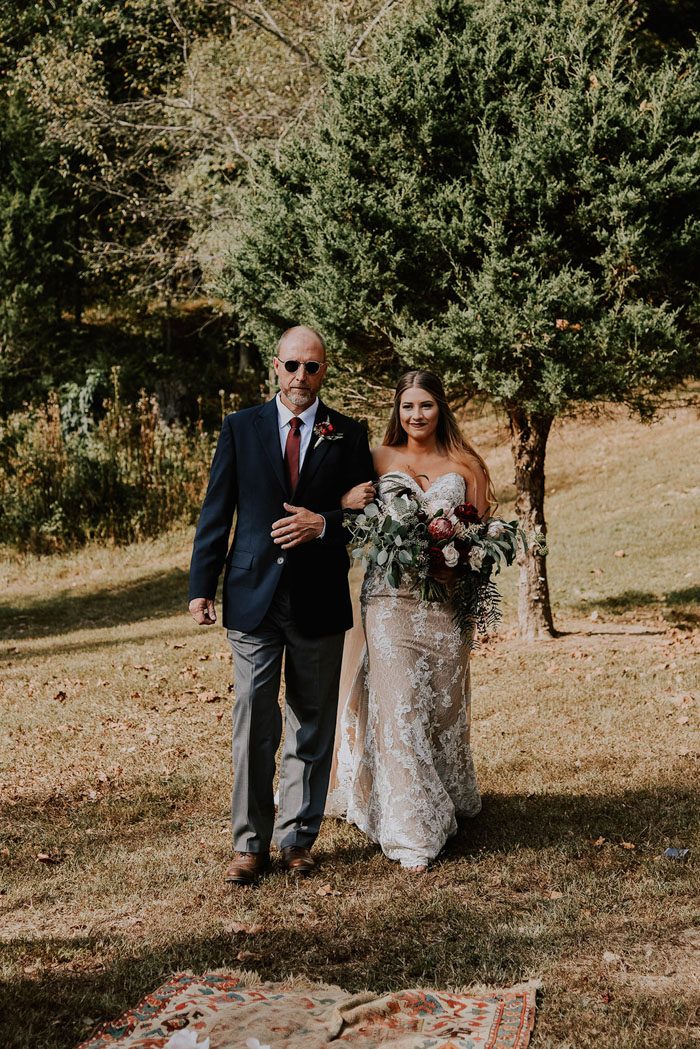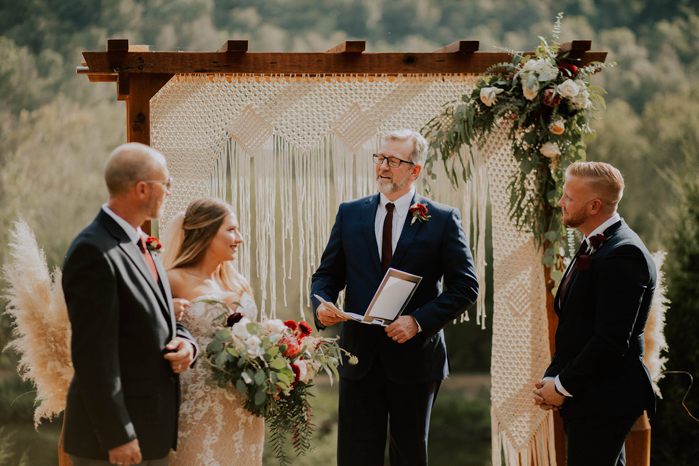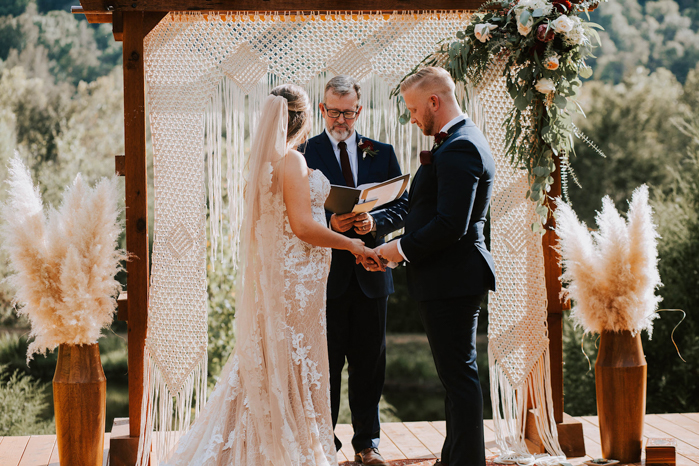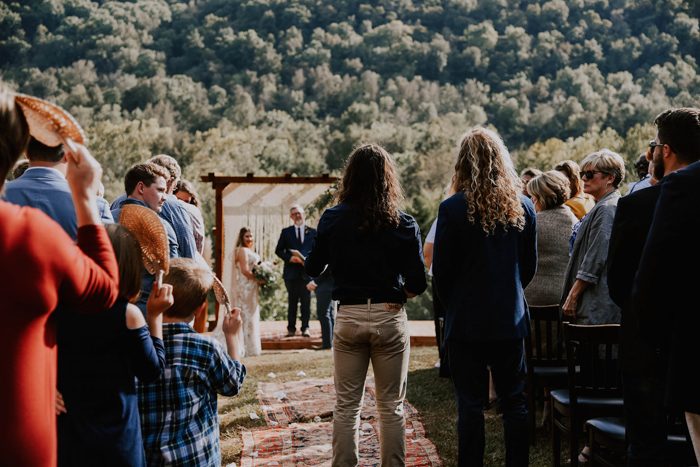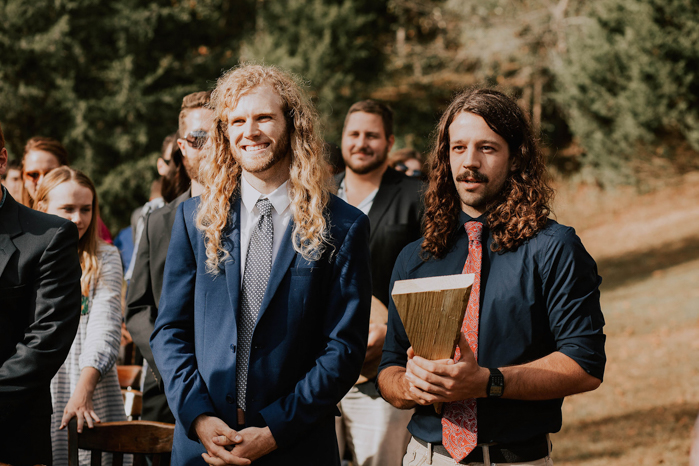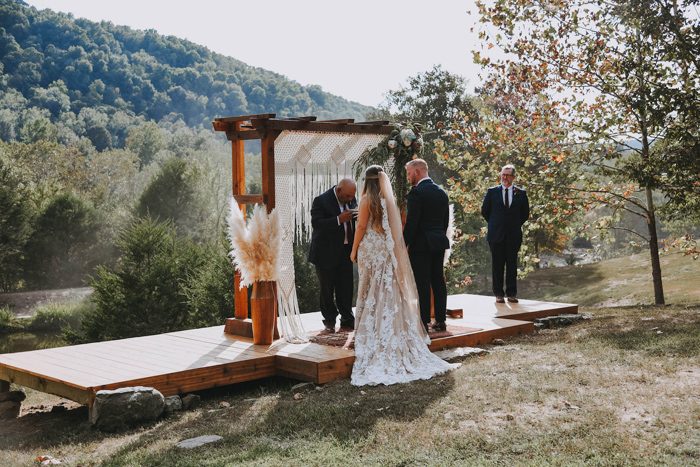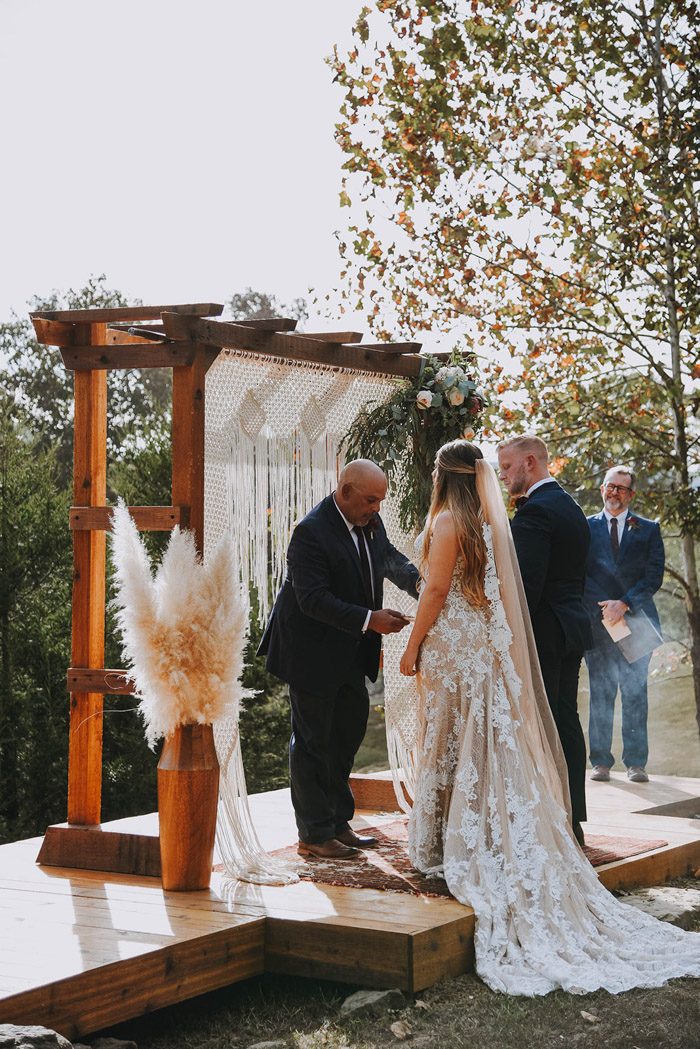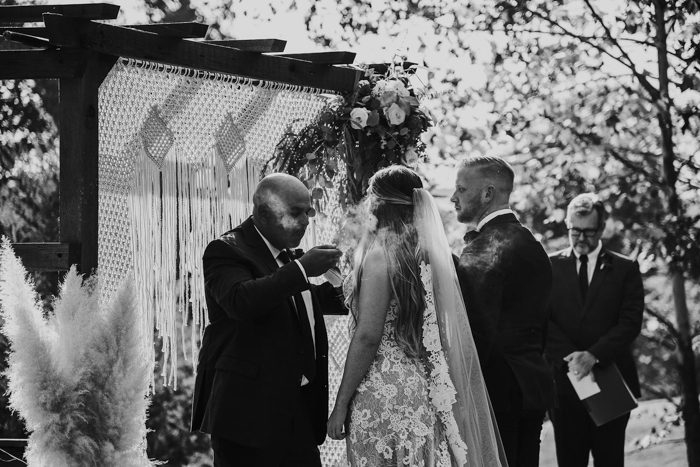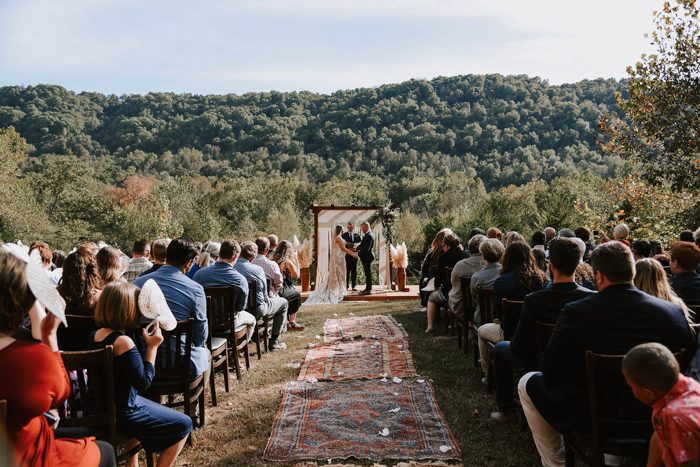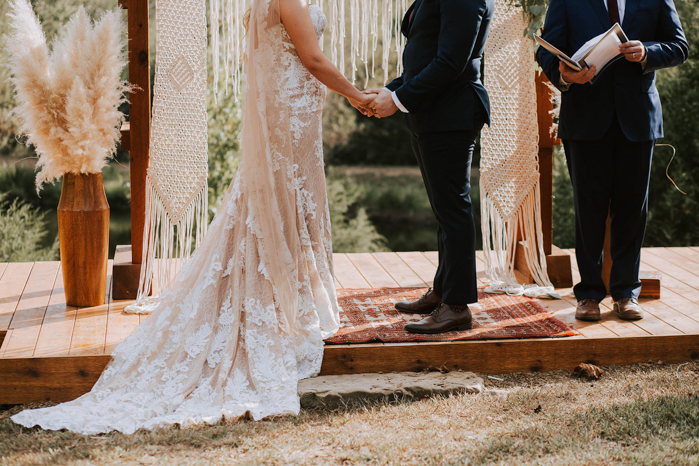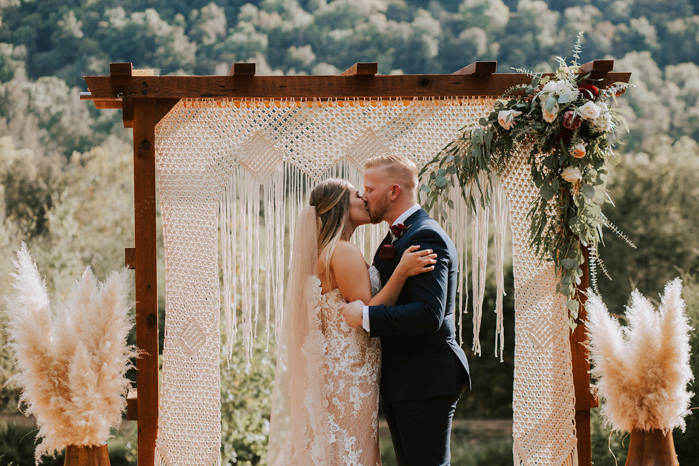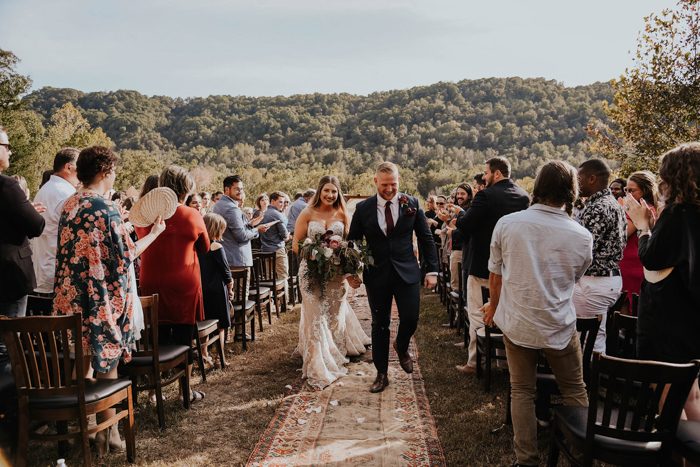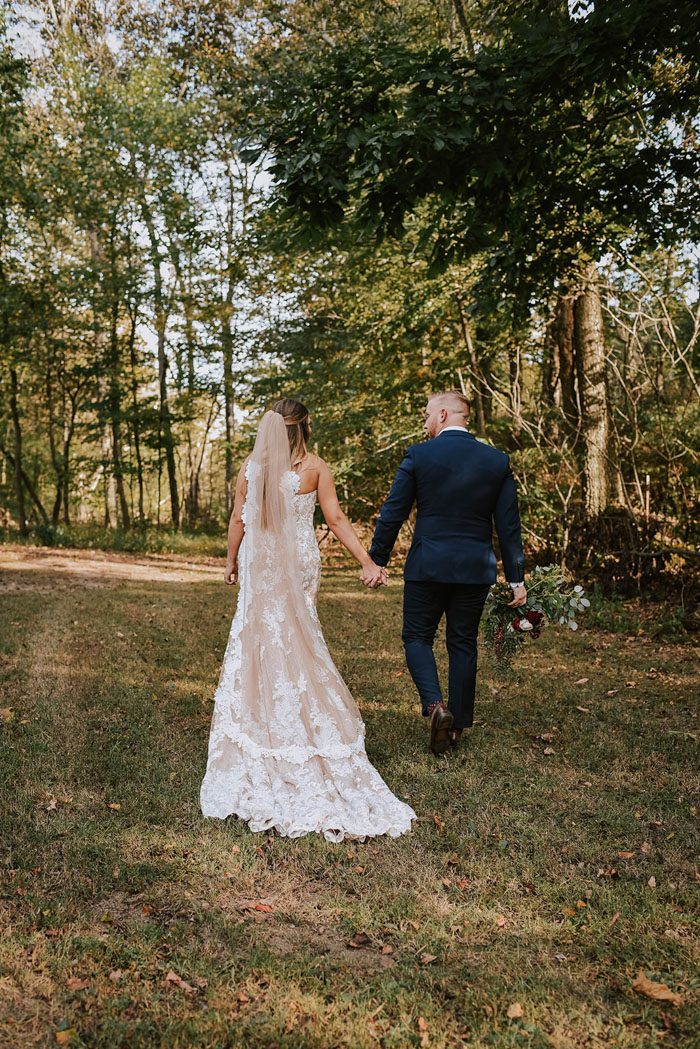 I wanted a dress that was bohemian and simple but with a wow factor. The beautiful ivory lace over the champagne tulle created a bohemian vibe over a simple silhouette with a long cascading train that gathered beautifully when I turned. The lacework made it feel as if it was a vintage gown that had been passed down through generations. The cascading ivory lace and champagne tulle veil topped off the look perfectly as if it were made for the dress.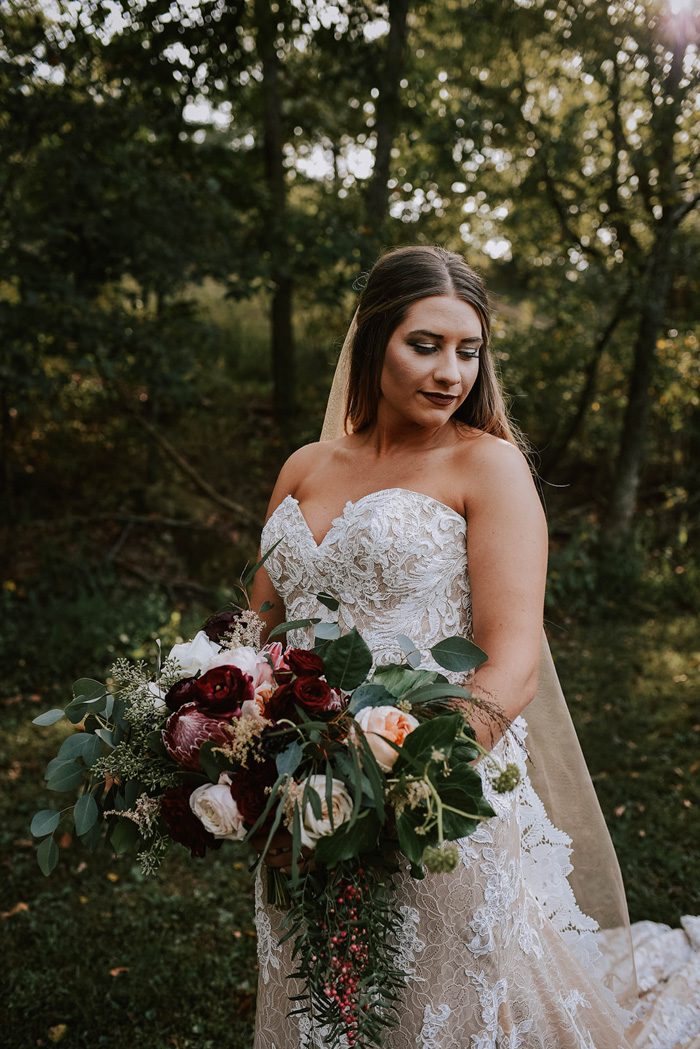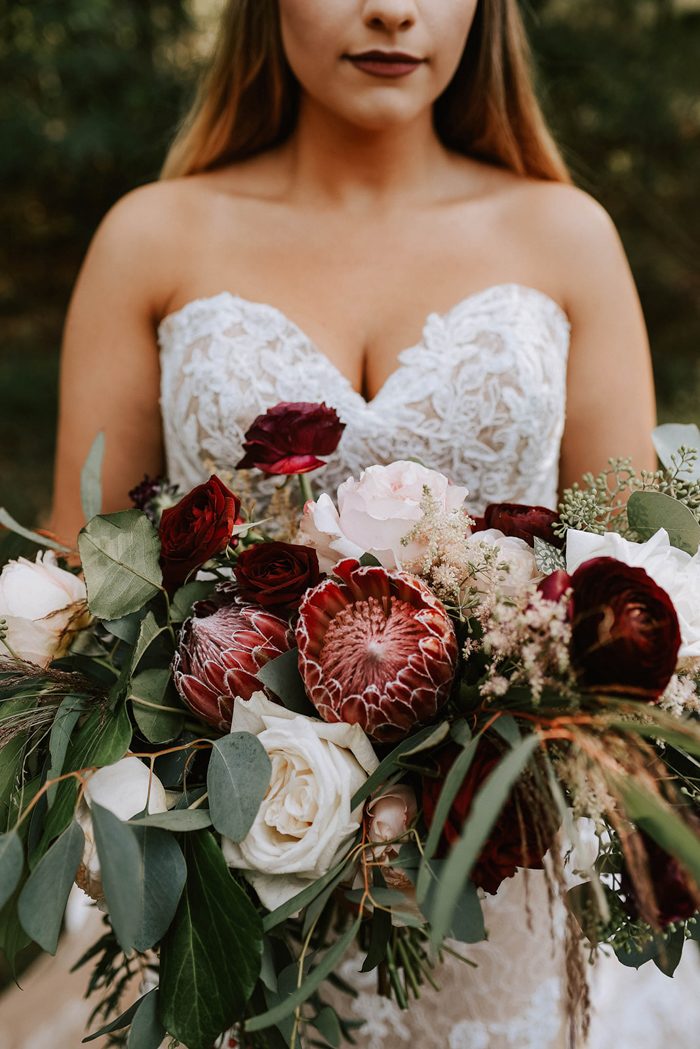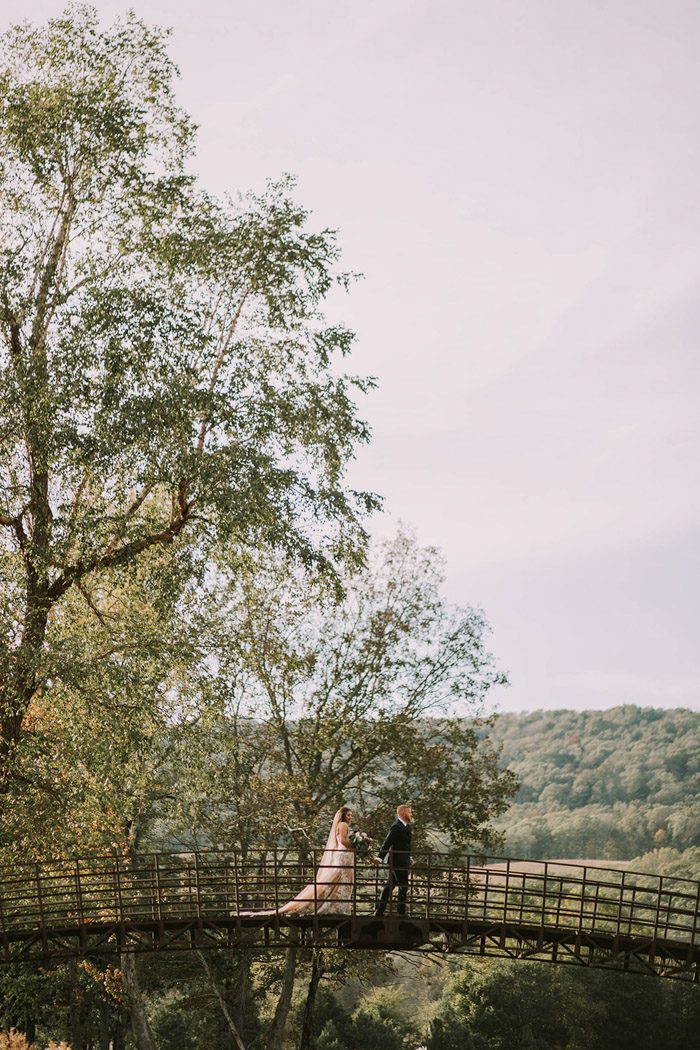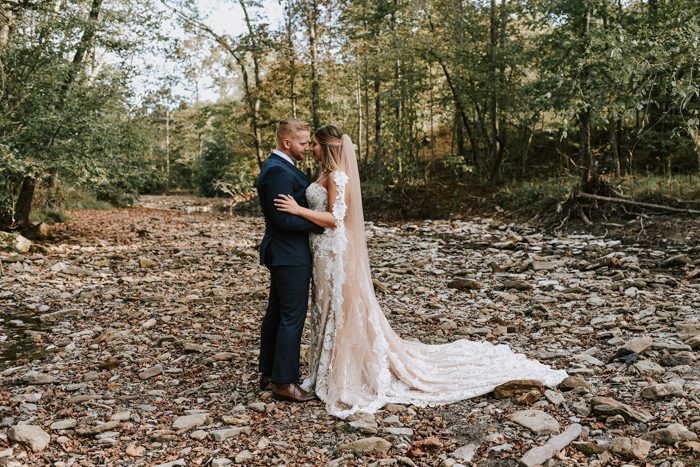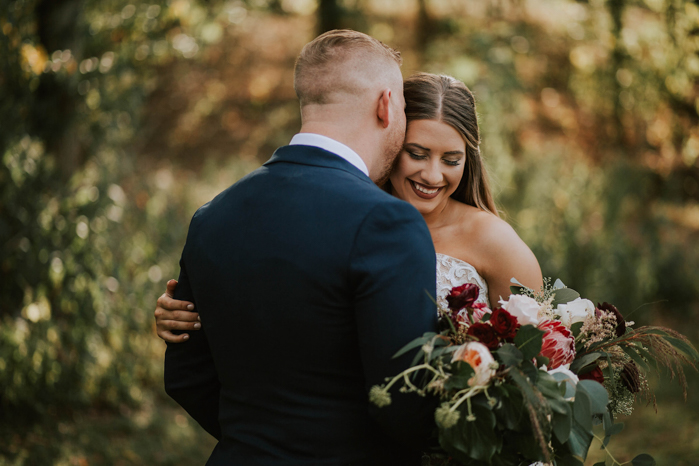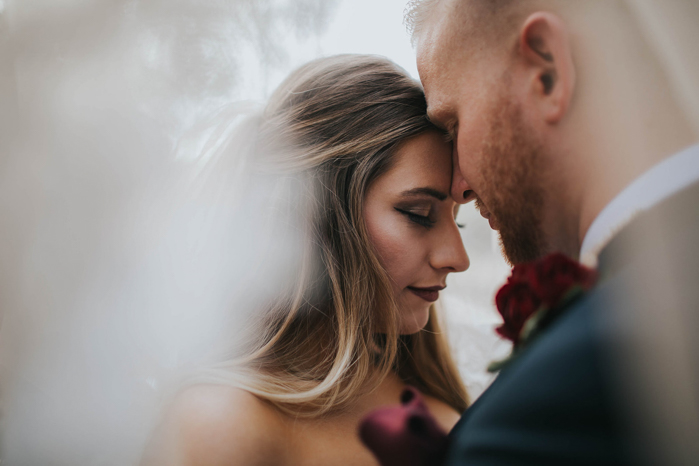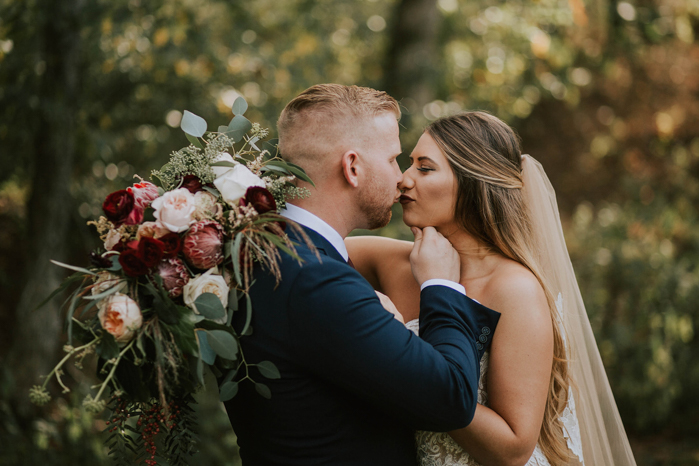 We started searching for venues in Northwest Arkansas shortly after we got engaged, but none of them fit our personalities. Just as frustration set in, I stumbled across Hazel Valley Ranch online. I called on a Sunday morning and Marty, the coordinator, graciously allowed us to visit the venue that same day. We were sold as soon as we drove up on the property! Hazel Valley Ranch is secluded and surrounded by the beautiful rolling Ozark Mountains, with buffalo grazing in the fields below the lodge and a beautiful hand-painted teepee in the reception area. We were in awe, and we felt as if the venue was made just for us!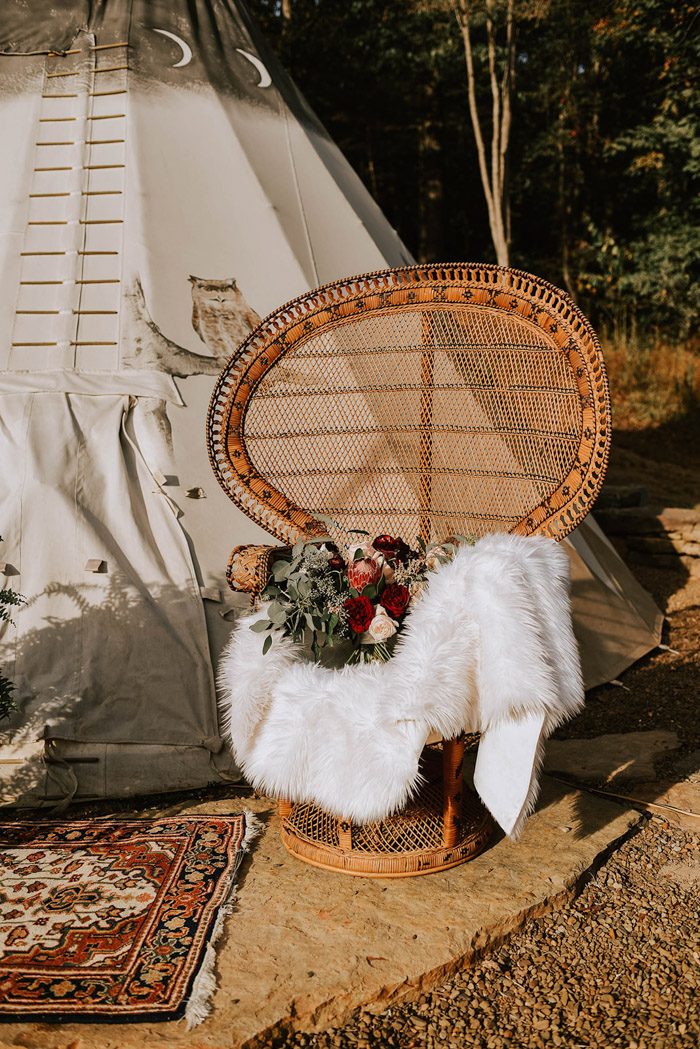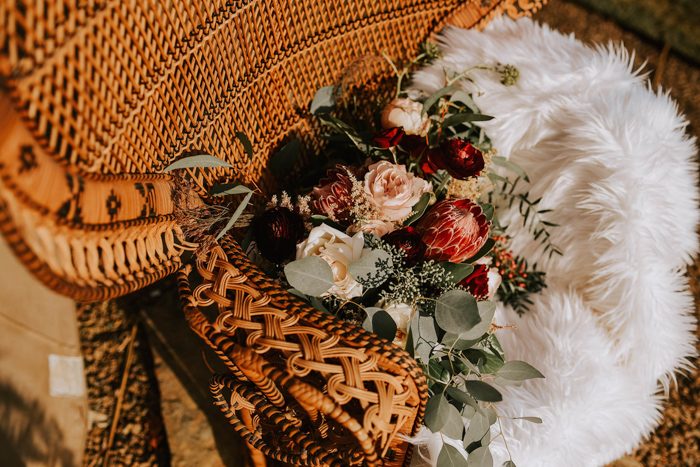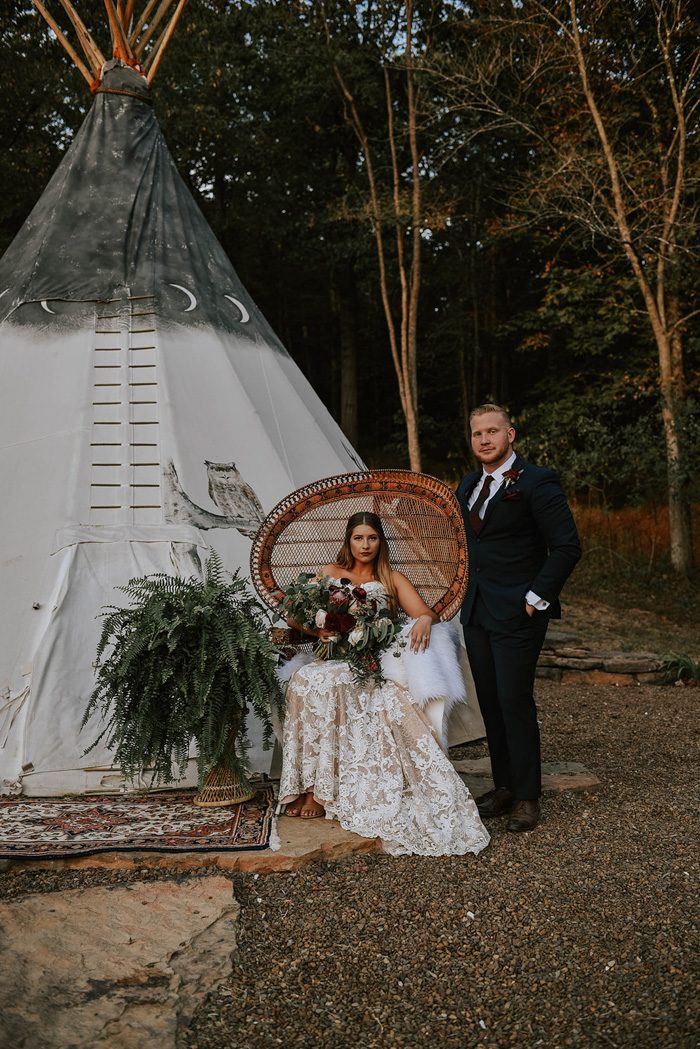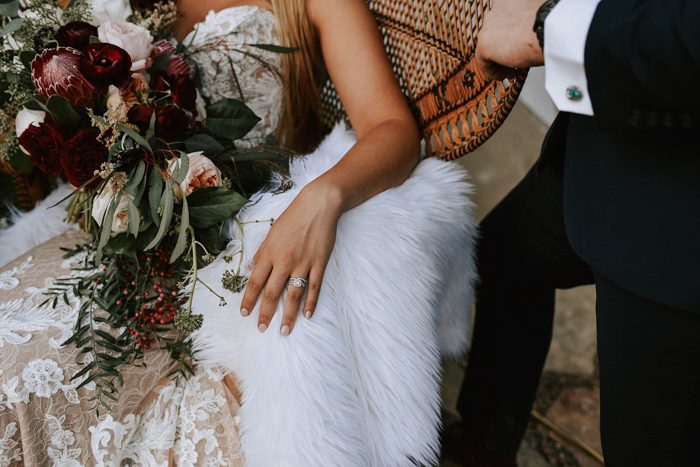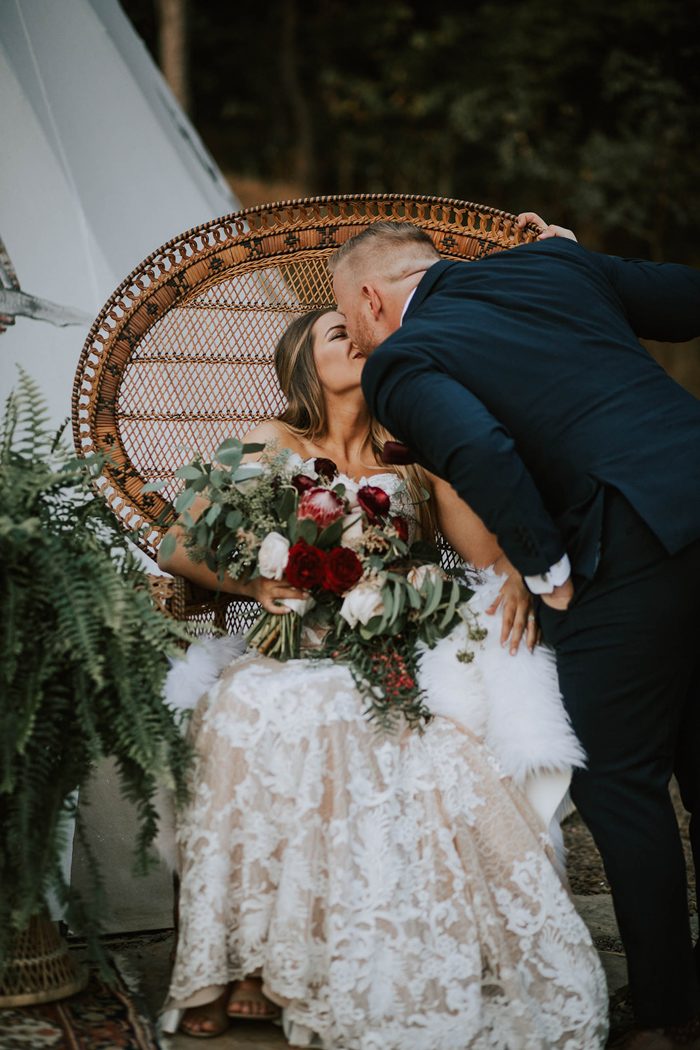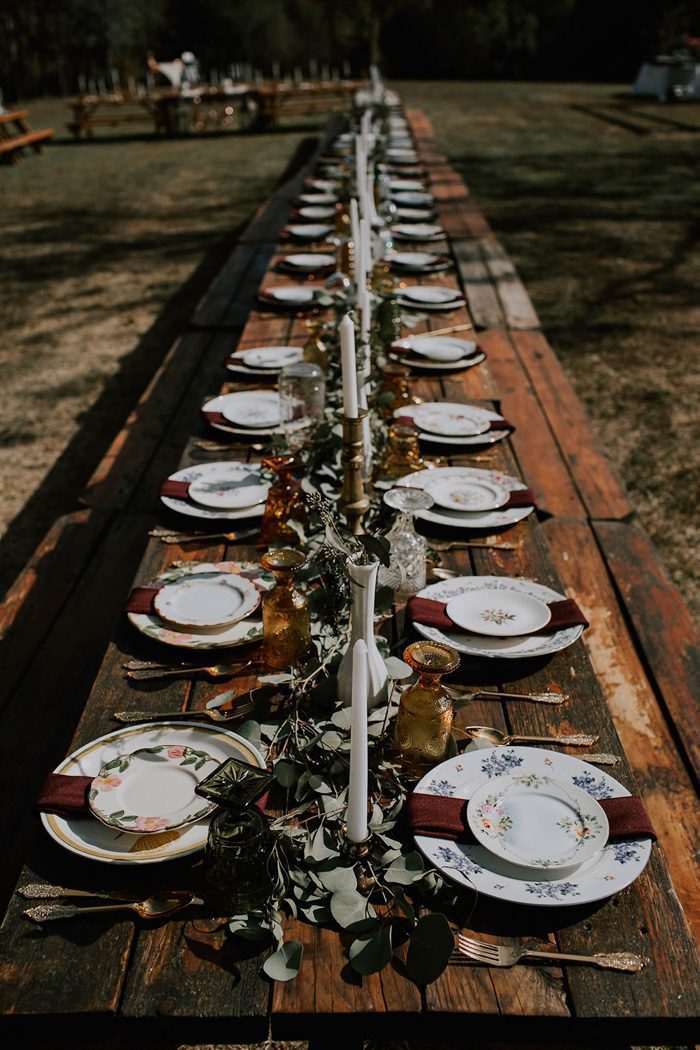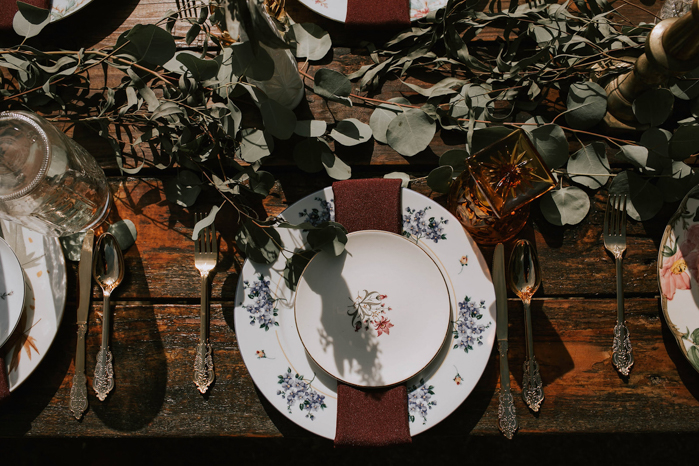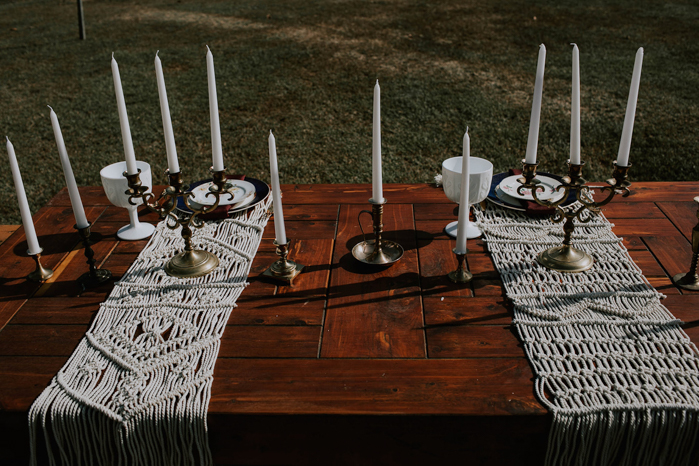 If you are planning your wedding yourself — which is completely doable no matter what anyone says — make sure you have several helping hands for the day before and day-of the wedding. My mom planned our wedding, which is why it turned out to be everything and more than we ever dreamed of. I'm so thankful we had family and my best friend, Adrian, to set up that morning but I do wish we had planned for a larger wedding day team so that the setup hadn't been so rushed.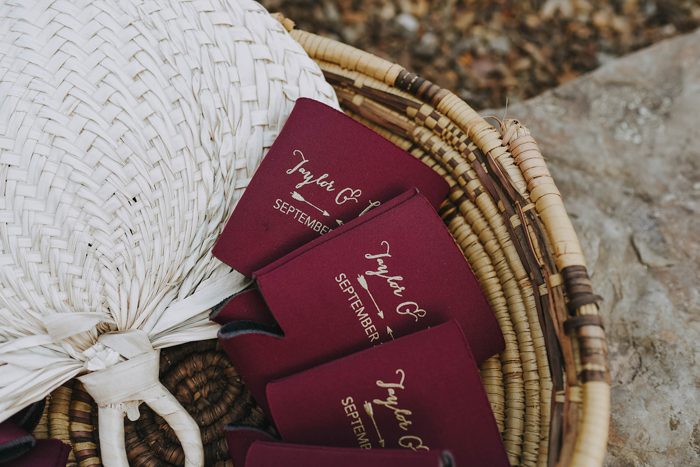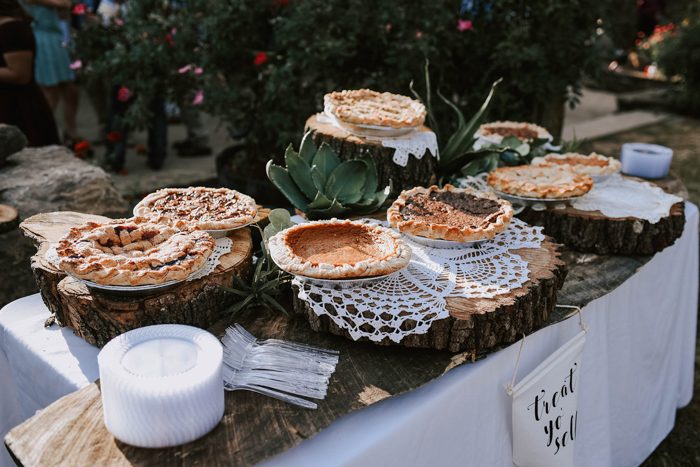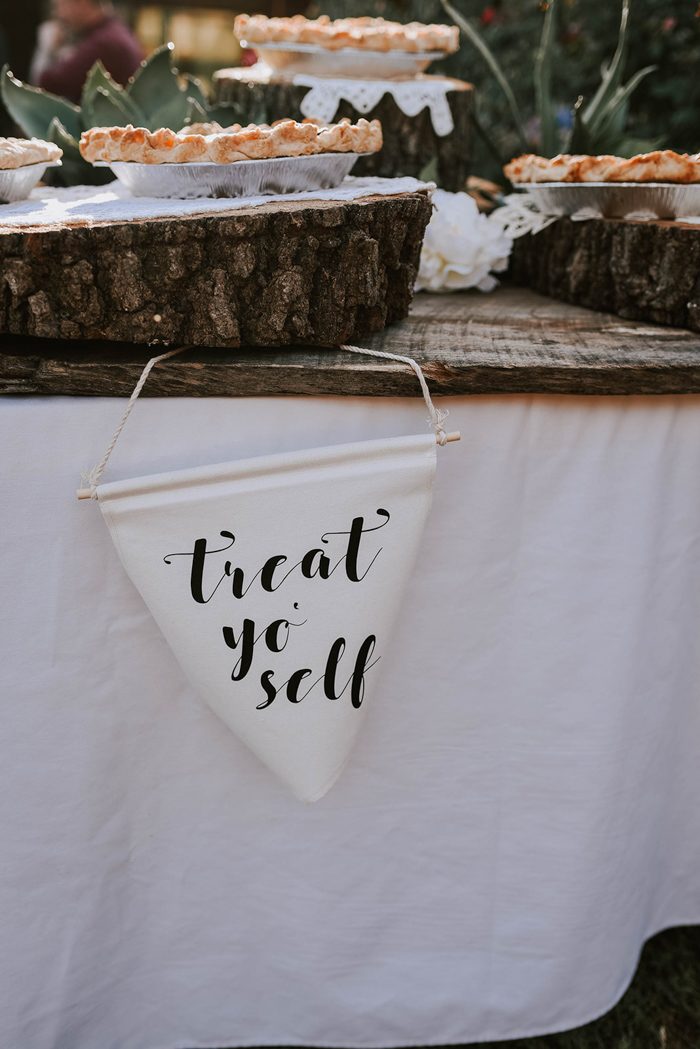 We tried to source our menu and beverages for the reception from local vendors. Our menu included ribs, pulled pork, and classic barbecue sides provided by Hazel Valley Ranch. For dessert, we had handmade pies from Skylark Cafe. Our draft beers were from Core Brewing & Distilling Company.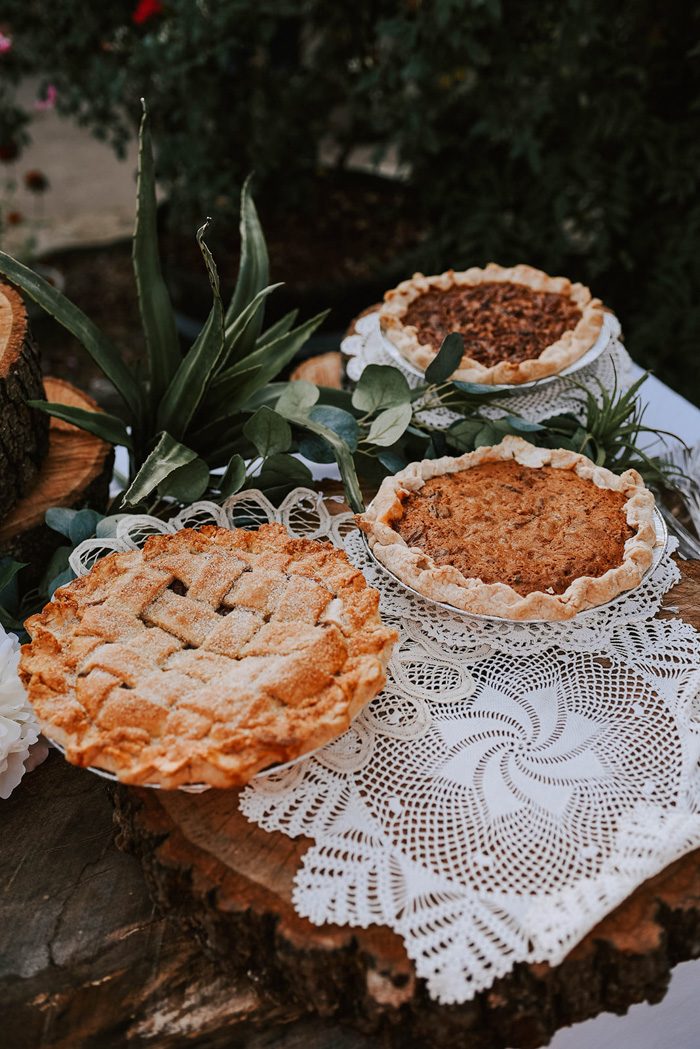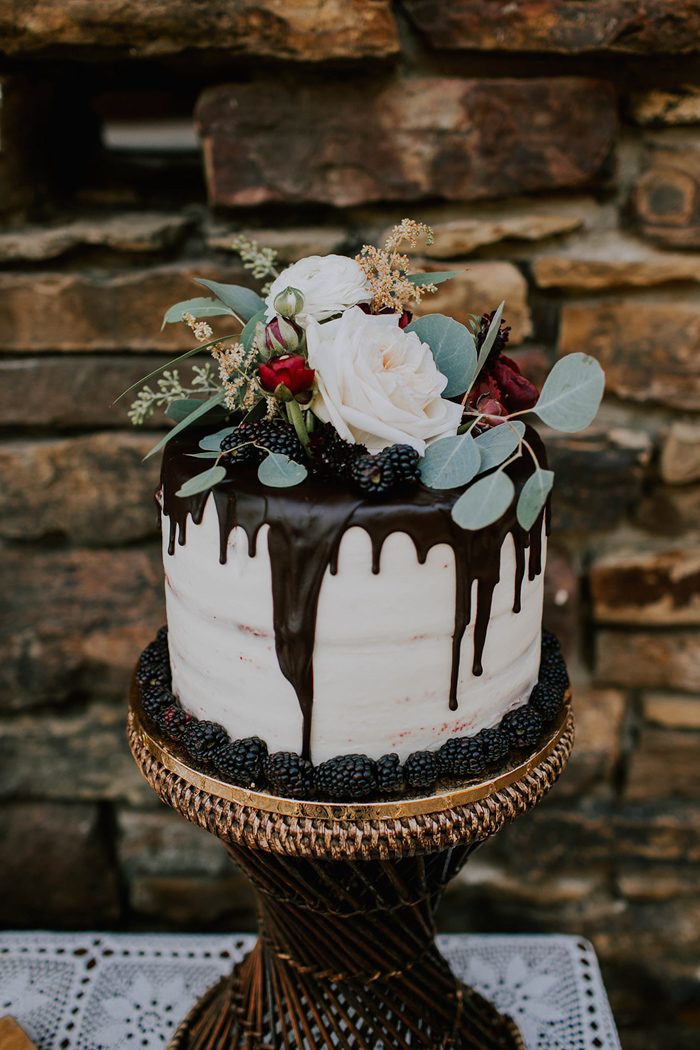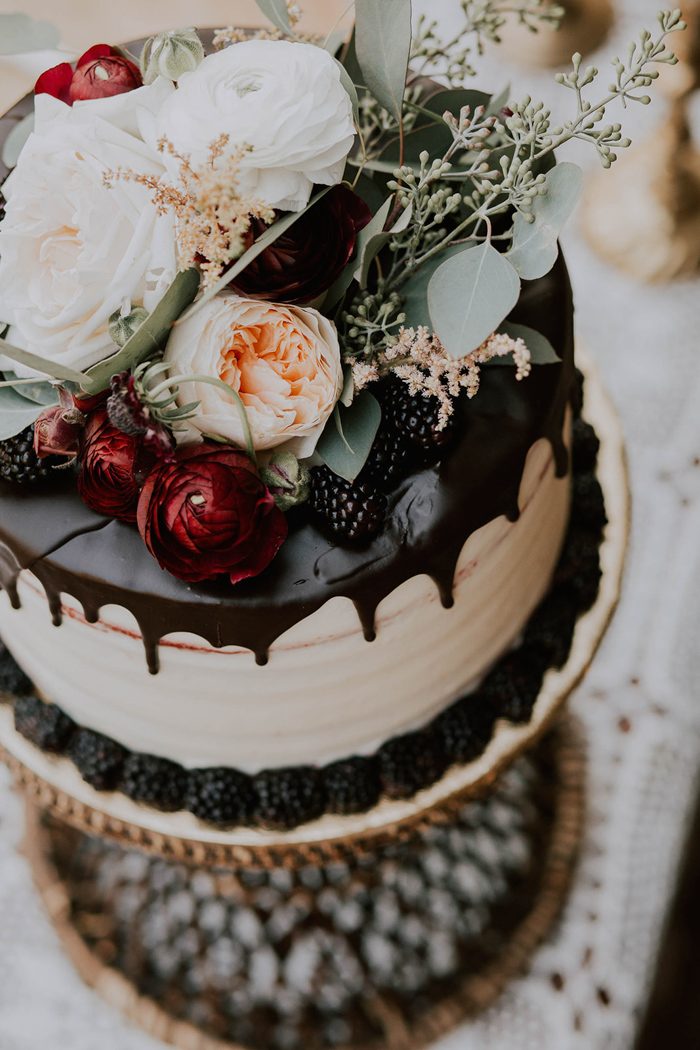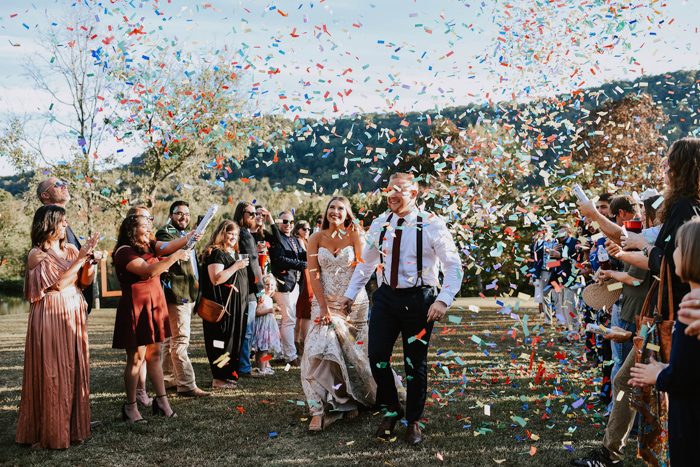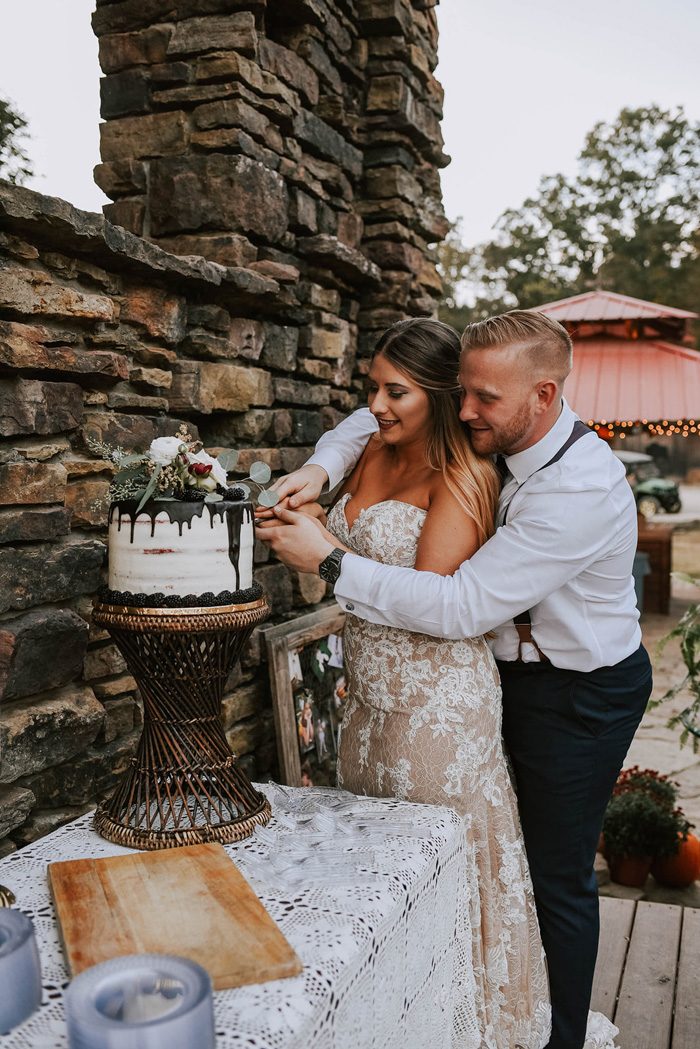 Processional – "Like Real People Do" by Hozier
Recessional – "First Day Of My Life" by Bright Eyes
First Dance – "Sweet Creature" by Harry Styles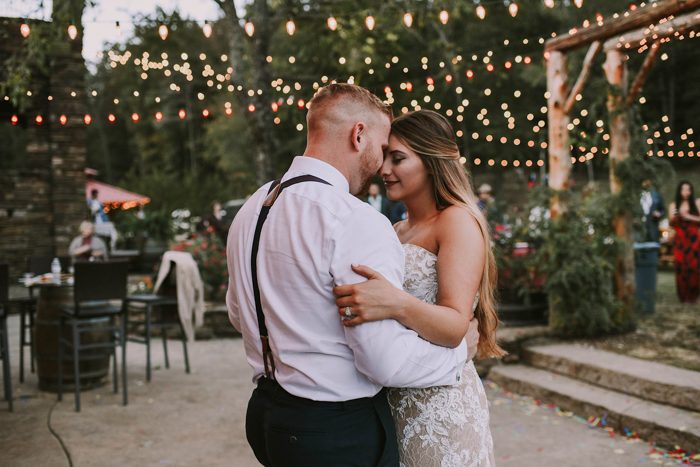 The most memorable part of the day was when Lance and I broke away from the reception and walked to our ceremony site in the moonlight. We got to truly soak up the moment and bask in the realization that we were husband and wife. People are not kidding when they say your wedding day goes by fast! It's so important to take even a small moment away from everyone and enjoy all the incredibly euphoric feelings while simply looking into your partner's eyes.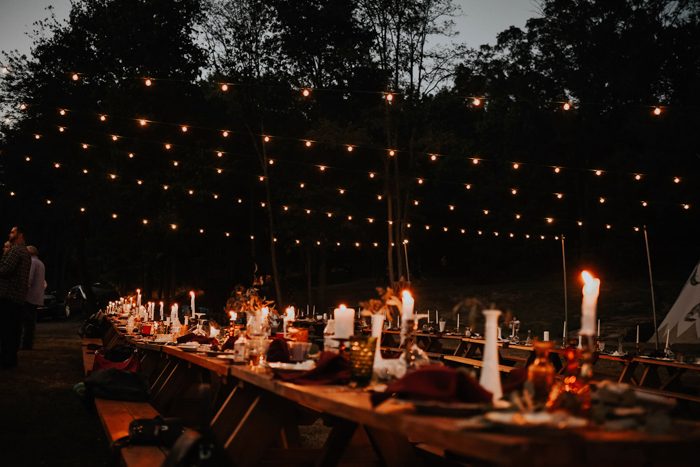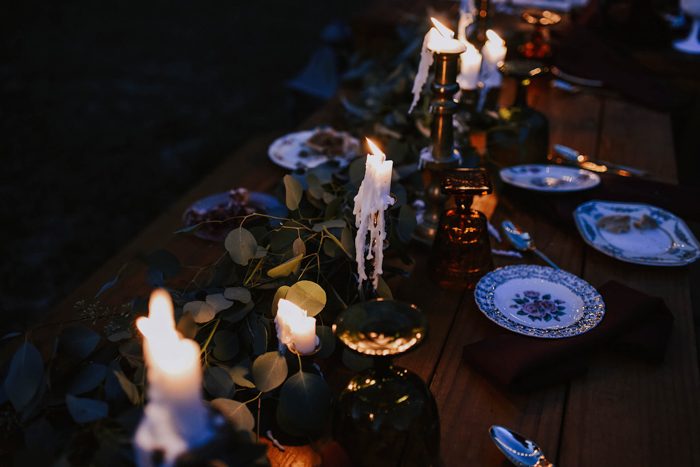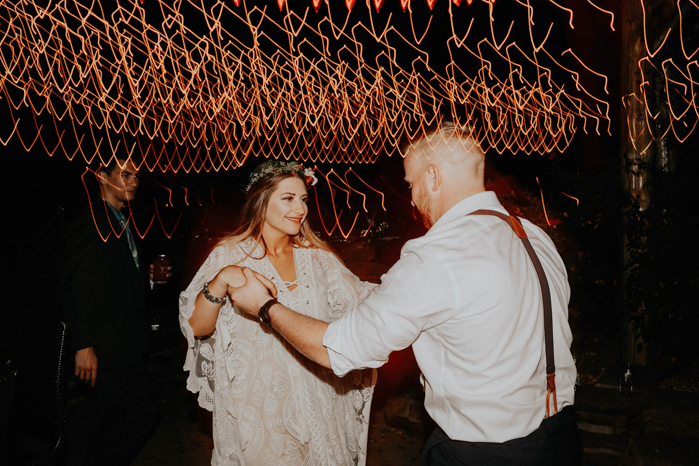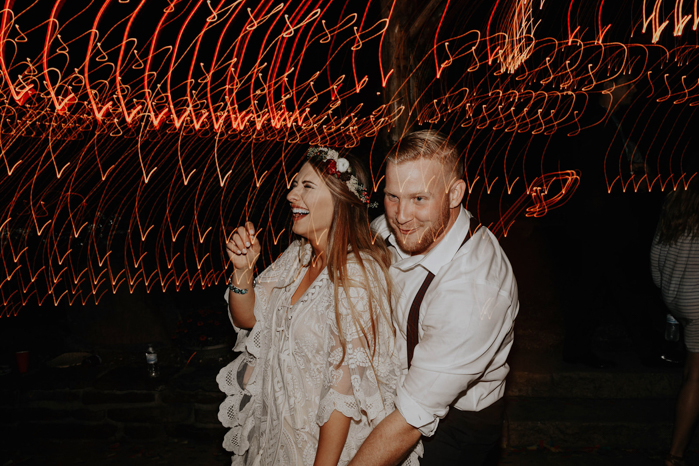 Congratulations to Taylor and Lance, and a big thanks to Freckled Fox Photography for sharing this beautiful Hazel Valley Ranch wedding with Junebug! Looking for ways to add a modern twist to your bridal style? You have to see these 17 modern romantic half-up hairstyles for your wedding!