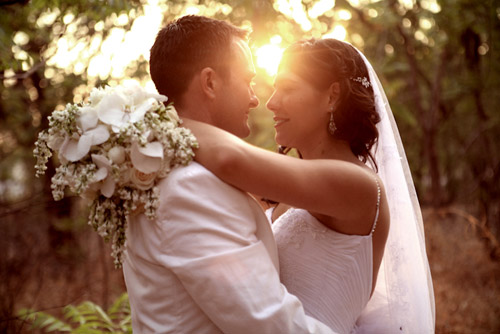 In all the years I've been photographing and blogging about weddings, I've never seen an event quite as unique, spirited and positively magical as this one! Mireille and Patrick's garden wedding in Harare, Zimbabwe was inspired by their love of vintage glamour, and the African bush, and included so many dramatic surprises I simply can't imagine how fun it must have been to be in attendance watching their vision come to life! Photographer Shanna Jones beautifully captured all the dramatic visual and emotional details – how lucky we are to get to see them all!

The Goals: In order to create an intimate wedding with a feeling of romance all around, Mireille and Patrick chose to hold their wedding in the gardens of their home in Zimbabwe, Africa. To be surrounded by friends and family and to host party that was FUN from beginning to end were the main goals of the day, and a whimsical theme of vintage glamour was chosen to create this one-of-a-kind atmosphere.

The Design: Where do we even begin to describe the design of this wedding? Mireille and Patrick's inspirations were taken from Swan Lake and Out of Africa, which created an incredible mixture of African spirit and ethereal beauty. Wedding colors of sepia, soft browns, creams, ivory and vanilla were chosen because they were the palette of their African surroundings at that time of year and they are also Mireille's favorite colors. During the spiritual and heartfelt wedding ceremony's processional, Mireille and her father were preceded down the aisle by two spectacular cheetahs (seriously!) and afterwards the couple was whisked away in a horse drawn carriage.
Decor at the reception was all about drama – an abundance of gauzy white fabric was draped throughout the tenting, lush cream, coral and champagne floral arrangements filled the vintage style table tops, and amazing extras like white swans wandering the premises and delicate wooden fans for the female guests added to the event's serious wow factor. Not only that, but around every corner were surprises. Mireille arranged for a belly dancer as a surprise for Patrick, and then Mireille's mother arranged for the band Mango Groove and the South African National Ballet to perform "Swan Lake" as a surprise to both of them. WOW!
The Look: Mireille's voluminous wedding dress, and her bridesmaid's full length neutral colored gowns, were designed by Gert Van Der Merwe. Mireille's dress made her feel like an absolute princess. Who wouldn't have fallen for that stunning ruffled skirt? Patrick and his groomsmen looked dashing in their sophisticated white dinner jackets and black bow ties. I never get tired of that James Bond-esque look!

The Moments: When asked if there were any other "extras" we should know about the wedding, Mireille replied, "I dont think we could do any more – from cheetahs, to white swans, to The Soweto String Quartet, Mango Groove, a belly dancer, The South African National Ballet, DJ Rene and The Wedding DJs and lots of French champagne – we could not have asked for more!!"
The Pros: To learn about all of Mireille and Patrick's team of talented wedding professionals, be sure to visit the page in our Real Wedding Library!

Thank you for sharing your wedding with us Mireille and Patrick! I couldn't love it more!
Readers, to plan your own Southern California or Seattle area wedding, check out our Plan Your Wedding Hotlists, and to find a dream wedding photographer for your wedding anywhere in the world, don't miss our World's Best Wedding Photographers Hotlist!