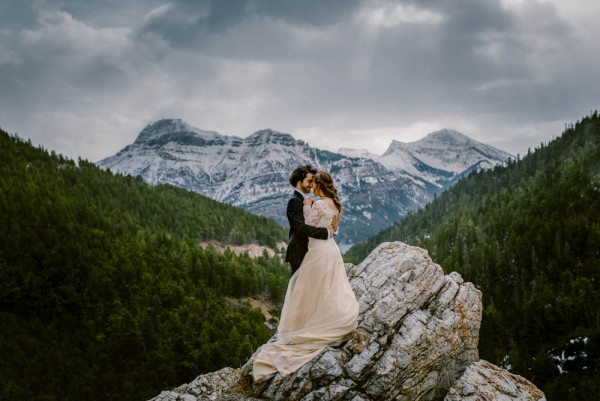 The joining of two people in marriage also involves the joining of families, cultures, and customs. Jasmine and Fausto's Waterton Lakes National Park wedding brilliantly married the bride's nostalgia for the mountains with the groom's Italian heritage. The resulting celebration was natural, sentimental, and perfectly them. Darren Roberts Photography captured all of the handmade details, from Jasmine's silk and lace gown to the ceremony décor, as well as some truly incredible portraits of the couple embracing in the mountains.
The Couple:
Jasmine and Fausto
The Wedding:
Waterton Lakes National Park, Alberta, Canada
The Inspiration:
The joining of two families, in the spirit of a grand thanksgiving dinner, with elements from my mountain park home and the elegant tradition of Italian weddings.
The Moments:
Sitting beside Fausto, hand in hand, dressed in our suit and dress as we listened to my father share wisdom, love, and advice during the ceremony because at that moment, I knew we had arrived there to that moment together! The feeling was to me, true love. And the 30 people at our back radiated as much love back, like the orange coals glowing in the fireplace. After years of sailors love, of airports, of kisses and goodbyes and overcoming the distances we would soon celebrate publicly and officially, the commitment our hearts have carried with us from the first passeggiata.
The Couple Recommends:
Darren Roberts was OUTSTANDING! I hope he reaches the heights of the world of wedding photography and art. My mother Wendy created the dress of my dreams, right out of my imagination and off the pictures I'd torn from magazines. I want to recognize her gracious willingness to take on my request and the months she gave to sew those delicate layers of silk and lace. Joanne Koegler is one of a kind. Really, so delightful and energetic. The perfect companion for a bride!
The Wedding Team:
Photography – Darren Roberts Photography
Wedding Décor – Joanne Koegler
Wedding Dress – International Silks
Groom's Apparel – Empresa
A special thanks to Darren Roberts Photography for sharing Jasmine and Fausto's intimate mountain wedding with Junebug! For more mountain wedding inspiration, be sure to check out Hannah and Jason's gold and sage Breckenridge wedding.