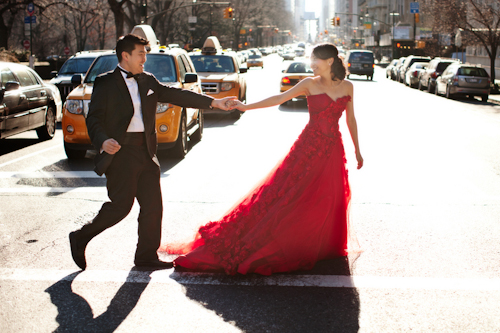 I could ramble on forever about the beautiful photography in Silvia and Adi's engagement photos from Jason Groupp Photography, or I could elaborate on my love for NYC, the city that features prominently and provided iconic backdrops. But I have to admit…it's Silvia's dresses that really got me! I love a girl that wears a fabulous ballgown for her engagement shoot, but I'm in complete awe of a girl that wears THREE! And brings them to NYC all the way from Jakarta! Silvia, you and your dresses are perfection to this fashion-loving girl!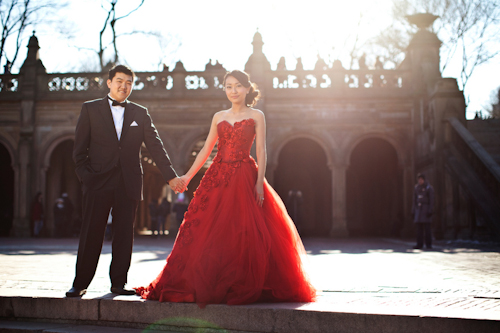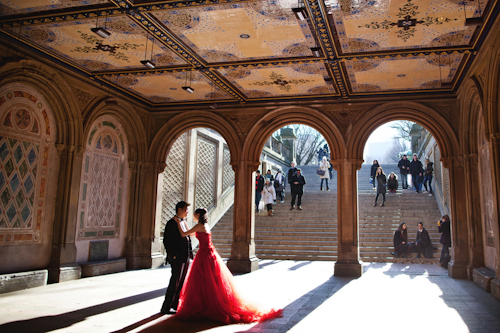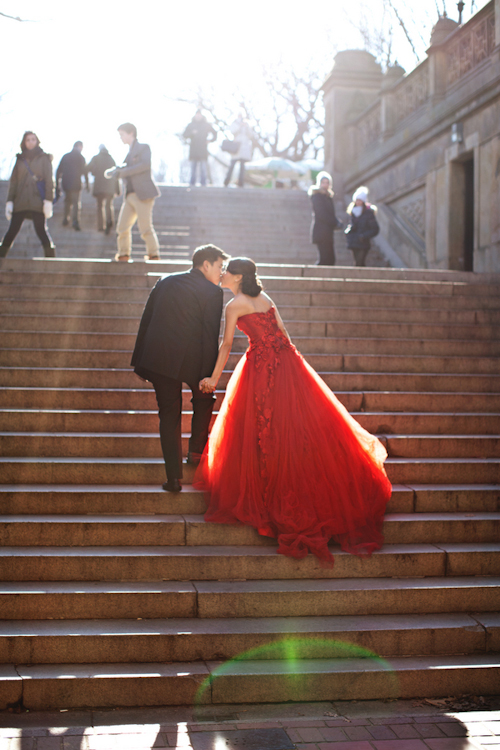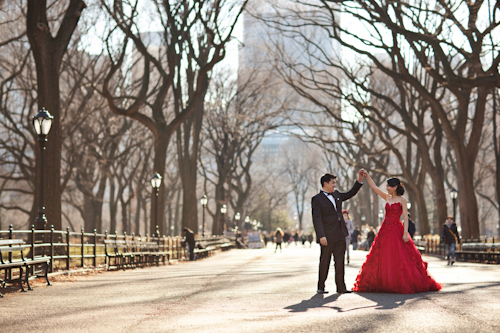 From Silvia: Adi and I both went to college in Sydney, Australia, but didn't formally meet until December 2009 I was formally introduced to him through a mutual friend. We started dating in 2010 while I was still doing my Masters degree in Sydney and Adi was working in Indonesia. Our relationship has always been long distance up until now.
We've been planning our wedding for almost a year now. We'll be married in May in Jakarta, Indonesia. We wanted to do our engagement session in New York as we had already planned to spend Christmas and New Years in the States. Because we were tourists, we wanted our photos to be in taken in iconic NYC places such as Central Park, Grand Central Station and the Brooklyn Bridge. All of our outfits were brought all the way from Jakarta packed in one big suitcase.
We were warned that it was going to be freezing in New York in early January. To make our lives easier, we rented out a van so that we could easily jump in and jump out when we got too cold. The back of the van was turned into a changing room for me.
The photos turned out to be amazing. We had tons of fun shooting with Jason. We are so happy that we chose Jason Groupp to capture our special moment in the city that we love so much!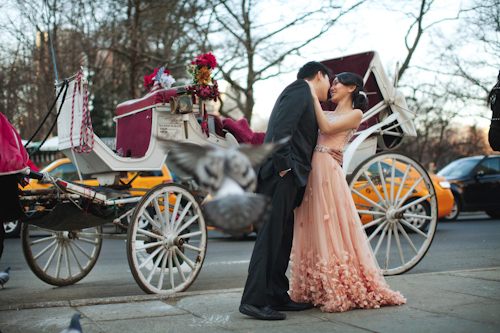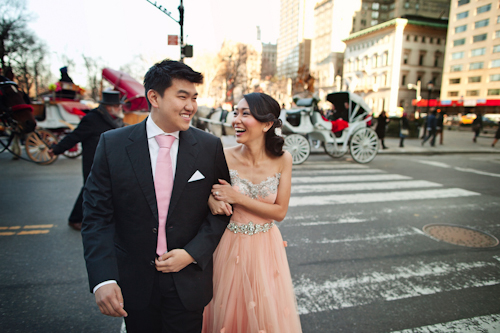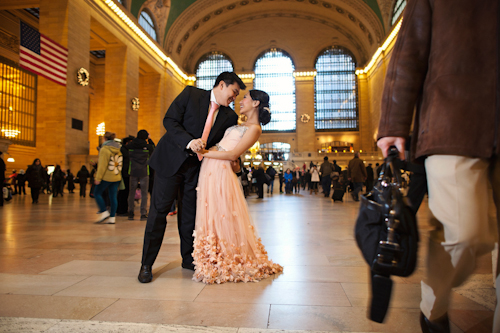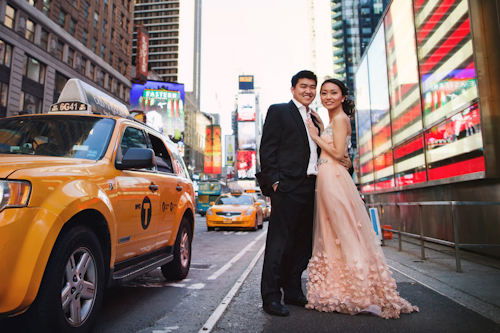 From Jason Groupp Photography: Silvia contacted me saying that she found us online and would be visiting the USA and New York City in early January of 2013. She was coming to NYC to purchase her dress for her wedding in Jakarta later this year. Silvia and Adi were initially just going to do a short engagement session, but signed on to our full "I Heart New York" photoshoot when they heard how fun it is.
Silvia and Adi met us in our studio in Chelsea and Silvia had her hair and make up done by our talented and lovely Hannah Ho. We started our day in Central Park at Bethesda Fountain and along the Literary Walk. Silvia specifically requested the "Big and Carrie" shot of them walking hand in hand up the stairs at Bethesda. After Central Park we jumped out in front of the Plaza Hotel to get some classic shots with the horses. Usually those guys are grumpy towards photographers but we got a nice one who let us take a few in front of the carriages. Then we did a quick tour of Grand Central. We then headed back to the studio for some pizza and make up and hair refresh. We finished up a the Brooklyn Bridge Park (on the Brooklyn side). Man oh man! it was SO COLD! Big props to Silvia and Adi for going for it!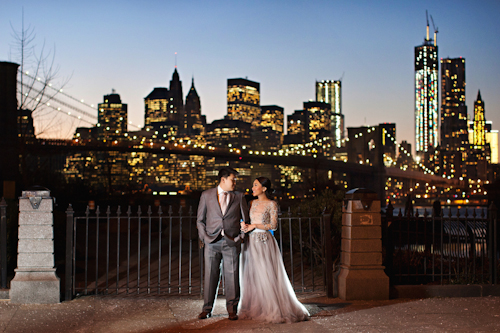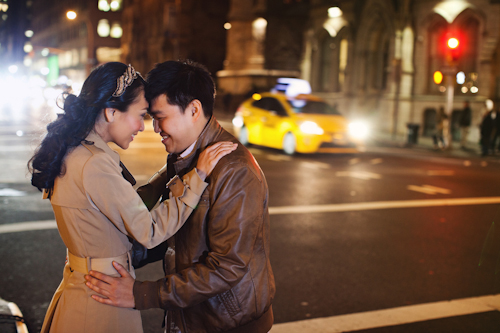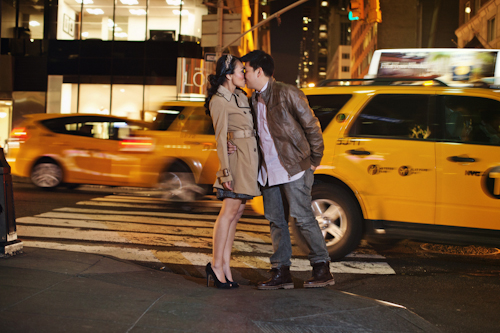 The Photoshoot Team:
Photographer: Jason Groupp Photography
Silvia's Dresses: Red – Gladiolus; Pink and Grey – Mischa
Adi's Suits: Agus Lim and Hugo Boss Selection
Thank you for sharing your gorgeous shoot with us, Silvia and Adi! We wish you all the best with your wedding planning and upcoming wedding!