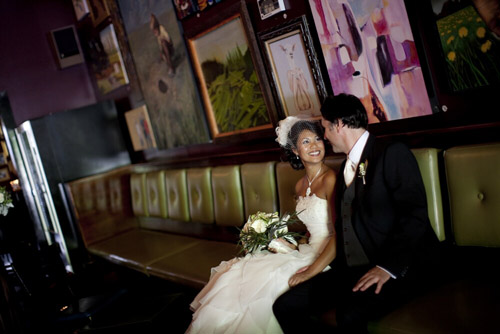 This week's Real Wedding of Jana and Greg, was a joyous occasion and a brilliant combination of all the things that make this couple unique – from their love of music to their passion for all things eco-friendly, the entire event was a creative celebration of their shared lives. Held on a beautiful Seattle day last fall and photographed by John and Joseph Photography we're loving this peek into their big day!

The Goals: Jana and Greg had a lot of fun ideas while they were planning their wedding, but first on the list to make this "the party of the year" was music. As a local radio host, producer and DJ, many of Greg's friends are members of the music community, so it was important to work that aspect of their lives into the celebration and to make the soundtrack of their wedding special to their guests' ears. They also wanted great food and drink – fresh, organic and simply top-shelf. (They even served organic vodka)!
The Look: Jana was perfectly put together in her La Sposa wedding gown, worn with a vintage locket holding a photo of her father inside. For her something blue, she wore a blue Swarovski crystal heart pinned close to her own on the inside of her dress. Greg was dashing in his Versace suit and white tie.
As a fabulous visual contrast to their formal look, the couple and their wedding party made time for a photo session before the ceremony at The Hideout, the funky, art-filled Seattle bar where they first met. Jana and Greg reenacted the moment they first laid eyes on each other, and ended up with some of their favorite images of the day!

The Design: When it came to the look of the wedding, Jana knew for certain that she wanted white wedding flowers, and the rest of the decor she built around that. With additional touches of chocolate brown and sage green, and the rustic look of their ceremony and reception site Sodo Park by Herban Feast, the wedding had a wonderfully natural feel to it. They created great ambiance by dimming the lights and illuminating the whole space with candles.
As guests arrived they were welcomed with gorgeous champagne trees on wooden tables that held glasses of Kir Royale. Wedding programs were hung on sage ribbon from each guest's chair, and escort cards were placed around the wedding cake among birch tree branches and green moss. Dinner tables were topped with chocolate brown linens and a sage green branch patterned overlay, as well as varying white flower and candle centerpieces. Birch trees wired with white orchids and glass luminaries decorated and delineated the main floor of the space, creating a dramatic addition to their eco-chic look.
The Details: For the invitations, Jana and Greg wanted something elegant, whimsical and natural that would tie into the look of the reception, and they found just what they were looking for in a design from Wiley Valentine. The music for the wedding was very thoughtfully chosen. During dinner local musicians from Seattle performed one song each, an acoustic version of the love song of their choice, and the couple's first dance to Bobby Bland's "You're The One" was a surprise from Greg to Jana. Greg picked out the vintage piece long before the wedding, and its romantic, soulful vibe totally delighted Jana. The rest of the evening was filled with reggae, soul, Brazilian and dance music, with some classics thrown in as well.

The Moments: When Jana and Greg saw each other before the wedding it was a very tender and sentimental meeting. "I entered the room and saw Greg standing near the front with his back to me. He says all he could hear was the swooshing of my dress as I approached from behind. I tapped on his back and he turned around slowly and took his first look. I couldn't hold back the tears. He then took a long look at me and acknowledged my vintage locket, which was his favorite thing, and he opened it up to see my Dad. It was such a special moment".
The Pros: To learn about all of the wedding professionals who helped to make this wedding a reality, please visit our Real Weddings section.

Thank you so much for sharing your sweet wedding with us Jana and Greg!What a fantastic event!
If you're planning your own wedding in Seattle or Southern California, don't miss our trusted Plan Your Wedding Hotlist!