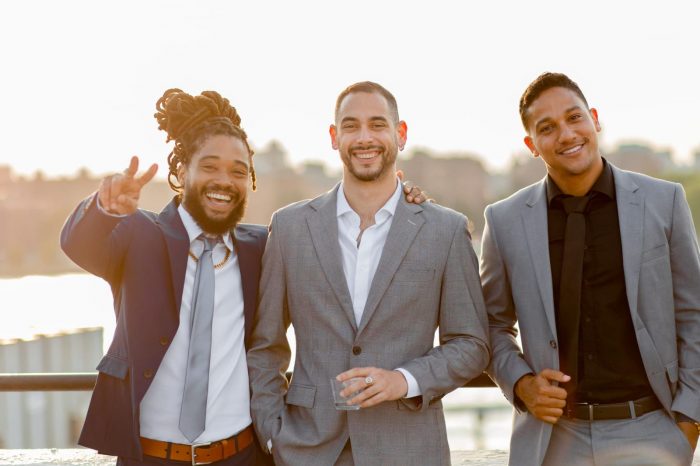 There's a lot that goes into wedding planning, specifically wedding attire. Trying to coordinate the groomsmen with the groom and the bridesmaids is quite the feat. Luckily, CON.STRUCT is here to make the job much easier. With color palettes that match some of the biggest bridesmaid dress companies out there (think Dessy, David's Bridal, and Azazie), you and your wedding party will be dressed to the nines.
How To Coordinate With Your Wedding Party
Determine Your Color Palette
When it comes to determining your color palette, there are a few things to take into consideration. From the seasonal blooms to the venue where you're tying the knot, these can help you determine the right color palette for your special day.
Once you have a few colors in mind, it's time to narrow it down. Most couples typically opt for one to two primary wedding colors, which you can then use for your bridesmaid dresses and groomsmen accessories. Luckily, no matter what you end up deciding on, CON.STRUCT has a wide range of colors, from neutral to bold.
Choose Bridesmaid Dresses
Speaking of bridesmaid dresses, once you have your primary colors picked out, it's time to think about what the bridal party will wear. Choosing these before groomsmen helps make shopping for accessories–such as ties and pocket squares–a piece of cake. CON.STRUCT has taken it a step further by matching their accessories perfectly to dresses from Dessy, David's Bridal, and Azazie. That means you don't have to worry about the colors looking mismatched in photos.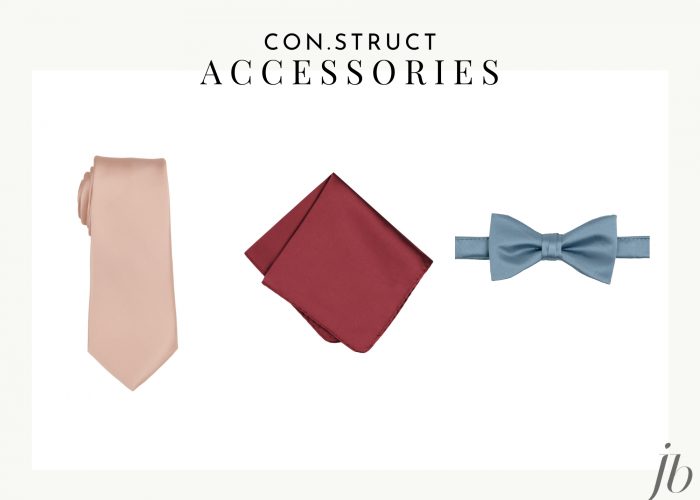 Solid Satin Tie; Solid Satin Pocket Square; Solid Satin Pre-Tied Bow Tie
Choose Groomsmen Outfits
Now it's time to think about the groomsmen! Keeping it simple for the suits allows you to match easier and play with pops of colors. If the bridesmaids are doing mismatched dresses, you can even consider doing one suit color and different colored accessories to match the bridesmaid that they're walking down the aisle with. Don't be afraid to shy away from color if you're looking to make your big day bright and colorful.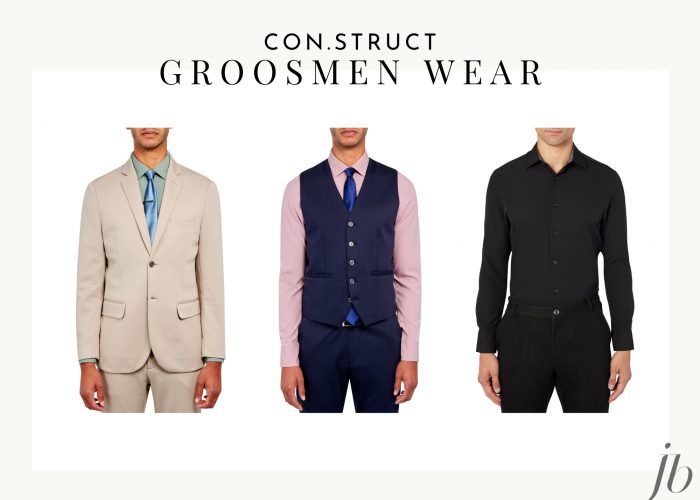 Solid Stretch Knit Blazer; Solid Stretch Knit Vest; Solid Cooling Performance Stretch Dress Shirt
Coordinating Wedding Party Inspiration
Now you're ready to coordinate with your wedding party! For more groomsmen inspiration, check out these groomsmen suit ideas for wedding style!