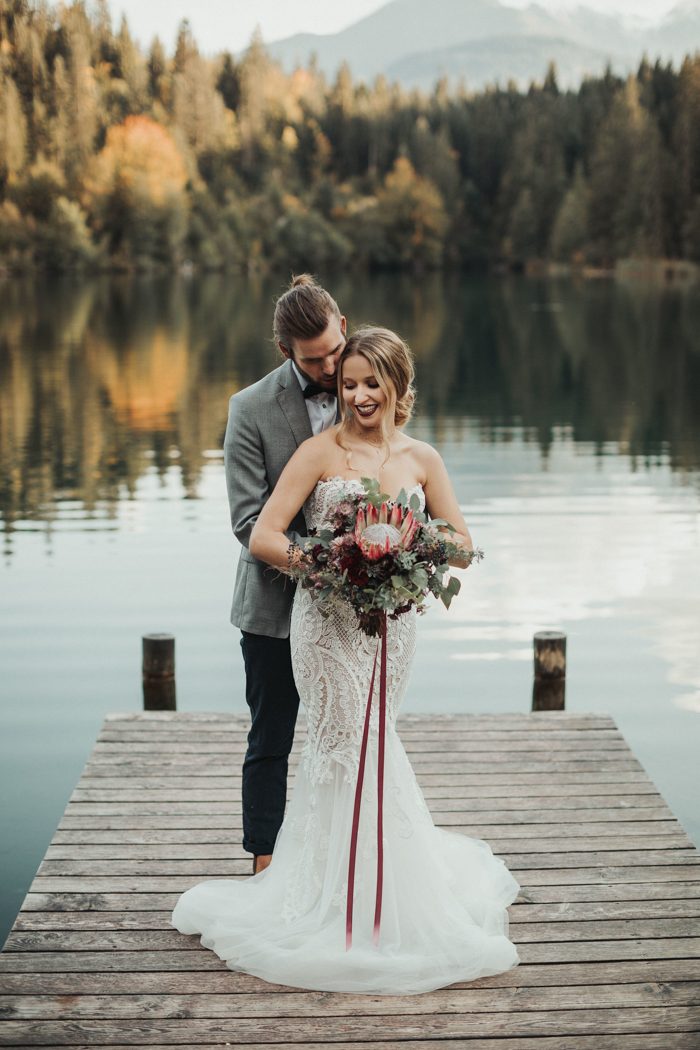 Michelle and Jon's boho wedding at Fischers Fritz has the prettiest pastel palette! The soft pink and blue tones go hand-in-hand with Switzerland's breathtaking views and terrain. We love that Michelle and Jon kept everything as green as can be to eliminate waste and be intentional with the products they used for their wedding – including a used wedding dress! Walking down the aisle in a gorgeous strapless lace dress, Michelle's boho look perfectly comes together with her Stil und Stiele bouquet and flower crown. Once Michelle and Jon said "I do," they carried the celebration to Daizy to eat, drink, and dance the night away. Chris Züger Photografie and Philipp Dubach worked side-by-side to capture this joyous and fun day!
The Couple:
Michelle and Jon
The Wedding:
Fischers Fritz, Zurich, Switzerland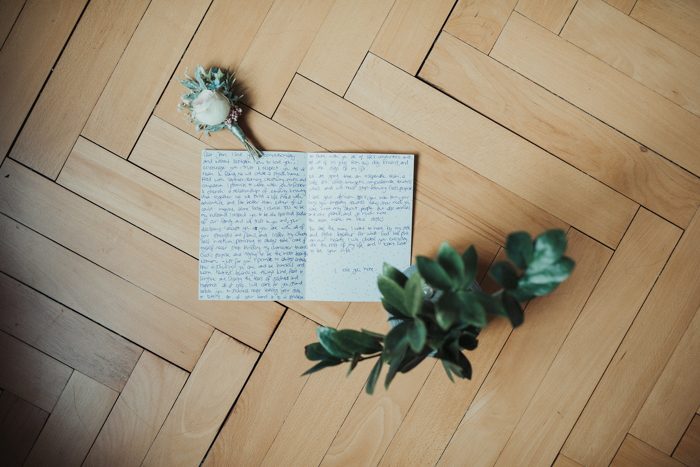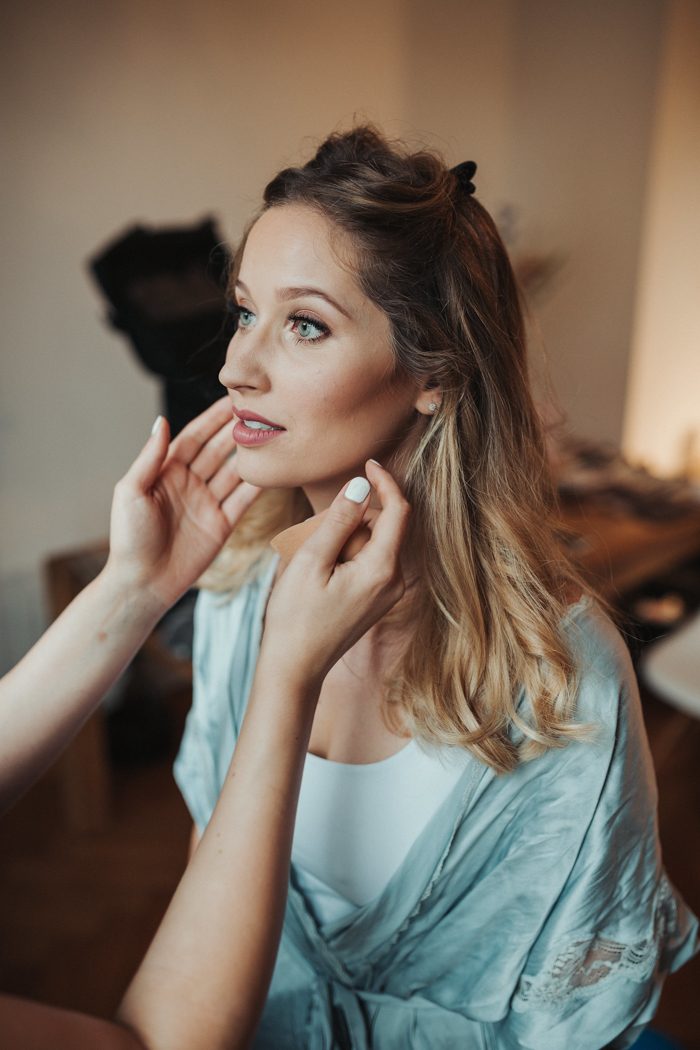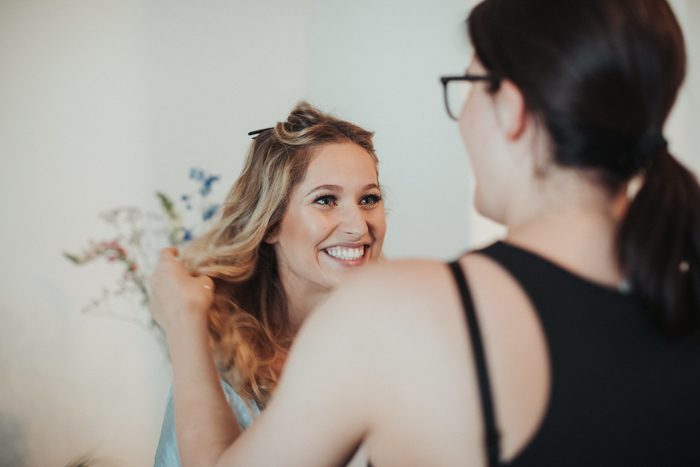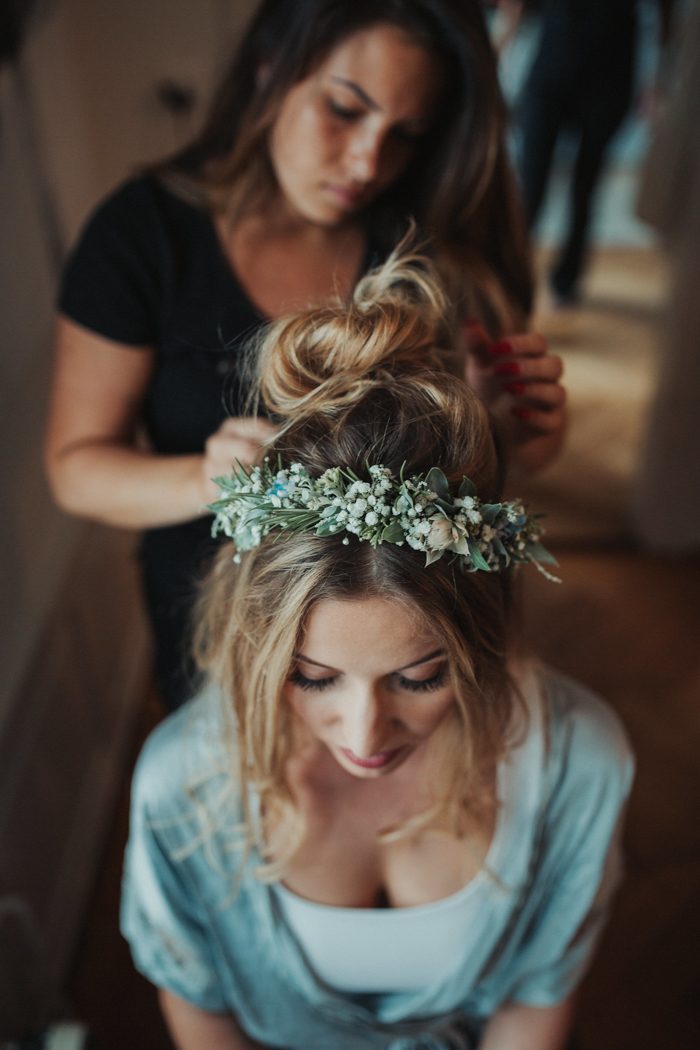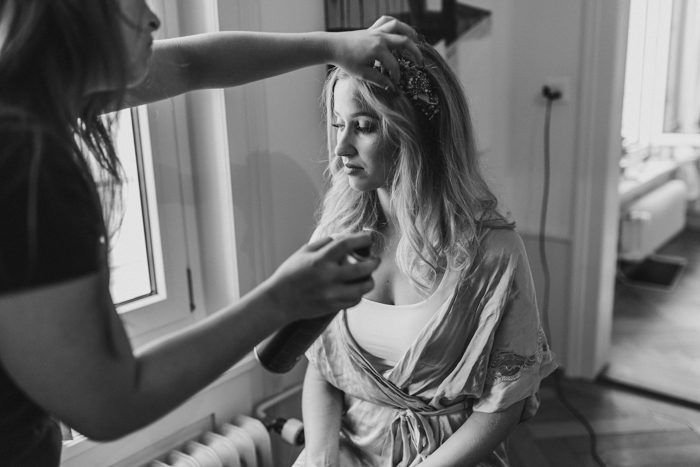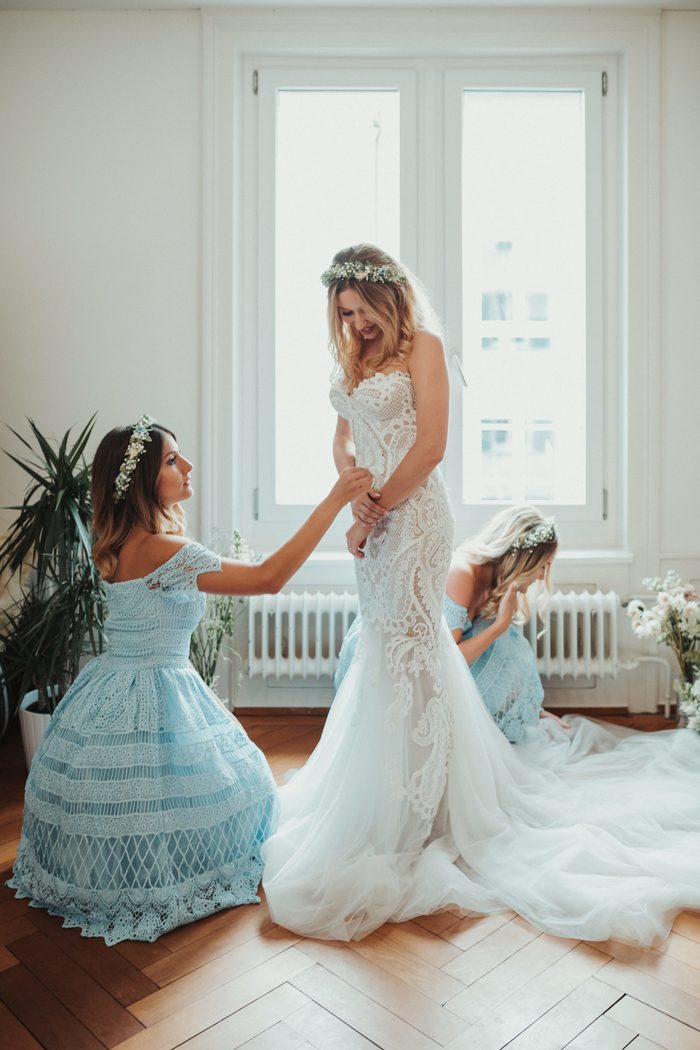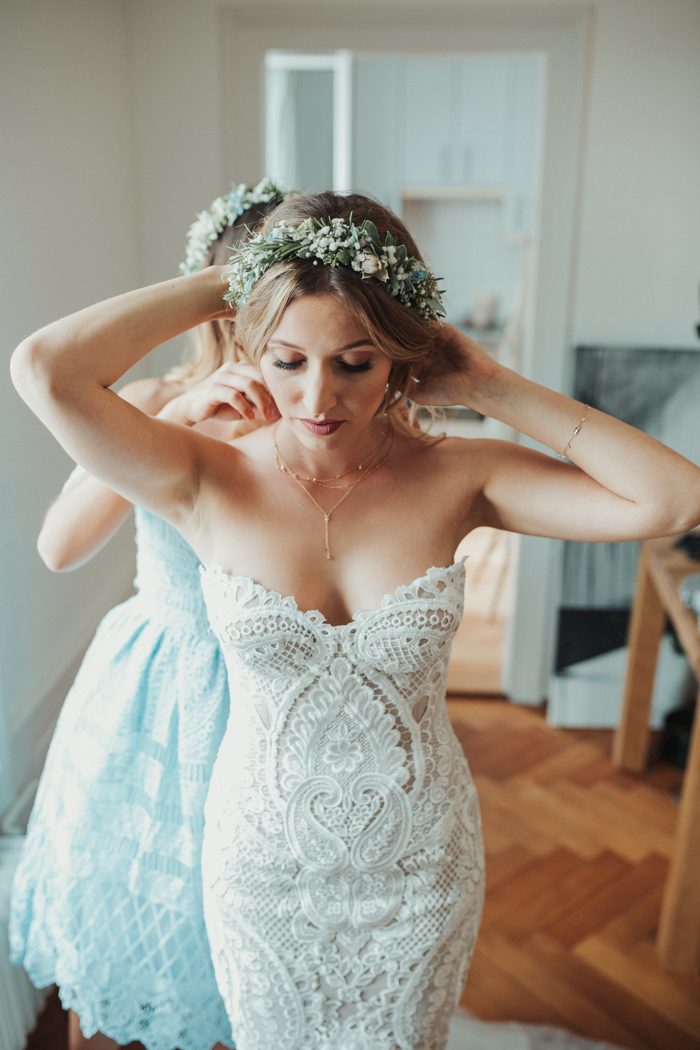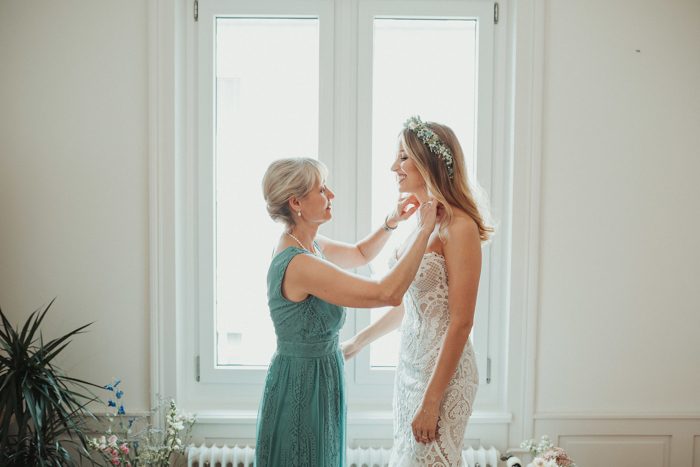 We decided to have a green wedding because that's how we try to live as well. Whilst planing it, we made sure that we didn't buy a lot of new stuff and that we could do a lot of it ourselves.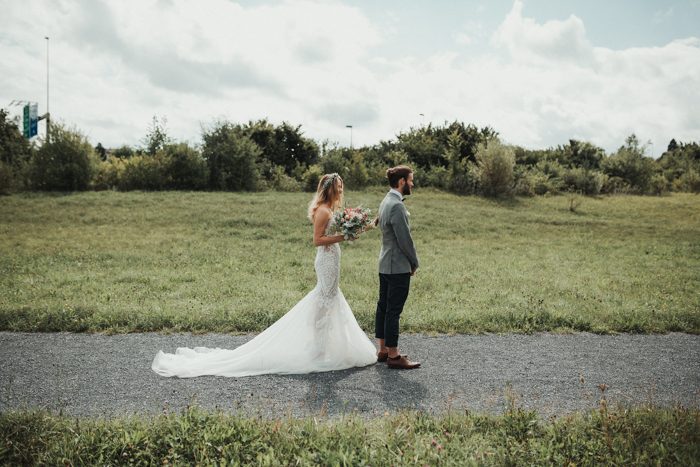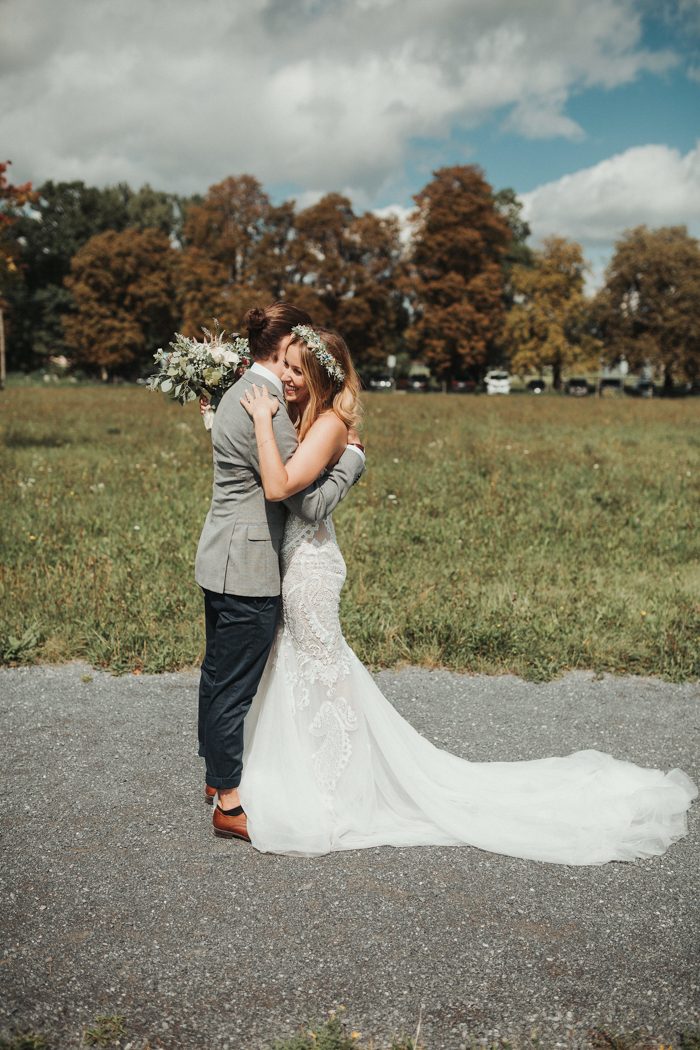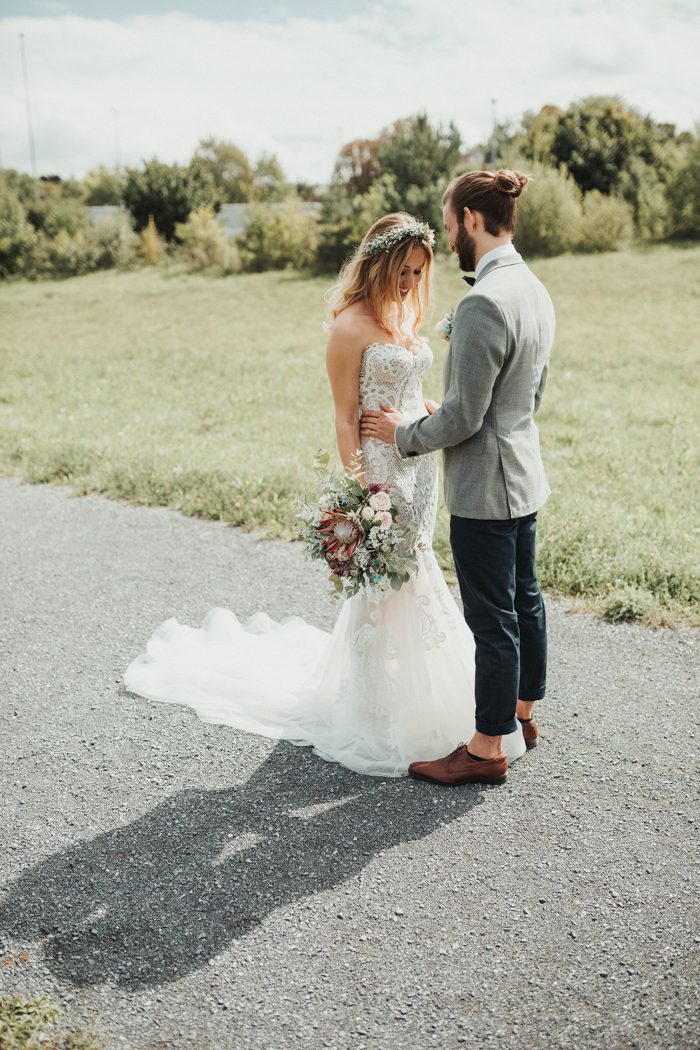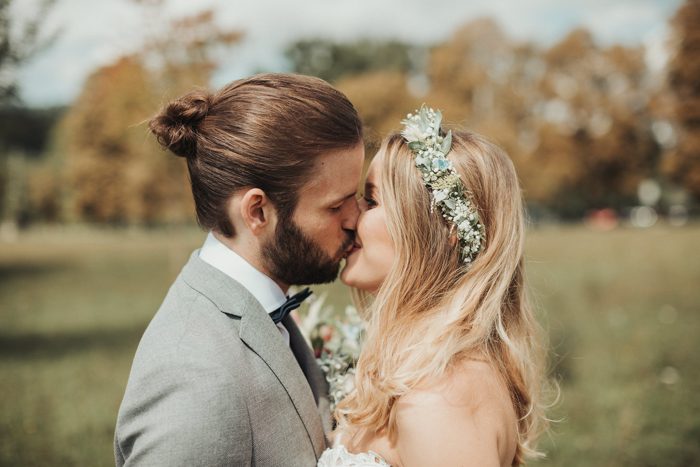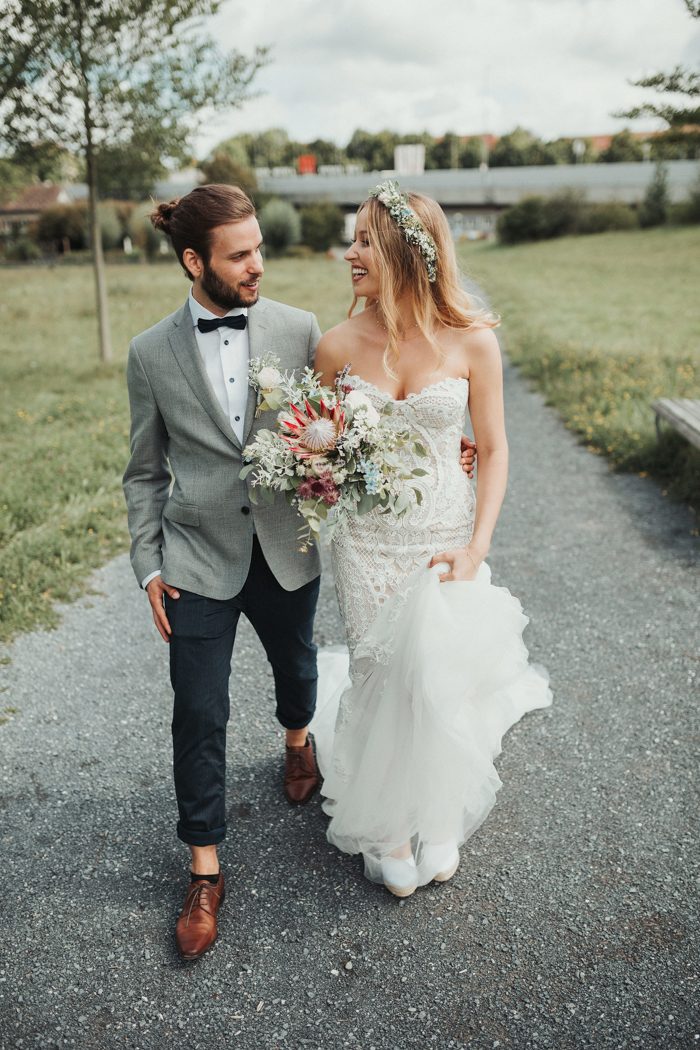 SHOP THE POST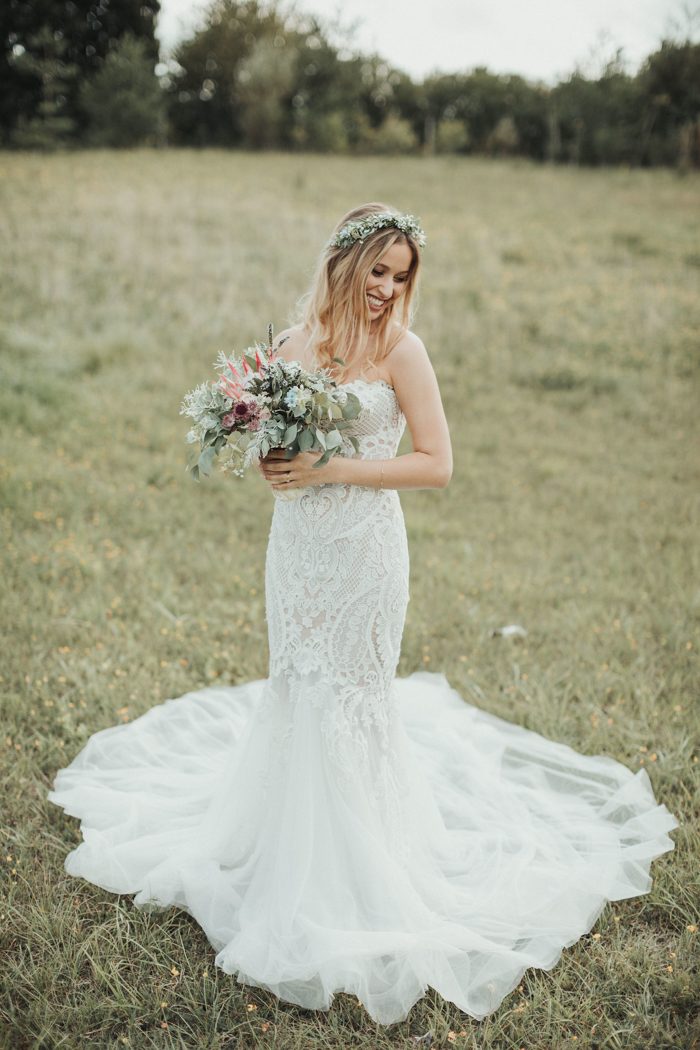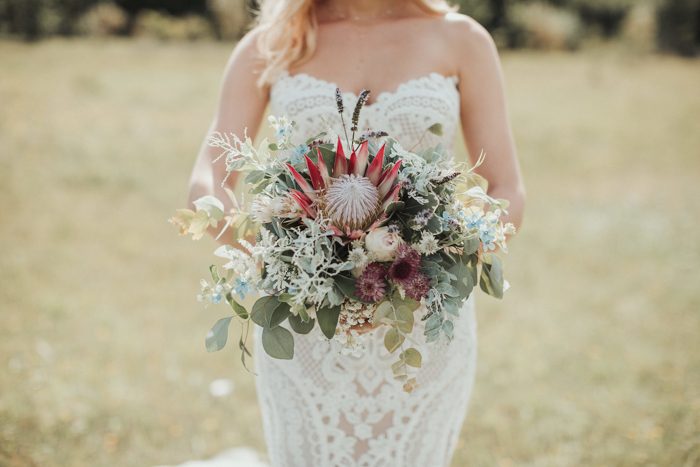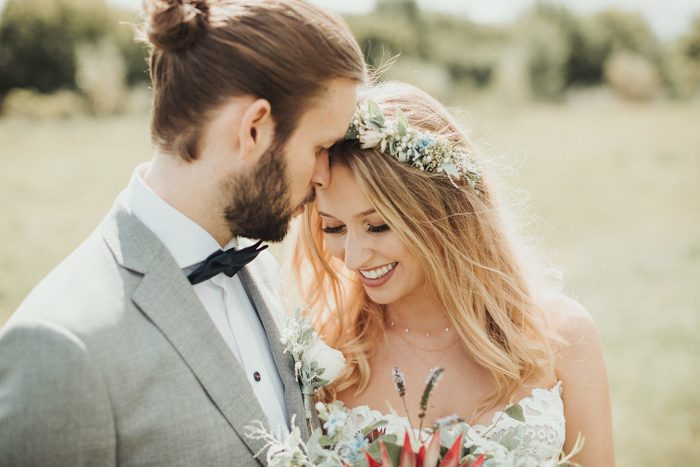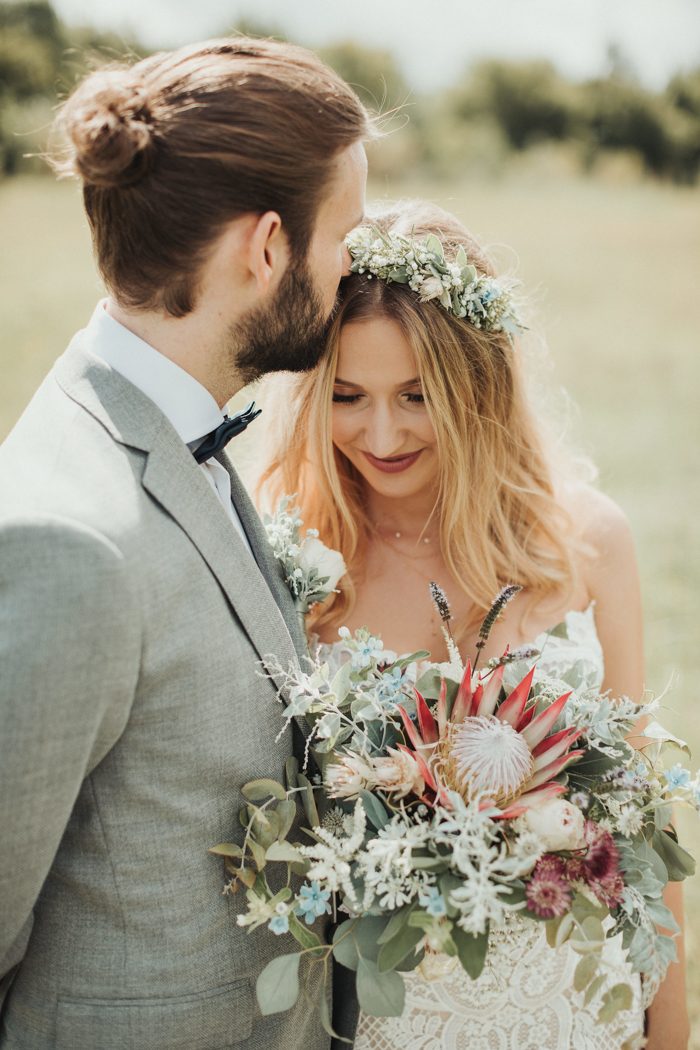 We wanted to have a summer wedding. Nothing too traditional and something that would reflect us as well. We wanted everyone to feel comfortable and the vibe to be happy and excited. So we went for a boho-inspired theme without going too "hippy".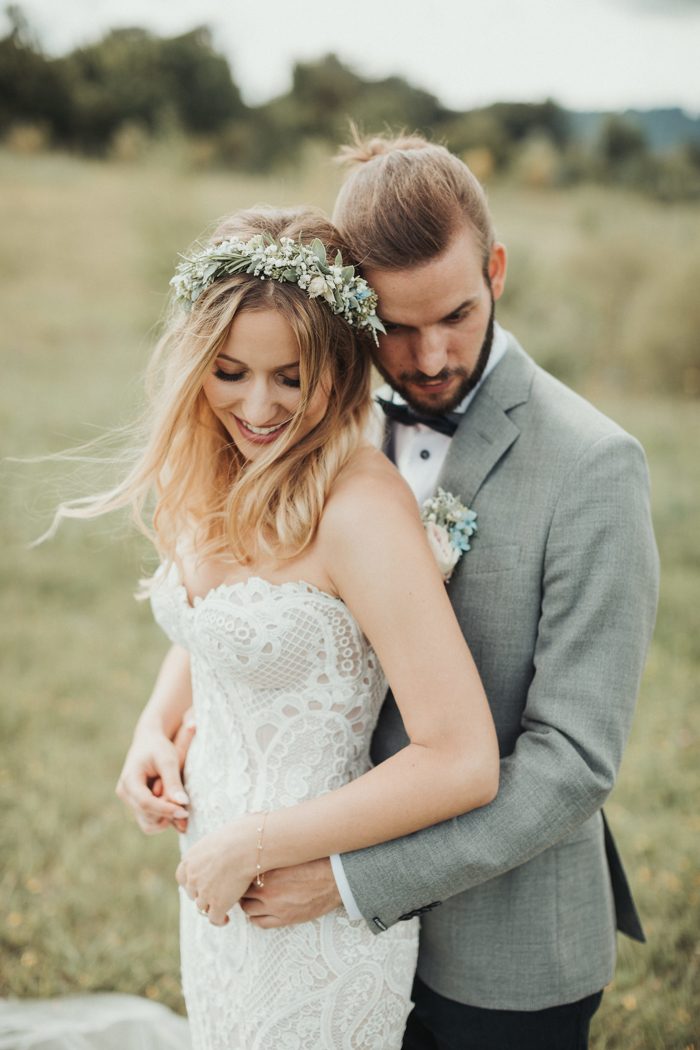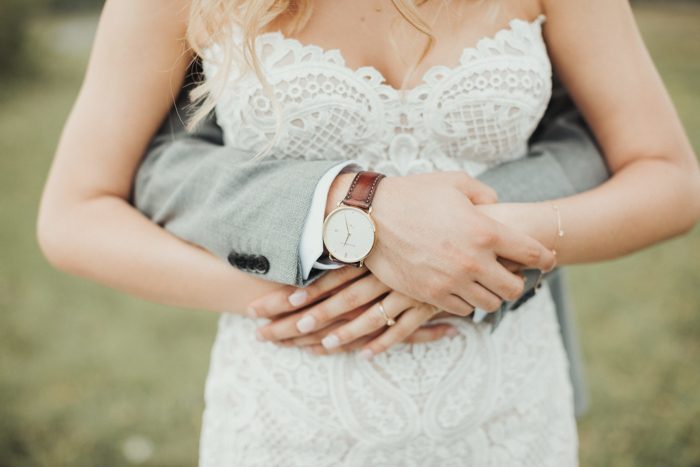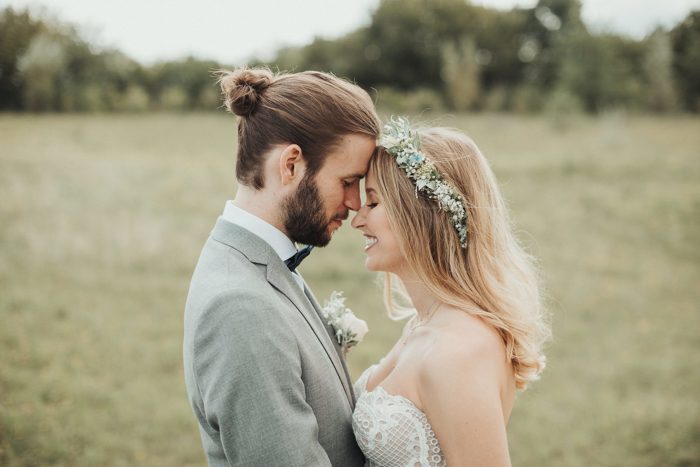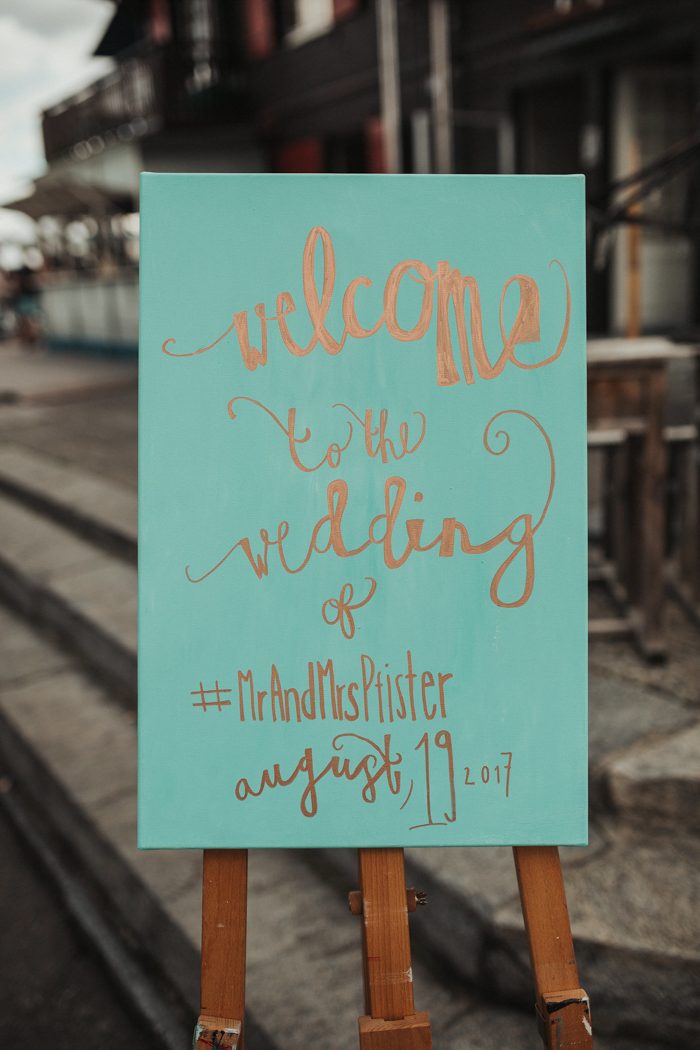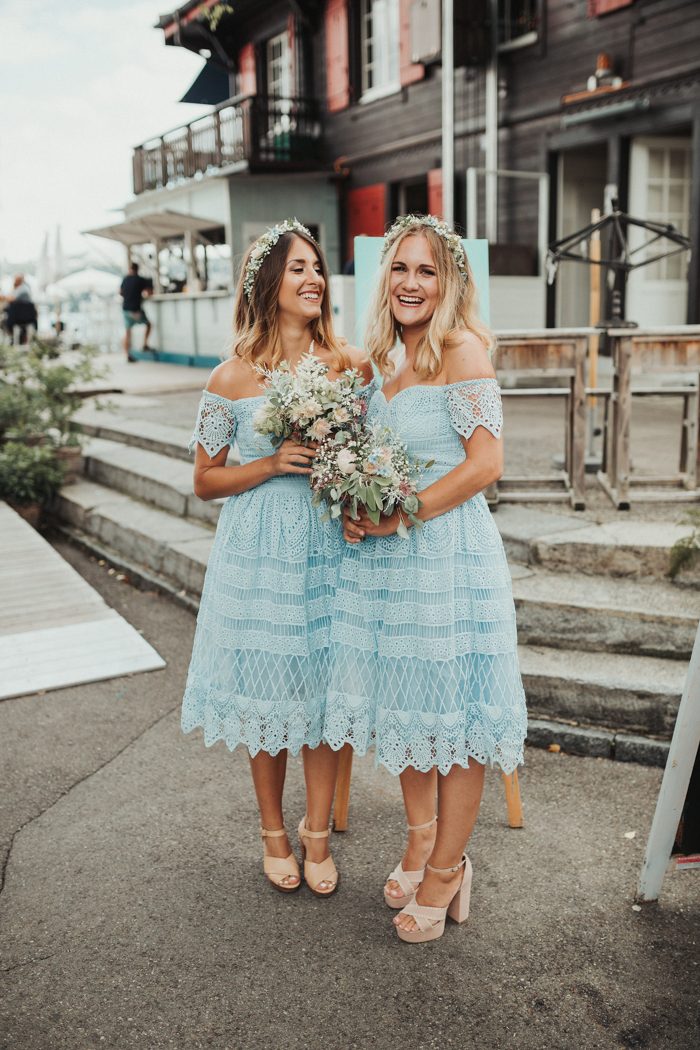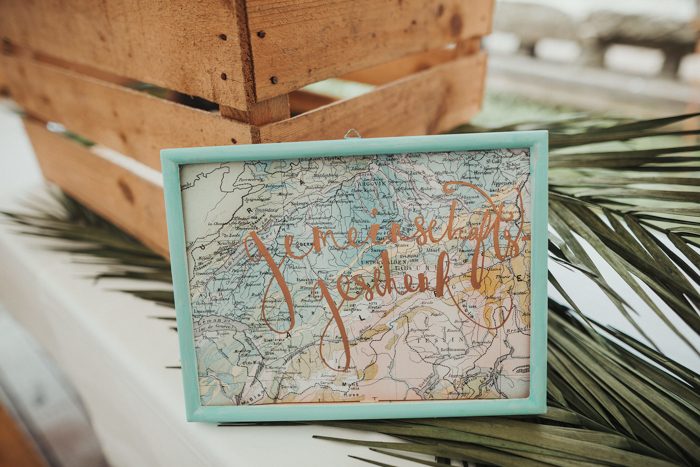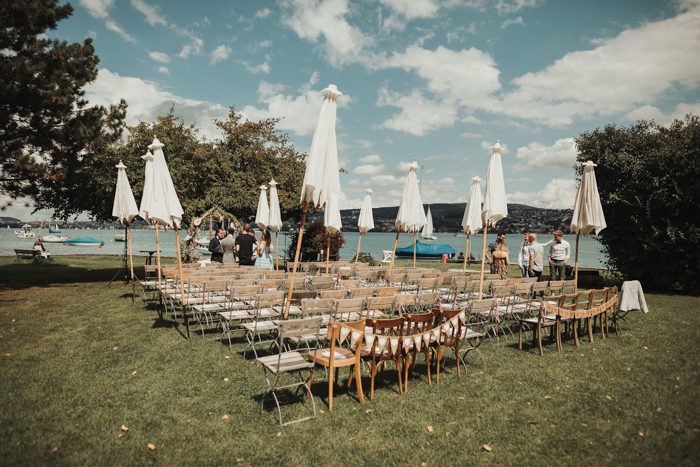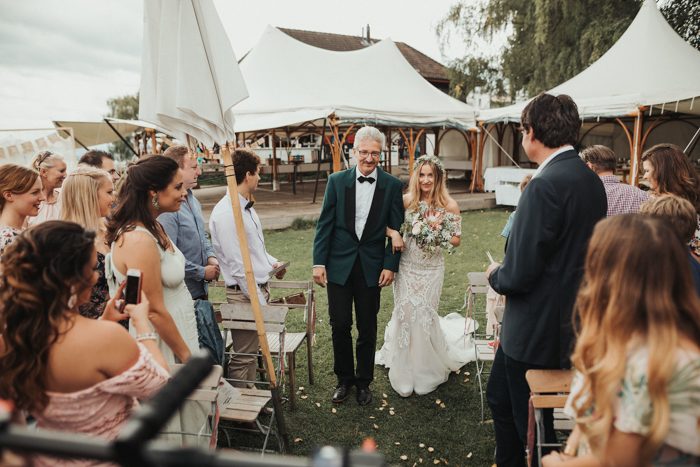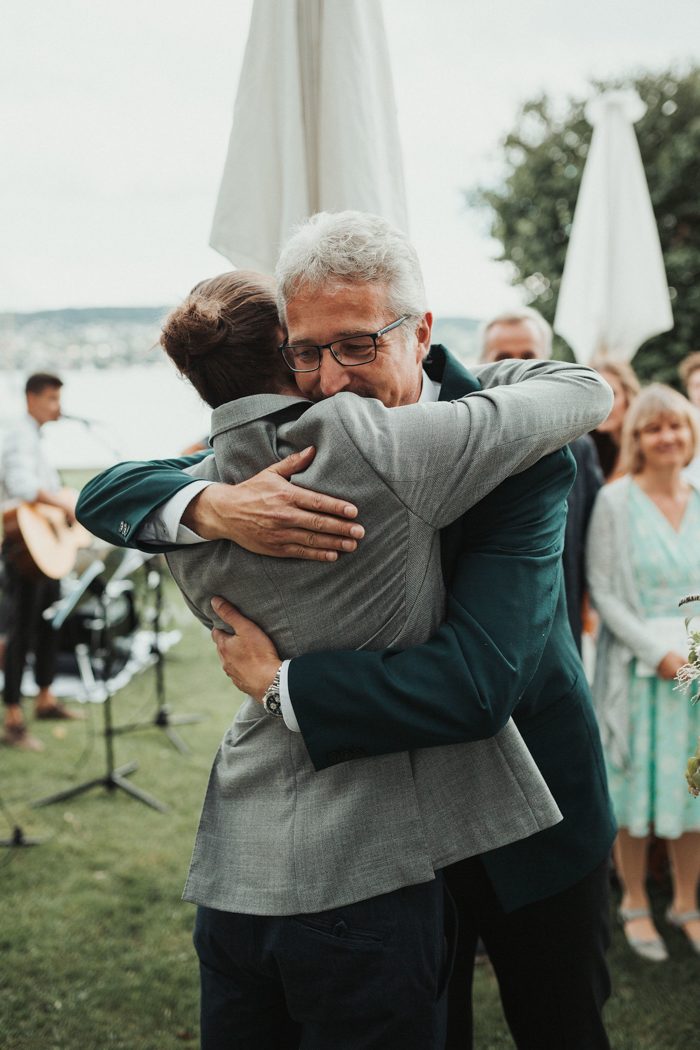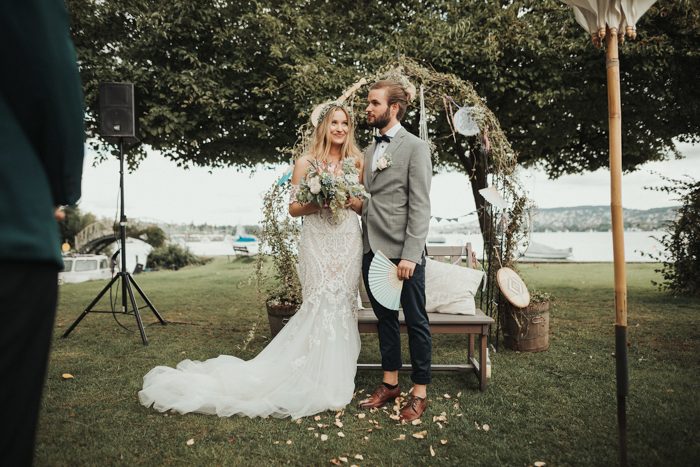 We wanted to get married outside, if possible by a lake. So we Googled a few venues and really fell in love with the one we got to choose. Luckily someone declined just a few days before, for the date that wanted, so we booked it right away.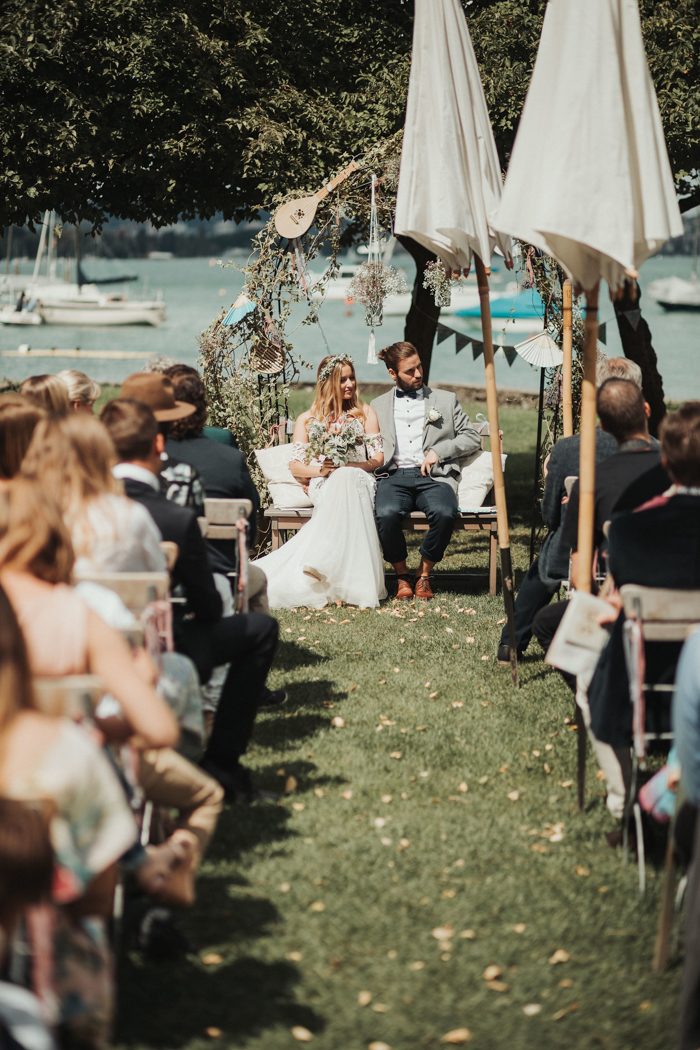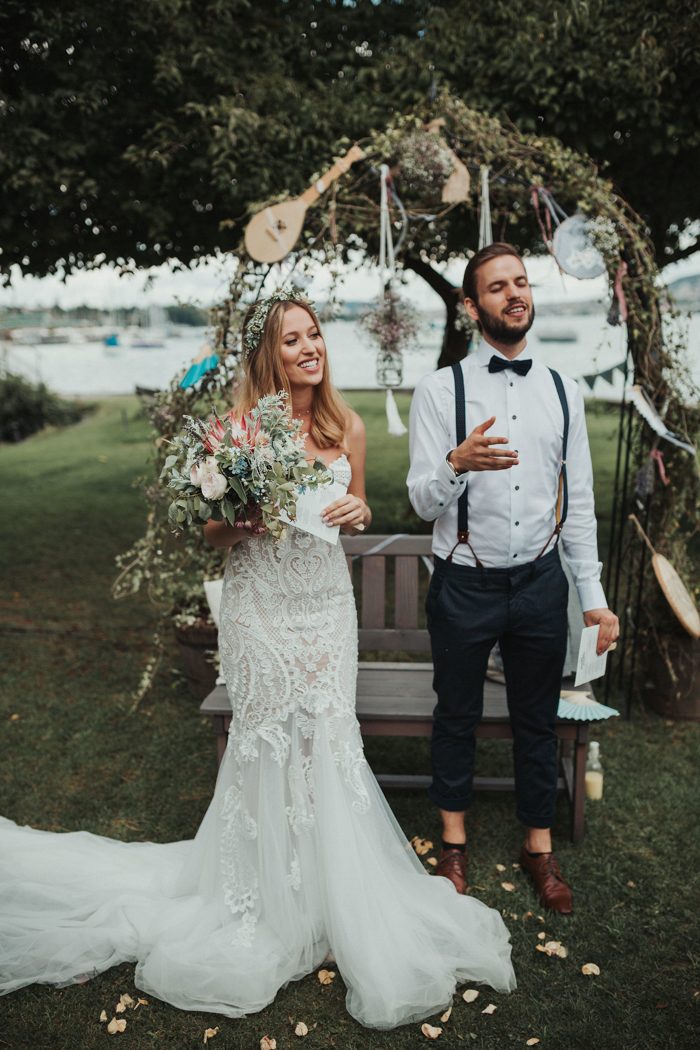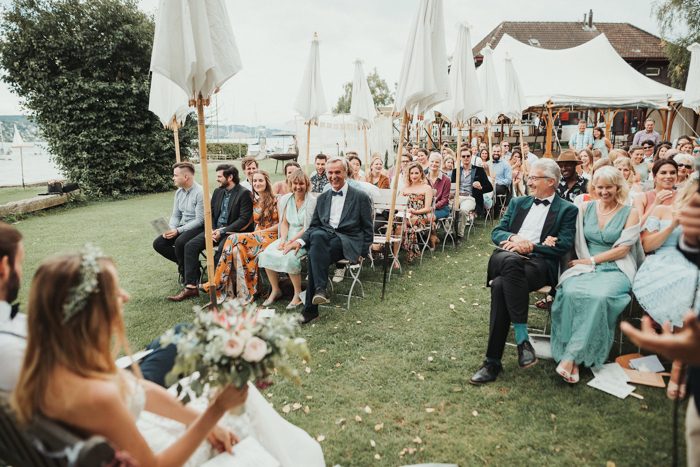 We loved having our friends and family with us, they brought such a great atmosphere and made our day so much more memorable. We really loved promising our vows to each other, that brought such a personal note to the ceremony. Also we wrote our own song that we performed during the ceremony, no one knew about it, not even the bridal party, so it was a nice surprise to everyone!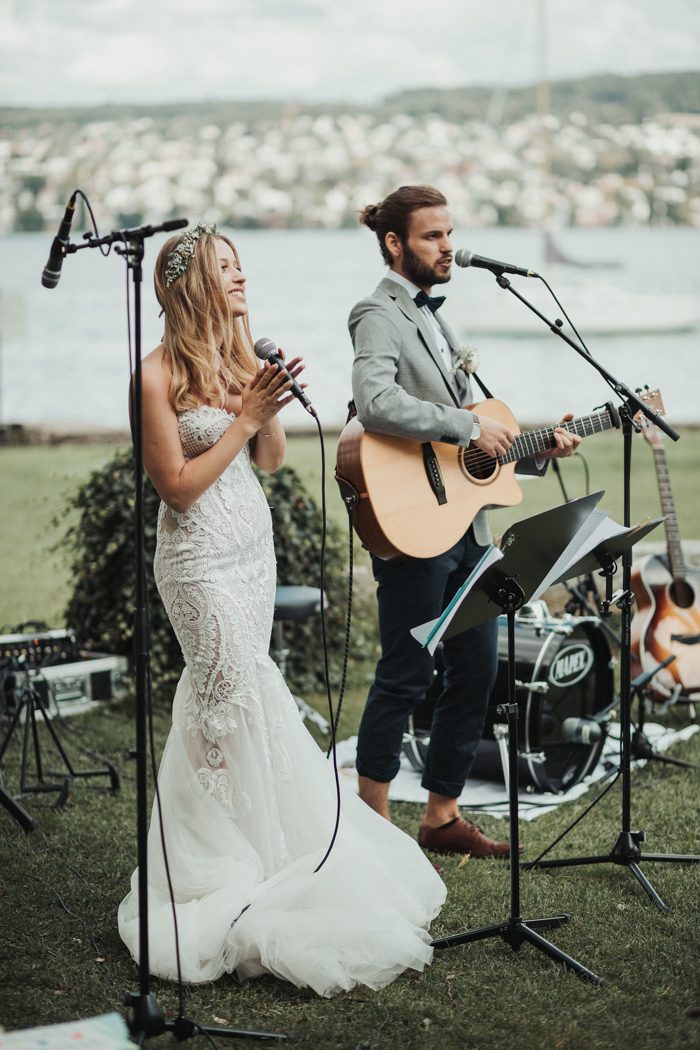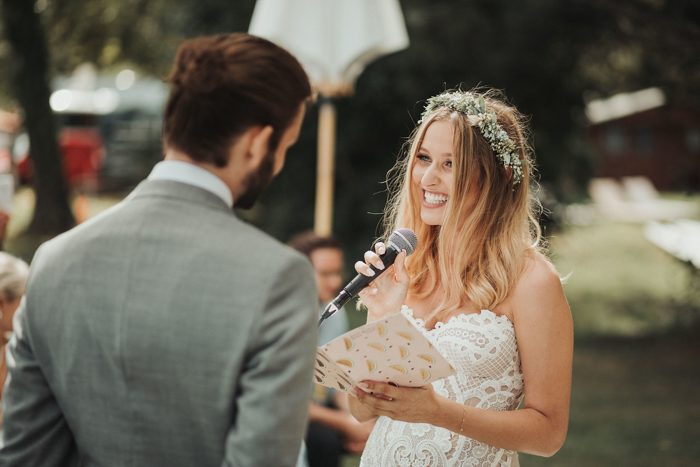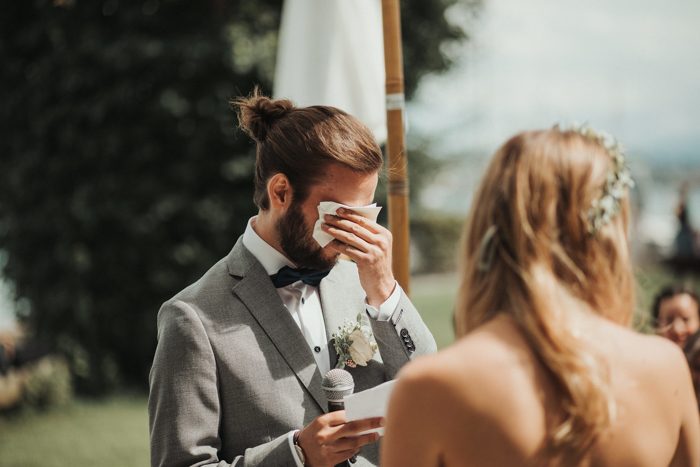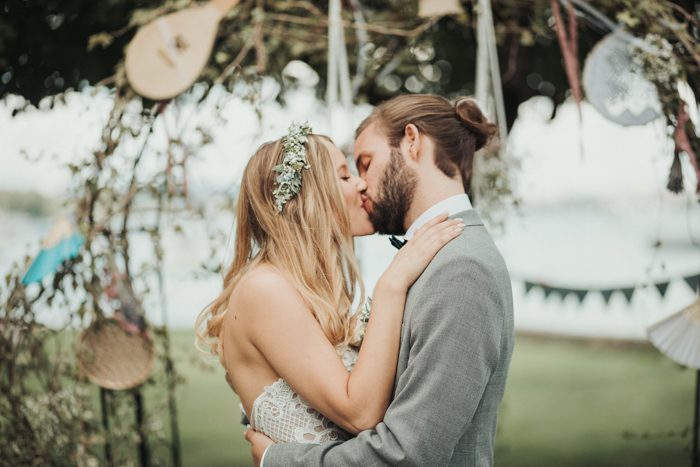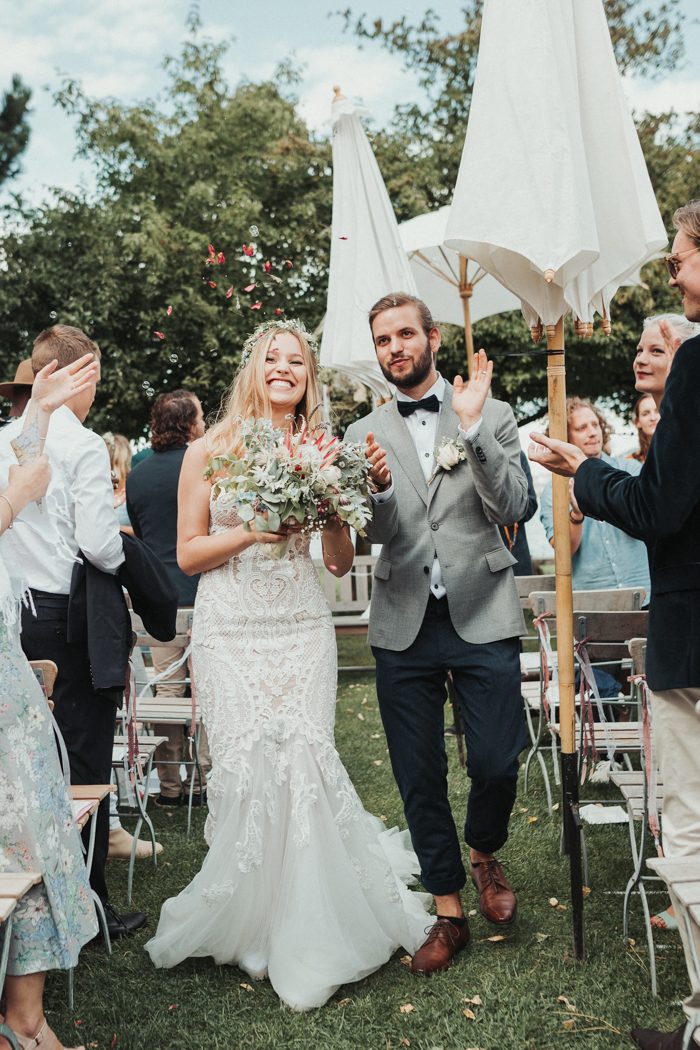 We wrote all of our invitations by hand, made most of the decoration ourselves, and we dried some lavender leaves that we used as confetti during the recessional song.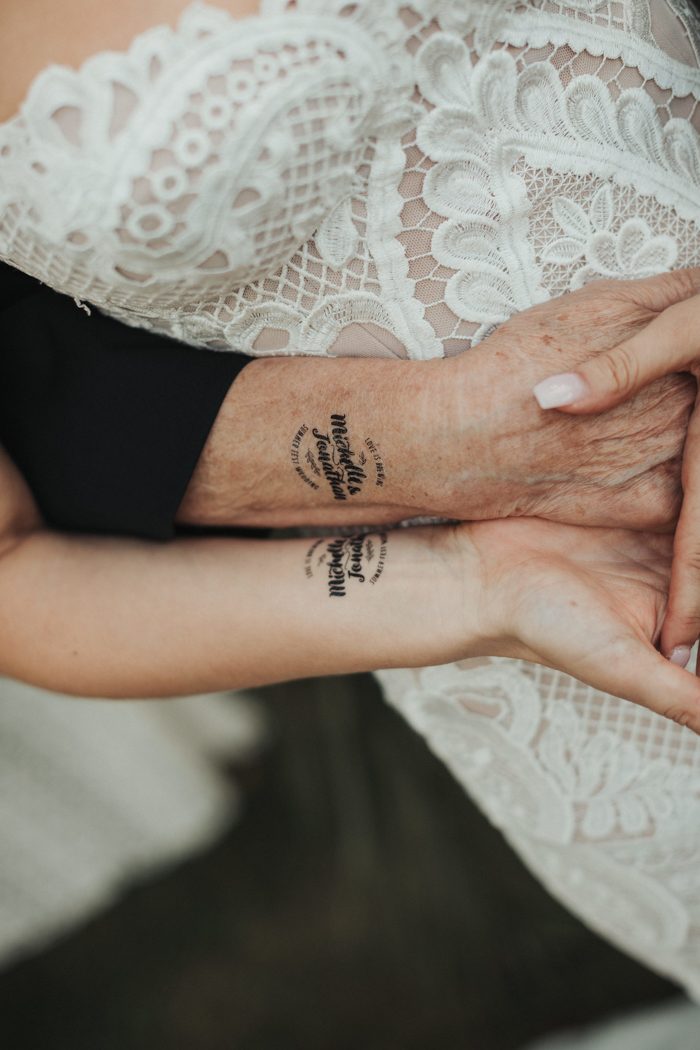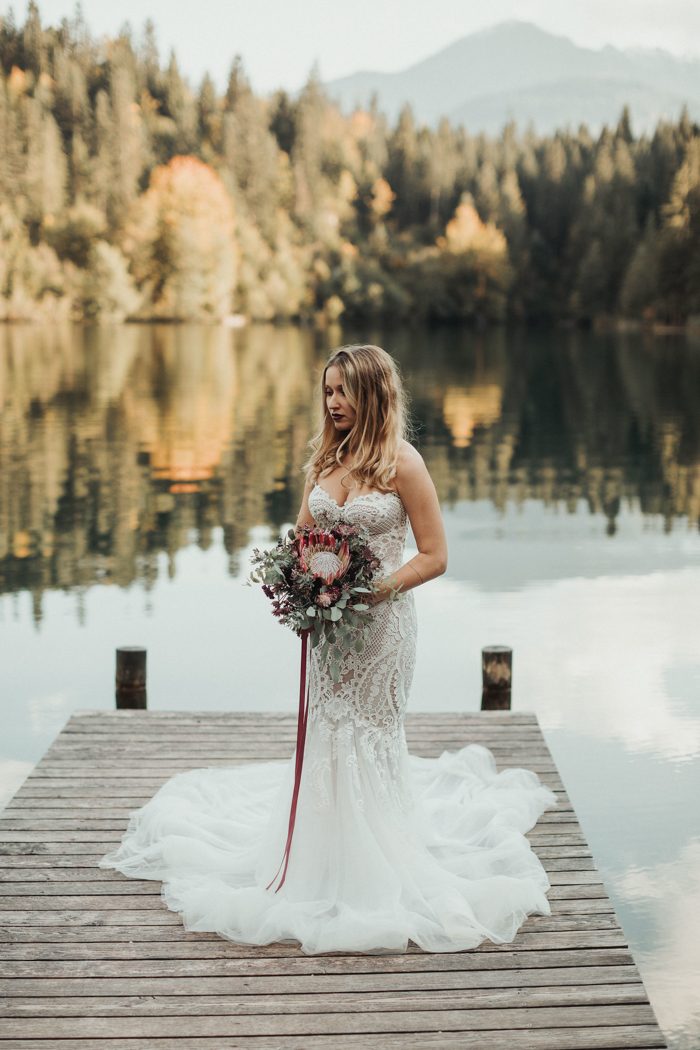 I wanted to look elegant, effortless and chic. I went for a secondhand Leah da Gloria gown that I topped off with a floral crown and some dainty gold jewelry. Everything was fair-trade and handmade. I loved that the dress was special and not the usual wedding gown. The chunky lace with the light tulle made the gown special and perfectly fit my style. For the reception, I changed into an effortless Lottie gown from Grace Loves Lace for full dancing opportunities.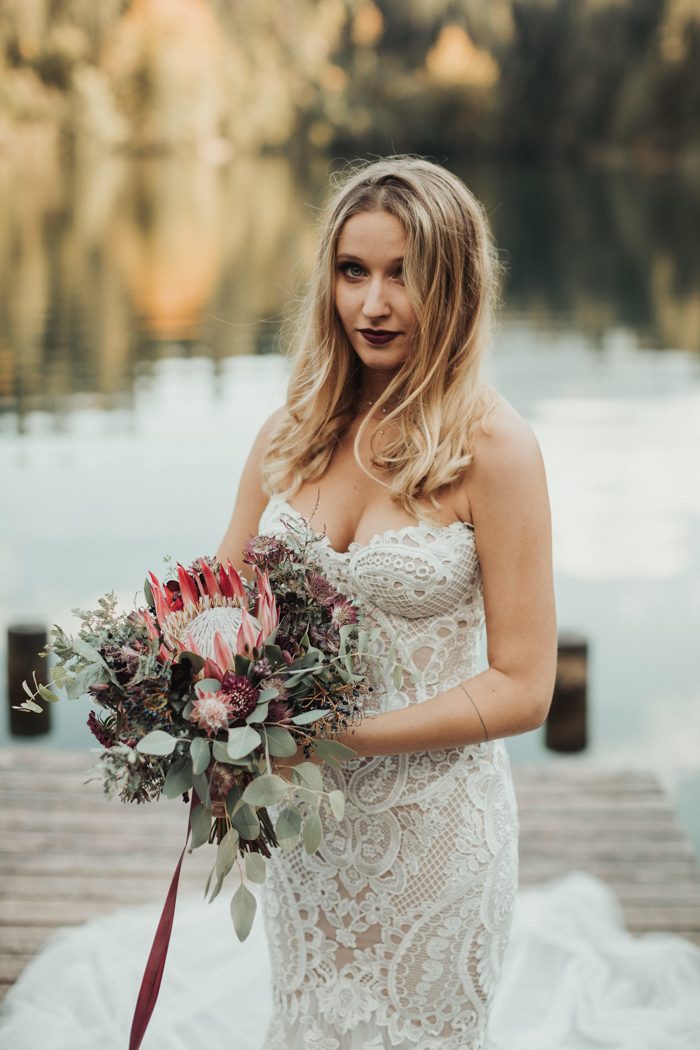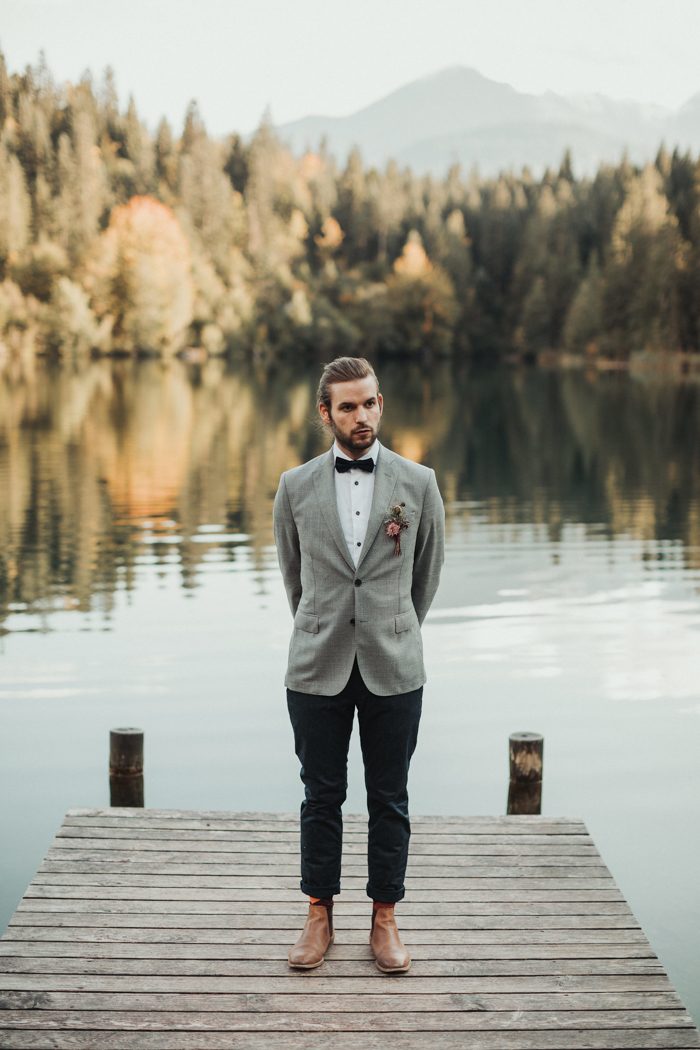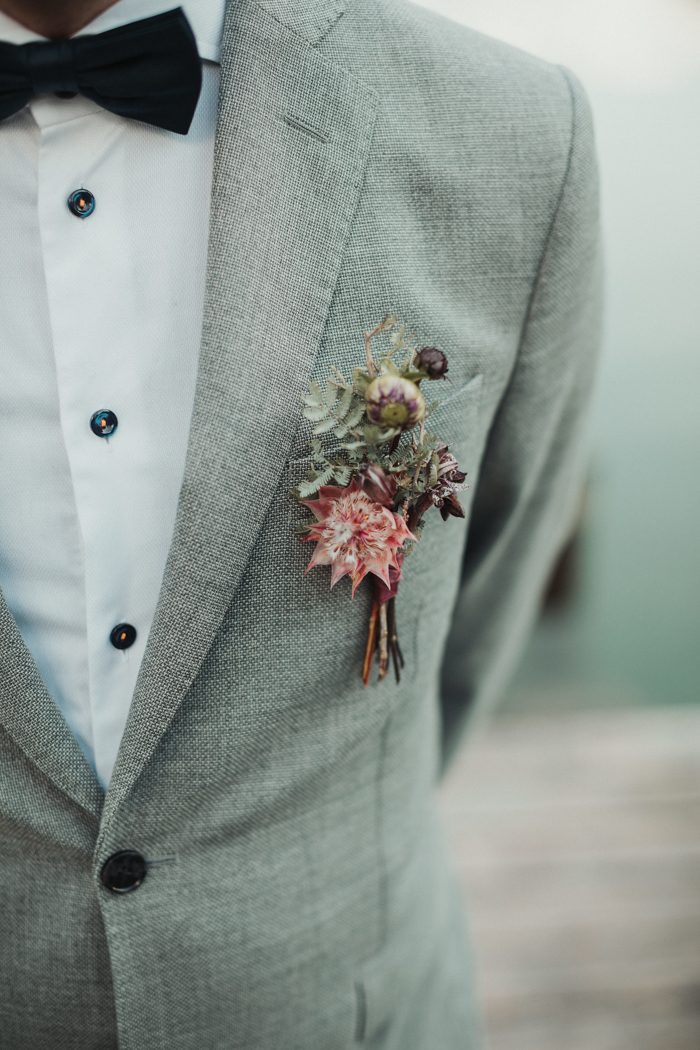 I didn't want a formal suit. Once we decided to get married outside, I really wanted something that would fit with the venue. I loved the suit, it was super comfortable and reflected my personal style as well.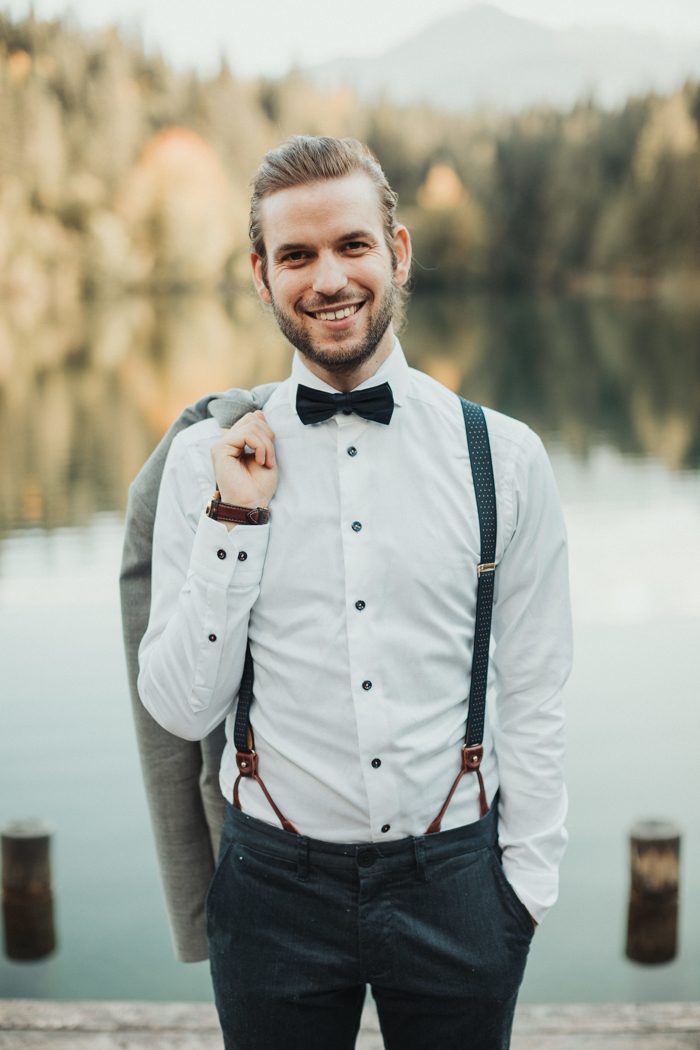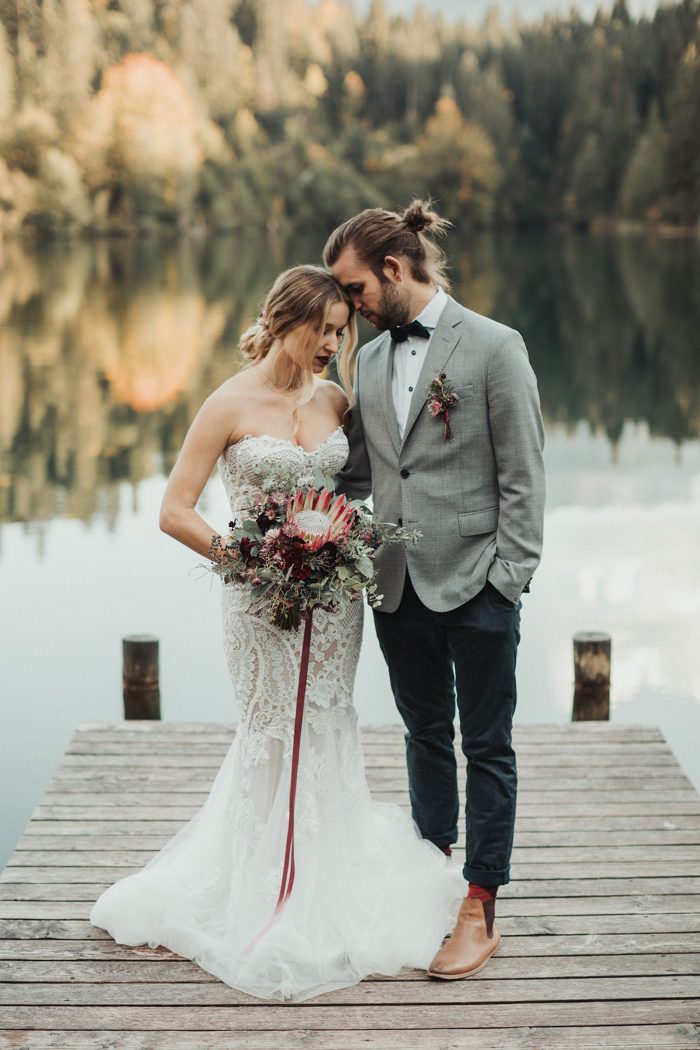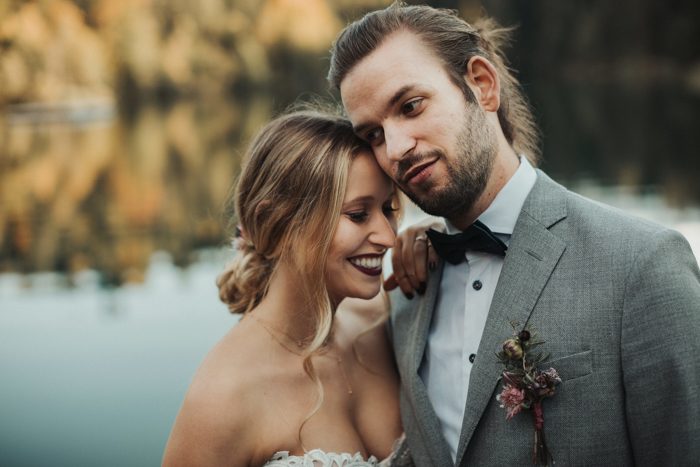 We loved working with Chris Züger. He's a good friend and we had a couple of shoots with him before the wedding. He's such a fun and encouraging person, everyone really enjoyed being around him, that is well reflected on the pictures.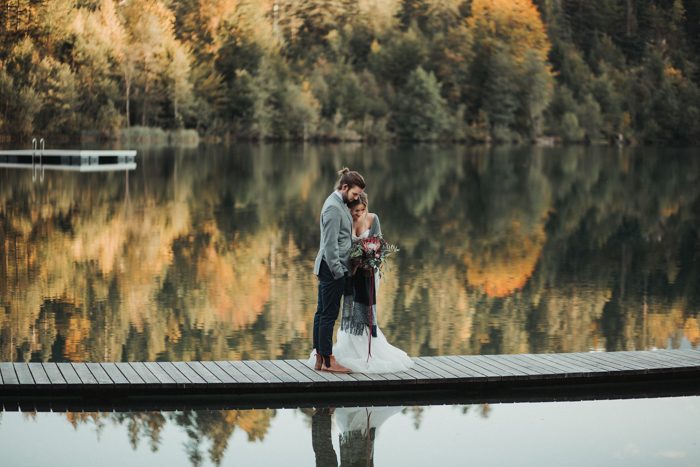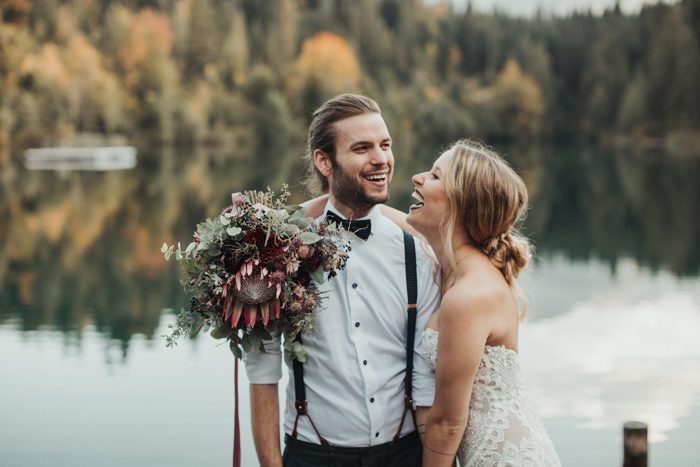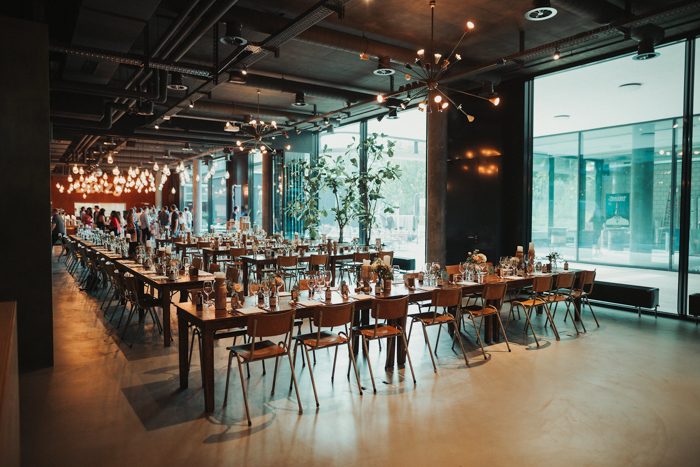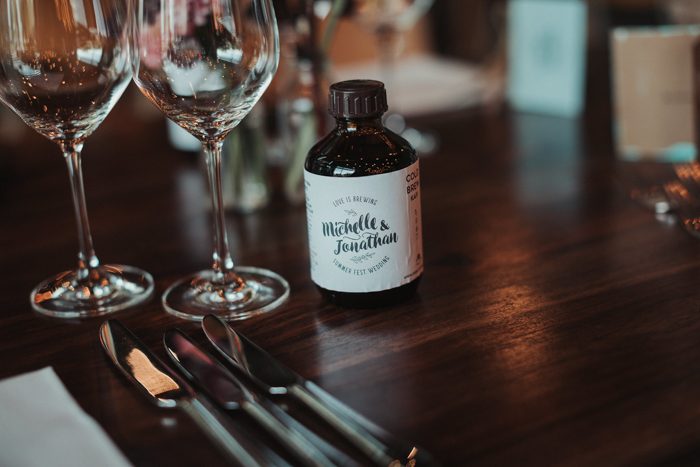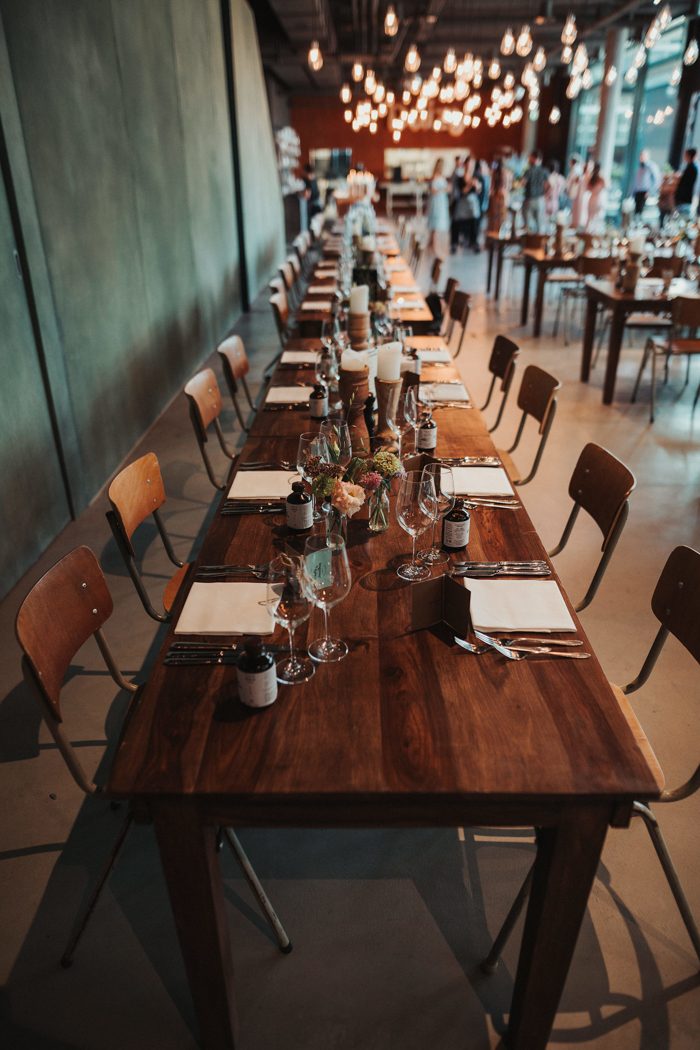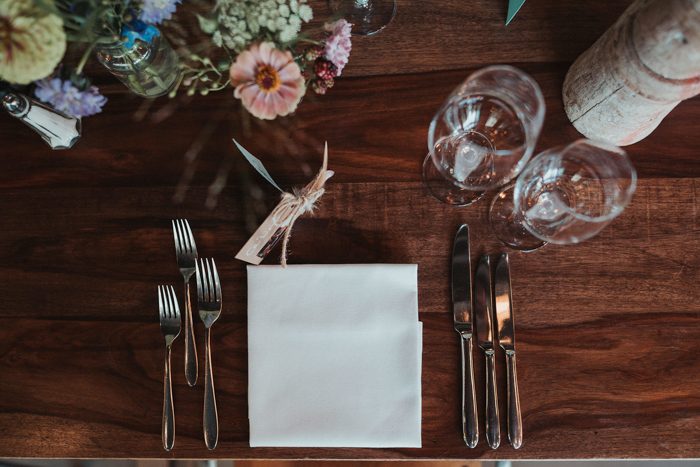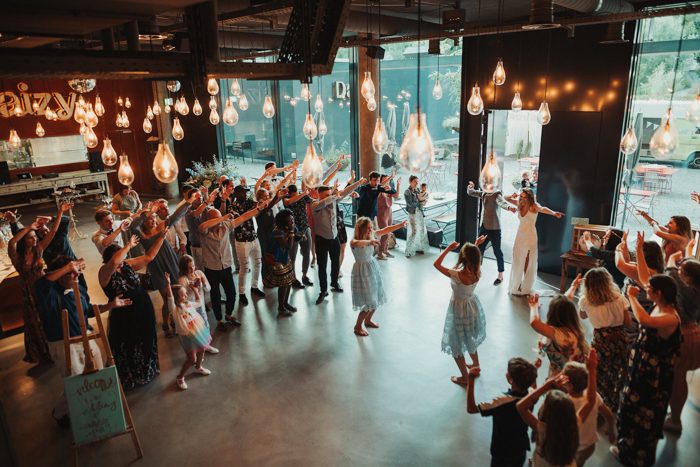 Once we arrived in the evening location, our bridesmaids and guests welcomed us with a dance they had prepared. That was such a fun and exciting moment. Also we had to perform a non-prepared theatre later at night (like an improv theatre) and the guests loved it and laughed until their bellies hurt!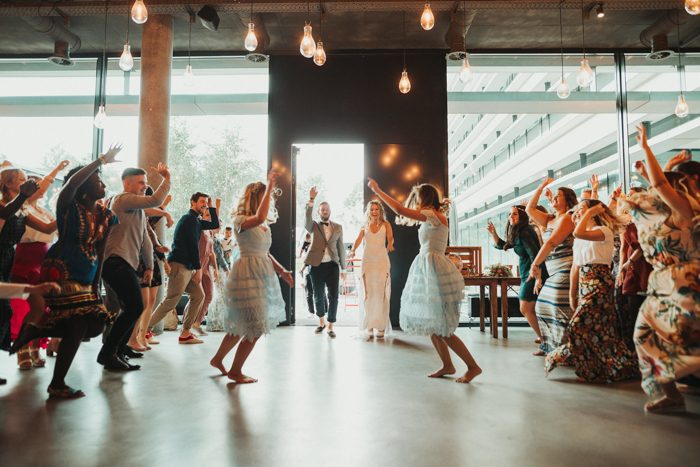 Our gift was a bottle of fair cold brew coffee for all of our guests that were invited for the evening celebration. We both love coffee so much and were so happy that we found a company that produces it in our city and also that it was a fair trade product. The cold brew helped everyone to stay awake for the dance party and was also a nice souvenir to take home. The glass bottle could be recycled so guests could reuse it.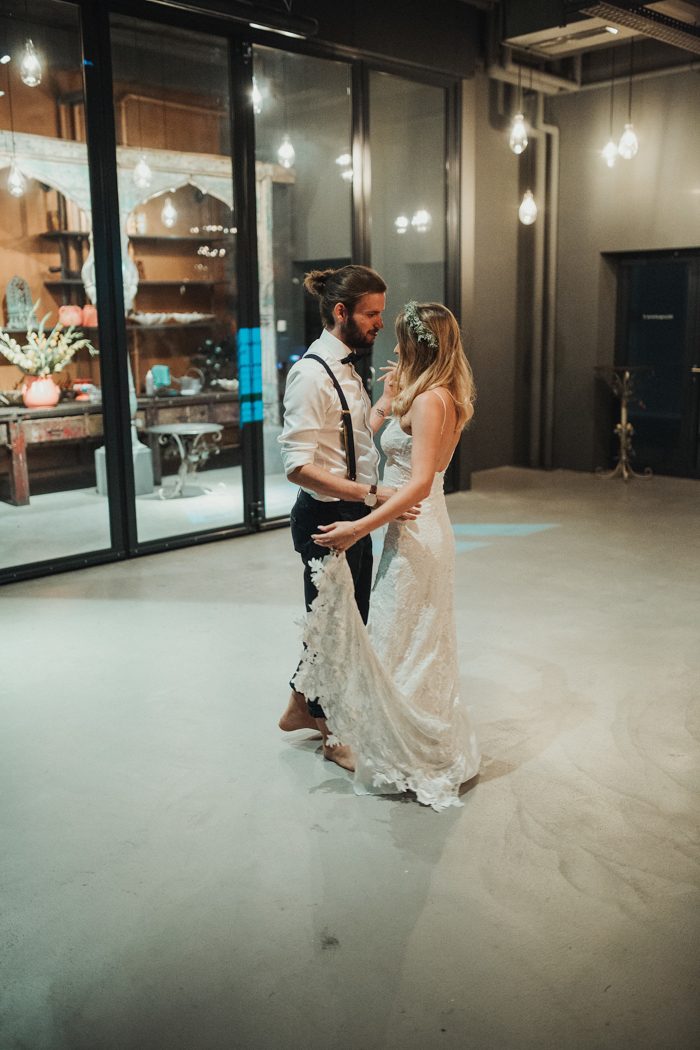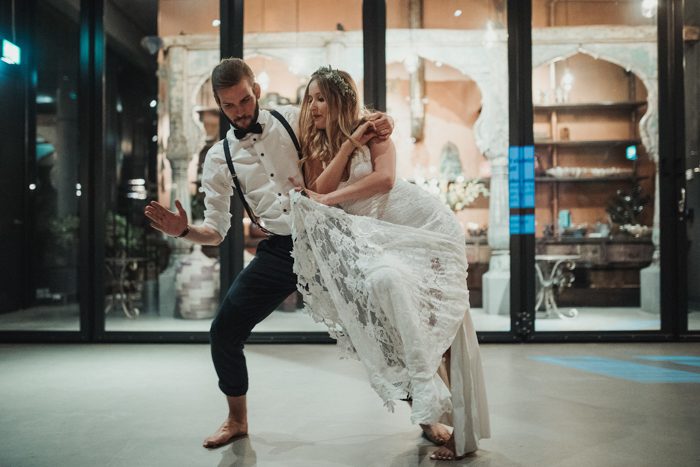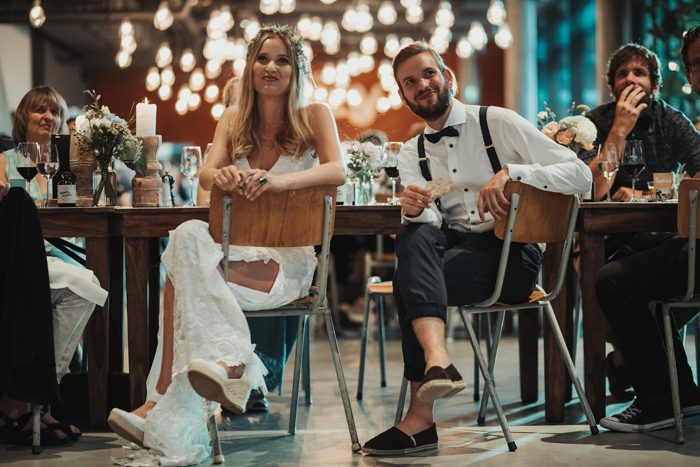 Thank you to Junebug member Chris Züger Photografie for sharing this boho inspired wedding with us! For more pastel palette weddings, check out this romantic pastel wedding at The Casino San Clemente.