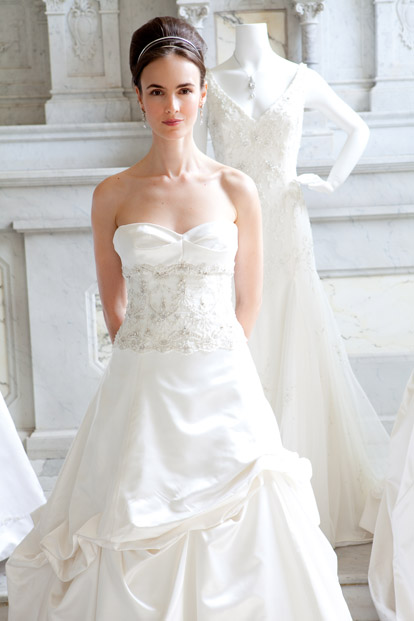 Mark your calendars LA brides! This weekend, November 28th and 29th, Kirstie Kelly Couture is having a sample sale from 10am to 6pm at their beautiful Brentwood salon (see the details at the bottom of this post).
Sample sales can be great opportunities to find your dream dress at a discounted price, but since they only last for a short time, you definitely want to be prepared going in. To help you make the most of any sample sale experience, no matter where it is, here are Kirstie Kelly's top tips on how to approach a sample sale and find the dress you've been looking for. Thanks Kirstie!
1. Go to the sample sale with an idea of what you are looking for. Ball gown or sheath? Strapless or v-neck? Romantic and lacy or sleek and modern? This will help you and the bridal dress consultant youre working with stay focused and will make your search much easier.
2. Remember that you can always make changes to the wedding dress with alterations. You could add lace or beading, improve the fit, or incorporate fabulous accessories to make it the custom gown of your dreams.
3. Be ready to purchase. If you find your dress at a sample sale you must be able to buy it that day. Samples sales generally last for two days at the most.
4. Trust your instincts but keep an open mind to suggestions that the bridal consultant may have for you. Gowns that dont look very impressive on the hanger may come to life when you try them on!
5. Bring a trusted friend or your Mom with you for support and perspective. Bringing too many people often ends up feeling overwhelming and can create more confusion than clarity.
6. Sample sale dresses have probably been handled a lot more than a custom ordered version would be, so although theyre not used or second-hand gowns, they still may need to be cleaned professionally before your wedding. Ask your dress consultant for a reputable wedding gown cleaner.
Kirstie Kelly Couture Sample Sale!
Bridal Gowns starting at $400, bridesmaid, cocktail and flower girl dresses starting at $100, jewelry starting at $30.
10am – 6pm Saturday, November 28th and Sunday November 29th
131 South Barrington Place, Suite 100
Los Angeles, CA 90049
Call for an appointment or just stop by
310-471-5711 or e-mail [email protected]