Today's destination Real Wedding of Chiara and Wayne is sure to make you swoon! Photographed by Corbin Gurkin Photography, it took place on the shores of Lake Maggiore at the Villa Rusconi Clerici, in Verbania, Italy. Dreamy!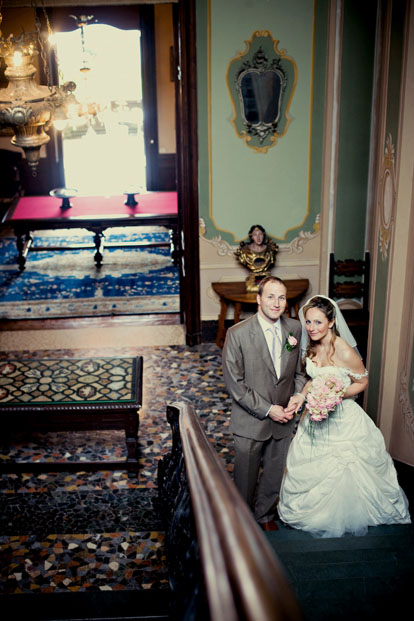 The most important thing to Chiara and Wayne was to create a wedding that combined their backgrounds and personalities. Chiara is Italian, so they chose to wed in Italy and spend quality time there with their families and friends there. They had a traditional Italian wedding feast held in the garden with course after course of delicious food, and they gave their guests bottles of olive oil from a local farm in Chiara's home town of Toscolano Maderno (Lake Garda) Italy and traditional Italian sugared almonds as wedding favors. Wayne is Jewish so they had a beautiful, traditional Jewish wedding ceremony under a chuppah with their parents by their sides. Later in the night they had a very non-traditional rock band which was a big hit with everyone!

As the ceremony began the bride and bridesmaids arrived by a traditional Burchiello, a large gondola-like boat. How fun! The bridesmaids wore dresses designed by Anna Maria DAmato of London and carried whimsical rose pomanders instead of bouquets. Chiara wore a wedding gown by Herve Mariage and carried a pretty parasol to protect her from the rain. Their romantic wedding color palette of dusky pink and champagne carried through to all the wedding favors, fashion and decor, from the petals in the ceremony aisle, to the table tops and wedding cake decorated by pink roses, to Wayne's tan bespoke suit from Oliver Woo.

Their spectacular waterfront location was exactly what they had dreamed of, chosen specifically so they could host both the ceremony and reception in the same place. The ceremony was held on the lawn near the water. The cellars of the 19th Century Italian villa were used early in the evening for the aperitifs, after the ceremony for the joyful and traditional Jewish dancing, and later in the night for an open bar and lounge area. The cake cutting took place under the stars and the night ended with an amazing fireworks display launched from the water. This wedding was truly romantic, personal and fun (and in an Italian villa!) What could be better?

Thanks so much for sharing your wedding with us Chiara and Wayne! For more information about this gorgeous Italian destination wedding, check out our Real Weddings section, and if you would like to share your own wedding story with us, contact us and send it in! We would love to hear all about it!