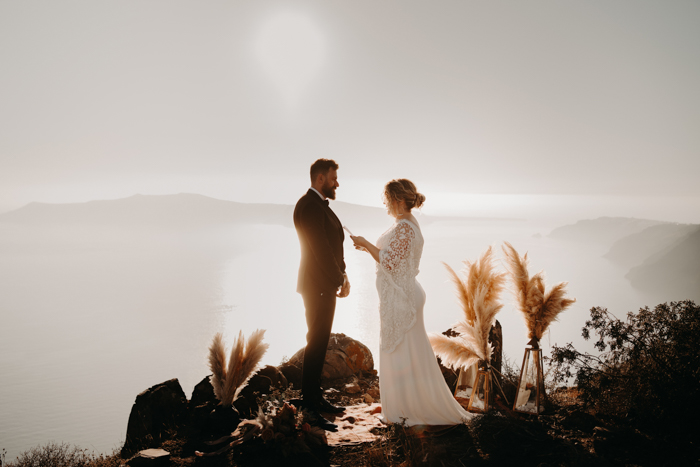 Give us a golden Greece sunset and lovely couple, and we're smiling ear-to-ear! We couldn't be more in love with Katie and James' private Santorini cliffside elopement. Laurene and The Wolf beautifully captured Katie and James' special weeding with honesty — capturing the two snuggled up at their villa, saying their "I do's" before a breathtaking view, and dining under the stars! We are obsessed with the styling Julia and Evita created, which was the perfect mix of boho and simplicity. Bride tip: Katie purchased a Rue de Seine gown and had Sewing Room Adelaide make adjustments to create something uniquely her. We're swooning! If you love everything about destination elopements and sweet moments, you're going to adore this day.
The Couple:
Katie & James
The Wedding:
Oia, Santorini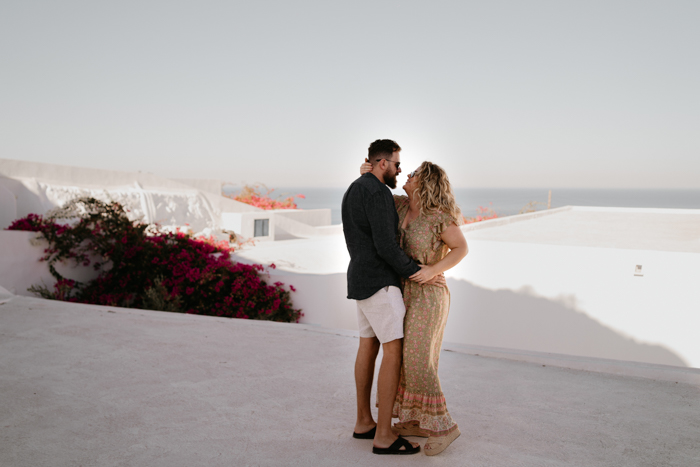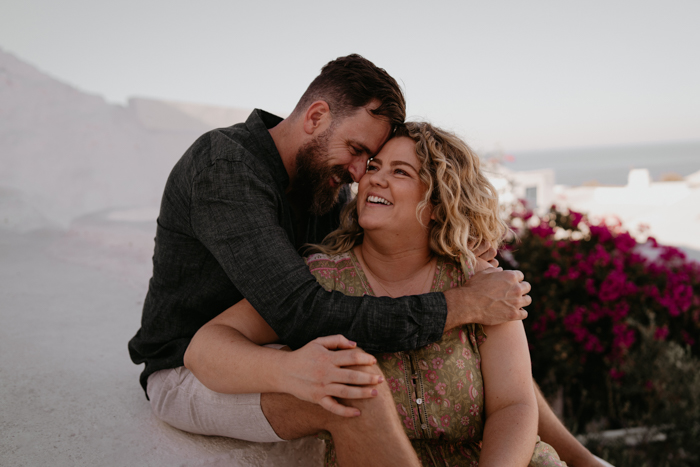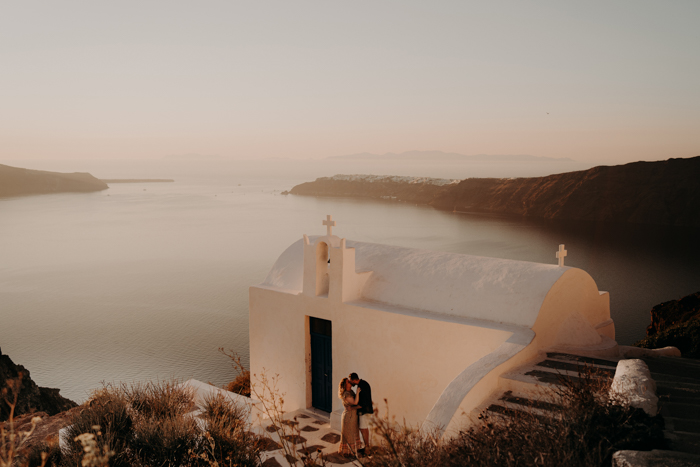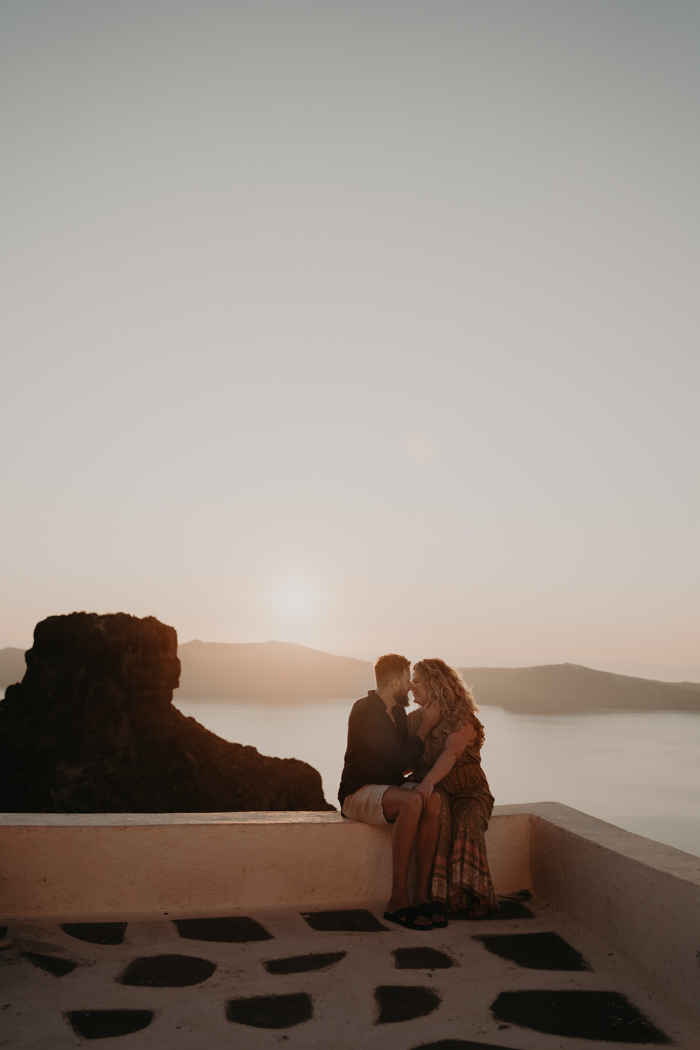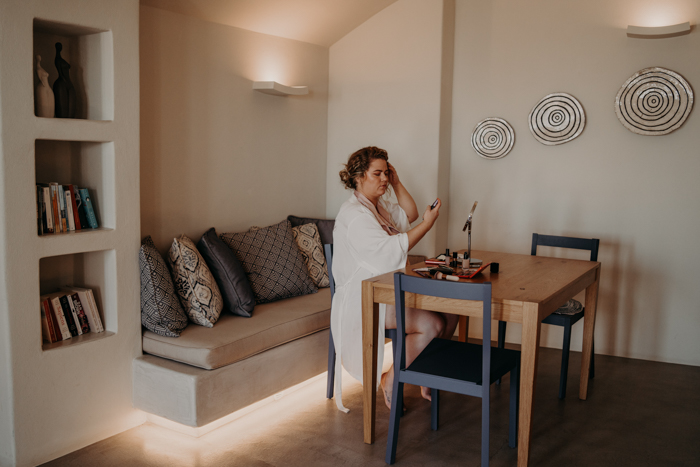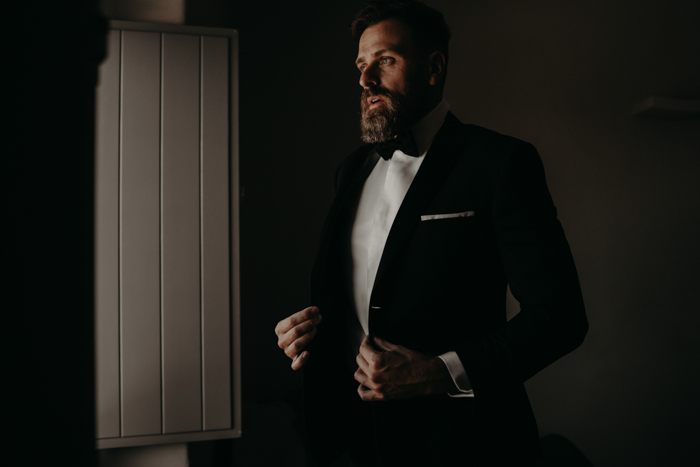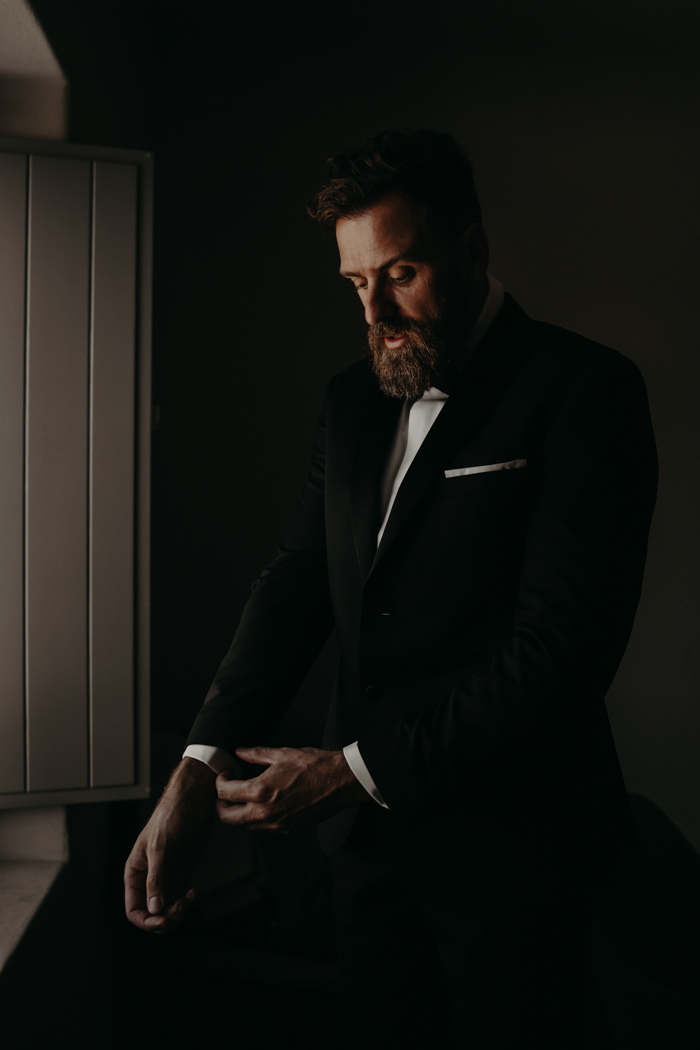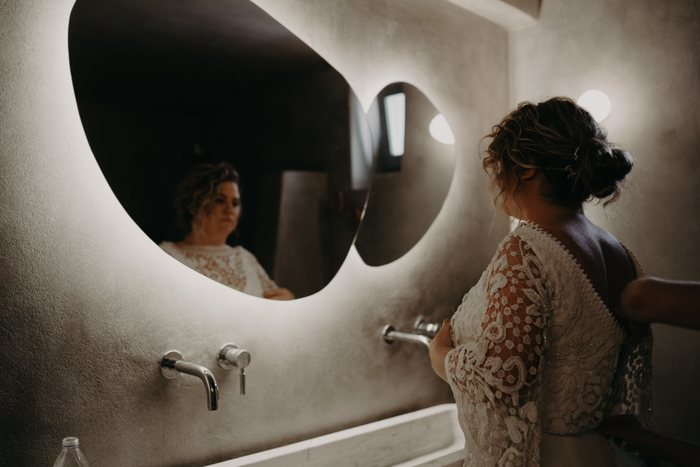 When contemplating if we were to get married in Australia or elope overseas, it was easy to be swept up in the opinion of others. When we refocused on what our priorities were and how we wanted to begin our marriage, we found our answer. Elopements certainly aren't for everyone, but we couldn't have been happier with our decision. Our plan gave us the best of both worlds, an intimate ceremony that was better than we could have imagined and a surprise reception with our friends and family, unveiling our video and images ensuring we included those that love us in starting this next chapter. A wedding no longer needs to follow tradition, just do what feels right for you as a couple.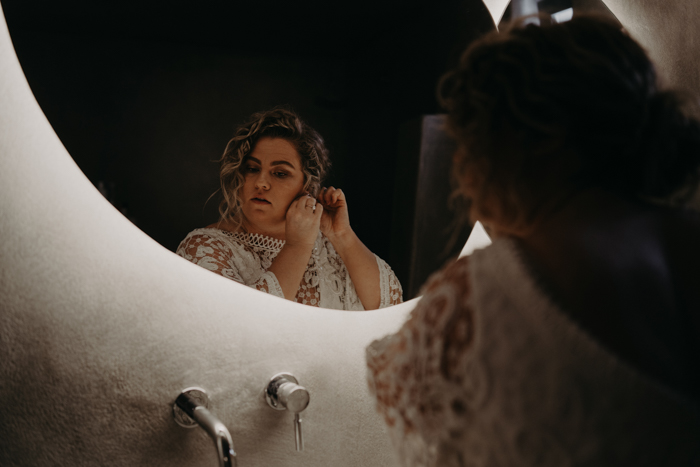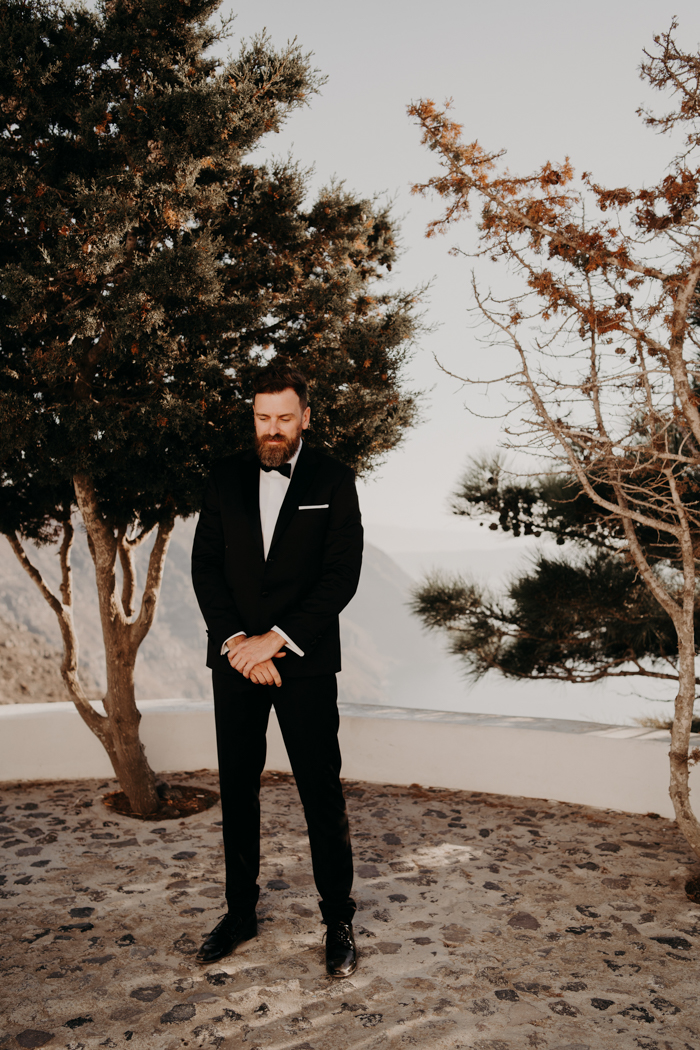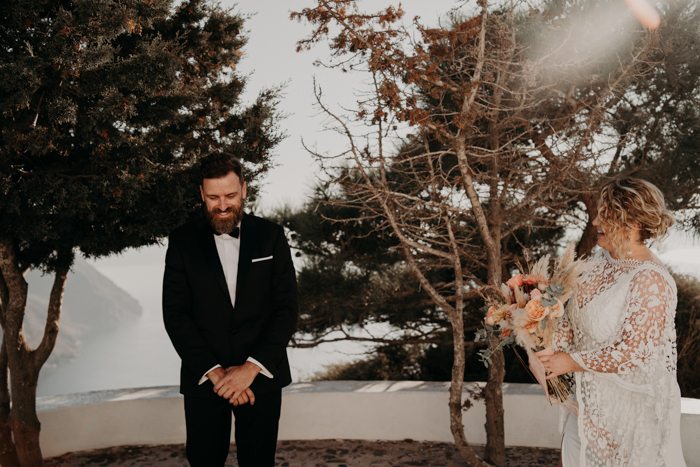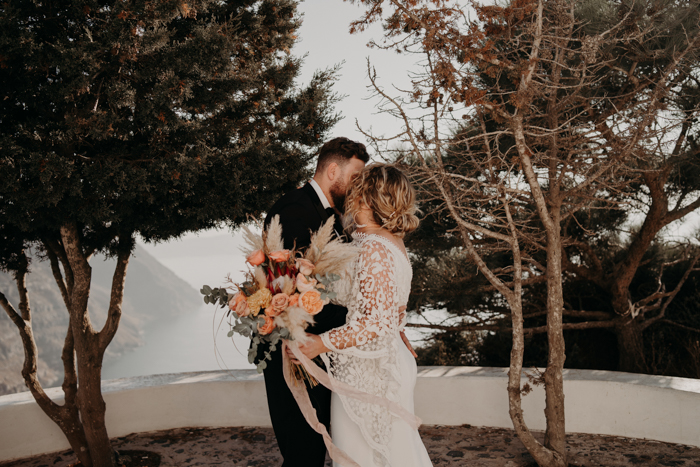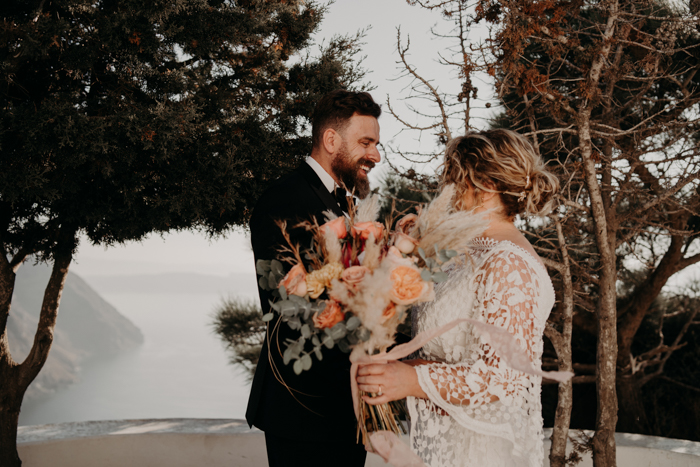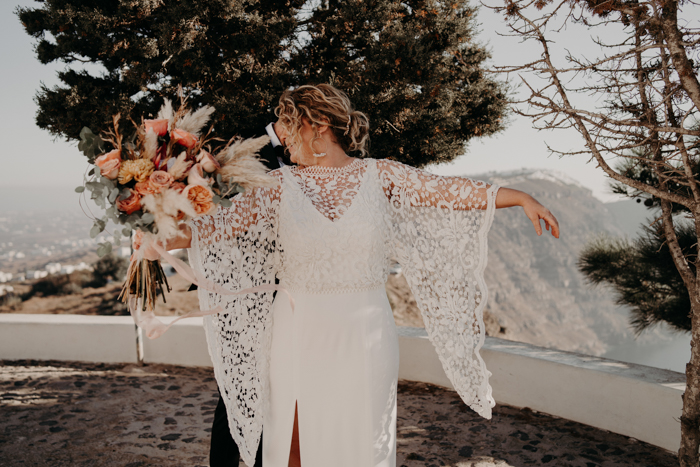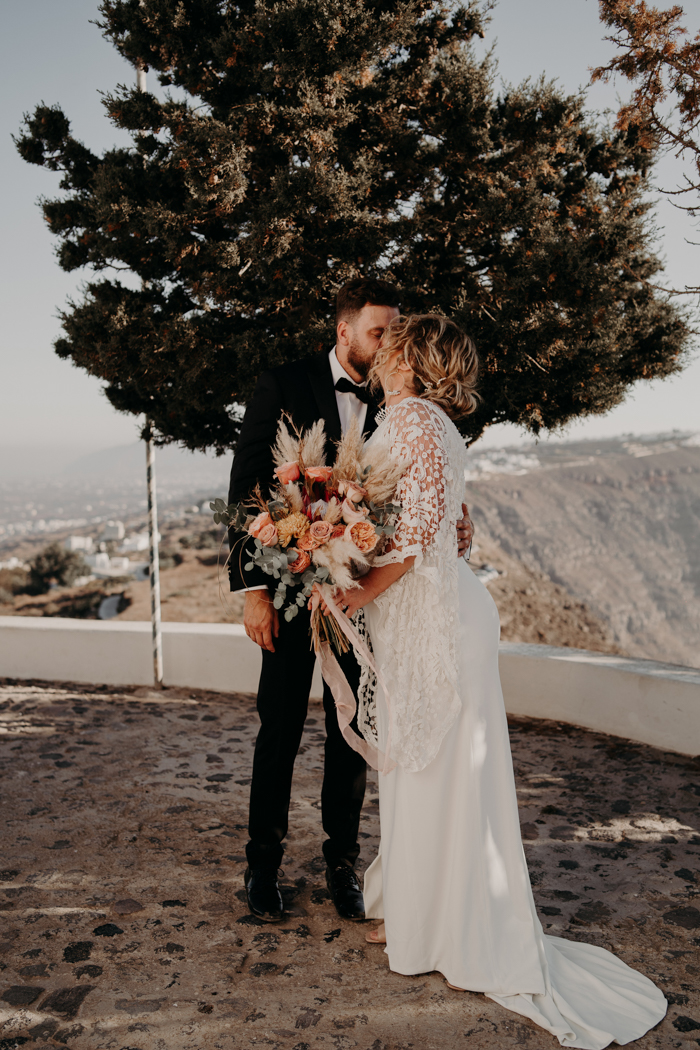 More than anything we wanted our wedding day to feel authentic to who we are, this being what lead us to elope. Along with capturing our love for each other, we wanted to show the beauty of Santorini as seeing the world has been such a large part of our relationship so we chose to have the caldera be the backdrop for our intimate ceremony. With an element of bohemian, neutral styling Julia & Evita really understood my brief on having design elements but keeping it simple and Laurene & the Wolf captured everything we expressed to them was a priority – our love, our laughter and the beauty of Santorini. We couldn't have been happier with how our day came together.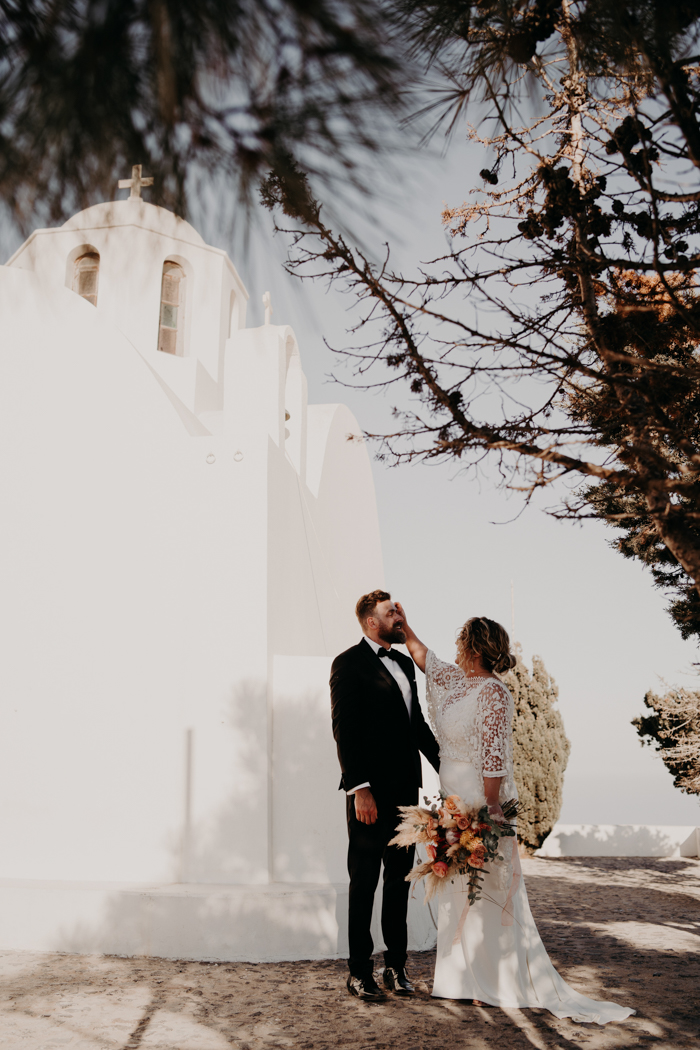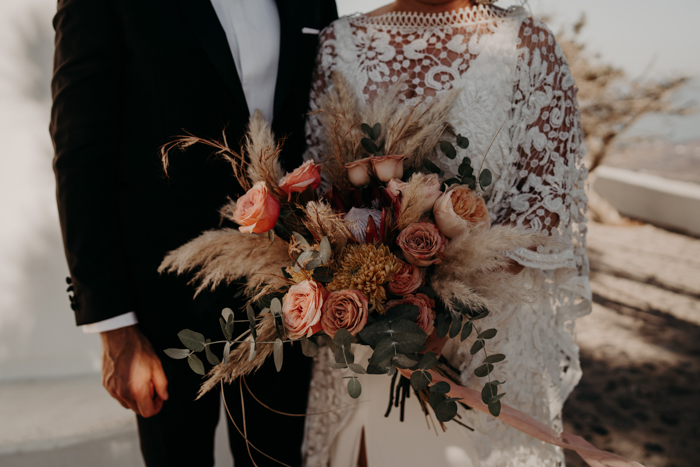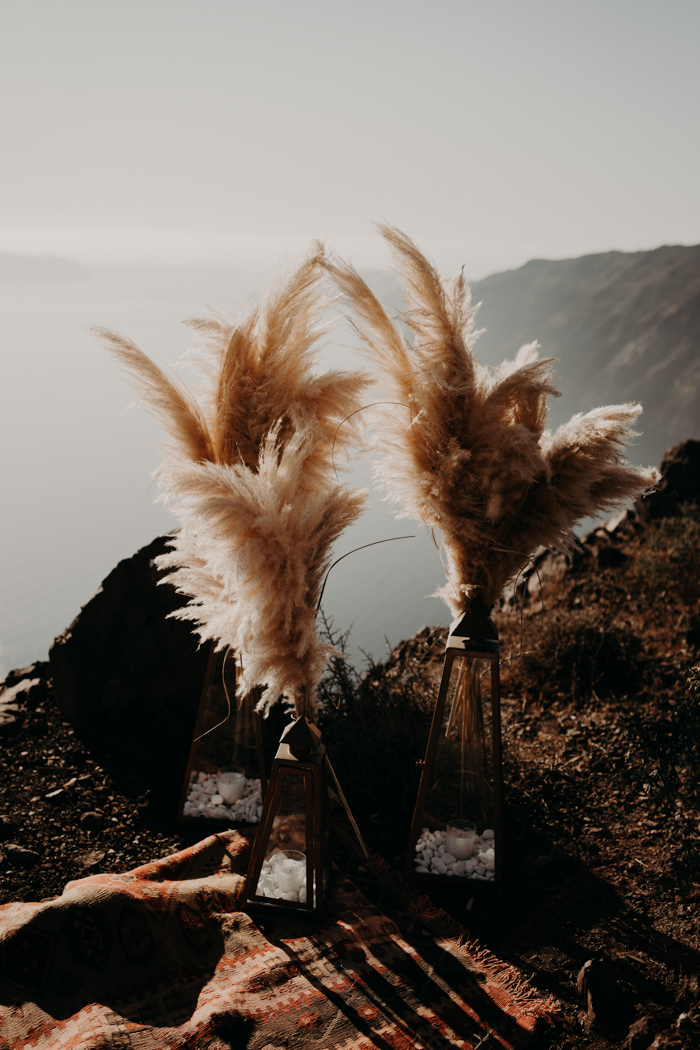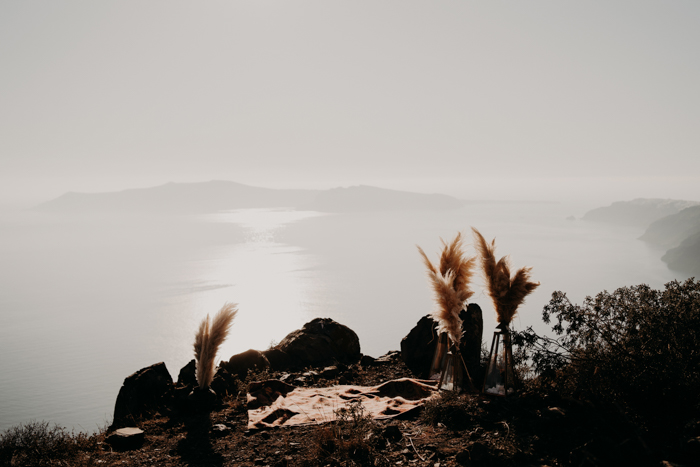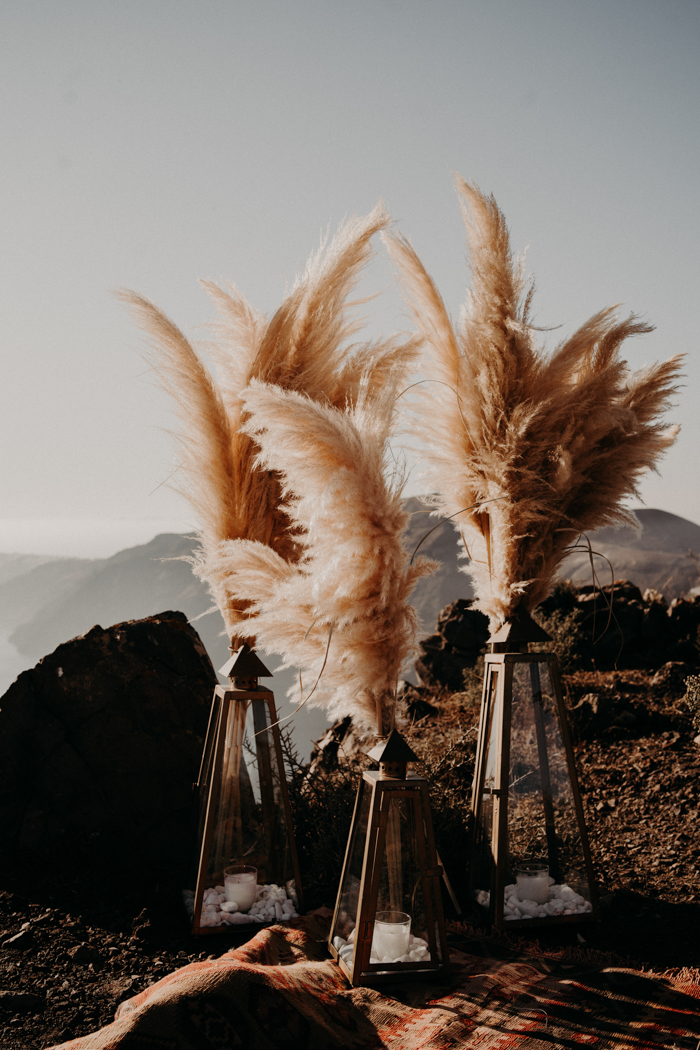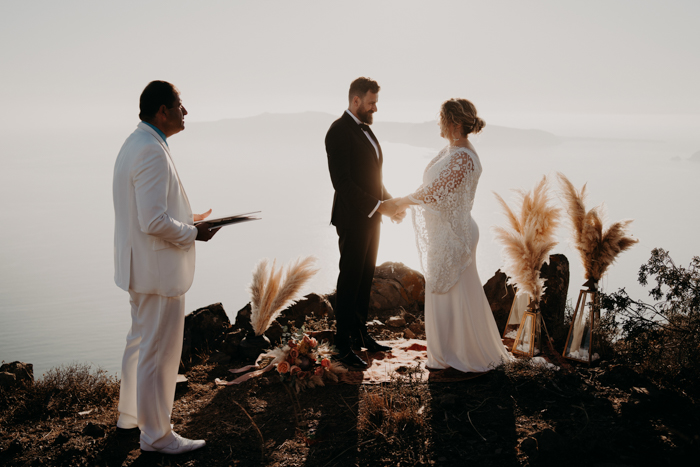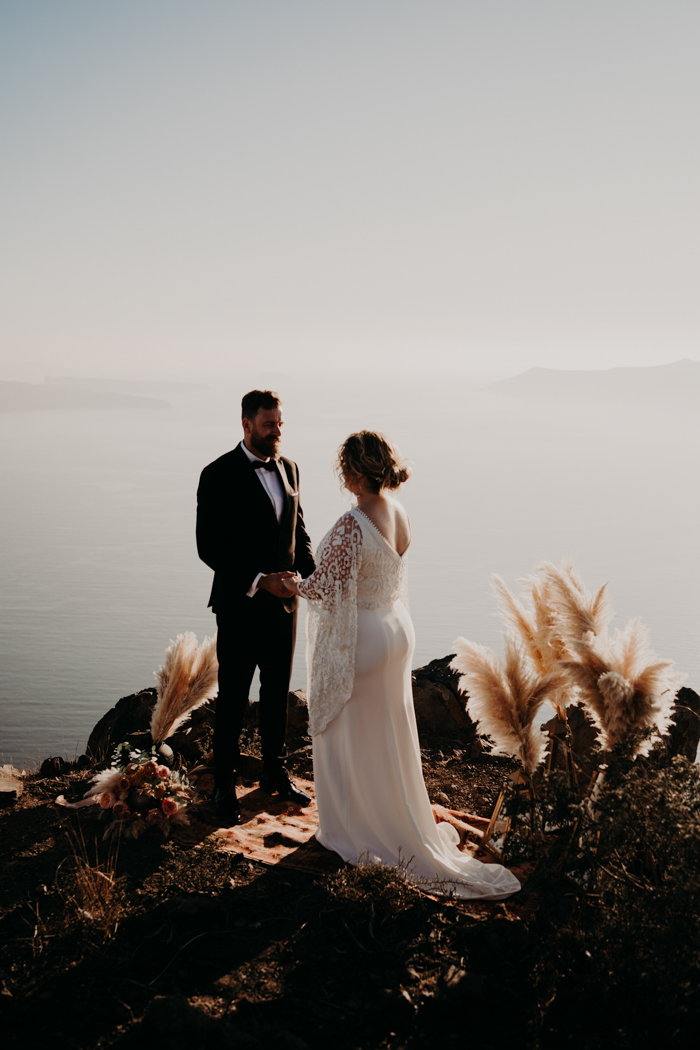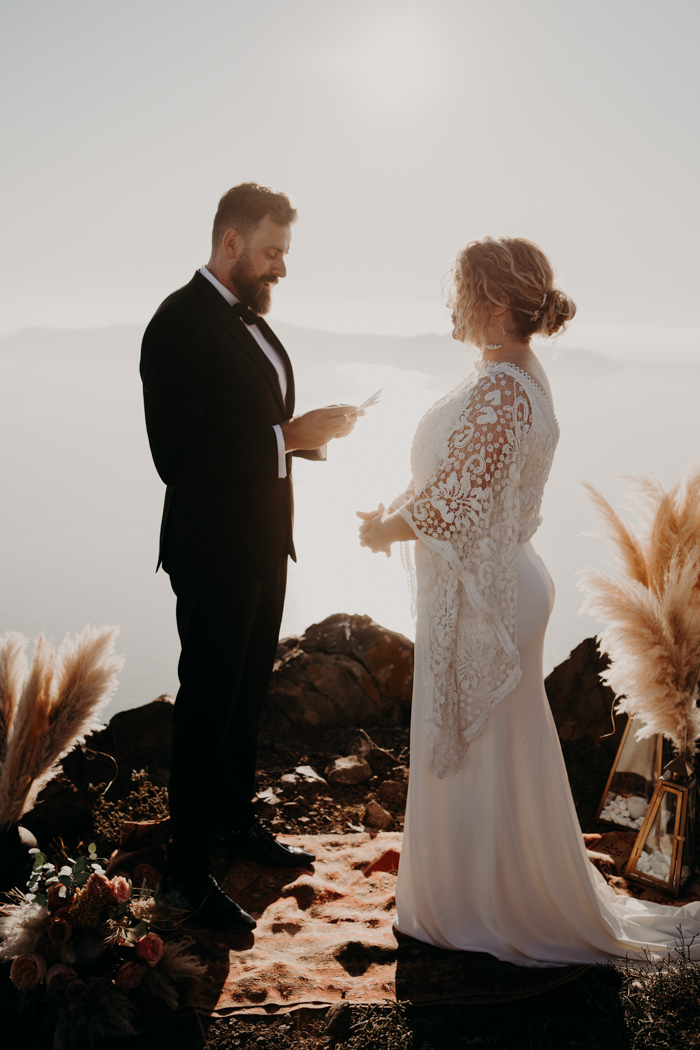 From the moment it began we both felt as though the rest of the world melted away. With only us on the cliffside, committing our love to one another we couldn't have been smiling any brighter.. with a few happy tears. Every second of our day was memorable and although cliche, felt like a dream, however as the sun was setting on the day we took in every second of our ceremony and were wholeheartedly present at that moment. It was nothing short of perfect.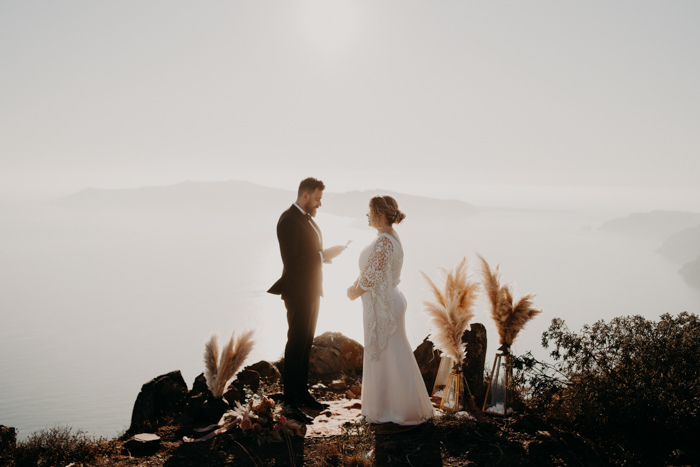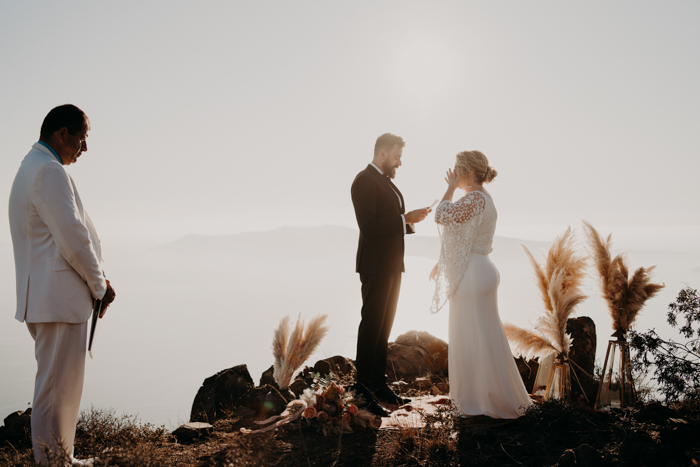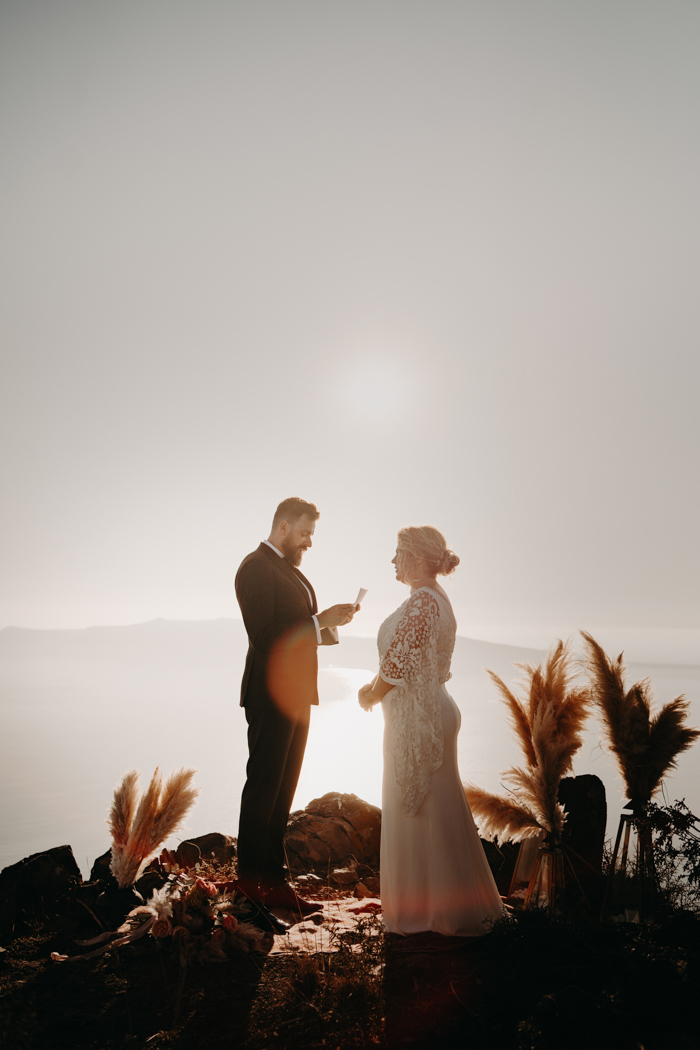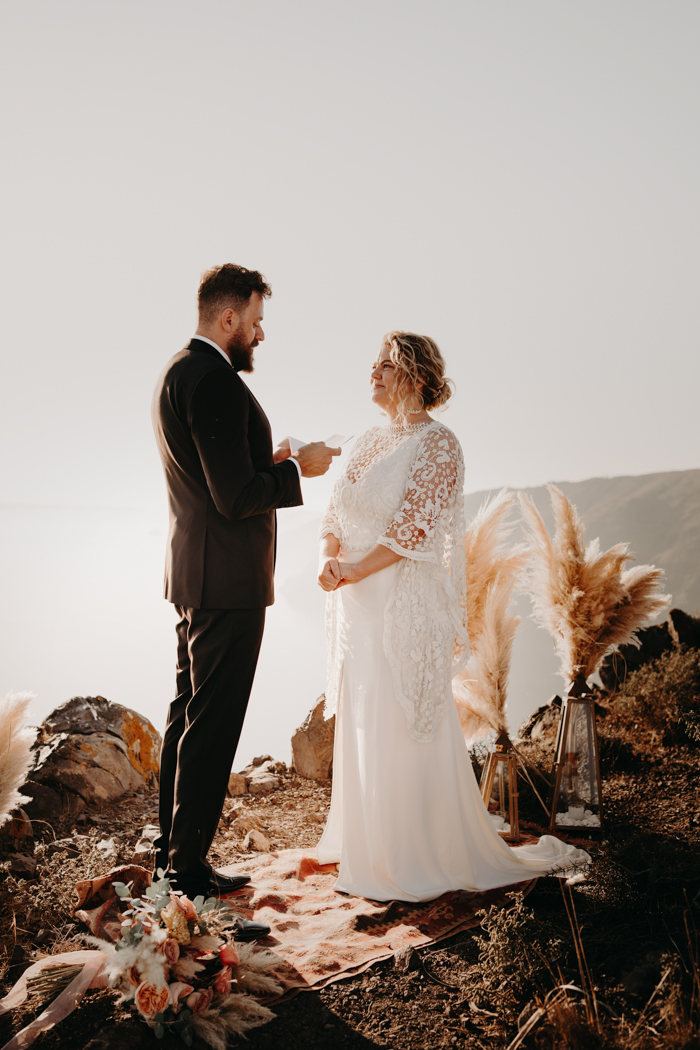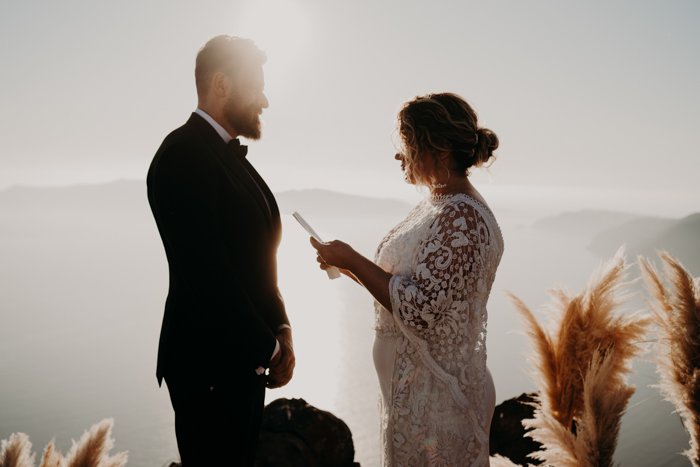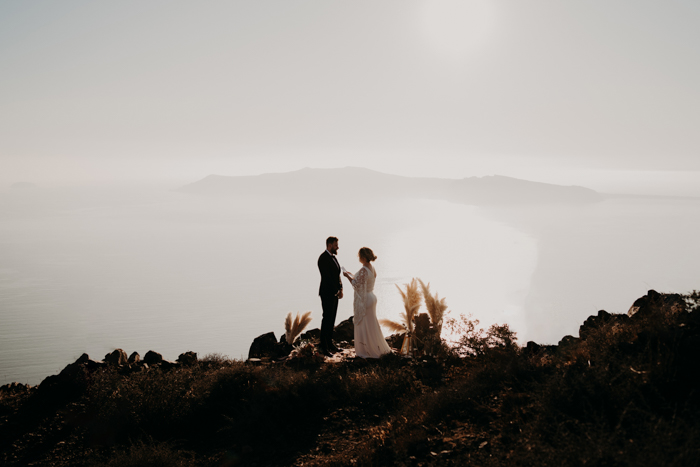 We chose the Santorini cliffside elopement location for the natural setting and the unbeatable views. We had a couple of last-minute changes that could have seen this be a completely different outcome, but we are so thankful that we ended up with our dream location.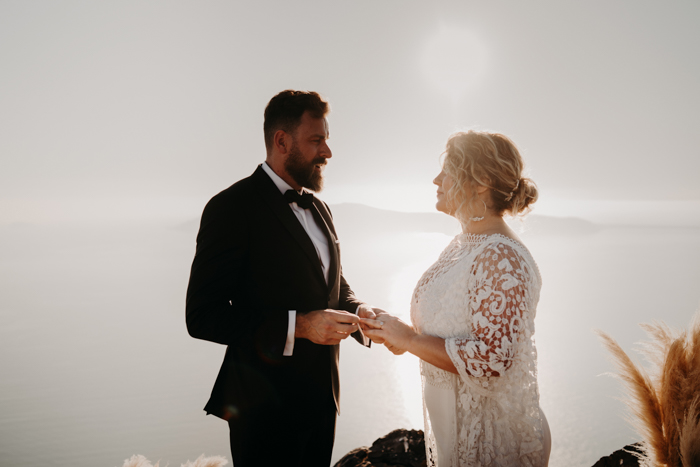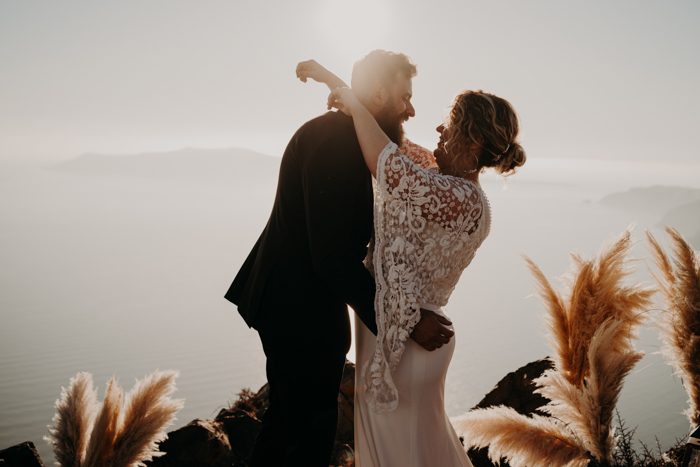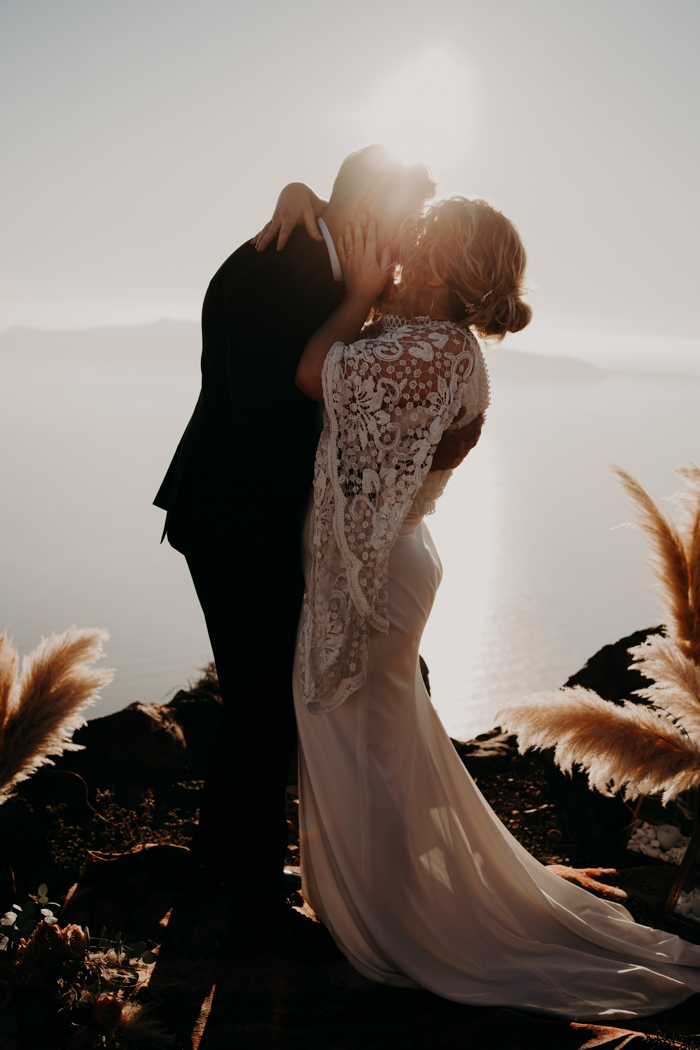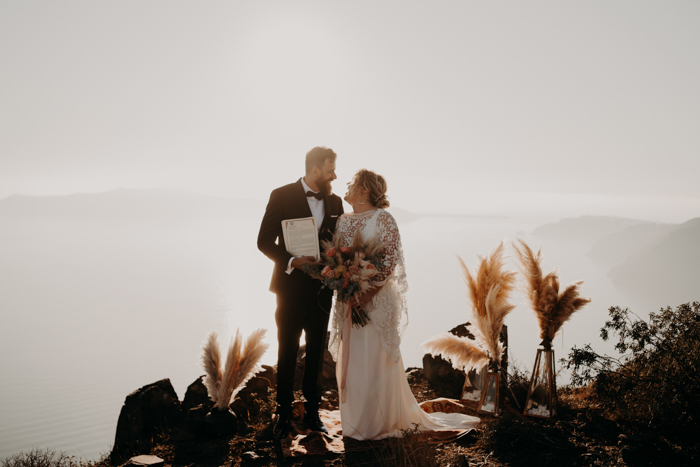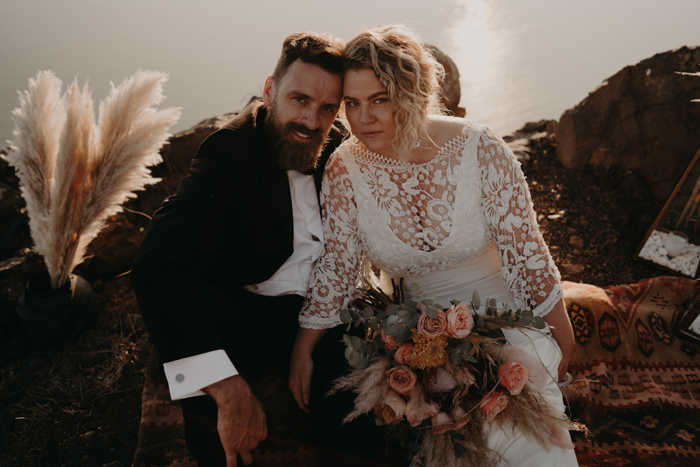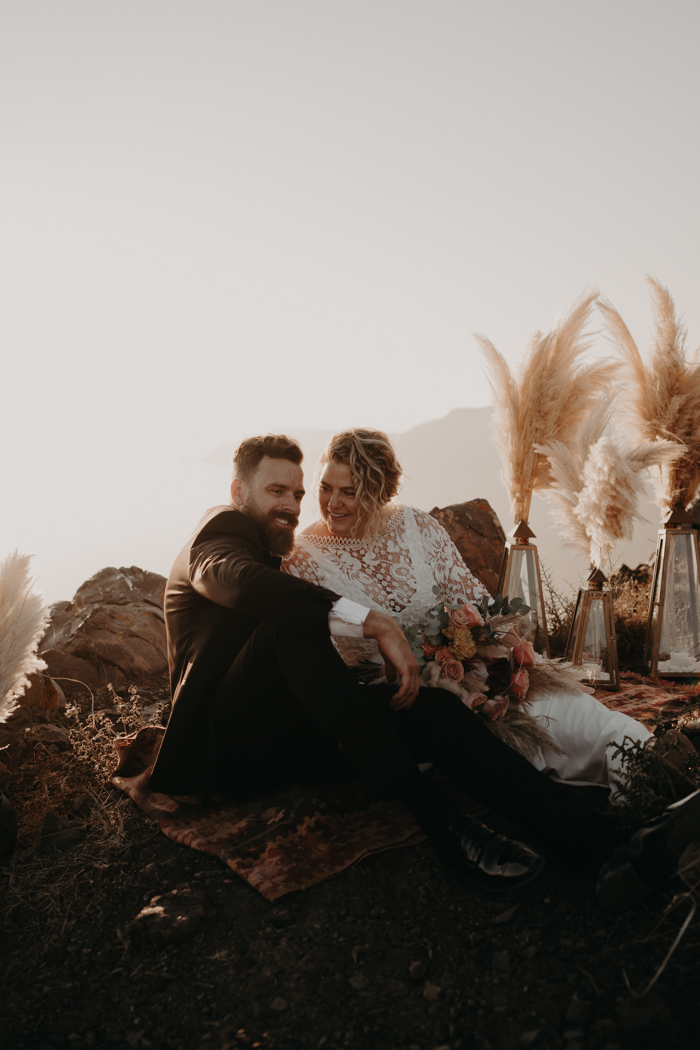 Wedding planning advice from the couple: Find your non-negotiables. For us, it was photography/videography, destination, a well-reviewed wedding planner & sticking to a budget. Instagram was our source of searching for creatives – particularly photography/videography as we felt it gave a realtime type of search function compared to trawling google and reviews. In the same respect, our wedding planners Instagram and socials left no doubt that we were in safe hands, but a friend of a friend also recommended their services. In regards to Santorini, we had been to the island a couple of times prior so we knew it fitted our brief, but with the stress around planning a wedding abroad, we wouldn't recommend picking a location you aren't familiar with as there are many elements to consider. With our budget, we were slightly lenient on the non-negotiables but opted to minimize costs on other things that weren't our priorities. Lastly but importantly, be comfortable with your vendors, especially if they are overseas. We had contact with various people before booking Laurene & the Wolf and Julia & Evita but as soon as we made contact with them and felt their care and willingness to be flexible with our requests, we knew we had found our team.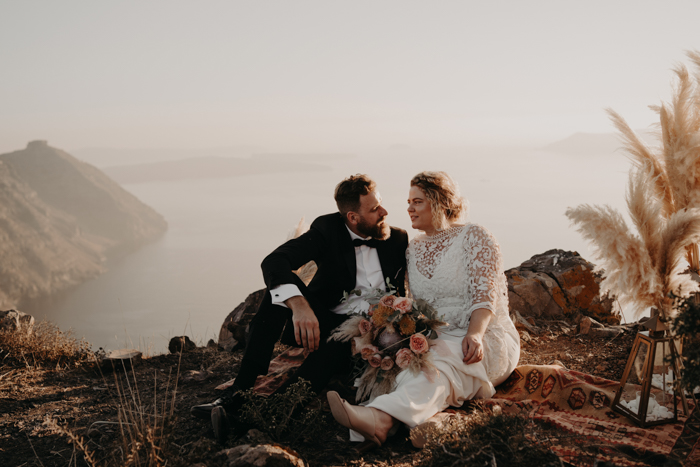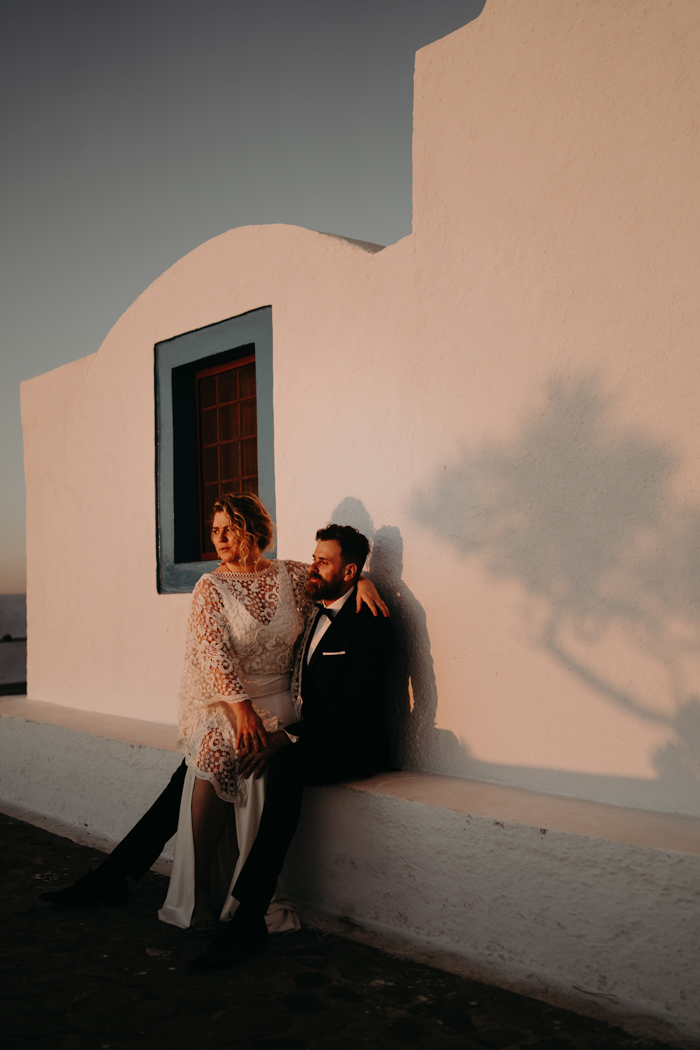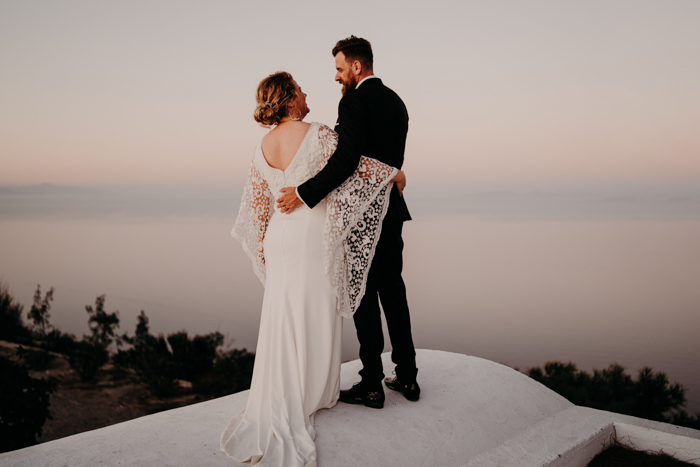 My wedding dress was a combination of a beautiful New Zealand designer, a dressmaker from my home city of Adelaide and a vision of mine. I am always a bit tentative in white so I wanted to ensure I was comfortable. I fell in love with the Rue De Seine blouse directly after becoming engaged and after trying multiple other dresses I would just keep coming back to it. With encouragement from a close friend, I set out on the journey of creating my dream dress. A simple fitted dress, incorporating the detailed bohemian style bell sleeve blouse. I still love it just as much to this day.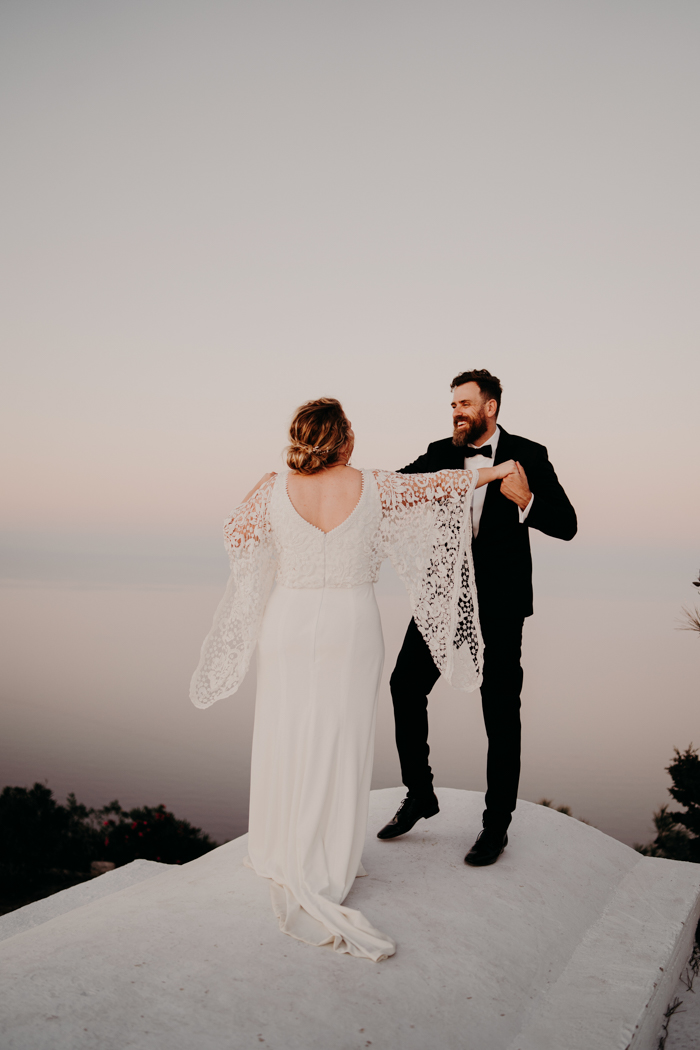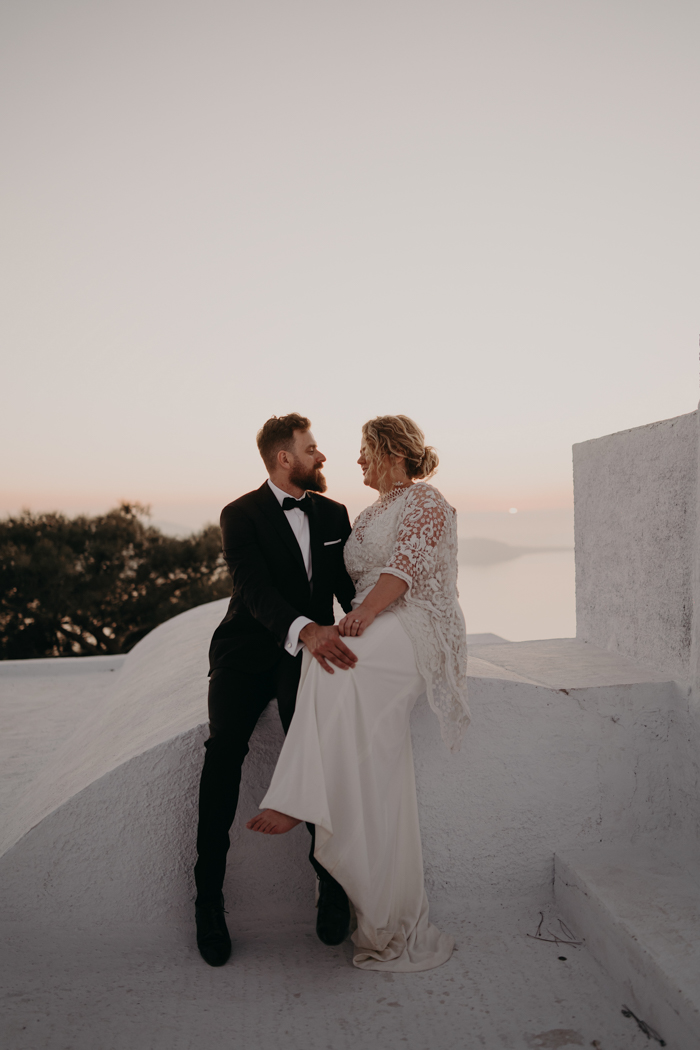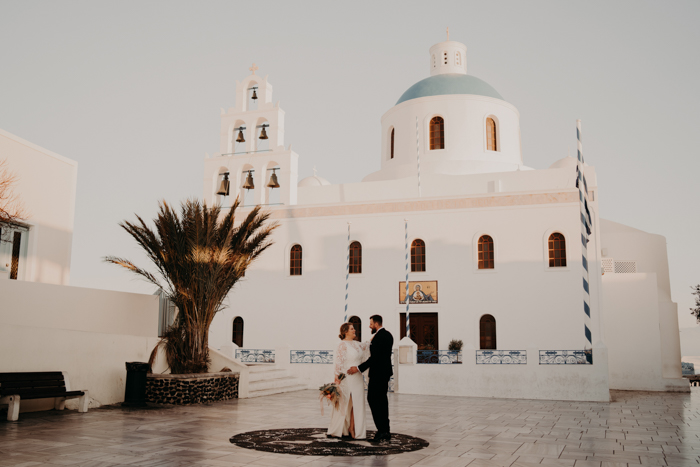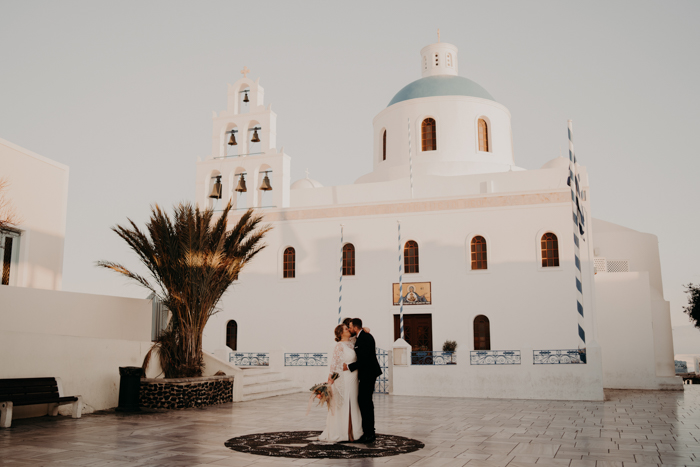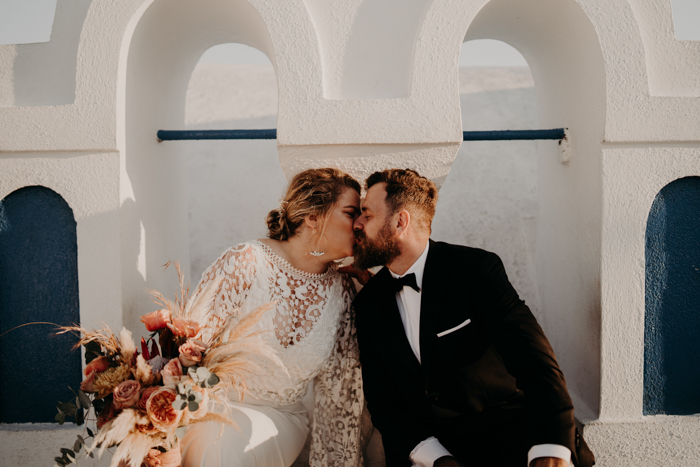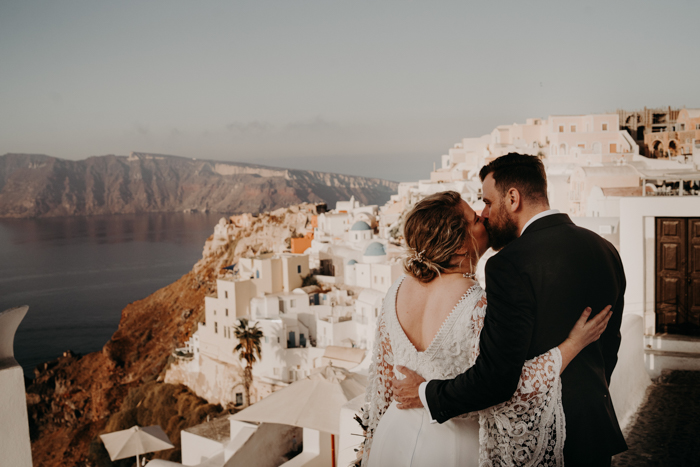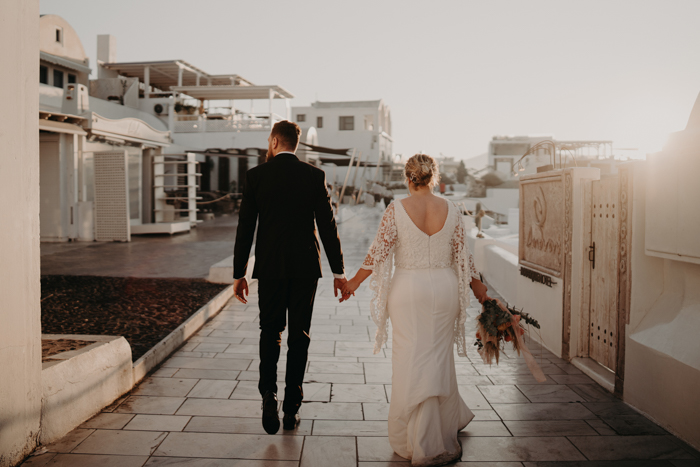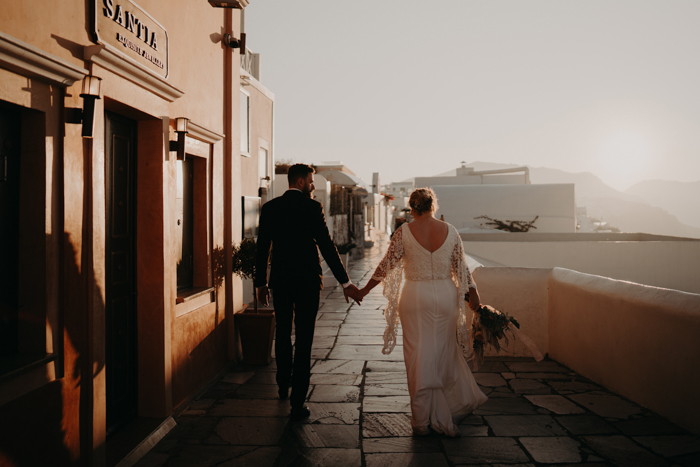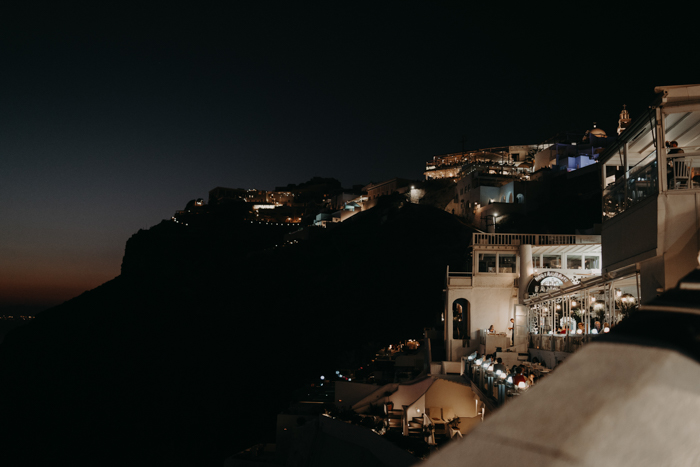 Laurene and Kevin were relaxed and easy-going, which was the perfect fit for us. It was like spending time with new friends. We had 3 days with them during our time in Santorini and it was a really comfortable experience. They had the perfect creative vision and we absolutely loved the end result, but they also encouraged our suggestions. They certainly were professionals and we loved their choice of locations more than those we thought we wanted to capture.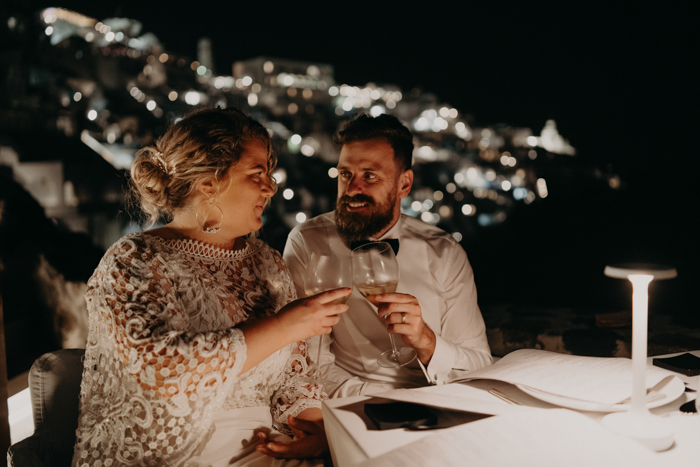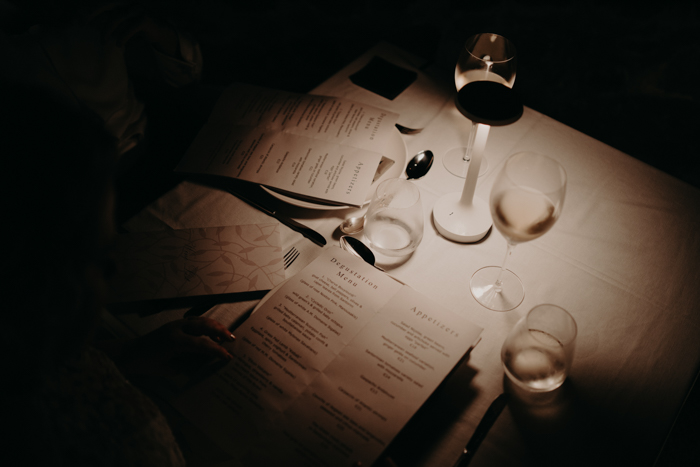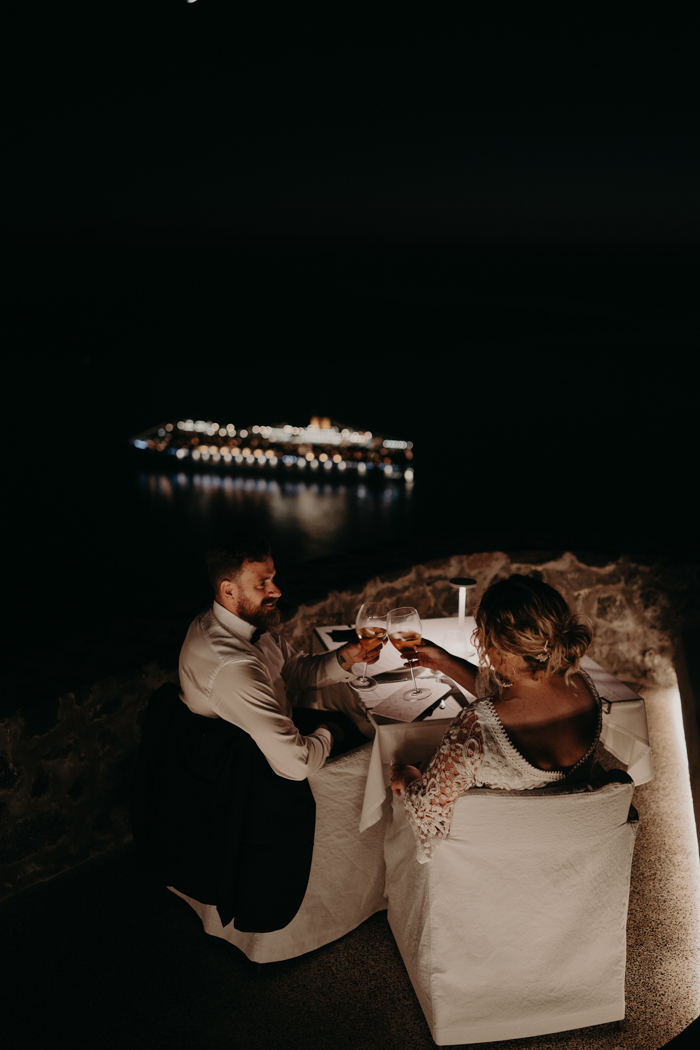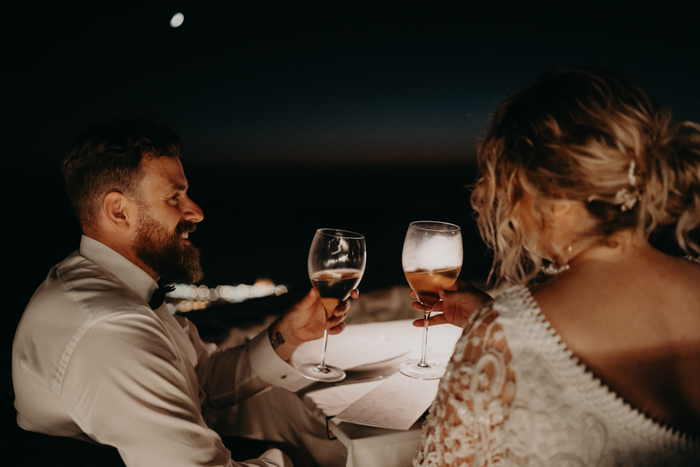 Congratulations, Katie and James, and many thanks to Junebug member Laurene and The Wolf for sharing their day with us! If you love the work Laurene and The Wolf did for Katie and James, you'll definitely want to check out their page in our directory of the world's best wedding photographers and videographers.