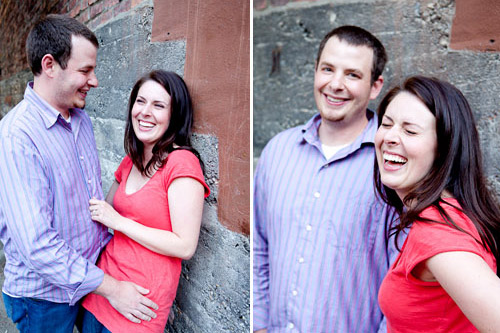 Well, this is it! We're nearly there! This is the last weekly post before Laura and Billy's big day this Friday! What a fun journey it's been to follow along and watch this fantastic couple and their talented team plan a stunning and personal wedding in record time.
Today we're focusing on the table top design, flowers and decor details that event designer Daniela Faget of Bella Signature Design has been hard at work pulling together. During yesterday's live broadcast, Daniela showed us a mock-up of the gorgeous tablescape, and Kim snapped some photos to share with you…

Daniela tells us the design for Laura and Billy's wedding is a fusion of vintage meets modern, and rustic meets elegance. Midnight blue linens from BBJ Linens will drape the tables, matched with ivory and copper napkins, exuding a classic elegance. Warm copper vessels will hold lush, overflowing arrangements of creamy hydrangea, gardenias, roses and dahlias, adding just the right amount of glamour to the feel of the event, and candles of various heights will create an air of romance, lighting up the faces of Laura and BIlly's joyful guests!
We love the color combination and rustic elegance of this look, and know its simply going to look great in the space at Theo Chocolates!
To follow along with all the wedding planning details for Laura and Billy, take a look back at our past three posts here, here and here and take a peek at the live discussions we've filmed at the CreativeLive Studios with Laura, Daniela, Jasmine and myself. All of the broadcasts are available here on the CreativeLive/Jasmine Star course page, just scroll down to the "FREE Bonus: Designing a Fabulous Wedding in 4 Weeks!" video link and take your pick. Then stay tuned for the full Real Wedding in a few more weeks, with the full scoop from the big day, and all the professional images taken by the fabulous Jasmine Star!
Best wishes to you Laura and Billy! We hope you have an absolutely magical wedding!