It's that time of year! The wedding event circuit is really picking up – there's sure to be a fun event you'd love to attend in your area. Here are just a few upcoming bridal events that I wish I could attend! And if you're an aspiring planner, be sure to check out the seminar from super talented Details Details, and start planning for an amazing opportunity!

Rain Farm Game & Lodge Bridal Fair
Treat yourself to a fun day at the gorgeous Rain Farm Game & Lodge, at their bridal fair! Enjoy meeting local wedding professionals, catching some great entertainment, and some luxurious spa treatments. Oh, and where else can you get married where there is a one-month old baby giraffe? I'm sold!
October 6, 10:00am – 3:00 pm
Rain Farm Game & Lodge
F9 Rain Farm
Esenembe Road
Umhlali, 4390
Free admission
Urban Unveiled – The Wedding Event with Unique Style and Fashion
The annual Urban Unveiled event held at Benaroya Hall is more than a wedding show; it is a celebration, a cocktail party for those getting married and the creative partners who make dreams come true. This evening of opulence is a chance to meet and mingle with the Urban Unveiled partners who can take your bridal vision and make it a reality while you enjoy fine wines, nibble on sumptuous cuisine, decadent cakes and other to-die-for desserts. Throughout the evening, incredible music sets the festive tone for what's to come, including some great give-aways and an awe-inspiring fashion show by the legendary Luly Yang.
October 11, 2012; 6:00-10:00pm
Benaroya Hall
200 University Street
Seattle, WA 98101
Tickets available through www.urbanunveiled.com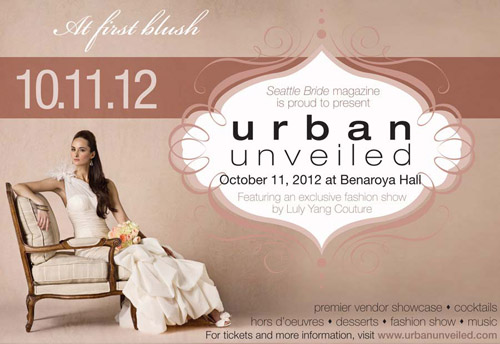 Committed – Portland's Indie & Alternative Wedding Event

Described as "A curated wedding event with tons of inspiration and mad Portland style", Committed sounds like the place to be! A casual, reception/party atmosphere as opposed to a trade show, the evening is sure to be fun and unique! Eight different wedding style scenes will be created to inspired guests, including El Coronado – A Pastel Mexican Wedding; The Stripes Wedding; Victoria Goth; and The Steampunk Wedding. See? Totally different and fun!
October 12, 2012; 5:00-9:00pm
Castaway Portland
1900 NW 18th Ave
Portland, OR 97209
Tickets available at www.committedevent.com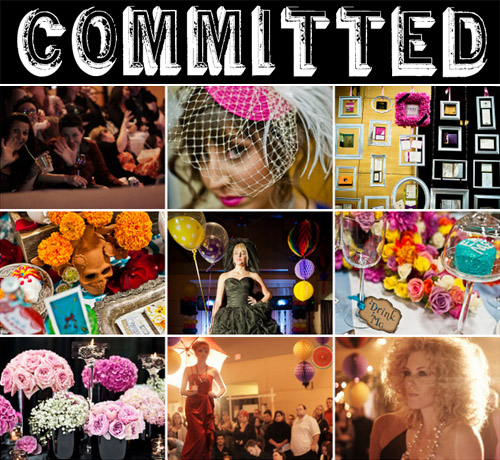 Elizabeth Dye, Ivy & Aster Trunk Shows at Lovely Bride NYC
Whimsical, floaty, sweet…I just can't say enough to describe the prettiness of Elizabeth Dye's dresses. And a new collection from Ivy & Aster? The perfect reason to get yourself into the darling dress shop Lovely Bride NYC!
Elizabeth Dye – October 12-14
Ivy & Aster – October 19-21 (and heading to LA November 2nd!)
Lovely Bride NYC
313 W. 4th Street
West Village, NYC
212.924.2050 or www.lovelybride.com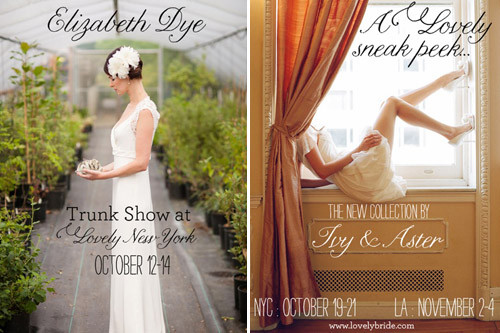 Lea Ann Belter Trunk Show at Lovely Bride LA
Every month, when the sweet ladies at Lovely Bride send me the pretty photos for their trunk shows, it just kills me that I'm in Seattle instead of LA or New York. And that I don't need a wedding dress. And that I don't work at their gorgeous boutique where I would try on dresses during my lunch hour. Because seriously! They carry the most romantic, lacy, pretty dresses. So if YOU are in LA, get yourself down to their Lea Ann Belter trunk show this month, and live vicariously for me a little!
October 19-28
Lovely Bride LA
638 1/2 N. Robertson Blvd.
West Hollywood, CA 90069
310.659.2050 or www.lovelybride.com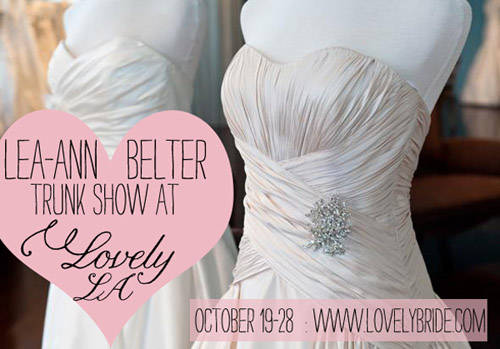 One Love – LGBTQ Wedding Showcase
One Love will be an exciting wedding event embracing same-sex couples highlighting every detail of a wedding, including fabulous wedding décor and fashion, fun trends and traditions and exquisite products and services. The Showcase will offer an opportunity to connect with the best in the industry, ask questions, gain insight and discuss your wedding vision with a wide variety of exhibitors. Youll be greeted with a signature cocktail to sip while you gain knowledge and contacts to help you create your perfect celebration! Youll also see the hottest new trends and styles during our interactive fashion show, gain access to special offers and taste delicious treats on display.
October 27; noon-5:00 pm
Renaissance Seattle Hotel
515 Madison St.
Seattle, WA 98204
Visit www.oneloveseattle.com to RSVP!


And coming in November…Seattle's premier wedding charity cocktail event, Get Hitched Give Hope!
Get Hitched Give Hope -Premier Wedding Charity Cocktail Event
Here at Junebug, we're excited to again be participating as a Presenting Sponsor for Get Hitched Give Hope! This annual bridal auction and gala in Seattle contributes to two wonderful causes: the Dream Foundation – a wish-granting organization for adults suffering from life-threatening diseases, and Young Survival Coalition – a foundation providing support for young women with breast cancer. When you attend and bid in the totally fun auction, you get gorgeous goods while giving back! Up for grabs this year are diamond earrings, several wedding planning packages, photobooths, reception jazz music, letterpress invitations…the list goes on and one!
November 8, 6:00 pm
Four Seasons Hotel
99 Union Street
Seattle, WA 98101
Visit www.gethitchedgivehope.com for more info and tickets


In January, Junebug member Details Details is offering a fantastic opportunity for budding wedding planners and designers, or anyone that wants to brush up their planning skills. It books up fast, so don't wait!
Coordinator Confab- Wedding Planning Seminar by Details Details

Coordinator Confab is an interactive 2-day seminar designed to educate aspiring and novice wedding planners, coordinators, and designers. This seminar is also ideal for those serious Wedding Planners who have creative design capabilities but have not received hands on comprehensive training in relation to event execution. The seminar will cover the fundamentals of Wedding Day Coordination as well as detailed instruction on how to properly execute a wedding from beginning to end. The information will be presented in a fast-paced, fun, classroom atmosphere. Attendees will have the opportunity to learn invaluable information about branding, marketing and legal issues from Southern Californias top industry professionals whose expertise has been sought out both locally and internationally.
Details Details is an event planning company who has a successful track record and reputation in the industry, and is willing to share our secrets to success. In this seminar they will open the doors of communication between the novice wedding coordinator and the Details Details Event Planning Team, giving everyone the chance to learn from real people and conquer the key essentials of wedding coordination.
January 21 & 22, 2013
Montage Beverly Hills
225 North Canon Drive
Beverly Hills, CA 90210