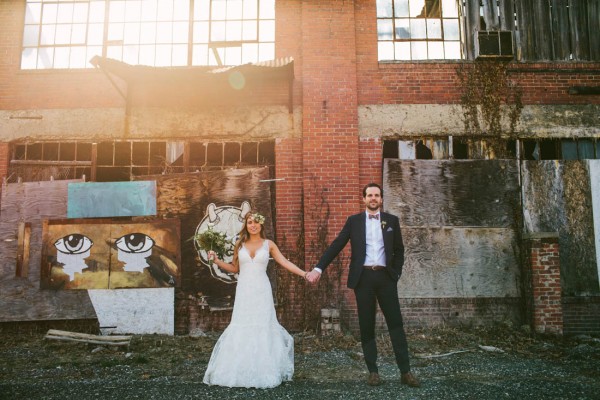 Your wedding venue hugely influences the theme of your big day. For fun couple Jenn and Adam, a modern setting dressed in simple and minimal natural details perfectly expressed their edgy style. Strongwater in Columbus, Ohio, with eroded brick walls and metal ceilings, stood as the gathering place for the couple to say "I do." The bridesmaids wore structured dresses in shades of gray and metallic silver to further emphasize the alternative style. We love how the bride added a soft touch to her fashion by including a ivory and green floral headpiece. Adam Lowe Photography captured unbelievably cute moments of the couple enjoying their special day!
The Couple:
Jenn and Adam
The Wedding:
Strongwater, Columbus, Ohio
The Inspiration:
When planning the wedding we wanted it to be casual, unique, and have plenty of dancing. We both share similar taste in style, but Adam is in a creative field so he had a stronger opinion. We like modern, industrial, rustic, and eclectic with touches of elegance. Strongwater provided most of that, we just needed to add elegant touches. The layout was perfect for an outdoor ceremony and indoor reception.
As far as attire goes, the goal here was to put ourselves in something that we would feel comfortable in and compliment our everyday style – casual with some personality. Jenn wanted to dress down a fancy wedding dress. She chose an Allure lace gown, gold spiked bracelets, and topped it off with a flower crown – it was a perfect balance of relaxed but "look, she's getting married" vibe that fit her perfectly. Jenn just wanted her bridesmaids to look like themselves, so they chose their dresses and accessories. Their dresses were shades of gray with varying fabrics for a cohesive yet unique feel. Adam wore a navy linen well-tailored suit with brown wingtips complemented by a light grey pocket square and a floral Liberty of London pattern bow-tie for a little personality. The groomsmen wore the opposite scheme, with grey suits, a navy bow-tie and matching floral pocket square.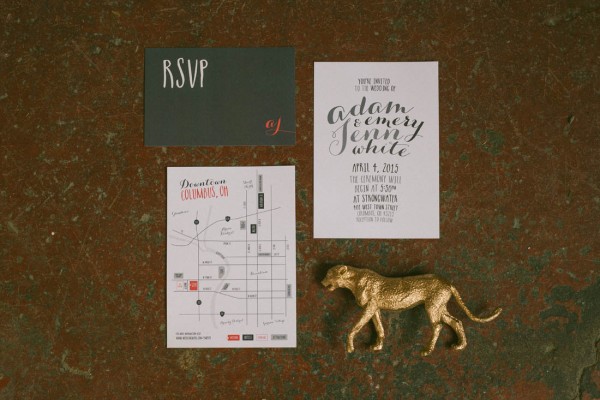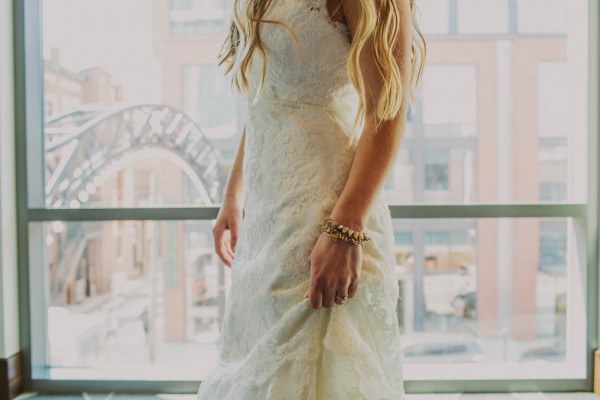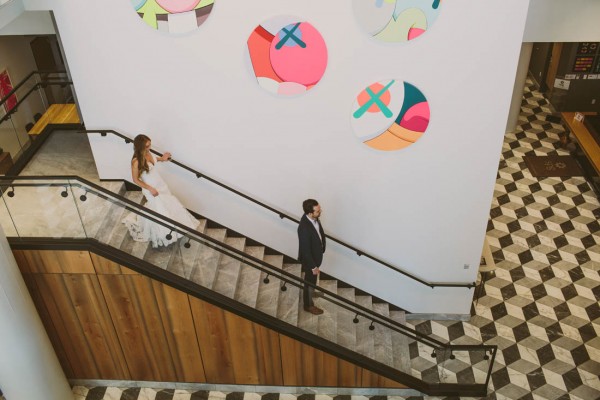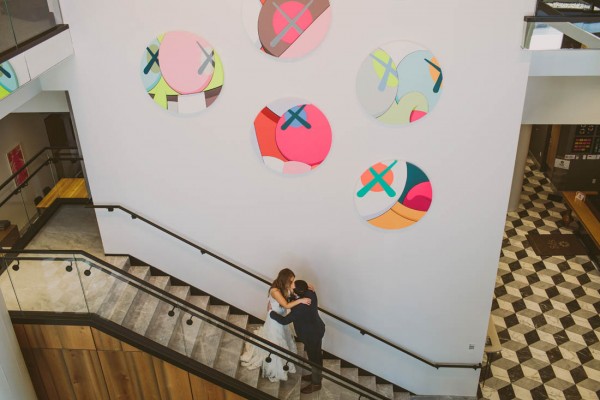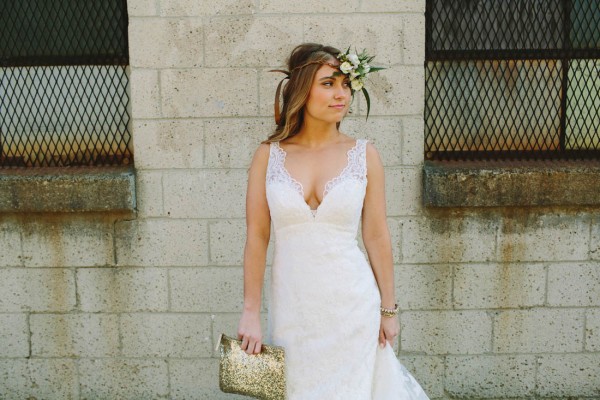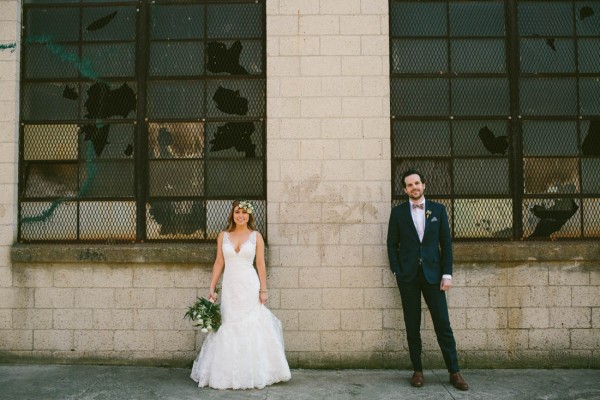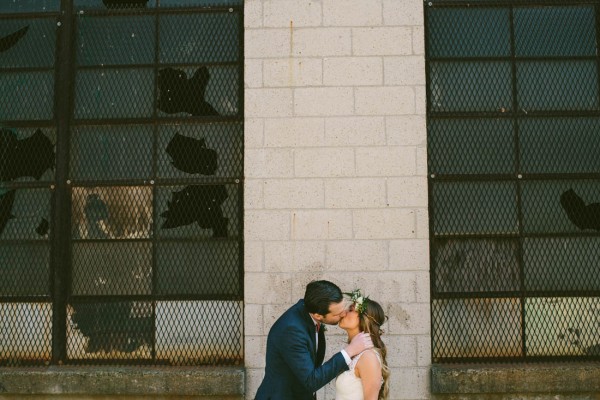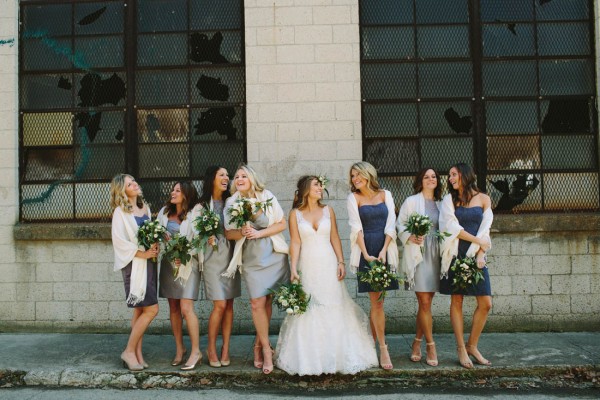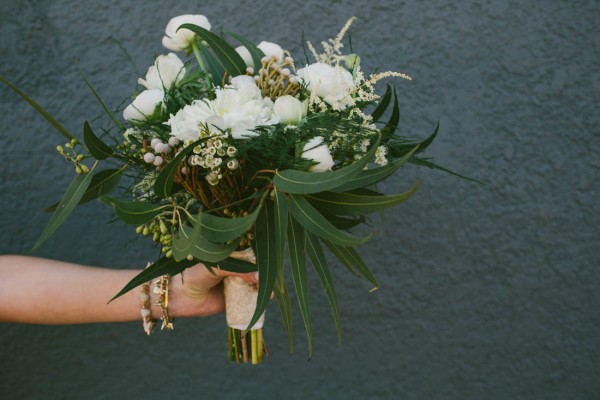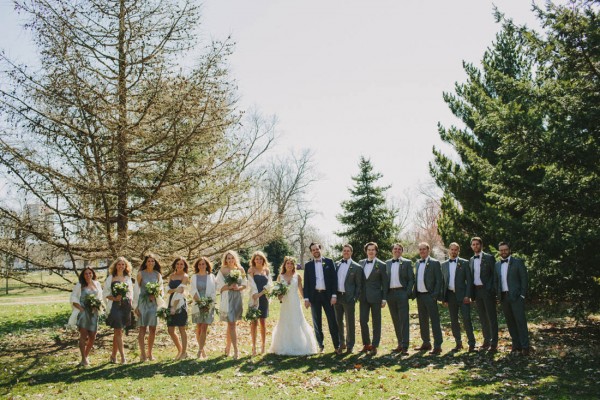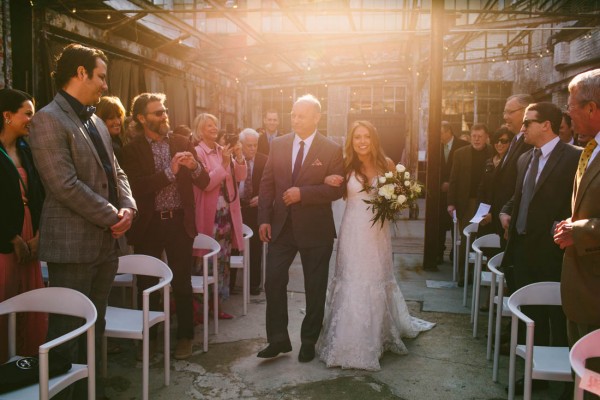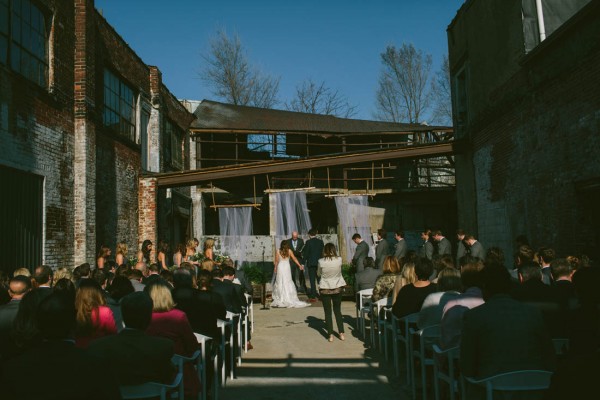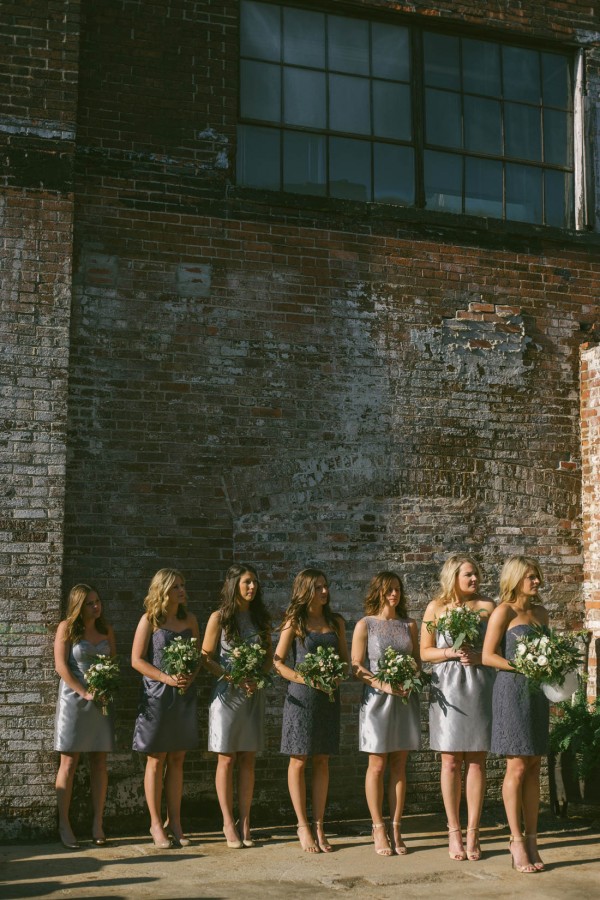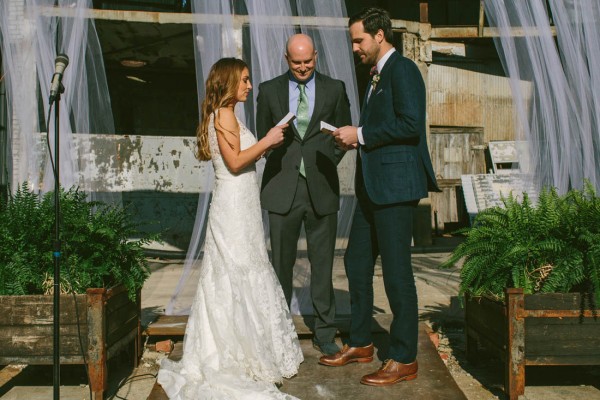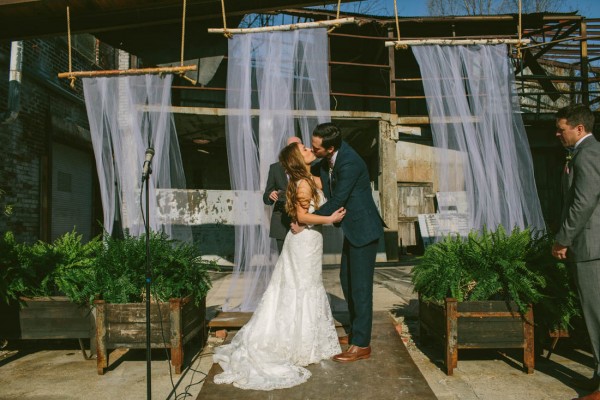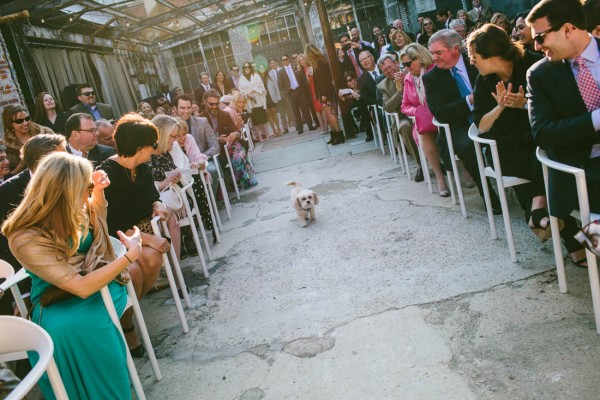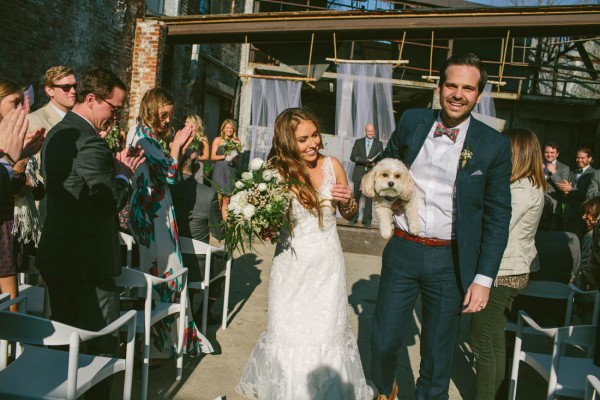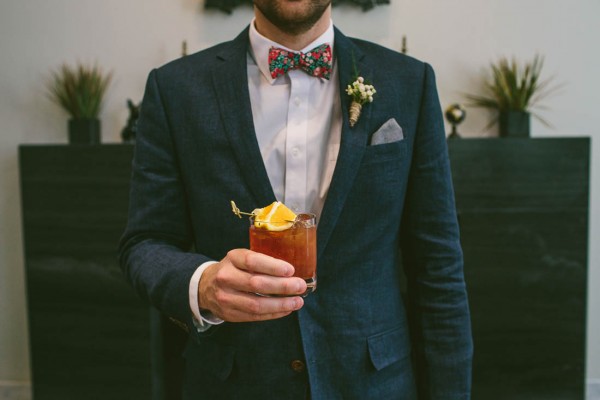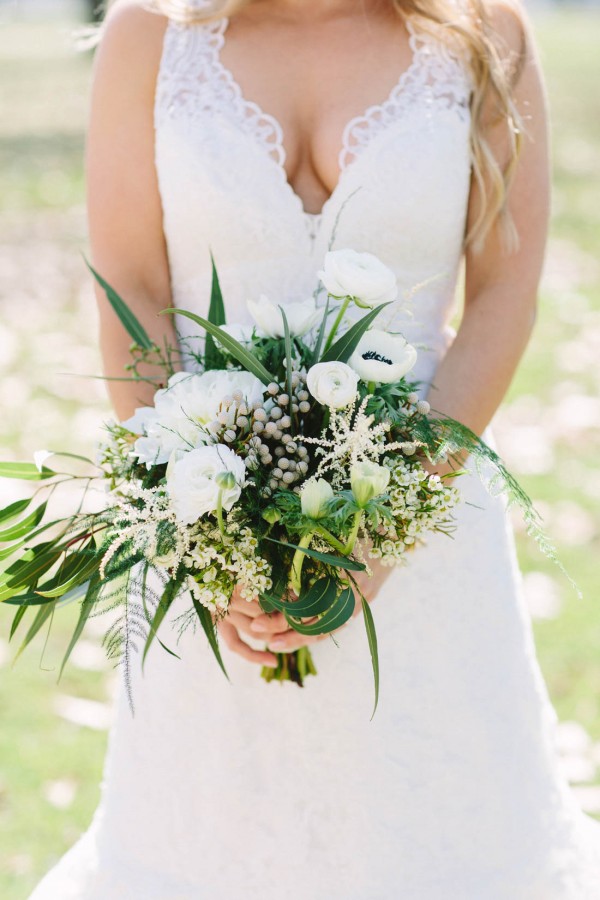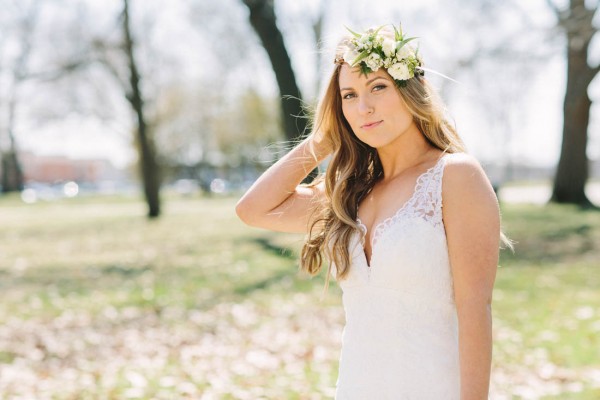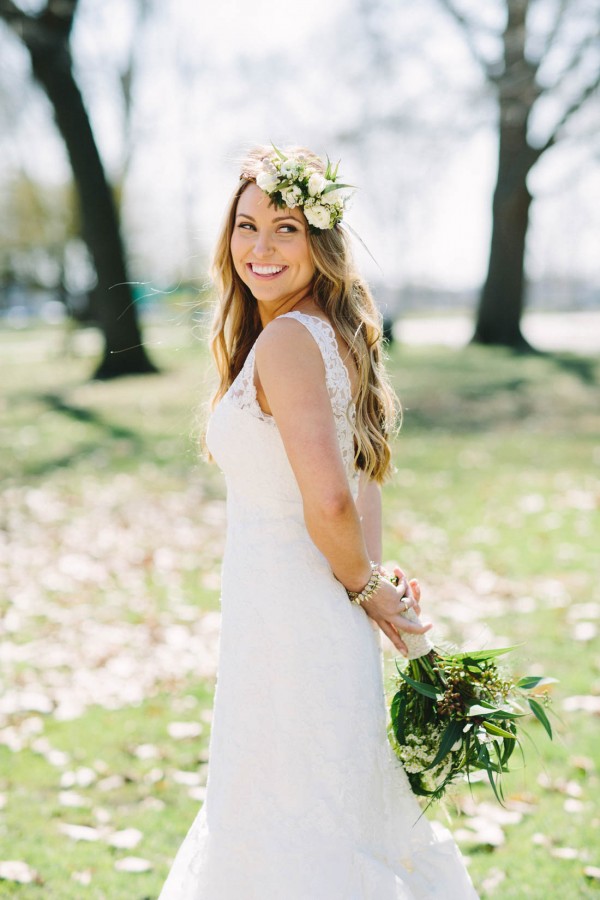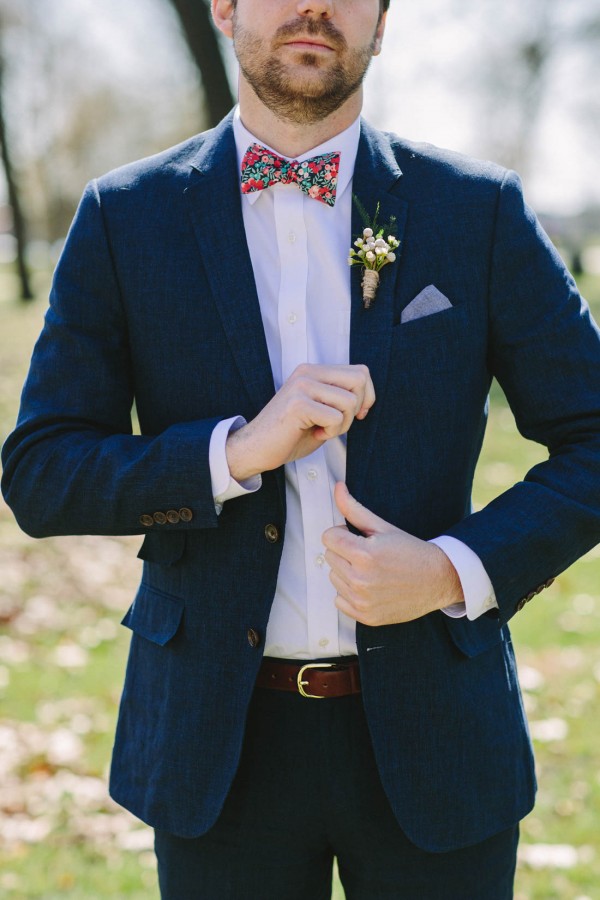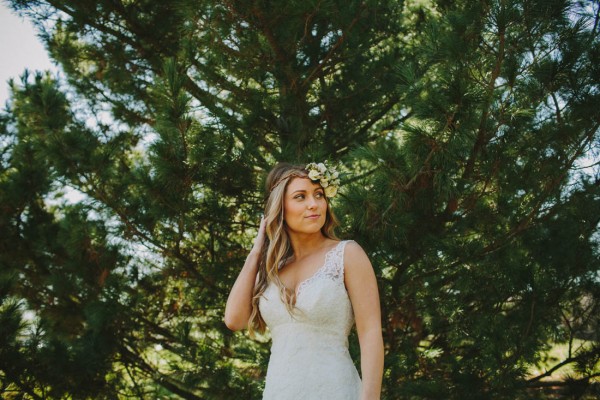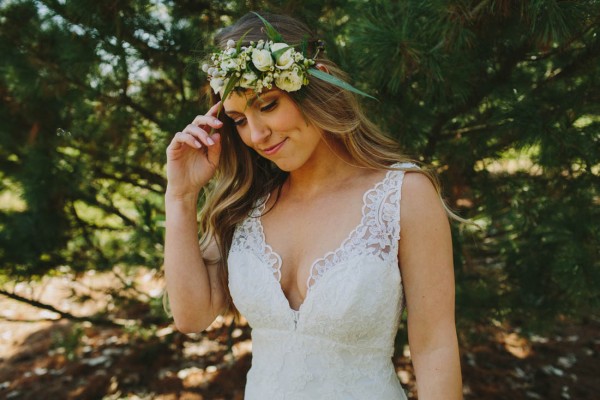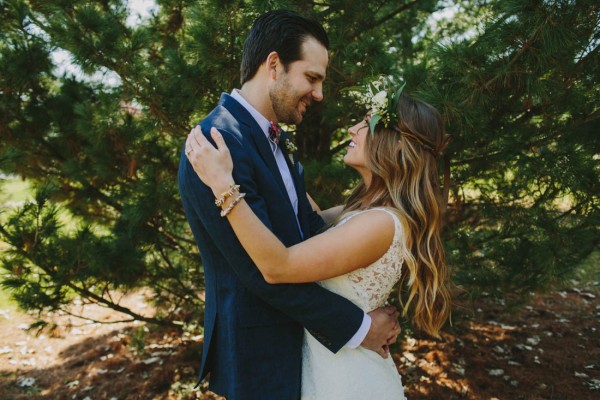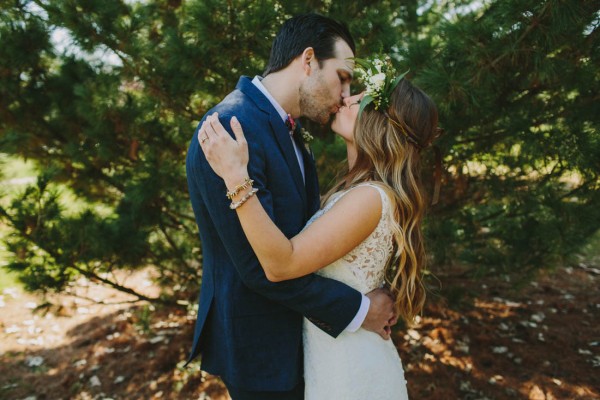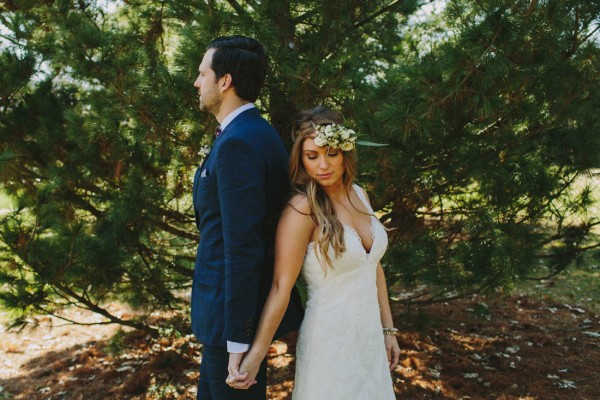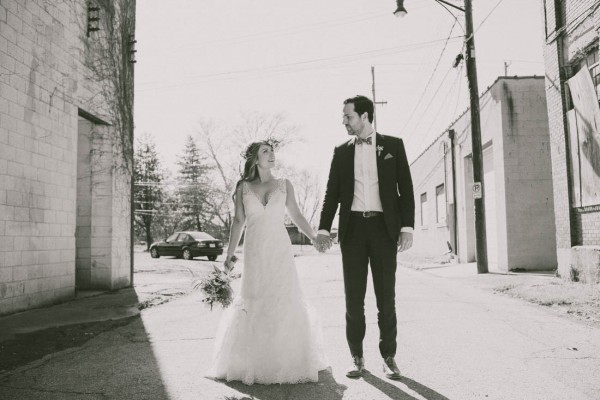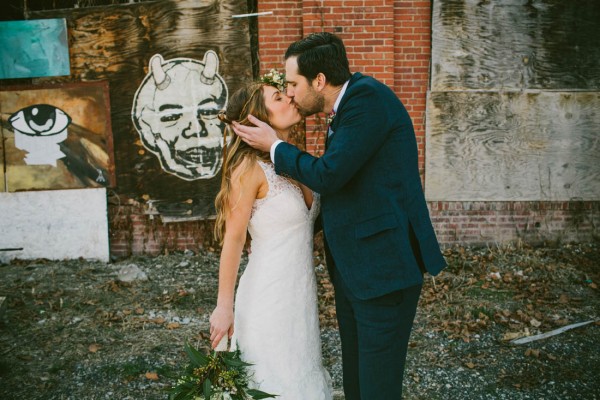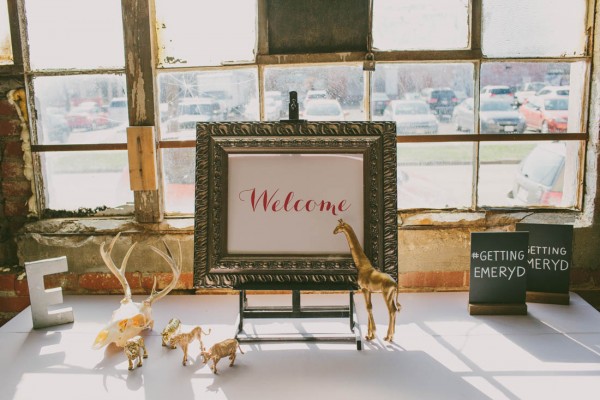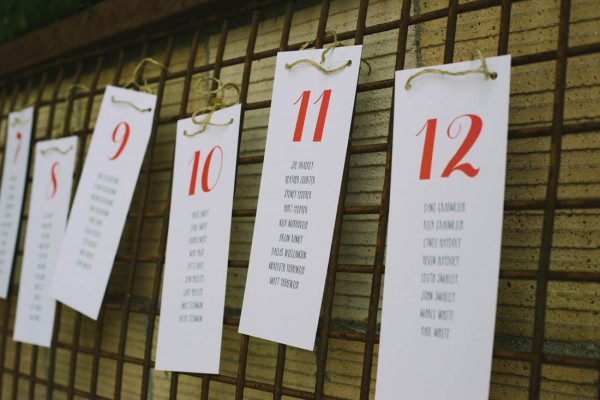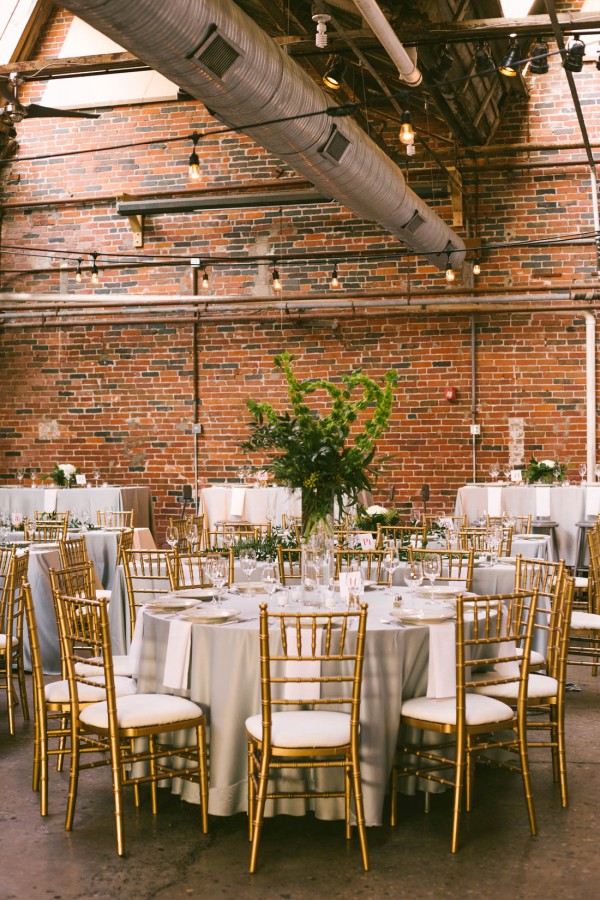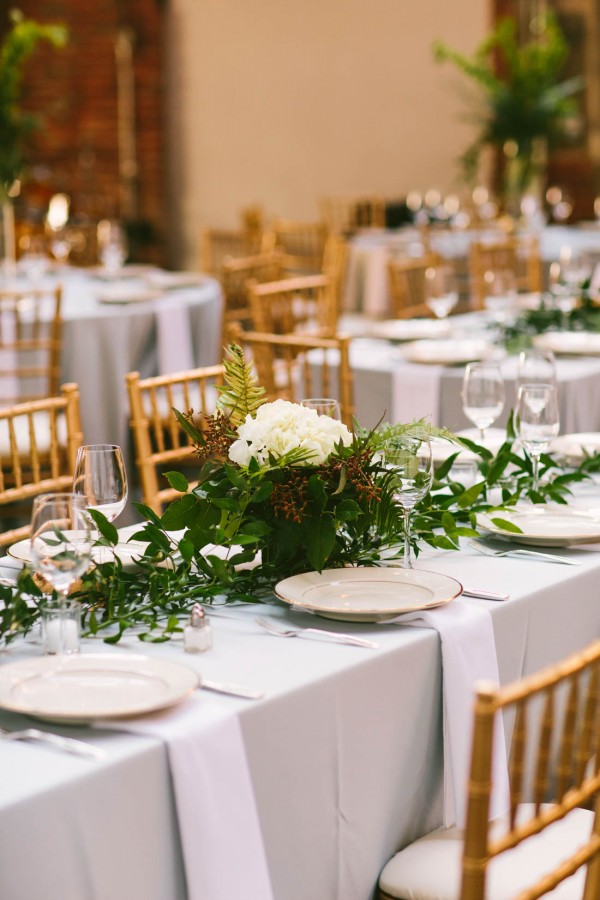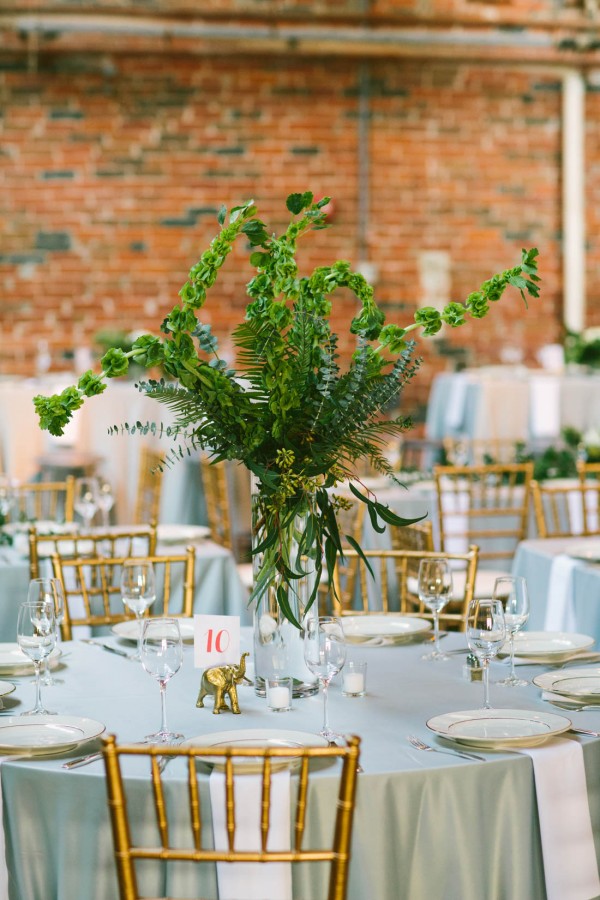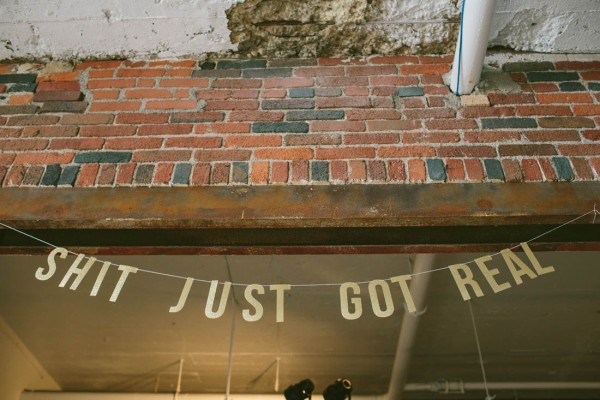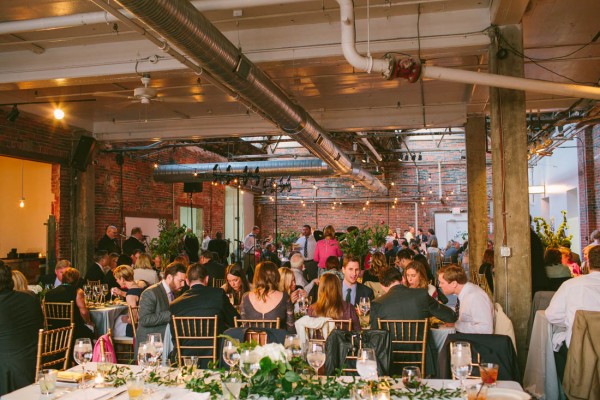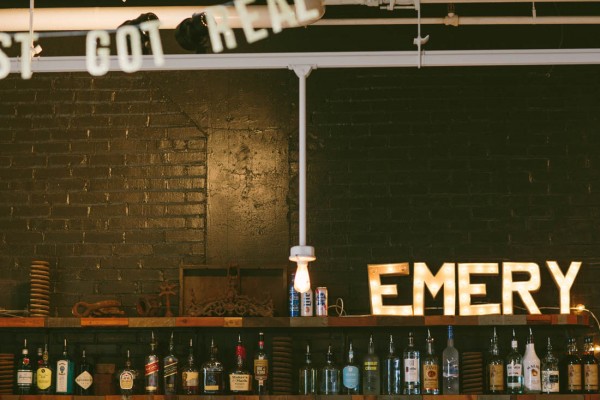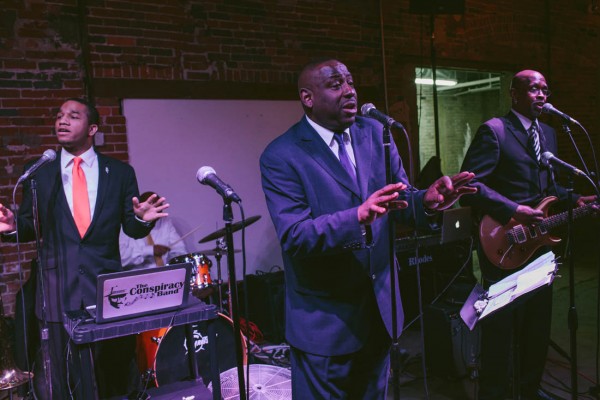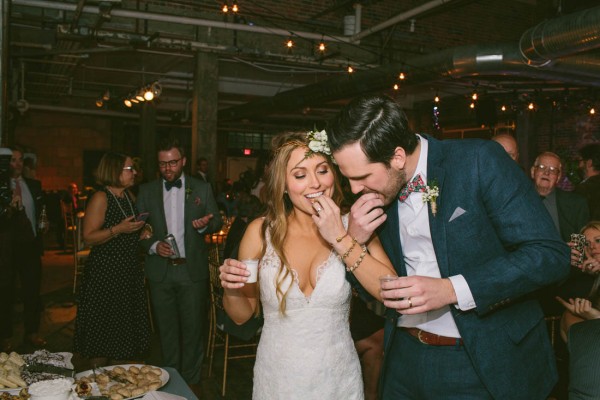 The Moments:
The whole day was our favorite moment. Having everyone together in one room is easily the coolest feeling ever. If we had to pick moments these would be our top 3:
1. We wanted our dog involved in the wedding but knew he might steal the show, so we decided to have someone let him loose after the kiss so we could exit as a family. Being the casual couple we are, we did just that. We were curious to see his reaction when he walked out into a crowd of 200 people and if he could find us. He did a good job and it was super entertaining.
2. The wedding ceremony was better than I would've ever imagined. Standing in front of a crowd is a scary thought. Standing in front of a crowd watching your every move is terrifying. You plan everything for the reception, the tables, the flowers, the music, but at the ceremony, you don't know what your officiant is actually going to say. Not loving anything emotional we asked to keep everything light. What he produced was an amazing mix of funny, serious and candid that I wanted to stand up there and listen to him forever.
3. The dance floor. Between the traditional dances, our first dance and our friends – it got wild. This was certainly due to the Conspiracy Band bringing down the house.
The Couple Recommends:
We loved every single person we worked with! Each and every one of them went above and beyond what we had expected and made the entire wedding planning process a breeze! We never felt stressed or worried about anything since we had a rockstar group helping us out. We HIGHLY recommend each and every one of these super talented people!
The Wedding Team:
Photography – Adam Lowe Photography
Event Planning – Kimberly Frank
Venue – Strongwater
Floral Design – EcoFlora
Catering – Creative Cuisine
Officiant – Jason Barger
Live Music – Conspiracy Band
Invitations – Adam Emery
Makeup Artist – Cheek By Lindsay
Hair Styling – The Blowout Bar
Wedding Dress – Allure
Groom's Apparel – J.Crew
Groomsmen's Apparel – Combatant Gentleman
Rings – Leo Alfred Jewelers
A huge thank you to Adam Lowe Photography for sharing Jenn and Adam's awesome wedding with us! Love this modern style? Head over to this chic indoor garden wedding at Elysian LA!