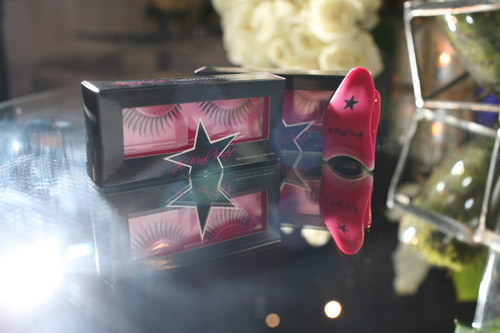 I am a total lover of false eyelashes, especially at weddings, and quite honestly I take advantage of any opportunity to wear them! What fun today to get to meet and wear the eyelashes of "The Eyelash Guru" Ja'Maal Buster. I sat with Ja'Maal to get my luscious lashes applied and asked him a few questions about his approach to this beauty treat. Here are the tips he offered to brides thinking about wearing false lashes…
Choose the lashes that fit you – your lifestyle, your face, your personality.
The silhouette and shape of your face will change depending on the shape of false lashes you choose. The right shape for you is not necessarily the right shape for the next person.
Give false lashes a trial run before your wedding to be sure you have no allergies and you love the way you look and feel.
On your wedding day, choose lashes that will enhance your natural beauty. You want to look like yourself, not unrecognizable.
Take advantage of the extra wedding events – your bachelorette party, bridal shower or rehearsal dinner – to wear over-the-top and dramatic lashes.
Think about getting false lashes applied that last longer than just one day. Lashes that last a week are great for wearing throughout your honeymoon!
Ja'Maal's line of gorgeous false lashes (with hilarious names like Madison Avenue, Trophy Wife, Soap Opera and Tramp Stamp!) are available on his website www.jamaalbuster.com, on QVC, and at all Barneys NY locations this February.
Images by John and Joseph Photography