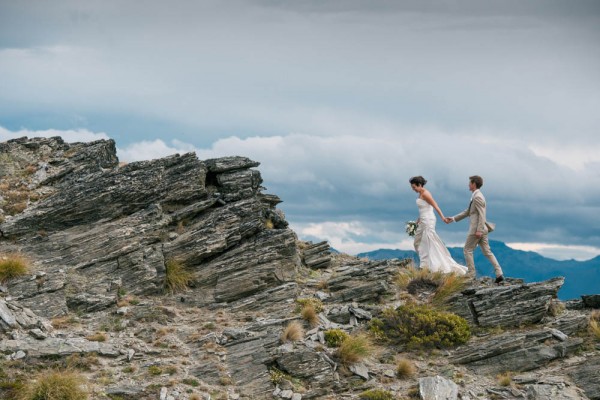 New Zealand used to be one of the best kept secrets for epic celebrations, but it's weddings like Sarah and Al's that show why couples are now craving New Zealand's crisp mountain air and tremendous views. The intimate and majestic wedding was held at Moke Lake, or as Sarah calls it "Lord of the Rings country," which made the jobs of Sunshine Wedding Films and Rich Bayley Photography a breeze. Every angle of the ceremony location is breathtaking, and Sarah and Al chose the perfect subtle and natural wedding décor to complement their destination.
The Couple:
Sarah and Al
The Wedding:
Moke Lake, Queenstown, New Zealand
The Inspiration:
It was really important to us to choose locations that showcased the beauty of New Zealand, since this is where we have made our home and many of our guests had traveled from far away to be with us. Being in the wedding industry ourselves, we wanted to create a day that was unique and original to us… just to make sure it didn't feel like another day at work!
We chose Moke Lake as our ceremony location because it is real 'Lord of the Rings' country and we knew the scenery would really 'wow' our friends and family. Many of them called it 'Nature's Cathedral' on the day, which we loved. We really just wanted a relaxed atmosphere for people to soak in the surroundings, so we created a picnic style setting for the guests after the ceremony and included lots of personal touches here – including Al's hunting (homemade venison biltong) and fishing (locally caught and home smoked trout) treats for people to enjoy.
We kept things pretty simple with the decor at Jack's Point, mainly because we just love the look and feel of the space as it is. We went for an informal reception with walk n' fork style entrees, which allowed everyone to mingle around the grounds before we sat down for shared family style platters for dinner. It was all very relaxed, casual and our focus was really on spending the most time with our friends and family as possible – which still seemed to fly by!
Before scrolling on, be sure to watch the incredible wedding film captured and created by Sunshine Wedding Films: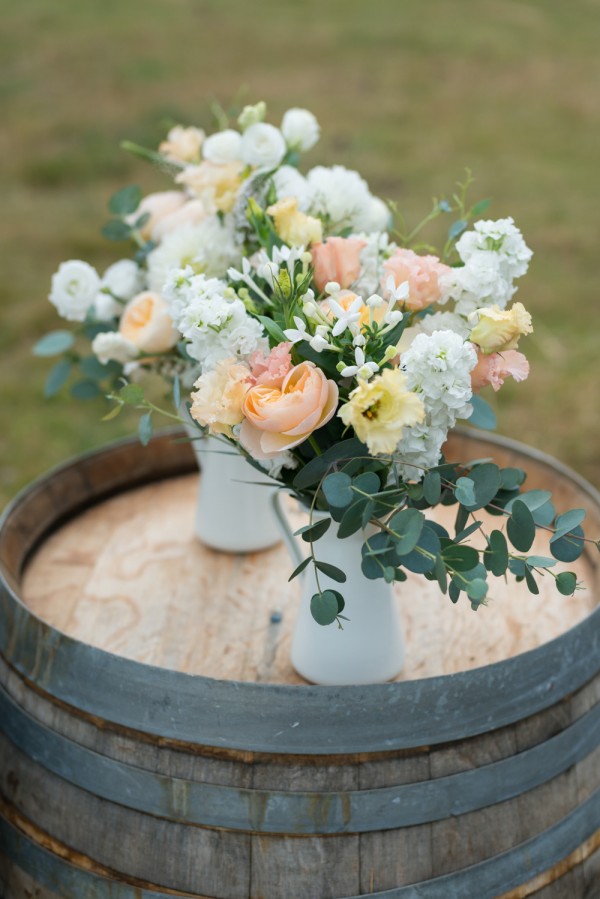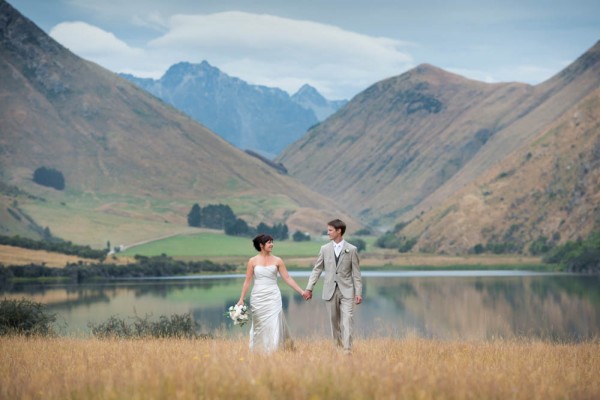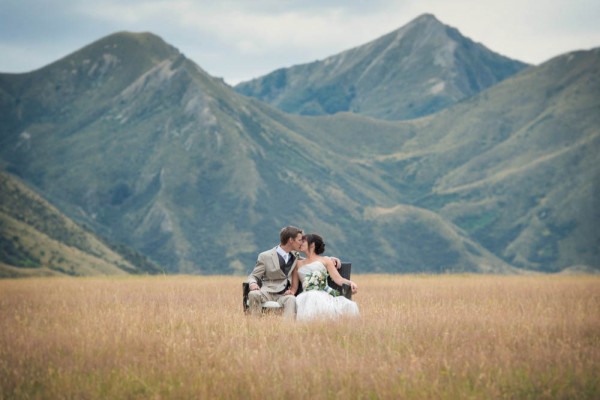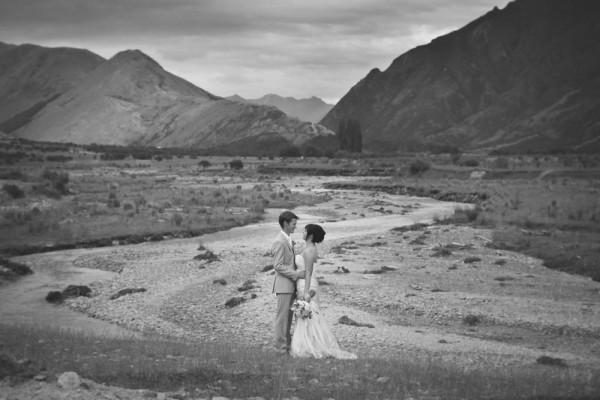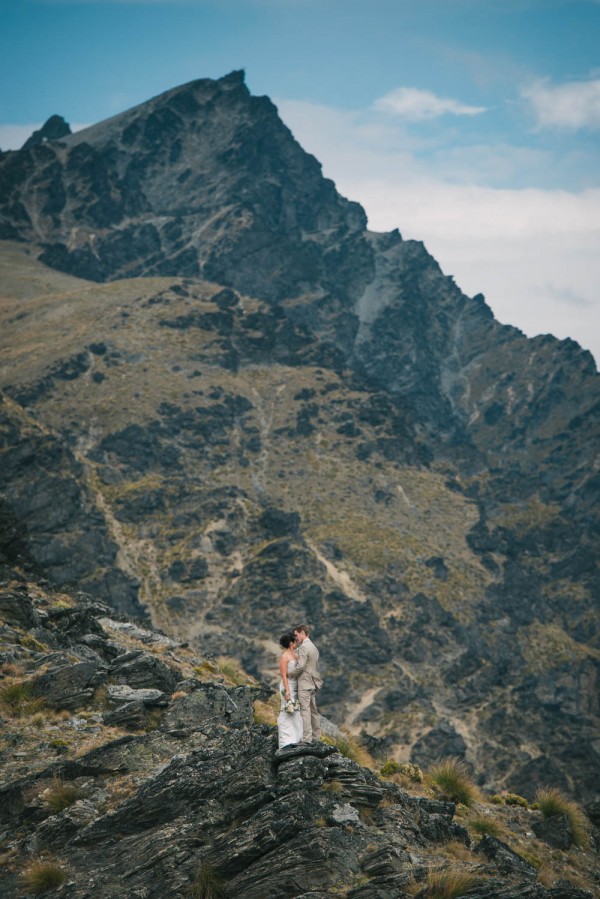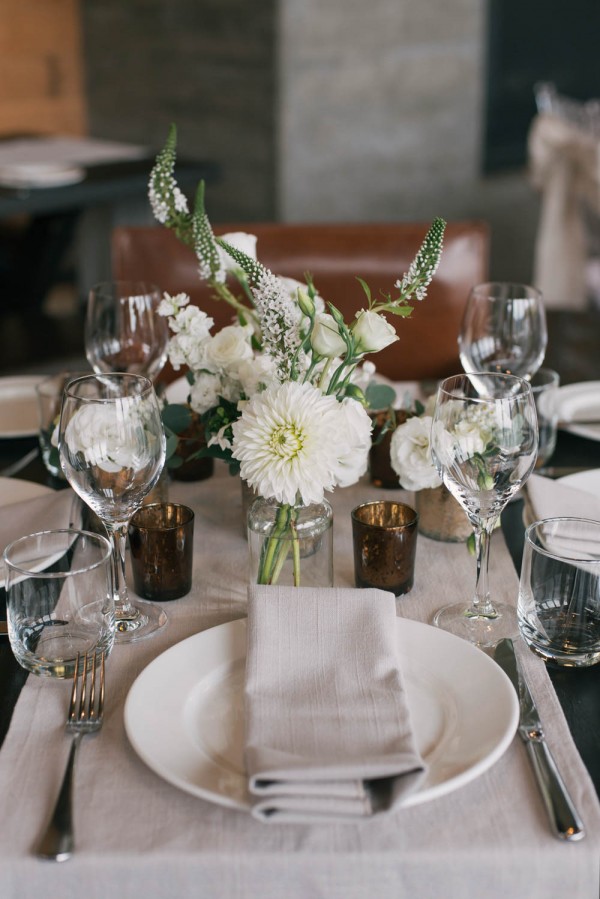 The Moments:
We handed out small booklets to guests as they boarded the buses: they were filled with fun facts about us, our wedding party, the day's events and interesting tidbits about New Zealand. My favorite page had to be our tally of how far guests had travelled for our wedding – it was an amazing 381,651 kms!
After the ceremony we surprised our guests with a Mr Whippy ice cream van, it was a hot summer's day so it was really fun seeing the excitement on everyone's faces when it pulled up in the middle of the paddock.
Another favorite moment was at the end of the evening when we decided to do our 'first dance' on the lakeside pontoon. It was drizzling with rain but we had candles setup everywhere, so we did our dance as the guests looked on under the moonlight. We will never forget that moment!
The Couple Recommends:
We were very spoiled on the photography front and decided to have two of our favorite local photographers capture our day. Rich Bayley Photography captured all the traditional wedding photos and the amazing mountaintop shots, while Jim Pollard Goes Click covered the prep shots, 'first look' and focused on capturing all the emotion and candid moments of the day. We were so happy to be able to capture our wedding day from two different perspectives and I don't think there was any moment that was missed!
The wedding video from Sunshine Wedding Films was also a huge highlight from the day. While we have more amazing photos than we know what to do with, there is something special about being able to sit down and watch a video of the wedding – it is like being transported back to the best day of our lives, every time we see it! I can't recommend getting your wedding day captured on video enough – even if it means stretching the budget more than you want. The day just goes by so quickly and no matter how much we tried to take it all in, it all seemed to rush by in a blur… so it is amazing to have the video to look back on and relive the memories for years to come.
The Wedding Team:
Videography – Sunshine Wedding Films
Photography – Rich Bayley Photography, Jim Pollard Goes Click
Event Planning – Simply Perfect Weddings
Reception Venue – Jack's Point Clubhouse
Floral Design – The Flower Room
Cake – Cherry Blossom Cakes
Dessert – Truly Scrumptious Cakes
Officiant – Kathryn Omond
Photo Booth – Amazing Travelling Photobooth
Live Music – LA Social Club
Invitations – POP Creative
Makeup Artist – Renee Little
Rentals – Queenstown Wedding Hire
Transportation – Glacier Southern Lakes, Resort Transport
A special thanks to Sunshine Wedding Films for giving Junebug a glimpse into Sarah and Al's majestic wedding day! For more epic wedding inspiration, check out Elicia and Ronnie's adventurous Icelandic elopement.