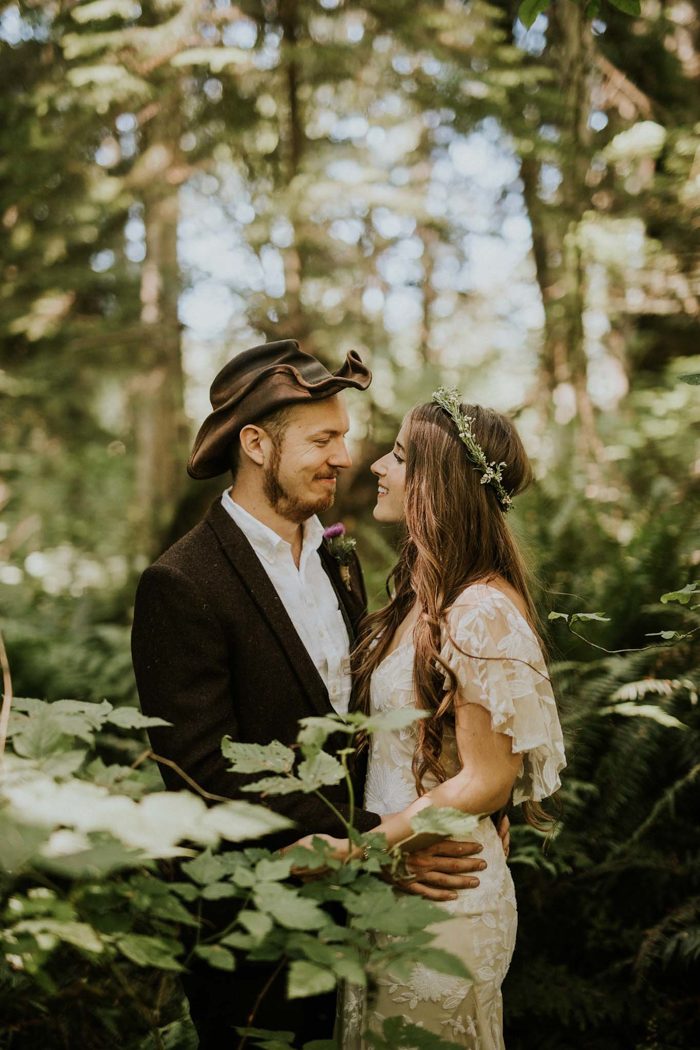 It doesn't get more magical than Noelle and Braden's woodland wedding! Noelle and her bridesmaids got ready in the cutest yurt that was full of pretty light and bohemian decor. With mismatched dresses from Free People, Forever 21, and Lulu's, Noelle's bridesmaids matched perfectly with her warm-toned Rue De Seine wedding dress. Looking like an ethereal woodland goddess, Noelle finished the look with a wildflower bouquet and dainty greenery crown thanks to Fire and Blooms. Noelle and Braden had their family and friends sit around them in a circle, rather than the traditional seating arrangement, and we're all about it. Photographer Catherine Coons and videographers White in Revery absolutely killed it in capturing the gorgeousness that was Noelle and Braden's wedding day.
The Couple:
Noelle and Braden
The Wedding:
Private Residence, Washington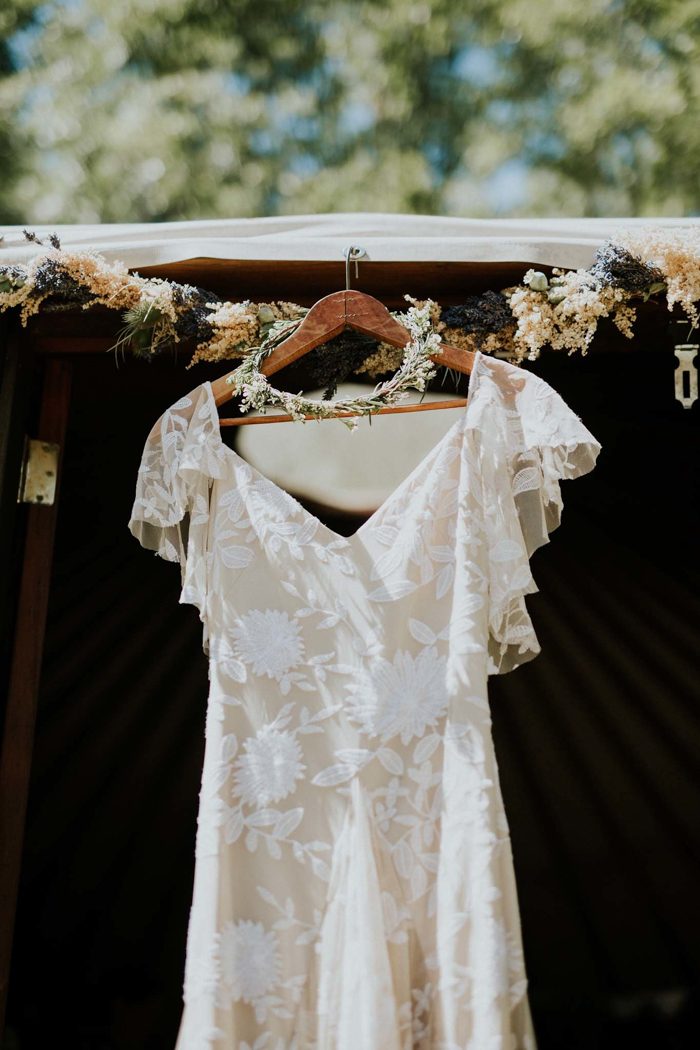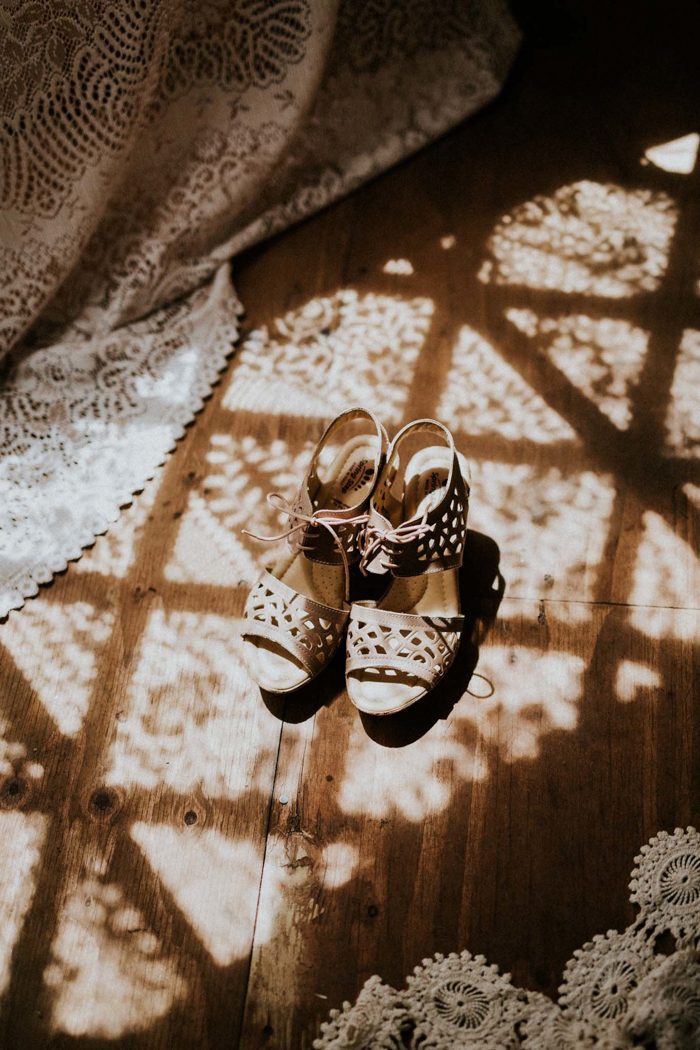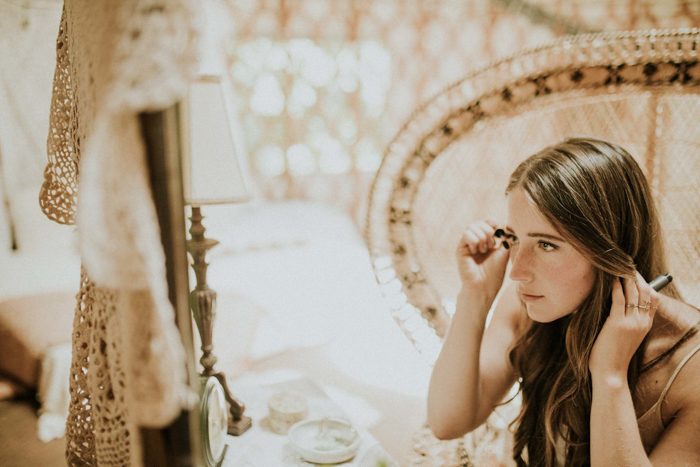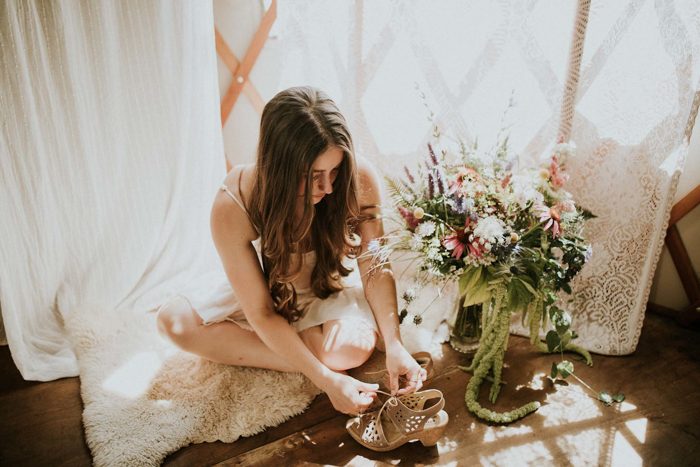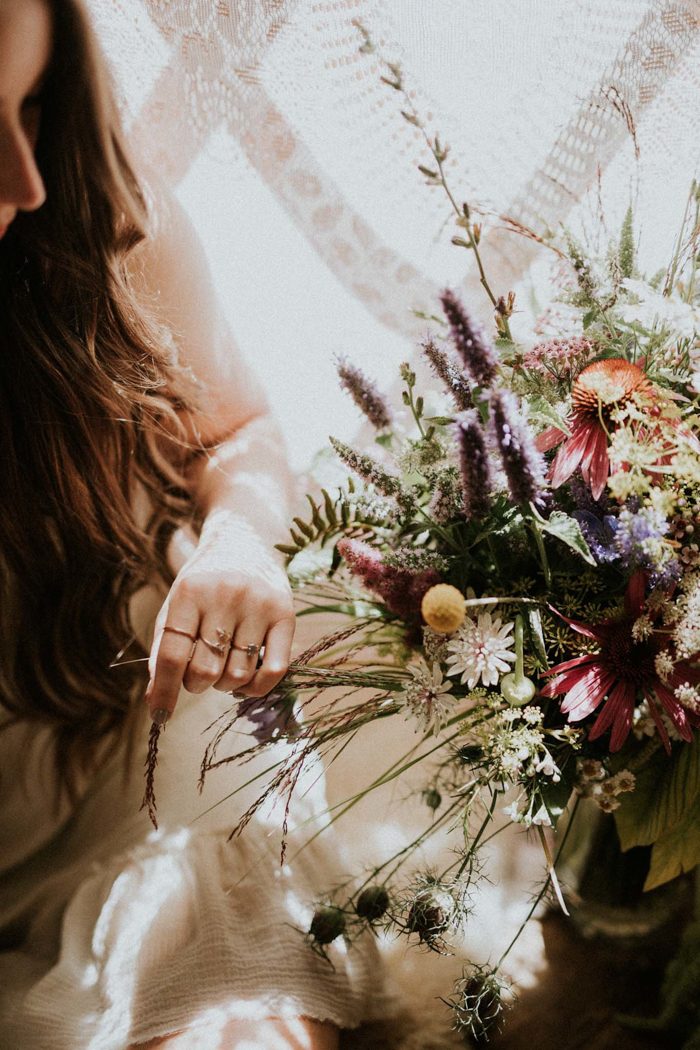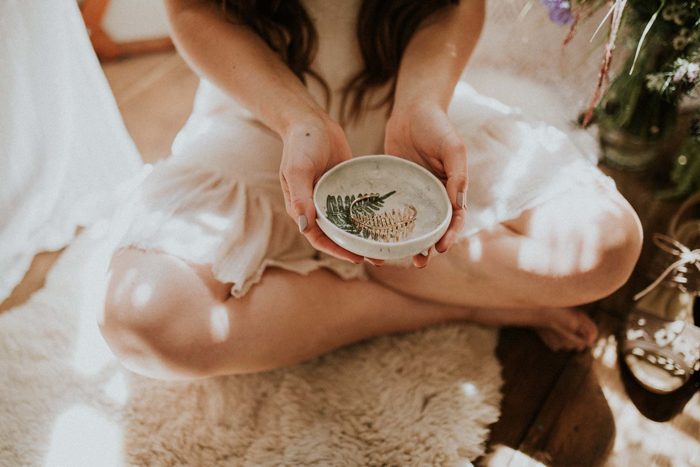 SHOP THIS LOOK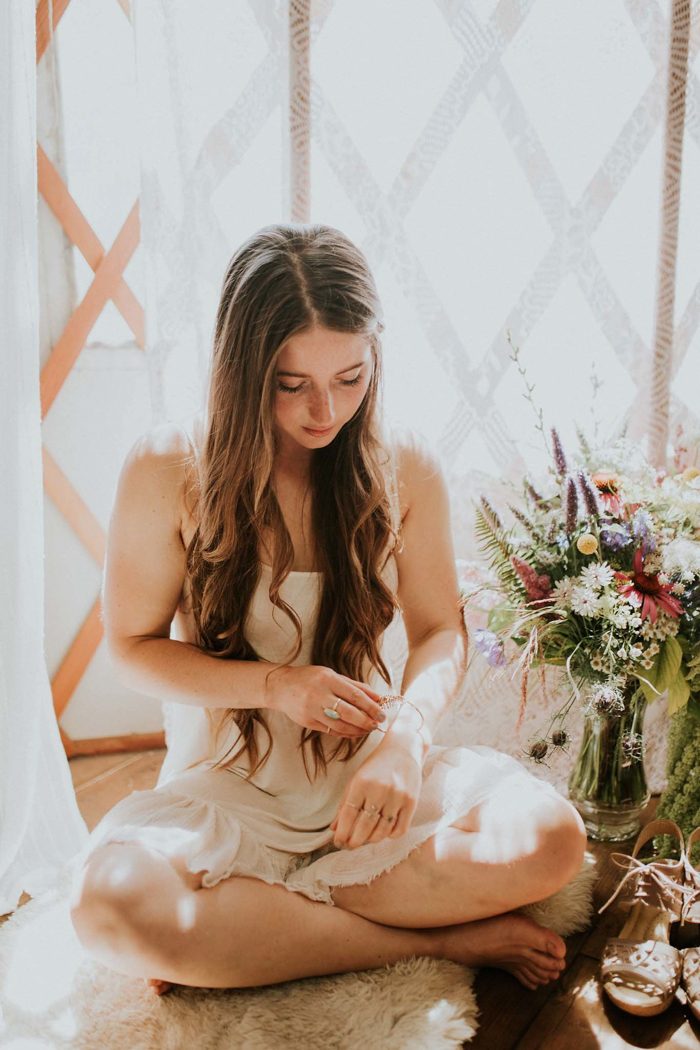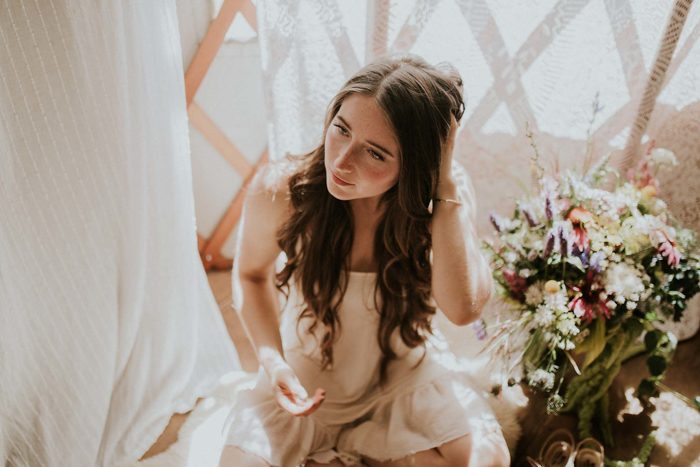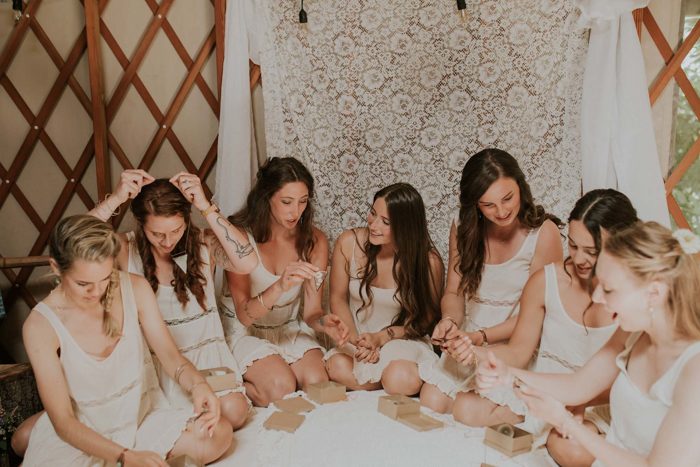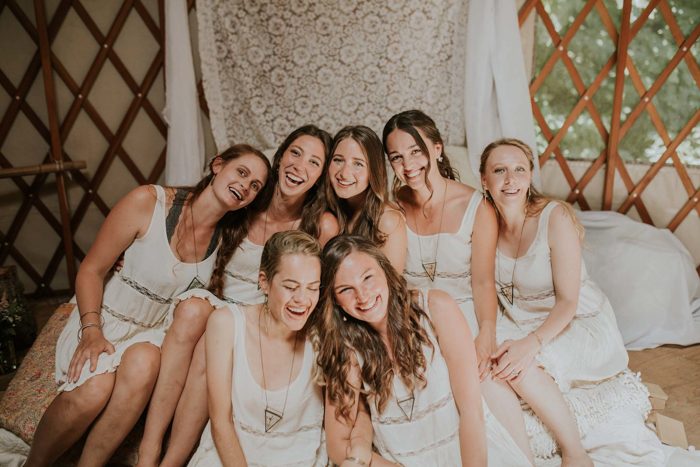 ENROLL YOUR FRIENDS AND FAMILY!! Seriously, make sure to plan things months and months in advance, communicate with everyone what your expectations are, and build a group of awesome volunteers , as big as you can! More hands are always required!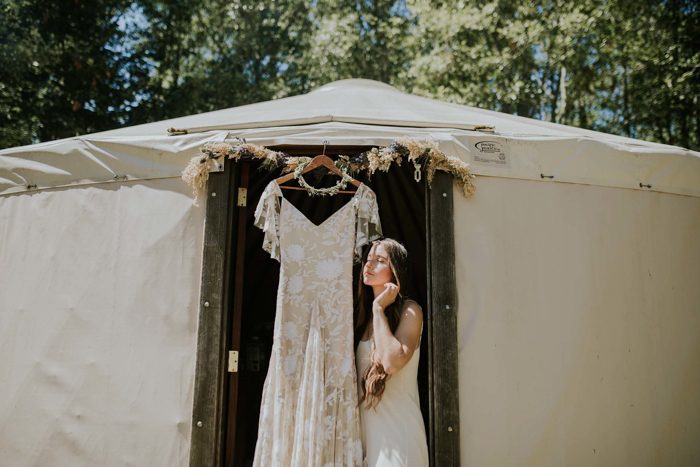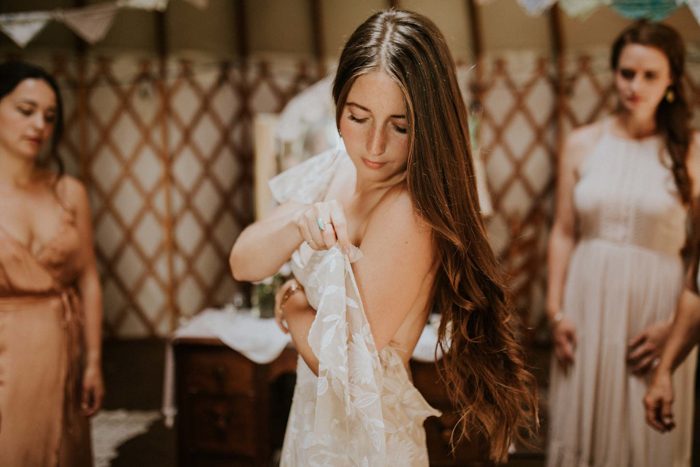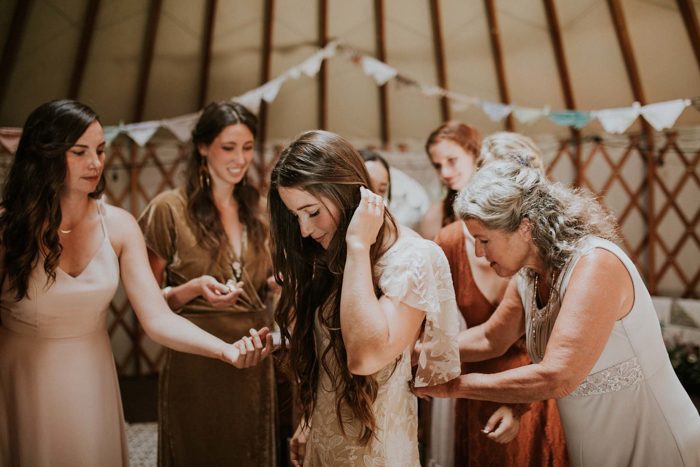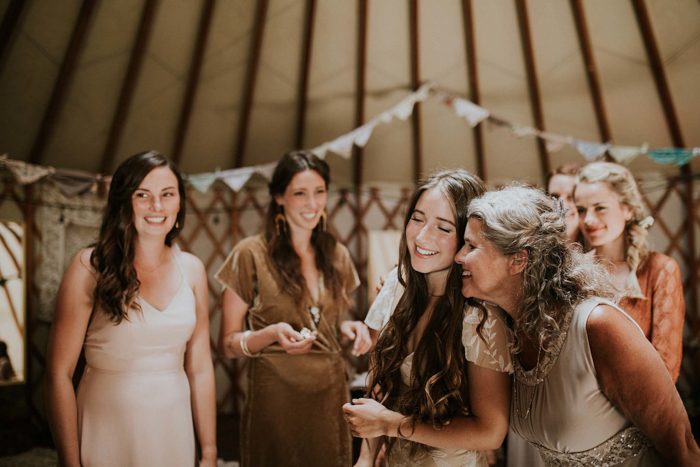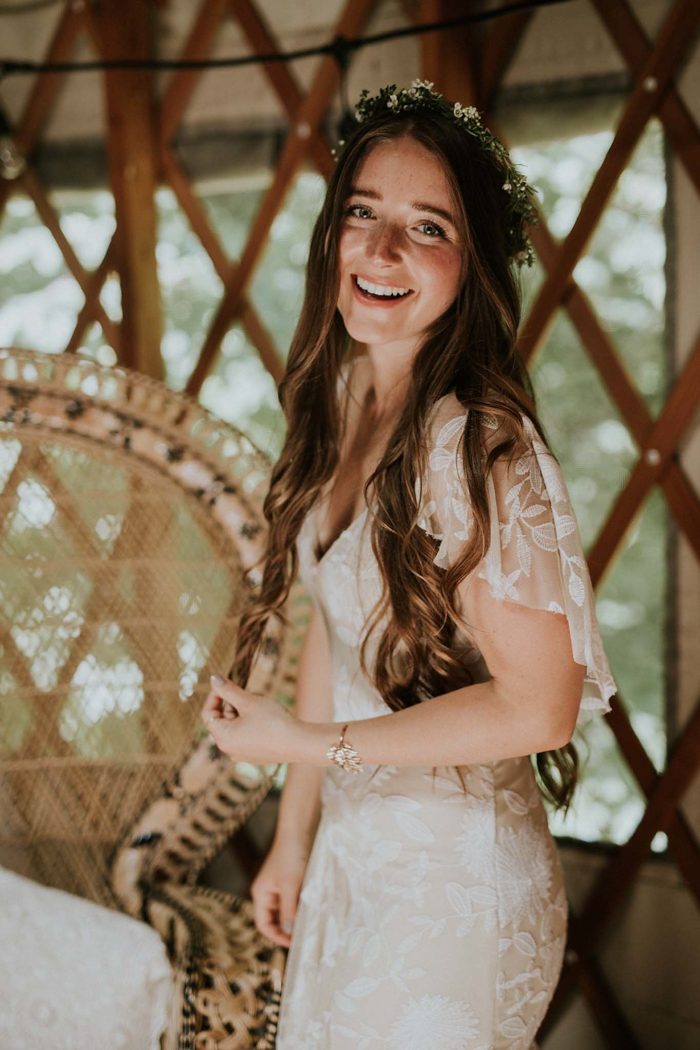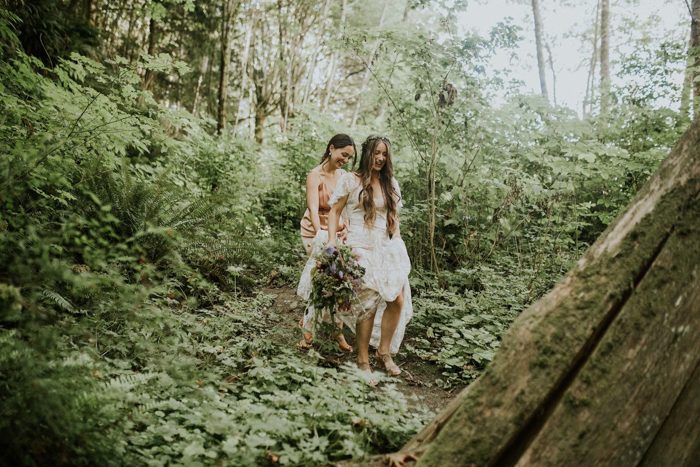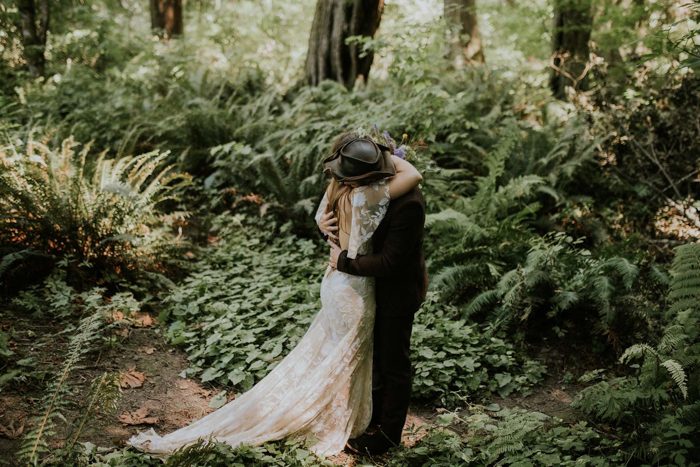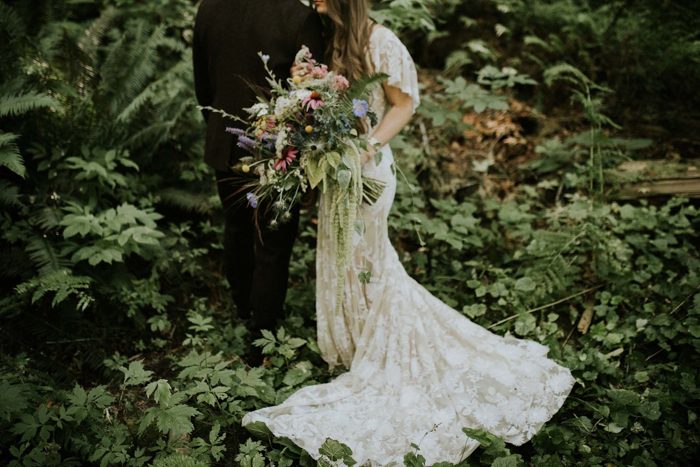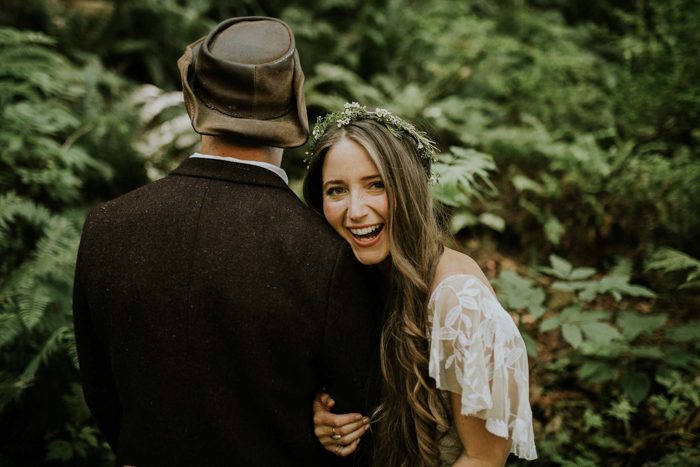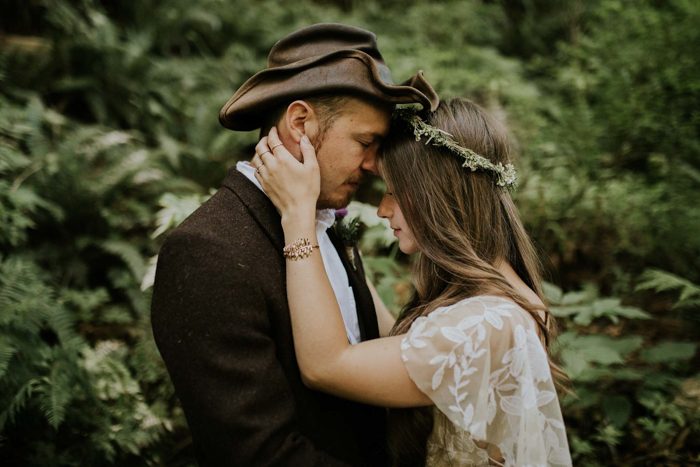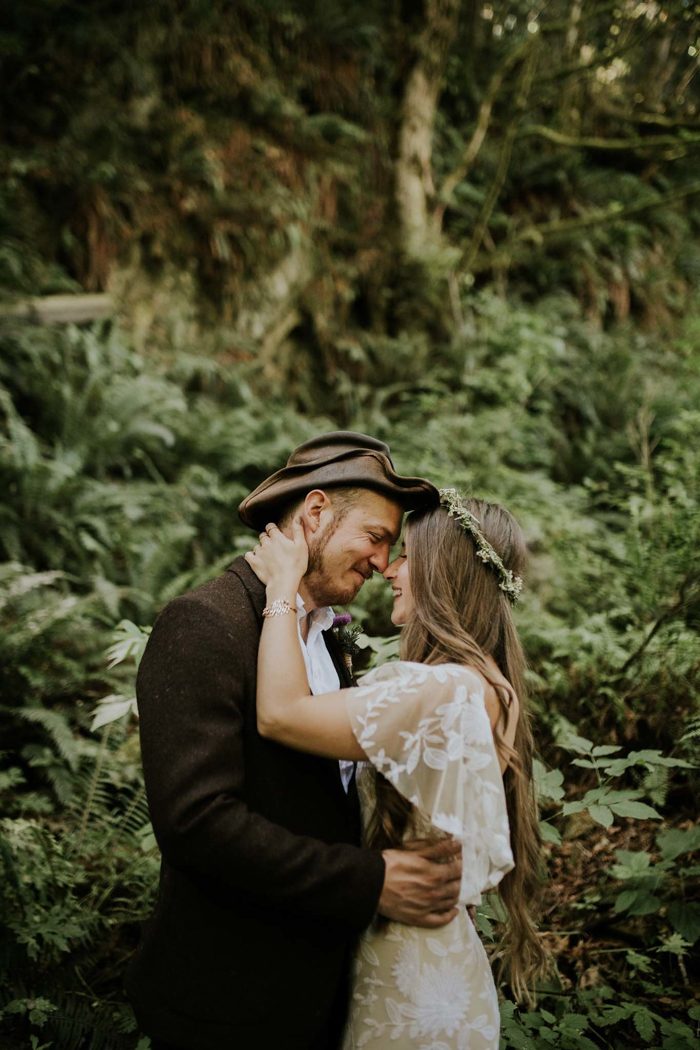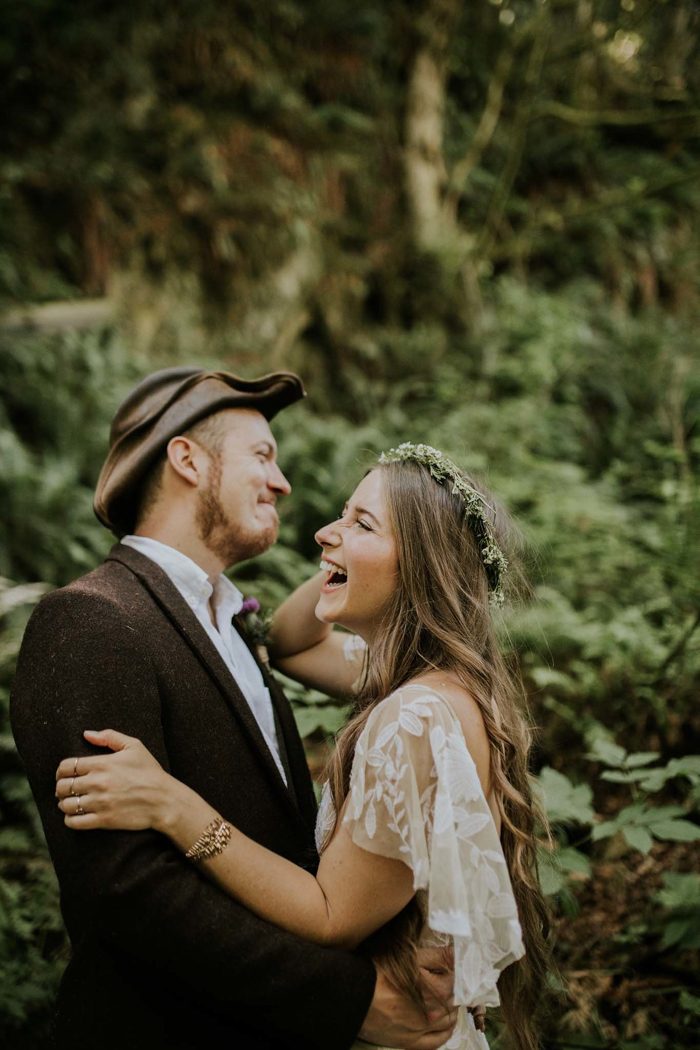 Braden had known the owner of the venue we chose for 15 years and had spent that time helping to caretake the property we held the wedding at. It was a beautiful green field surrounded with maple cedar and fir trees with a small river running along the side of the property. The land literally feels like it's full of magical powers.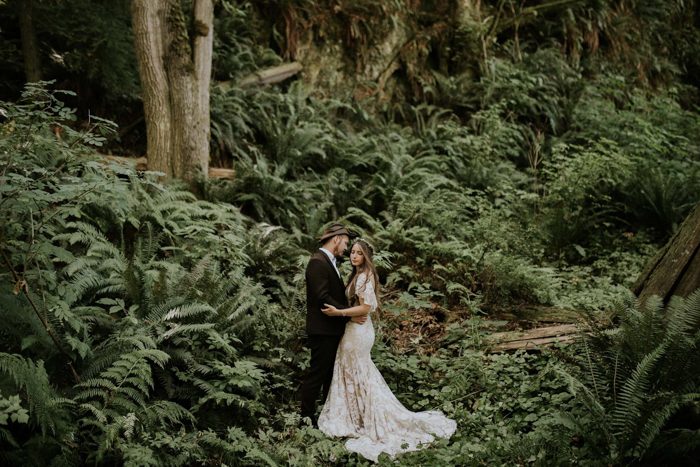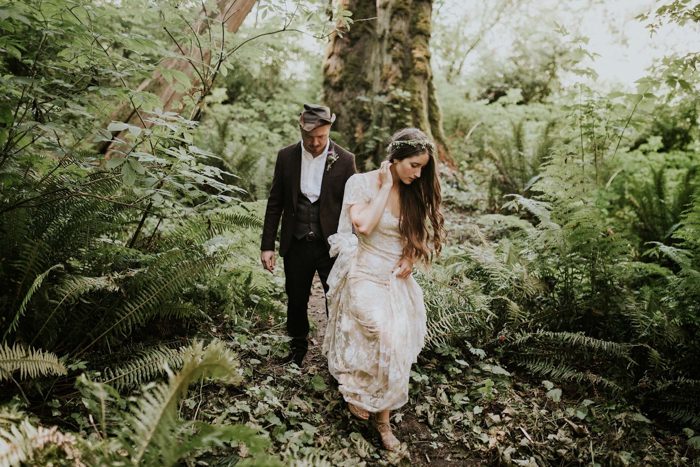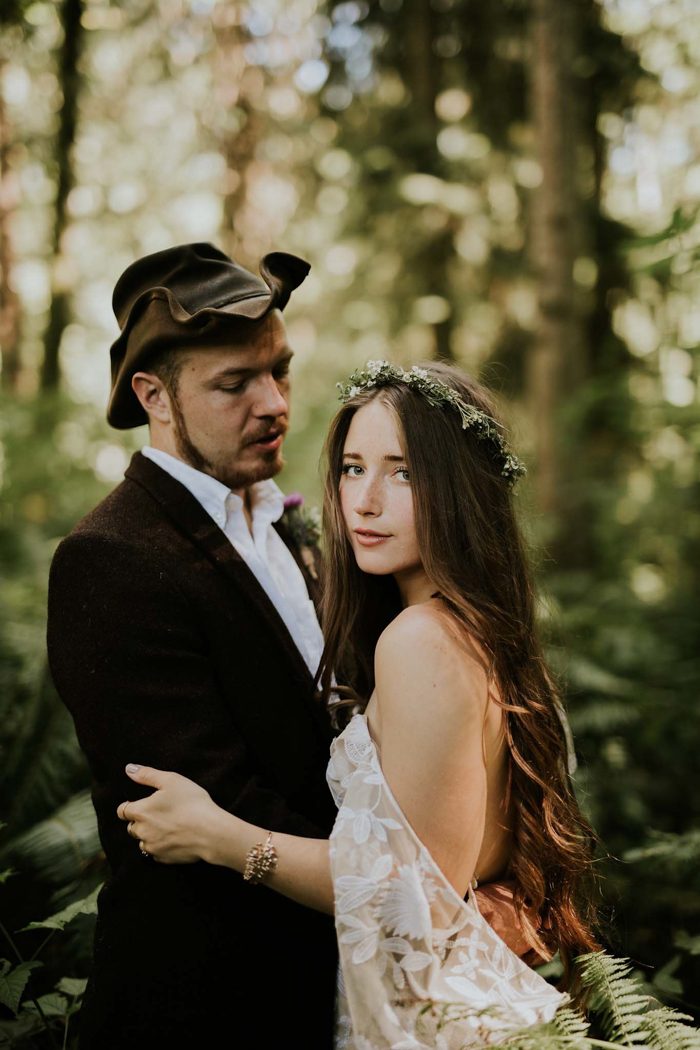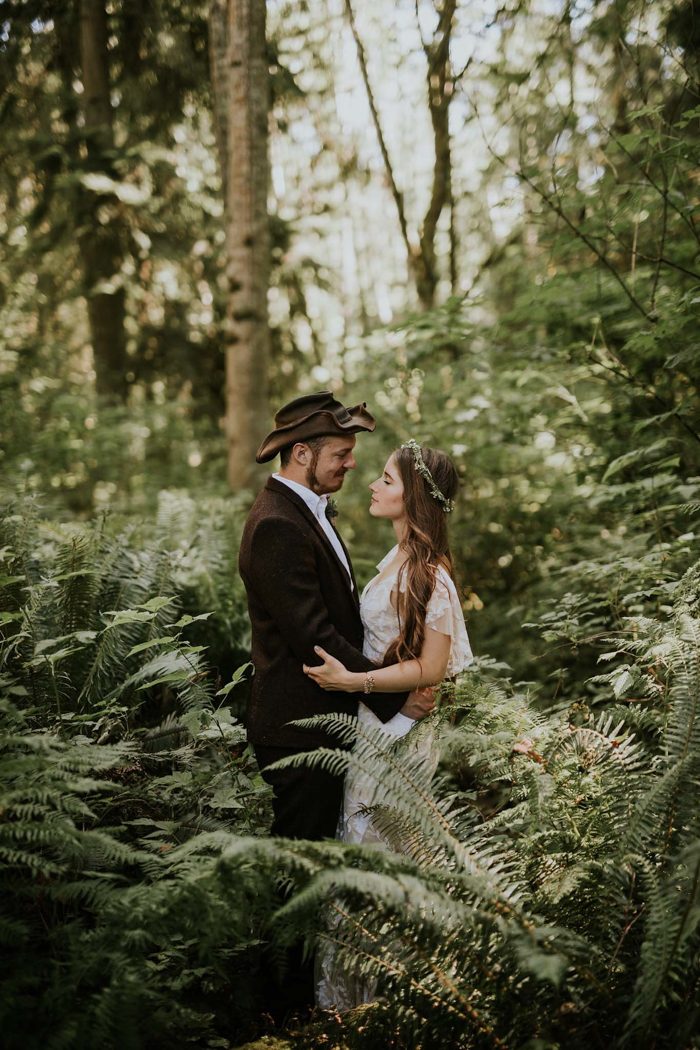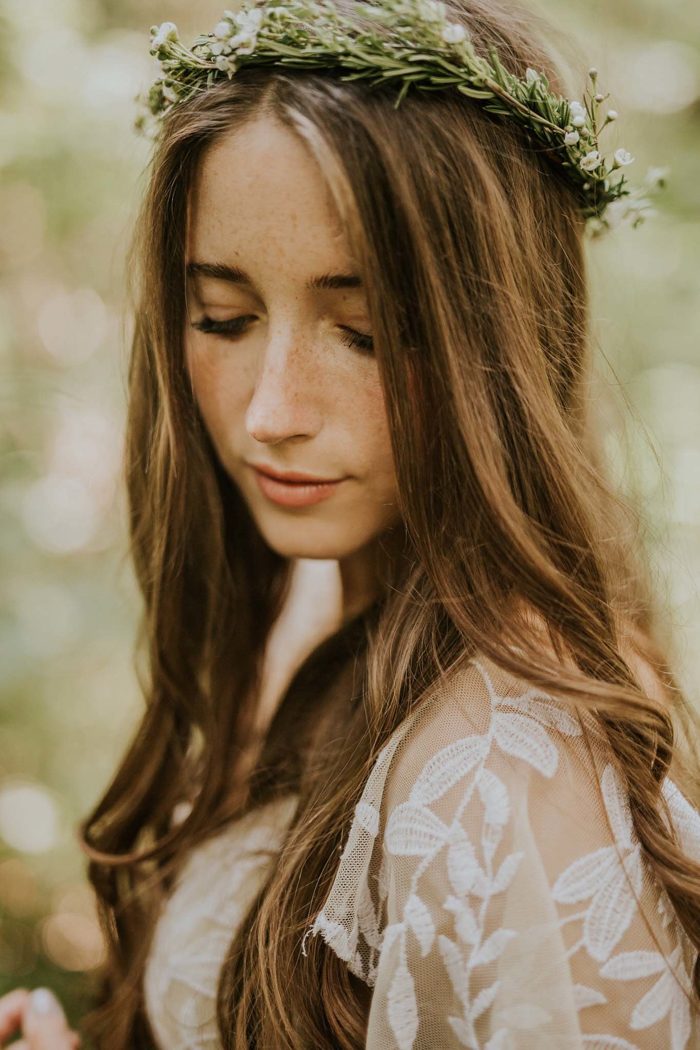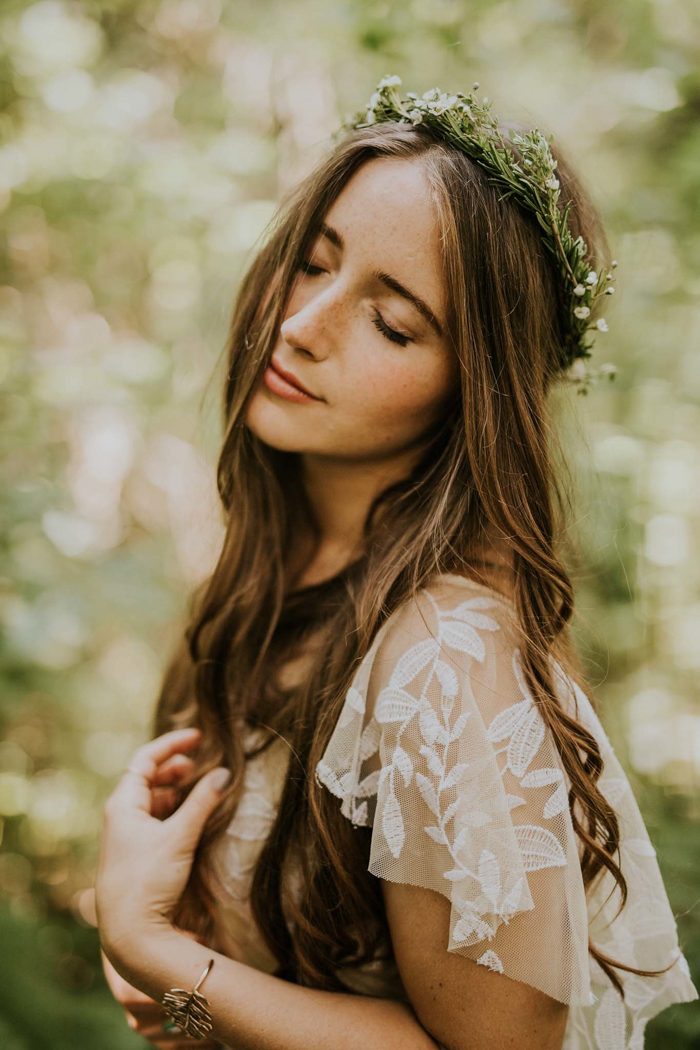 I basically wanted to feel like a woodland goddess on my wedding day! I LOVED all of the gorgeous wildflower detailing on my dress. I feel like that, along with my gold fern bracelet, made the perfect forest bride attire.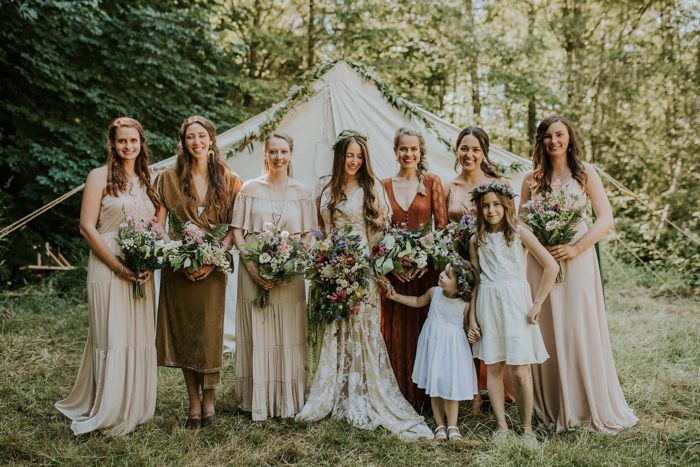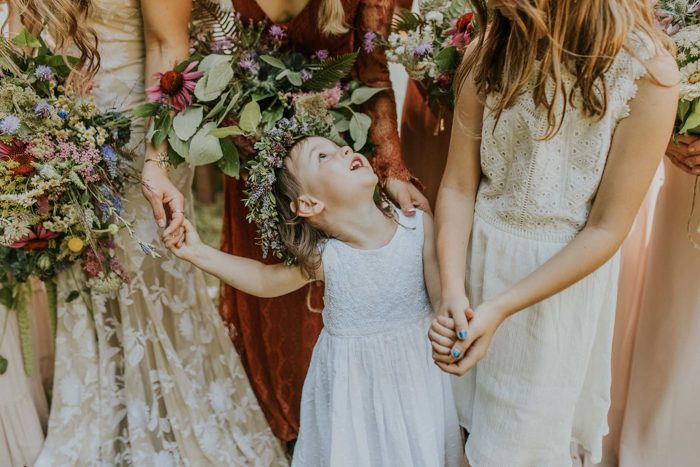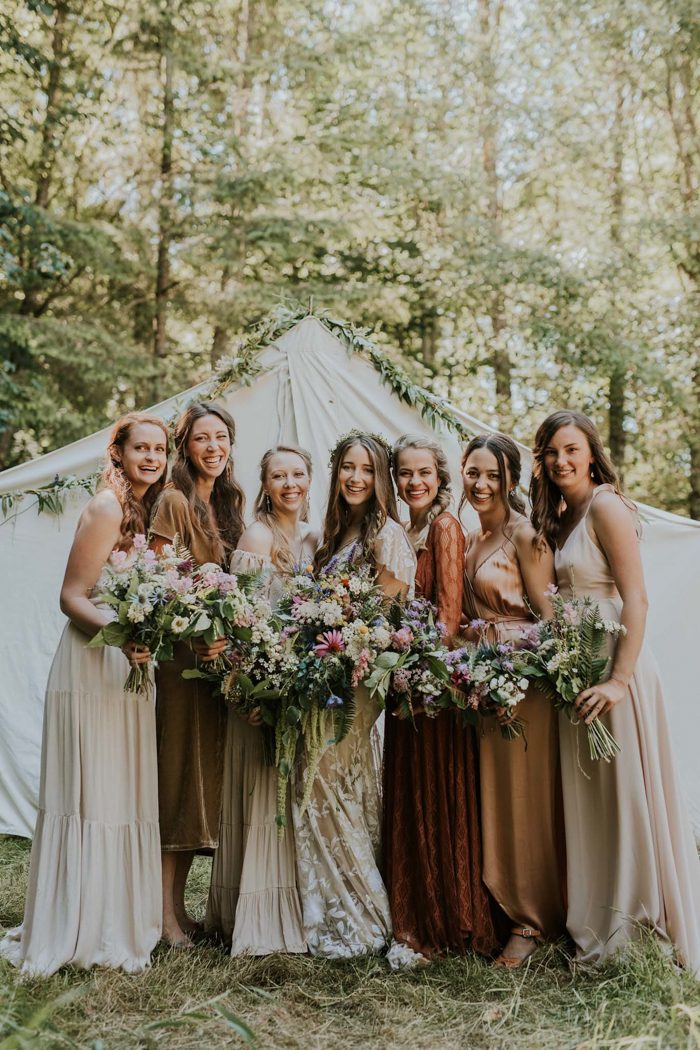 We're both huge fans of earth tones so we naturally gravitated towards those. Since my dress wasn't a true white I wanted my bridesmaids dresses to have warm tones and compliment mine! We actually never sat down and chose wedding colors but everything happened organically and ended up working out perfectly!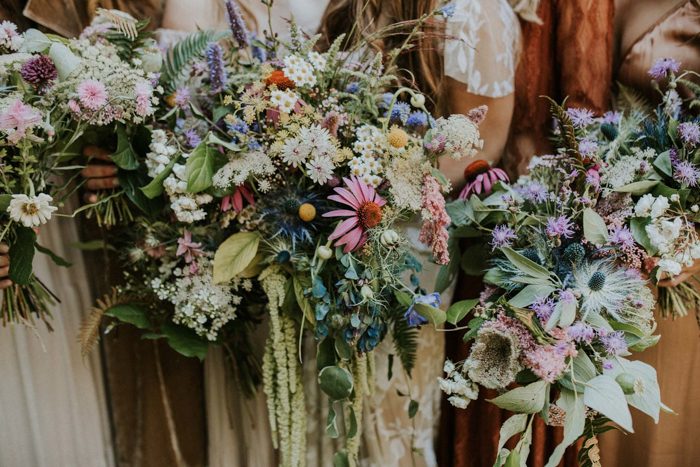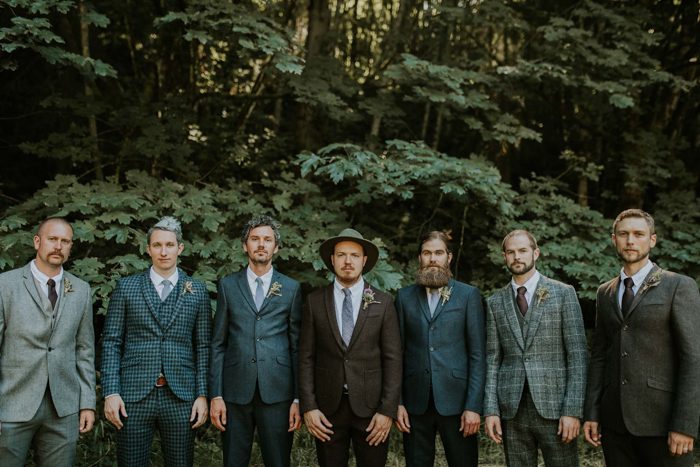 We both love texture so we had Braden's groomsmen wear wool tweed suits. They hated us because they were way too hot..but they eventually got over it. ;)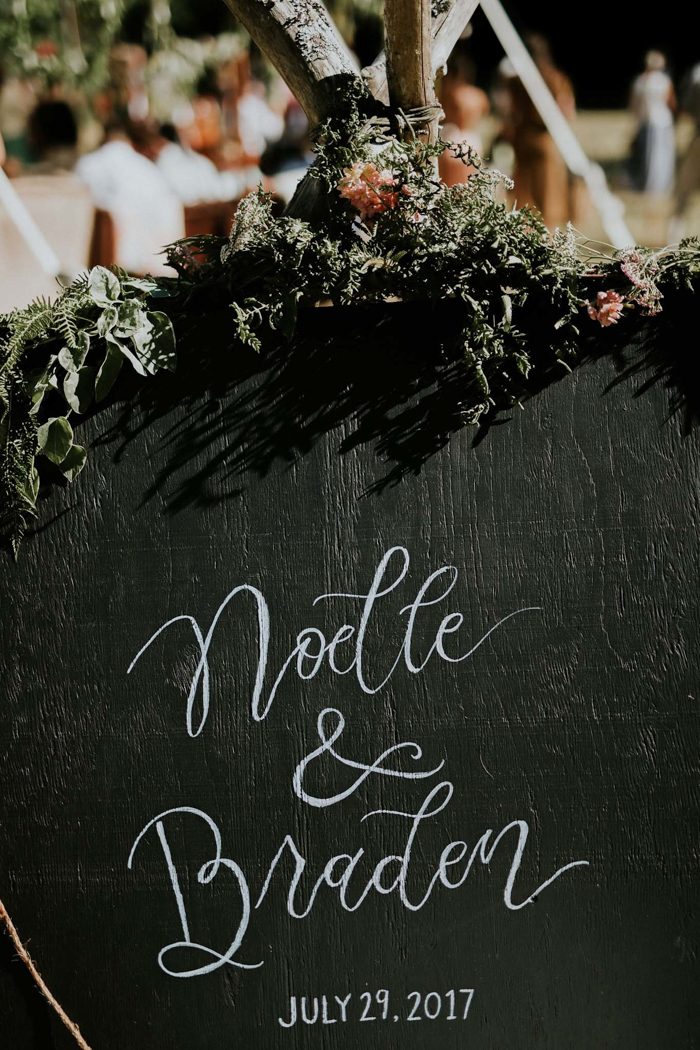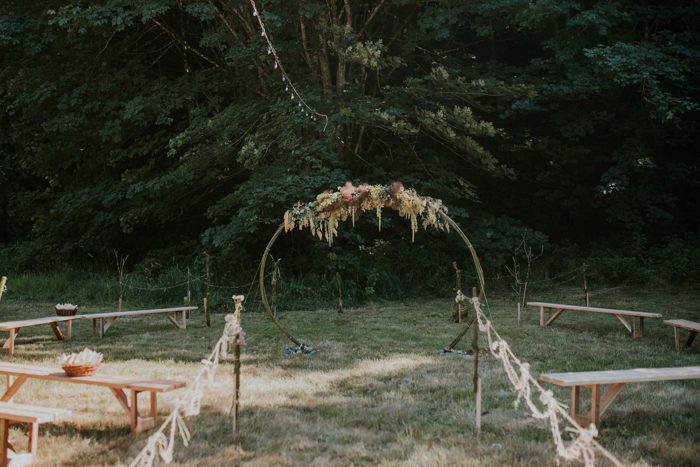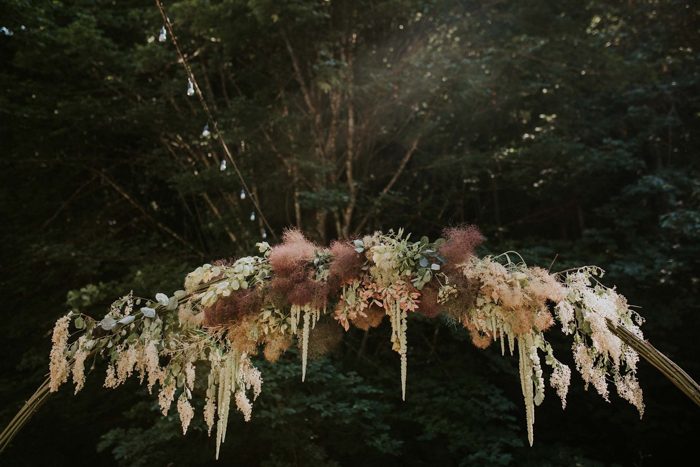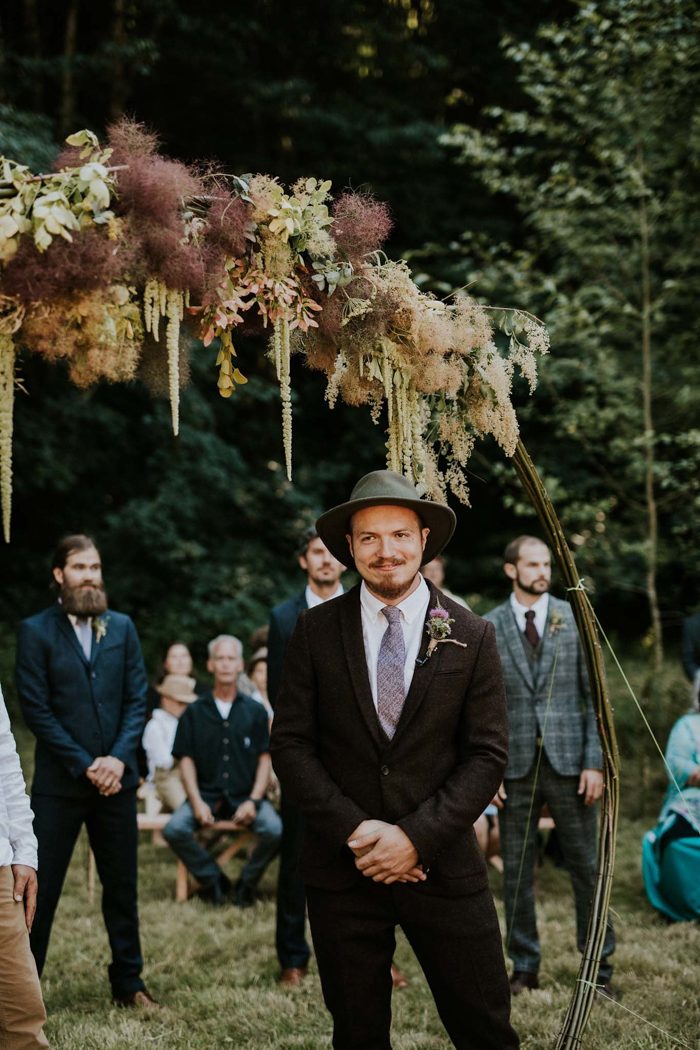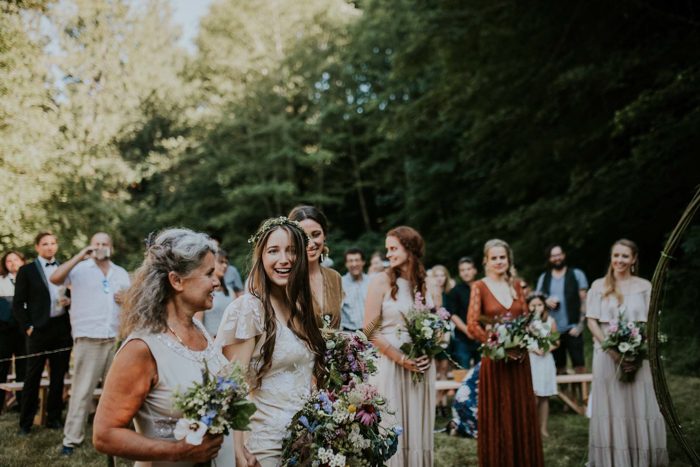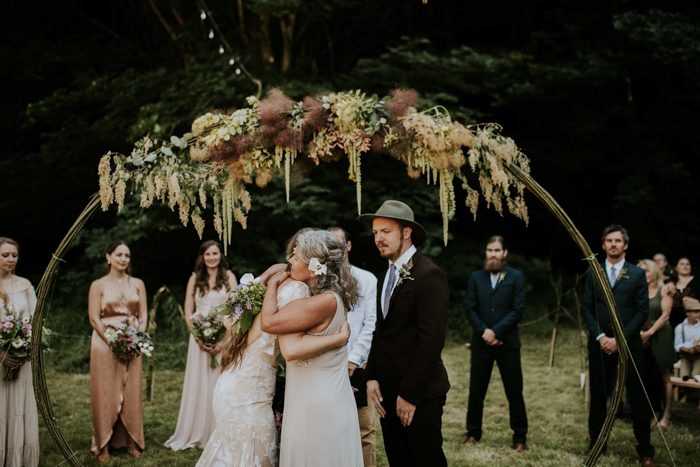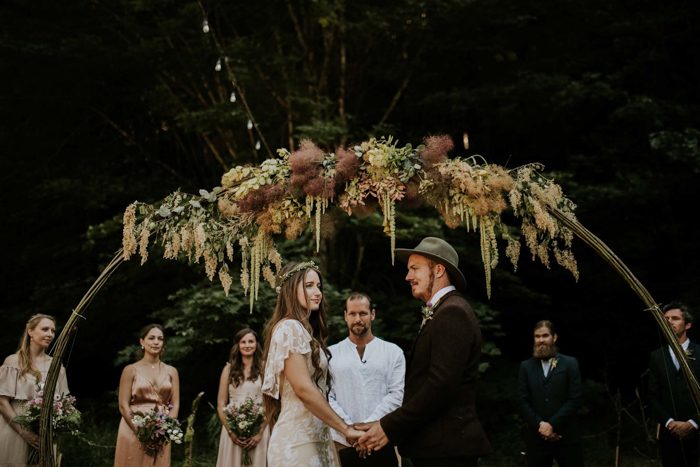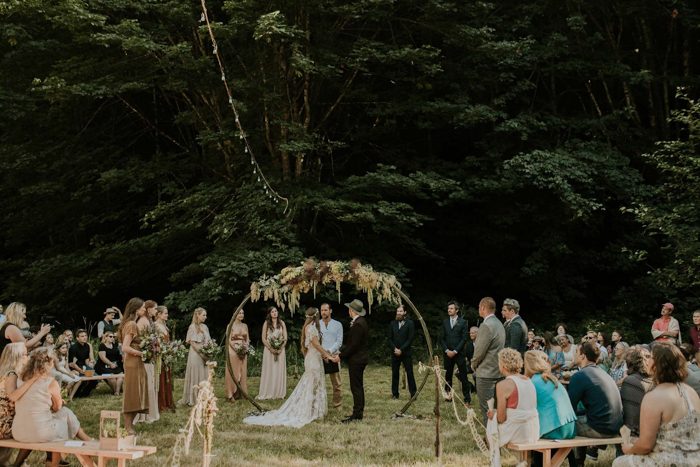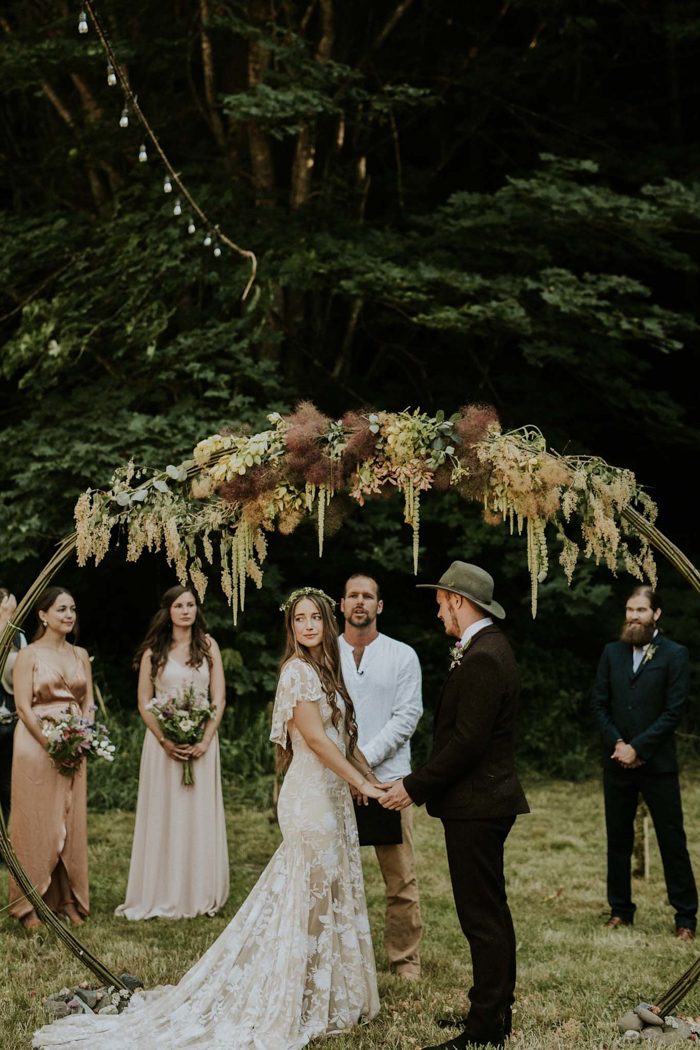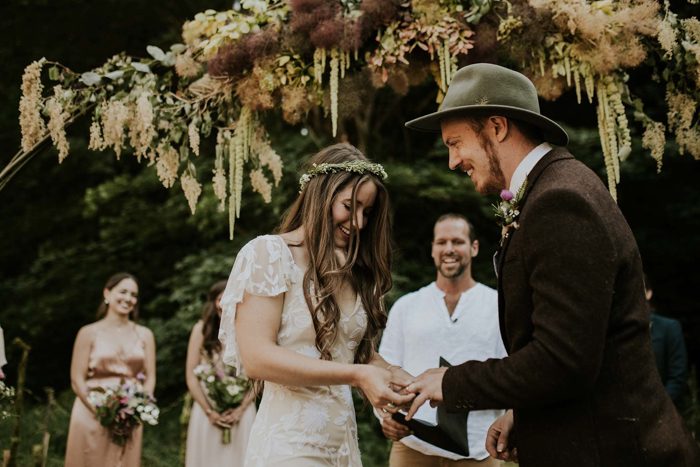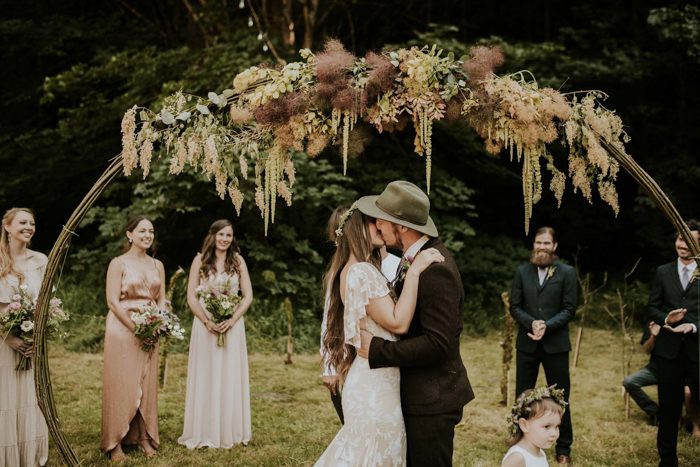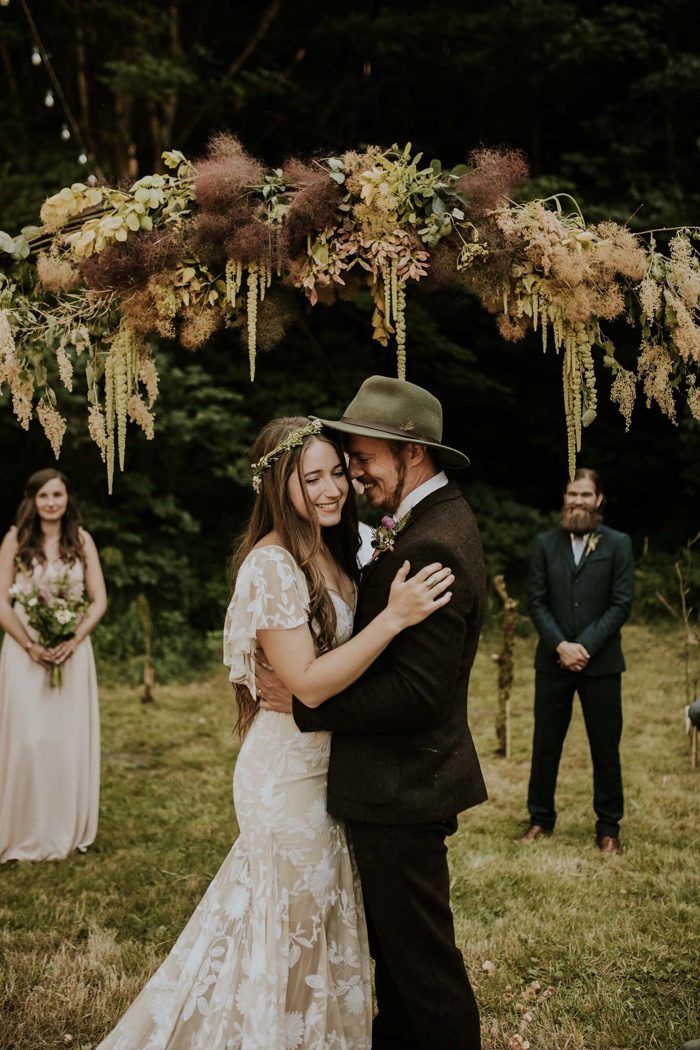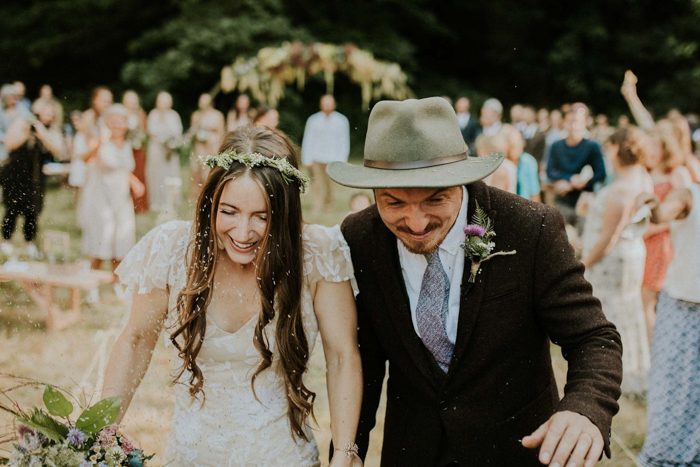 Both our photographer, Catherine Coons, and videographers, White in Revery, were such a DREAM to work with and gave us such beautiful images and film. They cared about us and our story and just had the best personalities ever!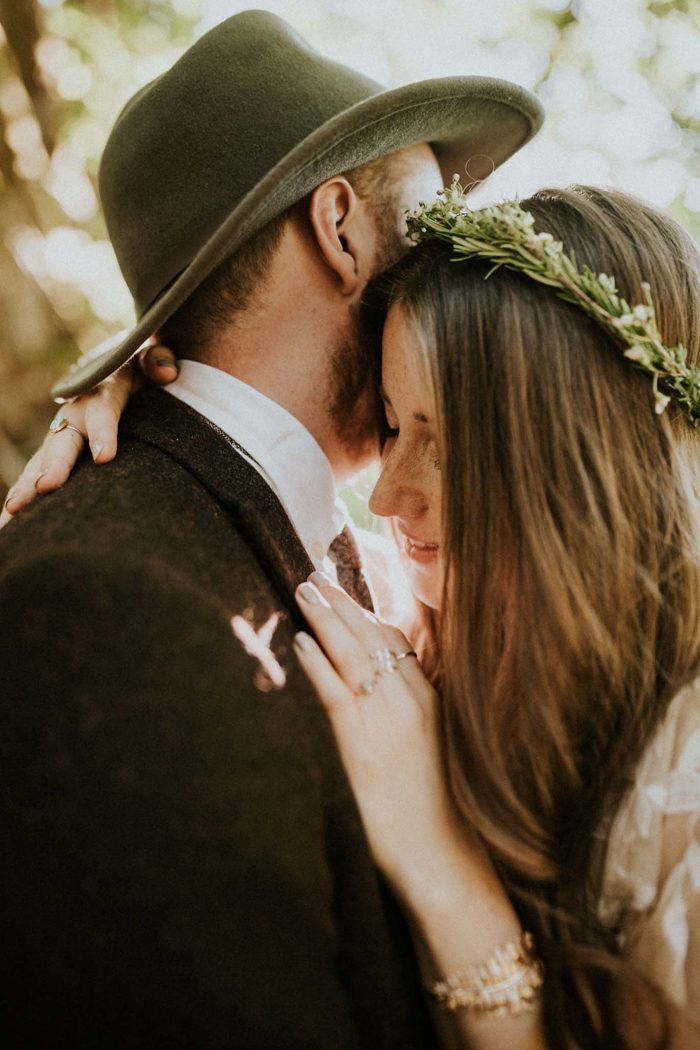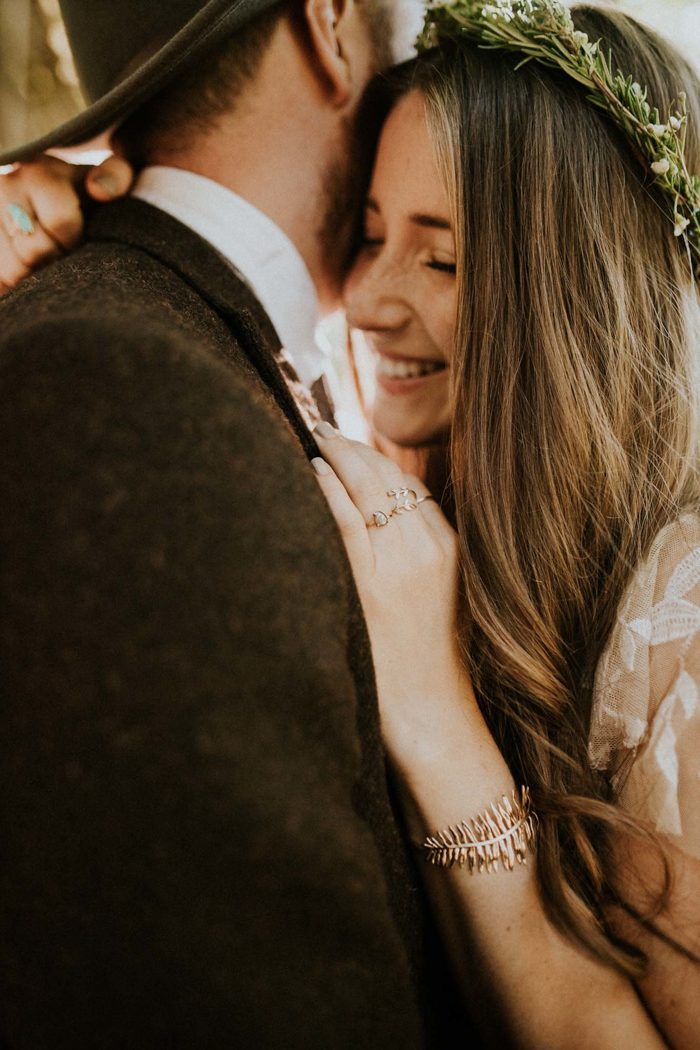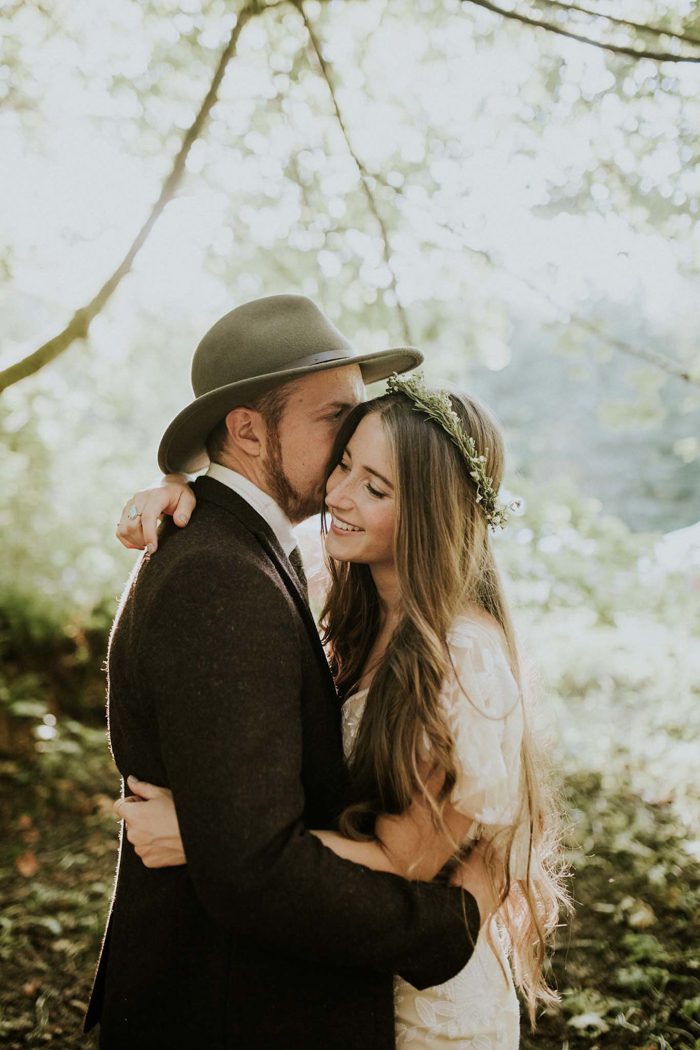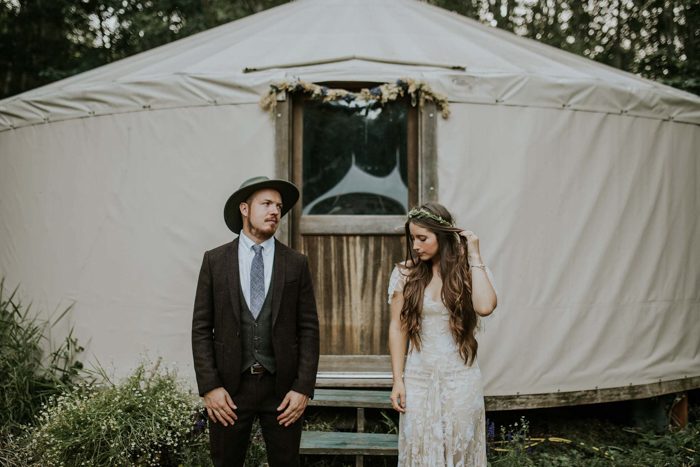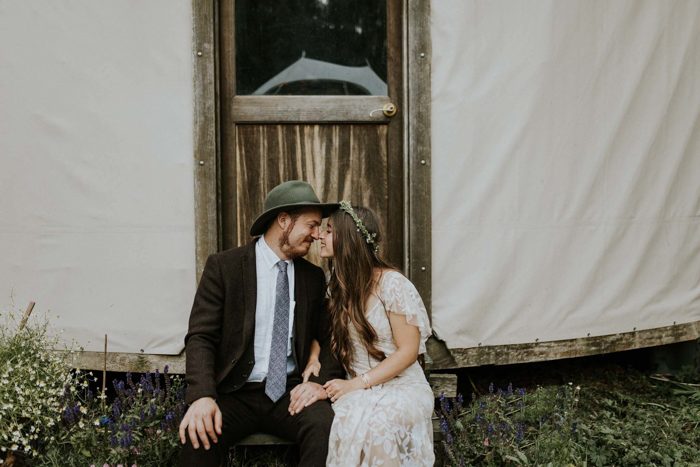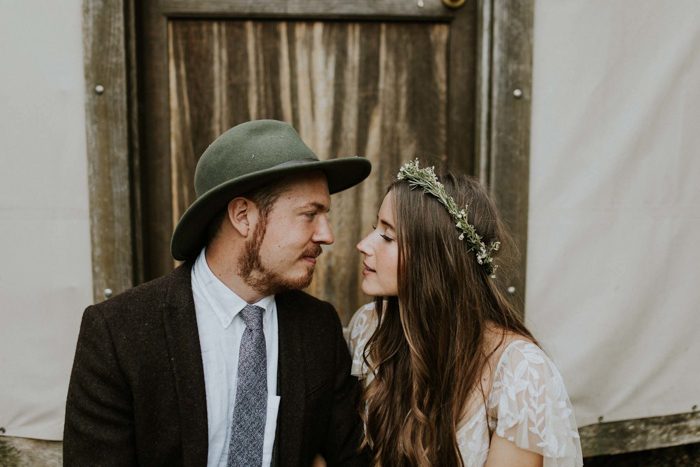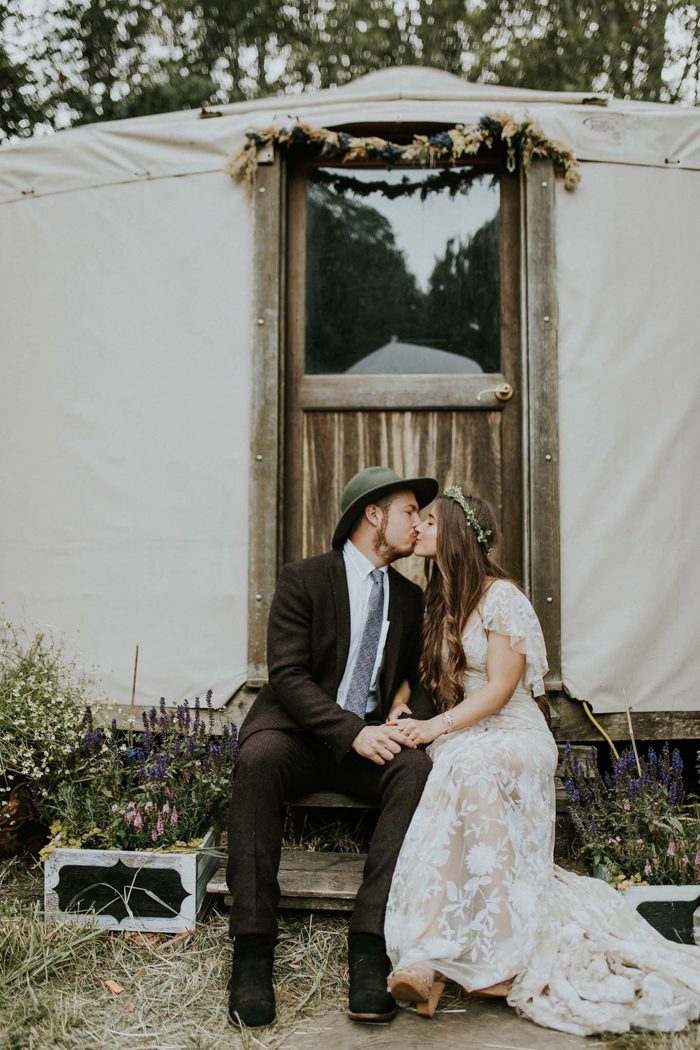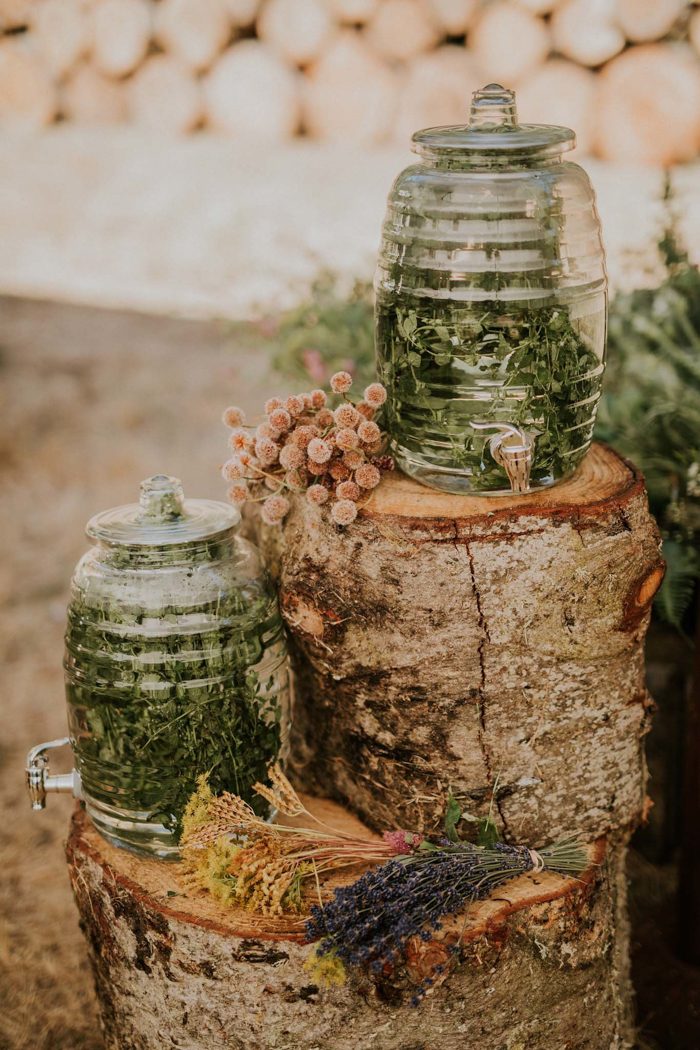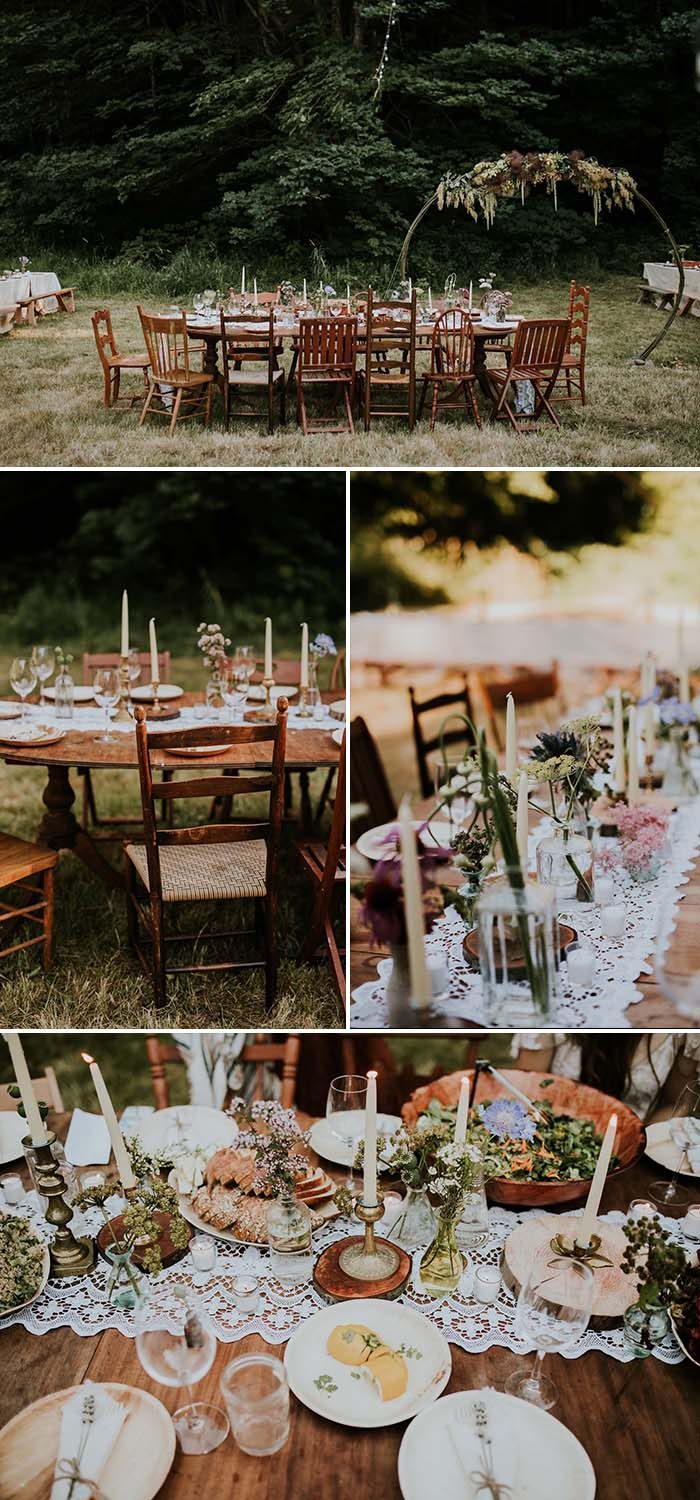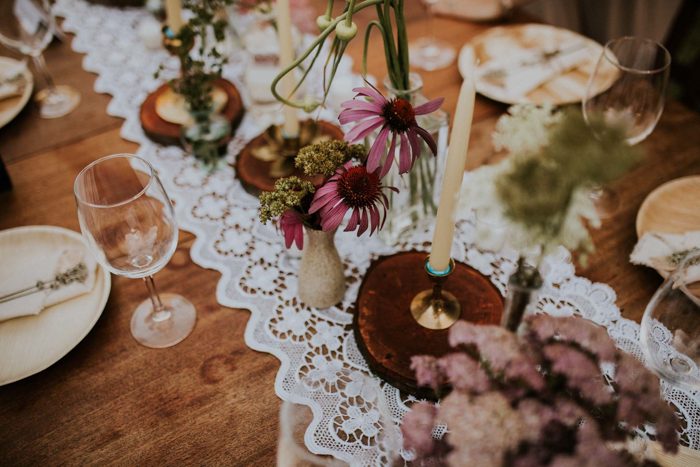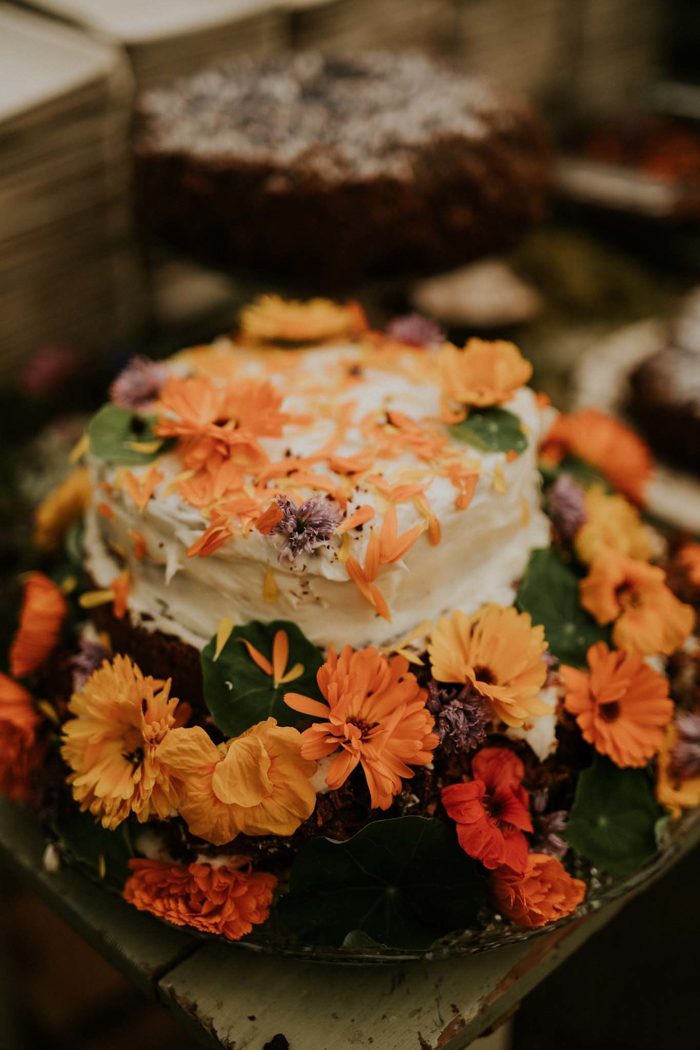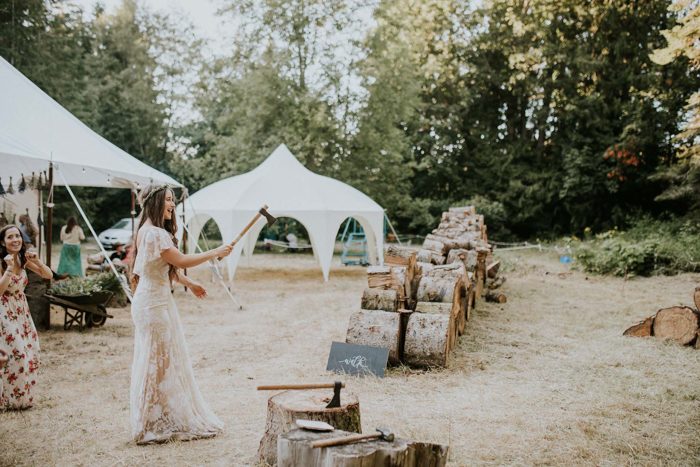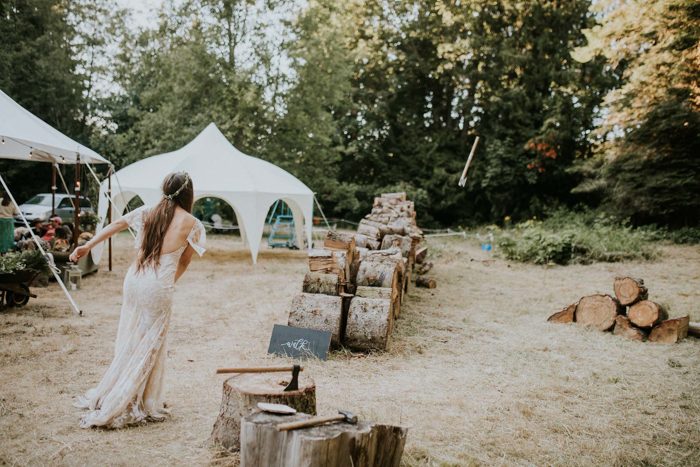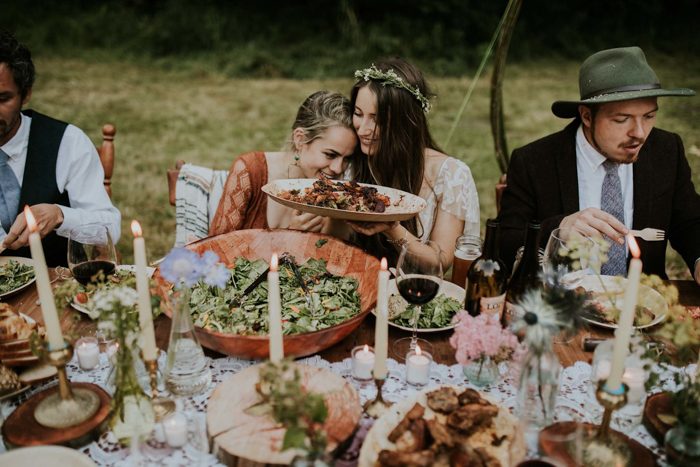 Looking down the 2 long rows of beautifully decorated dinner tables that Braden's brothers had built lit with candles and lanterns and my aunts, cousins, and in-laws had prepared and seeing everyone laughing, drinking, eating salmon that our family had caught days prior, with musicians we've grown up with playing music for us while we ate, sitting there drinking wine while our wedding party made everyone BAWL telling stories of why they both hated and loved us …everything was perfect!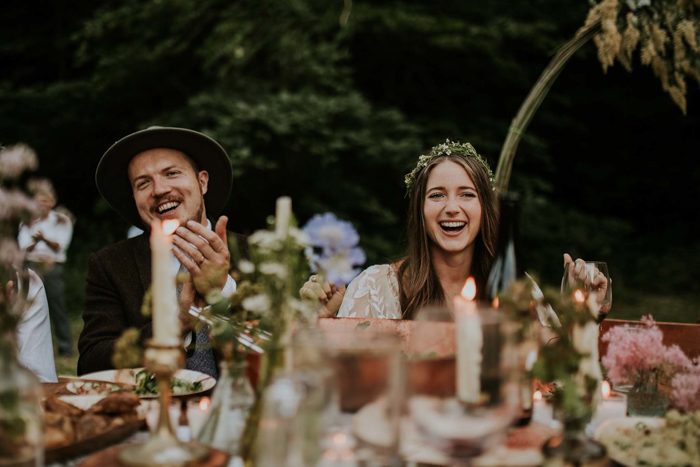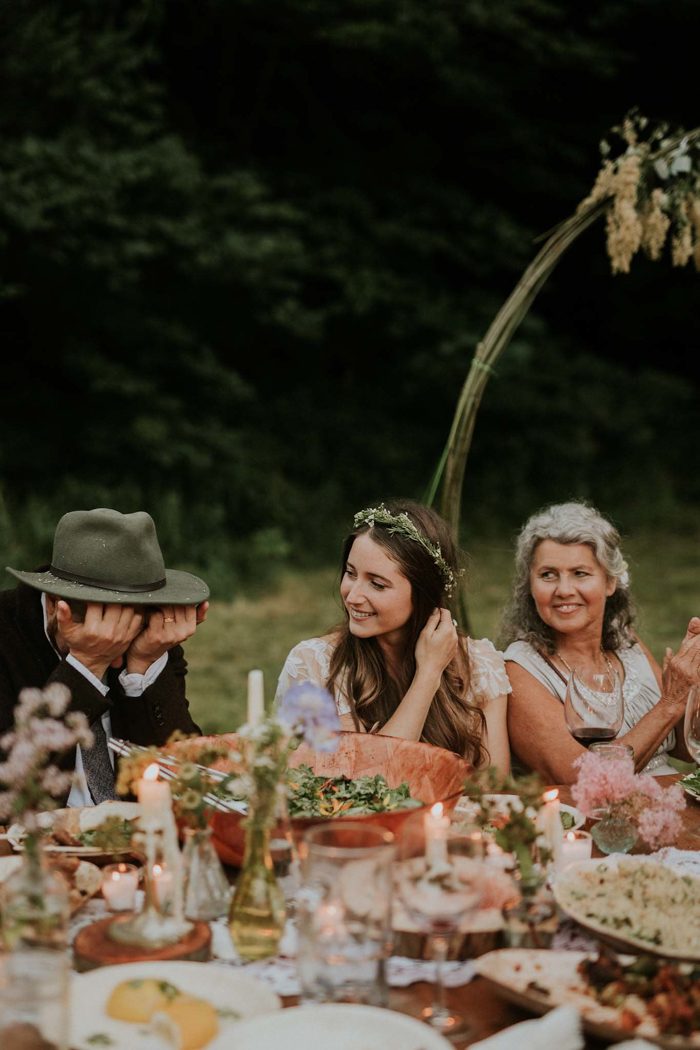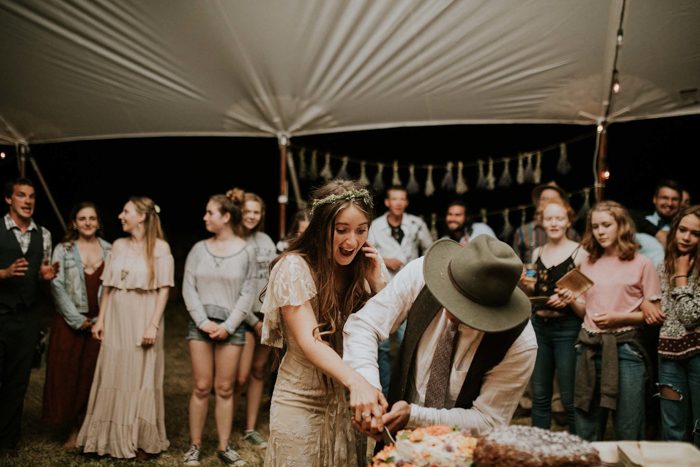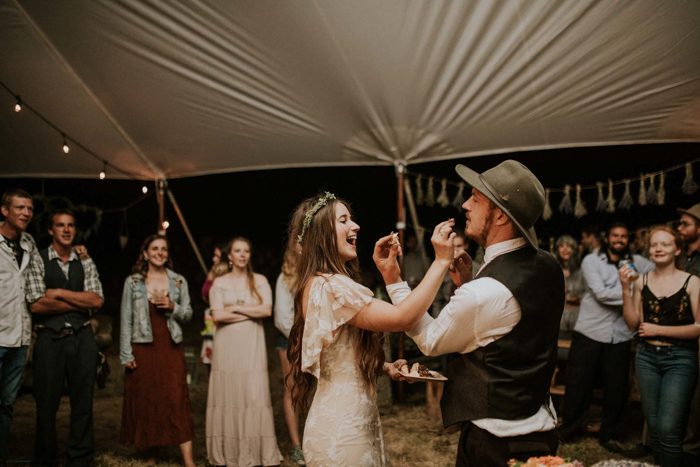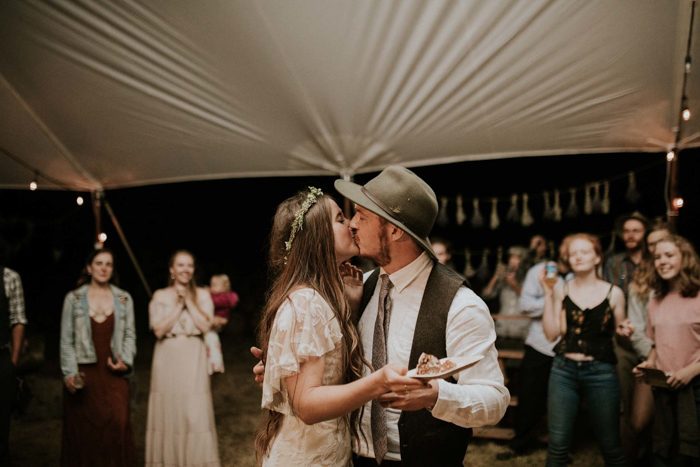 We really REALLY wanted everyone who came to be transported back to a time when people lived closer in community with each other and with the earth. With that in mind, we approached our celebration with the mindset of a 17th century French meets Scottish wedding feast. We focused on food, music, and decorations that would bring people back, would give them a sense of a simpler time now come and gone. It was romantic AF. ;)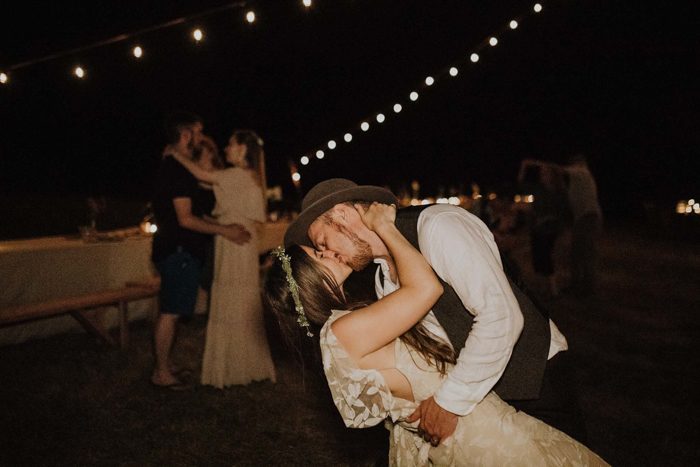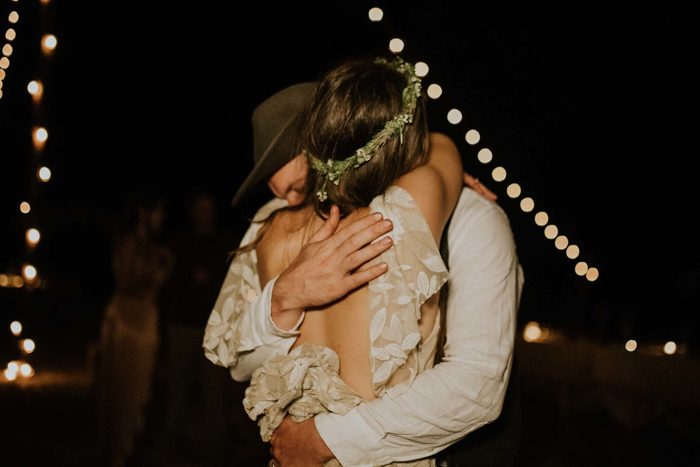 Thank you so much to Catherine Coons for sharing this dreamy woodland wedding with Junebug! If you haven't, be sure to check out Noelle and Braden's intimate vow exchange in this utterly serene Olympic Mountains elopement at sunset.