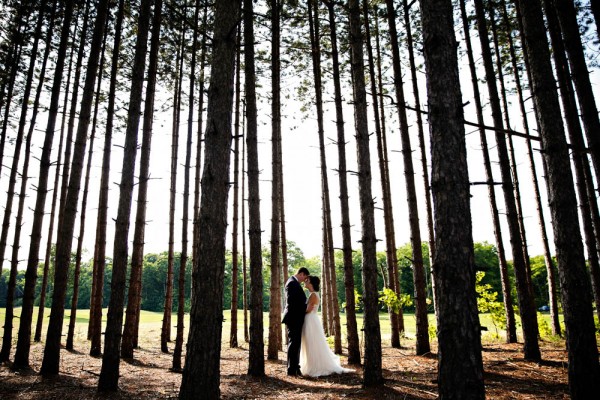 We love a venue that lends itself to personalized décor by the bride and groom on their big day. Carly and Dan's golf course wedding was looking a little sparse before Carly took on the project of crafting over 100 coral pompoms to hang around their ceremony and above their reception. The soft peach decorations perfectly matched the bridesmaids' dresses, and looked lovely with the bride's style for her wedding day. Blair Gable Photography masterfully captured the carefully arranged details, as well as the sweetest moments shared between the newlyweds as they said I Do.
The Couple:
Carly and Dan
The Wedding:
Crimson Ridge Golf Course, Sault Ste. Marie, Ontario
The Inspiration:
We decided to get married in my hometown, Sault Ste. Marie, even though we live in Toronto. A big reason was that "the Sault," as locals know it, has a much slower pace and has a lot of natural beauty. We wanted to take advantage of that in a big way, so we chose to get married outside on a golf course on the edge of town. That beautiful outdoor setting really drove much of the inspiration for the rest of the day. We wanted the setting to speak for itself, so we tried to keep things relatively simple — white tablecloths, no sky-high centerpieces and a lot of greenery.
It seemed like the tent was missing something until I came up with the idea to dress it up with hundreds of peach coloured pom poms, which were draped all around the room. I had to make nearly 500 peach pom poms to ensure we had enough! There were a few moments where I wanted to kick myself for embarking on such a massive project — the suitcase I took when I traveled from Toronto to the Sault was filled ENTIRELY with pompoms — but it was worth it!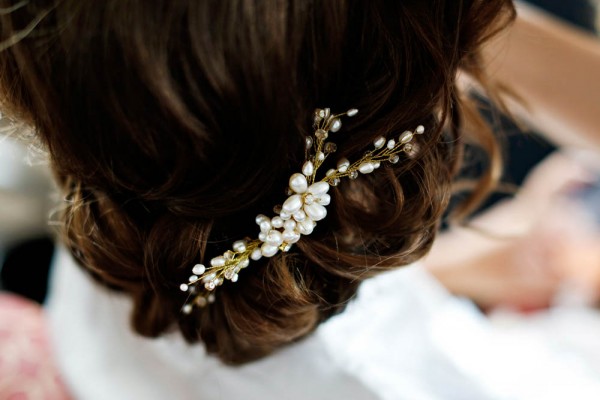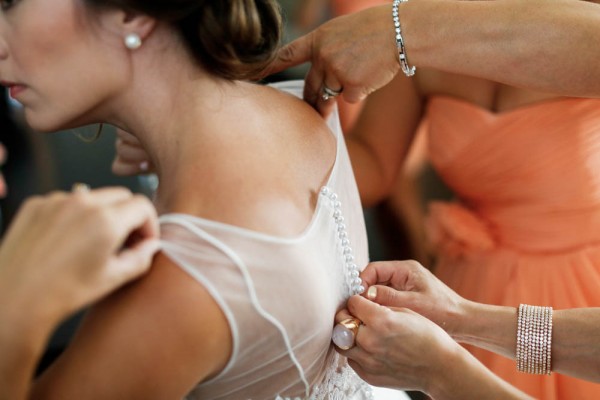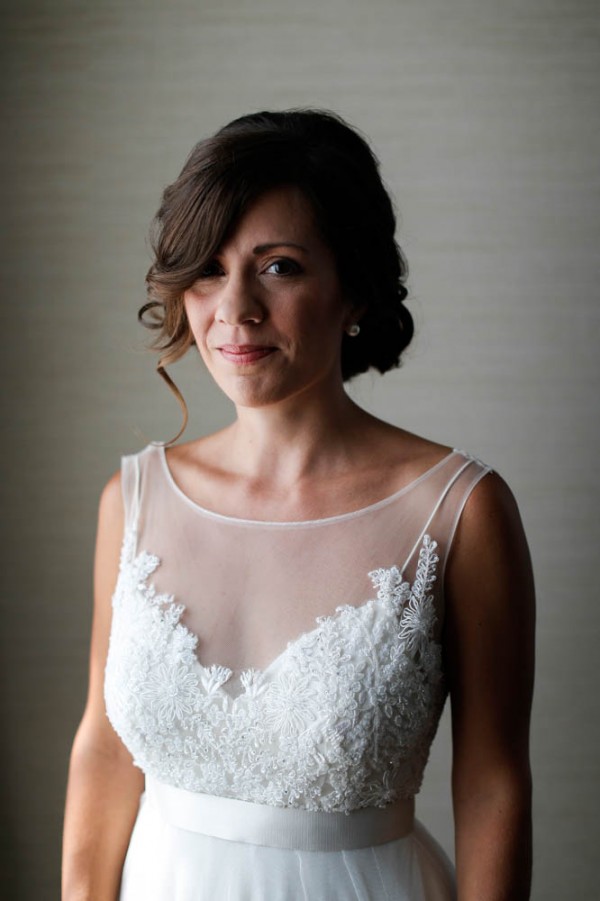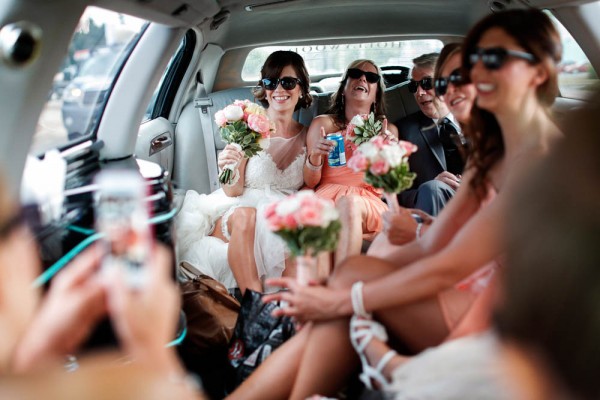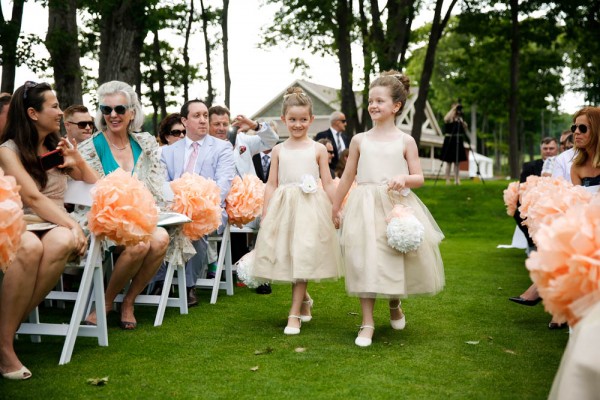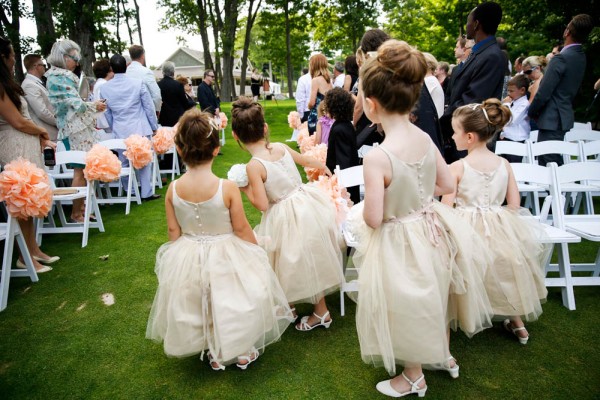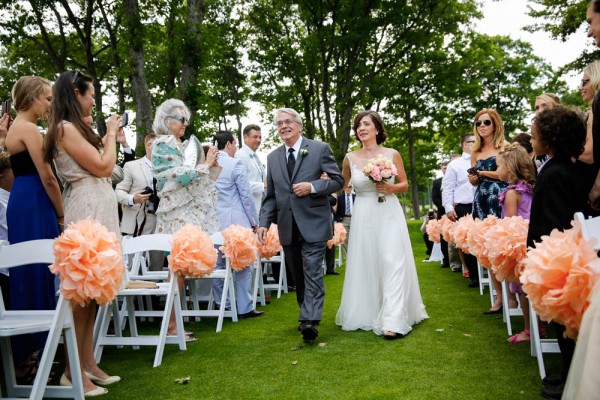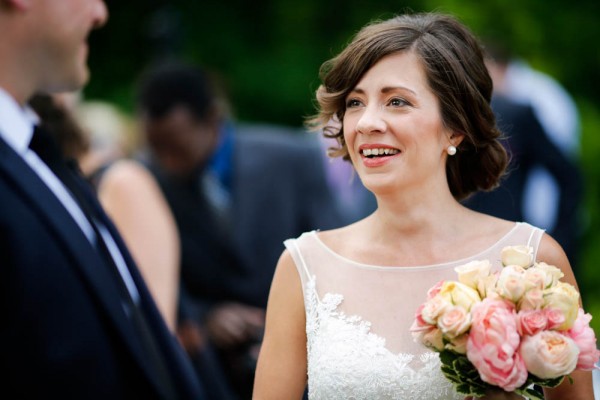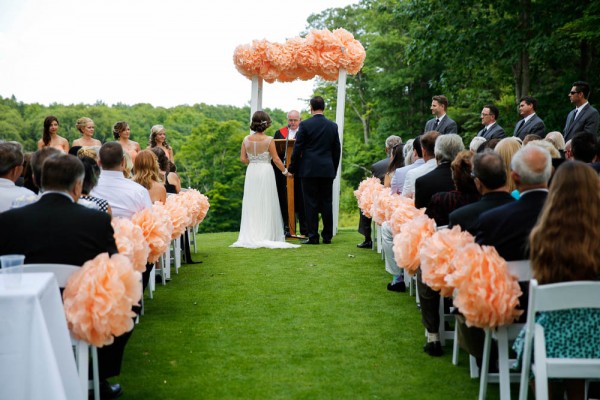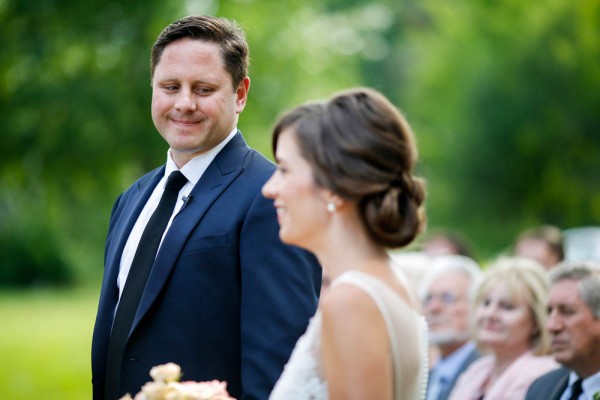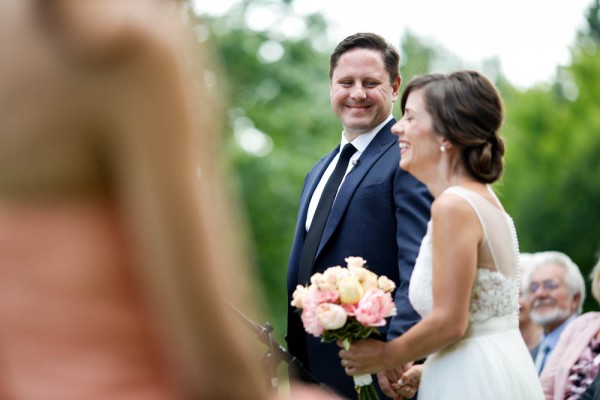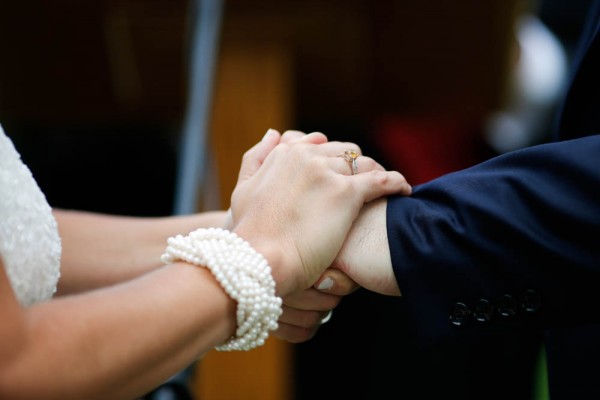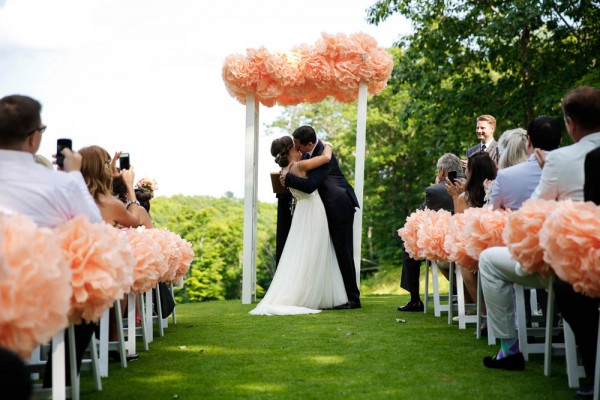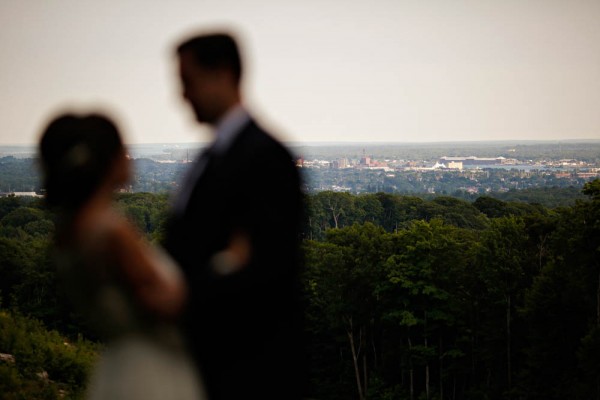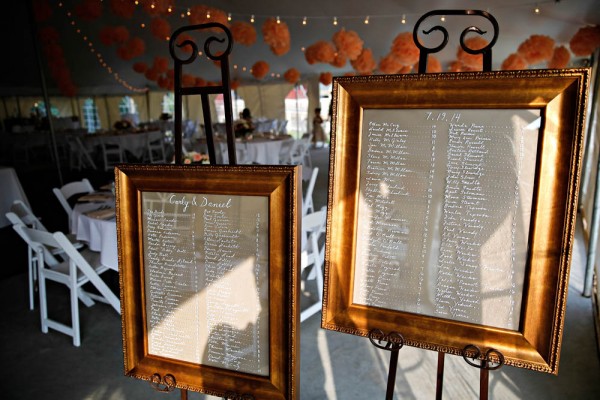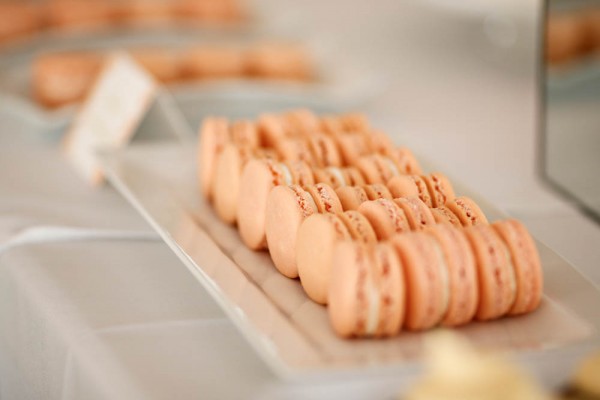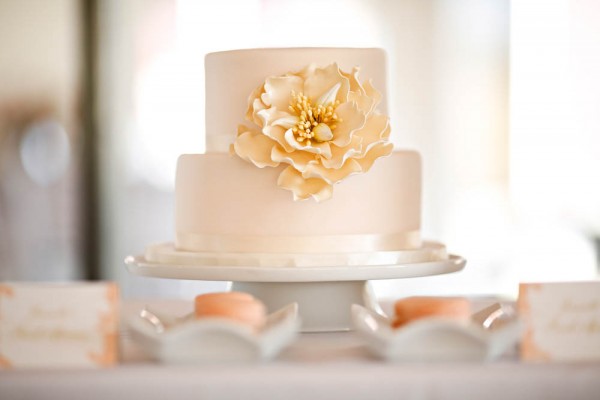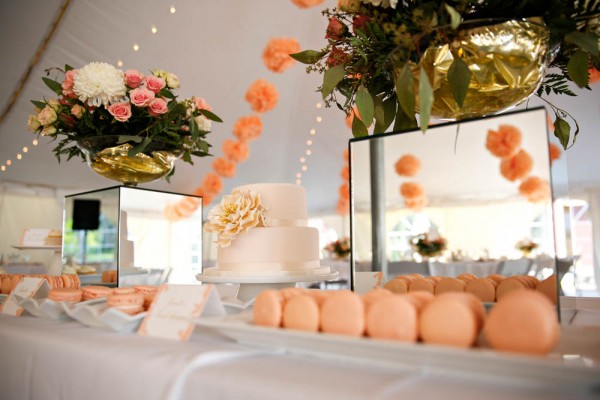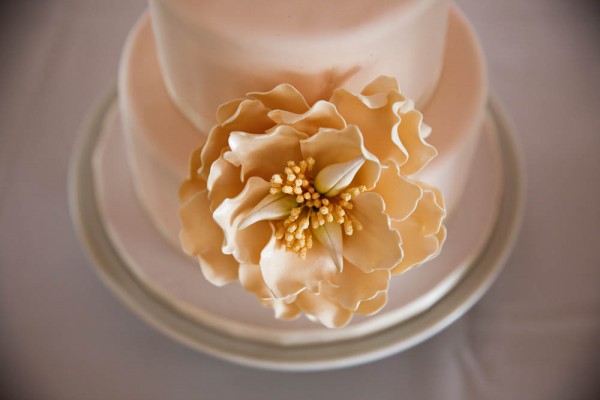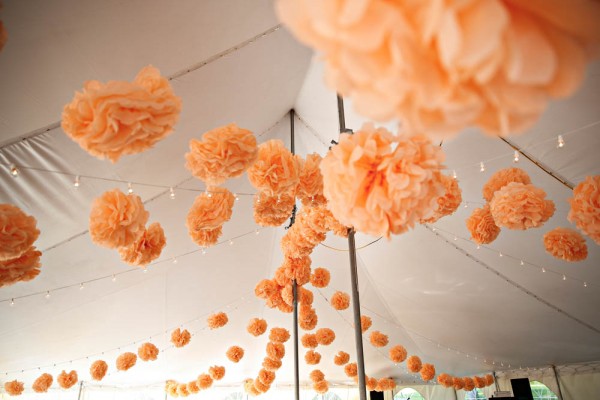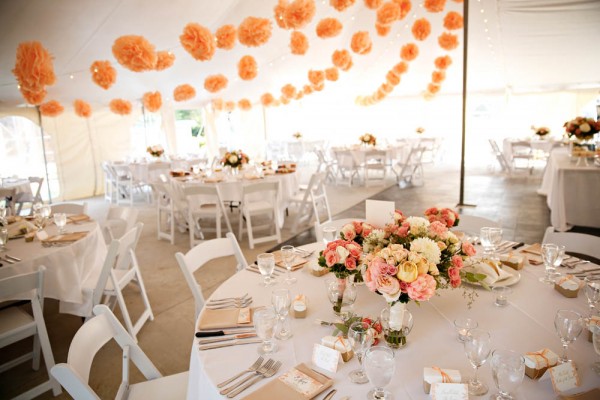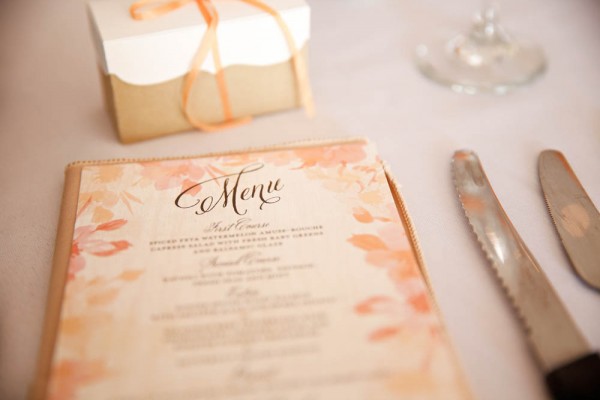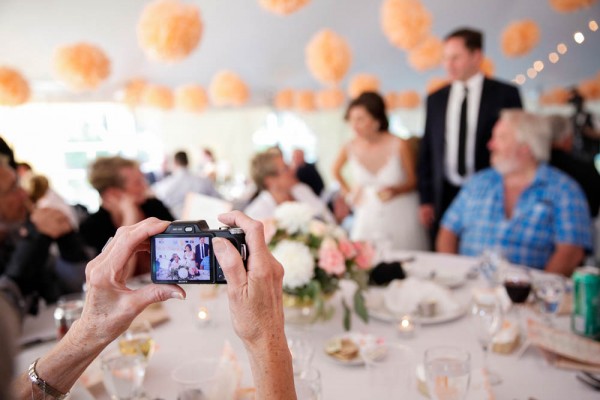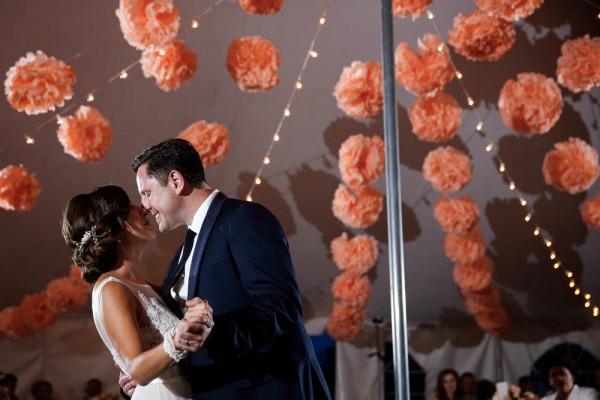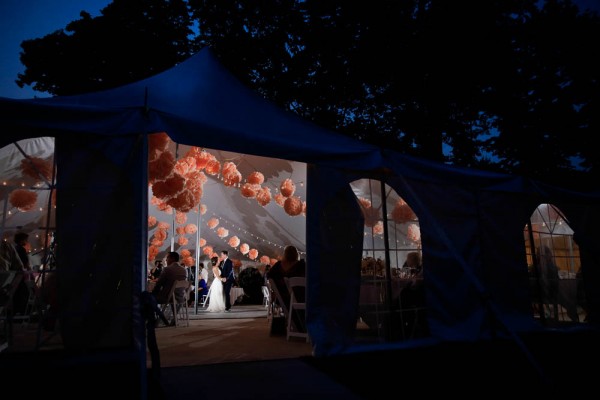 The Moments:
Having our wedding in Sault Ste. Marie meant that a lot of our friends and family traveled to be with us for the whole weekend. So we were extremely lucky because our wedding day really turned into an entire four-day weekend of memories and fun. We rented a hospitality suite in the host hotel and stocked it with food and drinks. It became the hub of activity over the weekend and meant that a lot of the guests who started out as strangers were friends by the time the wedding day rolled around. That made the day so much more special and memorable for our guests too.
During our wedding reception dinner, when the room was buzzing with chatter and everyone was enjoying food and wine, Dan and I couldn't help but look around and be struck by how many of our loved ones were there, and how special it was to have all of those people in one place to celebrate and make such great memories. My mom passed away a few years ago and her absence loomed large at the wedding. So we do not take for granted how special it was to have the love and support from everyone under the tent that night.
The Couple Recommends:
It is really hard to single anyone out, since pretty much everyone we worked with exceeded our expectations. But Annelise and Sarah, the venue coordinator and the decor/day-of coordinator did so much to make sure every detail was taken care of so that we had nothing to worry about and could truly enjoy ourselves on our wedding day.
And Blair, our photographer, captured the wedding day better than anyone else could have. I must have looked up dozens of wedding photographers, but when I saw his work, I was really impressed. Not only did he deliver really amazing photos, but he also worked around a fairly rigid and tight post-ceremony schedule and had all of our edited photos back to us the week we returned from our honeymoon.
The Wedding Team:
Photography – Blair Gable Photography
DayOf Coordination – Bubble Pop Beauty & Bridal
Venue – Crimson Ridge Golf Course
Floral Design – Flowers with Flair
Cake – Jeanette's Custom Cakes
Ceremony Music – Jay Case
Live Music – Mustang Heart
Videography – JFilms
Invitations – Wedding Paper Divas
Makeup Artist – Lifeforia Wellness Club
Hair Styling – Headlines Hair & Spa
Wedding Dress – Watters via Becker's Bridal
Bridal Accessories – Sarah Walsh Bridal
Bridesmaids' Apparel – Renz Rags
Groom's Apparel – J.Crew
Groomsmen's Apparel – Black by Vera Wang via Moore's Clothing for Men
Rings – Effy, Blue Nile
Rentals – The Inspired Peach
Transportation – Hollywood Limousines
Favors – Beau-Coup Party Favors
A special thanks to Blair Gable Photography for allowing Junebug to share Carly and Dan's sweet golf course wedding! For more coral wedding inspiration, be sure to check out Charlotte and Anders' blue and peach wedding in Stockholm.