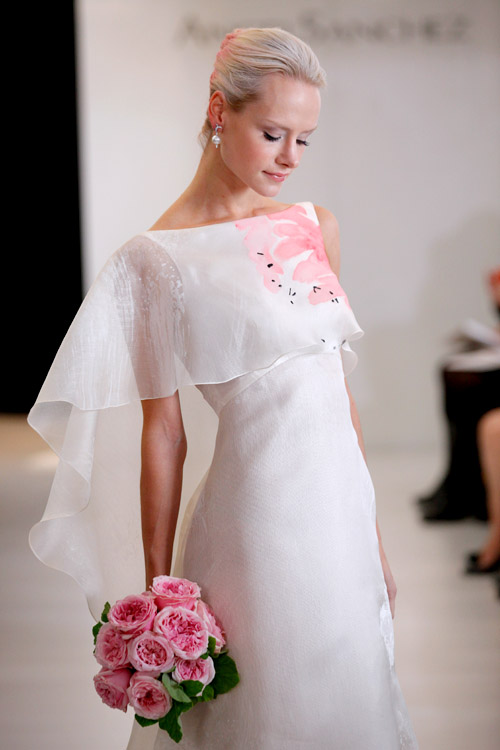 When I was in New York last month for Bridal Market, one of my favorite events was the Angel Sanchez show, for oh-so-many reasons. Get ready for my fashion geek-out…
For starters, the show was at the Angel Sanchez showroom which I got to explore fully last year when we covered the "behind the scenes" of their presentation for our Bridal Market Fashion Report. From the sleek modern entrance to the incredible workroom in the back where dresses are dreamed up and constructed with such care, everything about their showroom is a treat to see. Mr. Sanchez himself is a dream – stylish, handsome, incredibly kind, and downright overflowing with creativity, he's one of those people that just draws you in like a magnet. I fully and gleefully admit to my fashion crush on him. And the dresses – now we're talking! Angel's work is like no other. Each piece combines angular architecture with feminine softness and always has a an element of surprise. This year's wedding dress collection felt sexy and sophisticated as it strutted down the runway, and when the dresses began coming out in the palest and prettiest pink I've ever seen, I swear I gasped out loud. Beautiful and brilliant Mr. Sanchez and team! Thank you for your fashion forward wedding looks, and for welcoming me into your world.


All images from Brides.com and Angel Sanchez. Thank you!
To see more new wedding dresses, check out all of our Bridal Market coverage here on What Junebug Loves!