When it comes to shopping for your wedding day, we know you have lots of options. We love to scour the internet and, of course, the 'gram to find the best brands that are sure to become your favorites. If you're looking for some amazing businesses to support when shopping for your day, look no further! From bridal fashion to beauty, swoon-worthy stationary, unique jewelry, and more, we've rounded up a selection of incredible black-owned wedding brands to shop for your day.
Black-Owned Wedding Brands To Shop For Your Day
Bridal Fashion
From the brand: Dreamers & Lovers is a brand where every dress made is an art form. A dress crafted from passion, crafted for that individual bride, and so the bride wearing it will feel the soul of the dress and realize like her story, her dress is extraordinary. She never designs common styles, but instead, her dresses evoke an emotion, spark a conversation and transport the bride to a place where she feels something, where she can be free to dream, free to look her best self. Each dress sold has some "extras" that Yanique and the team obsess over. Every dress is designed and handmade in our Torrance, California studio and showroom, and always made to the bride's measurements.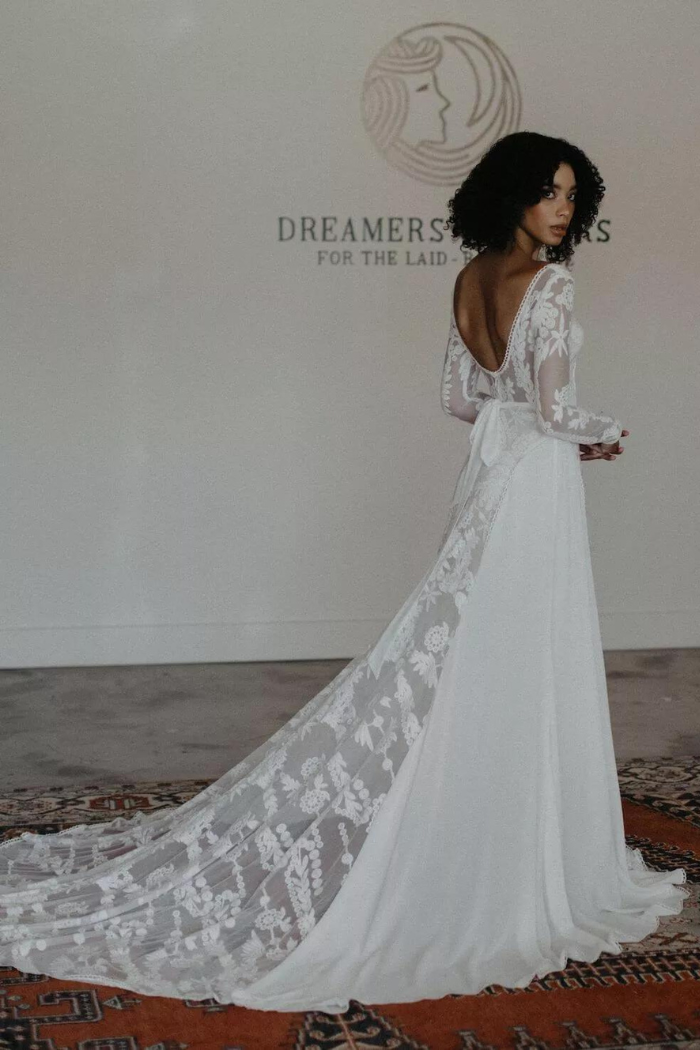 Savannah Rustic Lace Wedding Dress via Dreamers & Lovers
From the brand: A reflection of Amsale Aberra's founding philosophy of elegant simplicity, each design is delicately handcrafted with couture dressmaking techniques in Amsale's New York City Atelier. With an understated glamour, and unwavering attention to detail, each and every Amsale design exudes modern femininity, and becomes a true reflection of the wearer's distinct, and unique, personal style. Our philosophy today honors Amsale's lifelong pursuit of enduring style that evokes feeling and connection—an indelible legacy that is felt in every design.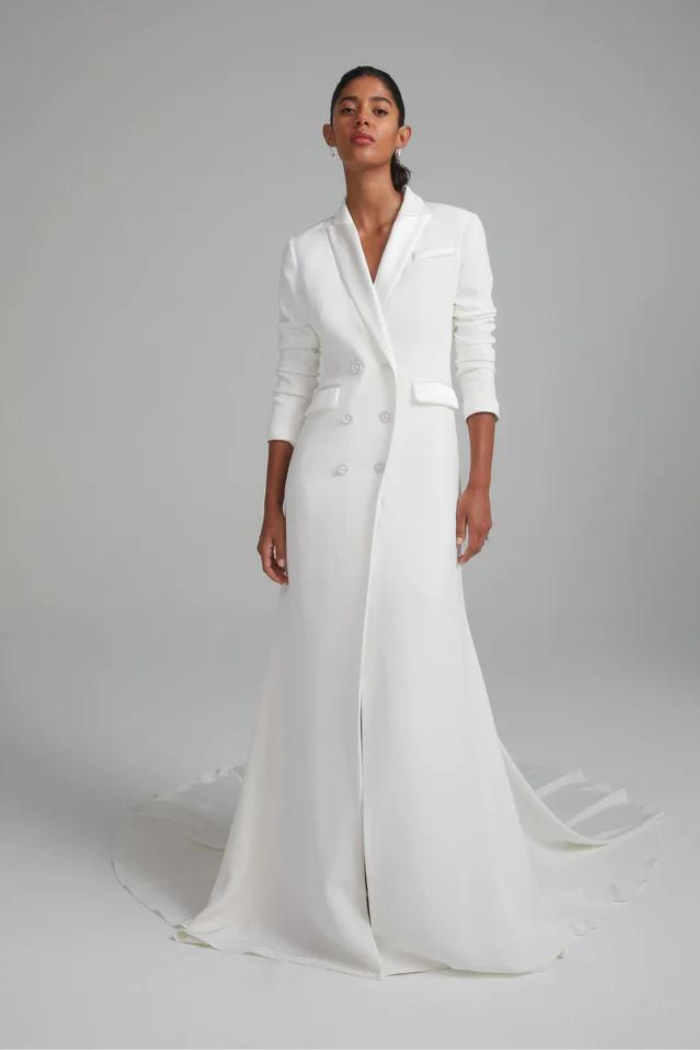 Soleil via Amsale
From the brand: At Pantora Bridal we understand the complexities of looking for the perfect wedding dress. It's tied to a once in a life time experience. Our mission is to not just provide amazing fashion forward bridal options but to pair it with a feel good experience. It is our sincere belief that luxury does not need to be delivered with a pinky up but can also be packaged in a friendly and inviting way. Each bride gets to shine, we are inclusive in our mission to deliver the service and understanding that has traditionally been lacking within the bridal industry.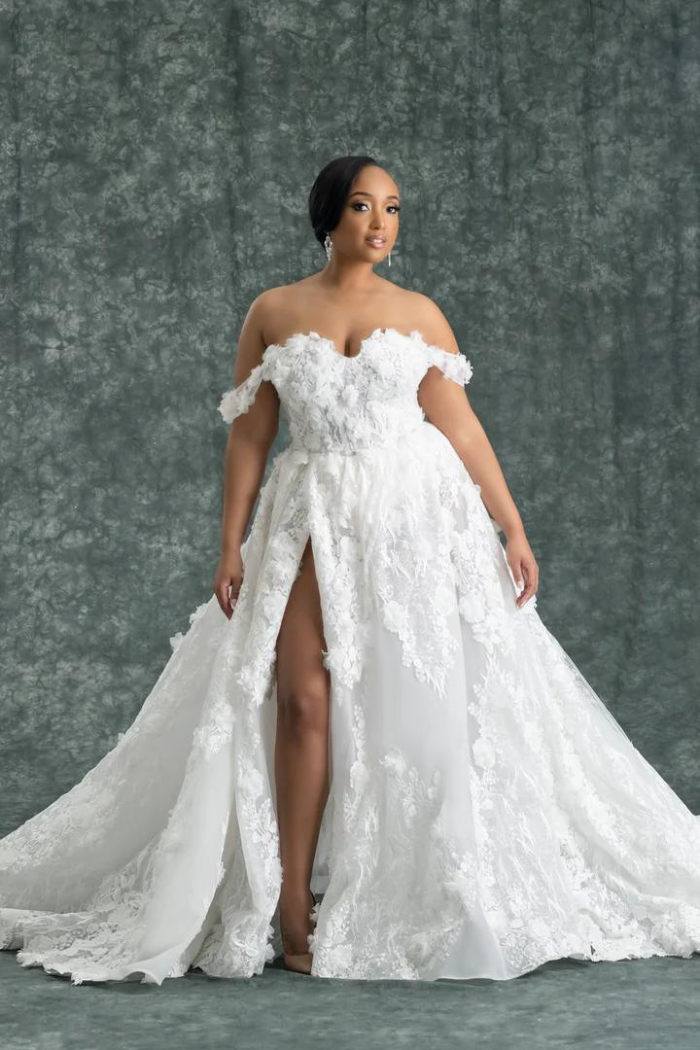 Charnel via Pantora Bridal
From the brand: Rita Colson is a London based fashion designer in the heart of West London, specialising in Bridal Couture and Eveningwear. Her unique style uses vintage lace and silk to create contemporary and bespoke pieces with an ethical twist. All materials are sourced ethically and sustainably, creating pieces fit for a variety of occasions. Over the years, Rita has worked for a number of private clients and her freelance and consultancy work has seen her style and design bespoke pieces for a number of high profile clients. Through her work, she has developed a contemporary aesthetic that effortlessly reflects the elegance and style and grace of the fashion forward bride. Inspired by her love of art, music, dance and theatre her designs have a life of their own.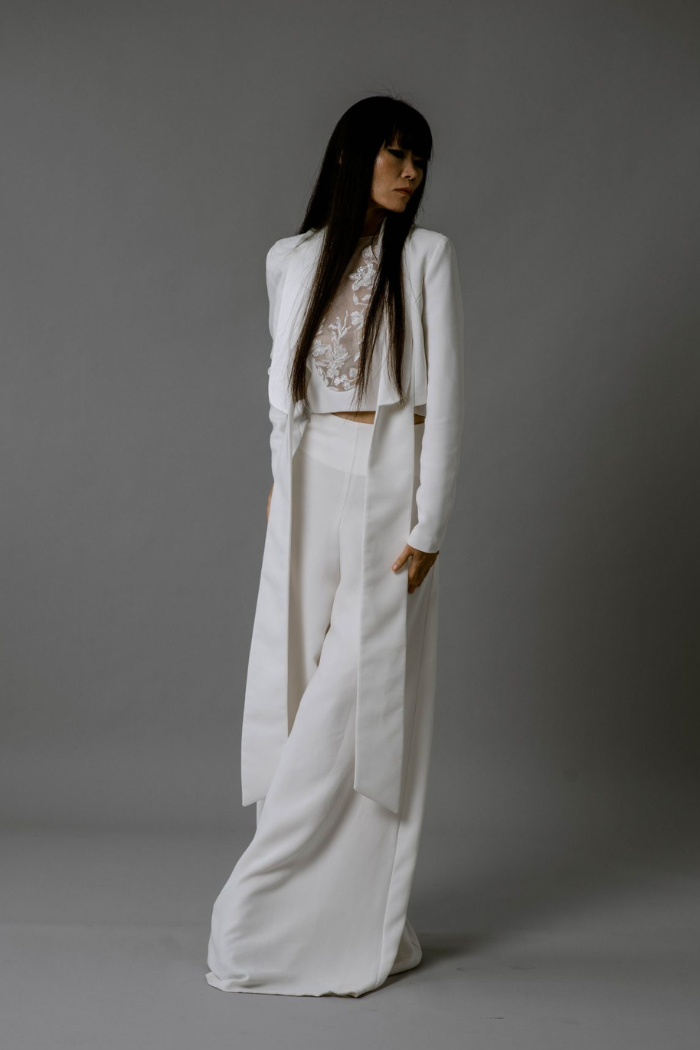 Carla Suit via Rita Colson
From the brand: Known for her masterful tailoring and artful draping, Carly Cushnie is a New York-based designer and creative director. With the eye of an artist and the technique of a Parsons grad, Carly approaches bridal design with the same ecelctic-yet-refined aesthetic that has earned her ready-to-wear collection a devoted, celebrity following. Back with an unprecedented collaboration with BHLDN, Carly's capsule collection features unforgettable gowns, fashion-forward-bridal-occasion-dresses, and modern bridesmaid looks.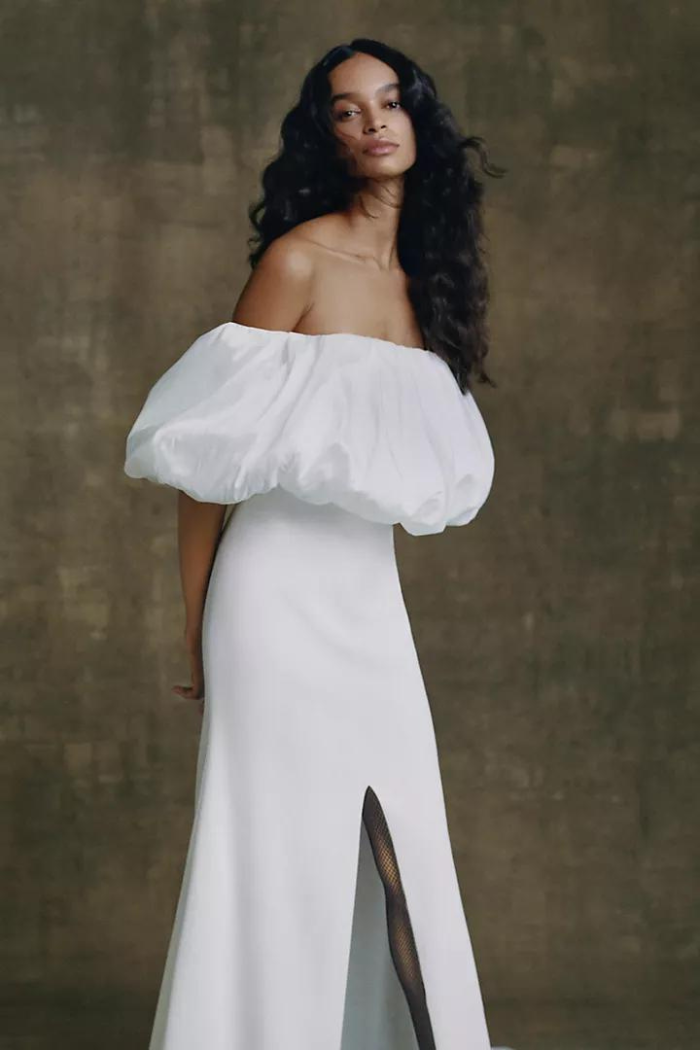 Lynne Gown via BHLDN by Carly Cushnie
From the brand: Felisiti Greis designs and creates exquisite bespoke garments and bridal wear with a luxury finish. We fuse creativity, style and modern aesthetics to give you an exquisite finish with a timeless look. We take on board your vision, along with your unique individuality and infuse it with our own design aesthetics to create a custom gown just for you. We design and create for discerning women and girls, who cherish individuality and prefer the luxurious exclusivity of a custom-made garment.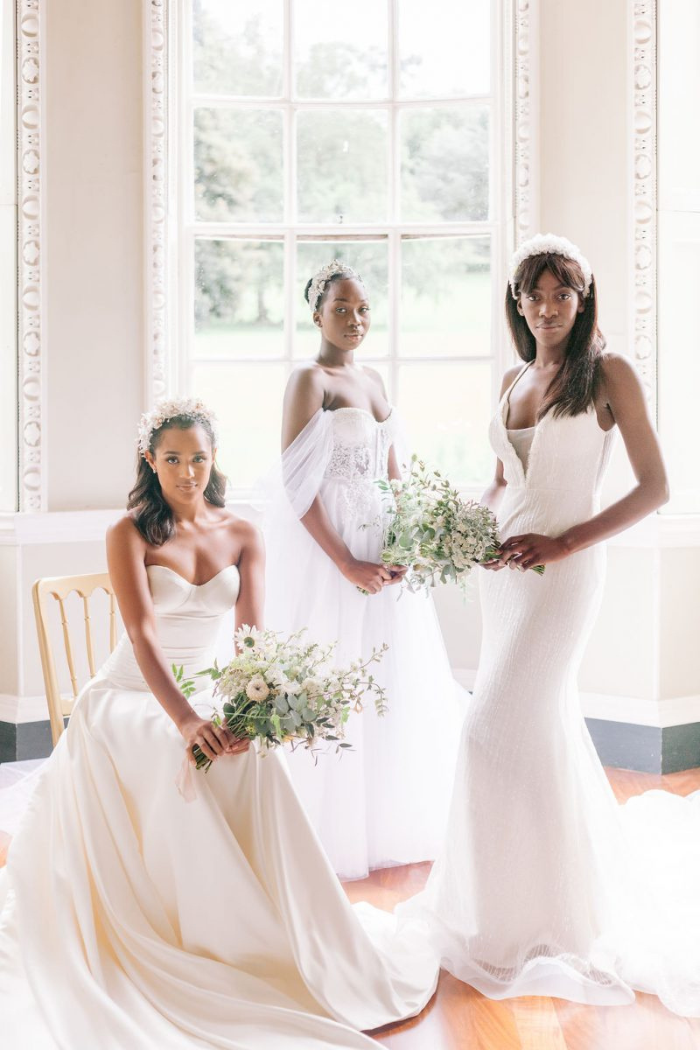 photo via Felisiti Greis
From the brand: Curvaceous Couture believes every woman deserves a joyful and fulfilling experience when shopping for her wedding dress, but the curvier bride too often faces disheartening challenges. Not Anymore! Located in the Baltimore-Washington metropolitan area, just a short drive from BWI airport, Curvaceous Couture is the first designer bridal boutique to feature a complete collection of full-figured and one-of-a-kind wedding gowns from all over the world in sizes 16-32W. Our bridal stylists are committed to personalized service and attention to detail, giving our brides the very best experience. We treat everyone like family!
View this profile on Instagram
From the brand: A graduate of the prestigious Parsons School of Design, Jean-Ralph Thurin became enthralled by the fashion history of top Haute Couture Houses of Dior, Givenchy and Oscar De La Renta. Growing up, Jean-Ralph learned to sew by watching his grandmother. He was fascinated by her ability to make clothes with little more than fabric remnants and thread. In high school, although he was not yet formally trained, Jean-Ralph followed in his grandmother's footsteps as he fulfilled the multiple requests from classmates to make their prom dresses and so began his career in fashion.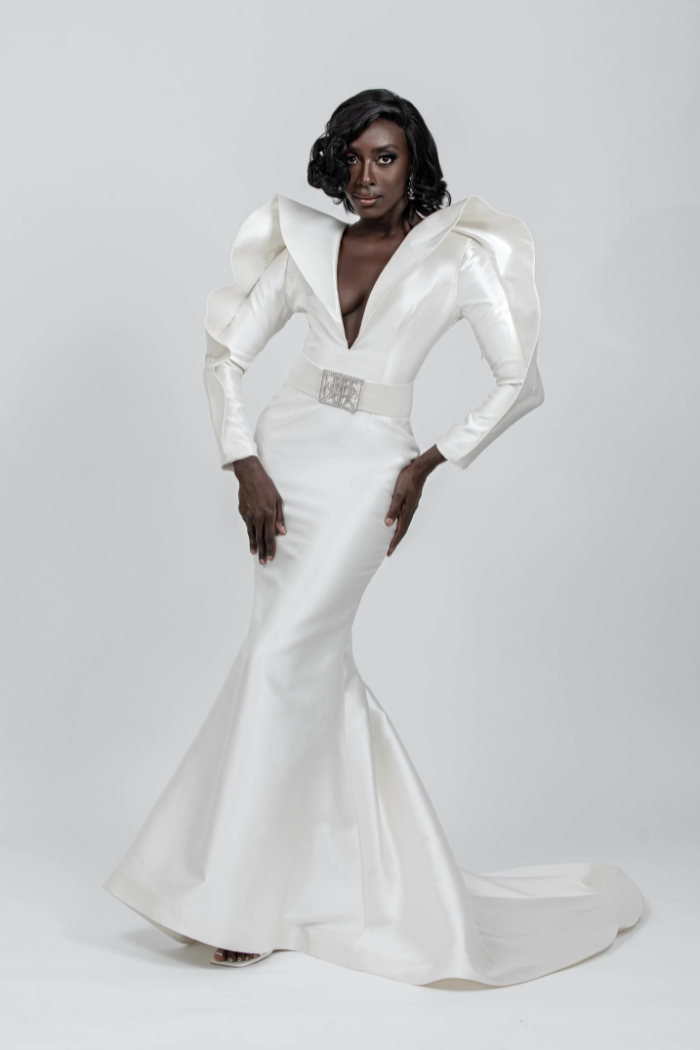 photo via Jean-Ralph Thurin
From the brand: Naomi Deru Bridal was created for the contemporary and fashion forward bride. I am dedicated to providing an exception customer experience and every single piece bearing the Naomi Deru label is handcrafted from scratch using high quality laces and silks in my design atelier in Rochester, Kent. Each wedding gown is impeccably tailored, showcasing a flattering fit, perfectly executed hand embroideries, shimmering embellishments, and beautiful details.
View this profile on Instagram
From the brand: Julie Harris Designs helps brides-to-be express their personal style with classic, romantic and whimsical bridal veils & accessories. I want your guests to ooh and aah as you glide down the aisle. The veil creates the magic!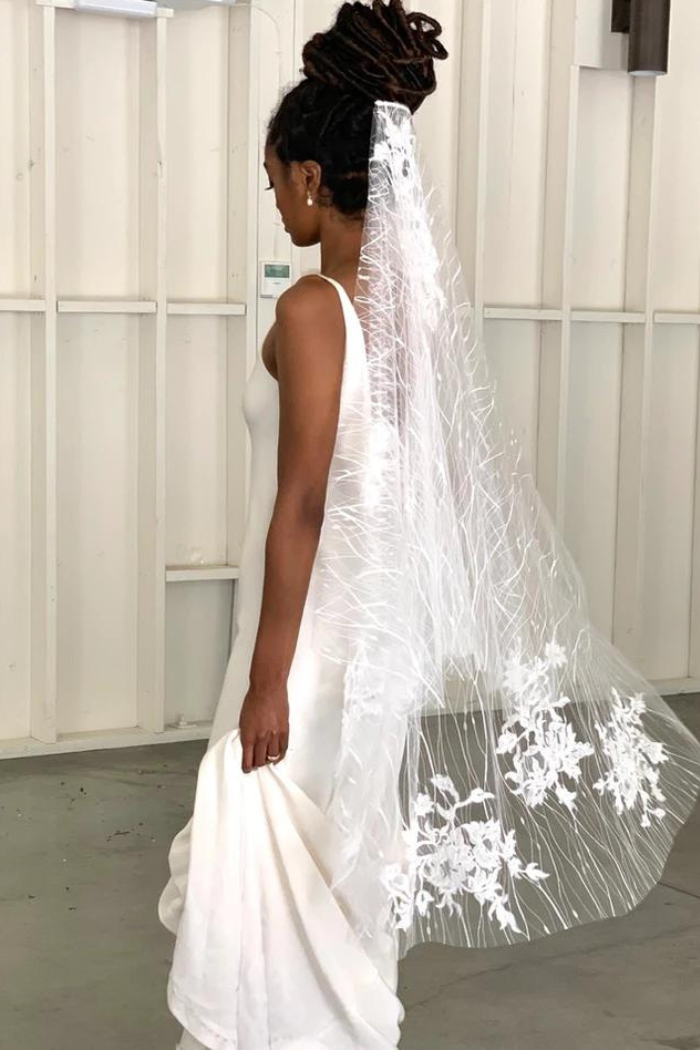 Serengeti Princess via Julie Harris Designs​
Men's Fashion
From the brand: We tailor exquisite bespoke suits that are perfect for every need and occasion. From weddings suits and tuxedos to everyday casual blazers, shirts and work suits, we strive to work with you to make all of your Kabiru Abu masterpieces tailored to fit every occasion.
photo via Kabiru Abu
From the brand: What inspired me to take up leatherworking in particular was that I have always admired leather goods and how they gain character as they age, think old leather suitcases and satchels etc. However the cheap mass-produced imports never seemed to last as long as I expected – I was changing my wallet every 6 months for example! I decided that I could kill 2 birds with 1 stone: create the quality leather goods that I desired for myself and pursue a new non-computer based hobby.
After a couple of months of practicing, my work began to get noticed by friends and family and this led to my first set of 'commissions'. After creating a leather satchel for my girlfriend, a wallet for my brother, and plenty of belts, I soon decided to begin accepting orders from the wider (and paying!) public. I now run Kingsley Leather full-time and have never looked back – follow me as my journey continues.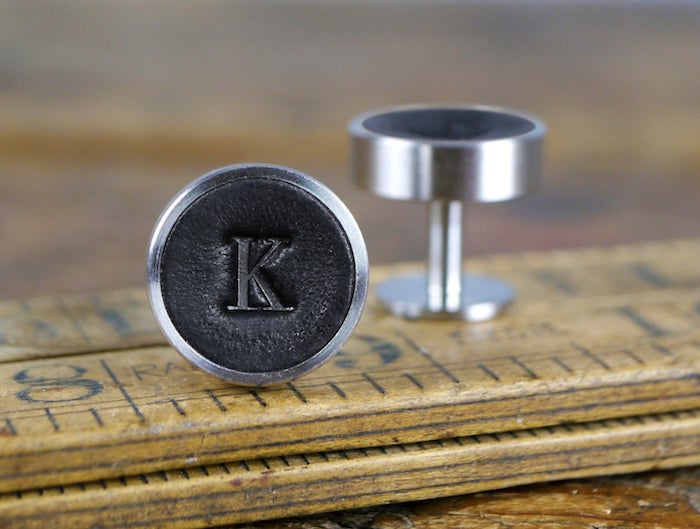 Personalized Leather Cufflinks via Kingsley Leather
Jewelery
From the brand: Valerie is the sole designer who founded her company is 2014. As a Black Latina woman in the fine jewelry industry, she's proud to be changing the scene. She earned her degree in Environmental Science & Resource Management from the University of Washington before discovering her love of jewelry design and has found ways of applying environmental responsibility on this new path.
Our vision is to create beautiful jewelry that quietly listens to modern trends but more importantly, feels classic and is well-made to become future heirlooms.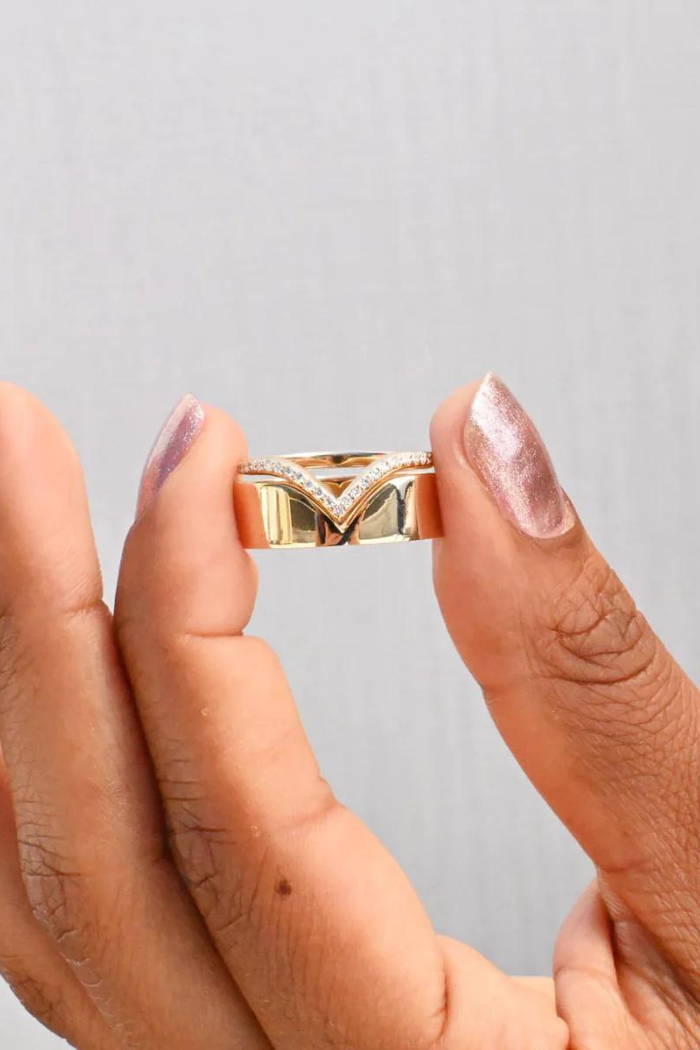 Diamond Nova Band via Valerie Madison
From the brand: OMA the label is a brand focused on challenging homogenous industry standards, while creating quality and affordable pieces for the everyday woman.
The brand was created by Neumi Anekhe, a new york based fashion stylist that started the brand in 2018, because she saw a need for more brands representing people of color. She wanted to help diversify the markets, change the imagery and predominant representation that we see in fashion today.
OMA the label, creates pieces for the woman that is intentional about the choices she makes and wants to wear pieces that make her feel empowered and confident.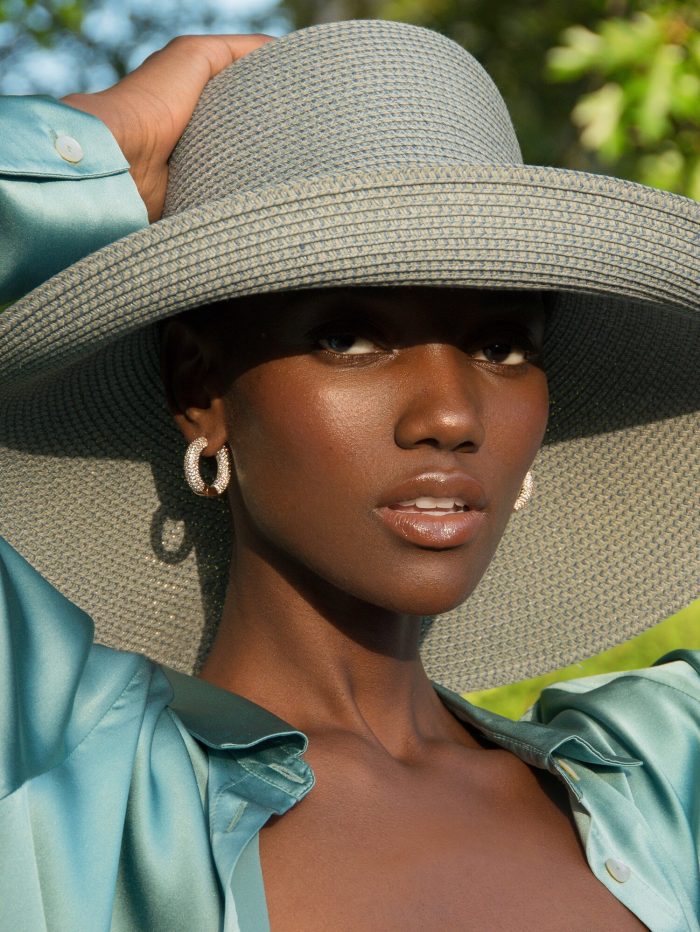 OBI HOOP via OMA The Label
Stationery + Signage
From the brand: Amanda Reid Designs is a design studio offering calligraphy services for the modern bride, luxury brands, and businesses in Austin, Texas. ARD specializes in custom wedding/event signage and banners, and on-site calligraphy for businesses and brands. Amanda Reid Designs also hosts a variety of fun, interactive workshops to teach others the unique skill of lettering and modern calligraphy.
View this profile on Instagram
From the brand: Chloe Ainsley Creative is a modern, design studio based in Kent. All artwork is designed and hand finished by me. The Studio was birthed out of my love of being experimental and desire to break out of the mould of working within the confines of a set of brand guidelines every now and again! My passion lies in abstract art and the narratives that can be created through the use of layers, colours, shapes, textures and patterns.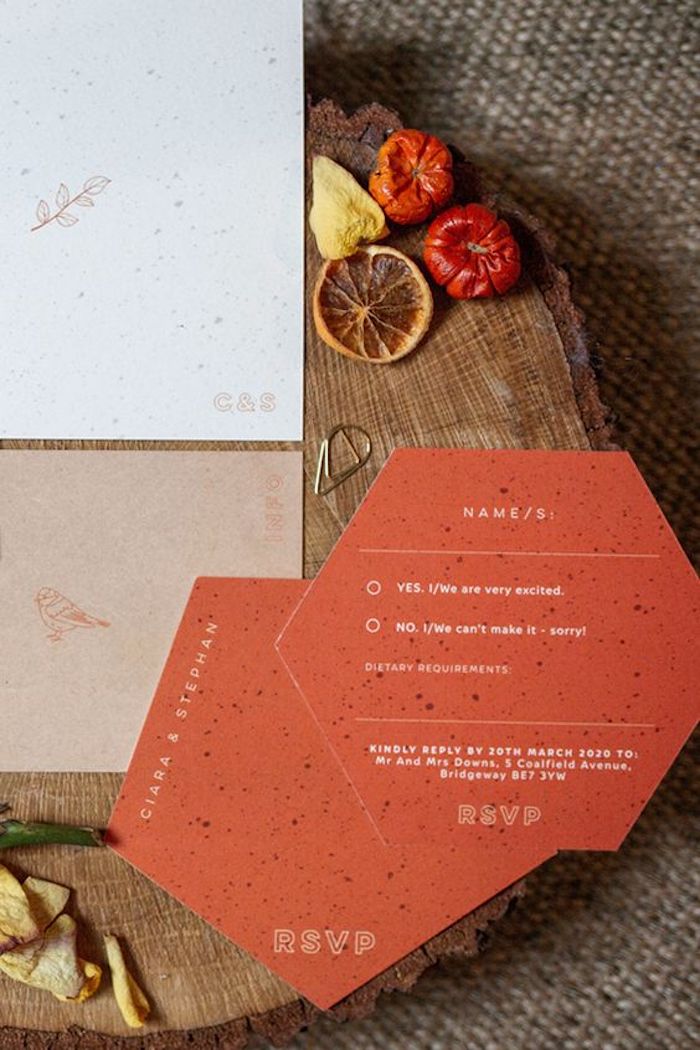 photo via Chloe Ainsley Creative
From the brand: I am a calligrapher and artist locally based in Austin, TX but serving nationwide. I started calligraphy as a hobby and slowly became captivated by it. After 3 weeks of practicing every day, I decided to open a business. I created Ivelisse Designs as a way to allow myself to live more creatively. For many who know me, this art business came of no surprise.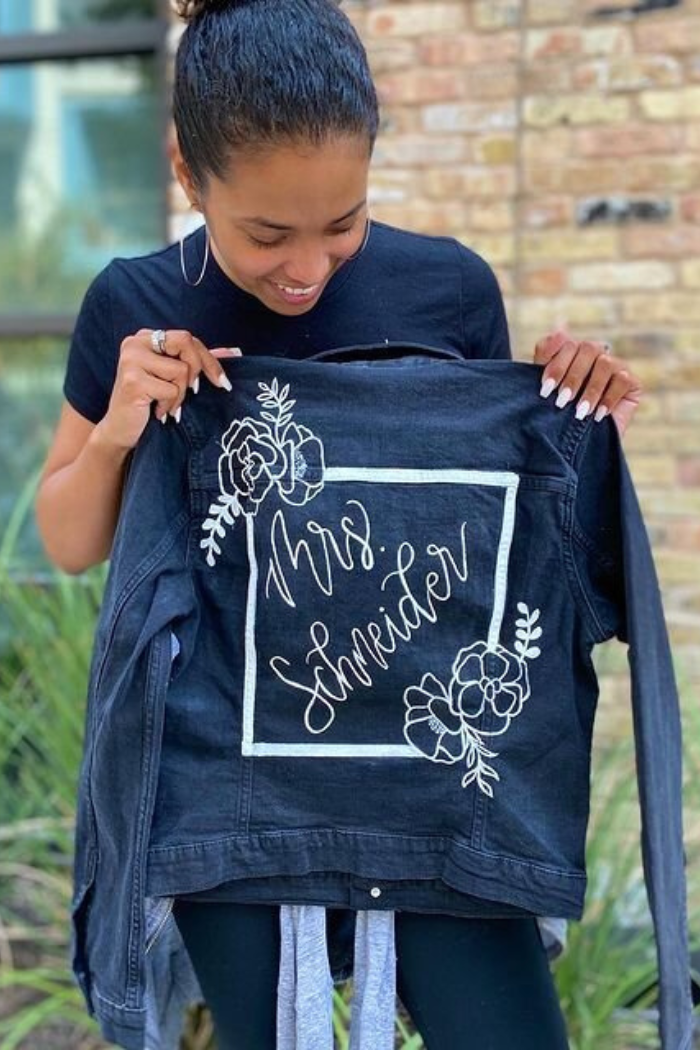 photo by Ivelisse Designs
From the brand: Lepenn Designs is an award winning, full service Invitation and stationery design studio that offers the creativity, knowledge and skills necessary to create the perfect invitation or design. Based in Metro Detroit, Michigan we work with clients locally, throughout the United States and Internationally. We believe that catering your design to your individuality, vision and desires is key to a successful design experience and final product. Our most important goal is to help you express your distinct style by providing you with our knowledge of the printing and paper industry and helpful planning advice for your stationery and design needs.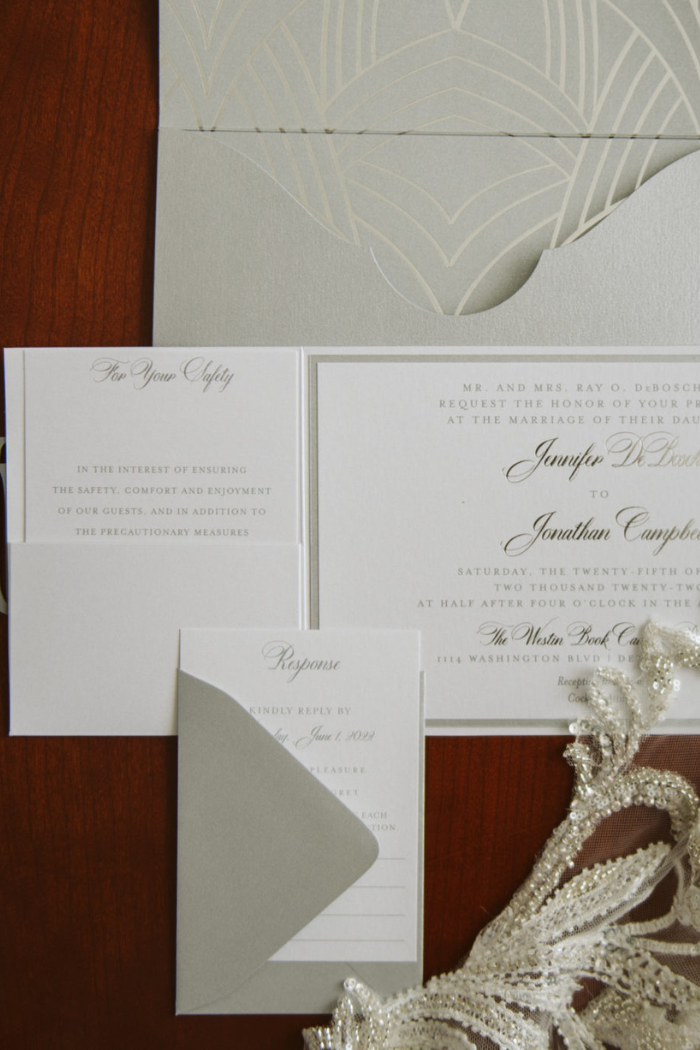 photo via Lepenn Designs
From the brand: Robbin's Nest Design Studio is a full-service stationery Atelier, specializing in the "All Things Paper." Robbin Henley, founder and creative director is an Award-winning designer and innovator in both the Apparel & Graphic Design industries. "For us, it's all about the detail & design elements. Whether choosing a traditional or contemporary invitation suite, this collection is sure to make a lasting first impression with your guests and set the tone for an unforgettable event." says Henley.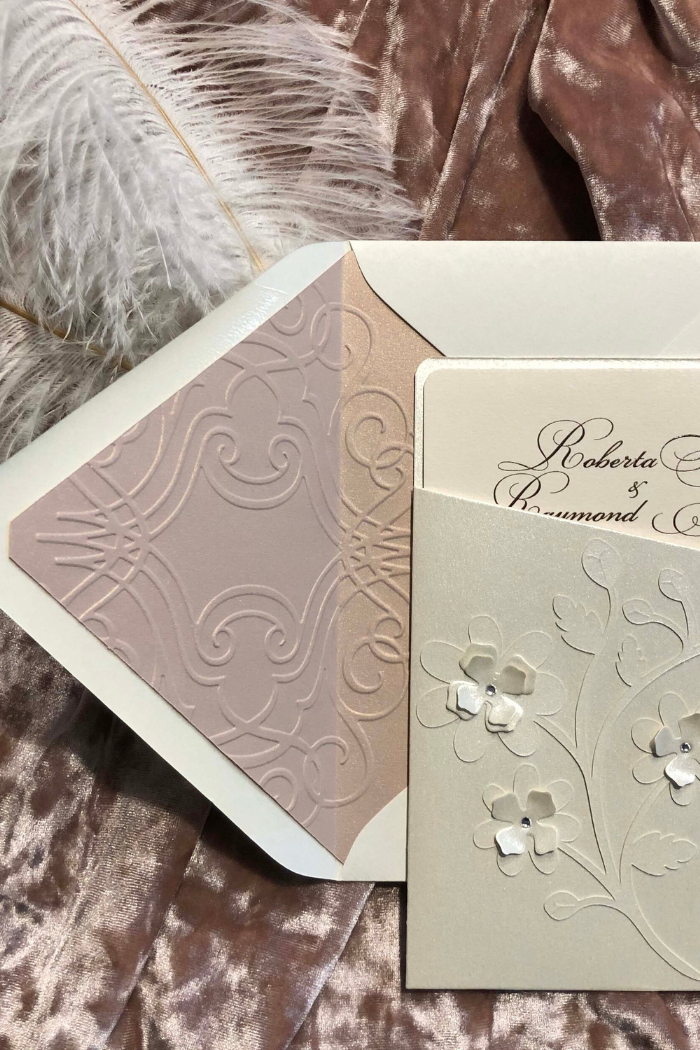 photo via Robbin's Nest Design Studio
From the brand: The inspiration and heartbeat of our shop comes from a place of sorrow turned into joy. After learning that we couldn't have birth children, we had a deep desire to make something beautiful, together. And so we started Morning Joy Co.! And we've been making signs and home decor together ever since!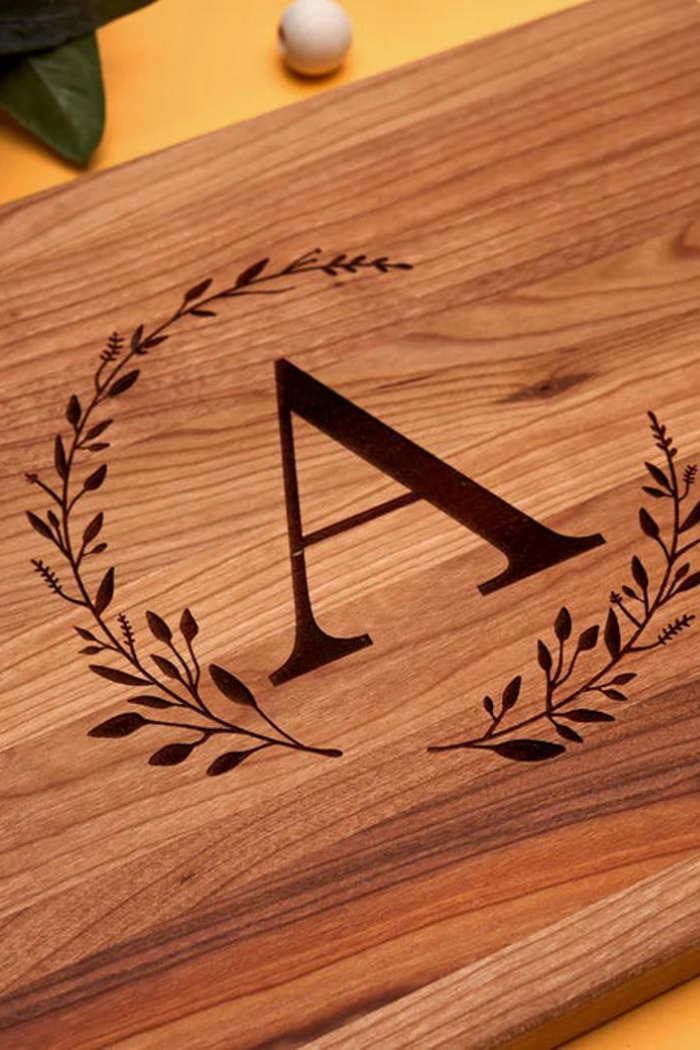 Custom Bread Board via Morning Joy Co
Beauty
From the brand: We created Mented Cosmetics because we believe every woman should be able to find herself in the world of beauty, no matter her skin tone. We know you'll love being put first – because when it comes to beauty, no one deserves to be an afterthought. From our original nude lipsticks to eyeshadow palettes to blushes, each of our makeup products is perfectly pigMented to match your skin tones. We want all women, from light to tan to dark skin tones, to feel like they have makeup that actually works for their complexions, so we've created the shades to help accomplish that.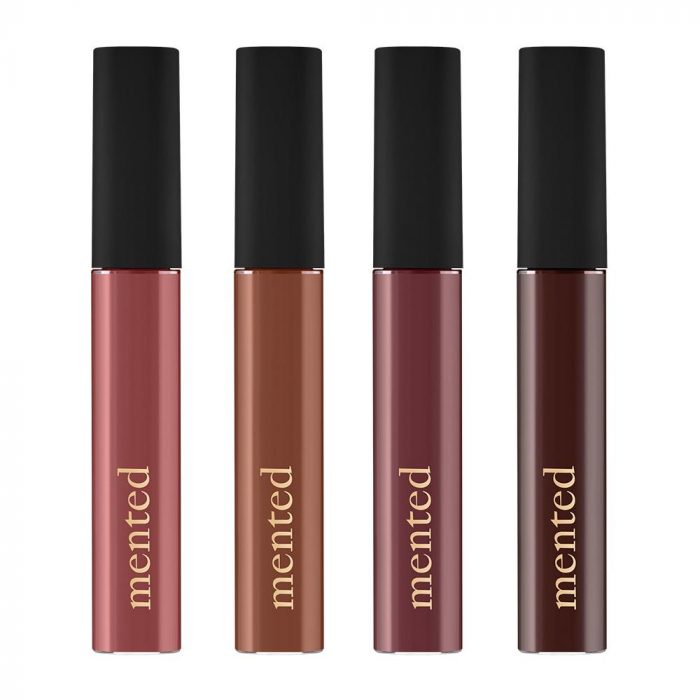 Gloss for Grown Ups Collection via Mented
From the brand: Kristen Noel Crawley was strolling through Don Quijote in Tokyo, when….BAM, love at first sight. A wall of lip masks caught her eye, and she became OBSESSED with the idea of perfect, kissable lips. When she discovered there were no natural lip masks on the market, the solution was obvious: she had to create her own. Two years and countless trials later, Kristen created the first all-natural, collagen-infused lip mask.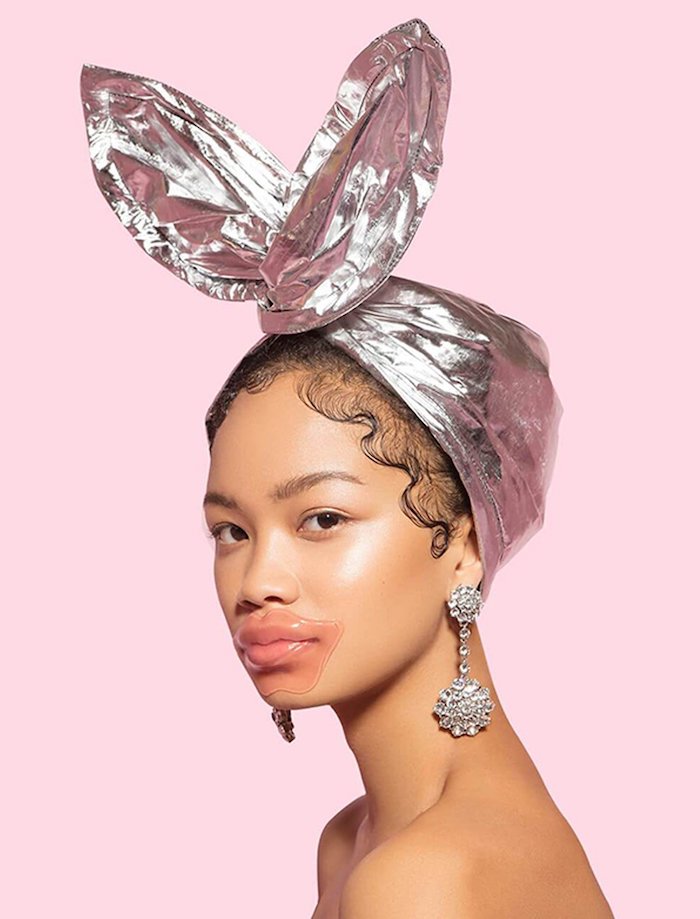 All-Natural Collagen Infused Lip Mask via KNC Beauty
From the brand: A near-death experience taught me that nothing is more important in this life than the moments that are gone too fast. Having long-lasting, smudge-free makeup may seem like a simple novelty to one person, but to me, the 8-15 times I would have spent touching up my makeup today are now the 8-15 opportunities I have to be in the moment. There is no more conflict about kissing my loved one or protecting the 55 minutes of makeup I worked on. I don't have to choose any longer between my looks and the precious moments that pass us by. I can have my cake and eat it too.
View this profile on Instagram
From the brand: The Lip Bar is a vegan and cruelty-free beauty brand that exists to help change the way you think about beauty. Every day people are being told how to be beautiful – so we're here to remind you that you don't have to change. You Are Enough!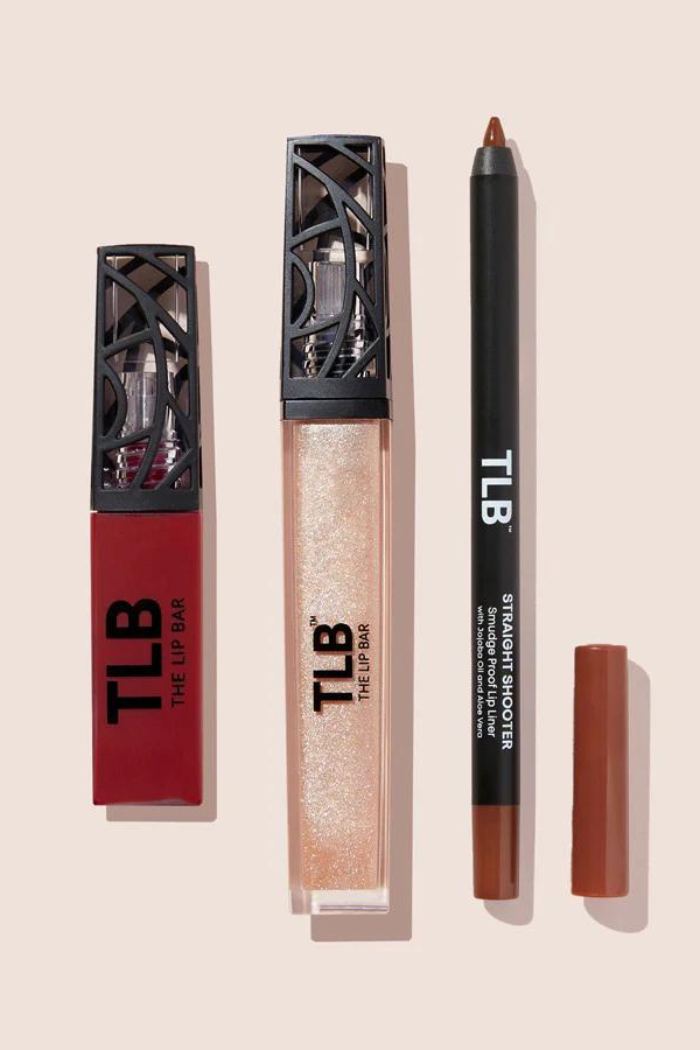 Easy Ombré Trio via The Lip Bar
From the brand: Africa is not only the birthplace of humanity, it's the birthplace of all beauty. Juvia's Place was created to celebrate the rebels, rulers and queens of the African kingdoms of long ago, who emulated and honored beauty through their soulful and innovative techniques that the top beauty gurus still use today. Inspired by the queens before us, Juvia's Place offers the richest, most vibrantly-pigmented essentials for the eyes, face and lips to take you from the office, to the Caribbean islands, and everywhere inbetween!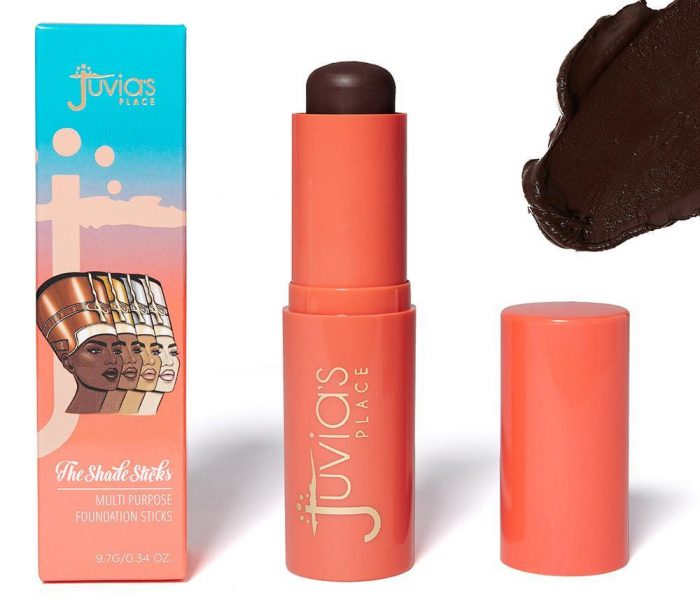 Shade Sticks via Juvia's Place
Know more black-owned wedding brands? We'd love to hear from you! Read about our commitment to inclusive representation and showcasing Black love.