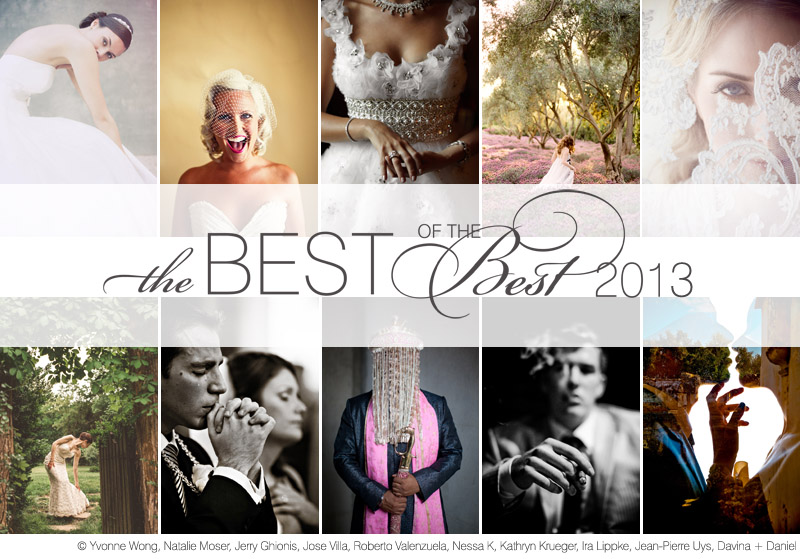 Submit your photos now for the Junebug Weddings BEST OF THE BEST 2013 Photo Collection!
Tens of thousands of couples, photographers, editors and photo aficionados from around the world are anxiously awaiting the 2013 Best of the Best Photo Collection, and this year's images are destined to set the trends and raise the bar for wedding photography everywhere.
Featuring 50 outstanding wedding photographs chosen for extraordinary technical skill, artistic brilliance and emotional impact, the Best of The Best Photo Collection focuses on distinctive style - from timeless works of art to cutting edge images. In addition to the substantial traffic and unparalleled brand exposure that our winners enjoy year-round, Junebug also awards dozens of honorable mentions, and devotes an entire week of editorial to the images that stand out from the crowd. So, gather your very best work and submit it now. Let's celebrate the art of wedding photography!
Image Sizes: Please send up to 15 .jpg images that are 1,000 pixels on their longest side, without watermarks, taken between December 2012 and December 2013. Images should be placed in a .zip file that is no larger than 10MB.
Subjects: Photographs should be from weddings or wedding related photo shoots of real couples who are your clients. No photos of models or images from styled shoots, workshops or commercial shoots, please. If you have questions about eligibility, please read our Official Rules or write to images@junebugweddings.com for more clarification. Please note: if you have awesome engagement photos you would like to share, please save them to submit to our Best of the Best Engagement Photo Contest this spring.
Submission Dates: Photos will be accepted from 12:01 am Pacific Time, Friday, November 1st, 2013, until 11:59 pm Pacific Time on Friday, December 6th, 2013.
Processing Fee: A processing fee of $28 per photographer (or $18 for Junebug member photographers) will be charged for submissions of up to 15 images.
Exposure: If your photo/s are chosen, your copyright - including your name and business name - will be prominently displayed as part of our Best of the Best 2013 Photo Collection, and will be part of Junebug's marketing campaign to educate the world about the phenomenal art of wedding photography. The Best of the Best is one of the most popular wedding photography contests in the world, so you can expect your exposure to be extensive.
Thank you so much for your participation!


Please note that submissions to our Best of the Best Photo Collection are open to all wedding photographers and photos are chosen on the basis of merit only. Junebug Weddings membership is not required to be chosen for this feature, just killer wedding photography skills! Photos submitted may also be published in other sections throughout our website. Please read our Official Rules before you submit.
Check out all of our past Best of the Best Photo Collections and see how our winners have set trends in wedding photography.
Want to have your work published in other Junebug Weddings editorial features? Just follow this link to find our complete editorial submission guidelines.
The image above includes Best of the Best winning photos from Yvonne Wong, Natalie Moser, Jerry Ghionis, Jose Villa, Roberto Valenzuela, Nessa K, Kathryn Krueger, Ira Lippke, Jean-Pierre Uys, Davina + Daniel. Hooray for awesome wedding photography!