ISRAEL WEDDING PLANNING
Israel's Best Wedding Professionals
Come plan your stress-free wedding using our highly-vetted Israel wedding planning guide.
We feature only the most trusted and talented wedding professionals available for your Israel wedding.
Real Weddings in Israel
July 16, 2017
Between the narrow brick alleyways that lead to Christ Church Jerusalem and Nafoura Restaurant's cozy courtyard reception space, Mia and Benjamin's wedding in the Holy Land was where old-world charm met modern elegance. The bride (Mia Moessinger), who is a professional wedding photographer and designer, put her creative skills to work by designing nearly every detail, including the flowers, invitations, and even her own dress. The main color inspiration came from the simple and symbolic olive branch, which added a naturally elegant feel
more...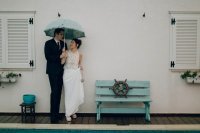 March 5, 2015
Mika and Anton's wedding in Israel is a little off the beaten path while remaining absolutely elegant. The bride created her own wedding day look with a lace crop top and long skirt. Inspired by fresh flowers, the couple decided to fill their Tel Aviv venue Arugot Bosem with pretty petals in soft pink and yellow hues. Despite a forecast of rain, the brilliant photographers behind We Are Red captured romantic outdoor portraits of the
more...