CZECH REPUBLIC WEDDING PLANNING
Czech Republic's Best Wedding Professionals
Come plan your stress-free wedding using our highly-vetted Czech Republic wedding planning guide.
We feature only the most trusted and talented wedding professionals available for your Czech Republic wedding.
Real Weddings in Czech Republic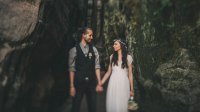 December 20, 2015
Choosing to elope always brings a sense of coziness and romance to your special day. Keeping your guest list small allows you to host your wedding just about anywhere. For Jonáš and Klára, Prachovské skály in Jicin, Czech Republic presented the perfect oasis for their vintage, nature inspired wedding. Talented photographer Honza Martinec beautifully documented the unique ceremony and reception. The Couple: Jonáš and Klára The Wedding: Prachovské skály, Jicin, Czech Republic From the couple: We love vintage and nature, so it was main theme
more...
September 24, 2015
When a little rain threatened to keep Nora and Viktor from saying "I do," the couple and all of their wedding guests moved mid-ceremony from organic farm setting to the inside of an industrial warehouse. This moment is exceptionally representative of Nora and Viktor's approach to their wedding: flexible, natural, minimalist, and focused on their love. With a limited budget and several DIY projects, Nora and Viktor created the warehouse wedding of their dreams and
more...