Today's Photographer Spotlight Interview features the modern and artistic wedding photography of Southern California based, The Rasers. This husband and wife team works hard to create inventive portraits as unique as their couples. Throw in Derren and Lisa's fun, upbeat personalities and you'll surely want them as both your photographers and life-long friends.
Junebug: How did you get into wedding photography?
Derren and Lisa: We have both always expressed ourselves through one artistic medium or another. As our artistic interests matured, we were both really drawn to photography and eventually found ourselves at home behind the lens. When we got married and starting searching for a photographer to capture our day, we discovered the amazing and creative work that people were doing with wedding photography. Through the relationship we formed with our own wedding photographers, we saw how rewarding it could be, both artistically and professionally. At that point it all came together for us and we knew that it was the right fit. We were also lucky to have really wonderful wedding photographers ourselves, who became great friends and generous mentors.
Junebug: What is your favorite moment or tradition at weddings?
Derren and Lisa: We love the whole wedding day, but it's really all about the vows for us. We love that moment of sharing and commitment, where two people are making life-long promises to each other about their new journey together. It's an incredible thing and we love that we get to be there to witness and capture that.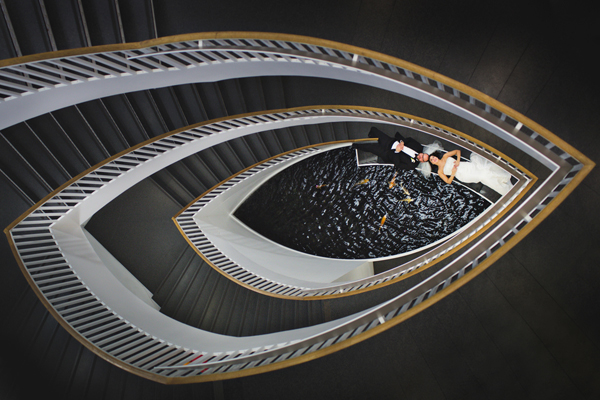 Junebug: Could you share a favorite image you've taken lately?
Derren and Lisa: One of our favorites we've taken lately is a creative portrait (see above) that we took of one of our couples using an amazing staircase at the Museum of Contemporary Art in Chicago, IL. Our couple really trusted us to execute our vision for the shot, which entailed leaving them to run up numerous flights of stairs in order to get the right perspective. While we love capturing moments at weddings, we are also passionate about getting creative with our portraits. We're especially drawn to incorporating architecture into our work, and the beautiful repeating pattern in this staircase really provided an incredible context for this shot.
Junebug: Do you have a favorite wedding story?
Derren and Lisa: One of our favorite wedding moments took place during an indoor ceremony in Springfield, IL. The ceremony was underway and the couple was in the midst of sharing some amazing and personal vows they had created for each other. Up until that point in the day it had been relatively sunny, but just before the ceremony an afternoon thunderstorm started rolling in. The groom had just completed his portion of the vows, and finished up by saying "and this is my solemn vow." Just at that moment, a huge peel of thunder shook the sanctuary. Everyone seemed a little stunned, including the bride and groom. For a few moments everyone was eerily silent, and then the church erupted in roars of laughter. It was both bizarre and amazing and we will never forget it!
Junebug: Describe your wedding photography style in less than 6 adjectives.
Derren and Lisa: Creative, personal, documentary, fun.
Junebug: How has being a wedding photographer made you a stronger photographer over all?
Derren and Lisa: Capturing and telling the story of a wedding day really requires us to work in so many different capacities at once. It has helped us to grow in our flexibility and our ability to be creative and think on our feet. Another way it strengthens us as photographers is by always sharpening our attentiveness to the moment, which is a huge aspect of capturing a wedding. It also constantly challenges us to really know our equipment so that we can be prepared to tackle unexpected changes in light and setting at a moment's notice (which happens often during a wedding day). Integrating both creativity and storytelling into our images also continues to push us toward a balance of artistic expression and real life in our work, which consistently provides us with plenty of fun and room to grow.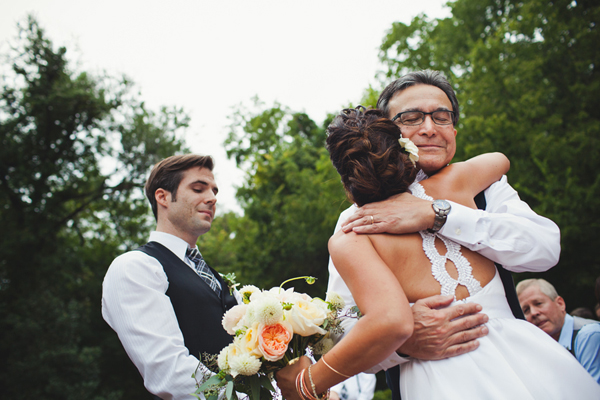 Junebug: A tip or two for couples who are looking for their perfect wedding photographer?
Derren and Lisa: We think it's most important to find a photographer who you really feel comfortable with and whose work resonates with you. It's important to be able to connect with your photographer on a personal level because it will make both the process and the product so much more meaningful for both you and for your photographer. We love hanging out with our couples, and we really take the time to get to know them, even from the very first meeting. When we hear from a couple that they were not only drawn to our work but also had a great time hanging out with us, we always know that we're going to have a lot of fun working together.
Junebug: A tip or two for couples on how to look amazing and feel comfortable in their photographs?
Derren and Lisa: Have fun! That's what we're all about, and when you're having fun you're relaxed and you just feel more comfortable. We try to help our couples have fun because when they're enjoying themselves it really allows us to capture honest and natural moments, while also helping their real personalities shine through in the images.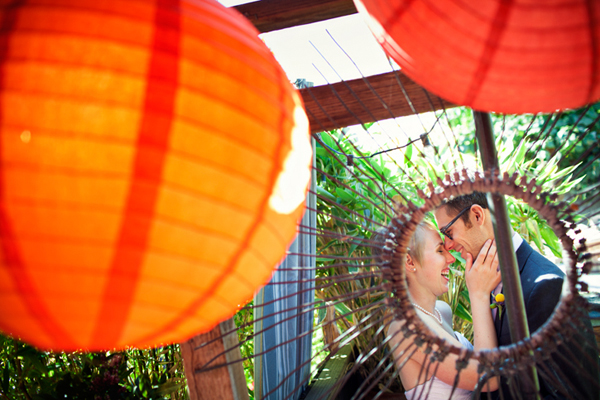 Junebug: What's your favorite camera? lens?
Derren and Lisa: Our camera of choice is the Canon 5d Mark iii and we love it! When it comes to lenses, for Lisa it's the Canon 50mm 1.2 – it captures light in such a beautiful way and fits Lisa's eye for intimate moments perfectly. Derren's favorite lens is the Canon 35mm 1.4 – it's just wide enough to capture the context around a moment, but still close enough to really keep it personal.
Junebug: Do you shoot film, digital or both?
Derren and Lisa: We shoot digital for most of our professional work, though film is such a great medium and we love using it to capture personal moments.
Junebug: What albums do you offer?
Derren and Lisa: We offer albums from Renaissance. They craft their books with such a great combination of quality and style, which we love providing to our couples. Experiencing your images in an album is such a wonderful and lasting way to remember and share the moments from your wedding day.
Junebug: How has witnessing so many weddings impacted your life/outlook?
Derren and Lisa: One amazing way that documenting weddings continues to impact us is the way that it brings us into the lives of so many incredible people. We've been so enriched by the relationships we form with our couples and it really keeps us fresh and energized about what we do. We love working hard to create unique and timeless images for them, but it is being able to do that while forming meaningful relationships that makes it worth it.
Junebug: Something that has inspired you recently?
Derren and Lisa: We recently watched the documentary "Visual Acoustics" about architectural photographer Julius Shulman. It is a great documentary and it really resonated with us. As we mentioned, we love incorporating architecture into our images, which is one reason why we love Shulman's work. We are inspired by the way he has brought so many spaces to life through his unique eye for perspective, angles and lighting. Seeing a master like him at work really challenges us to continue to grow and look at spaces and subjects in new ways.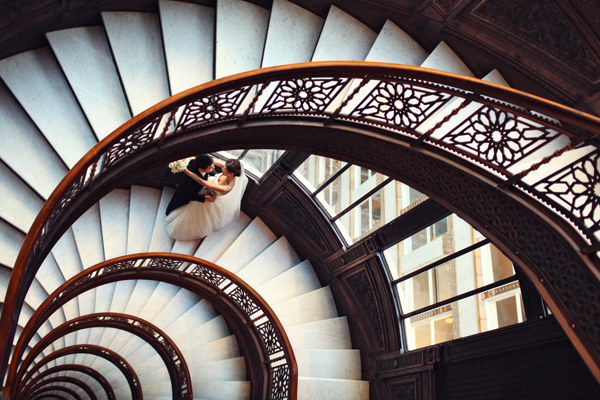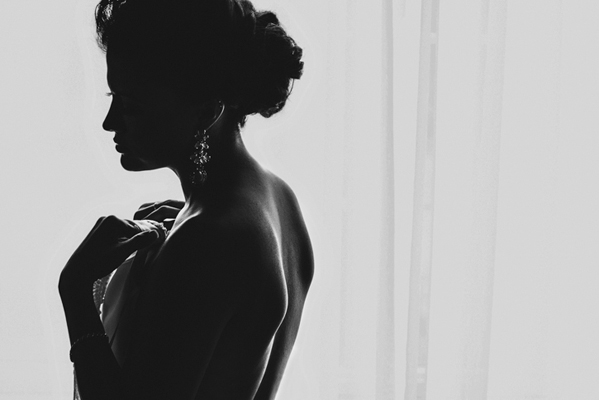 Junebug: Where do you want to shoot next?
Derren and Lisa: Our #1 pick is Italy, and Hawaii is a close second. After that Paris, the UK, Spain, anywhere in Europe really! Also our travels have taken us to Brazil/Argentina where we had a chance to visit Iguazu Falls. It's one of the most amazing spots we've ever seen, and if anyone is getting married there please give us a call!
Junebug: What are looking forward to most right now?
Derren and Lisa: We are looking forward to continuing to grow our craft over this next year. We're also excited about all the fun traveling we'll be doing this year for our couples' weddings. We love that our job takes us to so many interesting places and brings us into the lives of so many interesting people. We're so excited for what's ahead.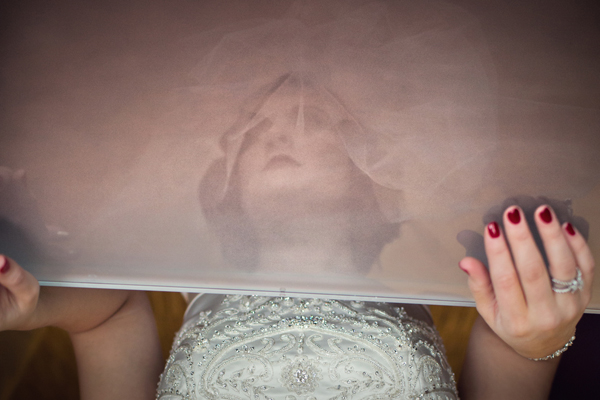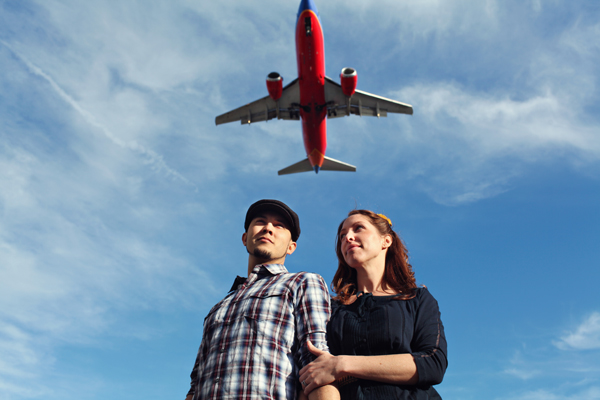 Thanks Derren and Lisa for spending time with us! Visit The Raser's wedding blog to experience their unique take on weddings all across the United States.