Effortless and chic, today's Italian wedding on the island of Capri is pure magic. What a treat to spend a week on vacation in Italy, celebrating love, enjoying delicious food and basking in the sun! The wedding photos by Rochelle Cheever capture the light of the island and the beauty of the glowing bride and groom and their lucky guests.
The Couple: Bridjet and Barton
The Wedding: 9.6.12 – Capri Palace, Anacapri, Italy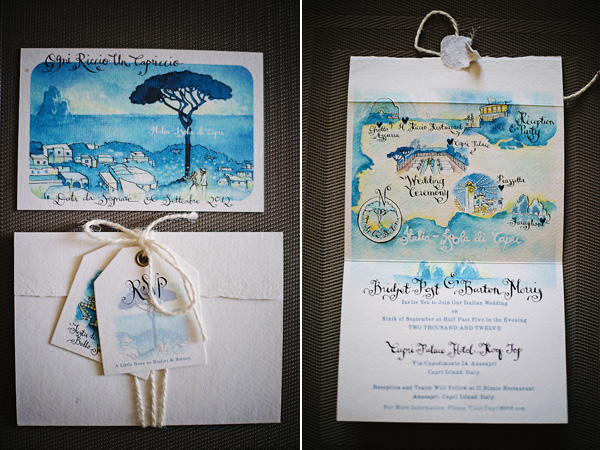 Junebug: What were your most important goals in planning your wedding?
Bridjet and Barton: Making sure we hired the right team to produce the event. Making sure our guests had an amazing and memorable time. And making sure the location was extra special.
Junebug: How would you describe your personal wedding style?
Bridjet and Barton: Chic, non traditional, Italian, understated elegance, impactful.
Junebug: Where did you hold your wedding and reception, and why?
Bridjet and Barton: After visiting Capri Palace and Il Riccio Beach Club the year before our wedding (location scouting), we knew it was the most perfect spot. It had incredible views, amazing food, and allowed us to give our guests two separate experiences by offering us a ceremony on the terrace of the hotel and a party at the beach club.
Junebug: What three adjectives describe your wedding best?
Bridjet and Barton: sophisticated, exclusive, stylish
Junebug: What did you love most about your wedding?
Bridjet and Barton: Having our wedding in Capri at the Capri Palace was an absolute dream come true. The four days we spent with our friends and family on the island is something we will never forget and it really brought the whole group together making our wedding truly memorable. Everyone felt as though we were living in a movie and the story was just getting better and better. The day after the wedding we all took an amazing boat ride around the island, we swam in the blue grotto and green grotto and we had a wonderful farewell dinner with everyone, and then Bart and I left for Paris that night for our honeymoon. I could not have asked for more. I wish I could relive it over and over.
Junebug: What were you looking for in a photographer?
Bridjet and Barton: We were looking for someone who really stood out amongst the the top photographers. We wanted to find someone whose images blew us away every single time we saw their work.
Junebug: What specifically drew you to Rochelle Cheever, Italy Wedding Photographer and her imagery?
Bridjet and Barton: Rochelle's images were breathtaking! The moments she captured were beautiful and you could always see the emotion coming through during that moment.
Junebug: What did you enjoy most about working with your photographer?
Bridjet and Barton: Her carefree spirit! Her energy! I also liked that she took charge and helped me feel comfortable when I wasn't feeling like being a model bride.
The one thing I will say is that after we arrived in Paris, I started having bridal withdrawals and was over analyzing the pictures we took. I was afraid (paranoid) that we had missed some crucial bride and groom moments but as soon as I saw the images Rochelle sent, I was BLOWN AWAY! Rochelle managed to capture every single moment of the day from start to finish. Black and whites that were simply beautiful and so precious. The colored images were gorgeous. And every single person I have shown our pictures to has also been blown away! Hiring Rochelle was one of the best decisions we made planning our wedding!
The Photographer: Rochelle Cheever
Junebug: How did you approach this particular wedding and what did you most want to capture during shooting?
Rochelle Cheever: I tried to incorporate the atmosphere and culture of the gorgeous Island of Capri along with the details of Bridjet and Barts wedding. I wanted them to amalgamate with Capri. It is such a quaint Island and its colors are mostly white and blue. Bridjets eyes were the same blue and they just shined throughout. All the flower decorations were a mixture of white flowers, mostly orchids. Chic Weddings did such an incredible job.
Junebug: Were there any special photographic requests from the couple that made this wedding especially exciting creatively or personally?
Rochelle Cheever: Bart loved the intertwined tree which was right outside their hotel room. In fact, it was their motif for their wedding invitation done in watercolor. So of course, I tried to include that as much as possible.
Junebug: What was the most fun part of this wedding for you to photograph?
Rochelle Cheever: Oh boy, it was all fun. Maybe the car ride to Il Riccio restaurant as the wedding ceremony was finished and they could relax and have fun as "Sposo and Sposa" (bride and groom). As we drove through the Island in the dashing red Capri wedding car, people cheered them on, cars honked and it seemed as if all the Island was celebrating with Bridjet and Barton.
Junebug: How did the locations available to you affect the type of images you shot and how you shot them?
Rochelle Cheever: The light was spectacular throughout. There was natural light throughout the day and in the evening we had the disco lights that blended well with all the dancing and fun. The Capri Palace has an artistic theme with an amazing art collection. All rooms are named after a famous artist/actor/actress. There was a lot of depth of field with great window light and a lot of open space as well.
The restaurant Il Riccio, was on the cliff with an amazing view of the mediterranean. Again, the restaurant was mostly in turquoise and white, the islands colors. And, the Temptation room full of goodies – so colorful and full of textures. The kitchen was open and you could see all the incredible food being prepared by the renowned chef.
Junebug: Were there any special locations you were able to choose that made for really great images?
Rochelle Cheever: There was a scare of a storm approaching right during the ceremony. It did rain a few drops, but I was actually happy we had the great big mystical sky with a bit of wind. It was perfect as the sun would have been to strong and bright at that time of day so it was an added bonus, at least for the photographs.
We had the full sunset when we arrived at Il Riccio for the reception and it was magical. Bart & Bridjet were kissed by the Capri sun.
Thank you Bridjet and Barton for sharing your lovely day with us. To experience some of it for yourself, watch this gorgeous video by Cinema Works.
To learn all about the incredible team of Wedding Professionals that contributed to this amazing day, be sure to visit Bridjet and Barton's Real Wedding page in our Real Weddings Library.