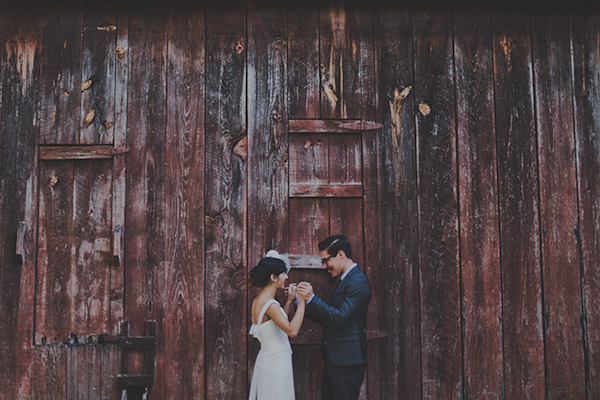 The Couple: Victoria and Andrew
The Wedding: 6.1.12 – Renner School House, Dallas, TX
The Photographer: Bradford Martens
Junebug: What three adjectives best describe your wedding?
Victoria and Andrew: Simple – we aimed to achieve simplicity over extravagance. Vintage – we wanted a modern-vintage feel with timeless continuity. Endearing – we wanted it to be memorable and reflect well on who we are as a couple; bride – teacher; groom – lover of reading.
Junebug: What inspired your personal wedding style, and how did you incorporate your style and personalities into your big day?
Victoria and Andrew: Our love for learning and teaching inspired the schoolhouse theme, as well as our appreciation of traditional and classical elements, which inspired the vintage continuity.
Junebug: Looking back, what are the moments, decisions or memories that you love the most about your wedding?
Victoria and Andrew: We decided to do a first look session before the wedding with our photographer. This allowed us to better be able to capture the moment when we saw each other for the first time that day. It was intimate and very special.
I was really happy with our dessert choice. We decided not to go the traditional wedding cake route. The groom loves pie, so we decided to do a dessert table with delicious cake, apple pie, and other delectables – good old-fashioned fun!
Also, Bradford captured a memorable moment where our flower girl, not knowing what to do with her left over petals, decides to the dump all the remaining bunch out of her pail before taking her place on stage. Everyone bursted out laughing!
Junebug: What specifically drew you to Bradford Martens Photography and his imagery?
Victoria and Andrew: Bradford just knows how to tell a story with that camera; he has such a wonderful eye. Seeing his work on other weddings made the decision really easy. The more we got to know Bradford it seemed like the right choice because he is personable and friendly; he makes the day feel effortless and fun. The artistry of what he does is in how he captures those special moments that no one else seems to be able to catch.
So unique and lovely! Thanks to Bradford Martens and Victoria and Andrew for sharing it with us.
The Wedding Team:
Photographer: Bradford Martens
Ceremony & Reception Venue: Renner School House at Dallas Heritage Village
Officiant: Clint Patronella
Invitation Designer: Nicole Marrow of Yay Invites
Catering: Peggy Sue BBQ
Florist: Tillie Abreo – Our near and dear grandmother
Cake: Whole Foods
Wedding Dress: Vera Wang White
Bridal accessories: Veil – vintage, Pearls – family
Bridesmaids apparel and accessories: Dress – Modcloth
Groom and groomsmen apparel: J.Crew, Shoes – Topman
Hair and make-up: Andea Patronella of Kitch Salon
Live music: Ceremony – Bethan
Rentals: A&M rental
Rings: Zales