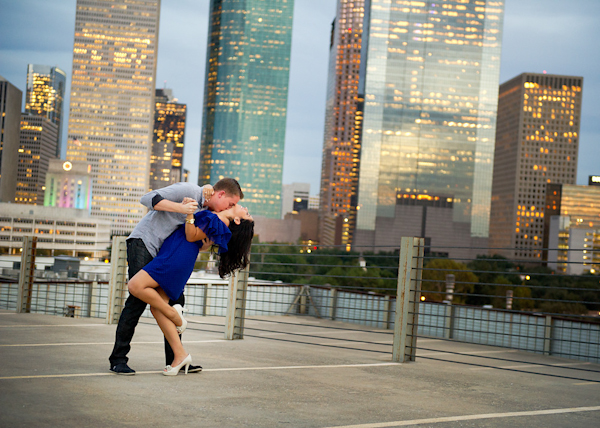 The Couple: Candice and Josh
The Photographer: Adam Nyholt
Junebug: What specifically drew you to Adam Nyholt and his imagery?
Candice and Josh: It was definitely his style, which was very modern but also classic and timeless. He was very unique when compared with other photographers we saw. He is incredibly talented when it comes to finding good lighting and scenery for great shots and out of all of the other photographers out there he was by far the best match with our style and to portray our personalities.
Junebug: Where did you choose to have your engagement photos taken, and why?
Candice: We chose to do ours in downtown Houston, because at this point in our lives it represents who we are as people: city people. We love the city life and we wanted that to be the central theme in our photos. Plus we had seen plenty of Adams downtown shots, which are Joshs favorites, and we absolutely love how they all turn out.
Junebug: Can you tell us a bit about your love story and your lives together?
Candice and Josh: We have known each other for a very long time, almost 20 years now, and grew up going to the same schools; elementary, middle and high school; and we have grown to know each other better and better with each passing day. We enjoyed almost every minute of planning and preparing for our destination wedding, because we knew that we were gradually getting closer and closer to our big day, and we are incredibly happy that we got to enjoy it with the people in our lives that mean the most to us!
Thanks to Candice & Josh and Adam Nyholt Photography for sharing these gorgeous photos with us. To see Candice and Josh' wedding in Las Vegas, be sure to visit Adam Nyholt's blog.