This delicious wedding really doesn't need much of an introduction, mostly because I know you're already sneaking a peek at the stunning portrait below and just can't wait to see more! Needless to say, when given the opportunity to photograph this amazing celebration at the Leela Palace Hotel, Seattle wedding photographer Michèle Waite and North Carolina based Sara Brennan-Harrell of Whitebox Weddings were more than on-board and we're thrilled to be sharing it with you now. Read more about the celebration, from the photographers themselves, below!
The Photographers: Michèle Waite Photography and Sara Brennan-Harrell of Whitebox Weddings
Junebug: How did you approach this particular wedding and what did you most want to capture during shooting?
Michèle: I approached it like I approach any wedding – wanting to tell the story of the wedding in an unique, artful and timeless way. This wedding was a little different because of the myriad of events, locations and lighting situations – I had to really select my gear carefully, keep my on-body camera bag light, and be ready for anything.
Sara: Communication was a bit difficult and we did not get a lot of details about the wedding. We just knew the locations and times for the events and that was about it! We approached this wedding as a big adventure! We had to do a lot of shooting on the fly.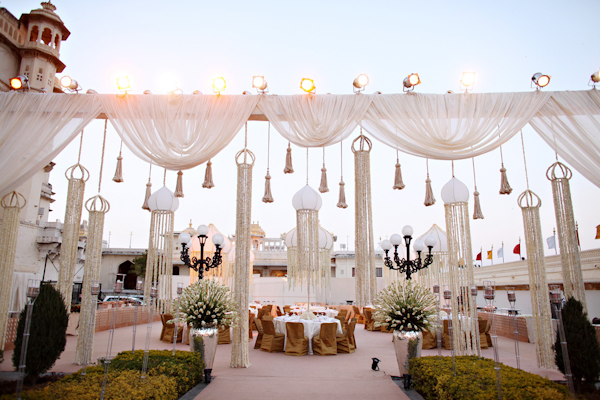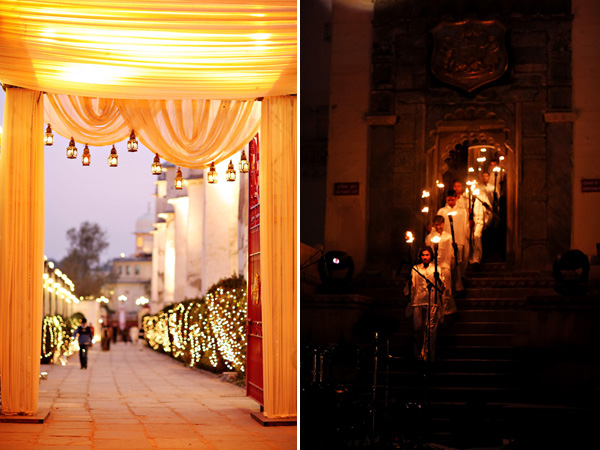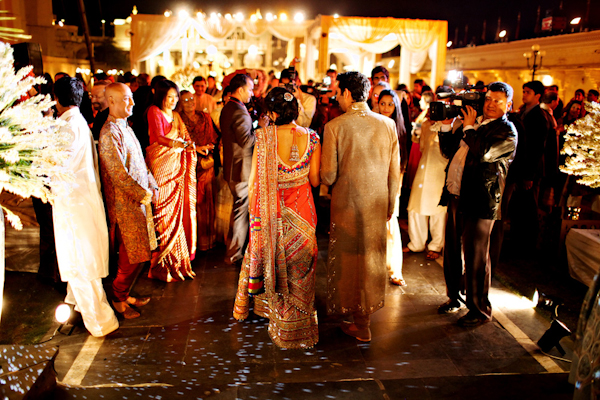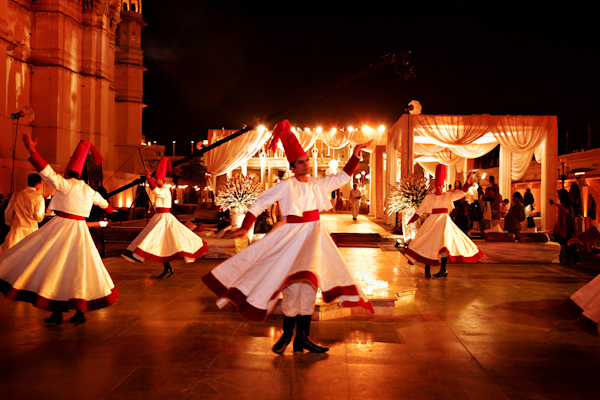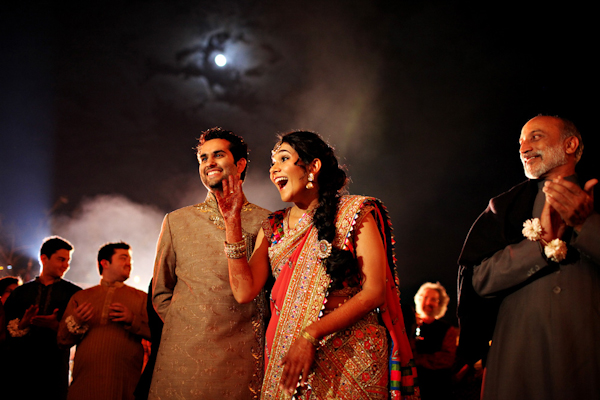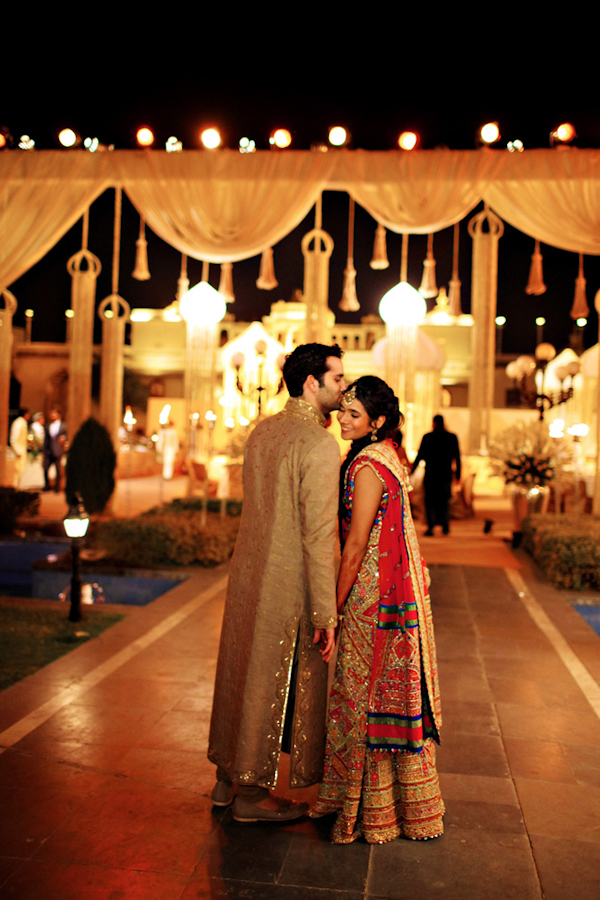 Junebug: Were there any special photographic requests from the couple that made this wedding especially exciting creatively or personally?
Michèle: This wedding was a photographer's dream come true. We were given full reign to just document the events to our hearts content with no real expectation for choreographed images. There was so much visual stimulation, so much color, light and texture that I felt just plain giddy the whole time shooting.
Sara: We photographed for 3 days straight. There were so many highlights. There were boat rides, floating palaces, whirling dervishes, sufi rock bands, Bollywood productions, opera singers, fortune tellers, and the list goes on and on. The bride and groom gave us a basic timeline for the event, but we had no idea how amazing the entire weekend was going to be until we go there. Everywhere you looked there was something that you wanted to get a shot of. We were in photographic heaven! Being western photographers at the wedding was fun. The bride and groom and their guests were eager to share their traditions and tell us fun and helpful facts about their country.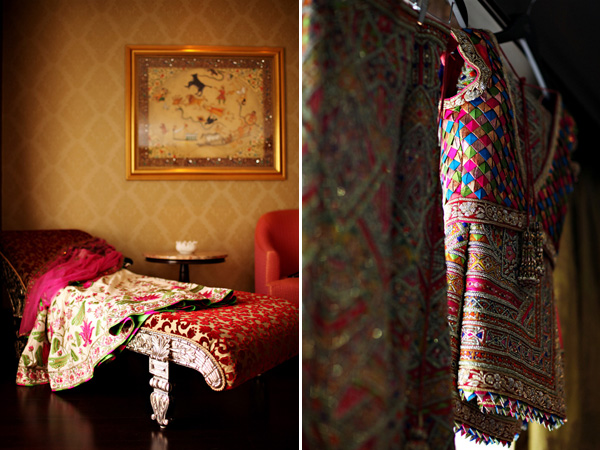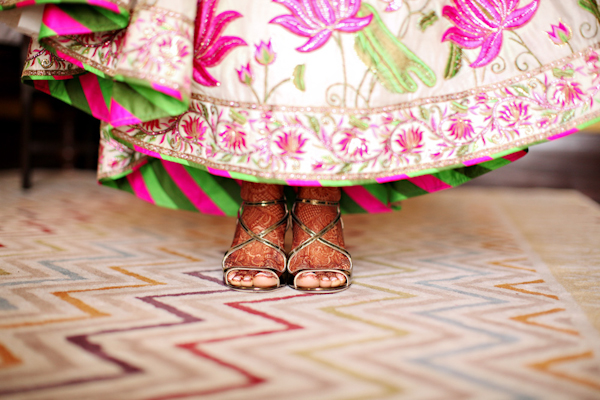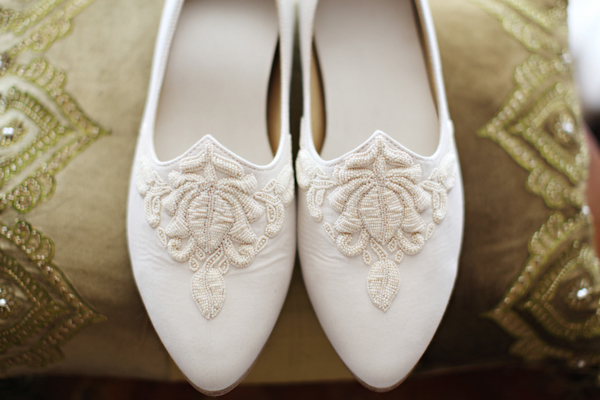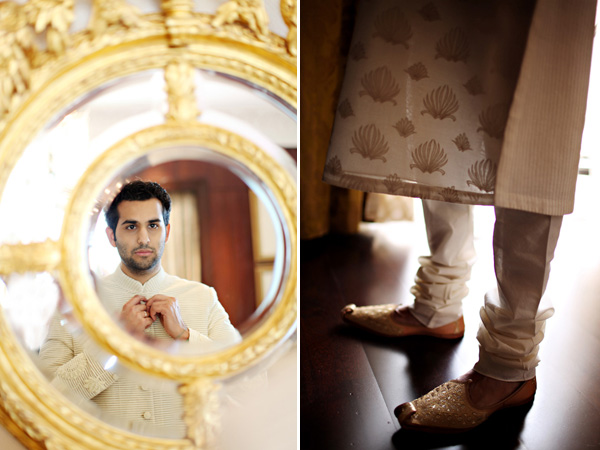 Junebug: What was the most fun part of this wedding for you to photograph?
Michèle: Each of the 5 jaw-dropping events had its own favorite element for me. But if I had to choose, I would say either the time spent with the bride getting ready for the main ceremony in her beautiful bridal room at the Leela Palace Hotel. The sound of the drums from the Baraat (the groom and his family approaching the wedding tent) in the distance as the groom approached made for a beautiful, intense moment in suite. The bride's smile, sparkle and sweet anticipation was priceless. I also particularly loved the morning brunch after the main reception night: The Hangover Bazaar. Guests were given the chance to wander through a staged Indian handicraft market in a beautiful garden with pretend money and barter with merchants for local craft items. Might take the cake for the best wedding favor idea ever. The colors and light were magical: marigold towers, swings hanging from trees, pink lanterns, flowing skirts, yellow bicycles, kites… **sigh.
Sara: My favorite part of the weekend was photographing the Baraat. This is the part of the ceremony where the groom and his family enter the ceremony area with lots of dancing, drumming and celebrating. The groom was supposed to enter on an elephant, but the elephant did not show, so he wound up riding in on a bike. It was really funny! When I look at those images I can still hear the drums thumping and all of the cheering. It was so festive!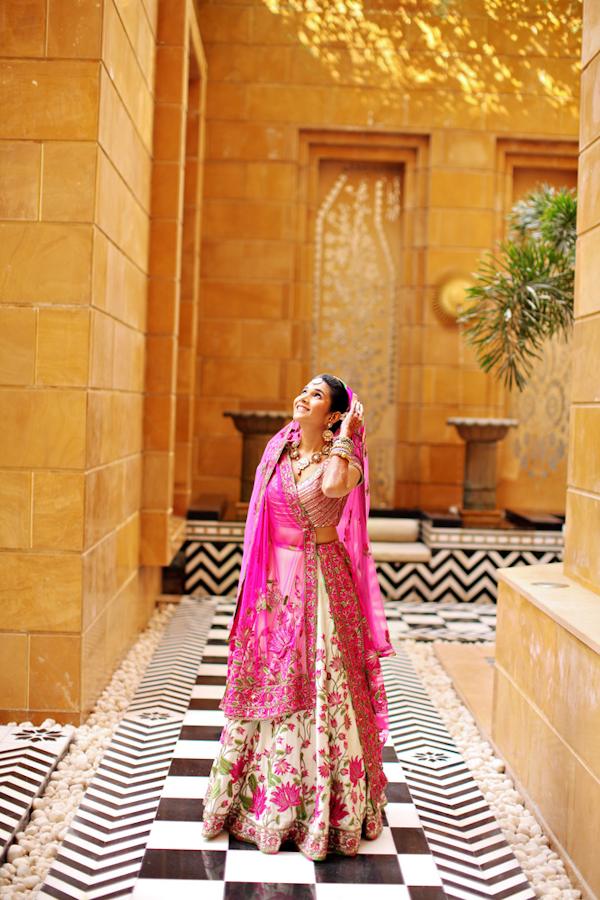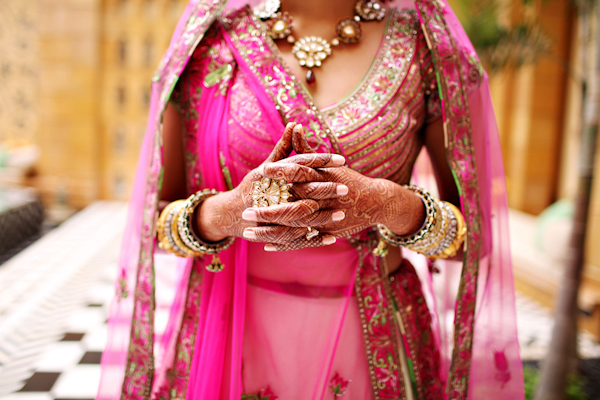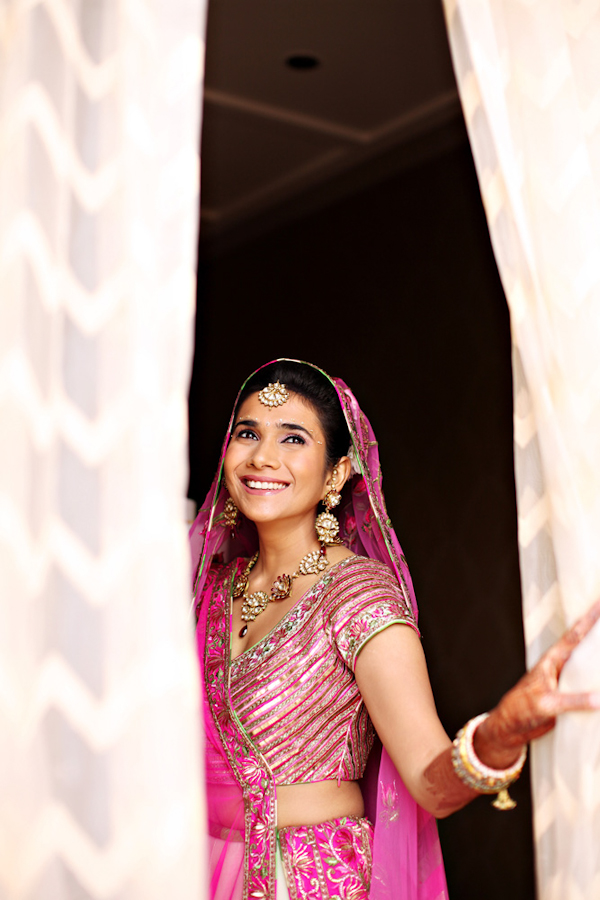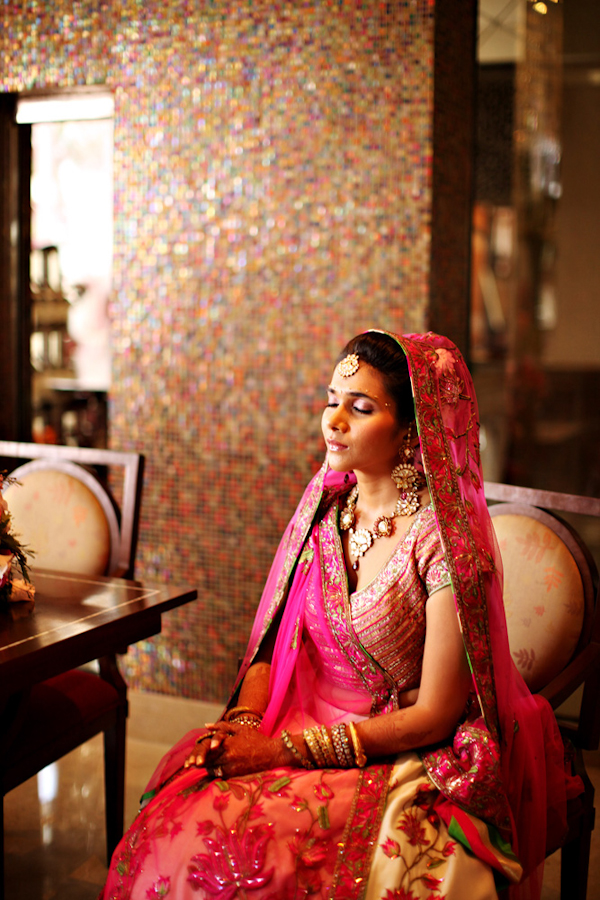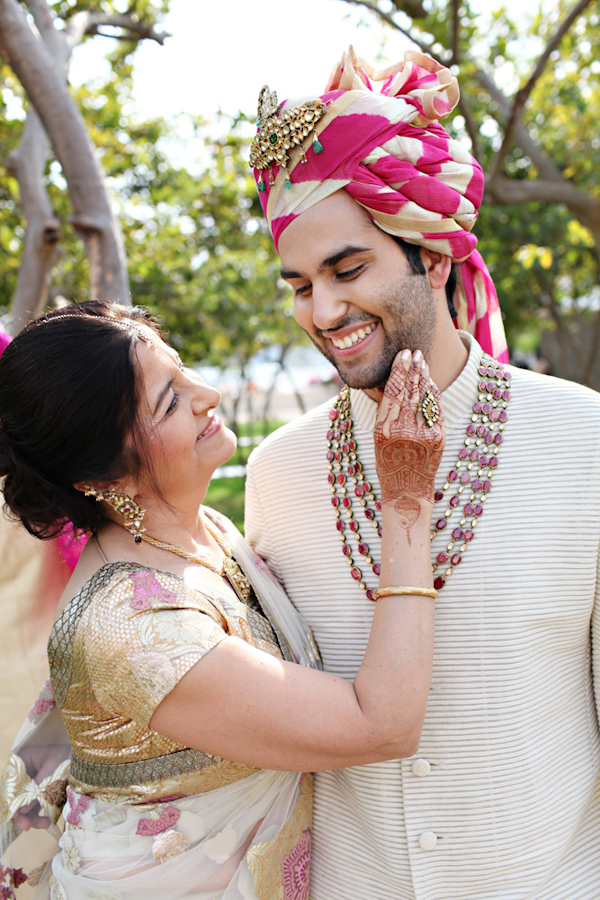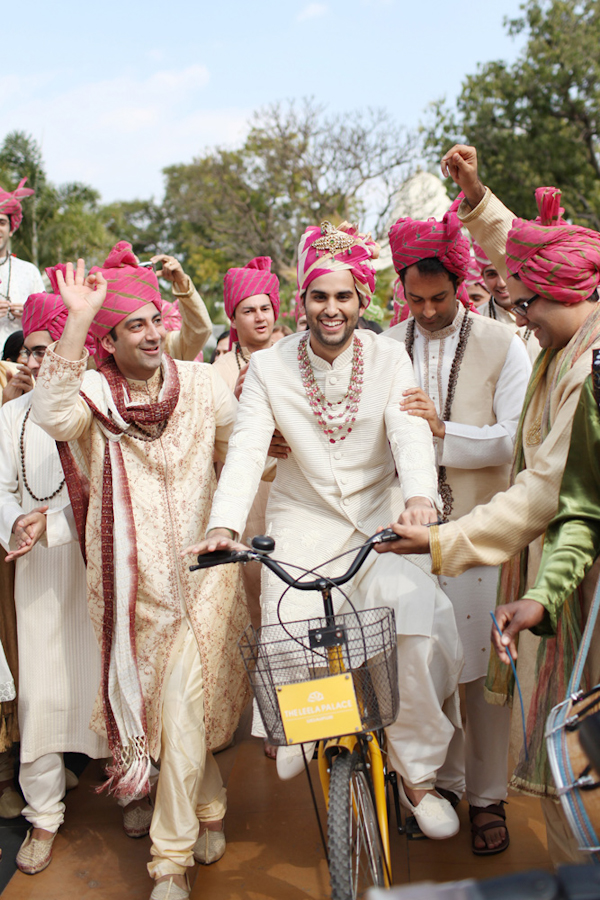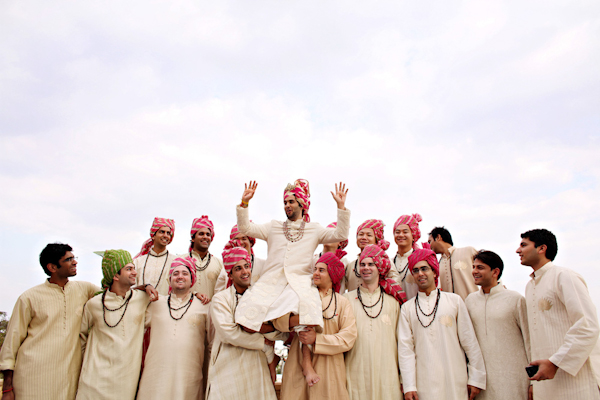 Junebug: How did the locations available to you affect the type of images you shot and how you shot them?
Michèle: Most of the wedding events were at night with a ton of mixed lighting, so I had to really problem solve how to shoot. To truly document the feel of each event, I stayed away from on-camera lighting and utilized available light as possible. It was a fun challenge to get creative with the light of bonfires, spotlights, a full moon, etc.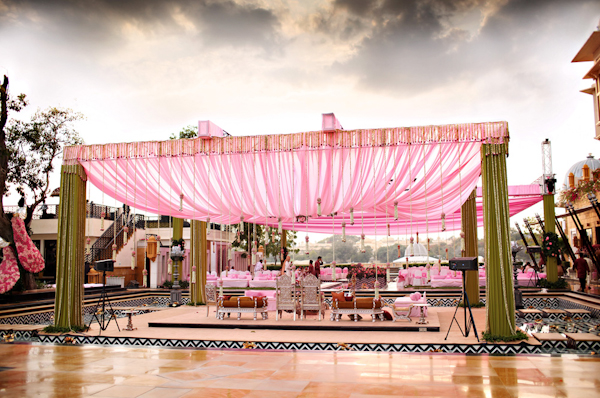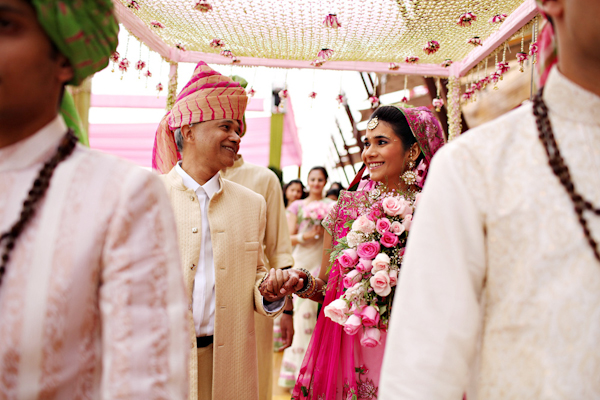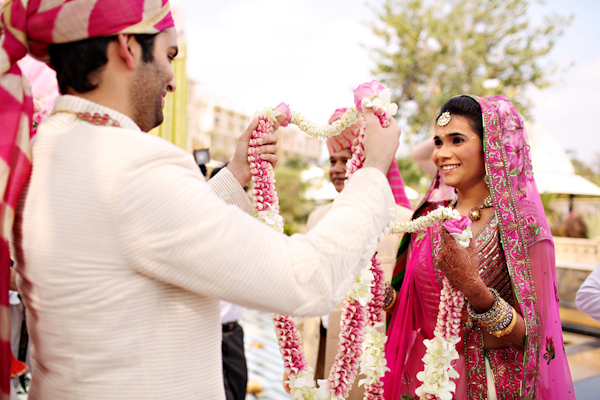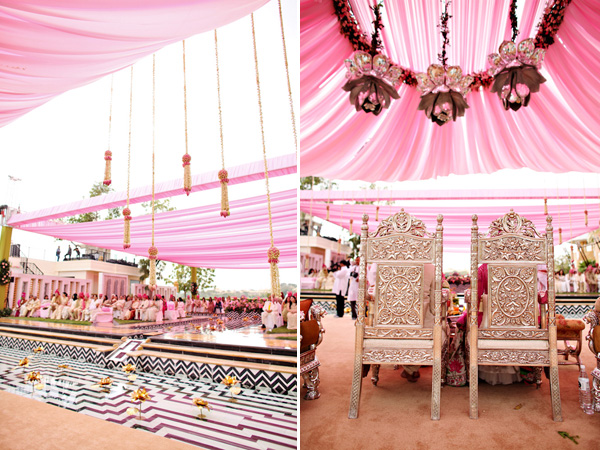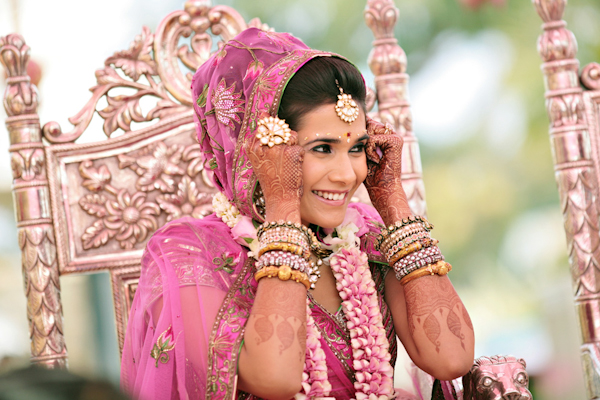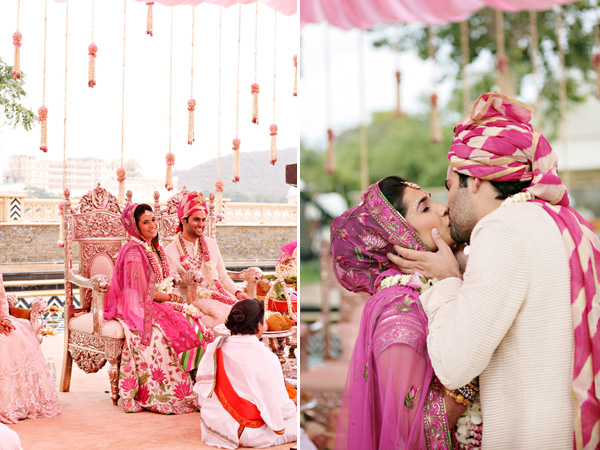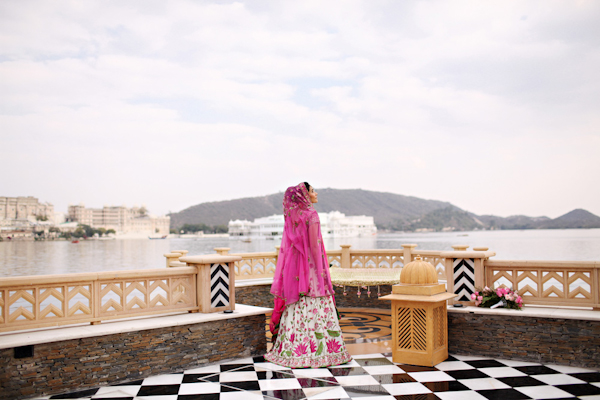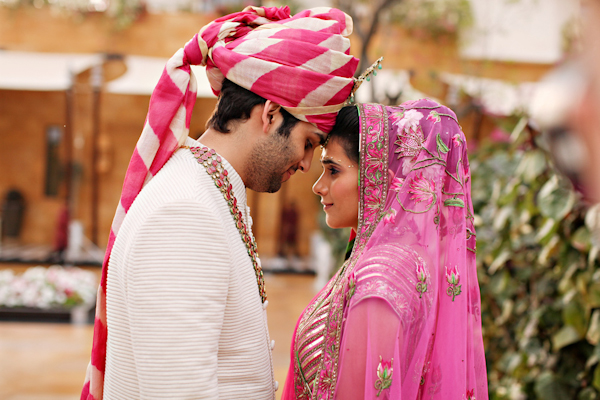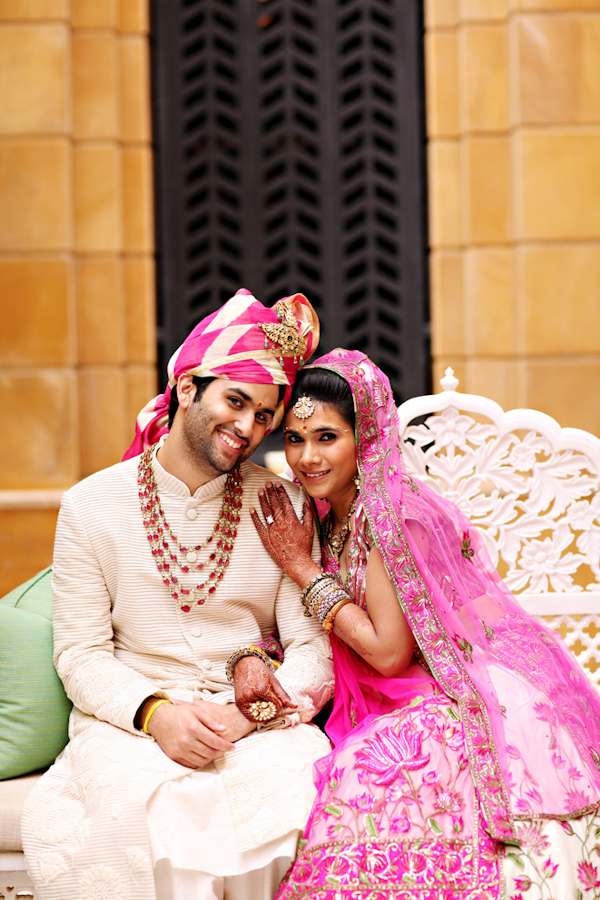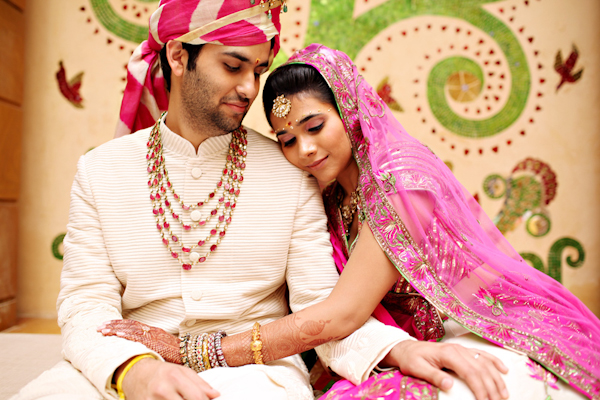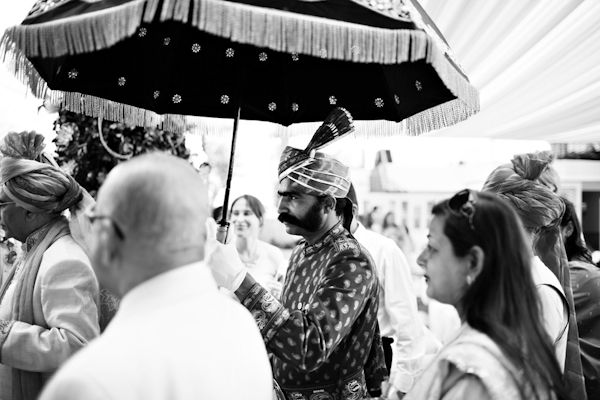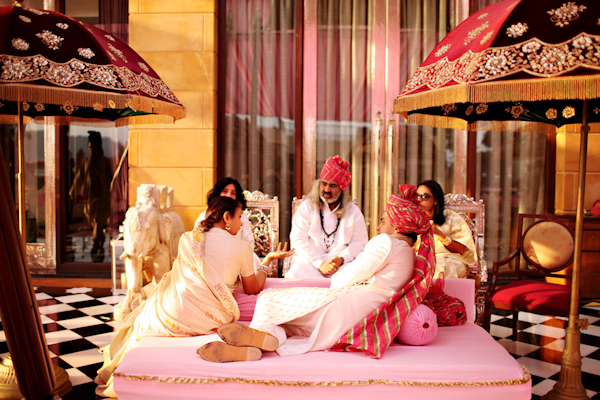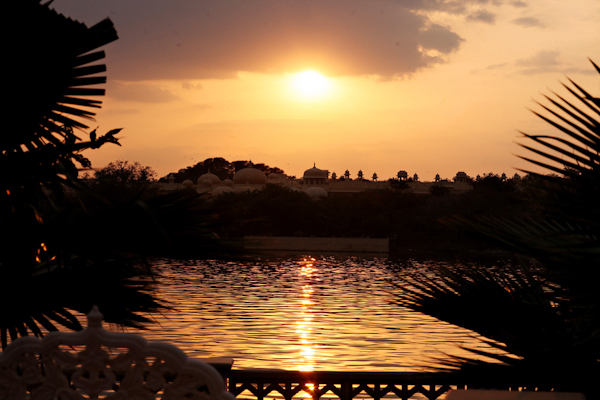 Junebug: Were there any special locations you were able to choose that made for really great images?
Michèle: That would be like picking my favorite child. It was ALL off-the-chart wonderful and amazing.
Sara: I know we've said it already, but shooting in India is just a photographers, dream! The colors, the textures, the light. It's all gorgeous. The Hangover Bazaar, held in the courtyard/pool area of the Leela Palace was the most beautiful setting I have ever seen. There were gorgeous craft carts, that were decorated with thousands of strung flowers and bright colors, set up through out the courtyard. Even the trees were wrapped in flower garlands. On each cart there was a different local craft items such as parasols, wood carvings, scarves. The bride and groom gave each guest some fake money to use to barter with the merchants so they could have the street stall experience. There was a swing in the courtyard area draped with flowers and that is were we got my favorite shot of the bride and groom. They were just relaxing and swinging together. The swing was back lit, the entire setting was perfection!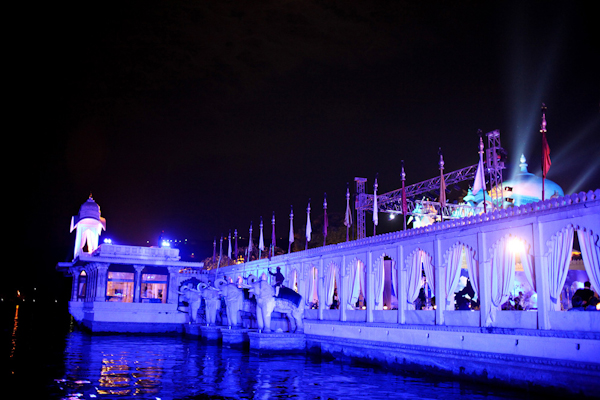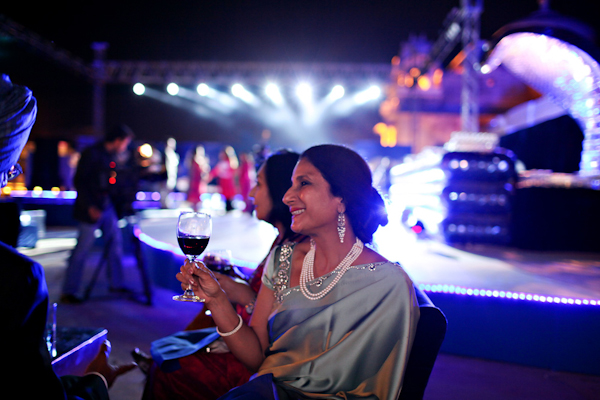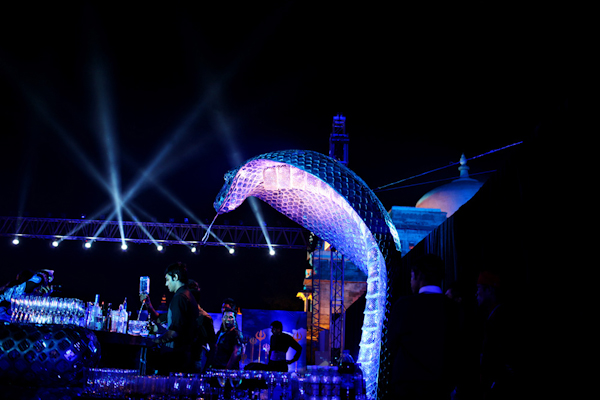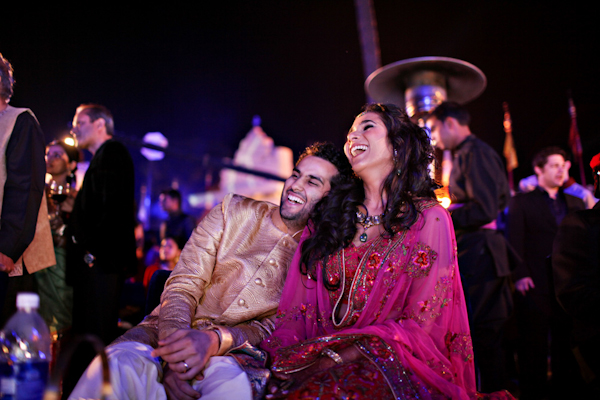 Junebug: What kind of equipment did you use while shooting this wedding?
Michèle: Canon 5d Mark II, 50mm 1.2, 35mm 1.4, 24mm 1.4. 45mm T/S Canon Speedlights, pocket wizards.
Sara: Canon 5d Mark II, 16-35mm, 70-200mm, 24mm, 35mm, 50mm, 85mm. Canon 580 ex II, pocket wizards.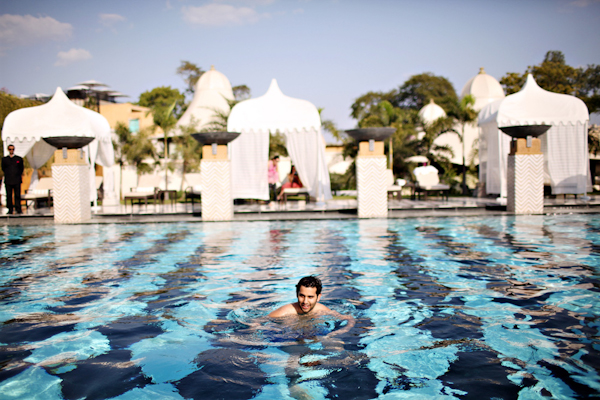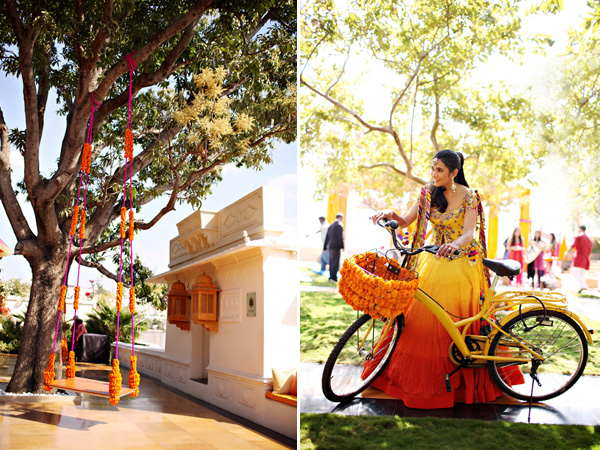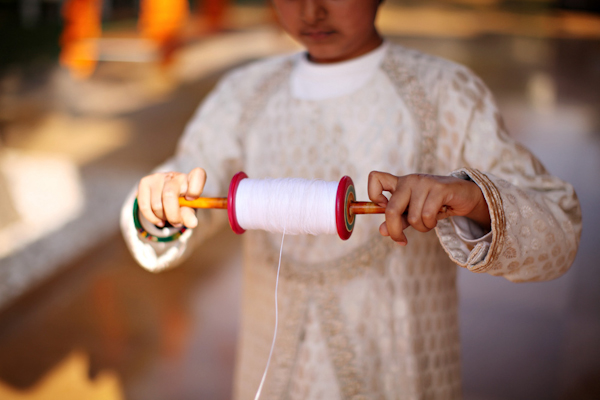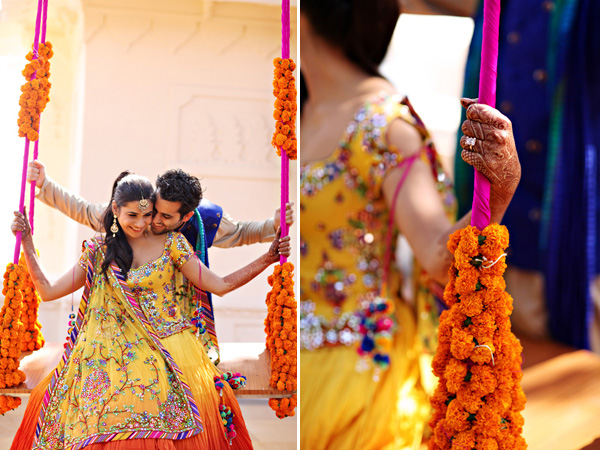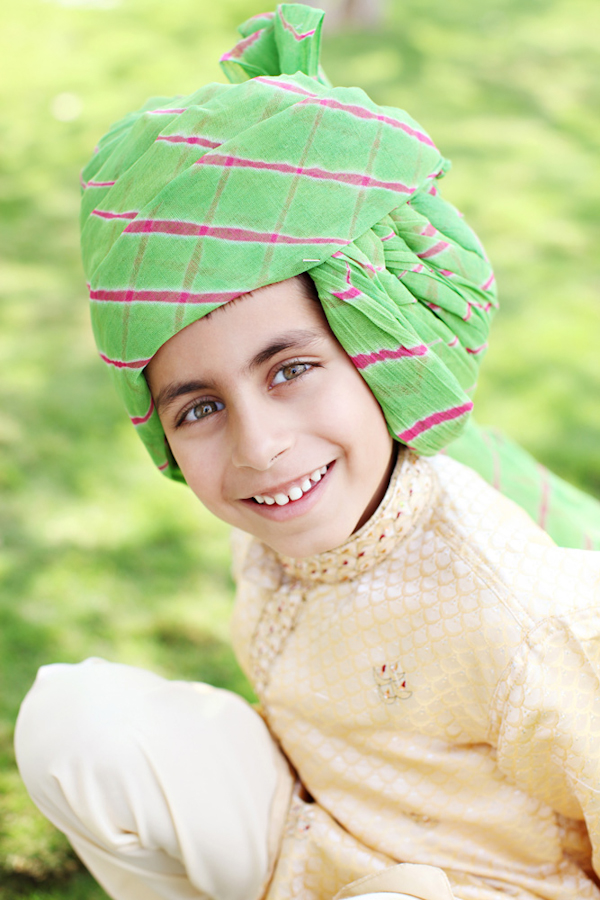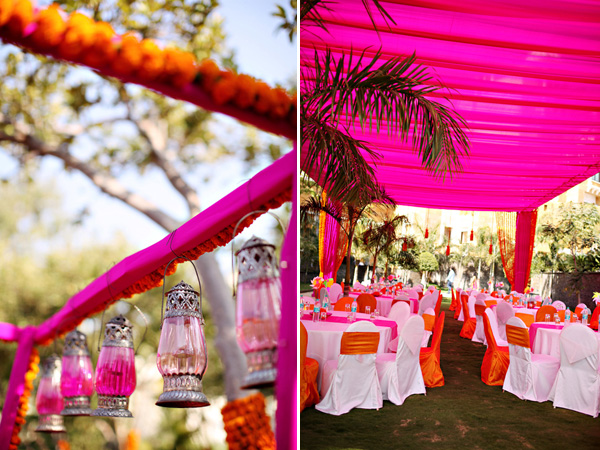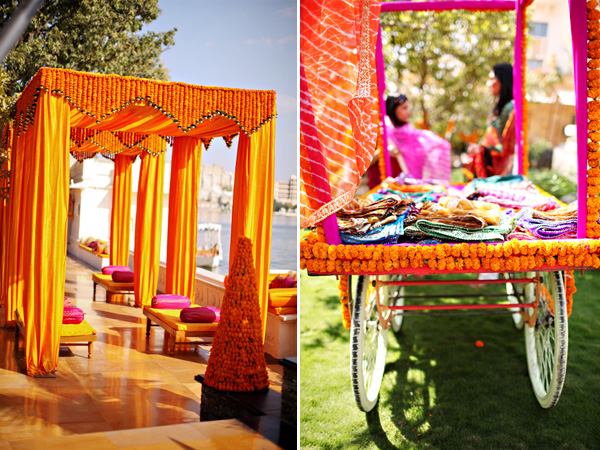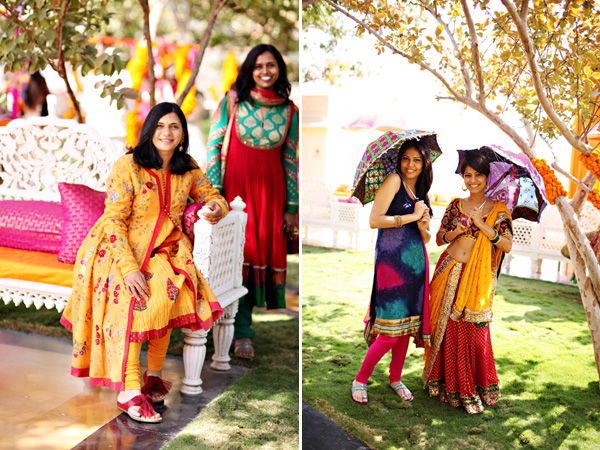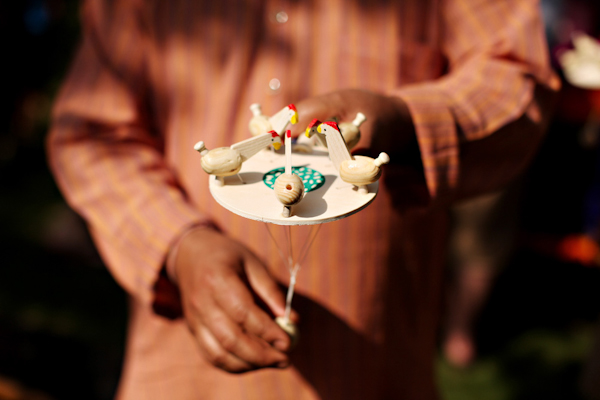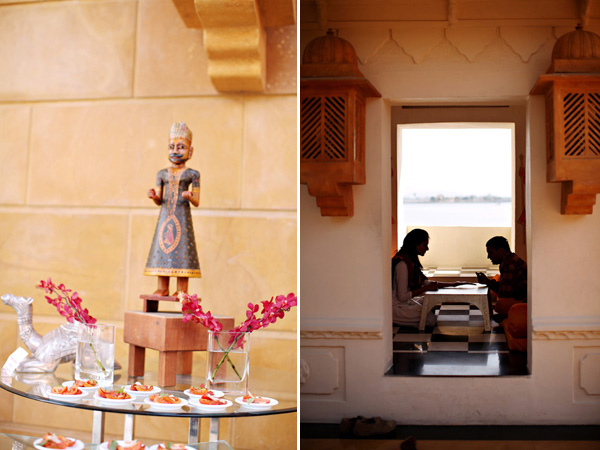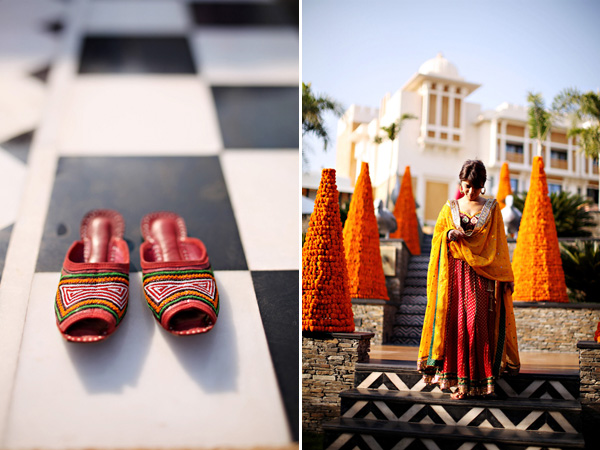 A big thank you to this fabulous couple for sharing their wedding celebration with us, and of course, thank you Michèle and Sara for all the incredible photos!