Bali wedding photographer Veli Yanto is quickly bringing a brand new outlook and vision to the art of wedding photography in Indonesia. With emotionally compelling photos, his vibrant work is perfectly suited for the colorful traditions, culture and landscape of Bali. It is my privilege to share Veli's stunning work with you today, along with his passion for photography, business and life.
Junebug: How did you get into wedding photography?
Veli Yanto: It was back in 2004 when I graduated from college and moved to Bali to work for a retail company. I had lots of spare time, so I thought it would be great to buy a camera and take pictures of Balis landscape and culture. I bought my first pocket camera back in 2005 from my yearly bonus and started taking pictures. I spent almost all my spare time searching anything related to photography on the internet. Then I thought it would be great if I could make extra money from photography, so I began to work as a freelance photographer in 2006. The craziest thing was when I get my first job to shoot an event, I didn't even know how to use a flash! The day before the event, I bought a flash and asked my friend from a photography community how to use it. My Dad was doubtful and thought that I was only wasting my time with this photography stuff. I know its because I didnt come from a family with photography/artistic background. But his doubt drove me to follow my passion and make it one day. In October 2010 I started my own photography business.
Junebug: What really gets to you at weddings? Makes you cry? Makes you laugh?
Veli Yanto: I shot a wedding where the mother of the bride had a stroke and was unable to speak. During that day I never heard her say anything nor have an expression on her face. During the ceremony, when the couple went to their parents to thank them, the bride asked her mother "How do you feel, Mom?" and suddenly her mom spoke and said "Happy!" None of the guests could hold back their tears, including myself. That moment always reminds me how blessed I am to be a wedding photographer.
Junebug: Do you shoot film, digital or both?
Veli Yanto: All digital. But recently I have begun to shoot with film to have a different challenge.
Junebug: Where do you want to shoot next?
Veli Yanto: Anywhere that has unique culture, scenery, and venues.
Junebug: What gets you up in the morning?
Veli Yanto: A hug and kiss from my wife :).
Junebug: Describe your wedding photography style in less than 6 adjectives.
Veli Yanto: Emotive, natural, sincere and story-telling.
Junebug: One thing you'd like every bride and groom to know before their wedding?
Veli Yanto: Things might go wrong sometimes on the wedding day. But as long as you are happy and surrounded by family and friends who support you and are happy for you, your wedding will be perfect.
Junebug: What is your favorite moment or tradition at weddings?
Veli Yanto: The connection between father and daughter. From the first look, to walking down the aisle to the father/daughter dance, its just amazing. I can see and feel the emotion.
Junebug: Favorite image you've taken lately?
Veli Yanto: I took the image below last month, only 5 days after I got out of the hospital due to typhoid symptoms. Im still not feeling 100%, but this couple was just amazing. They gave me lots of strength to get my job done.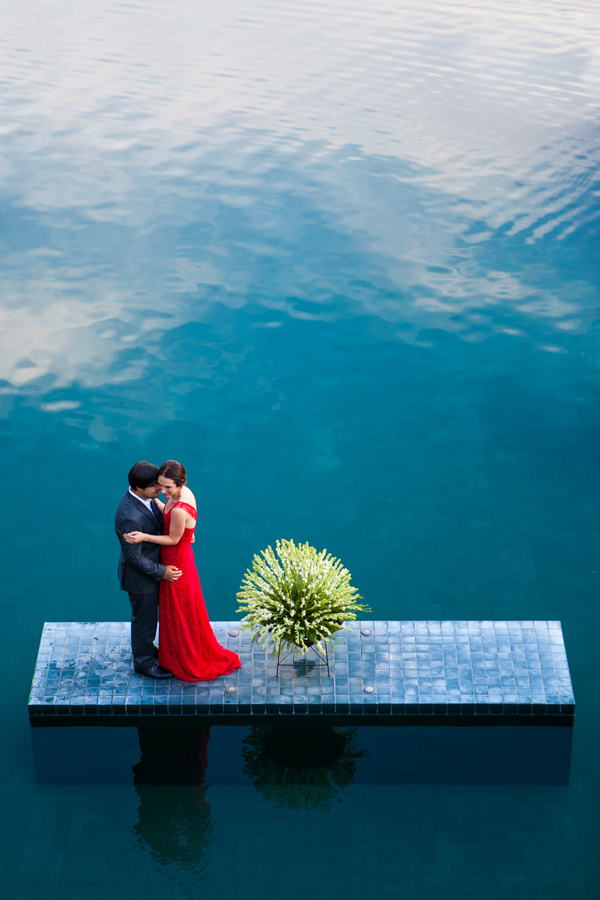 Junebug: How has being a wedding photographer made you a stronger photographer over all?
Veli Yanto: As a wedding photographer, you have to be able to take great pictures using both natural and artificial light, and you have to be able to shoot Products, Interiors and Exteriors, Fashion, Portraits, Documentary and Photojournalism. You have to learn all of these styles and combine them together in every wedding.
Junebug: What is your favorite reaction from a client when you delivered their wedding images?
Veli Yanto: It was my first clients of 2012. When I showed them their wedding pictures, the bride began to cry while going through all the pictures.
Junebug: Best advice you've ever received about being an artist?
Veli Yanto: Dont let people tell you how you should do it, do it your way.
Junebug: Best advice you've ever received about being a happy human?
Veli Yanto: Do what you love and be grateful for what you already have.
Veli, thank you so much for sharing your thoughts and your work with us! To see more from Veli Photography, visit his website, blog, and Junebug member brochure.