The Couple: Samina and Nawaz
The Wedding: 11.3.12 – Four Seasons Hotel, Austin, Texas
The Photographer: Joy Marie Photography
Junebug: What three adjectives best describe your wedding?
Samina and Nawaz: Vibrant, joyous and classic.
Junebug: What inspired your personal wedding style, and how did you incorporate your style and personalities into your big day?
Samina and Nawaz: Our personal styles are best reflected through classic and timeless but understated pieces. We wanted the wedding to embody those qualities but also highlight the vibrancy and richness of our South Asian culture. With that in mind, we carefully picked a handful of cultural traditions that we wanted our guests to experience. We focused on ones that were meaningful to us and our families but also best incorporated the spirit and energy of traditional South Asian weddings such as the Mehndi ceremony, the Baraat procession, and the Nikkah ceremony. The product represented a good balance between our cultured upbringing and our present selves.
We kept the color palette mostly neutral for a timeless feel laced with surprise punches of color and metallics through decor accents.
Every song was hand selected and ranged from classical Indian to electronic music, from obscure but incredibly talented artists. Of course, we threw in some oldies from our childhood and teenage years. To top it all off, we had four live performers: 1. Dancers that showcased a mixture of classic and modern Bollywood performances; 2. A former finalist (deshpande) from "Indian Idol" knocked our guests socks off with his amazing voice and Bollywood tunes; 3. A live band (rajamani) during cocktail hour that featured a fusion of Latin and Indian beats to create a perfect anticipatory ambience; 4. Break dancers were the final exclamation point to the weekend long celebration – an unexpected but well embraced twist for our guests.
Junebug: Looking back, what are the moments, decisions or memories that you love the most about your wedding?
Samina and Nawaz: One of our favorite memories is before the wedding ceremony and reception – we carved out the morning for a bridal party photo shoot. In order to make it work, the entire wedding party had to be dressed and ready to go quite early. Initially, no one was too keen on the idea but it ended up being a really fun morning. Our photographer Joy Marie had a big part in making it a great outing – she was relaxed as could be. Not only did she really help everyone be themselves, but she managed to capture a lot of candid, fun moments. We even managed to grab lunch and a few cocktails with the groomsmen and bridesmaids. Overall it was the best quality time we got with our dearest friends all weekend.
We also made the decision to have our videographer produce a same day edit of the weekend as a recap to play at the reception. It turned out great! it was definitely one of those moments where we couldn't believe that it was our wedding on the projector screen. The weekend had flown by! It was nice to see it all unfold again along with our guests.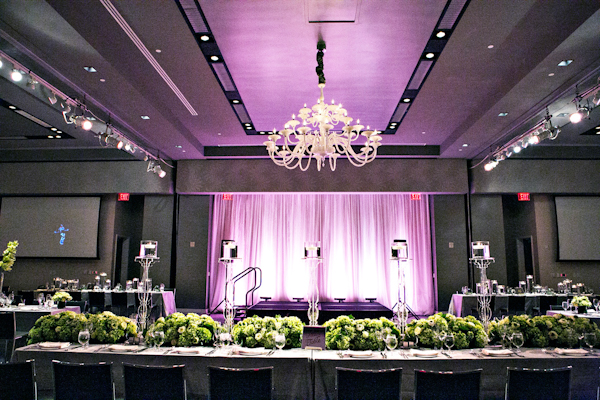 Junebug: What specifically drew you to Joy Marie Photography and her imagery?
Samina and Nawaz: It was love at first sight! If I had to summarize why I loved her work, it came down to three things: 1. Her use of color, light and interesting angles; 2. Her ability to capture raw emotion; and 3. Her range of work. Most photographers I came across were really good at a certain genre of photos but Joy Marie could capture so many different styles extremely well, whether it was more editorial and high fashion or photo journalistic or traditional. I was also really drawn to her photos because she captures "love" and "laughter" incredibly. Those are the things I want to remember in 10 years when I go back and look at my wedding photos. She most certainly accomplished what I had hoped. In the album, you see an artful display of people laughing and having a ton of fun or some other genuine emotion.
Congrats Samina and Nawaz, thank you for sharing your stunning day with us! Bravo to Joy for documenting it all absolutely beautifully! Readers, you'll definitely want to check out Joy Marie Photography's website and blog.
The Wedding Team:
Photographer: Joy Marie Photography
Event Planner: Caplan Miller Events
Ceremony & Reception Venue: Four Seasons Hotel
Videographer/Film Maker: Adam Grumbo
Officiant: Eric Gates
Invitation Designer: Elum
Catering: Four Seasons Hotel
Florist: Merveille
Cake: Four Seasons Hotel
Wedding Dress: Reem Acra
Bridal accessories: David Yurman
Bridesmaids apparel and accessories: Amsale
Make-up: Lisa Jauregui of Austin Wedding Makeup
Hair: Danann Patrick of Mint
DJ: DJ Rich
Live music: Omkar Deshpande, Oliver Rajamani
Transportation: Transportation Consultants
Rentals: Marquee Rents
Palki Rental: Prashe Decor
Break dancers: BBoy City Productions