Traveling to the other side of the globe from his New York City base, photographer Ryan Brenizer got to photograph Sherlynn and Michael's wedding in another of the world's greatest cosmopolitan locations, Singapore. The wedding was a celebration of both Chinese and Western traditions, with lots of personal touches created by the couple and their friends and family – a perfect combination!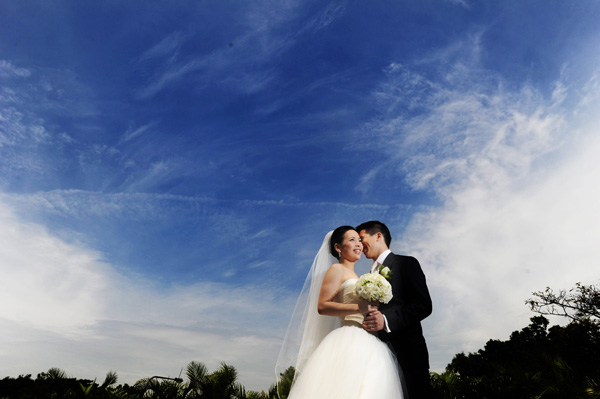 The Newlyweds: Sherlynn and Michael
Junebug: What were your most important goals in planning your wedding?
Sherlynn and Michael: We wanted the wedding to be very personal and it was important to us for all of our family to be involved. We also wanted to incorporate all of the most important aspects of a Western wedding and a traditional Chinese wedding in a format that wouldn't feel too rushed. We wanted our international guests to really feel welcome in Singapore. And most of all, we wanted to enjoy every moment and really make the wedding ours – we made a lot of things we couldn't find, and most of our planning was based on various wedding ideas we had seen and hoped would work, given that we had very little experience with weddings!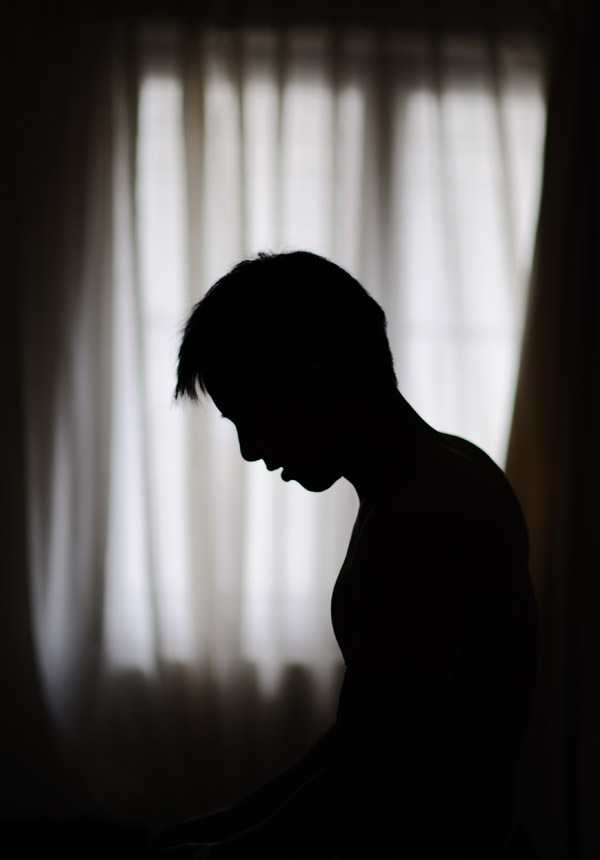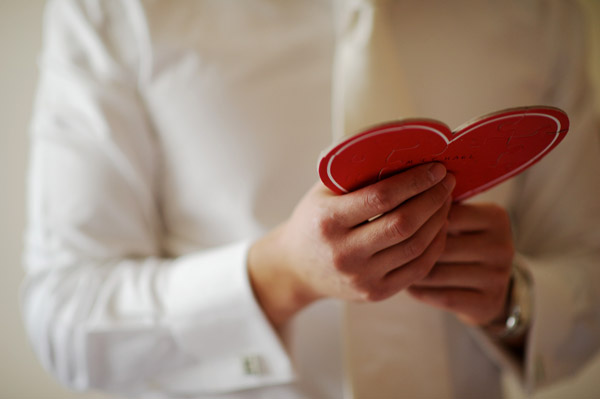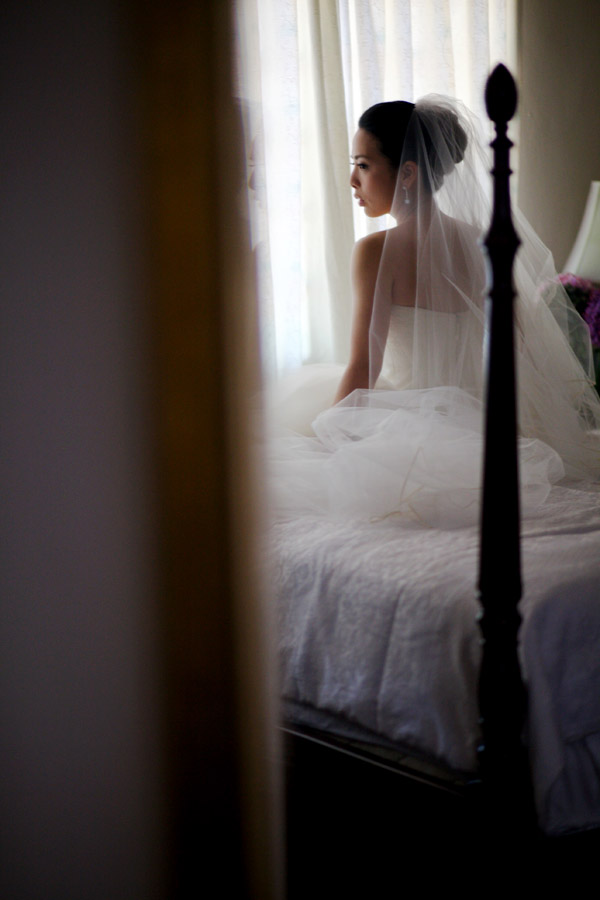 Junebug: How would you describe your personal wedding style?
Sherlynn and Michael: Classy yet intimate and down-to-earth. We flew our photographer and the wedding dress from New York, but the bridal car was the family Volvo driven by Sherlynn's brother. The reception was held at the Four Seasons, but the place cards and many other items were homemade. We hired a professional live band to play old standards, but we learned to dance with our parents at the local community center and Sherlynn's father sang to us for our first dance.
Junebug: Where did you hold your wedding and reception, and why?
Sherlynn and Michael: We held our wedding in Singapore because it was where most of Sherlynn's family lived, and it was still very close to Michael's immediate family in Australia and extended family in Malaysia. Our wedding was held at the Church of St. Teresa, because we loved it's beautiful white spires, which were based on the Sacre Coeur in Paris, and because our celebrant Fr. Arro is a wonderful person. We held our reception at the Four Seasons Hotel, because of its world-renowned service and because it was big enough to fit our 280 guests, yet still feel like an intimate venue.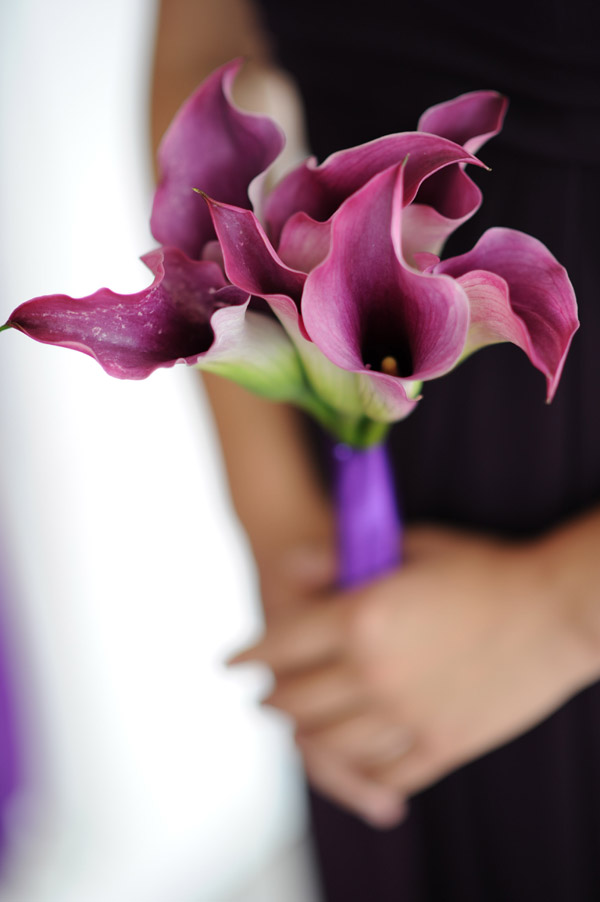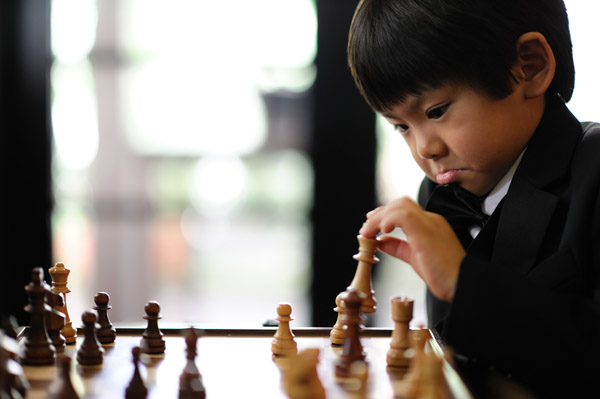 Junebug: What three adjectives describe your wedding best?
Sherlynn and Michael: Personal, memorable, and fun!
Junebug: Is there anything else you would like to share with us about your wedding, your love story or your lives?
Sherlynn and Michael: Since we were organizing the wedding from the other side of the world and most of the wedding party were coming in only three days before the wedding, we had to be very practical in our decisions. But with a lot of help from our family, some online research, and a little creativity, we managed to do everything we wanted to do. We really couldn't have asked for more – we loved every moment of our wedding and it brought us closer to all of our family and friends. We have been living all over the world for many years and we miss our family and friends dearly. Being with all of our loved ones in one room is a memory we will always cherish.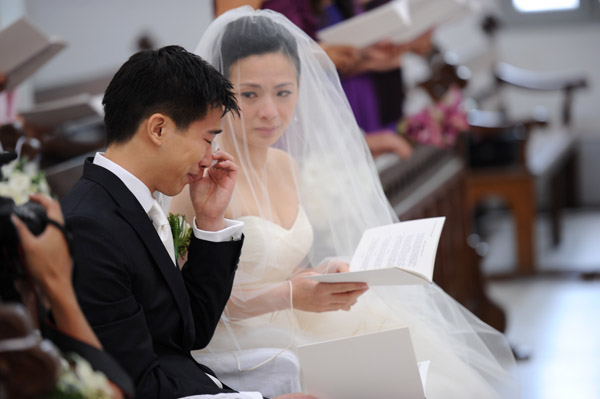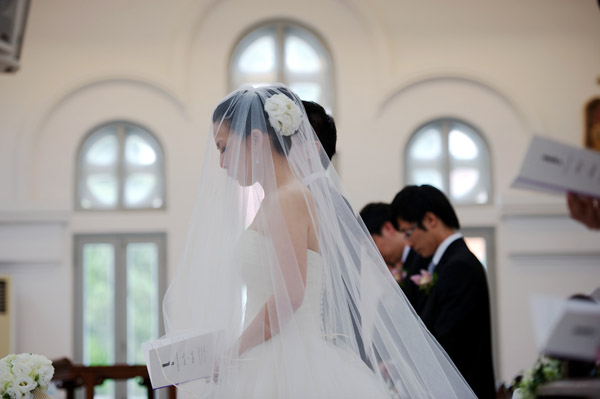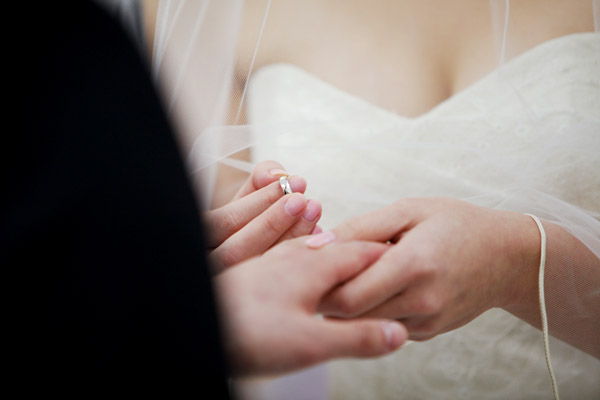 Junebug: What were you looking for in a photographer?
Sherlynn and Michael: We were looking for someone with a photojournalistic style, someone who would capture the emotion of our wedding as it happened and help weave it into a story that could be told just by the images themselves. We also wanted someone who we could trust to be easy to work with, both during the wedding and during post-wedding production. And of course, that person had to be an amazing photographer, because our wedding photos were ultimately a gift to ourselves so that we could always remember our big day!
Junebug: What specifically drew you to Ryan Brenizer and his imagery?
Sherlynn and Michael: We have been following Ryan Brenizer's work ever since the early days of Flickr in 2005. We are both huge fans of his work and while we tried to find a photographer a little closer to Singapore (i.e. the entire Asia-Pacific region!), there is no one else in the world quite like Ryan. Booking him and his flights from New York to Singapore were the first things we did right after securing the wedding venue. Many photographers can come up with amazing set shots, but at the end of day these are just isolated moments that aren't necessarily part of the story. Ryan is one of those great photographers who can capture the moment, or enhance the moment, without interrupting the moment. His understanding of lighting is something that we have always admired in his imagery – you can give Ryan very little to work with and he will often come up with something amazing because he knows the right way to illuminate his subject. One other thing about Ryan's photography is that almost all of his images are straight out of the camera; while he definitely has some tricks up his sleeve when it comes to processing his photos (including his famed "Brenizer Method"), his best trick is being a great photographer. We think that he is incredibly talented, but more than that, he is one of those rare people who truly love what they do and want to share that love with the world by working harder, being more creative, and being more generous than anyone would ask them to be.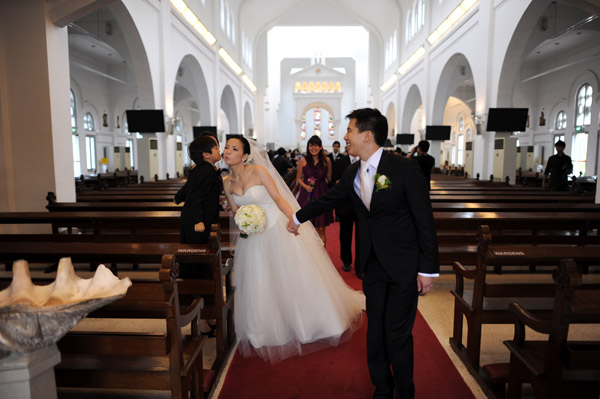 Junebug: What did you enjoy most about working with Ryan?
Sherlynn and Michael: Ryan advertises himself as a photographer with "no limits" and it's true – his attitude towards his work and the amount of himself that he puts into creating something truly special really has no limits. He's very spontaneous and up for anything – going around Singapore with him was a wonderful adventure in our own backyard. A couple of times we thought that he was going to collapse from jet lag but there he was working day and night, clicking away on the camera or processing pictures so that we could see them first thing in the morning. Ryan demands a lot from himself because when he captures those once-in-a-lifetime moments, he does it knowing that he is creating meaningful memories that will last your family many lifetimes. But as demanding as Ryan is of himself, he is very easy to work with and you quickly feel comfortable with him behind the lens.
Another fantastic aspect of working with Ryan is that we received many of our photos on the day of the wedding. Because they were all in an online digital format, we were able to share our wedding media with friends and family around the world faster than we would ever have imagined. In this day and age, things like this really set apart the leaders in the industry from the rest of the crowd. Waiting six months for an album with fifty of your photos (did we mention that Ryan gives you the digital files for all the photos he takes?) is so last century.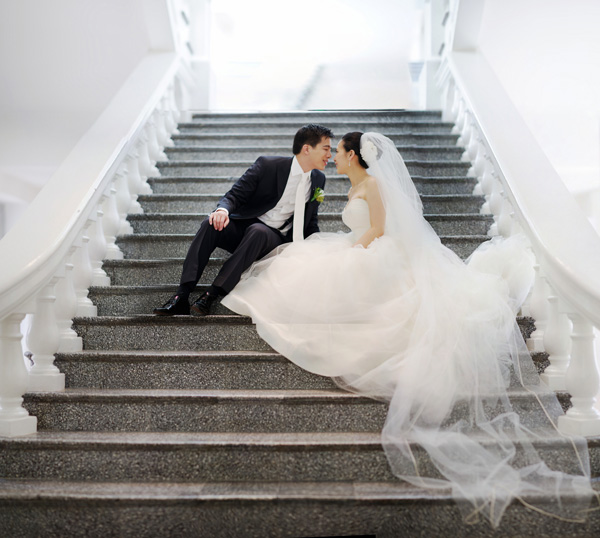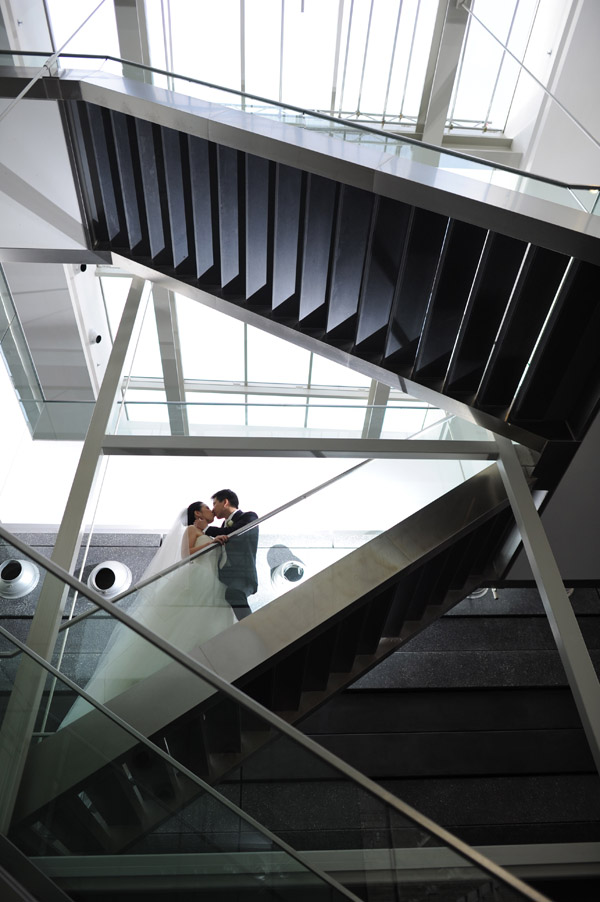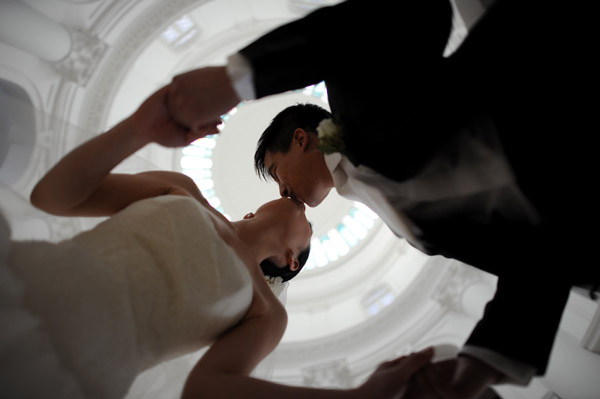 The Photographer: Ryan Brenizer
Junebug: How did you approach this particular wedding and what did you most want to capture during shooting?
Ryan: My background is in writing, so I try to use photography to tell stories about the quirks and mores and feelings that make weddings unique. Here I knew that this wedding would feature more Western elements than most Singapore weddings, whether it was Sherlynn's Vera Wang gown or their efforts to actually get people to dance during the reception. I knew that they had a strong sense of tradition, an even stronger sense of humor, and that their family ties were very strong. I wanted to show off a bit of Singapore while not making it feel like vacation photos, because it's really about them, not my feeling that I'm halfway around the world.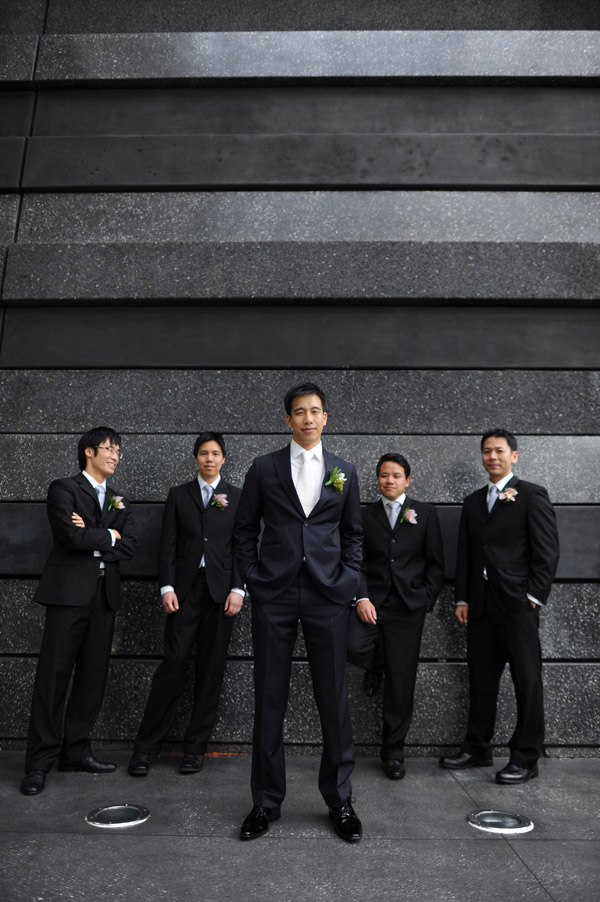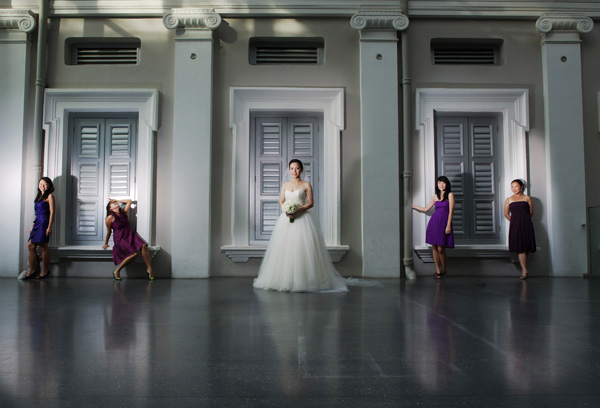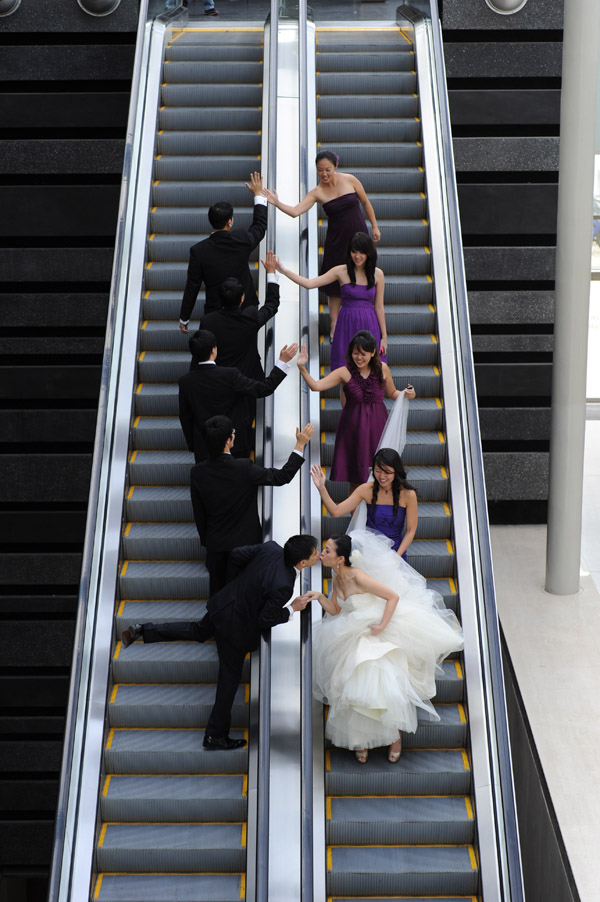 Junebug: Were there any special photographic requests from the couple that made this wedding especially exciting creatively or personally?
Ryan: Well, flying me to the other side of the planet made this pretty exciting right from the start. I also typically get much less time for portraits than many photographers, sometimes less than five minutes, while at this wedding we got to enjoy shooting in so many different Singapore locations, and set aside enough time that the entire wedding party stopped for a snack break in the middle of the shoot.
Junebug: What was the most fun part of this wedding for you to photograph?
Ryan: No matter where I am, the core of the wedding are the people in it, and the best thing about this wedding was how warm and inviting the couple and their family was. Sherlynn's brother had been following my work for years, so it felt comfortable and familiar right from the start.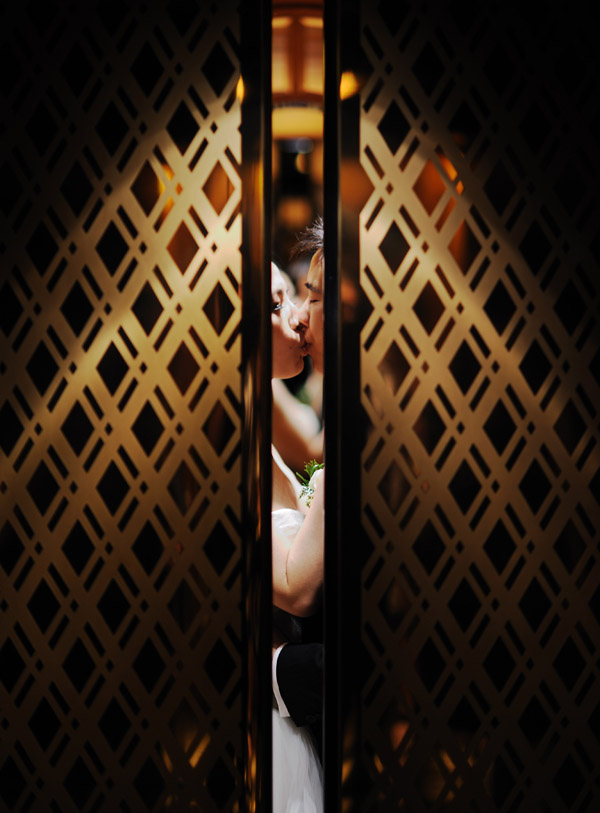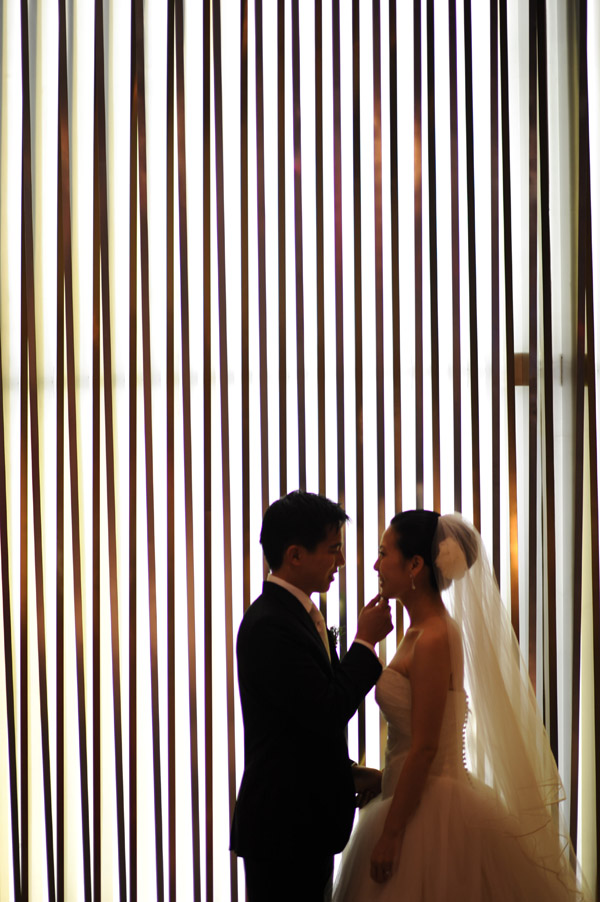 Junebug: How did the locations available to you affect the type of images you shot and how you shot them?
Ryan: I am extremely paranoid about checking baggage, so I travel fairly light for destination weddings and make use of what I have – one of my favorite wedding-day portraits of them was lit by an iPhone. But having the freedom to travel through an entirely new city? I was like a kid in a candy store.
Junebug: Were there any special locations you were able to choose that made for really great images?
Ryan: Singapore makes NYC's Fifth Avenue look subtle in terms of its brand consciousness and lighting. Just traveling down Orchard Road made me see photo opportunities from the beautiful to the fun and silly in each new splash of light.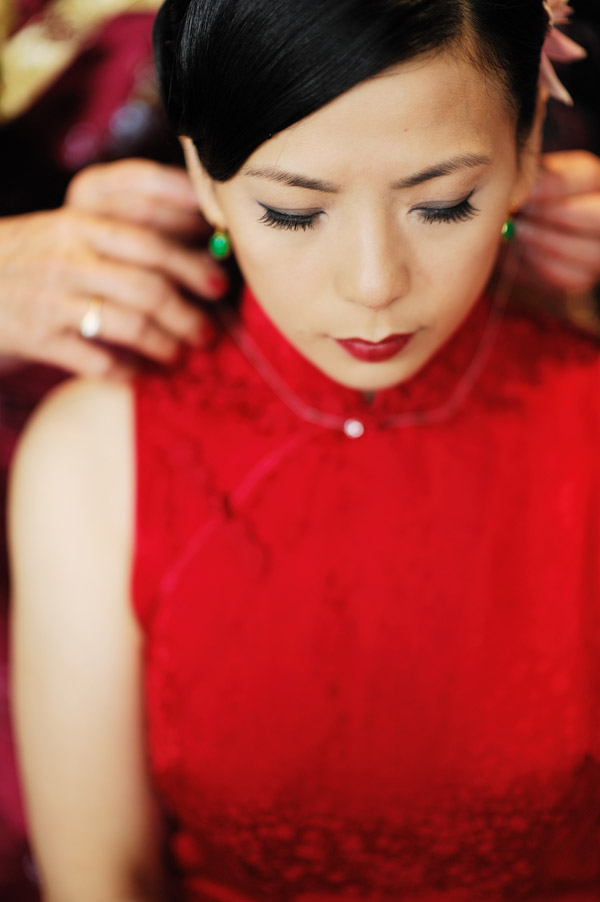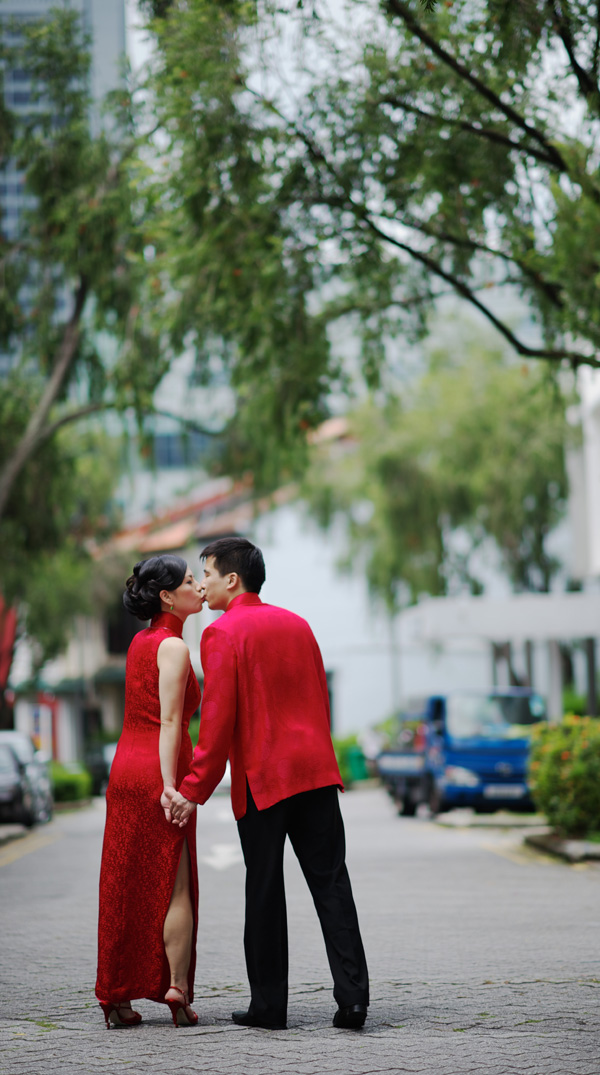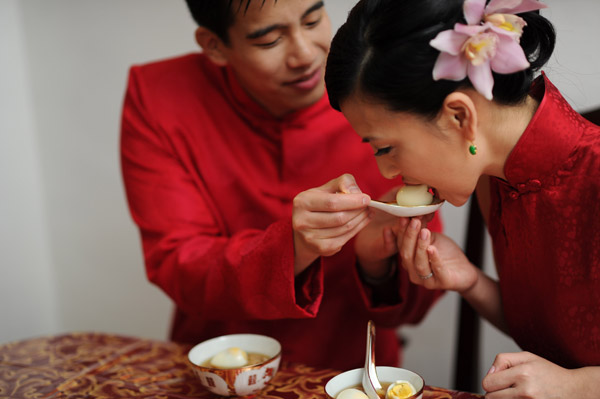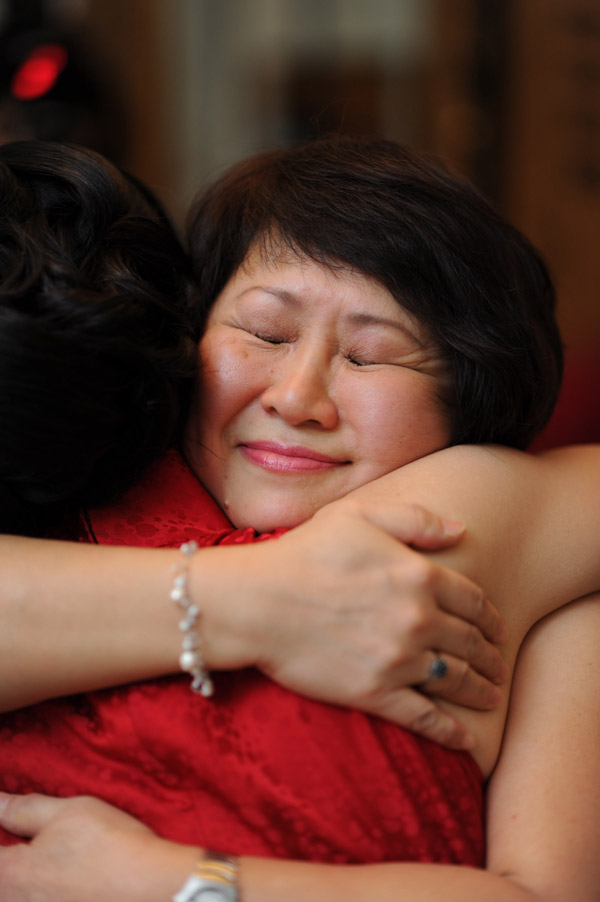 Junebug: What kind of equipment did you use while shooting this wedding?
Ryan: I did not check any baggage for eight days in Singapore, so I had to carry on everything, including clothing. (Thankfully Singapore is only one degree from the equator). I brought two Nikon D3s's, a 24mm f/1.4, a 50mm f/1.2, a 70-200mm f/2.8G VRII, three SB-900s and an SU-800, a 60mm Macro, and while I was there I bought the 85mm f/1.4G, which at that time wasn't available in the U.S.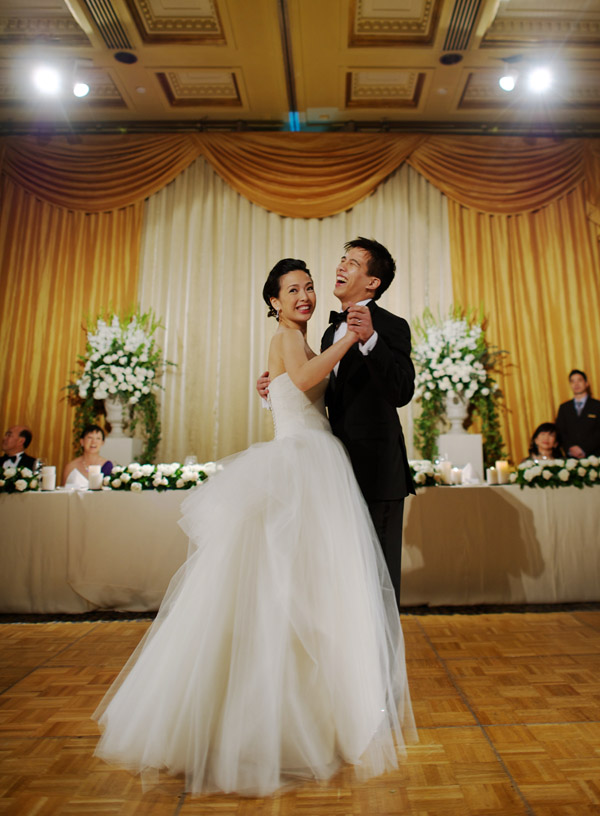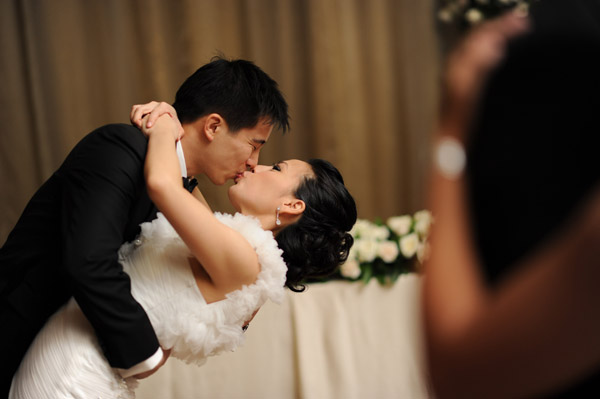 Thank you so much for sharing your wedding story with us Sherlynn and Michael, and Ryan!
To learn about all of the wedding professionals who brought this wedding to life, be sure to visit Sherlynn and Michael's page in our Real Wedding library!
To learn more about Ryan Brenizer be sure to visit his website, blog and Junebug member brochure, and to find the perfect wedding photographer for your own wedding day no matter where you live, don't miss our World's Best Wedding Photographers Hotlist!