The Couple: Erin and Reid
The Wedding: 7.7.12 – Four Seasons Rancho Encantado, Santa Fe, New Mexico
The Photographer: Twin Lens
Junebug: What three adjectives best describe your wedding?
Erin and Reid: Rustic, refined and organic.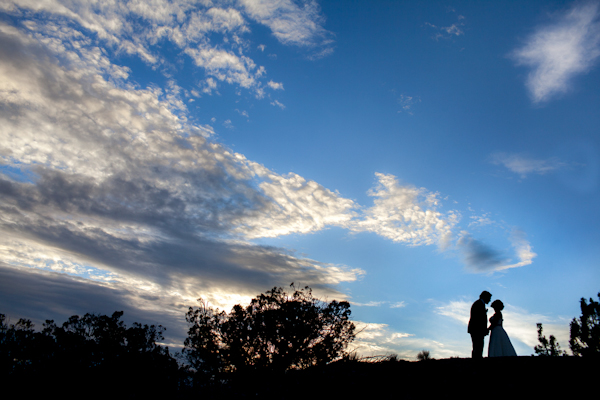 Junebug: What inspired your personal wedding style, and how did you incorporate your style and personalities into your big day?
Erin and Reid: Why would a couple of east coasters gone So-Cal choose to get married in Santa Fe, NM? Truth be told, it was a no brainer, I dont think we even had a discussion about getting hitched anywhere else. Reid was born in Texas and lived there through the early years of his life. We went to Santa Fe for our first vacation together as a couple and spent a relaxing weekend in the desert. It was magical and both of us had a new love and appreciation for Santa Fe. We adored the big starry night sky, artistic influences, amazing restaurants, laid back lifestyle, friendly locals, southwestern culture and the newly renovated Encantado Resort. Our inspiration for our wedding came from Santa Fe itself. Our initial idea was to have a fancy square dance but that wound up morphing into a party that truly paid homage to Santa Fe in every way.
We knew our reception would be in the ballroom at Encantado but we also wanted a really personal ceremony. We were blessed to be able to get married in the home of Reids parents in the beautifully landscaped gardens that represent all of the color and foliage from which much of our color and décor inspiration came. With these major aspects decided, our awesome wedding planner, Jessie Baca, fearlessly led us toward the Santa Fe inspired day we were looking for. The wedding party was small and meaningful, 3 siblings, Reids beautiful daughter and each of our best childhood friends. The girls dresses seemed like they were plucked right from the Russian Sage that sprouts up all around Santa Fe and the guys wore handsome grey suits that looked cool in the summer desert heat. My gown had a romantic and vintage quality that stood out perfectly against the clean lines of the succulents used in bouquets and with my GQ Cowboy, whose look was completed with a custom cowboy hat and belt buckle from iconic Santa Fe shop James Reid.
I was so lucky to have an engaged and helpful fiancé during the wedding planning process. He came up with so many fantastic ideas and throughout the many meetings with vendors everyone commented about how refreshing it was to have such an active groom. I highly encourage other brides out there to give your fiancé the opportunity to shine during the wedding planning process. Who knows…he might just come up with the idea for a show stopping centerpiece of the evening like a succulent topiary of a western cactus! Our wildly talented florist and event designer, Andrea Soorikian, translated his idea into a one-of-a-kind piece of art which greeted all of our guests at the doors to the reception.
Junebug: Looking back, what are the moments, decisions or memories that you love the most about your wedding?
Erin and Reid: One of the best moments of the day, which Kitty and Craig captured perfectly was our first look at the reception space before everyone went in. It was amazing to see all of decisions and hard work come together in such a beautiful and inspired way. It is one thing to have the idea in your mind and another thing completely to see it come to fruition. It took our breath away!
The personal touches were so important to Reid and I and we made sure to include them wherever we could. On a wedding planning weekend in Santa Fe, my sister and I got to work on the favors: homemade spice rub in cute glass jars with place cards tied with twine. Vintage movie posters from Reids fathers poster collection used as table numbers; showcasing our love for movies and incorporated the southwest theme to boot! Our enormously talented friend Jaime, sang an original song and a sentimental classic tune during our ceremony. Our seriously multi-talented wedding planner Jessie, painted totally rad custom portraits of us to hang above the mantle during the reception…such a memorable and one of a kind details that set the tone for the whole evening.
Junebug: What specifically drew you to Twin Lens and their imagery?
Erin and Reid: Photography was one of, if not the most important choices we made. We definitely wanted to find a non traditional wedding photographer(s) with a documentary-like approach to the day. Once we saw Kitty and Craig's photographs, there was absolutely no question…they had to be our photographers. knew they were going to capture our wedding day through a fresh lens and exactly as we imagined. When we got the images, we were floored. They far exceeded our expectations, best decision we made for sure!
The Wedding Team:
Photographer: Twin Lens
Wedding Planner: Jessie Baca Weddings and Events
Ceremony Venue: Alegria, the groom's family home
Reception Venue: Four Seasons Rancho Encantado
Officiant: Irene Swain
Invitation and all Paper Decor Designer: Urbanic Paper Boutique
Catering: Marja Custom Catering
Florist and Event Design: Andrea Soorikian Design
Carrot Cake: Vinaigrette
Wedding Dress: Fern Melissa Sweet for Priscilla of Boston
Bridal Accessories: Belt and Veil – Mina Design & Tailoring
Bridesmaids' Apparel & Accessories: Dress – Priscilla of Boston
Groom & Groomsmen's Apparel & Accessories: Ties – Salvatore Ferragamo, Grooms hat and belt buckle – James Reid
Hair: Debi Bragg
Make-Up: Monica Stark
DJ: Absolute Entertainment
Live music: Pre-ceremony/cocktail hour – Rick Mena, Ceremony – Jamie and Christine Chen
Transportation: Santa Fe Valet
Favors: Chile Spice rub made by the bride
Rentals: Classic Party Rentals
Rings: Groom – Ortegas on the Plaza
Lighting: Quick Beam
Erin and Reid, thank you for sharing your beautiful Santa Fe wedidng with us and we wish you all the best in your new life together! To see more creative and documentary wedding photography, visit Twin Lens' website and Facebook page.