Jeff and Christina's wedding in Cyprus was a day that combined modern energy with sacred tradition. Loved ones came from all corners of the globe, their wedding ceremony was performed in ancient and modern-day Greek, and their relaxed reception ended with passionate dancing that kept guests partying til 3 in the morning! Daniel and Lindsay Stark were the dynamic photographers and with their keen eyes for emotional moments and expert use of lighting, the day was captured beautifully.
Junebug: What three adjectives best describe your wedding?
Christina and Jeff: Greek, Tasty, Energetic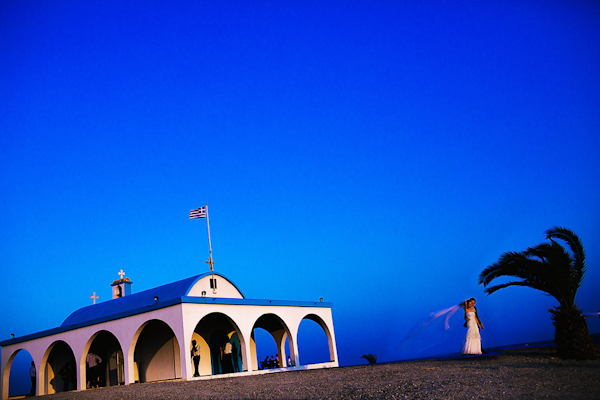 Junebug: What inspired your personal wedding style, and how did you incorporate your style and personalities into your big day?
Jeff: We wanted to have a ceremony that incorporated a Greek theme so locals could recognize some of the party favors and other items, but still be a modern setting. Most weddings in Cyprus usually have one to two thousand people, but we wanted a small, intimate (280 person) setting on the beach. As a couple we are both open to many ideas and really what we wanted was for everyone to have a good time, stay out late, and talk about the wedding when they went home. Guests flew from all around the world so we wanted to have a little bit of everything. The food was primarily Greek cuisine, but there were a few American touches as well, like an ice cream bar for everyone. Christina and I consider ourselves fun, outgoing and spontaneous and we believe our wedding achieved that.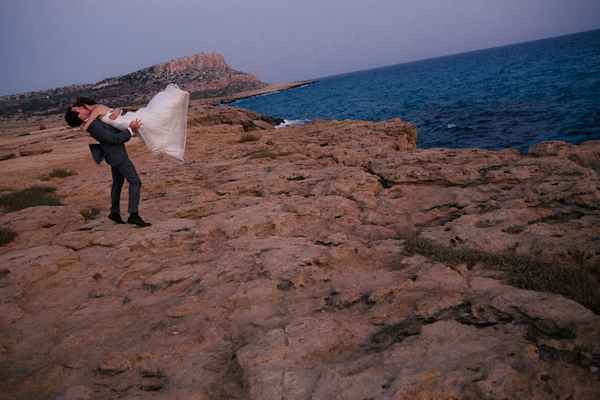 Junebug: Looking back, what are the moments, decisions or memories that you love the most about your wedding?
Christina and Jeff: We wanted something special, and a wedding and ceremony that everyone could understand. Greek weddings usually are performed in ancient Greek (which most Greeks dont speak) but our ceremony was done in both languages. We loved the candles that led to the ceremony as it really set the tone for the night and we loved the beach setting, as it kept the weather cool and also provided an opportunity to light the lanterns at night. That turned out to be an amazing moment. We also loved the fact so many people stayed until 3am as well!
Junebug: What specifically drew you to Daniel Stark Photography and their imagery?
Christina and Jeff: Daniel and Lindsay Stark did Jeffs sisters wedding (Allison) and their photos were absolutely stunning! We understood how much effort went into our wedding planning and execution and we wanted all the moments captured. The photos were amazing and we couldnt be happier with the results!
The Wedding Team:
Photographer: Daniel Stark Photography
Event Planner: Erika
Ceremony Venue: Aglia Thekla Church
Reception Venue: Custom Made Reception Hall
Videographer/Film Maker: Micha
Officiant: Cyprus Orthodox Church
Invitation Designer: Designed by Bride and Groom, printed by imprinta
Catering: Exclusive Catering Services Limited
Florist: Florabelle, Cyprus
Cake: Cakebox, Cyprus
Wedding Dress: Elena Strongyliotou
Hair and make-up: Constantinos Kangas
DJ: Natalia Agisilaou
Live music: Jazz, Greek choir