The Couple: Sarah and Chris
The Wedding: 5.18.13 – South Pond Farms, Pontypool, Ontario, Canada
The Photographer: Jennifer Moher Photography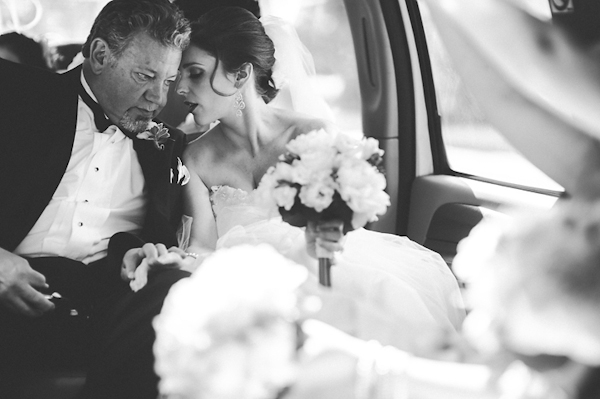 Junebug: What three adjectives best describe your wedding?
Sarah and Chris: Romantic, Whimsical, Charming.
Junebug: What inspired your personal wedding style, and how did you incorporate your style and personalities into your big day?
Sarah and Chris: We live in the city of Toronto but grew up near the country, so I wanted to bring some city sparkle into the country. I wanted the blank earthy canvas that the barn provided. I wanted to warm it up with the romance of the candelabras and the draping fabric. Our favours were handmade leather bookmarks with each guest's initials on them. We both love to read and thought this gift was both practical and personalized for each guest. I love being crafty, so I implemented some hands-on detail projects. I find this adds something special.
Junebug: Looking back, what are the moments, decisions or memories that you love the most about your wedding?
Sarah and Chris: We had two favorite parts of the day; the ceremony and our first dance. In both instances, we both felt like there was no one else in the room but each other. Our sunset photo shoot with just the photographers would be up near the top of our favorite moments. We had fun, it was relaxing and quiet. It was nice to walk away from the reception for a short while to enjoy each other.
Junebug: What specifically drew you to Jennifer Moher and her imagery?
Sarah and Chris: Jennifer Moher has an ability to capture those candid moments in life that rarely get photographed. She has a knack for making anyone feel comfortable and you can see that in her photography. Theres always an honest feeling that comes through in her work. Having worked with Jennifer previously, she is incredibly positive and fits in throughout the day. She really draws something wonderful from everyone she meets.
Utterly and completely lovely! Thank you for sharing Sarah and Chris, and Jennifer Moher Photography. To see more wedding days captured with emotion and beauty, visit Jennifer Moher Photography's blog.
The Wedding Team:
Photographer: Jennifer Moher Photography
Ceremony Venue: St. Johns Anglican Church in Ida
Reception Venue: South Pond Farms
Officiant: Peter Mills and Christian Harvey
Invitation Designer: Carte Blanche Designs
Catering: South Pond Farms
Florist: Pammetts Flower Shop
Cake: Kake Kreations
Wedding Dress: Watters
Groom & Groomsmen Apparel & Accessories: Gentry Apparel
Hair: Amy Murray
Makeup: Jacalyn Allison
Live Music: Ceremony – Robyn Dellunto, Reception – Sean Pinchin
Favors: Bookmarks from Seattle Leather
Rings: Birks