Brothers John and Joseph Hong, of John and Joseph Photography have been setting trends in wedding photography for almost a decade. We first met the pair in 2004 when we came across their website, and our team has loved them and their work ever since. Were deeply grateful to have John and Joey as friends and members of Junebug Weddings, and were super excited to give you a glimpse into what makes them such a dynamic duo in the interview below with John Hong.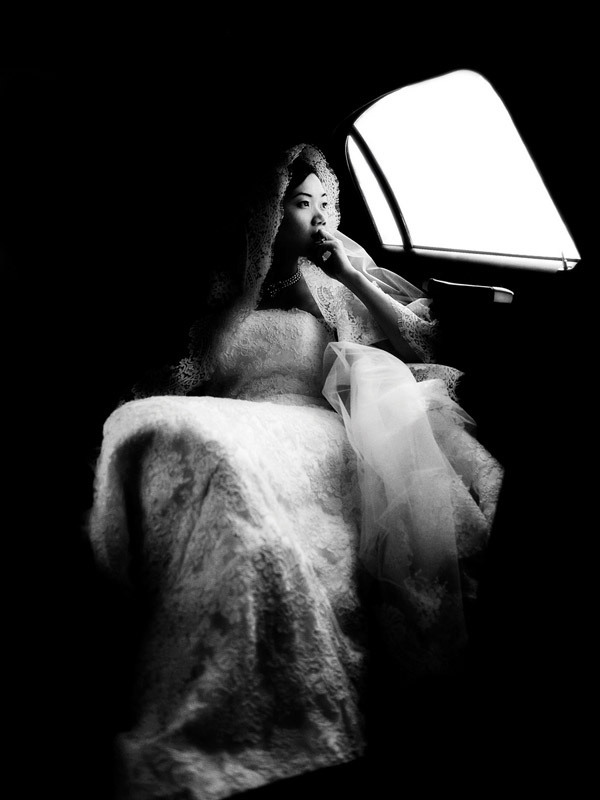 Junebug: John, how did you and Joey get into wedding photography?
John: Our dad was a photographer in Korea when we were young kids. He opened a fine-art gallery in the U.S. and we moved here in 1989. My parents wanted us to be doctors and we started out at the U.W. with that intention. I was studying microbiology and I was in the lab half the day and was in the darkroom the other half. My darkroom time increased as my education proceeded and I loved being there. Joey and I were both shooting on the side for the school newspaper to pay tuition, and during those years we both fell in love with photography. I started to shoot lots of portraits for fun, and then a friend asked us to shoot a wedding. I said yes, as long as if we can shoot it in documentary style," because at the time I really didnt like the traditional styles that were out there. Joey and I shot that wedding for almost nothing but it lit a spark for us and showed us what we really wanted to do with our careers.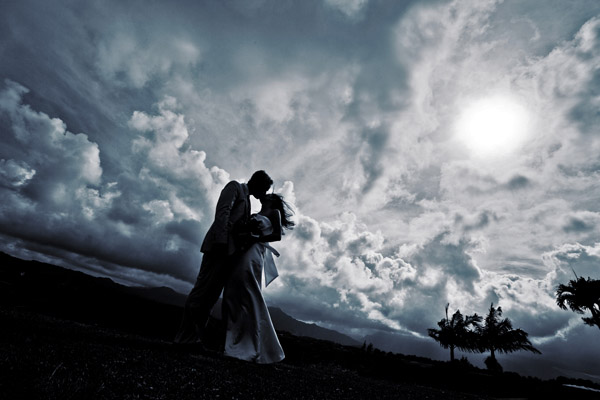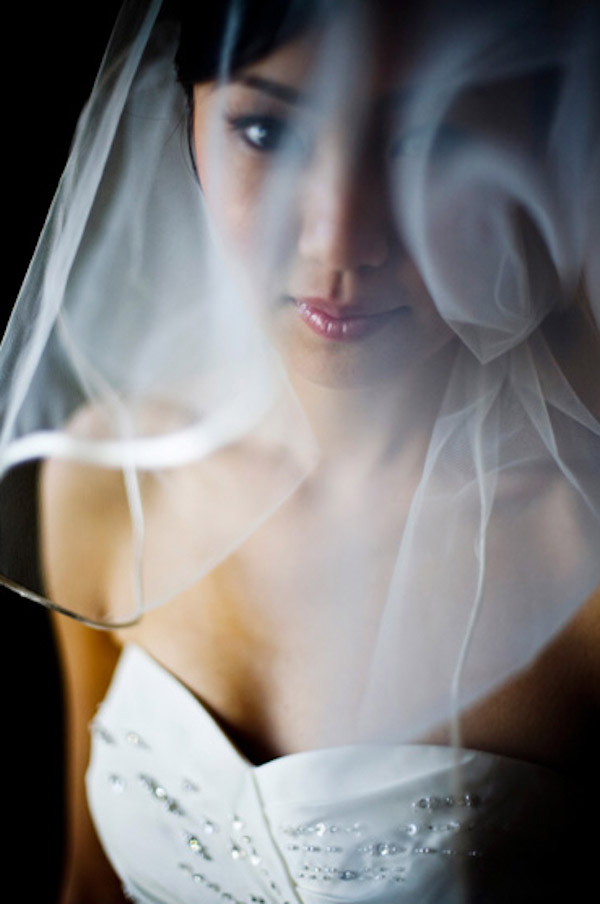 Junebug: What is your favorite moment or tradition at weddings??
John: I love to shoot the first dance. Everything comes together for me there. All the to-do" items are done and the celebration begins. I also love the father and daughter dance, the father is always so engaged and happy.
Junebug: Name 4 words that best describe your photographic style.
John: Hip, documentary, modern, and cinematic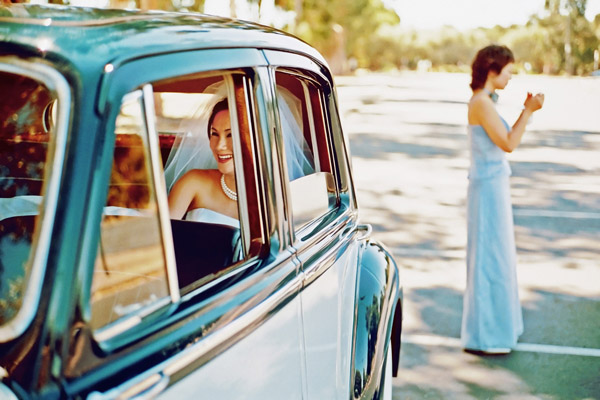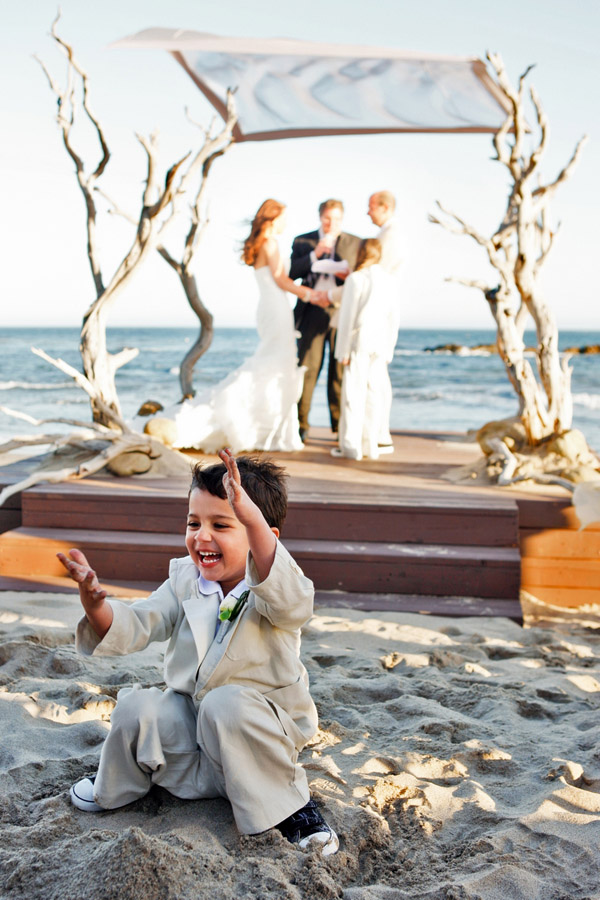 Junebug: What's your favorite camera and lens?
John: Canon 1Ds Mark III, 35mm 1.4 Canon lens Joey loves the 50mm 1.2 lens
Junebug: Do you shoot film, digital or both?
John: We both shoot digital.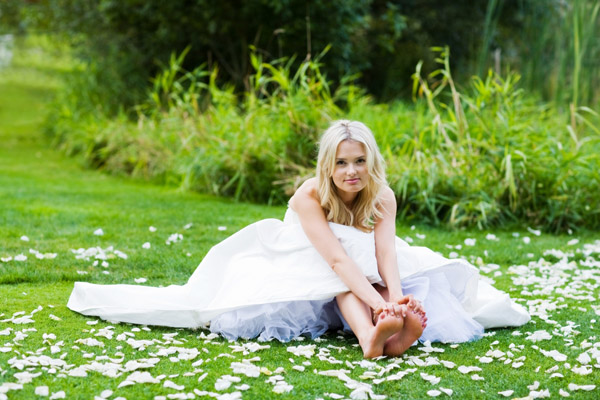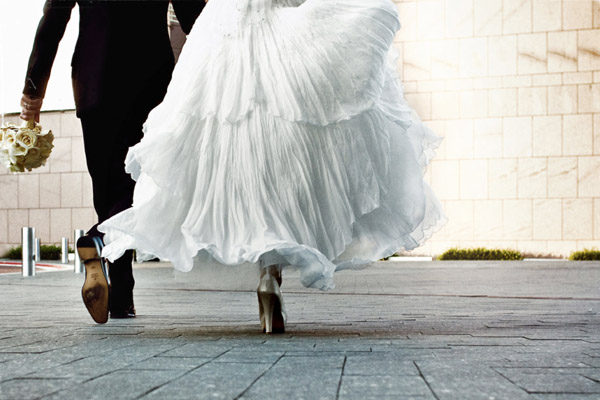 Junebug: Is there anything special that you take with you to weddings?
John: I have a back-up for everything I need, including a second pair of glasses.
Junebug: Favorite wedding cake flavor?
John: Tiramisu.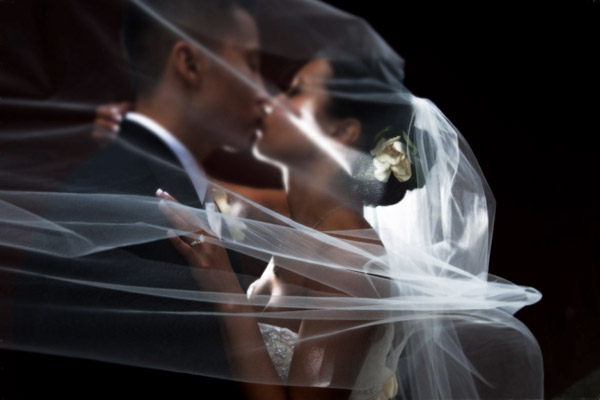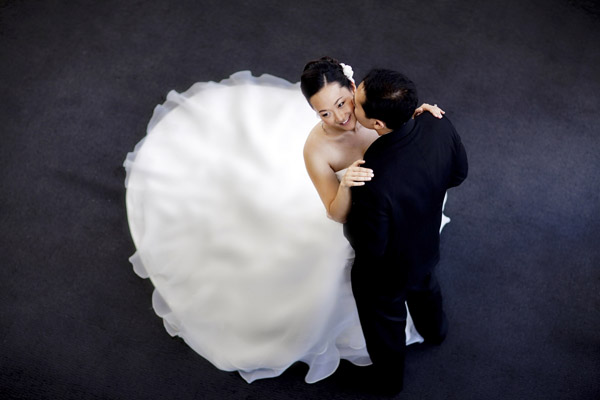 Junebug: What makes you give yourself a mental high five?
John: The moment I know Ive taken a really spectacular shot. I cant wait to get home and see it!
Junebug: What is your favorite wedding location to shoot so far?
John: The Sausalito Center for the Arts (shown in the image below). Its a warehouse building for artists outside of San Francisco. The lighting design is rich, deep, and dark. The bride's dress gets reflected in the amazing light, and all the backdrops are clean and beautiful.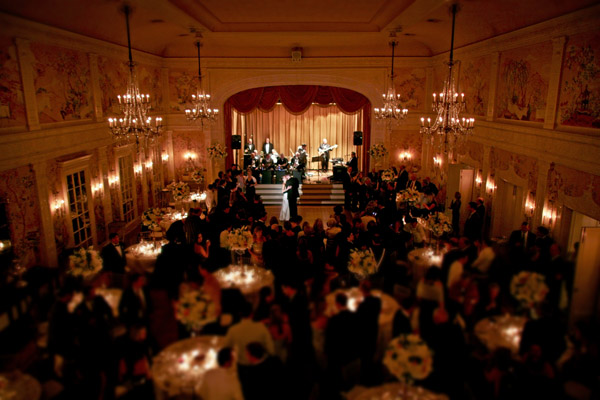 Junebug: Whats one thing you'd like every bride and groom to know before their wedding?
John: To schedule some extra time for creative photography. That said, many of our best images are made under pressure. I also encourage couples to some time alone as well. Five to ten minute after the ceremony and some breaks throughout the day help them to feel connected and calm through all the excitement.
Junebug: How has being a wedding photographer made you a stronger photographer over-all?
John: Wedding photographers are forced to make good images no matter what. There are no second chances, so it is critical to work with what were given. This has given me the confidence to photograph anything. Joey and I both shoot fashion, entertainment, and commercial photography and our ability to create strong images under pressure is crucial for us to exceed customer expectations, which is the #1 priority for our team.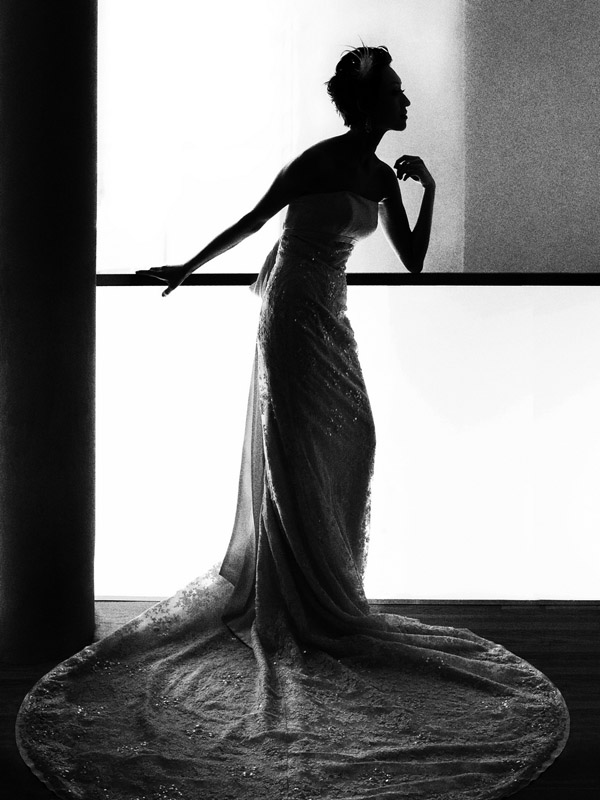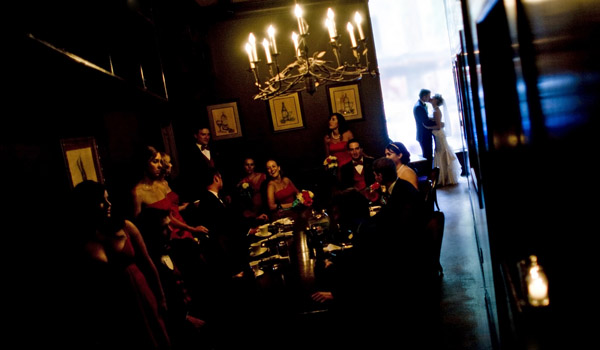 Junebug: Who inspires you most?
John: Honestly, my brother Joey. His work is phenomenal. We are always trying to out-do each other and the pressure to impress each other makes us both that much better. The black and white photo above is one that Joey shot during a Junebug Fashion Report that blew my mind, and the color photo above shows Joeys incredible use of lighting to shoot a wedding party.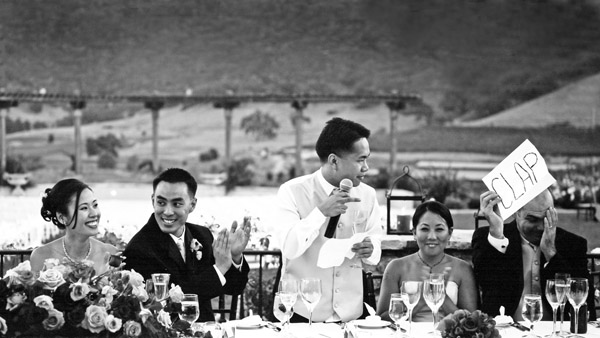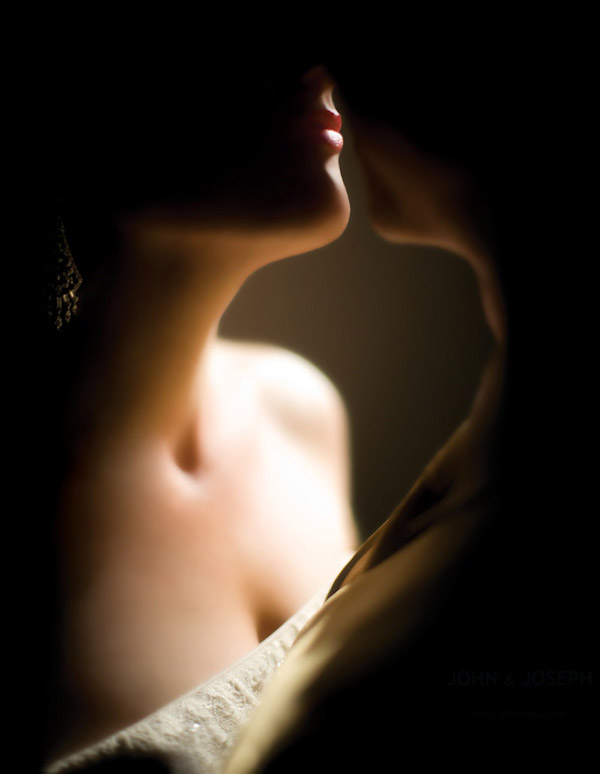 Junebug: You recently opened a studio in Santa Monica and youre shooting a lot of weddings in Seattle, Southern California and around the world. What made you choose Santa Monica for your new location?
John: We kept accepting commissions in Southern California with clients and artists. We both love to shoot year-round, and the travel between Seattle and L.A. is super convenient and economical. Our Santa Monica studio allows us to play in a much bigger playground.
Junebug: Weve heard your studio is really beautiful, can you tell us a little bit about it?
John: Its definitely a fun place to work. We have a gorgeous media room with a 170 inch screen where we show our clients their pictures. We have a full bar and comfortable furnishings, and the studio is in the media district of Santa Monica so we're surrounded by creative artists and tons of inspiration. The location and space fit our client-centered boutique business to a tee.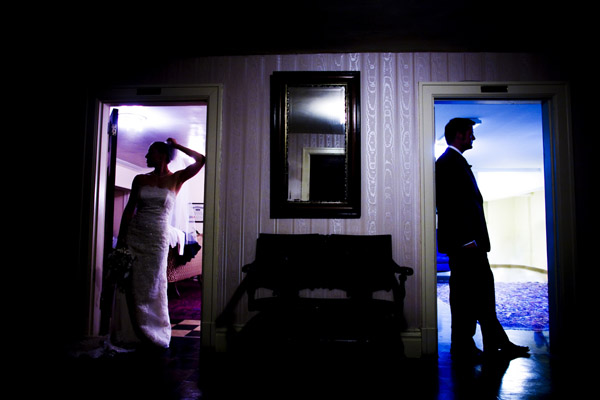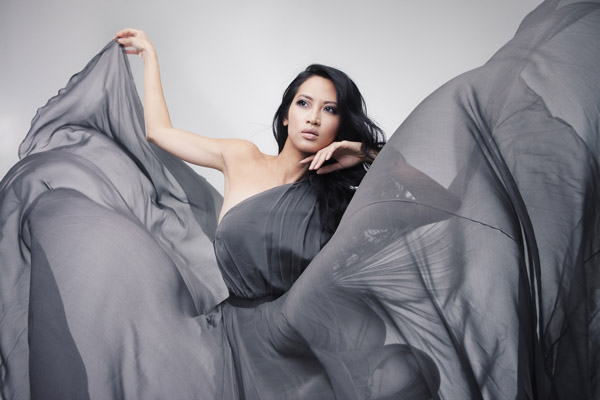 Thank you so much John! To learn more about John and Joseph Photography, please visit their website, blog and Junebug Member Brochure.