The Emmy Award winning team at Stillmotion is based in Toronto, and San Francisco, and they travel the world creating deeply personal, highly extraordinary films and photographs for couples who want something more than just beautiful pictures of their wedding. Were huge fans of their inspiring wedding photography blog, You Are Not Cattle, and today Im thrilled to share with you their elegant and simple approach to making one-of-a-kind images that celebrate the story every couple they work with, from co-owner and lead photographer, Amina Moreau.
Blair: Junebug Weddings has admired and published your work for last several years and were always amazed by the little secrets you weave into your images, making them highly personalized to each couple. So, today I am going to ask you just one question, and let you answer it in words and pictures. How do you discover the intimate stories that make your images and albums so unique?
Amina: When we meet a couple for the first time we want to answer any questions that they have, and to ask questions of our own. Our questions arent usually centered around their wedding, other than the location. Its not that we dont care about the wedding plans, we really do, but we care so much more about the couple.
ASA + CORALIE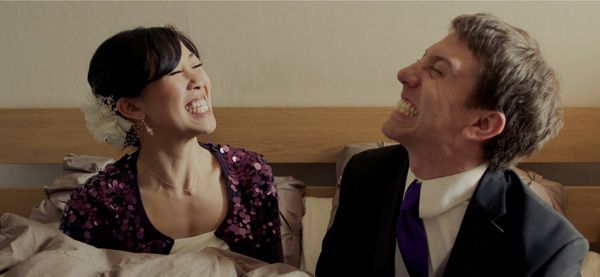 Asa once told me in passing that he and Coralie are the kind of couple that holds hands in bed. When we found out that their vows included a comment about her warming her feet against his when they go to sleep, we knew we had to do part of their photo session on the wedding day in their bedroom. In the photo above, theyre both imitating Coralies classic face.
MEL + JOEL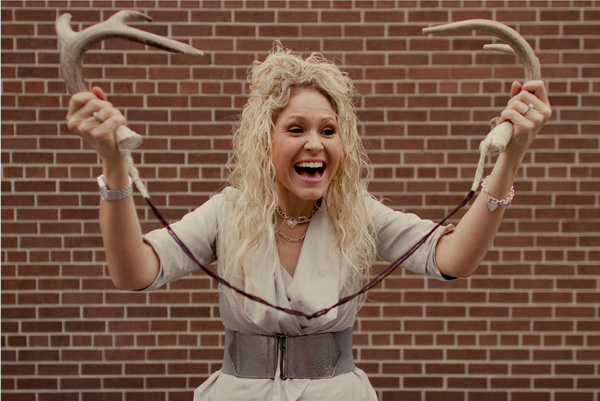 For Mel and Joels engagement shoot, we asked them to each bring an item that represents something that they love individually. Mel is passionate about literature, while Joel enjoys being in the wilderness during a big hunt. We asked Mel to hop in front of this brick wall with Joels item, a set of antlers meant to be clacked together to attract deer. As a strong couple, they embrace each others passions, and we wanted to represent that in a series of photographs. In this photo we see Mel having a ball with something that she knows means the world to Joel. And the brick wall? Its the side of a Tim Hortons Coffee Shop, where Mel + Joel met many years ago.
EMILY + ANTHONY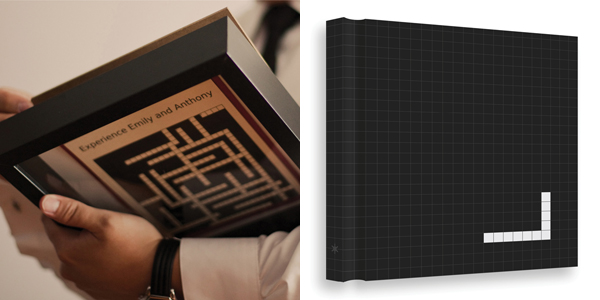 We love finding inspiration in our couples, whether it gives us ideas for shooting or for the editing process. Heres an example of how we used something we discovered on the wedding day in the design of their wedding album. We typically like to design book covers that are a little different and a little intriguing. If we make the cover interesting, chances are, youre going to want to open the book and see all the great images inside!
Emilys gift to Anthony on the wedding day was a personally-made crossword puzzle, with words that reflected things about them and their relationship. For example, 3-Down was the design on Anthonys surprise ice cream birthday cake. We used the concept of their crossword puzzle and incorporated it into the cover of their book, leaving only two words to fill, 1-Down and 1-Across. And it just so happens that both of their names end in Y. Convenient. 🙂
SIMON + IDY

Over the time we spent getting to know Simon and Idy, it became more and more apparent how important a part wine plays in their life together. Wines are an adventure for them they love to sample new ones, and they almost never have the same wine twice. So with this in mind, I asked them to go to the liquor store before the shoot and…
1. Simon, please choose a bottle that reminds you of a significant event with Idy.
2. Idy, please choose a bottle that reminds you of a significant event with Simon.
3. Dont tell each other what you chose.
4. Together, choose a wine youve never tried before.
5. Bring them when you come.
While shooting, we played a little game: guess the significant event based on the taste of the wine. As Simon sipped, Idy dropped little hints like is it a new world or an old world wine?. Simon immediately knew it was old world. He guessed the varietal, the region, and finally, the event that it reminded Idy of.
This shoot was just as much about the experience of sipping, reminiscing, challenging, and enjoying, as it was about the photography if not more. They got to try a new wine for the first time while we shot. Now, that wine will forever remind them of the amazing time we had together. Naturally, when we were done, we headed back to the studio, found some more glasses, and chatted for hours while indulging together!
JANET + JOSH

I had trouble picking just one thing from their shoot because there were so many amazing references to big and little things in their relationship. But this is a pretty big one, so here goes.
This series of images is meant to represent two things. The first thing is that no matter how much distance may be between them, theyll aways be making each other laugh and keeping their bond strong. You see, for a while at the beginning of their relationship, they did the long distance thing. She lived in New York and he lived in London.
The second thing represented in this series: some very significant cities. First off, Janet grew up in LA. She then moved to NY, where she and Josh started dating. Only a few months in, he moved to London for work, and she had to decide whether this new relationship was worth a move across the Atlantic. Clearly, it was! From London, they went to the South of France to get married, after which they moved to Hong Kong where they are now.

DEAN + AMY
A passion of both of theirs: gaming. Its really cool to hear them talk about it. They play against each other, go to conferences together, and she even has a gaming-related tattoo! It just seemed natural to incorporate a little of this in to their wedding day – especially since they were having their string trio play Mario Bros. music for the processional! We figured, normally its the woman who has the control in a marriage so we decided to give Dean a quick turn before it its Game Over.
MELISSA + STAN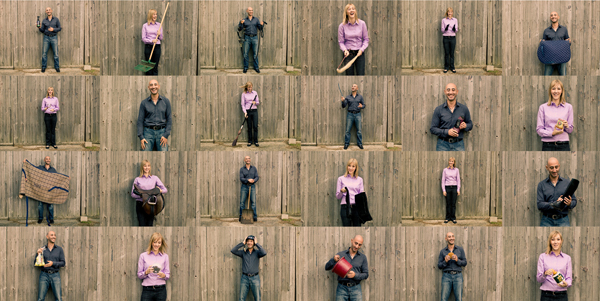 On a cool fall day, the three of us went out to the farm where Melissas horse, Clyde, lives. She and Clyde have been through thick and thin, and now that Stans joined the clan, its his turn to learn the ropes. So Melissas teaching him.
During the shoot, we decided to play a little game. Well, it was more of a test really. We grabbed a whole bunch of riding tools, and quizzed each other on what they were for. It was a bit more one sided, but I have to say that Stan did pretty well! I got to shoot the answering process and it was really fun. It was a great way to have a few laughs, brush up on some knowledge, and incorporate something that is so dear to Melissas, and now Stans, hearts.
JANET + JOSH (again)

Couldnt do it. I couldnt just include one example! So Janet and Josh shared their first kiss on this very couch. But, theres a bit of a disagreement as to who initiated the kiss. You see, Janet insists that Josh made the first move, while Josh argues that she gave him the kiss me puppy dog eyes, making HER the initiator.
I had the pleasure of photographing their argument and laughing my way right to the end. The mood, the story, the ups and downs of agreeing to disagree led not only to the literal ups and downs of the design, but also the colour, composition, and sequencing. Notice how Janet keeps popping back and forth, left, right, left, right? Its all meant to make you FEEL the back and forth-ness of the argument!
ASA + CORALIE (and tomatoes)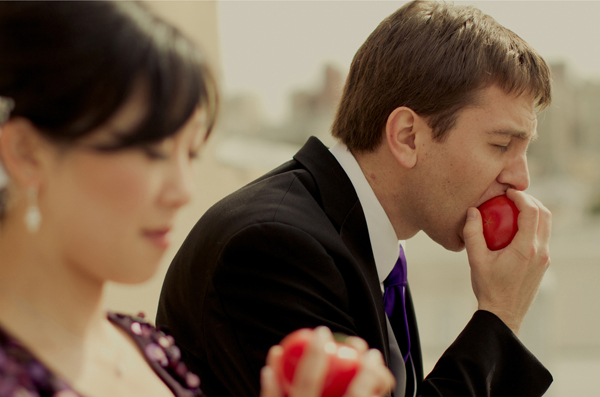 We were at breakfast with them a couple of days before their wedding, going over their schedule and other logistical delights, when they mentioned the role that tomatoes play in their story. As Asa explains it, tomatoes are a microcosm of their relationship.
What I really love about the friendships we make with our couples is how open our communication becomes. We end up opening up and exchanging things about each other that you might never think to tell a vendor. An example? Coralie told us that she enjoys french kissing Asa through their cheeks. WHAT?!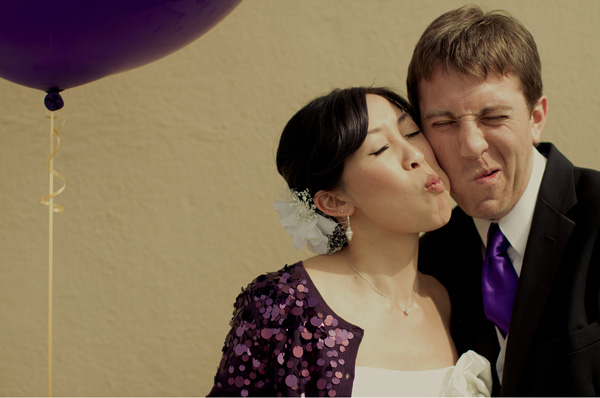 Anyways, as we continued to talk about the tomatoes, we started realizing that this was such a significant part of their story, we couldnt not incorporate it. So the morning of the wedding, we went out hunting for farmers markets. And because Asalie (as we affectionately call them now) showed us their vows before the day came, we also knew to look for frog galoshes, caricatures, and a number of other things we would never have known would be important! Their vows are the main narrative for their film. Theyre amazingly written, and I feel like they MAKE the piece. Here it is:
To learn more about Stillmotion, be sure to visit their website, blog and Junebug Member Brochure.
And for more interviews with the incredible members of our Worlds Best Wedding Photographers Hotlist, don't miss our Photographer Spotlight Archive!