From their playful engagement shoot, to their unique wedding day at the Phoenix Art Museum, we just love the way that couple Lauren and Shawn blended traditional, classic elements with their own modern and quirky style – and the way that photographer Hollye Schumacher captured it all so beautifully!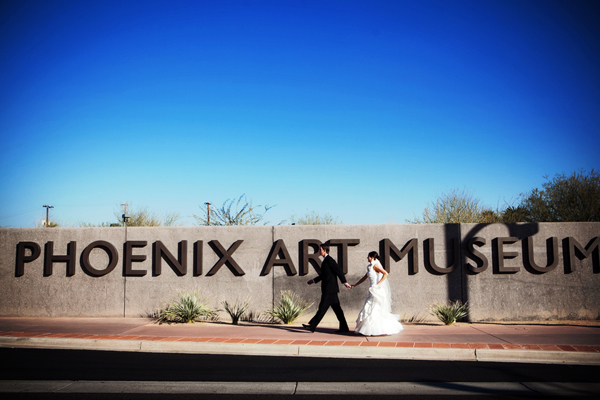 The Newlyweds: Lauren and Shawn
Junebug: Tell us a little about your engagement shoot, why did you choose to have one and what was most fun about it?
Lauren and Shawn: We chose to have an engagement photo shoot because many of Shawn's family members live in Canada and have not had the opportunity to get to know the two of us as a couple. We wanted to send out Save the Date cards which not only told people about our wedding but also gave our families a glimpse of our love for one another other and the outdoors.
The best part of the shoot was going back to Papago Park where Shawn proposed. It was wonderful to take pictures in such a beautiful setting with such great memories. I think Hollye did an excellent job of capturing what that place meant to us, it was the starting place for our future together.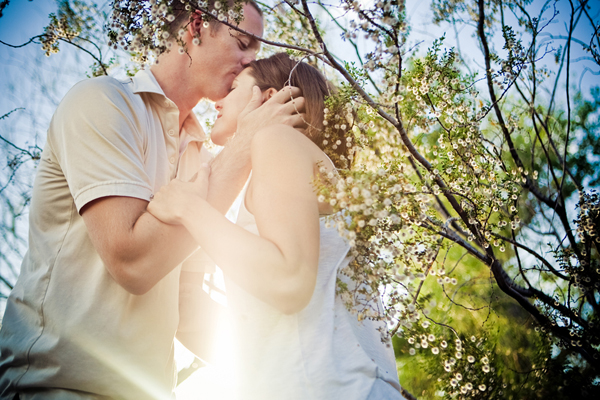 Junebug: How did Shawn propose?
Lauren and Shawn: Shawn proposed to me on a bike ride in Papago Park. After complaining throughout the bike ride that something was wrong with his bike, Shawn stopped in Papago park near the zoo to have a look. He called me back to hold the bike for him while he checked to see what was wrong.
As he was getting his tools out of his bag, he got down on one knee and asked me to marry him. I said yes! We drank champagne that Shawn brought in his backpack, until the park ranger came and threatened to ticket us for consuming alcohol in the park without a permit.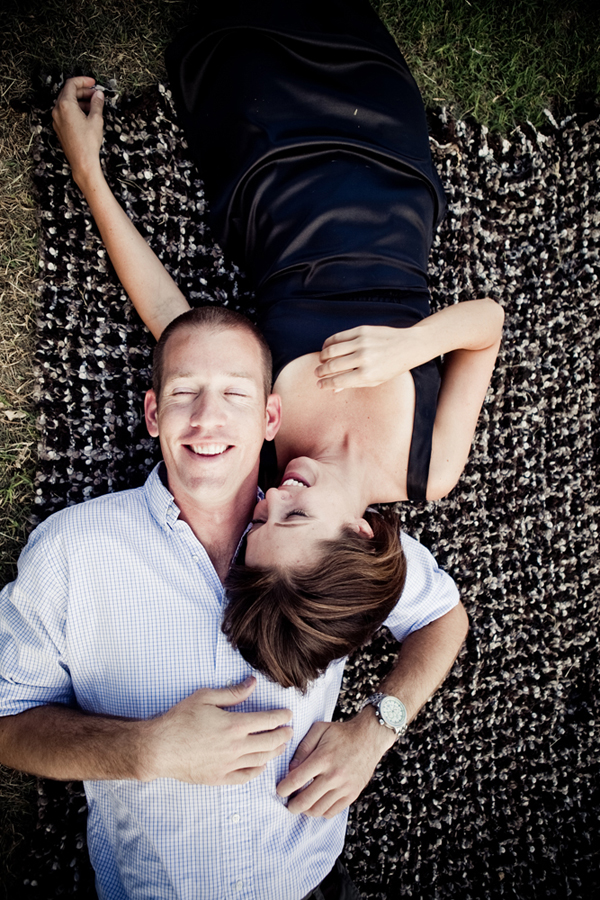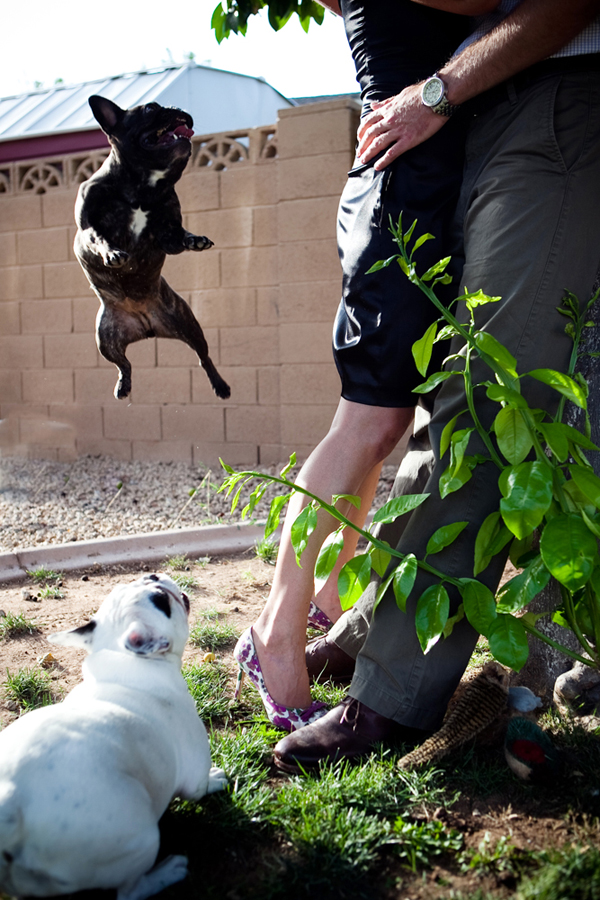 Junebug: What were your most important goals in planning your wedding?
Lauren and Shawn: We wanted an intimate wedding – just family and very close friends. We also wanted to have flowers that were renewable, reusable and "green."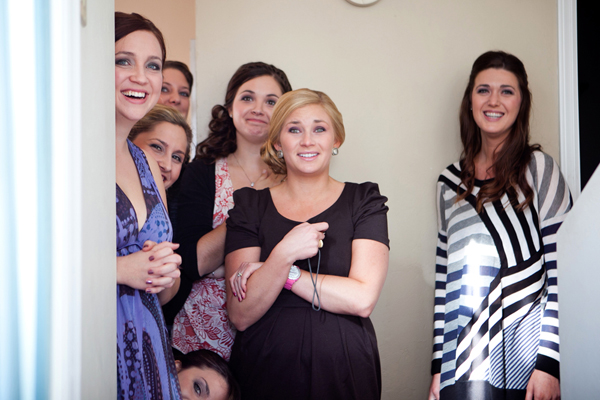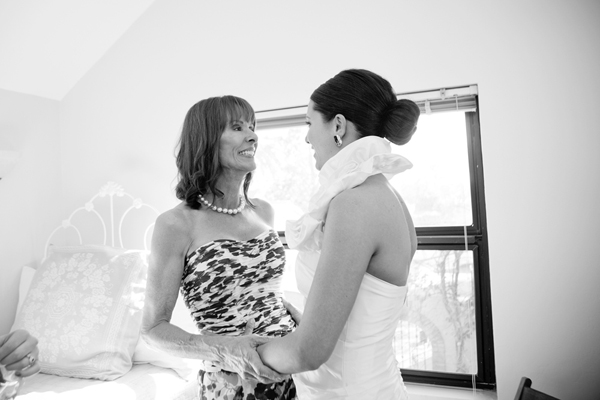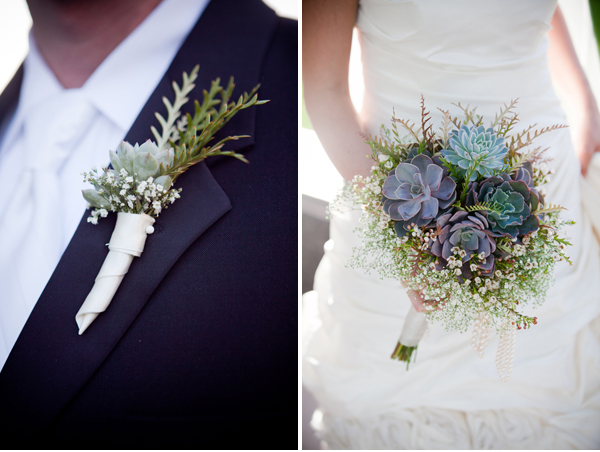 Junebug: How would you describe your personal wedding style?
Lauren and Shawn: We wanted the wedding to be classy and glamorous but we didn't want anyone to feel uncomfortable. We wanted the reception to feel like a night club and every guest to feel like they were VIPs. It was also very important for us to feel like the wedding wasn't wasteful, we wanted more than the memories to live on after our big day.
The bridal party bouquets and boutonnieres were made from succulents so the bridesmaids were able to plant them when the wedding was over. Also, we had centerpieces made from food products such as watermelons and artichokes. Guests were able to take home the centerpieces to eat after the reception. Shawn and I infused vodka with local grapefruits, lemons and oranges, in season in Arizona around the time of the wedding, and gave them to guests as wedding gifts.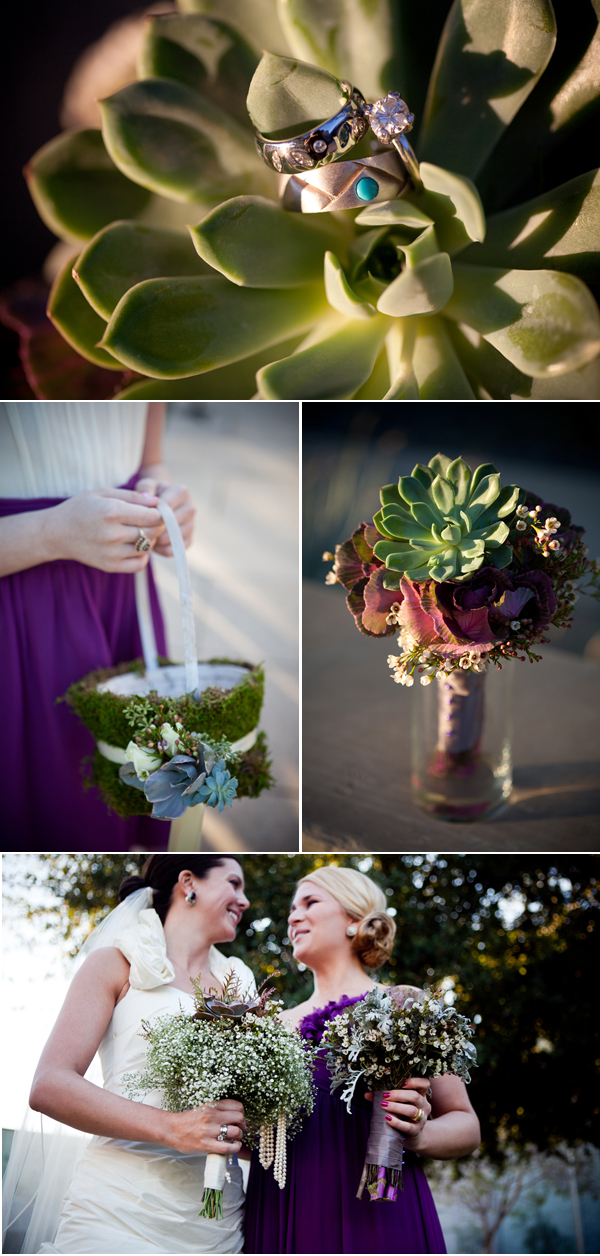 Junebug: Where did you hold your wedding and reception?
Lauren and Shawn: The Phoenix Art Museum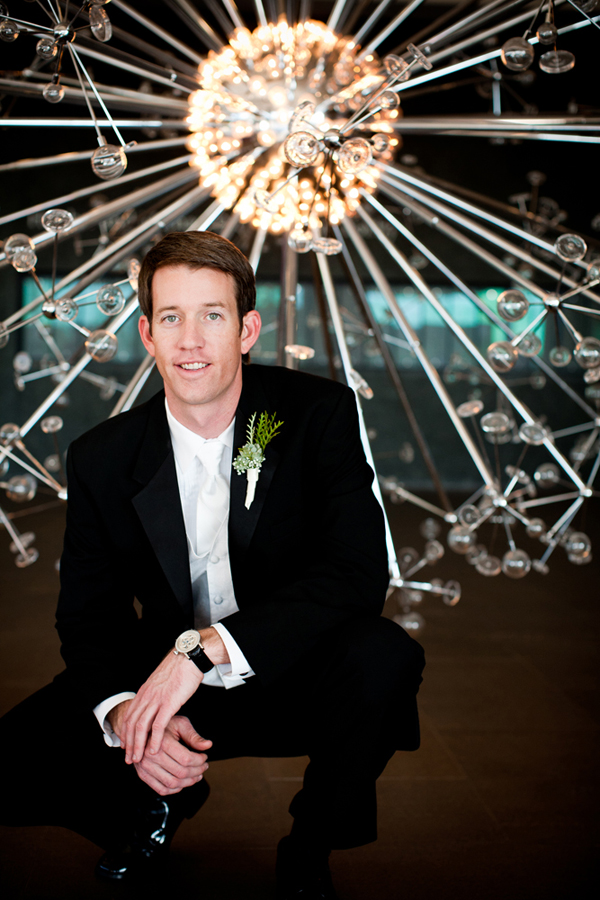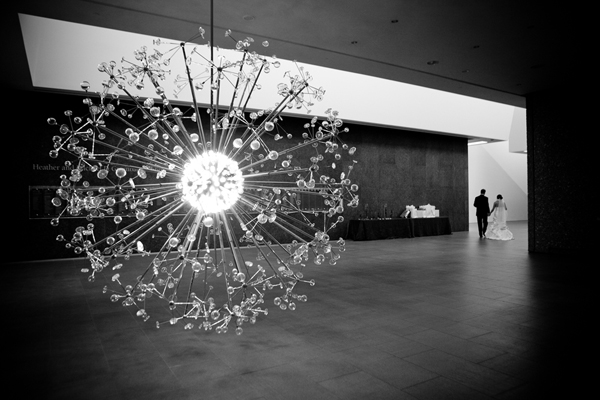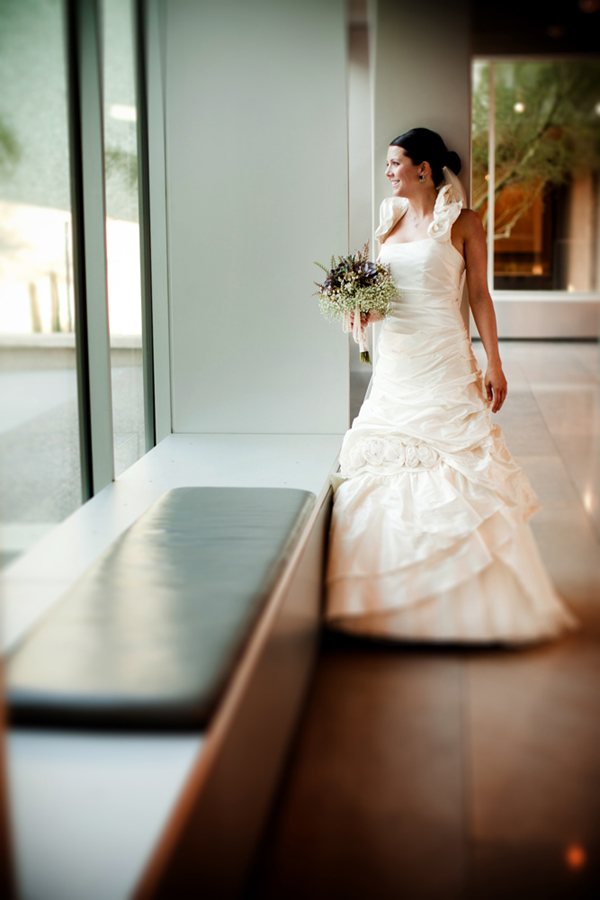 Junebug: What three adjectives describe your wedding best?
Lauren and Shawn: Loving, intimate, glamorous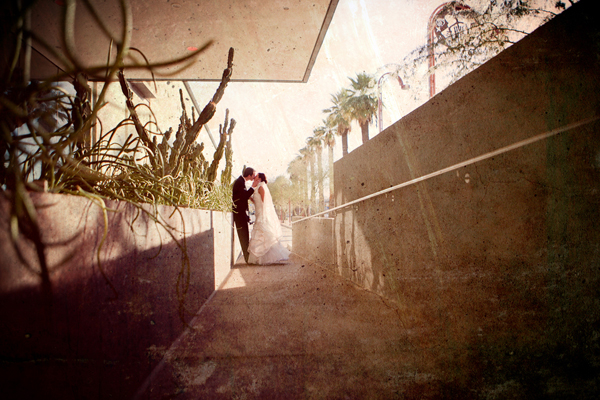 Junebug: What were you looking for in a photographer?
Lauren and Shawn: Someone who could capture more than just a photo. We wanted a photographer who could capture our love for each other and our family and friends. We wanted the spirit of our wedding to be preserved along with images of the wedding party and guests. Hollye is so talented and she was really able to capture the moments that convey the joy, excitement and love of the day.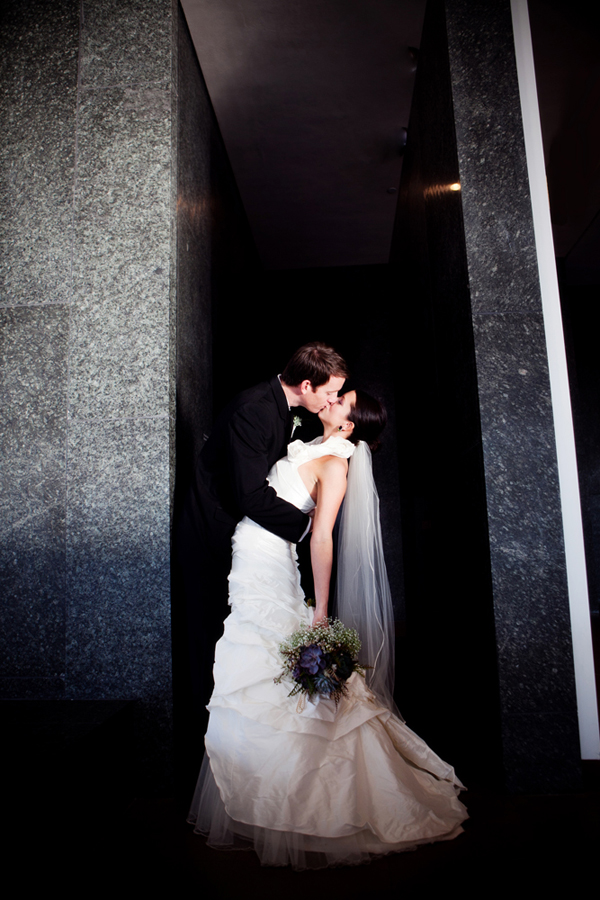 Junebug: What specifically drew you to Hollye Schumacher and her work?
Lauren and Shawn: Most of Hollye's photos are not of people looking straight into the camera smiling, they are of life in action. Rather than just photographing weddings, Hollye makes a photographic documentary of the day, her style tells a much bigger story.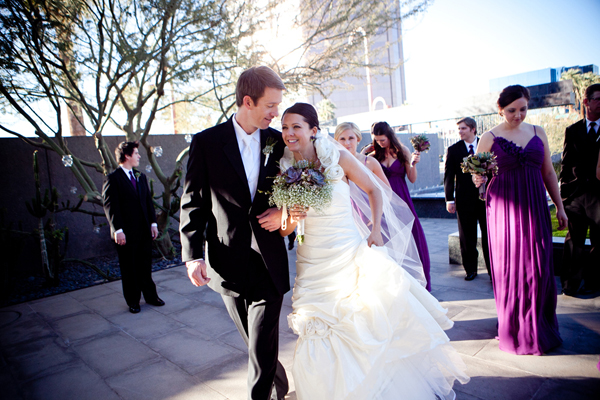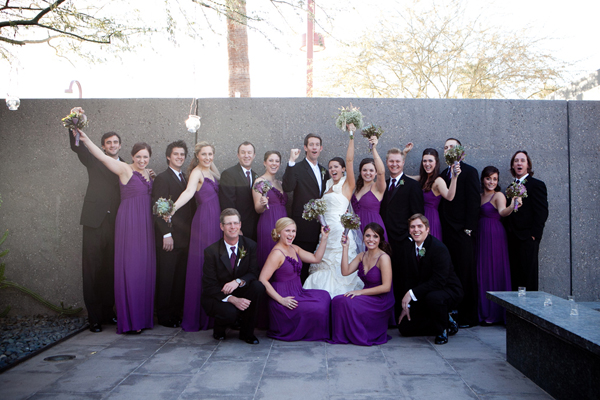 Junebug: What did you enjoy most about working with Hollye?
Lauren and Shawn: We really felt like Hollye understood what we wanted from our photos. She is incredibly creative and was able to lend her creativity to our wedding photos without making them solely about her art. She is an artist that captures beautifully what is important to others, that is such an incredible gift.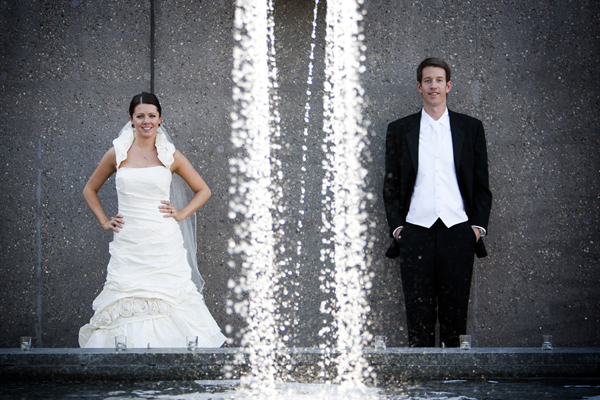 The Photographer: Hollye Schumacher
Junebug: How did you approach this particular wedding and what did you most want to capture during shooting?
Hollye: Lauren and Shawn are a very creative and expressive couple – my goal was to photograph the amazing energy & connection they share while also making the images interesting and personally expressive with creative cropping and compositional techniques. I also wanted to take full advantage of the vibrant color and the art within the museum so you'll see that showcased in quite a few of their portraits.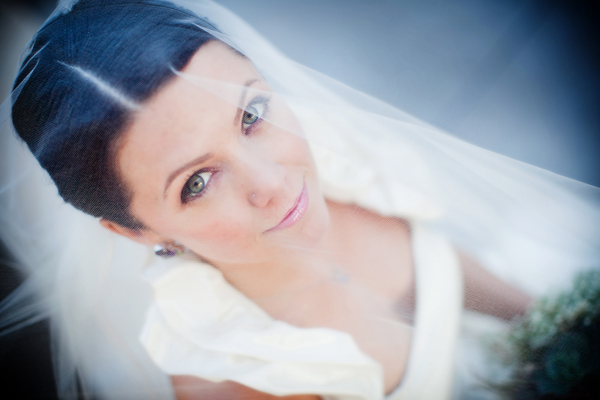 Junebug: What was the most fun part of this wedding for you to photograph?
Hollye: The whole day was an incredibly emotional ride…some notable moments were: the candid images of her girlfriends watching her in awe as she slipped her dress on, her mom's proud look once she zipped up the dress, the jaw dropping look on Shawn's face when he saw her for the first time, the endearing images of her dad smiling at her before she walked down the aisle, the heartfelt vows and outpouring of love from the crowd, and the way they looked at each other on the dance floor during their first dance. These were just a few of the many wonderful candid moments from the day.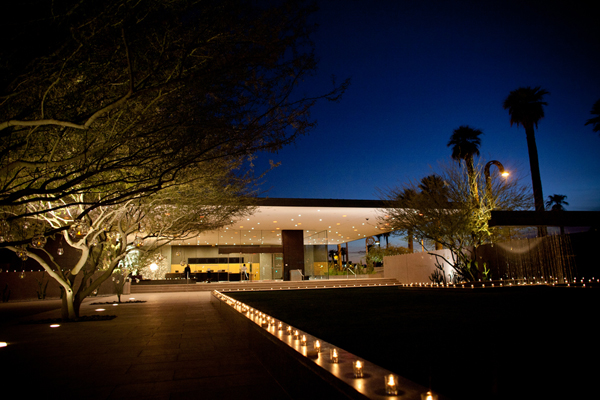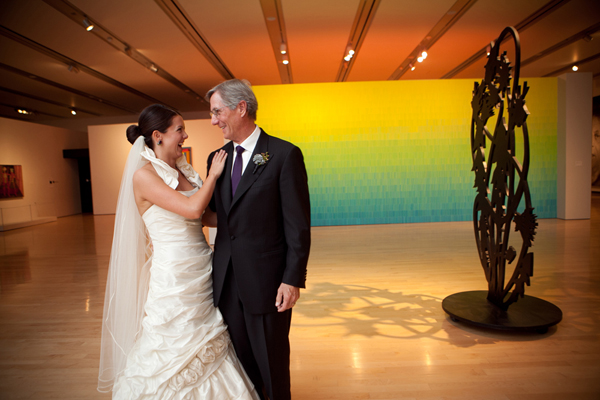 Junebug: Were there any special photographic requests from the couple that made this wedding especially exciting creatively or personally?
Hollye: Not really. Lauren had a pink mustache she wanted to incorporate so I added it to some of my details. Most importantly, they allowed me enough time and creative freedom to capture some great shots of the two of them. They were extremely open to my suggestions and they are SO in love…it was the perfect recipe for great images.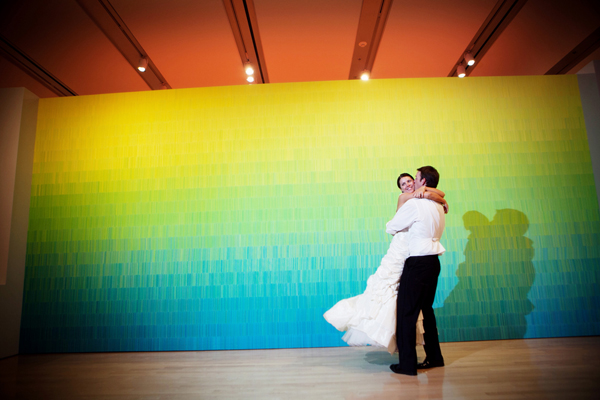 Junebug: How did the locations available to you affect the type of images you shot and how you shot them?
Hollye: I took advantage of a lot of the colorful art and scenery in the museum which I thought would represent the couple. They happen to be extremely fun and playful so I opted for the art that best reflected that.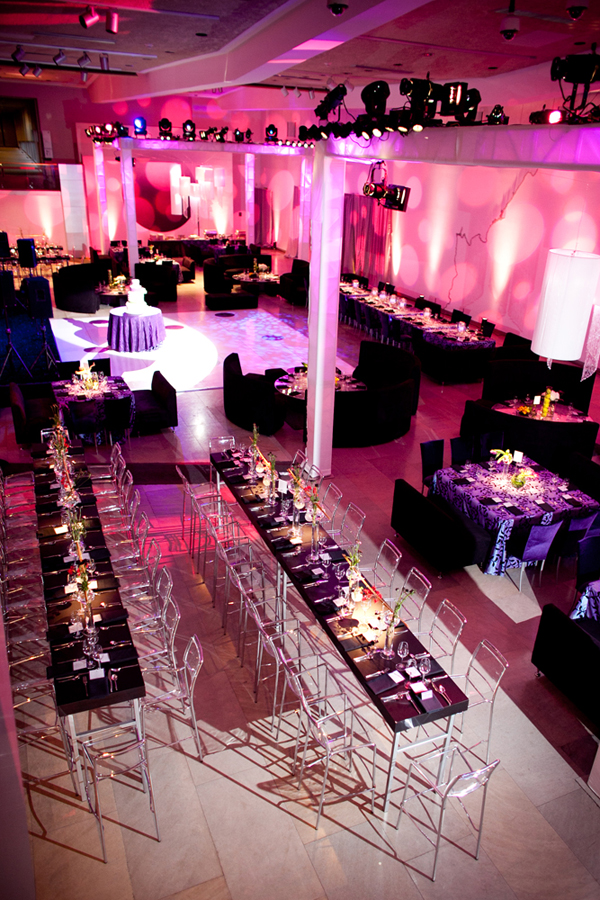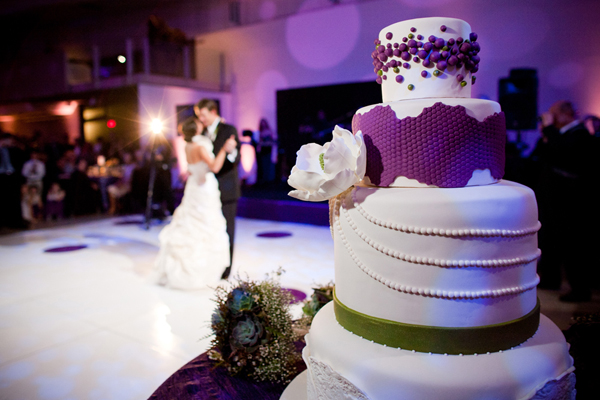 Junebug: What kind of equipment did you use while shooting this wedding?
Hollye: Canon 5d mark II and 5d, with 24mm, 50mm, 100mm, and 70-200mm lenses, and Canon 580 exII flash
A huge thank you to Lauren and Shawn, and Hollye for taking the time to share your wedding story with us! We are so excited to pass along the details of this beautiful event to our readers, and we wish you all a lifetime of success and happiness!
To learn about all of the wedding professionals who brought this wedding to life, be sure to visit Lauren and Shawn's page in our Real Wedding Library!
To learn more about Hollye Schumacher, be sure to visit her website, and blog, and to find the perfect wedding photographer for your own wedding day no matter where you live, don't miss our World's Best Wedding Photographers Hotlist!