The Couple: Charisa and Joe
The Wedding: 10.7.12 – McCrady's, Charleston, South Carolina
The Photographer: Geneoh Photography
Junebug: What three adjectives best describe your wedding?
Charisa and Joe: Simple, Modern, Intimate.
Junebug: What inspired your personal wedding style, and how did you incorporate your style and personalities into your big day?
Charisa and Joe: We wanted our wedding to have a completely different feel than most weddings that we had attended the last few years. We were looking for something simple and clean and wanted to leave the beauty of downtown Charleston to speak to our guests and for them to experience the amazing history of our venues. Our ceremony and reception locations were both in downtown Charleston, and it's exposed brick buildings, cobblestone streets and incredible gardens acted as our inspiration. We also decided that we were not going to do a single DIY project for our wedding. Simplicity was our goal.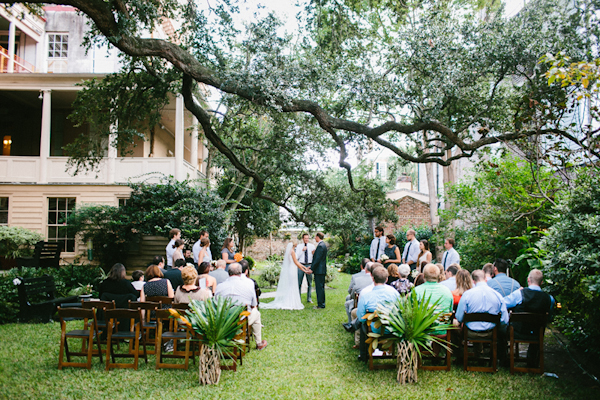 Junebug: Looking back, what are the moments, decisions or memories that you love the most about your wedding?
Charisa: With Joe being from Minnesota and me from Colorado, it was actually a destination wedding. We had fifty of our closest friends and family join us for an entire weekend in Charleston. Everyone stayed in two huge beach houses on Isle of the Palms and the amazing part was that we were able to spend quality time with everyone. We wanted our guest to feel a part of our wedding. For example, the night before the wedding all the girls got together to make the bouquets and drink some wine. It was a blast and allowed all the bridesmaids to personalize their flowers. We had so much fun with everyone that weekend!
When I was walking down the aisle, I vividly remember looking around at everyone at our wedding and thinking of how much each of those people meant to me. Our ceremony was so peaceful and rich with emotion. Following the ceremony everyone walked to the reception location together in the middle of downtown. Pedestrians were cheering; cars were honking and congratulating us the entire way to our reception. We were overwhelmed by the southern hospitality.
We actually didnt expect to enjoy and have so much fun at our wedding with all the stress of planning. But we did! We loved the entire weekend and had such a blast!
Junebug: What specifically drew you to Geneoh Photography and his imagery?
Charisa and Joe: Gene is absolutely amazing to work with! We love that he has a modern clean feel to his work and did an outstanding job at capturing the story and emotion of our day. He is just so personable and easy to work with.
Charisa and Joe, your wedding was a breath of fresh air! Thanks to Gene for photographing this sweet Southern wedding so beautifully. Visit Geneoh Photography's website, blog and Junebug brochure to see more.
The Wedding Team:
Photographer: Geneoh Photography
Event Planner: Katie Poole at the The Burlap Elephant
Ceremony Venue: The Confederate Home & Garden
Reception Venue: McCrady's
Officiant: Bride's Brother
Florist: Mother of Bride
Cake: De Clare Cakes
Wedding Dress: Fabulous Frocks of Charleston
Bridal accessories: Earrings – Mod Cloth
Groom and groomsmen apparel: Suit – J.Crew
Hair: Stella Nova
Makeup: Trish McEvoy
Live music: Quiana Parlor & Friends
Transportation: Charleston Rickshaw Company