This beautiful Chicago real wedding of Samantha and Ben is courtesy of the wonderful Kevin Weinstein Photography, and his rich images convey the personalities of a truly unique couple and their wedding day!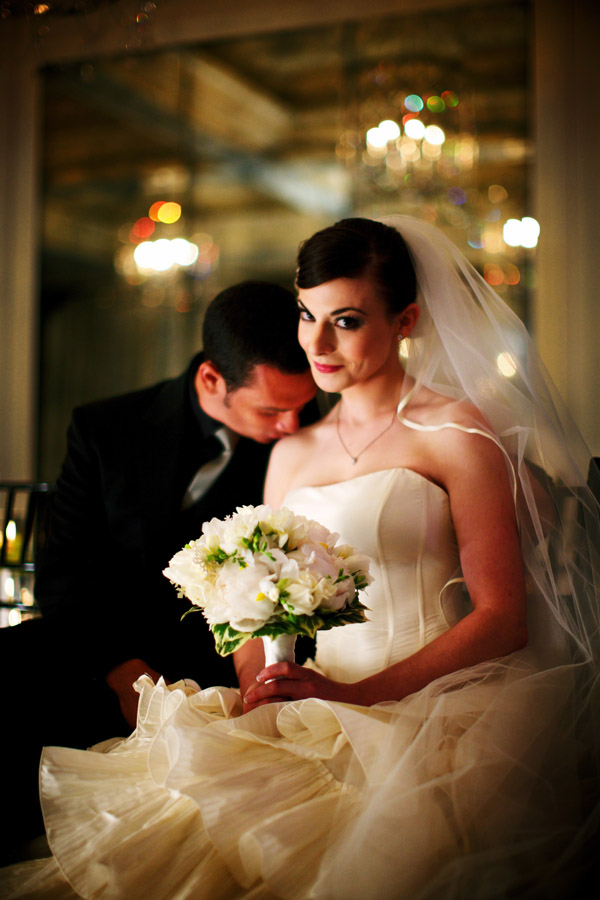 The Newlyweds – Samantha and Ben
Junebug: What were your most important goals in planning your wedding?
Samantha and Ben: It was important for us to try and do away with the typical wedding formalities, or at least minimize their role in our day. While including hints of a traditional wedding, it was important for us to put our own spin on each detail. Also, we wanted to give our guests something they had never experienced before without being too dramatic or over the top.
Junebug: How would you describe your personal wedding style?
Samantha and Ben: Sophisticated and intimate while maintaining a casual, laid back feel.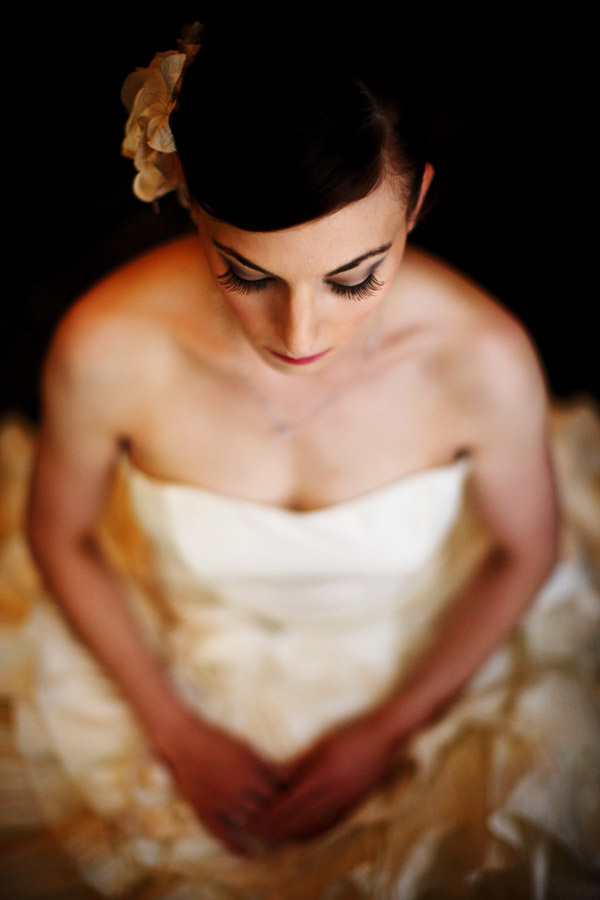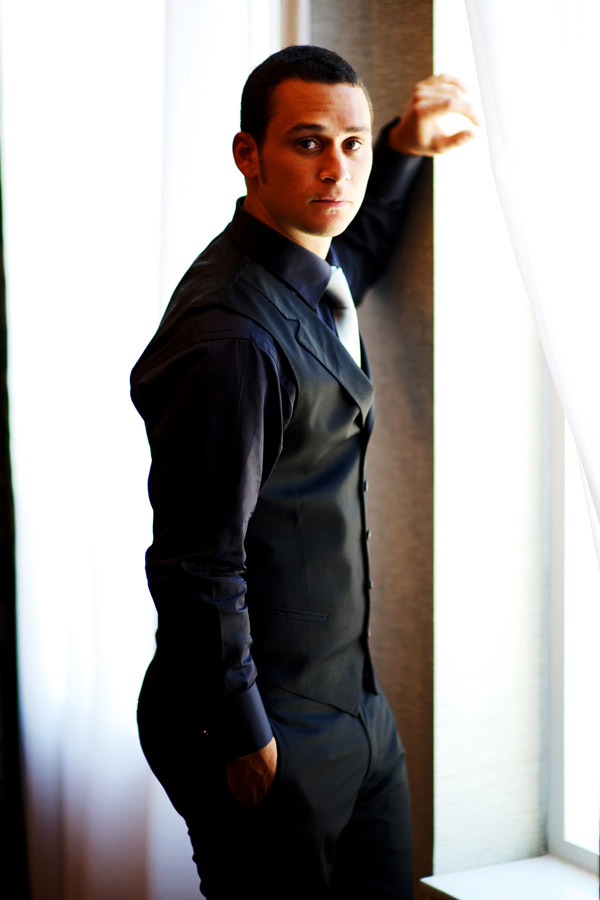 Junebug: Where did you hold your wedding and reception, and why?
Samantha and Ben: The reception took place at the Elysian Hotel in Chicago. The Elysian is truly another level of class. The hotel's attention to detail is unmatched. The decor is artistic and sophisticated thus making you feel right at home. Everything from the secluded courtyard to the ballroom speaks volumes about its style. In addition to the gorgeous appearance of the hotel, we were delightfully overwhelmed with the food that was going to be served at the cocktail hour and reception. We were afforded an opportunity to work with one of the best new Chefs in Chicago, who created a spectacular meal that was prepared on site.
Junebug: What three adjectives describe your wedding best?
Samantha and Ben: Unique, spunky, intimate.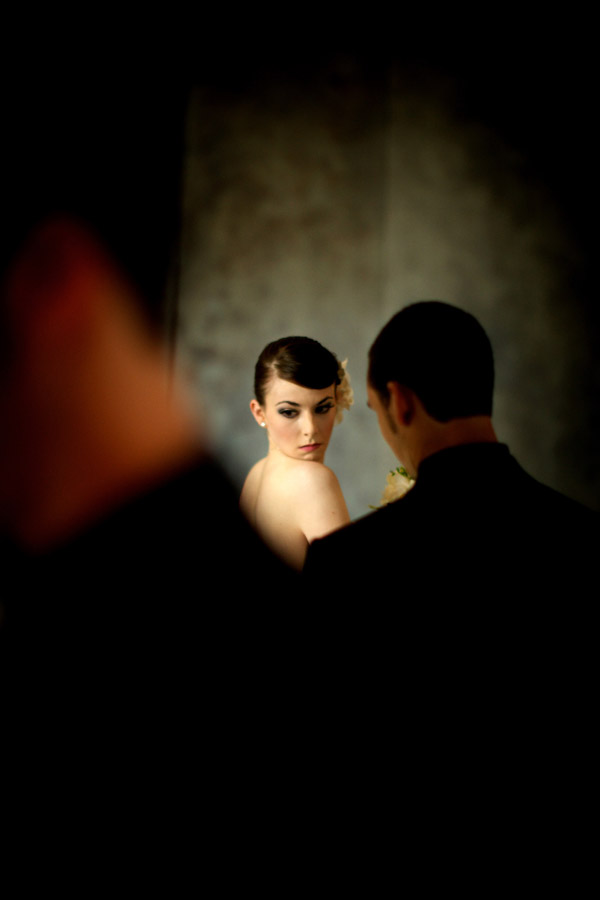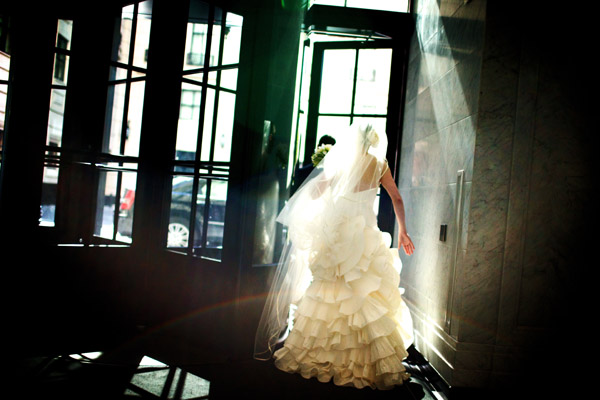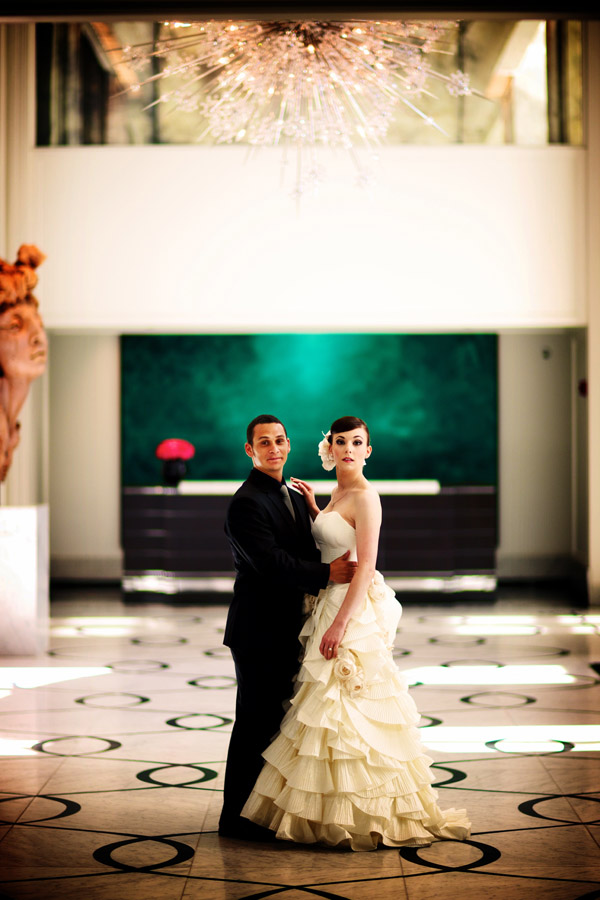 Junebug: What were you looking for in a photographer?
Samantha and Ben: We were looking for someone who could truly capture each of our personalities. More importantly, we were looking for a photographer who had an artistic vision aside from taking the traditional wedding photographs.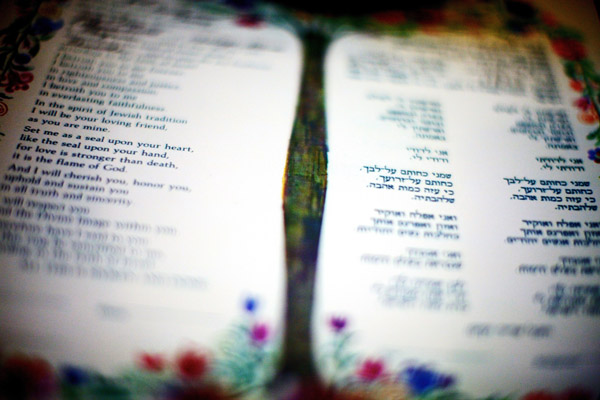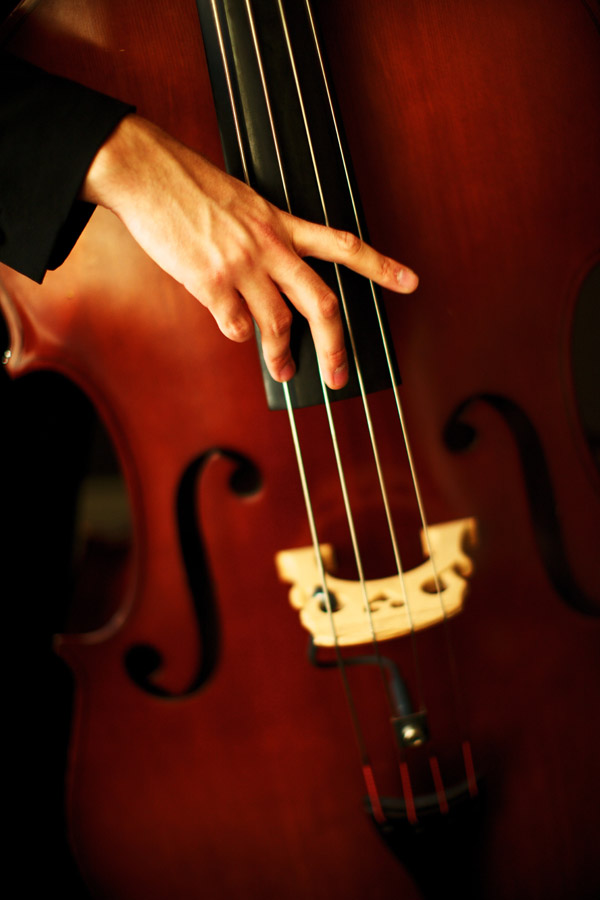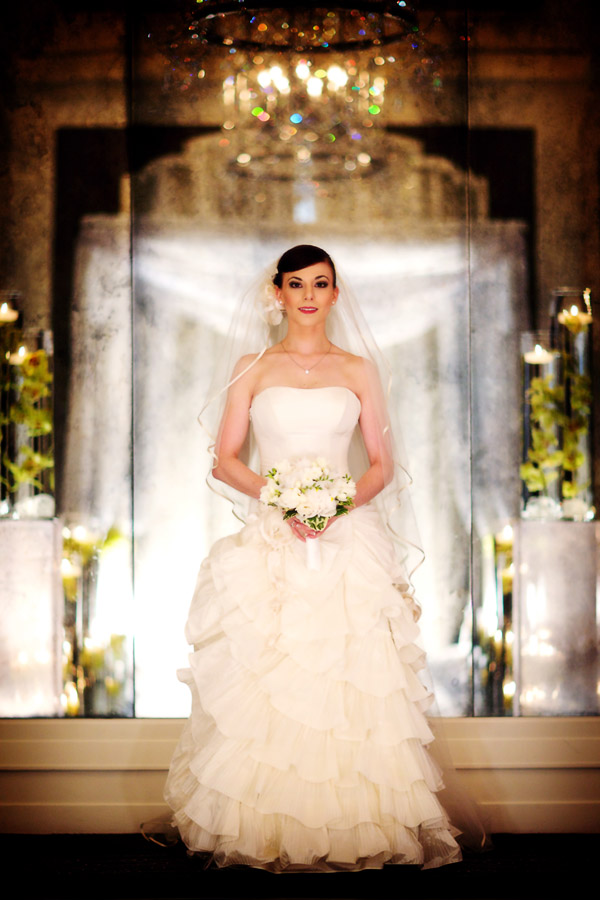 Junebug: What specifically drew you to Kevin Weinstein and his imagery?
Samantha and Ben: The photographs that appear on the home page of Kevin's website are so visceral, it's like you've never really seen those colors before. His self-portraits pretty much say it all: "I'm fun, totally willing to do whatever it takes to get an awesome photograph, and want to capture your personality."
Junebug: What did you enjoy most about working with Kevin?
Samantha and Ben: Pretty much everything! He made such an effort to embrace us and learn all he could to make the photos truly unique.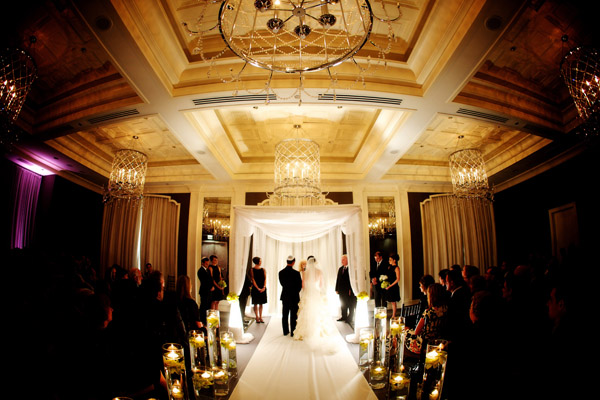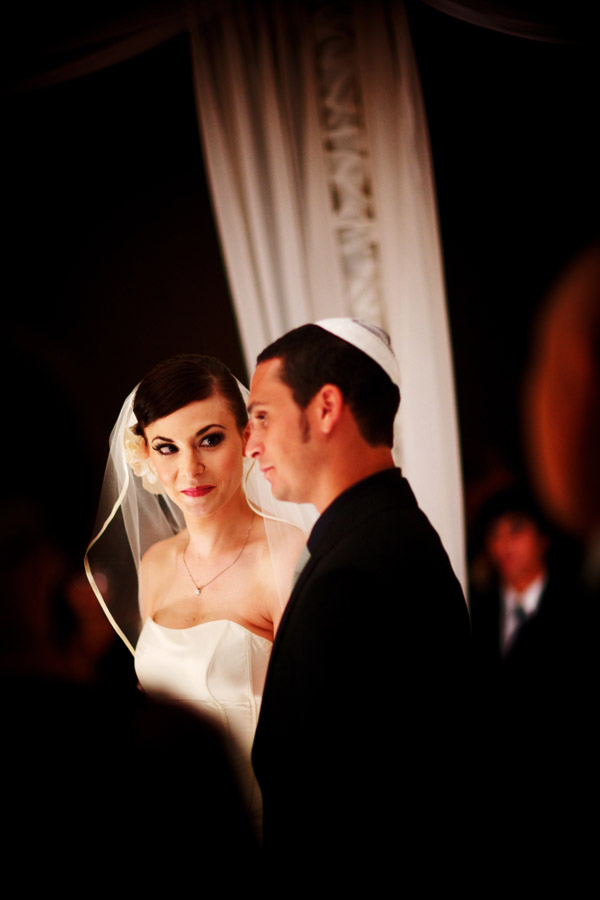 The Photographer – Kevin Weinstein Photography
Junebug: How did you approach this particular wedding and what did you most want to capture during shooting?
Kevin: I spent a considerable amount of time with the bride and groom documenting their engagement session, tasting dishes with the caterer, attending their dance lessons, and even dining with them over fabulous food and drinks. Because of my time spent with the client, I had already learned their individual personalities, the relationship dynamics, what makes each of them unique, their quirks and their goals for the wedding. By the time I arrived on July 3rd, there was very little for me to think through. I intuitively knew the story and how to capture it. It was a breeze! However, the technicalities of my job were still just as stressful, as always.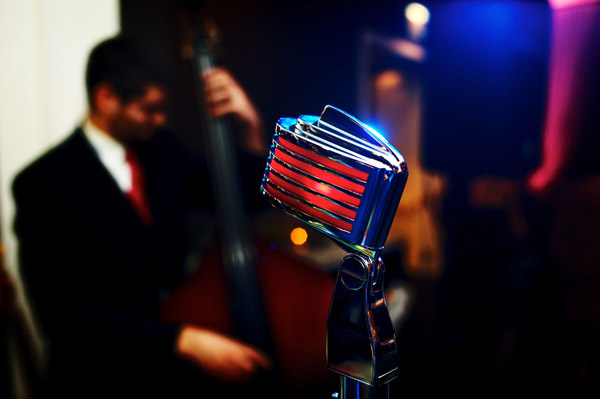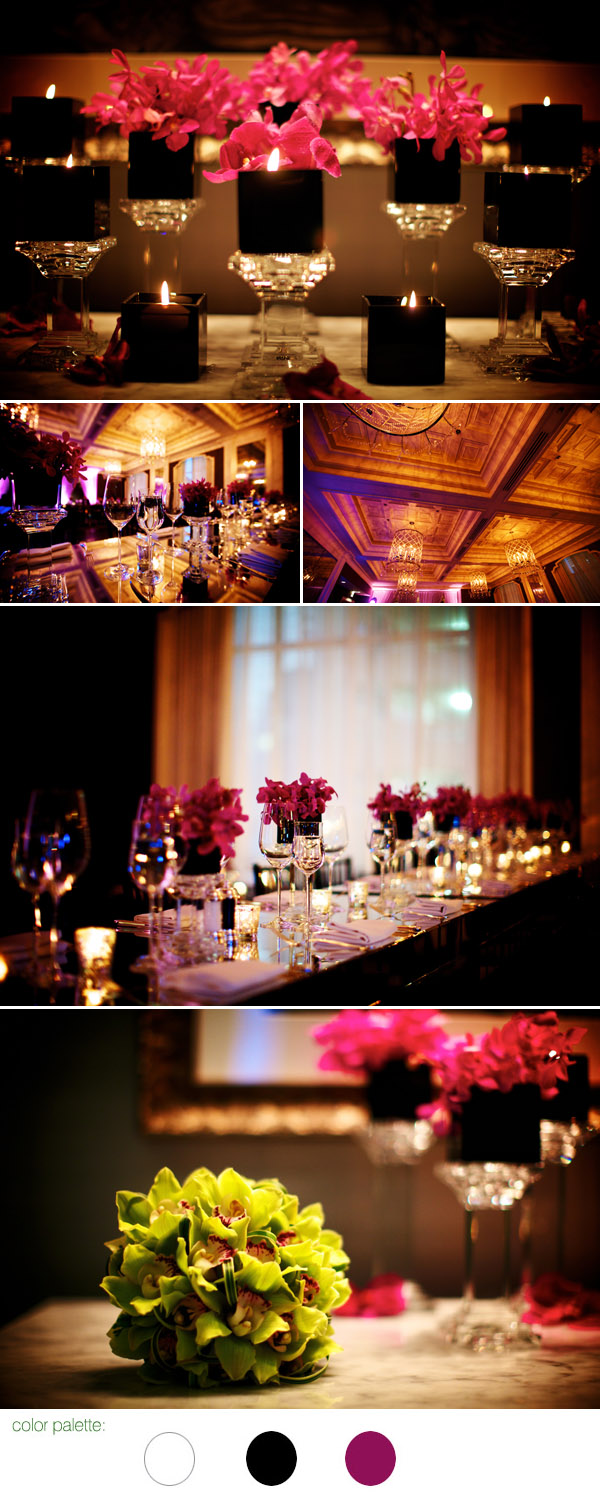 Junebug: Were there any special photographic requests from the couple?
Kevin: Not one bit. I think their goal in letting me get to know them so well beforehand was more or less to give me their shot-list in a non-traditional way. I think they wanted me to learn and study beforehand so I was not working off of a check-list on the big day. Rather, they wanted me to work from experience.
Junebug: What was the most fun part of this wedding for you to photograph?
Kevin: Each part of the day had its own fun moments. I spent a lots of time with Sam before the wedding and captured some incredible, intense moments. If you spend any time with the two of them, they are a hoot (look at their engagement pictures!) If I had to narrow it down, their ceremony and reception were the highlights mainly because the Elysian is such a gorgeous, well-decorated hotel, and the couple hired Reva Nathan & Associates along with Kehoe Designs to spruce up the room. Can you say "kid in a candy store!?"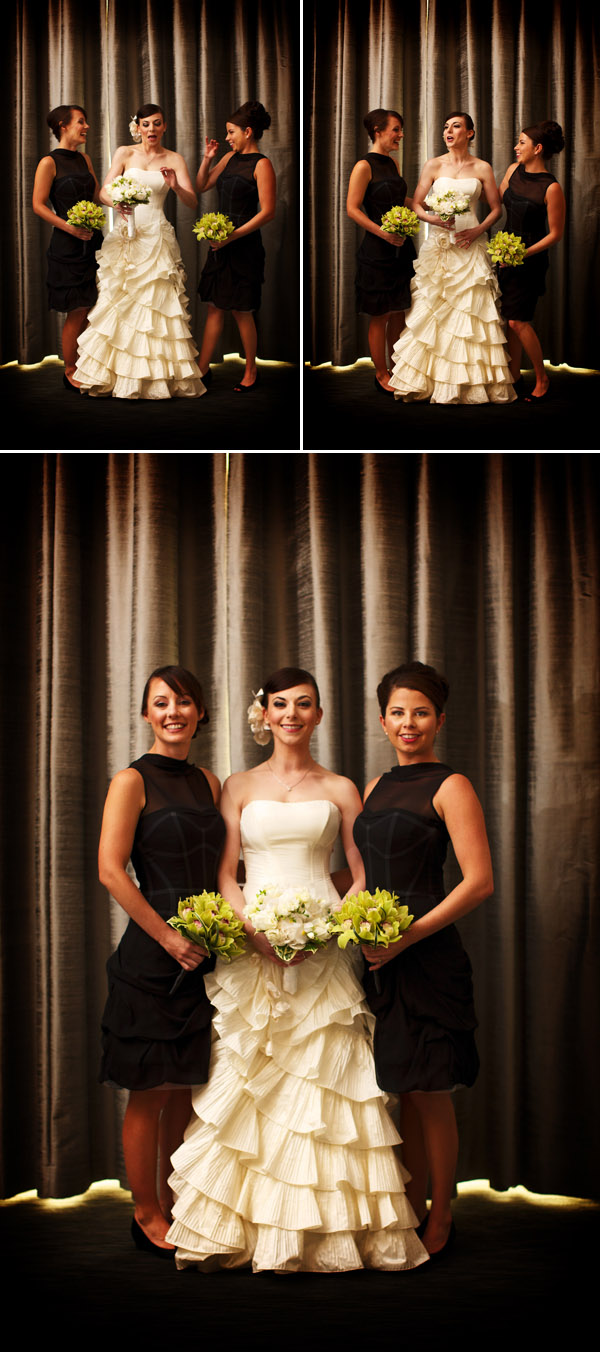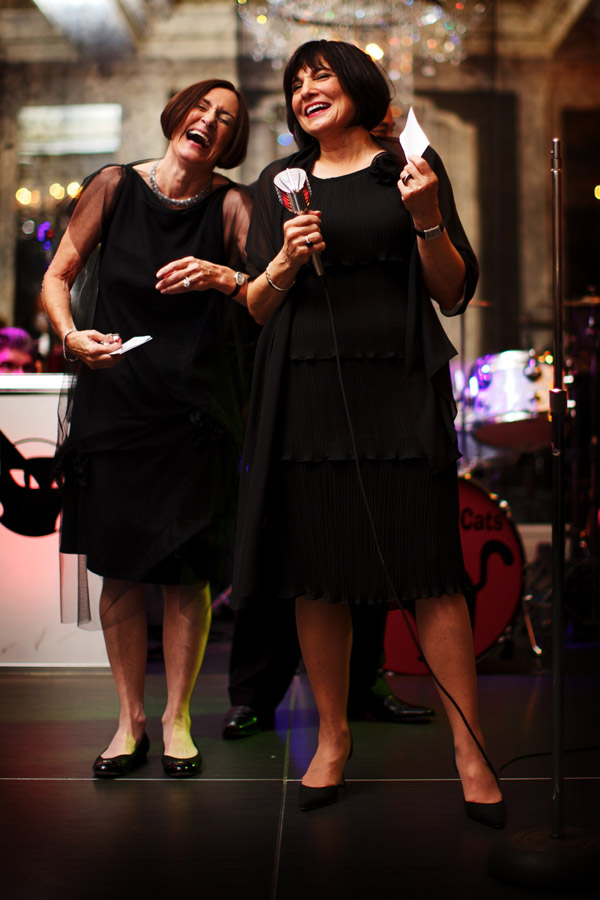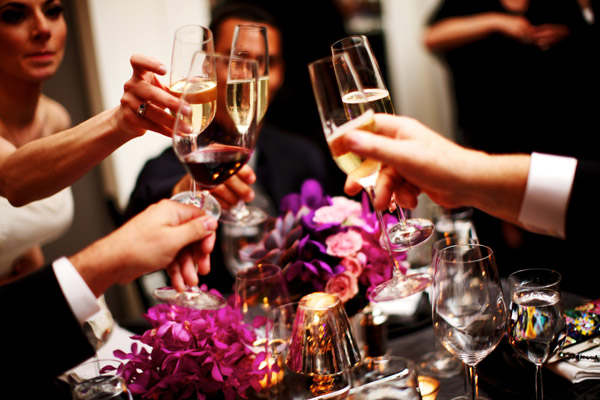 Junebug: How did the locations available to you affect the type of images you shot and how you shot them?
Kevin: The Elysian Hotel is a new ultra luxury high-end hotel in downtown Chicago. Because of the incredible art, architecture and design, it was not difficult at all to come up with locations for backdrops. July 3rd was especially warm with extreme humidity, so our expectations for a variety of outdoor shots was taken off the list. Because Kehoe Designs and Reva Nathan & Associates did such a fantastic job at decorating the ceremony room and Chuppah, I mostly loved working with the available light against the antiqued cracked mirror. My advice to every bride and groom? Custom lighting. Always.
Junebug: What kind of equipment did you use while shooting this wedding?
Kevin: Canon EOS 1Ds Mark II with a variety of extreme wide, prime lenses, Quantum gear, as well as a wonderful second shooter and an incredible assistant.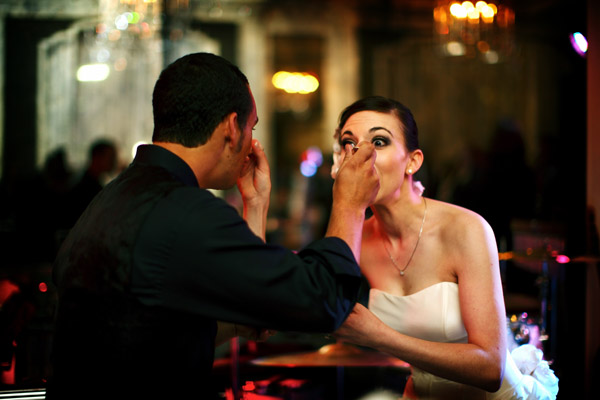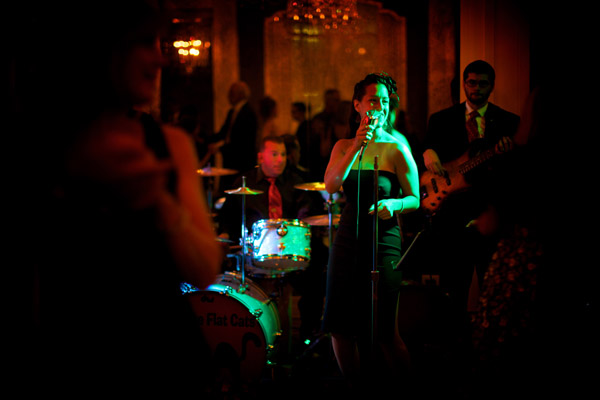 Thank you Kevin! And thank you for sharing your gorgeous wedding with us Samantha and Ben!
To learn about all of the details, fashion and wedding professionals that made this beautiful day a reality, be sure to visit our Real Wedding library!
To learn more about Kevin Weinstein Photography and to find the perfect wedding photographer for your own wedding day, don't miss our World's Best Wedding Photographers Hotlist!