I do love the cold this time of year, even the idea of a snowy white Christmas, but the warmth and romance of this gorgeous Key West wedding photo collection from top Florida wedding photographer Chip Litherland of Eleven Weddings is oh-so enticing! "Beach sexy with a side of tequila" sounds just about perfect on this frosty December morning!
The Newlyweds: Nicole and Mike
Junebug: What three adjectives best describe your wedding?
Nicole: Romantic, fun, and hospitable.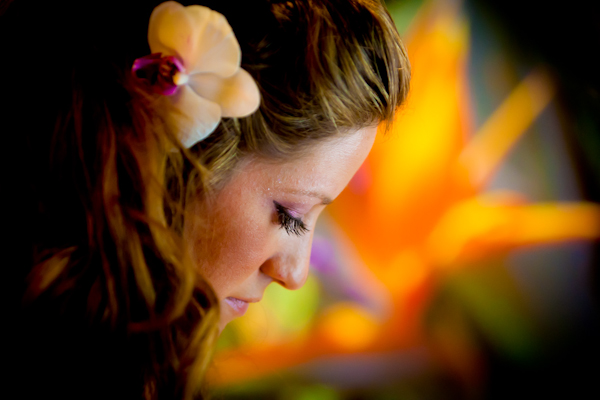 Nicole: I wanted a very *ROMANTIC* ceremony and there aren't many places with a more romantic atmosphere than Key West during a breathtaking sunset – it's even referred to as the "Home of the Sunset!"
We wanted to give everyone the best of Key West in the little time we had together. The best views, our sunset ceremony, the best drinks, Key Lime Pie shots, and some of the best food Key West has to offer. We had 26 guests and served four entrees so everyone was able to sample a variety of Floribbean cuisine. A full bar was important to us, we didn't just want one type of vodka, rum, or gin. The way we saw it, if you're going to come all the way to Key West to celebrate our marriage, then you deserve to drink whatever your heart desires. We just wanted to have an incredibly *FUN* party to kick off the official start to a very long and happy life together.
We wanted to be very *HOSPITABLE* to our guests. It meant a lot that our guests traveled so far to be with us. Some came from as far as the Czech Republic (my cousins). We welcomed our guests personally in their rooms after they checked in, greeting them with welcome bags filled with carefully chosen items to better their stay in Key West, as well as represent us. We also gave them beach pails filled with chilled beers and water to beat the heat. We felt this was the best way to show our guests it was time to relax and have some fun, welcome to our destination wedding!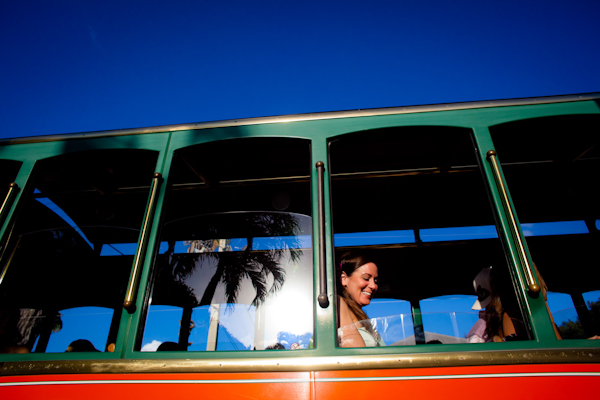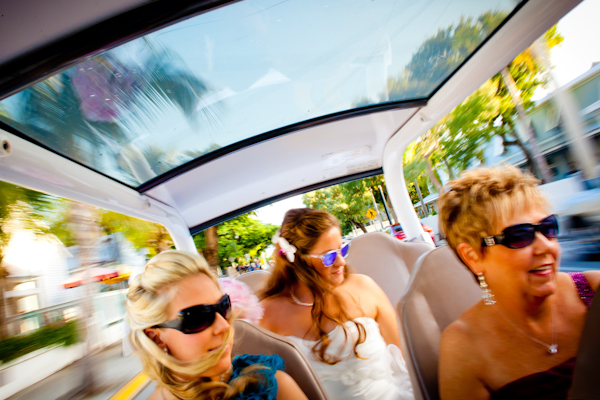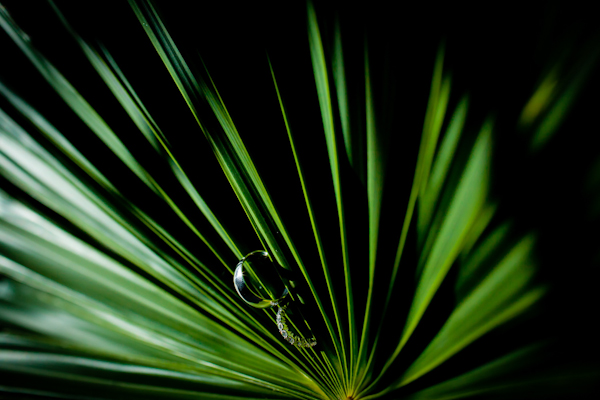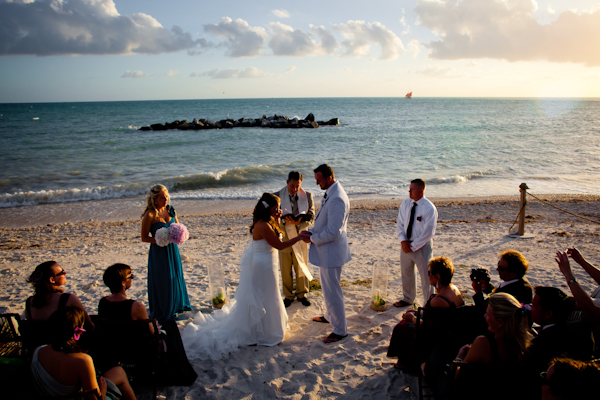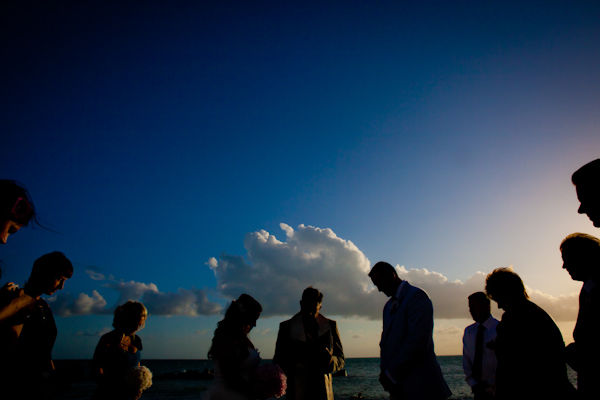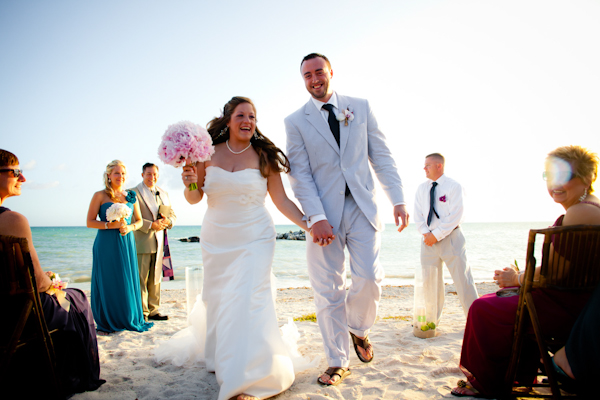 Junebug: What inspired your personal wedding style, and how did you incorporate your style and personalities into your big day?
Nicole: Beach sexy with a side of tequila. I don't really consider myself a stylish person, I just like what I like. Cool white linens, sheers and crystal drapes. Plenty of peripheral lighting and candle light which I think is really sexy. I kept asking myself the question, what is going to make this wedding totally fun and totally beautiful? Plenty of food, alcohol, a variety of music (Steel Drummer and a DJ), activities, ambiance, and souvenirs to remember the fun. Our wedding was such a reflection of us, it was almost exactly as we had envisioned and wanted it. Every bit of detail had some significance to us as a couple. I planned to create a legend on the back of the custom maps in our welcome bag to list the rhyme or reason for certain details incorporated in our wedding, but time just really creeps up on you! Our place cards were miniature Patron tequila bottles – we have some really significant memories surrounding this particular brand of alcohol. It was a no brainer to use them to welcome our guests to our reception in Margaritaville, complimented by a "Lost Shaker of Salt" and candy lemon wedge, let the party begin! I took it very seriously that this wedding, this whole party, was all happening because two people were coming together to commit to spending the rest of their lives together.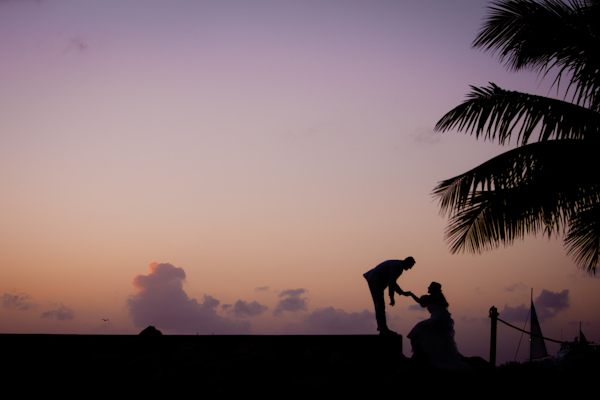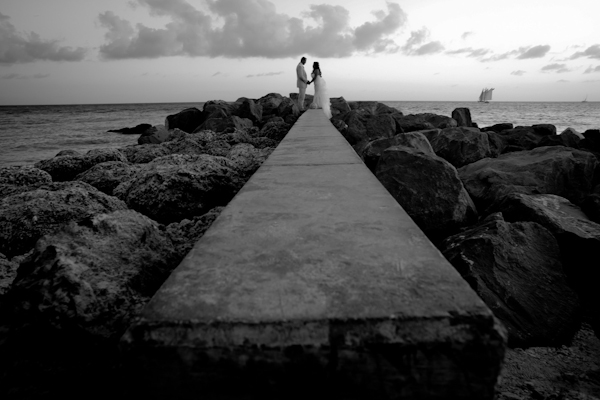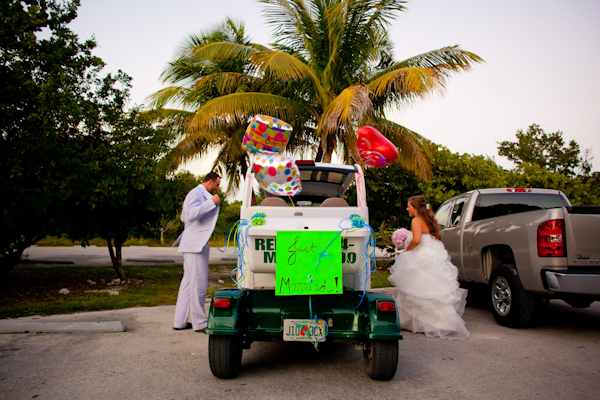 Junebug: What was your wedding color palette?
Nicole: I had no idea that this was such an important question, but everyone asked me this! I couldn't believe how often it came up, right there next to "when are you getting married?" One might have thought I would have made up my mind during our almost two year engagement, but reverting back to my "I just like what I like" statement, I didn't have a set palette of colors. I wanted palms, beautiful tropical palms. I loved that rich palm green color. I knew I wanted white linens because I didn't feel like spending the days and agony I knew it would take to pick out a table cloth, and deep chocolate browns which were incorporated in the chairs, dark wood and the beach. There's just something about those three things together that put me in such a good mood. Breezy white linens, surrounded by candlelight, and tropical palms, I find it very sexy and relaxing, and tropical and pamperesque (I think I just made up a word). So if I had to pick a palette, I guess it would be chocolate brown, linen white, and palm green. There is so much beauty in Key West I didn't feel the need to have a specific palette, Key West is alive with color. The real answer to the color palette question I used was "the rainbow, whatever I like."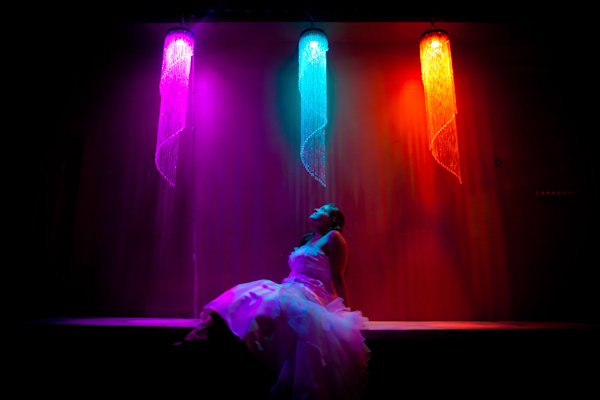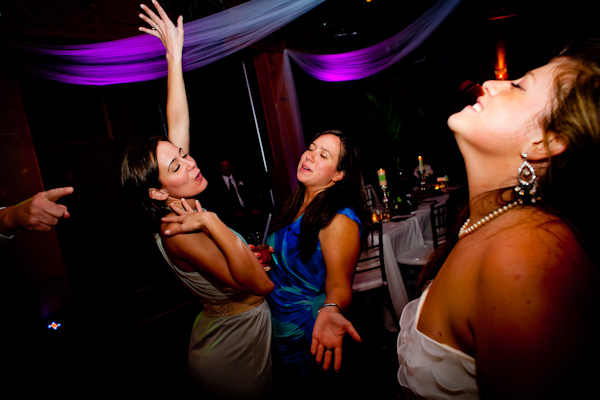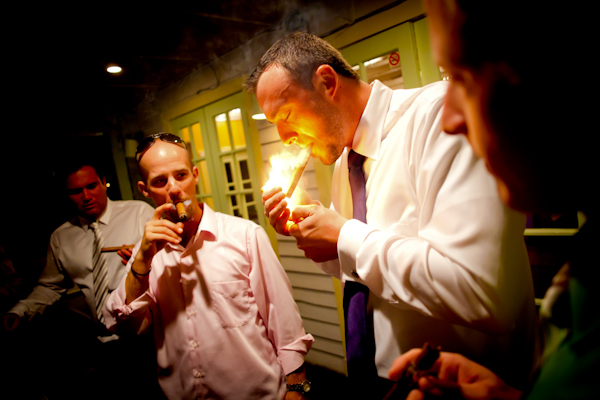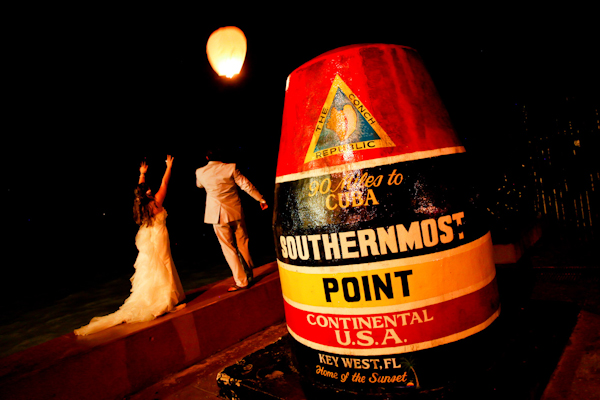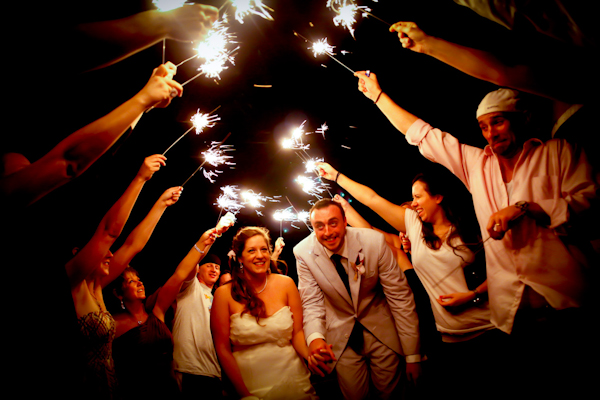 Junebug: Looking back, what are the moments, decisions or memories that you love the most about your wedding?
Nicole: I actually loved the short amount of time Mike and I had alone together right after the ceremony, when we were taking pictures with Chip. The mood was very calm and quiet, a nice moment as the sun set after the busy day. We'd just vowed our lives to one another and for this brief moment it was just he and I together…the rest of the night was just a whirlwind I never imagined could pass so quickly, and I never thought I would forget so quickly. Best decision, hands down, was hiring Chip. I'd forgotten so much right after the wedding because it all went by so fast, but when we were able to view our wedding photos online…we laughed, we cried, we remembered, and that is priceless. He didn't give us just a bunch of people smiling at the camera, he captured the events of the wedding, some things I did see, and some things I didn't see, it was simply wonderful. My favorite memory, besides the ceremony of course, would definitely be the wishing lantern release at the Southern Most Point. It was a great time because I don't think any of our family and friends had done such a thing before. There was also a whole hotel front of people drinking on their balconies just hanging over the sides cheering on our lanterns as they were released. They all just added to the excitement of the lanterns floating away into the sky.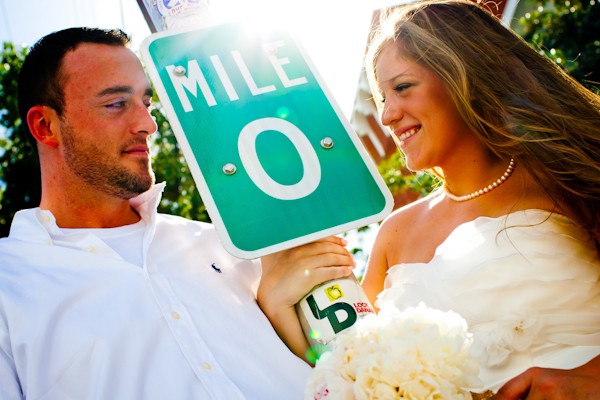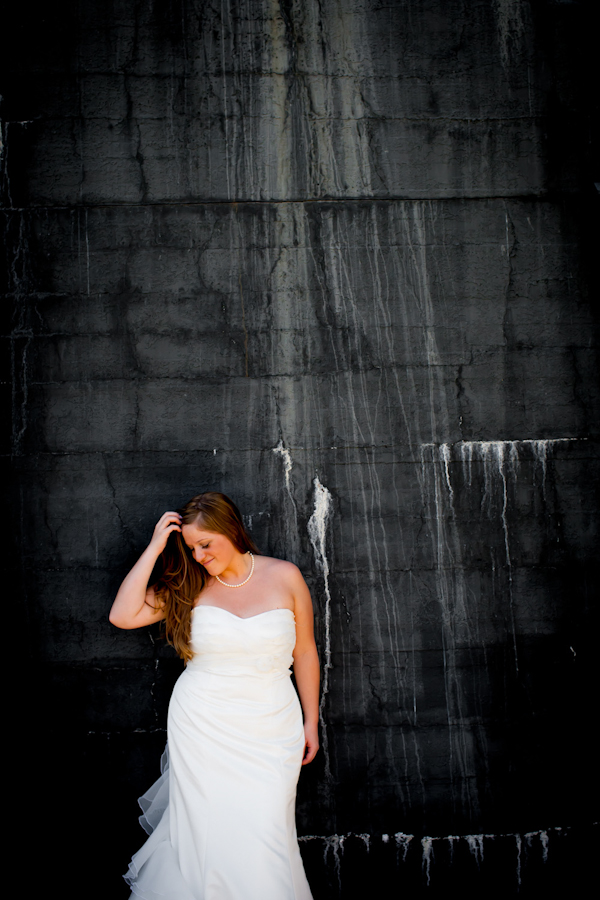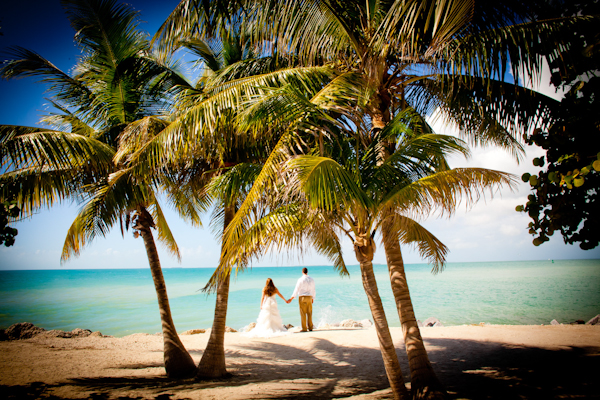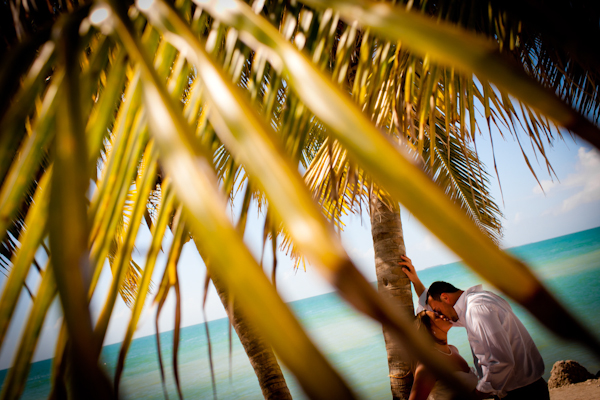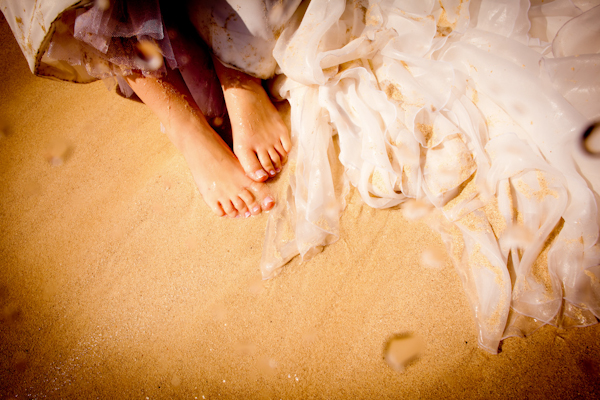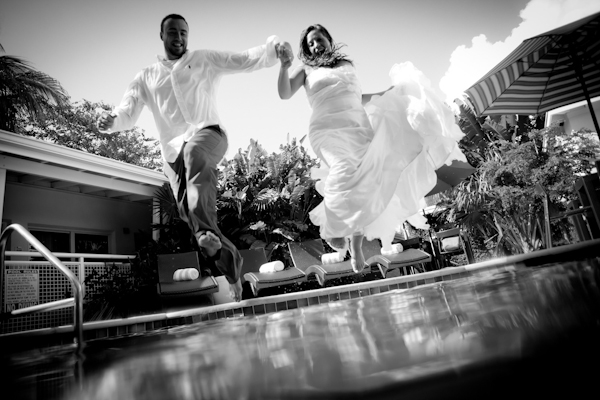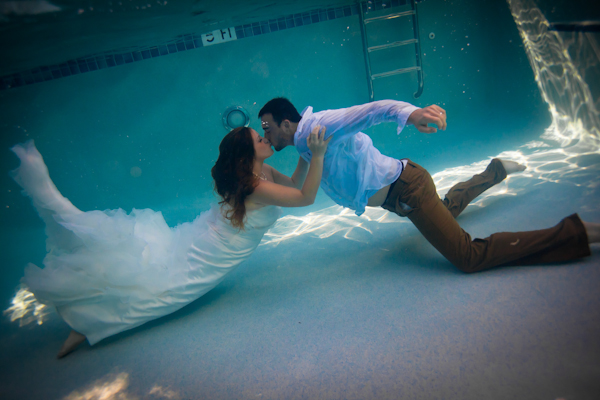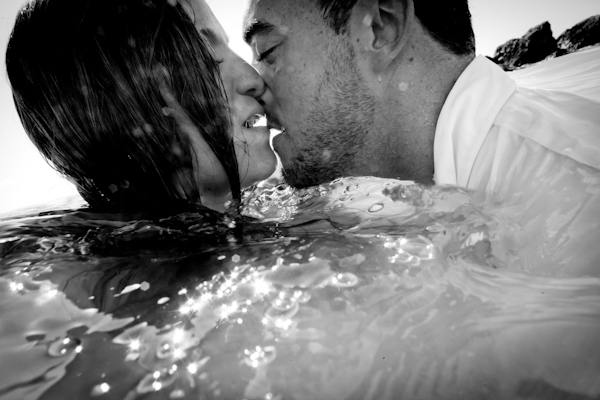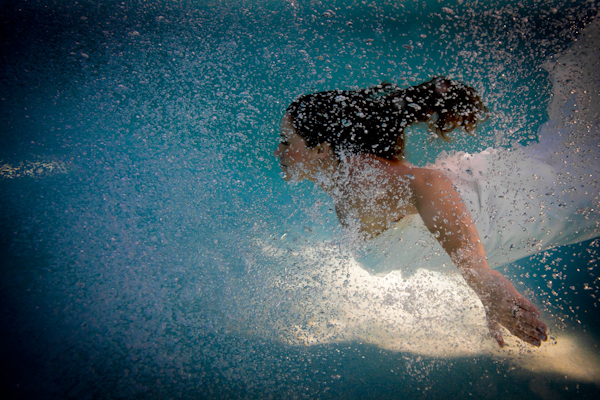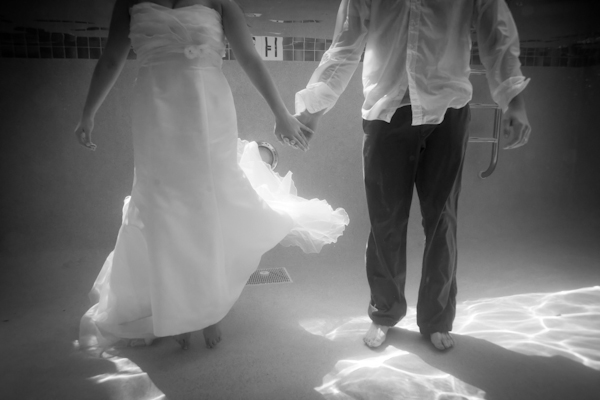 The Wedding Team:
Photography: Chip Litherland of Eleven Weddings
Wedding Film: Alan Button of Artistry Wedding Films
Floral & Event Design: Colleen Perzan of Floral Couture
Day of Services: Simply You
Ceremony Site: Ft. Zachary Taylor
Reception & Catering: Mangoes Restaurant
Live Music: steel drums by Bongo D
DJ: Visualize Entertainment
Hotel Accommodations: Orchid Key Inn
Officiant: Rev. Joe McMurray
Thanks so much Nicole and Mike for sharing your gorgeous wedding and day after session with us, and thank you Chip for these stunning photos!