Sarah and Paul wanted their wedding to be relaxed and intimate like a large family dinner and judging from the incredible photos by Marcus Bell of Studio Impressions, I would say they got their wish! The reception took place at the Museum of Contemporary Art in NSW, Australia where everyone ate dinner together at two long banquet tables. All day, there was a visible glow of joy and peace that surrounded everyone who was lucky enough to be in attendance.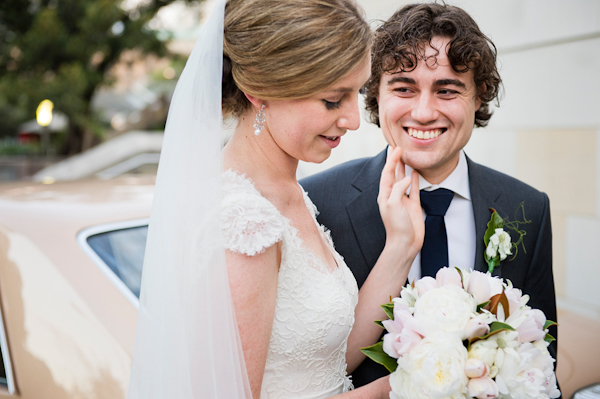 The Couple: Sarah and Paul
The Wedding: 4.21.12 – St Mary's Cathedral and Museum of Contemporary Art, NSW, Australia
The Photographer: Studio Impressions
Junebug: What three adjectives best describe your wedding?
Sarah and Paul: Relaxed, Intimate, Joyful
Junebug: What inspired your personal wedding style, and how did you incorporate your style and personalities into your big day?
Sarah and Paul: We wanted our wedding to feel like a family dinner rather than a formal event. We sat among our guests along two long banquet tablets, forgo the traditional wedding cake for cheese and incorporated Pauls citrus farming heritage by lining the terrace with lemon trees. Paul and I bought ties in Florence during a holiday in Italy, and used these as our male bomboniere. For our female bomboniere we used silk scarves that my parents brought back from Cambodia. Our vendors were all so accommodating, and made sure that every aspect reflected our personalities.
Junebug: What specifically drew you to Studio Impressions and their imagery?
Sarah and Paul: Marcus Bell from Studio Impressions captures wonderful moments in an unobtrusive way. He made our family and loved ones the focus of the day, which was exactly what we wanted. Marcus was a pleasure to work with and blended in with our guests so well that most people did not realise that we had a photographer. We couldnt recommend him highly enough.