Adrienne and Sean are obviously perfect for each other but there was also a great pairing that occurred between the couple and their photographers, Jacklyn Greenberg and Chris Brown of JAG Studios. Their joyous personalities were a perfect match for the couple and they quickly became dear friends, resulting in absolutely gorgeous, energetic and completely authentic photos. This Connecticut wedding at the amazing Winvian was a complete show-stopper!
The Couple: Adrienne and Sean
The Location: 6.4.20122 – Winvian, Morris, CT
Junebug: What were your most important goals in planning your wedding?
Adrienne and Sean: Making everything personal. Both Sean and I really wanted every detail to have special meaning to us and a story behind it.
Junebug: What three adjectives describe your wedding best?
Adrienne and Sean: Personal, Fun, and Loving. And beautiful! And joyful!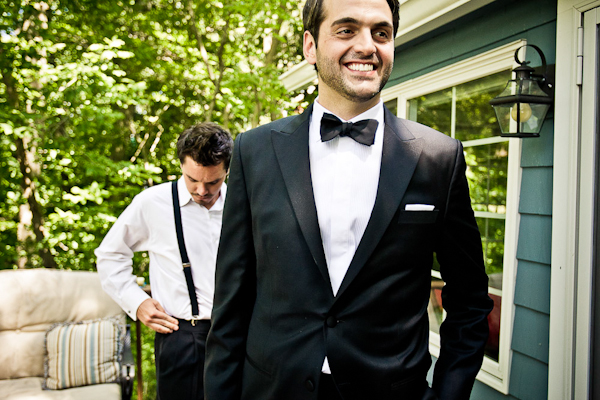 Junebug: Where did you hold your wedding and reception, and why?
Adrienne and Sean: The ceremony was at a beautiful cape cod style church in Ridgefield, CT. Sean had attended a few times as a child and he and I attended together when we were visiting family in the area while we were living in London. It is very close to his family's summer house on Lake Waccabuc. We fell in love with the church, and it was the perfect setting for our wedding. There was no question where we wanted our wedding reception once we stepped foot onto the property at Winvian. It was so charming, yet exclusive and beautiful with a warmth that Sean and I felt instantly. It was very "us," and the people there were our kind of people. Very fun, friendly, kind, and yet the grounds and facilities there are so exceptional. We truly had never seen anything like it. It didn't have a pretentious feel, and it was very unique. The food was incredible, which was also very important to us. The Gordon Brown House is their banquet facility, and it is like a barn but more polished, so it has that rustic feel without actually having sawdust and pigs.
Junebug: Can you share with us a little about your love story?
Adrienne and Sean: I could go on forever. Sean and I met through his cousin who is a close friend of mine. We lived on opposite coasts, with me in California and him in Connecticut. I was doing some work in New York so we decided to meet as a favor to his cousin, who was convinced we would be a perfect match. She was right. The minute we met, I knew he was the man for me. I had sandwiched him in on a Wednesday between dates I had the entire week, hahaha…but I canceled my Thursday and Friday dates once I met him. I knew my dating life was over and texted my mom from dinner telling her that I'd found the man I was going to marry. She asked who had stolen my phone! Sean came to visit me every weekend for six months. Finally we had to decide who was moving–me to the east or him to the west. Then he got a job offer in London. What to do? It was easy. We packed up and moved to London together. He proposed one weekend in Paris, in front of my favorite donut shop with a busker he had hired to play our song. I turned to him and said, "Can you believe that guy is playing our song, in Paris, in front of my shop!? Right when we are here?!" Hahaha yeah it took a second for it to dawn on me that it had been planned, I figured it out When he got down on one knee!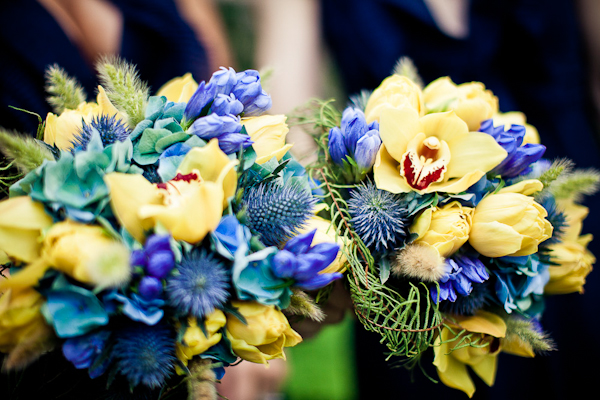 Junebug: What were you looking for in a photographer?
Adrienne and Sean: We wanted someone who would be able to capture the essence of the day and, most importantly, US.
Junebug: What specifically drew you to JAG Studios and their imagery?
Adrienne: The feelings we got when we looked at her photos. There were so many photographers to choose from, and so many exquisitely beautiful, stunning wedding pictures. But they were wedding pictures. When looking at Jacklyn's, I actually wept. I was moved; I felt I was a guest at those strangers' weddings. Each one was more than a photo…it told a story. That was it.
Junebug: What did you enjoy most about working with Jacklyn?
Adrienne: To put it simply, she has become one of my favorite people in the world. I definitely consider her a close friend now. Her personality and charm are infectious. She is warm, loving, caring, and incredibly funny. She just is a joy to be around. So she captures you at your best because she makes you feel your best. She loves what she does and that is inspiring. I cannot stress enough that EVERYONE you surround yourself with on your big day will either add to or take away from your experience. There are not enough good adjectives to describe Jacklyn. I. Adore. Her. If you are lucky enough to have the combination of Jacklyn and Winvian for your wedding, it will be the biggest success of your life.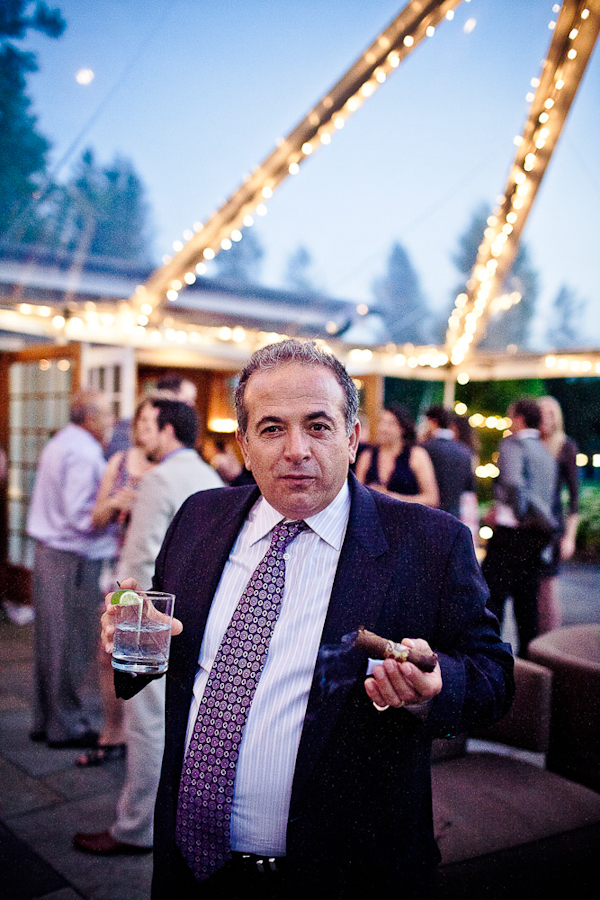 The Photographer: JAG Studios
Junebug: How did you approach this particular wedding and what did you most want to capture during shooting?
JAG Studios: We had the pleasure of working with Adrienne and Sean in Paris for their engagement shoot, so we already knew they were full of life and positive energy. We wanted to capture their true and unabashed happiness and love for each other.
Junebug: Were there any special photographic requests from the couple that made this wedding especially exciting creatively or personally?
JAG Studios: During their Paris engagement shoot, Adrienne and Sean had an abundance of wonderful ideas about where to shoot. After seeing their engagement photos, they trusted us even more than before to let us take the reins on how and where everything should be photographed for their wedding. With such beautiful locations at our disposal and an amazing couple to work with, we definitely had a blast and a ton of great shots!
Junebug: What was the most fun part of this wedding for you to photograph?
JAG Studios: The entire day was really wonderful because not only were Sean and Adrienne amazing, but all their friends and family were as well! I'm always a fan of the time I spend with my brides while they are getting ready. There's an anticipation and an excitement in the air that usually gives for some great moments.
Junebug: How did the locations available to you affect the type of images you shot and how you shot them?
JAG Studios: The ceremony and getting ready locations were bright and full of sunlight, which was a warm contrast to the reception that evening. The sunlight during Adrienne's getting ready photos, which were shot by Jeremy and Jacklyn at the Waccabuc Country Club in Waccabuc, New York, gave more of an angelic and fresh feel to her time getting primped and primed for the ceremony. Chris photographed Sean and the groomsmen getting ready at a private residence in Lewisboro, NY on their deck overlooking a lake, which gave a great outdoor element to their photos.
After their ceremony at St. Stephens Episcopal Church in Ridgefield, CT, the wedding party and guests headed to Winvian in Morris, CT for cocktail hour and a reception. Winvian always provides an elegant, rustic, down to earth backdrop, which our clients always transform to fit their personalities. Adrienne and Sean went with the amazing floral designs by Tony Palmeri of Datura, A Modern Garden to keep true to the rustic barn setting.
With all of this in mind, we weren't focused on the locations and how to make them work for us. Beautiful locations are wonderful, but give us clients who are not afraid to show their spectacular love for one another, and we will only be able to create stunning photographs.
Junebug: Were there any special locations you were able to choose that made for really great images?
JAG Studios: We love working at Winvian because of how gorgeous the grounds are. We never have to pick one specific location to shoot with because we are always in awe with the backdrops that this marvelous location provides.
Junebug: What kind of equipment did you use while shooting this wedding?
JAG Studios: We use Canon 5D IIs and 5D IIIs along with L series lenses – 24mm f/1.4, 35mm f/1.4, 16-35mm f/2.8, 50mm f/1.2, 85mm f/1.2, 100mm f/2, 70-200mm f/2.8, 135mm f/2, and 200mm f/2. We use Canons TTL wireless flash systems controlled by Pocket Wizards when we have dark receptions and always on the dance floor! We also all use the Spyder Holsters to keep our cameras on our hips and ready to shoot at all times.
Thank you Adrienne and Sean for sharing your Connecticut wedding at Winvian!
To learn all about the incredible team of Wedding Professionals that contributed to this amazing day, be sure to visit Adrienne and Sean's page in our Real Weddings Library.