Jennifer and Christine found the Four Seasons Hotel Seattle, with it's gorgeous natural light and stunning views of Elliot Bay, to be the best of both worlds. With top Seattle photographer Jenny Jimenez on hand to document the festivities, Jennifer and Christine enjoyed a beautiful day of celebration surrounded by their closest friends and family.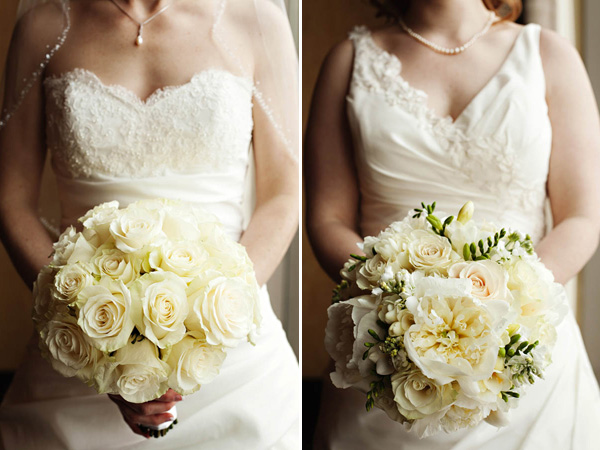 The Newlyweds: Jennifer and Christine
Junebug: What were your most important goals in planning your wedding?
Jennifer and Christine: Throwing an awesome party for our friends and family, while making the wedding ceremony meaningful and memorable (they often seem like an after thought – Mary Calhoun helped us plan a beautiful secular ceremony).
Junebug: How would you describe your personal wedding style?
Jennifer and Christine: Classic, Fresh, Formal, without being stuffy (this was sort of necessary given the hotel ballroom space), not cluttered or over the top.
Junebug: Where did you hold your wedding and reception, and why?
Jennifer and Christine: Seattle Four Seasons. The view of Puget Sound was stunning. Christine wanted an outdoor wedding, but we thought better of it, given it was in Seattle (Christine's from Seattle and Jennifer's from California). The large windows allowed tons of natural light. We felt like we got the best of both an indoor and outdoor wedding. Additionally, since we were planning from New York City we wanted to have it in a hotel where most services were provided. The Four Seasons had fantastic packages, and their event coordinator made finding trusted vendors and getting everything to work smoothly a breeze. Gerald Lim rocks!
Junebug: What three adjectives describe your wedding best?
Jennifer and Christine: intimate, FUN!, exactly what we wanted
Junebug: Is there anything else you would like to share with us about your wedding, your love story or your lives?
Jennifer and Christine: We got legally married in Connecticut once we returned from our honeymoon. This was just a few weeks before marriage became legal in New York state. We met through a mutual friend while we were both in Saint Louis for grad school. We clicked immediately and got together soon after our initial meeting. We knew very early on that we wanted to get married, but needed to finish school and launch our lives first. Our wedding was our chance to thank our friends and family for all their support. It was incredible to be in the room with everyone and think about how far people had come, emotionally and psychologically, not just physically to support us that day.
Jennifer took Christine's last name, which really surprised a lot of people. It was another symbolic way that we were able to communicate our commitment to one another and being a family unit with societal recognition.
Junebug: What were you looking for in a photographer?
Jennifer and Christine: Someone who was good at capturing the moment and feel of the event, but who could also do the large family group pix that our moms wanted. We also ultimately went with Jenny because she highlighted that fact that her fee includes us owning our digital (usually retouched) photographs. We can use them however we want (with a few caveats) and don't have to go through her to get prints or use them digitally.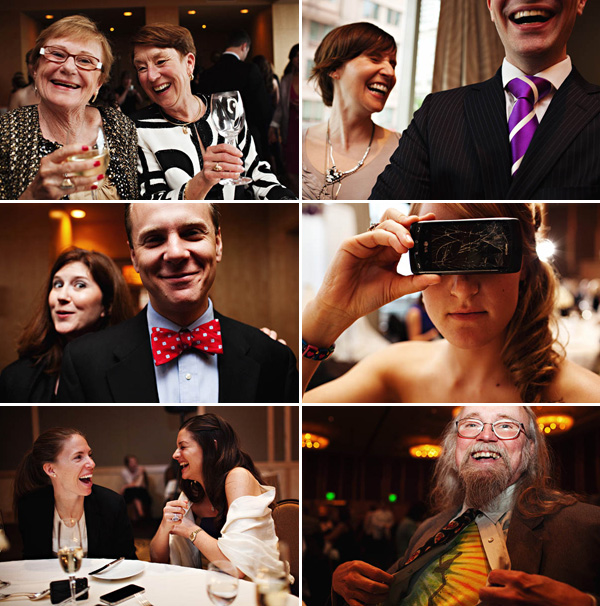 Junebug: What specifically drew you to Jenny Jimenez?
Jennifer and Christine: Her website and blog helped us get a sense of her personality and work. The fact that she highlights her photojournalistic style was key. Also, she Skyped with us and was so excited to be involved in a same-sex wedding. She had already photographed a few, and we loved that she was a staunch supporter of marriage rights. In fact, she donated our entire tip to Marriage Equality!
Junebug: What did you enjoy most about working with Jenny?
Jennifer and Christine: Jenny's so laid back, open and creative, but also very professional. We had a great time doing our engagement photos. She listened to what we wanted, but also went with her own style and got some fantastic shots — they look like us, embody our interaction style, and are also fun and fresh, but not forced. She not only captured our wedding perfectly, she actually engaged with our guests and enhanced their experience; however, she also blended into the background when needed. Plus, the photobooth was SO fun. Everyone enjoyed it tremendously.
The Photographer: Jenny Jimenez
Junebug: How did you approach this particular wedding and what did you most want to capture during shooting?
Jenny: Jennifer and Christine were introduced to me by my good friend, Sean Flanigan, and we set up a Skype session. I am a big supporter of gay rights and I always love to celebrate same sex marriages, and we just hit it off. They wanted me to capture the spirit of their day and their family and friends are really important to them, so I focused on the relationships.
Junebug: How did the locations available to you affect the type of images you shot and how you shot them?
Jenny: It was a rainy Seattle day, so we had fun using the windows and indoor locations at the Four Seasons to get the portraits. I loved photographing them getting ready surrounded by their attendants and family members, and when they were done, there was a huge round of applause of the group.
Junebug: What was the most fun part of this wedding for you to photograph?
Jenny: Their party was blast with a photo booth, and great dancing. The whole day had a very celebratory feel and it ended with a double bouquet toss. One was caught by one of their girlfriends and one by a man whose partner was thrilled. For me weddings are about those little emotional moments and there were a lot for me to capture.
Thank you so much Jennifer and Christine for sharing your wedding with us, and thank you Jenny for these gorgeous photos!
To see more of Jenny Jimenez's work check out her website, blog, and Junebug Member Brochure!