Today's couple, Melanie and George, are truly unique and they designed their wedding to follow suit, exuding style and glamour in an entirely distinctive way. A few examples? Their dark chocolate wedding cake was made to be smashed rather than cut, Melanie's bridal bouquet included glitter covered feathers, and their photographer, Richard Israel, was the perfect choice to capture their celebration with dramatic beauty and outside-the-box creativity.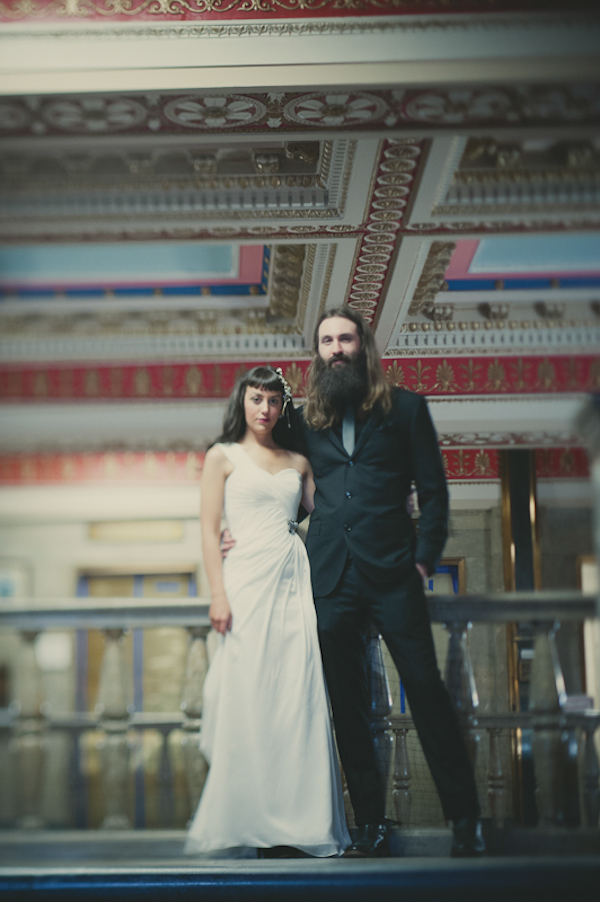 Junebug: What three adjectives best describe your wedding?
Melanie and George: Relaxed, untraditional, and (a little bit) rowdy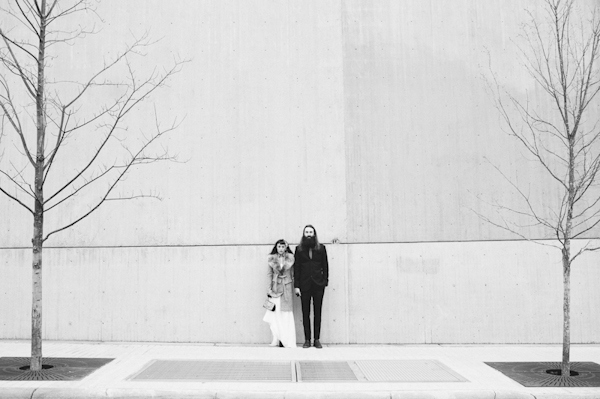 Junebug: What inspired your personal wedding style, and how did you incorporate your style and personalities into your big day?
Melanie and George: George and I both love a good party, but we are introverts too, so we need lots of time to unwind. By stretching our wedding out over 2 days, we allowed ourselves to have lots of downtime and party time.
We are also both creative people. George is an artist/art teacher and I am a librarian who loves to curate and craft. We didn't want to go crazy with the DIY, but we did manage to create our own invitations, party favors and decorations. We were also happy to support other makers for the stuff we couldn't make or didn't want to make.
Junebug: Looking back, what are the moments, decisions or memories that you love the most about your wedding?
Melanie: I love that our ceremony lasted two minutes, so I didn't have time to be too nervous. I somehow still managed to call my handsome, fit husband fat though. I don't know how that happened…I also love the moment when we smashed the hollow, chocolate cake with a hammer! Smashing something is always gratifying.
George: I love that we defied tradition. We spent the night before the wedding alone together and got ready together in the morning. It was so nice to just be alone without having to worry about anyone else.
Overall, breaking our wedding up into two days was the best decision. On the first day, we had the ceremony and a casual, family lunch. On the second day, we got rowdy with our friends. It was the best of both worlds.
Junebug: What specifically drew you to Richard Israel and his imagery?
Melanie and George: We love that Richards photography can be both gritty and dreamy at the same time. We love that he takes a fine art approach to wedding photography. And we love that he would never, ever make us take jumping photos– haha!
The Wedding Team:
Photographer: Richard Israel
Ceremony Venue: Buncombe County Courthouse
Reception Venue: Rezaz Restaurant and Wine Bar for lunch with the family; The Dirty South Lounge for our party with friends
Officiant: Local magistrate
Invitation Designer: George
Catering: Provided by our reception venues
Decor: Melanie
Cake: The Chocolate Fetish
Wedding Dress: Ceremony dress – Pronovias from Lana Addison Bridal; Party dress – Sue Wong
Bridal accessories: Haircomb – Twigs and Honey; Earrings – Allison Wrenn Smith; Coat – Anthropologie; Gloves – East Workshop; Shoes – Enzo Angiolini purchased at Nordstrom
Bridesmaids apparel and accessories: H&M
Groom apparel and accessories: Suit – J Crew; Tie, socks and shirt: Express;
Favors: Lunch favors: New England Workshop, Party favors: DIY by the bride and groom
Rings: Engagement Ring – Kyle Ann Metals; Wedding Bands – Bario-Neal
See more beautiful photography by Richard Israel in his Junebug member brochure, or in his Photographer Spotlight Interview here in the Photobug archives.