The Couple: Gitika and Rajeev
The Wedding: The Royal Hawaiian, Honolulu, HI
The Photographer: Derek Wong Photography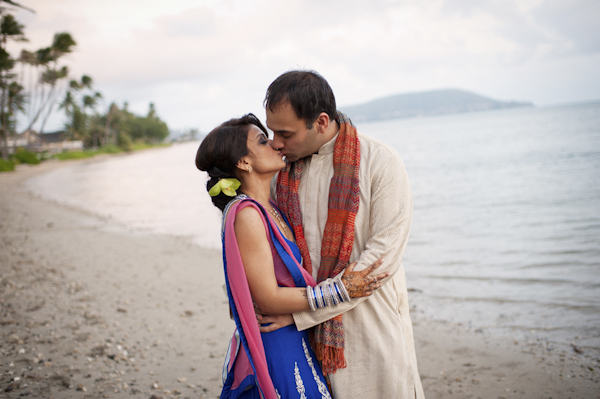 Junebug: What three adjectives best describe your wedding?
Gitika and Rajeev: Intimate (for an indian wedding!), Jubilant, Spiritual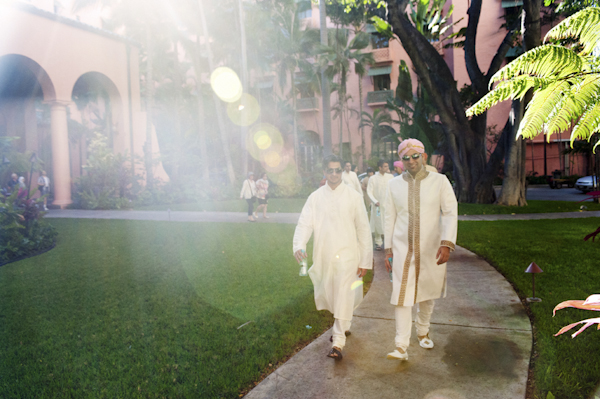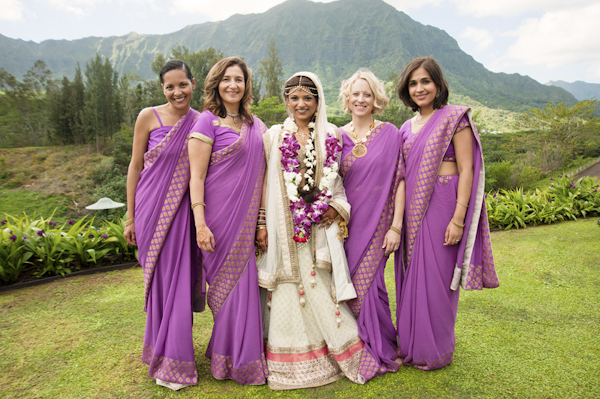 Junebug: What inspired your personal wedding style, and how did you incorporate your style and personalities into your big day?
Gitika: The decisions were all very natural to me as a bride. I knew what I wanted when I saw it and I loved every moment of wedding planning. We both really value our relationships with our friends and family so the overriding concept was that everyone who was there should feel like they were there because they personally impacted our lives and who we were as people. Through all of the personal elements, we wanted each guest to feel that they were a part of us. In our welcome bags, we included hand written notes with printed photos of us over the years with each guest. We wanted to honor our history with each guest. We wanted each guest to know how much we valued our relationship with them and their presence at our wedding.
For our wedding favor, Rajeev cooked up a hot sauce, which we spent an entire weekend bottling and sealing by hand. We ordered bottles and personalized labels, making sure the bottles were no more than 3oz so each guest could take it home in their carry on bag. Each party favor was individually hand bottled with so much love. We combined our names and called it "Gitraje" sauce. We got such great feedback we are thinking of making another big batch and selling it at local farmer's markets!
Junebug: Looking back, what are the moments, decisions or memories that you love the most about your wedding?
Gitika: I love that we didn't cave on our guest list and kept it on the smaller side (140 guests) for an Indian wedding. We got to spend time with most everyone over the three day affair.
I love that we kept all of the events outdoors, despite the fact that it was rainy season. I had always dreamed of an outdoor wedding and my wish became a reality!
Other than marrying my best friend, the best memory was the surprise bollywood-style flash mob my sister organized with most of our guests via a Youtube video. As the organizers of the wedding, Rajeev and I were shocked that they ALL were able to pull it off without us knowing! We will never forget it. Also, on the dancefloor at the end of the reception, we'll never forget when all of our guests surrounded us in a circle and danced around us. It is an image and a memory that will be etched in our minds forever.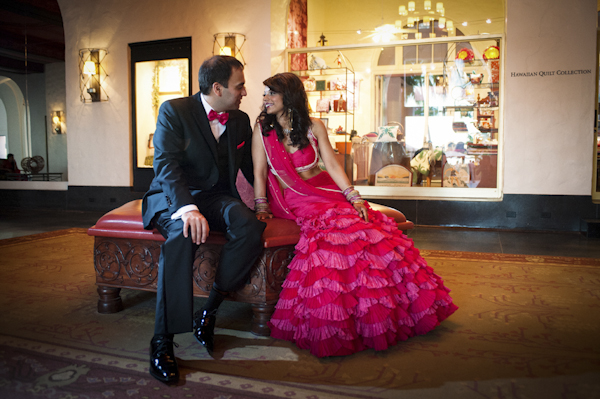 Junebug: What specifically drew you to Derek Wong Photography and his imagery?
Gitika and Rajeev: I loved the moments he captured and the refined portraits.
Congrats to Gitika and Rajeev, we wish you the best in your new life together! Looking for your own Hawaiian Wedding Photographer? Visit our World's Best Photographer Hotlist!
The Wedding Team:
Photographer: Derek Wong Photography
Event Planner: Mira Savara Events
Ceremony Venue: The Royal Hawaiian Golf Club
Reception Venue: The Royal Hawaiian Hotel Ocean Lawn
Videographer/Film Maker: IMF Visions
Officiant: Pandita Sonia Rani Bhaskar
Invitation Designer: Invitations by Ajalon
Catering: Ginniberries
Florist: Steven Boyle Design
Cake: Hokulani Bakery
Wedding Dress: Custom designs by bride, Ginni's Boutique
Bridal accessories: Family Heirlooms
Bridesmaid's apparel and accessories: Custom from India
Groom and groomsmen apparel and accessories: Indian: Frontier Heritage, Custom Tux from My.Suit
Hair and make-up: Leslie Fair
DJ: Showtime DJs
Live music: Ukelele via Sheraton Hotel. Flutist/Tabla via Mira Savara Events
Transportation: Platinum Limo, VIP Trans
Favors: Home-made hot sauce
Rentals: Pacific Party Rentals, Accel Rentals, Royal Party Rentals, Chaircover Express
Rings: Hers: Van Cleef & Arpels His: Local Koa Wood/Titanium Surfer's Ring