For photographers and Hawaii first-timers, Alison and Geoff of Alison Conklin Photography, the destination wedding of Christie and Daryal at the Bayer Estate in Honolulu was the perfect and most uniquely Hawaiian experience they could have asked for. Christie and Daryal were gracious hosts all week long, and with no shortage of beautiful light and gorgeous beachfront locations, the resulting wedding photos are so lovely we had a tough time choosing our favorites!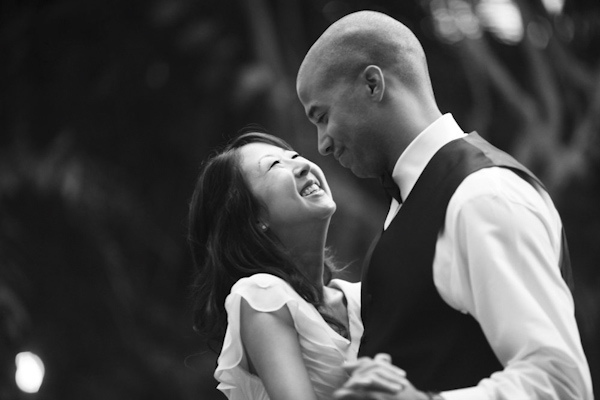 The Newlyweds: Christie and Daryal
Junebug: What were your most important goals in planning your wedding?
Christie and Daryal: Our most important goal, in planning our wedding, was to have our own particular style come through. We used our favorite things as inspiration, so planning was a lot of fun and we wanted our guests to walk in, and feel like it was very much us.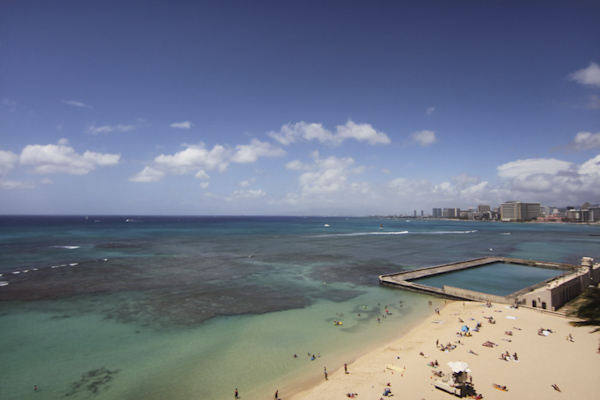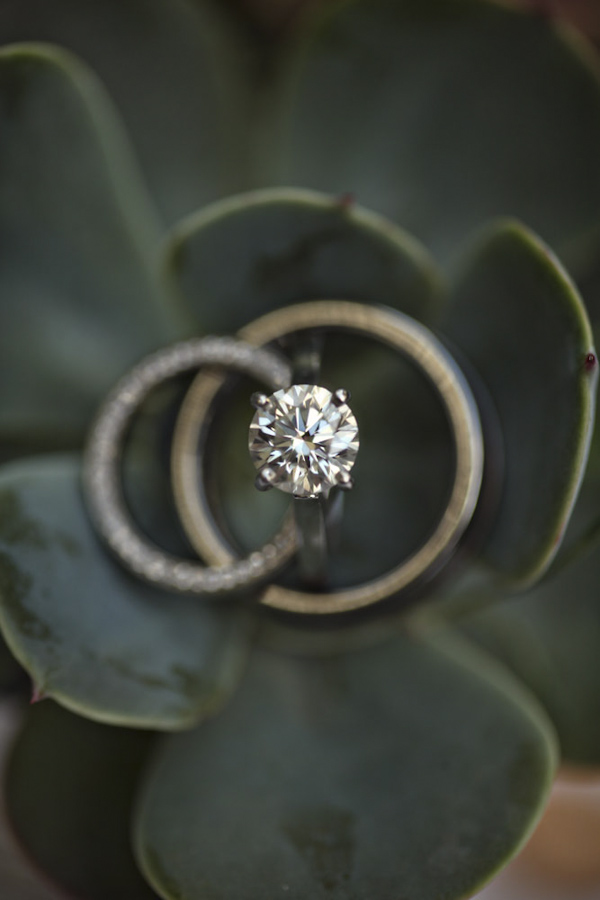 Junebug: How would you describe your personal wedding style?
Christie and Daryal: English country garden elegance
Junebug: What three adjectives describe your wedding best?
Christie and Daryal: Happy, loving, and fulfilling!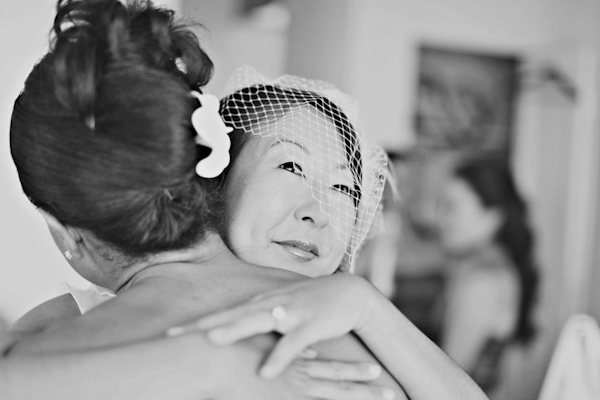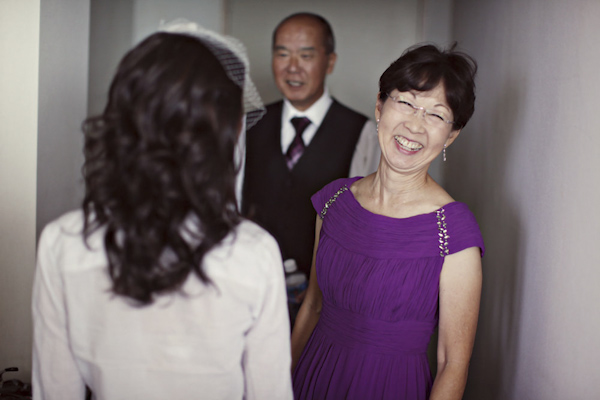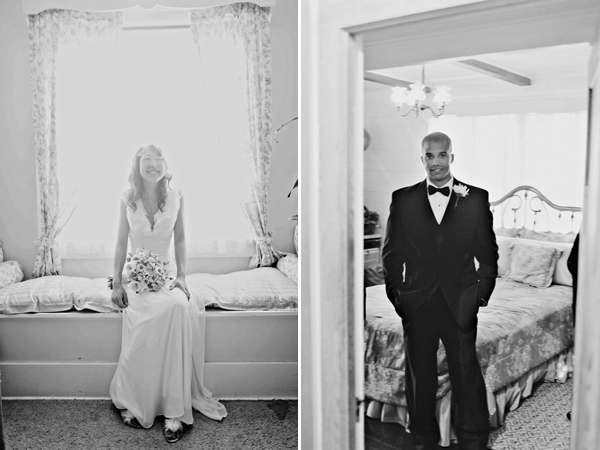 Junebug: Where did you hold your wedding and reception, and why?
Christie and Daryal: At The Bayer Estate, in the back lawn with an ocean view. We decided on this location because of it's natural beauty and intimacy. People were able to mingle and have a great experience with the live band while enjoying the sunset and ocean breeze. We added some seating areas and lighting to create a little different atmosphere after the sun went down.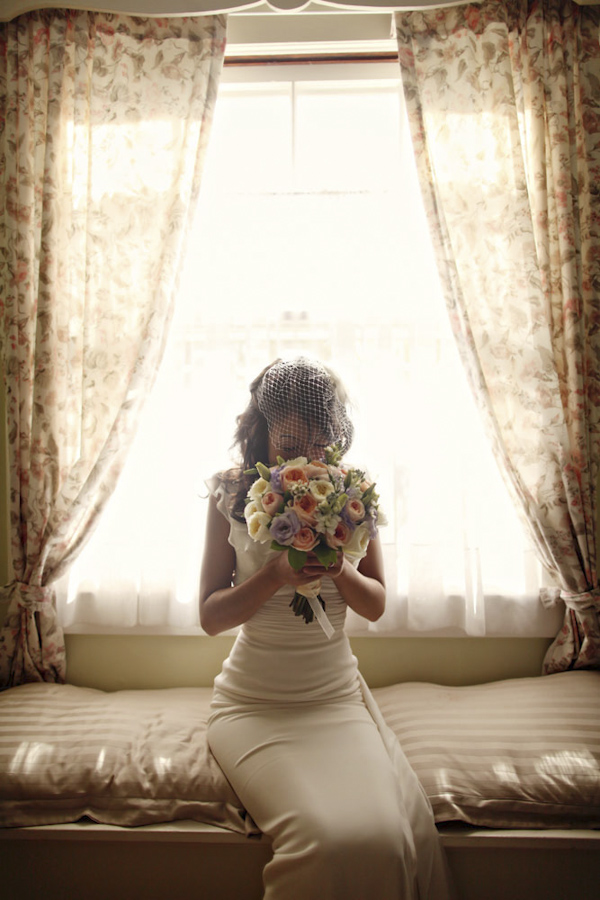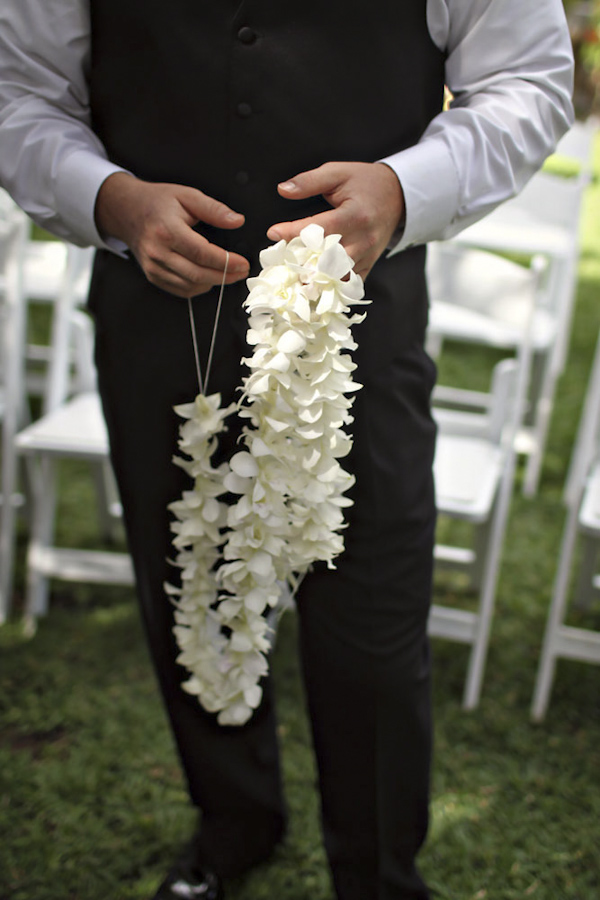 Junebug: What were you looking for in a photographer?
Christie and Daryal: When we began our planning process, we decided right away that a good photographer was very high on our budget/priority list. We wanted really great photos to capture all the memories and all the other planning that went into making the day unique and filled with personal touches. We were looking for someone who would be able to not only take photos, but someone who would create a piece of artwork out of the memories of our wedding, that we would be able to cherish for a lifetime.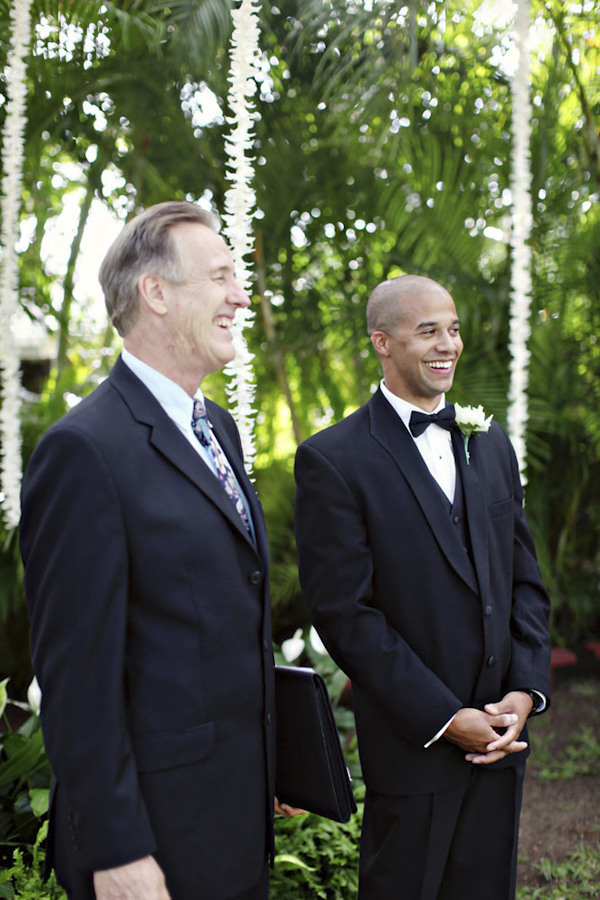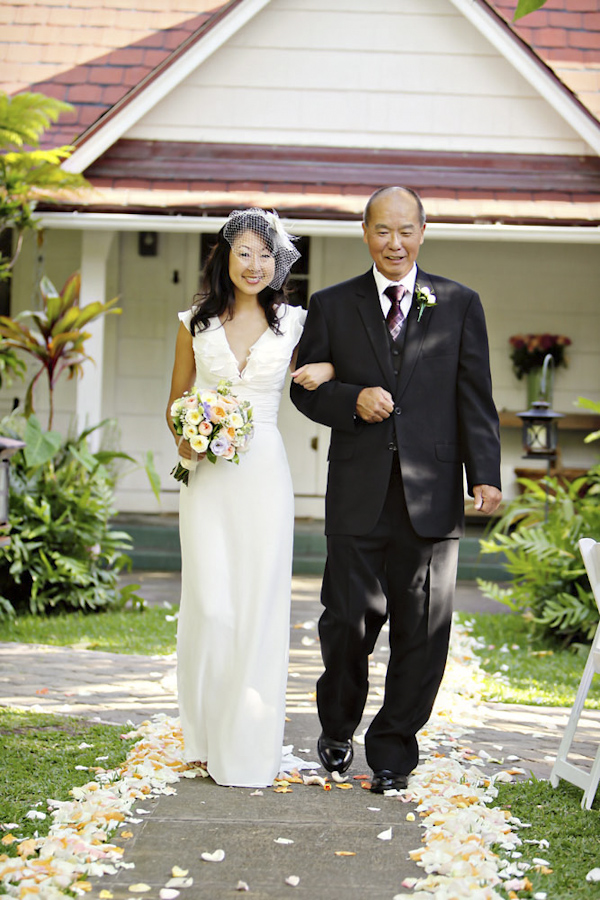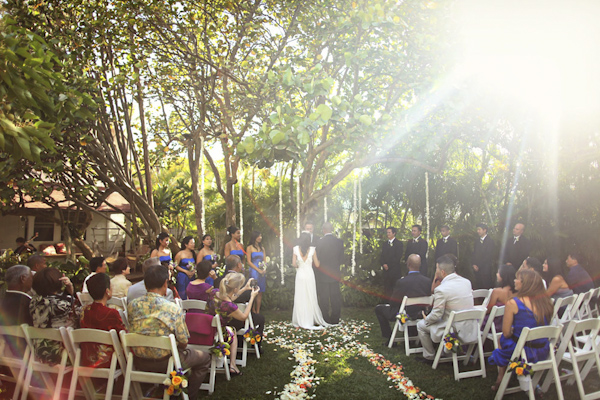 Junebug: What specifically drew you to Alison Conklin and her imagery?
Christie and Daryal: Alison's style of photography comes from years of development and expertise in her field. When you look at her photos you get a unique sense of perspective. She's able to really capture all the right moments, whether it be the bride's mother's eyes or the overall feel and atmosphere of the day – looking at her photos gives you the same feeling you get admiring a fine piece of artwork. We knew as soon as we saw her portfolio, she was the one, so we flew her out!
Junebug: What did you enjoy most about working with your photographer?
Christie and Daryal: Alison and Geoff are a great team, with great personalities. They were both a lot of fun to be around. They were the type of people we'd have invited and wanted at our wedding just as friends. They both give great directions while putting us and our guests at ease. We had some abnormal weather during our engagement session, at the top of Pali Lookout, and Alison asked, with a smile on her face, "if 80 mph gusts of wind were normal in Hawaii?!" That's when we knew they were game for anything, and the rest of the shoot was tons of fun. Alison and Geoff were professional from start to finish, while still remaining fun and easy to talk to.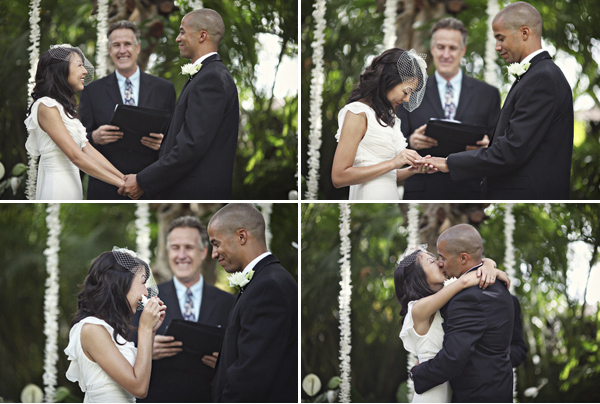 The Photographer: Alison Conklin
Junebug: How did you approach this particular wedding and what did you most want to capture during shooting?
Alison: Daryal and Christie live in Hawaii and this was our first time visiting – so I feel like we walked into the wedding with an idea of making sure we showcased how amazing Hawaii is while capturing the beautiful connection between Daryal and Christie.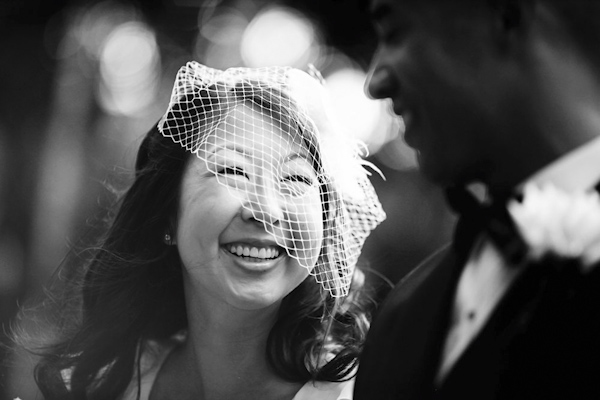 Junebug: Were there any special photographic requests from the couple that made this wedding especially exciting creatively or personally?
Alison: Christie & Daryal didn't give us any specific requests – they just told us to have fun and we did! Obviously we fell in love with Hawaii. It seemed wherever we turned there were amazing spots to shoot.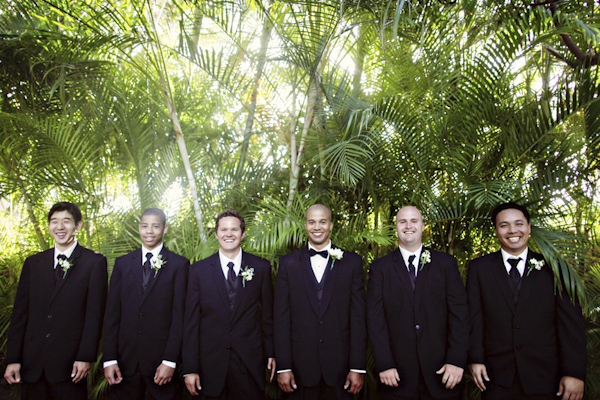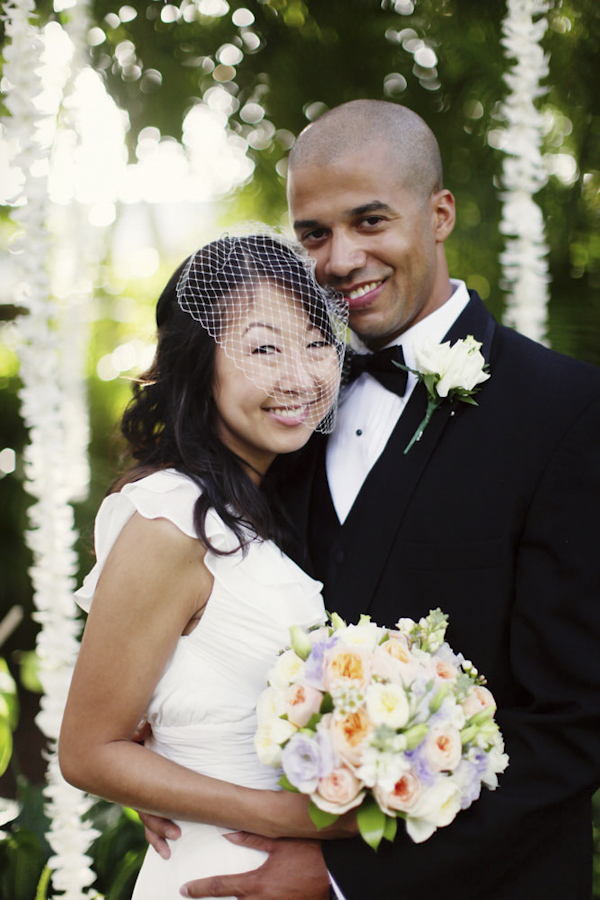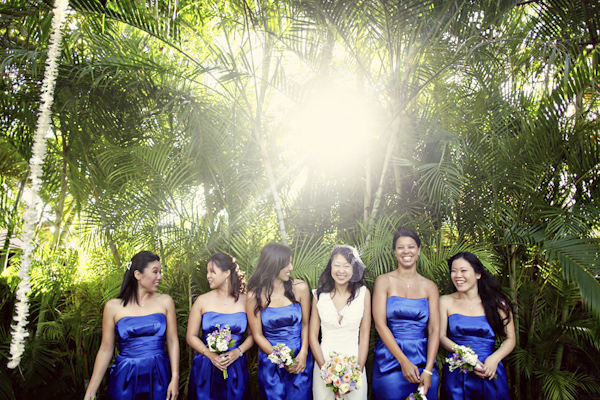 Junebug: What was the most fun part of this wedding for you to photograph?
Alison: From getting ready at the hotel to the estate everything was first class with amazing views and atmosphere. The first time I met Daryal and Christie once we landed was for their pre-wedding engagement shoot.They were so sweet! They met me with a lei and macadamia nuts and took me out for shaved ice. We became fast friends and I instantly knew that this was going to be an amazing week. We had several shoots besides the engagement shoot and wedding – we also shot a rehearsal/sunset sail the day before the wedding and a day after shoot where they put the dress and suit back on and walked on the beach.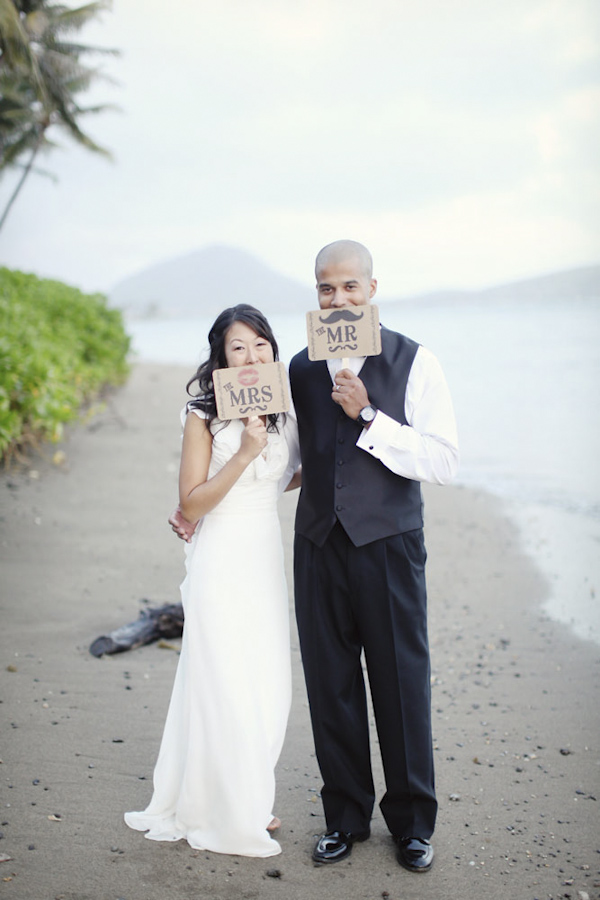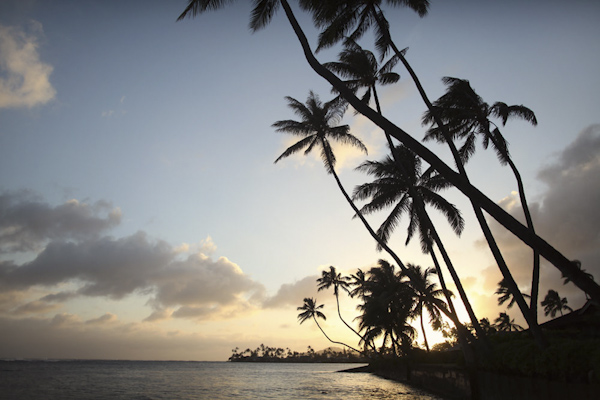 Junebug: How did the locations available to you affect the type of images you shot and how you shot them?
Alison: One of my favorite photos from their engagement session is a wide angle photo I took of them surrounded in bamboo. I was able to shoot wide frequently throughout the entire weekend because the scenery was truly breathtaking. One of my favorite images from the wedding was taken during the toasts. I wanted to showcase the couple listening to the sweet words their families were saying while showing off these amazing lanterns that hung above them. The picture worked perfectly in b&w and I felt that it really caught the feel of the evening.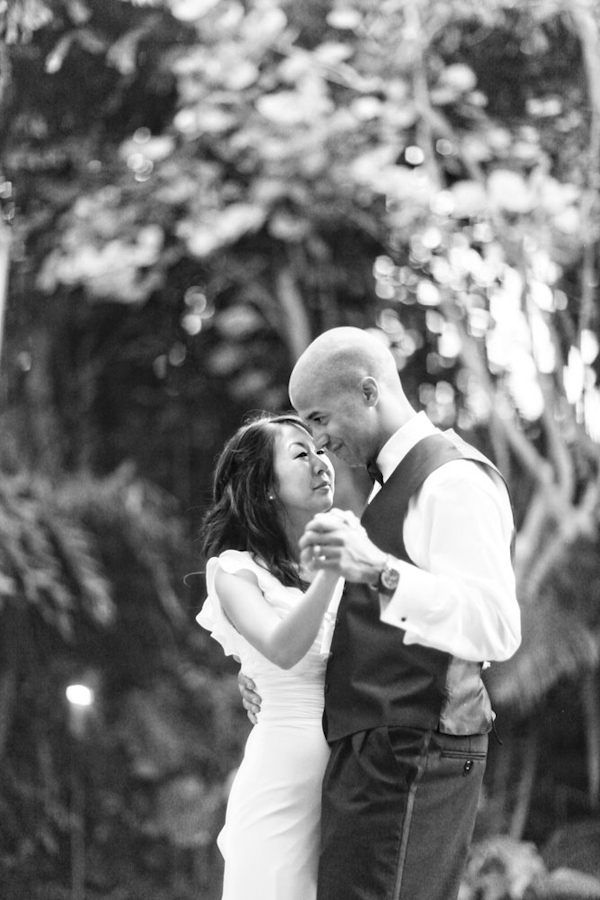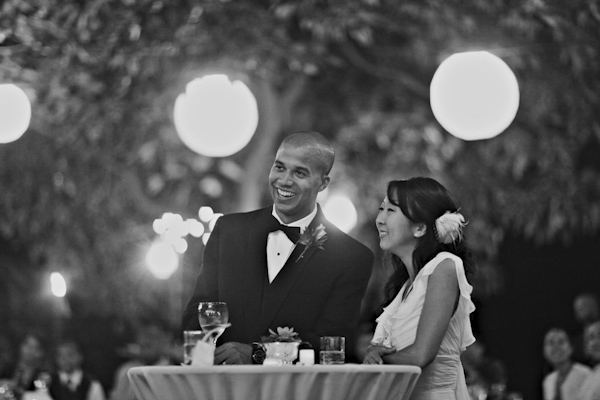 Junebug: Were there any special locations you were able to choose that made for really great images?
Alison: The Bayer Estate is used as the detective's home in the new Hawaii Five-O tv series so it just basically screams Hawaii. It's a beachfront home with amazing views in both directions. In one direction was Diamondhead and in the other a group of palm trees which hung picturesquely over the water. They were married in the front of the house that had a fence covered in fronds with the sun shining through between the leaves. I knew it would be a perfect backdrop for the couple. The reception was held next to the beach and for lighting they had chandeliers hanging from trees as well as giant light balls and stringed bulbs. I love shooting well lit reception areas right before sunset when the sky is that amazing purple color – it creates such a magical feeling.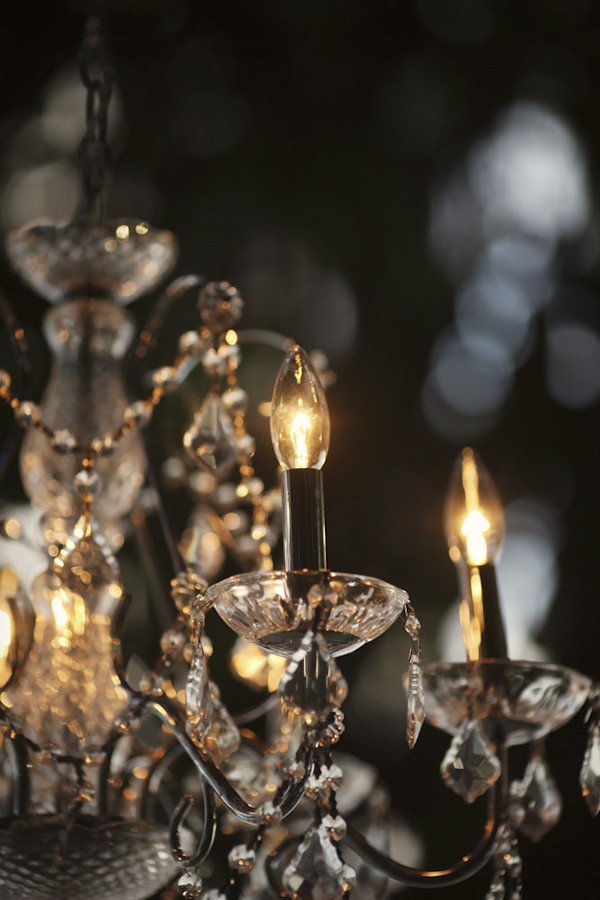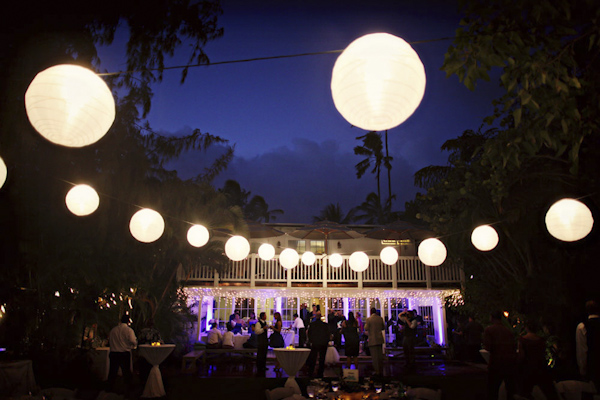 Junebug: What kind of equipment did you use while shooting this wedding?
Alison: Both my husband and I shoot all Canon gear. I have a 5D Mark 2 and Geoff uses the Mark IV. We both use exclusively prime lenses.
Thank you for sharing your wedding with us Christie and Daryal, and thank you so much for the images Alison!
To learn about all of the wedding professionals who brought this wedding to life, be sure to visit Christie and Daryal's page in our Real Wedding Library!
To learn more about Alison Conklin be sure to visit her website, blog and Junebug member brochure, and to find the perfect wedding photographer for your own wedding day no matter where you live, don't miss our World's Best Wedding Photographers Hotlist!