Heather and Michal's wedding at the Vatican must have been a dream come true as they made their vows to one another in a place overflowing with history and majesty. Italian wedding photographer Rochelle Cheever beautifully captured the tradition and grandeur of their ceremony as well as the excitement of new love as the couple danced through streets. Truly magic!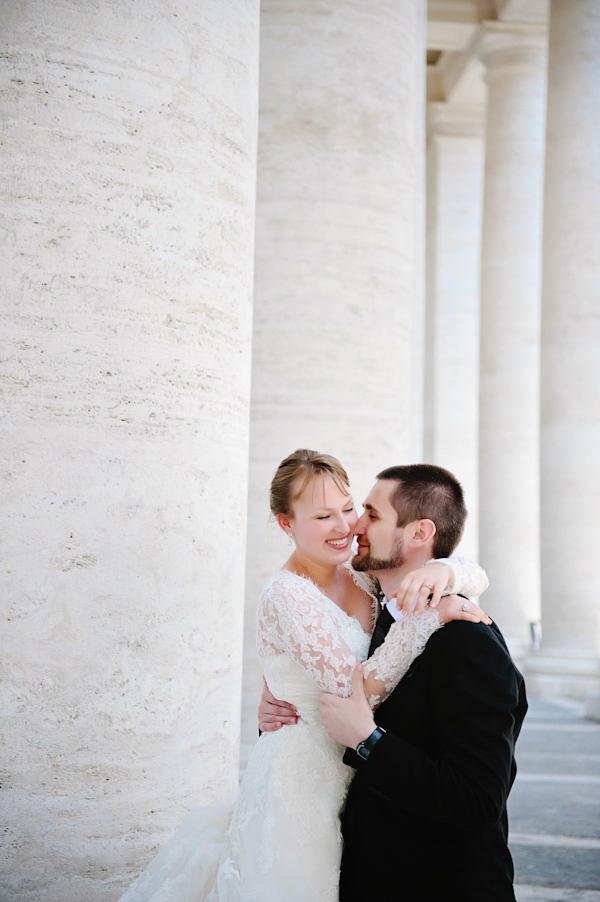 The Couple: Heather and Michal
The Wedding: 6.19.12 – The Vatican, Rome, Italy
The Photographer: Rochelle Cheever – Italy Wedding Photographer
Junebug: What three adjectives best describe your wedding?
Heather and Michal: Faith, Family, and Joy.
Junebug: What inspired your personal wedding style, and how did you incorporate your style and personalities into your big day?
Heather: My wedding style was a combination of what was classically beautiful and simple. The dress was a traditional style with long sleeves as was appropriate for the venue. The flowers were made of crystals and beads so that they could be easily transported.
Junebug: Looking back, what are the moments, decisions or memories that you love the most about your wedding?
Heather: One of my favorite wedding memories, for its illustration of my husband's kindness and patience, was my husband's labor of love in carrying my 30 lb wedding dress along with our suit cases on two buses and through three airports from Santa Barbara, California all the way to Rome.
Another great memory was from the day before the wedding, I showed Michal's Father and Step-mother my dress and veil. In opening the garment bag to view the veil we realized a small piece of the veil's delicate fabric was caught in the garment bag zipper and the veil would be torn if we tried to unzip the bag. Michal's Father designed a plan to cut the bag and free the veil however the only scissors we had were miniature sewing kit scissors no larger than a quarter. Michal's father spent several tense and later comical minutes with these tiny scissors freeing my veil from the garment bag. He saved the veil!
On the day of the wedding all the memories are blurred together more like a movie than single snapshots. One particularly nice moment was when all the women on both sides of the family came to my hotel room to help me dress for the wedding. With my sister perfecting my hair, my mom touching up my make-up, and many loving hands tucking and buttoning me into my dress I felt completely loved. The perfect moment culminated in the family standing in a circle holding hands and saying a prayer of thanks for the many blessing we had that day.
The other outstanding memory is the smile of sheer joy my dad wore all day and Michal's look of contentment as I walked down the aisle towards him.
Junebug: What specifically drew you to Rochelle Cheever and her imagery?
Heather and Michal: We were drawn to Rochelle Cheevers photography because it was romantic, artful, and emotional. We also had a great interaction with her through email. She spoke both English and Italian perfectly so she was great with helping us navigate through the Vatican on the wedding day. She was wonderfully professional and made us feel very comfortable.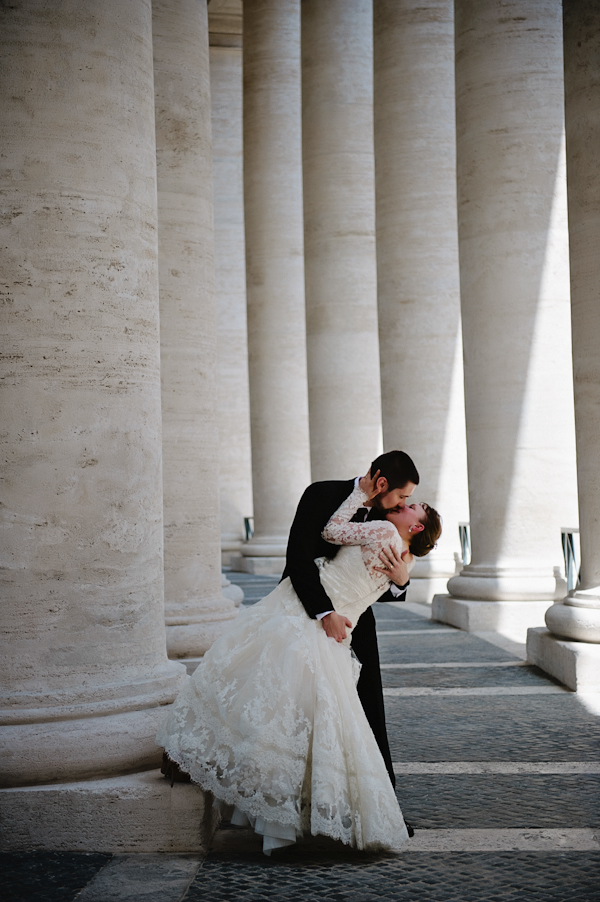 The Wedding Team:
Photographer and Videographer: Rochelle Cheever
Ceremony Venue: The Vatican
Reception Venue: Residenza Paolo VI
Officiant: Fr. Greg of the Paulist Fathers in Rome
Catering & Cake: Residenza Paolo VI
Wedding Dress: Pronovias
Bridal accessories: Grandmothers engagement ring and pink pearl earrings from St. Thomas
Bridesmaids apparel and accessories: White House | Black Market
Favors: Framed photo of our guests standing in front of the Vatican by Rochelle Cheever
Rings: Family heirlooms