Sun, surf, rich colors, romantic couple, and lots and lots of love. Jenny and Mark's destination wedding in Harbor Island, Bahamas was a dream shooting scenario for photographer Chip Litherland of Eleven Weddings Photography and today we all get to enjoy the wonderful photographic results!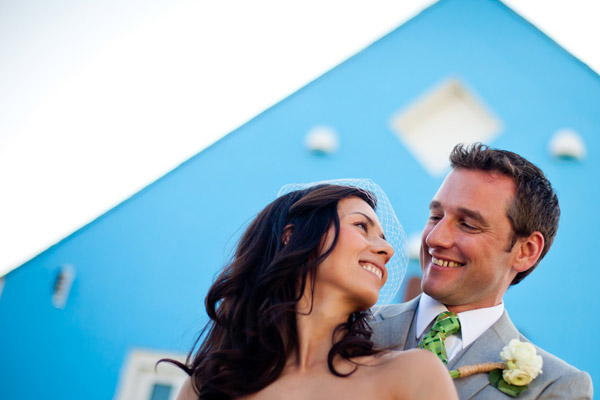 The Newlyweds: Jenny and Mark
Junebug: What were your most important goals in planning your wedding?
Jenny: We wanted to make sure we had access to Pina Coladas on a beach, preferably somewhere remote. We also wanted to keep the wedding small enough to give all our friends and family the chance to spend quality time with each other. Since Mark and I are from different places in the US, we decided it made the most sense to have everyone travel somewhere beautiful and we chose a beach destination wedding.
Junebug: How would you describe your personal wedding style?
Jenny: Rustic beach elegance.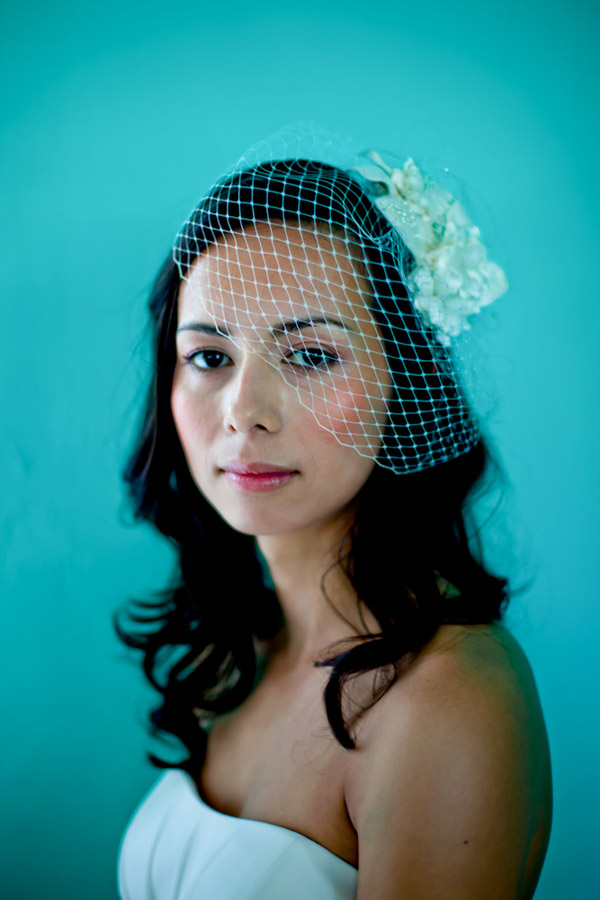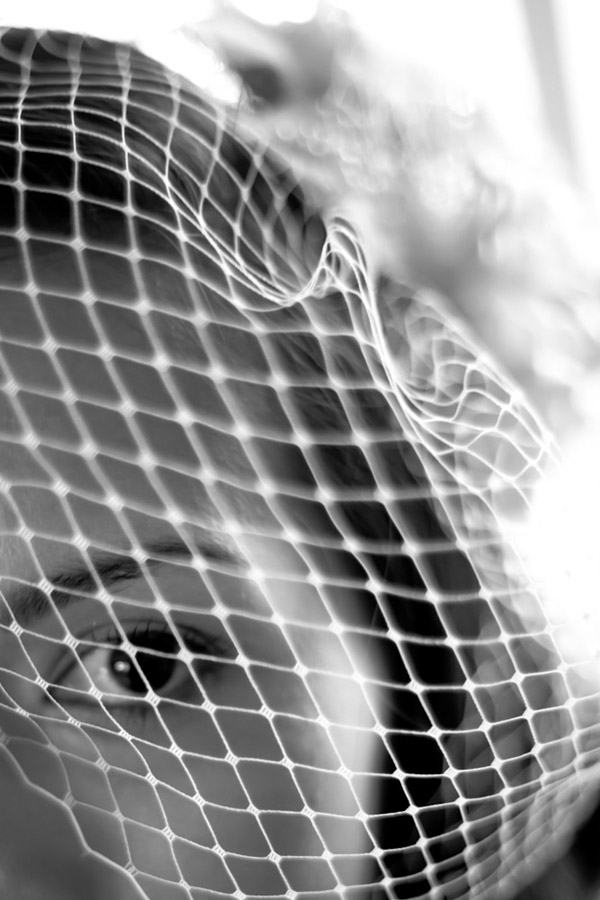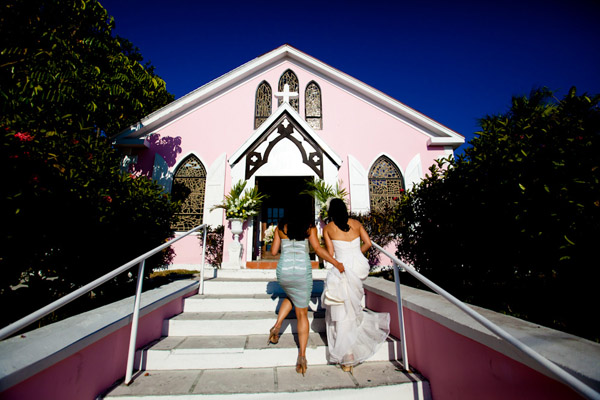 Junebug: Where did you hold your wedding and reception, and why?
Jenny: Mark and I visited Harbour Island in October and as soon as we found oursleves driving past the bright pink church and pastel colored houses in our golf cart, knew we had found our ideal place. The empty pink sand beaches and turquoise blue waters were perfect, and the restaurant next door made a delicious Pina Colada.
We stayed at Ocean View Club and Ben Simmons, who is the son of Ocean View Club's owner Pip Simmons and also runs his own event design company, spent the weekend showing us the island's sites and potential wedding spots. We considered a few options but looking out from Ocean View Club's patio, Mark looked at me and said we had to have our wedding there. We had fallen in love with the location and also the incredibly nice funny staff and their delicious cooking. Ben brought his vision for the wedding to life and was able to transform Ocean View Club's already stunning backdrop into an even more magical sight. Ocean View Club does not typically cater to wedding events, and we couldn't be more thankful to Ben for making it happen.
Junebug: What three adjectives describe your wedding best?
Jenny: Fun, energetic, filled of love.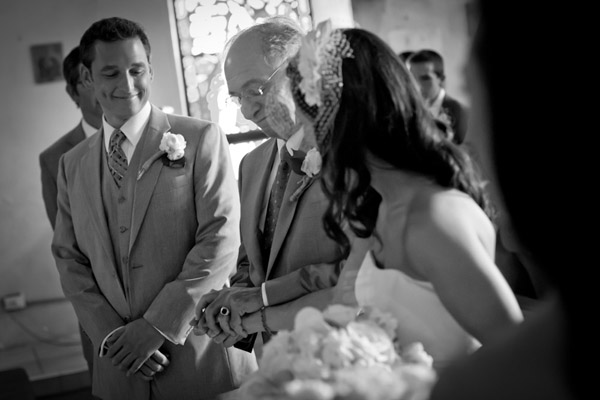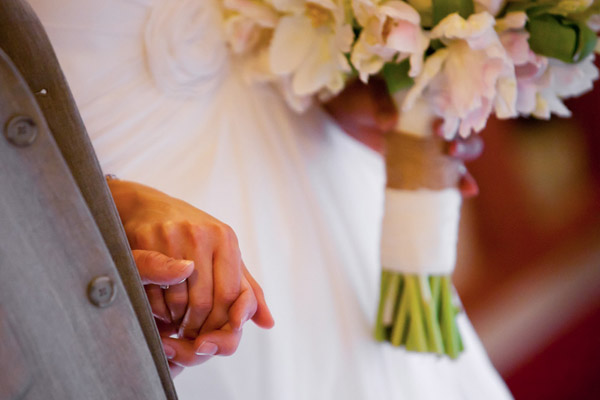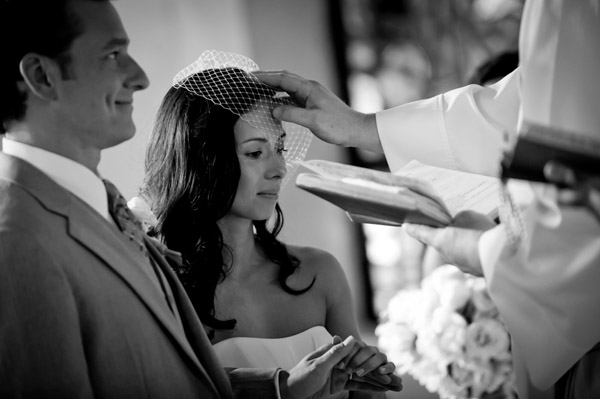 Junebug: What were you looking for in a photographer?
Jenny: We wanted someone who could capture the colorful location and energy, and didn't want to walk away with an album full of just posed wedding portraits.
Junebug: What specifically drew you to Chip Litherland of Eleven Weddings Photography and his imagery?
Jenny: My sister, Elissa Curtis, was a photo editor for the New York Times and suggested Chip Litherland, whose work she really liked. As soon as Mark and I saw his website we were sold – his photos are candid, colorful, artistic, fun, and beautiful – exactly what we were looking for. On top of that, he was incredibly friendly and responsive, and I liked him off the bat. I felt total confidence in working with him from our first communications.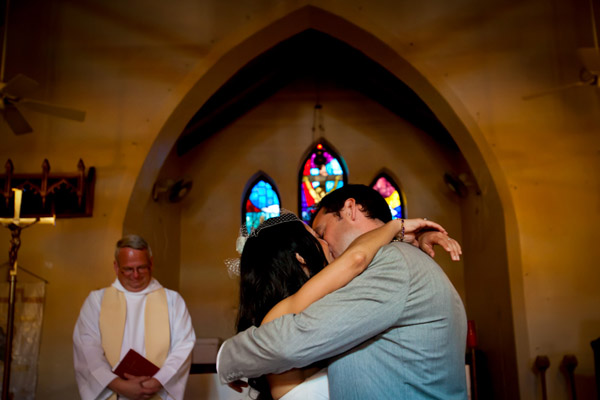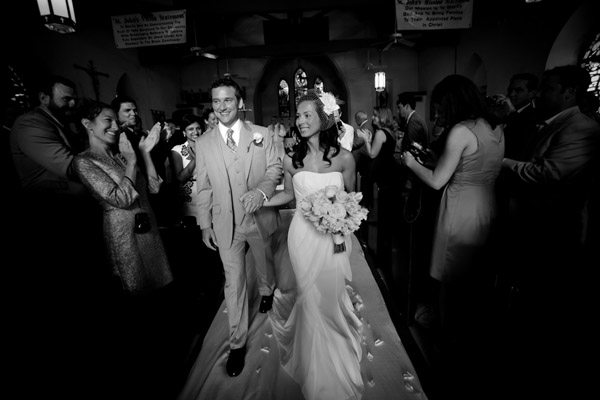 Junebug: What did you enjoy most about working with Eleven Weddings?
Jenny: I'd say the best thing about Chip and Brian is that they were an amazing addition to the wedding party beyond shooting amazing photos – we loved hanging out with them as much as we are loving the photos, and to me that is a priceless quality (especially when you are on a 3-mile island together for three days). We were also able to be completely relaxed and ourselves, and could forget they were there – not something I'm usually able to do with cameras around. Chip was incredibly professional throughout the entire weekend, and captured moments that would have otherwise gone unnoticed. I felt he and Brian Blanco went above and beyond in all aspects, and they are just great people to top it all off. At one point Chip was shooting photos laying on the wet sand in his wedding day suit, and never once seemed to mind that his tie and shirt were getting destroyed – it turned out to be one of the best photos I've ever seen (the image by the lone tree). We did get some great portraits too!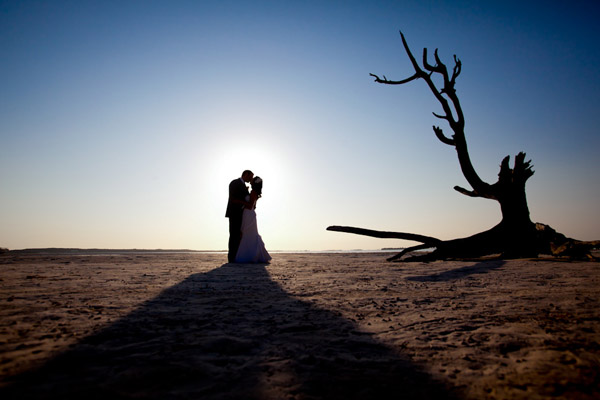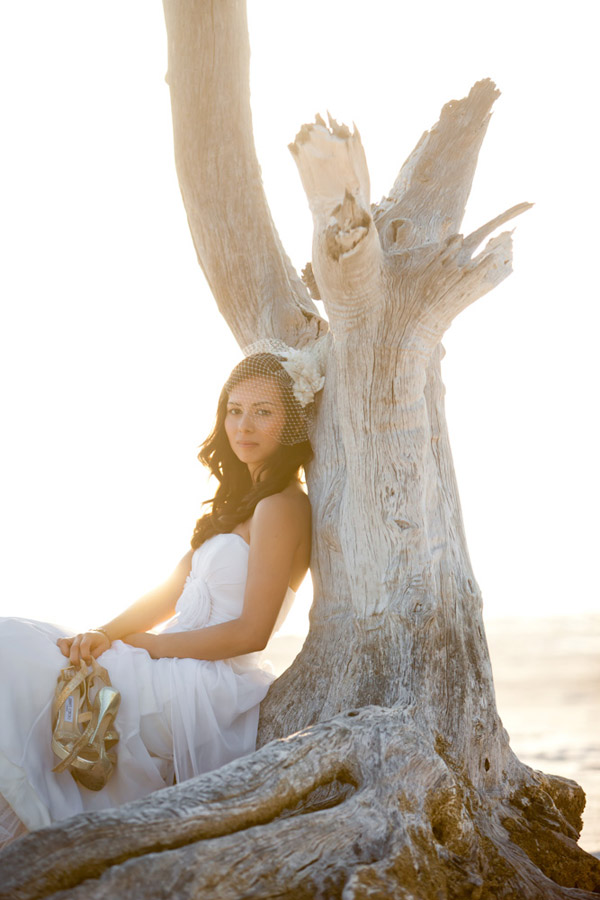 The Photographer: Chip Litherland of Eleven Weddings Photography
Junebug: How did you approach this particular wedding and what did you most want to capture during shooting?
Chip: My main goal with covering Jenny and Mark's wedding on Harbour Island was the same as I try to do at every wedding – make unique, vibrant images saturated with color that will blow away their family and friends when they share them. I truly just wanted to do justice to the all the work they put into planning a fun destination weekend and capture everything surrounding it. I was recommended by her sister, Elissa, a wonderful photo editor I've worked with before up in New York, who knew my vision as a photojournalist and thought I would be a perfect match for the color the island would offer.
Junebug: Were there any special photographic requests from the couple that made this wedding especially exciting creatively or personally?
Chip: Number one. Gorgeous bride, GQ groom. Number two. The Bahamas. Number three. Color playground. I don't think Jenny and Mark could have made it any more exciting for me. I knew from the start that these cats were going to be good people. They were fabulous hosts for myself and my second shooter, Brian. We were treated as part of the family and they truly created an atmosphere I won't forget. Photographically, they knew what they wanted, and specifically, what they didn't want. Luckily we have the same aesthetic – fun, vibrant imagery bursting at the seams with color and light – held together by true moments. Being able to get what I need without scripting it is one of the best attributes of being an actual photojournalist and shooting weddings the same way I would for one of my newspaper or magazine clients.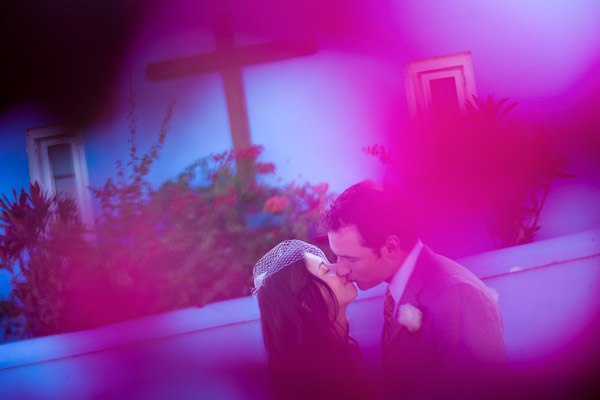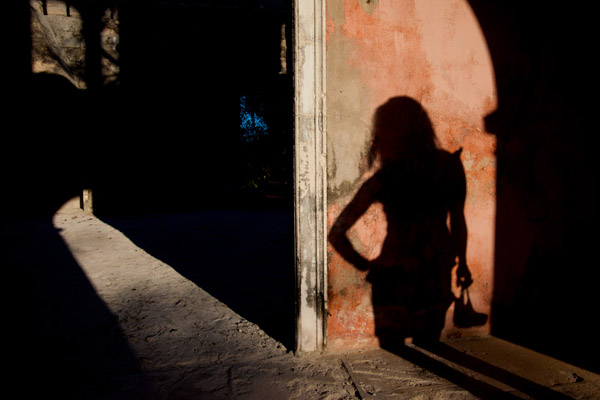 Junebug: What was the most fun part of this wedding for you to photograph?
Chip: Jenny and Mark were amazing to have as clients because they truly understood what having a photojournalist cover their wedding meant. They forgot about the cameras and were able to just enjoy their wedding without having someone dictate what they should do and when they should do it. Something that Eleven Weddings prides itself on is being able to hang personally just as much as we want to make pictures. I think that trait is something that many brides don't take into account when they hire a photographer – especially a destination photographer like myself whom you fly to a remote island in the Bahamas and spend days with. We want to let their families and friends have the best day of their lives, and just go along for the ride – drink in one hand, camera in the other. My number one mission is to make powerful and fun photographs followed closely by having a great time with new friends.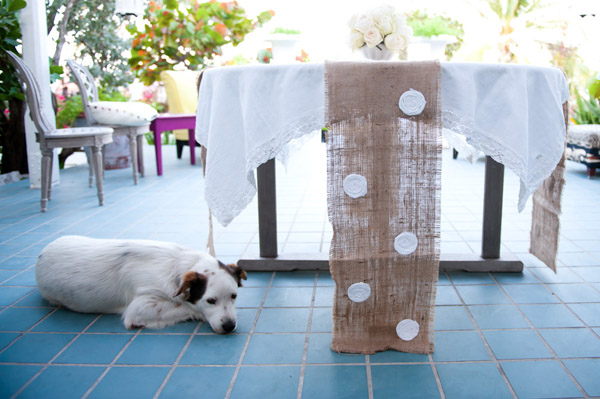 Junebug: How did the locations available to you affect the type of images you shot and how you shot them?
Chip: The color on Harbour Island is insane, and for a color junkie like myself, I was a kid in a candy store with dad's credit card. Literally everywhere we turned on the island had a different spectrum of color or shaft of light to play around in. It was surreal, beautiful, and literally perfect – and I live on the beach in Florida. That's impressive. Even more impressive was having a bride who would take off her Jimmy Choo shoes to hike to locations with us.
Junebug: Were there any special locations you were able to choose that made for really great images?
Chip: We spent the first day we got to the small Harbour Island exploring in our golf cart looking for locations to shoot portraits and every place could have been a suitable location. Their ceremony site at St. John's was in a hot pink (I mean, really) church built in the 1700's. The reception back at Ocean View Club was rustic and charmingly designed by Little Island Design and provided the perfect mood for a beach-side destination wedding. For the portraits, we hit a couple places suggested by locals. The haunted mansion is a beautiful structure that was destroyed by fire decades ago, but its walls remain. The lone tree is a stunning piece of driftwood sitting in the shallows all by itself – earlier in the day surrounded by water, but at wedding time was exposed at low tide. The old bathtub was in the bathroom where Jenny did her hair and makeup. From a visual perspective, I was in heaven.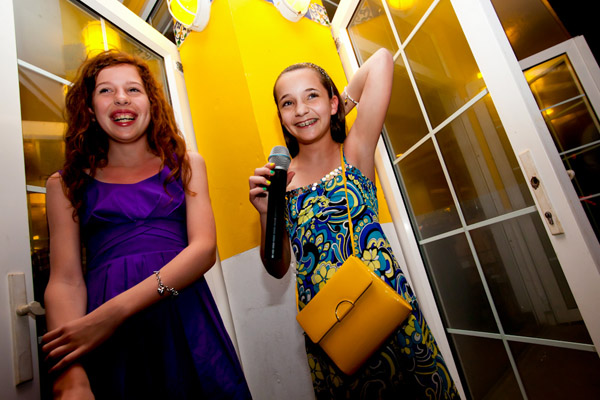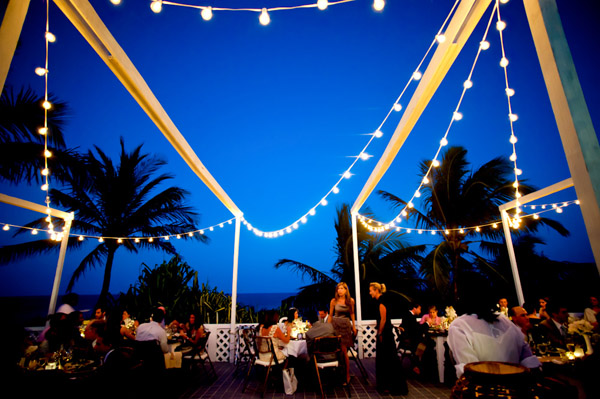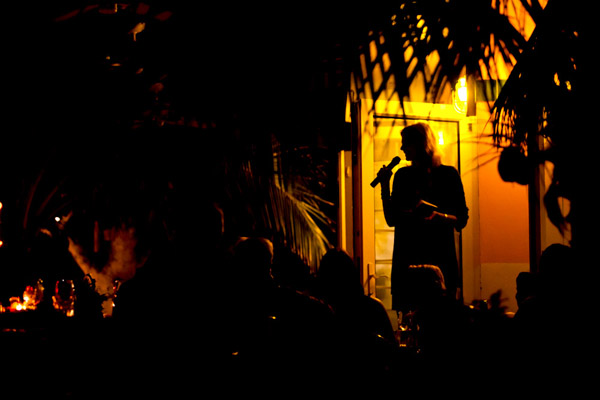 Junebug: What kind of equipment did you use while shooting this wedding?
Chip: I photograph with Canon 5D Mark II's. They're my babies. Lens rundown: 16-35mm f/2.8, 35mm f/2, 50mm f/1.4, 85mm f/1.8, and a 70-200mm f/2.8. My brain. My eyes. Sugar-free Red Bull in case of emergency.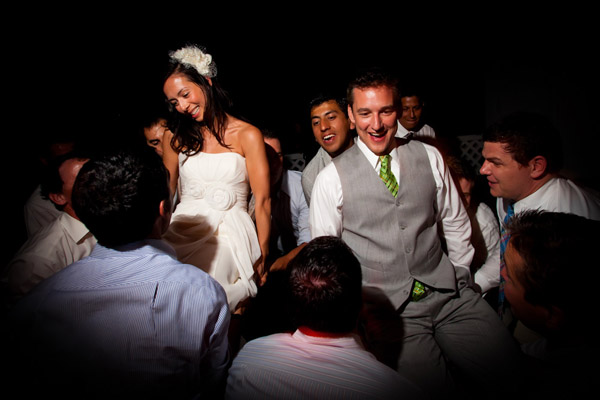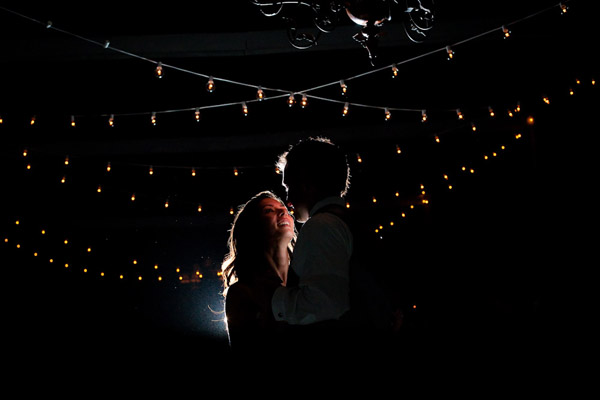 Thank you for sharing your wedding with us Jenny and Mark, and thank you so much for the images Chip!
To learn about all of the wedding professionals who brought this wedding to life, be sure to visit Jenny and Mark's page in our Real Wedding Library!
To learn more about Chip Litherland be sure to visit the Eleven Weddings Photography website, blog and Junebug member brochure, and to find the perfect wedding photographer for your own wedding day no matter where you live, don't miss our World's Best Wedding Photographers Hotlist!