Today's gorgeous Palm Springs destination Real Wedding was photographed by Joy Marie Photography, and is filled with emotional imagery, rich details and the dramatic vibrancy that Joy's photos are so well known for. Read on to learn about Cari and Jared's thoughtful wedding details, why they chose Joy Marie as their photographer, and how Joy herself approached photographing this beautiful event. (And when you're done, don't miss the darling 13th wedding anniversary photos of Joy and her husband David featured over on What Junebug Loves today!)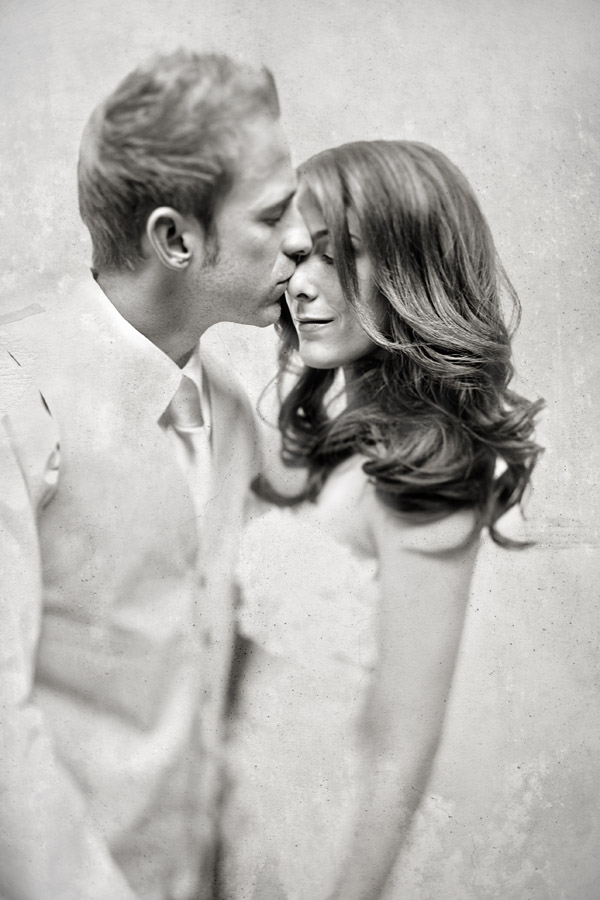 The Newlyweds – Cari and Jared
Junebug: What were your most important goals in planning your wedding?
Cari and Jared: We were most concerned about making this wedding personal. Every step we took, we asked each other, Does this tell our story? Is this us? For example, we were hesitant to spend money on favors unless they reflected our personal story. When I saw mini potted succulents, I thought that was an amazing idea, something that could triple as favors, escort cards, and table decorations. I worked with Kristen Daniel Schrock of Mindy Weiss Party Consultants to design a sticker on which we printed my favorite quote about love, which also mentions mason jars. Then I asked my florist to pot the mini succulents in mason jars instead of the standard terra cotta. The result was a keepsake that reminds us forever of our wedding day while also giving our guests a glimpse into our personal love story.
Junebug: How would you describe your personal wedding style?
Cari and Jared: Fun, modern, rustic, and creative.
Junebug: Where did you hold your wedding and reception, and why?
Cari and Jared: We held our wedding at Korakia Pensione in Palm Springs. The resort is unique, sexy (they have fire pits, Moroccan lanterns and bougainvillea, and even sultry Moroccan-style day beds, EVERYWHERE), and so beautiful. Korakia is filled with all these nooks and crannies, perfect for one-of-a-kind photos or a place to steal away with your honey. In order to rent Korakia for an event, you must fill all the rooms of the resort for two nights, which gave us the run of the house. It allowed us to spend this special weekend with those we are closest to and love the most. Plus, look at it, its gorgeous, it hardly needs any decoration. And there is so much that the resort offered to our event aside from natural décor: two saltwater pools which we used for our after-party, a bocce ball court, fire pits for smores, rustic Mediterranean and Moroccan style furniture that we incorporated into our wedding in lieu of rentals.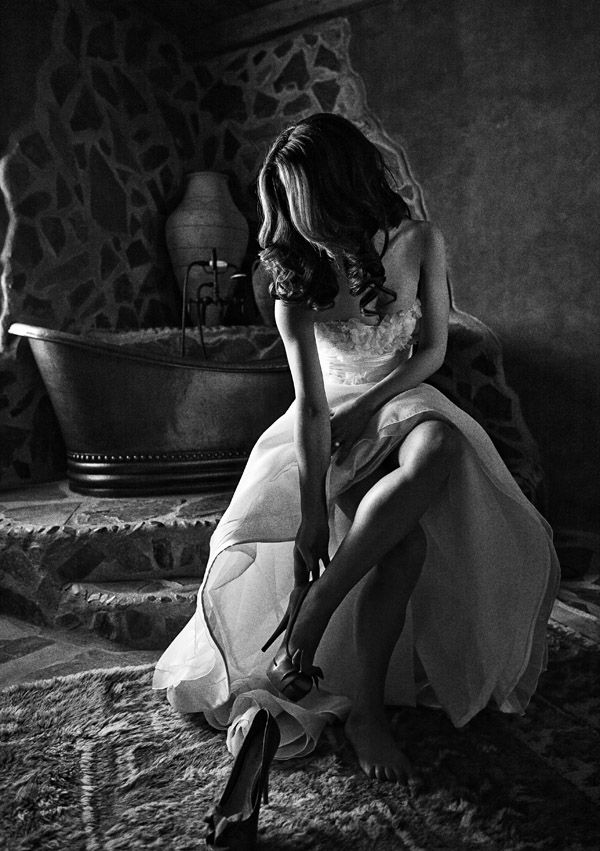 Junebug: What were you looking for in a photographer?
Cari and Jared: I HATE having my picture taken. I do not believe I am at all photogenic. I needed a photographer who could make me feel comfortable while at the same time directing me so that I didnt ended up looking awkward.
Junebug: What specifically drew you to Joy Marie and her imagery, and what did you enjoy about working with her?
Cari and Jared: Joy Marie is so approachable, but at the same time energetic and fun. She has a talent for slightly altering her style to capture the individual personalities of the couple, and the end result is so sexy and artistic! After the first five minutes of shooting our engagement pictures with her, I realized I could let go and trust that she was seeing something beautiful that I could not. That artistic quality she has is what makes a client trust her and trust in the end product. Plus, her patience is extraordinary; it takes a lot of good humor to put up with our wedding party!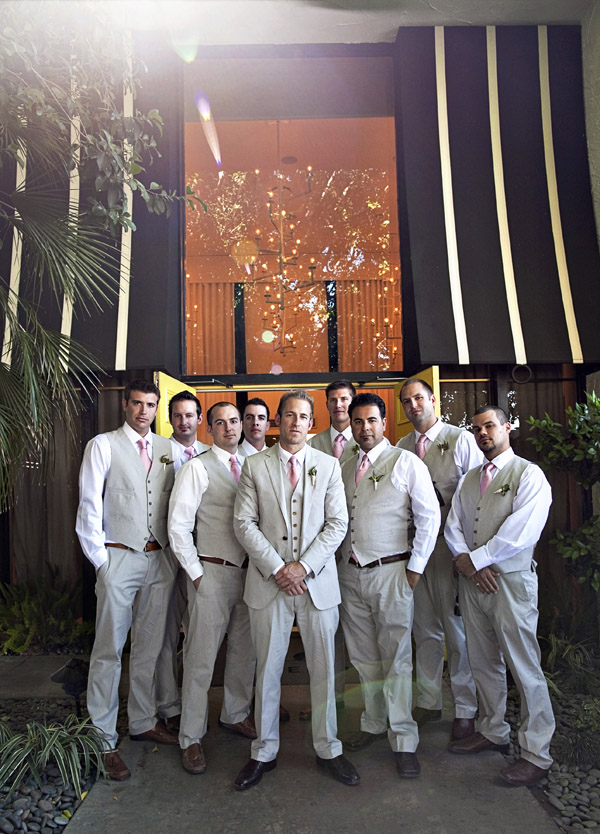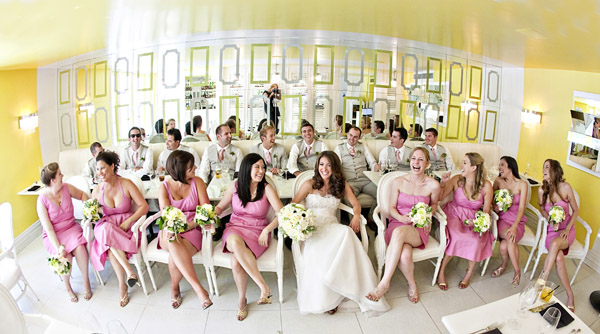 The Photographer – Joy Marie Photography
Junebug: How did you approach this particular wedding and what did you most want to capture during shooting?
Joy Marie: Cari and Jared put a lot of thought into this venue and the dessert theme, so capturing all the details and the setting was important. But mostly, I wanted to capture the spirit and emotion of their day. This couple has already been together for years and been through a lot together…I knew it was going to be a very emotional and special day.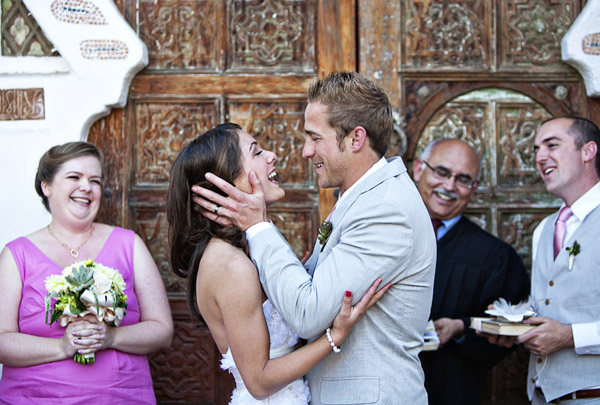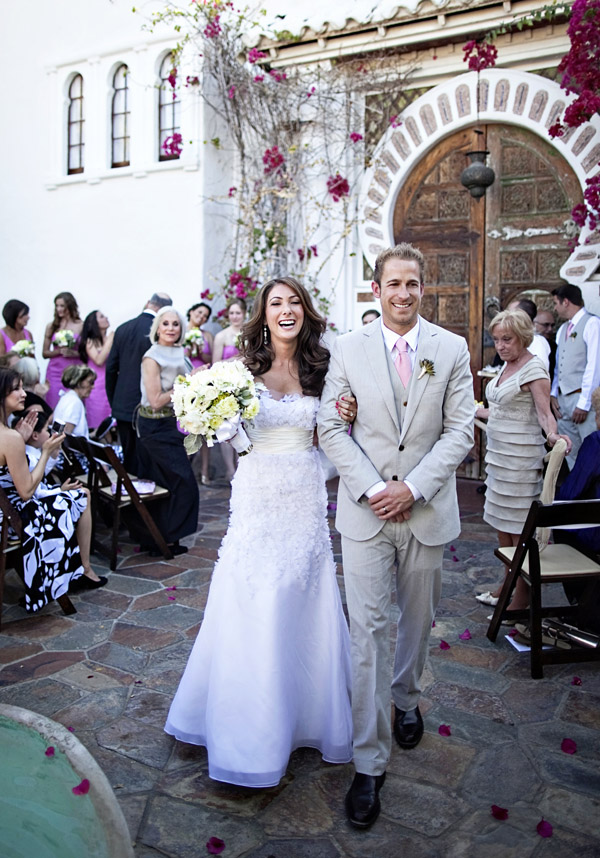 Junebug: Were there any special photographic requests from the couple that made this wedding especially exciting creatively or personally?
Joy Marie: A boudoir shoot. Cari sent Jared out with the boys golfing the day before their wedding. They were staying in a private bungalow at the Korakia in Palm Springs where they were getting married. We were able to use the entire bungalow and followed Cari around in what would be her morning routine…only she just happened to be totally made up!
(Check out this steamy boudoir shoot from our Photobug post last Wednesday!)
Junebug: What was the most fun part of this wedding for you to photograph?
Joy Marie: As with most destination weddings, this was super intimate. All of the guests at the Korakia Pensione were either family or close friends of Cari and Jared. Every decision was made around how to incorporate the guests. Even for their first sight, Cari and Jared requested that their family and friends be there as they saw each other for the first time for pictures.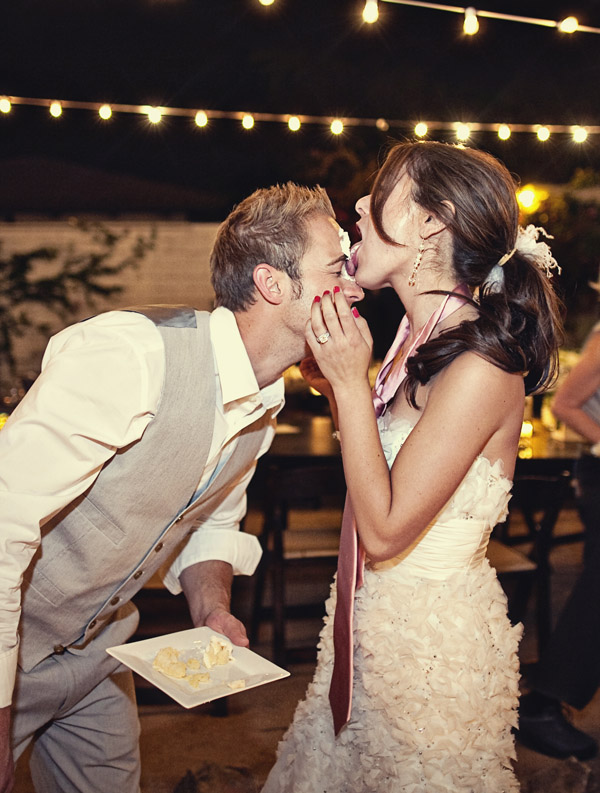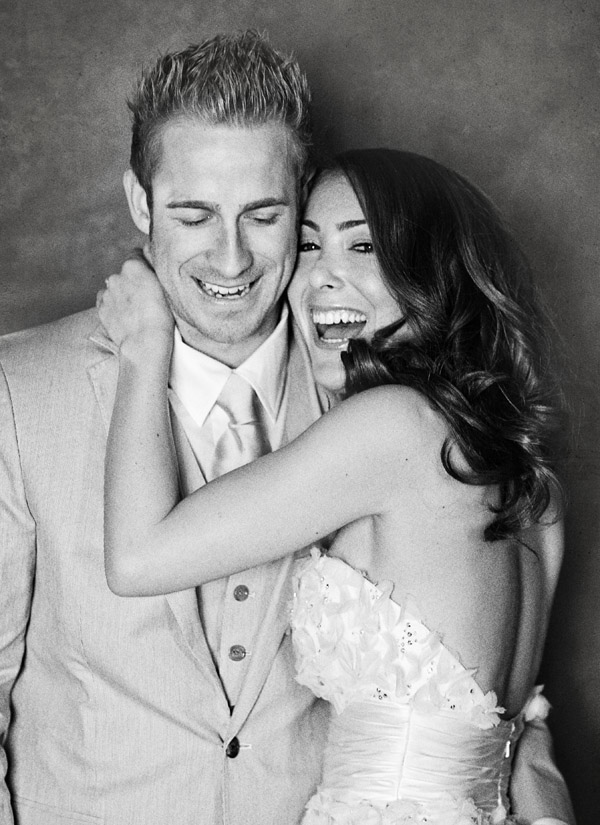 Thank you for sharing your wedding with us Cari and Jared!
For more information about all of the wedding professionals that helped bringing this wedding to life, be sure to visit our Real Weddings Library!
To learn more about Joy Marie, and to find the perfect wedding photographer for your own wedding day, don't miss our World's Best Wedding Photographers Hotlist!