Lisa and Josh's wedding is darling to the core, and with a couple this bright and sweet, how could it not be? In fact, you'll hardly find a photo that lacks a great big beaming smile. Todd Hunter McGaw's fresh and modern photos completely captured all of the energy, excitement and happiness of the day!
The Couple: Lisa and Josh
The Wedding: 11.20.2011 – Catalina, New South Wales, Sydney
The Photographer: Todd Hunter McGaw
Junebug: What three adjectives best describe your wedding?
Lisa and Josh: Energetic, Easygoing, Fun.
Junebug: What inspired your personal wedding style, and how did you incorporate your style and personalities into your big day?
Lisa and Josh: I couldn't decide on an actual theme so we just incorporated everything that fits into our wedding! We both love details and DIY so a lot of the wedding items were made by us and our friends. For example, we made our own favors by asking our friend who had her own tea business to make two blends of tea leaves for us. We bought the jars, ribbon and cloth to package them. It was fun!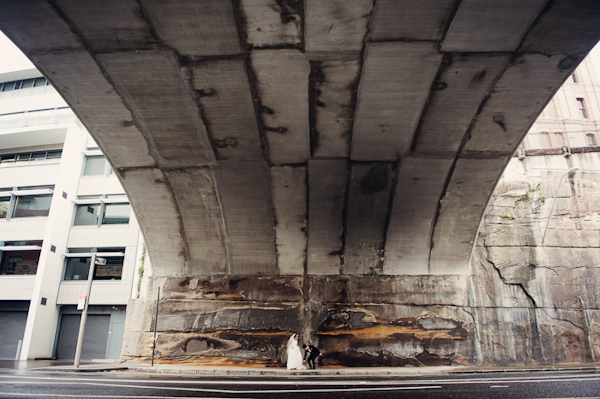 Junebug: Looking back, what are the moments, decisions or memories that you love the most about your wedding?
Lisa and Josh: We really enjoyed our ceremony because we believe that is the most important part of the wedding where we make our commitments to each other. We are very close with our family and friends so there were a lot of tears. Also, we are youth leaders to a group of about 30 teenagers and they all chipped in to buy my husband a MacBook Air because his old one got stolen before the wedding! He sure was surprised to see the upgrade.
Junebug: What specifically drew you to Todd Hunter McGaw and his imagery?
Lisa and Josh: Todd was amazing from the moment we first saw his work and he has never failed to impress us, even one year after the big day. He is very different because his quirkiness and fun nature really shows through in his work. We love the fact that he is laid back and doesn't try hard to make his work too amazing. It is just simple and beautiful.
Wedding Team:
Photographer: Todd Hunter McGaw
Ceremony Venue: Lifecentre Church
Reception Venue: Catalina
Videographer/Film Maker: Paper Crane Production
Cake: Catalina
Wedding Dress: Carla Zampatti
Bridal accessories: Summerblossom
Bridesmaid's apparel and accessories: Summerblossom and Forever New
Groom and groomsmen apparel and accessories: Suits from Messini
Transportation: Mini Coopers
Favors: Tea and strainer
Like what you see? Check out more photos by Todd Hunter McGaw on his website or blog.