Emily and Matt's wedding day started off just like most. They spent the morning getting ready for their afternoon ceremony on the grounds of the Kelley Historical Farm outside Sharpsville, Indiana. The wedding team had the day planned to a tee and running smoothly – until a tornado blew through their reception! Thankfully, no one was harmed, everyone was able to take shelter in the barn (which was built in 1837!). Needless to say, Emily and Matt have quite the wedding story and couldn't be happier that top Indiana based photography duo Bobbi and Mike were around to document the whole experience!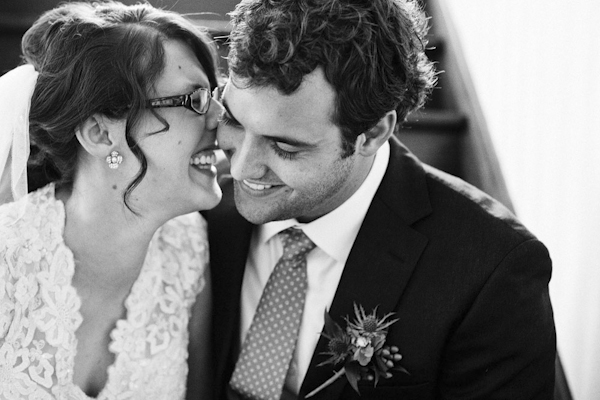 The Newlyweds: Emily and Matt
Junebug: What were your most important goals in planning your wedding?
Emily and Matt: That the guest feel comfortable and have a wonderful time. That was really the main concern because we had a good amount of out of town friends and family come. We wanted them to feel like they were apart of the wedding and make sure that they had fun.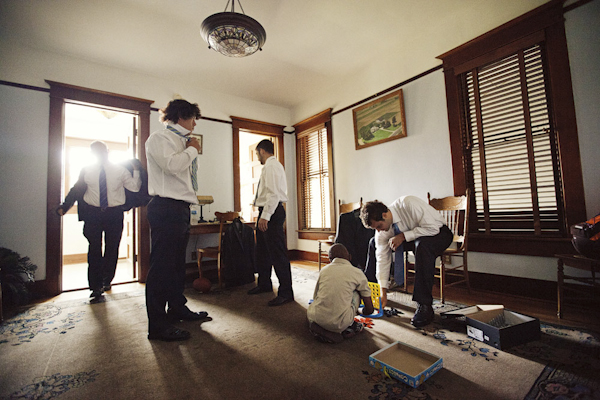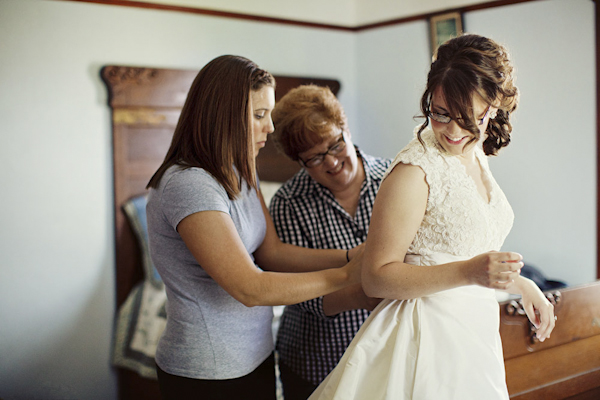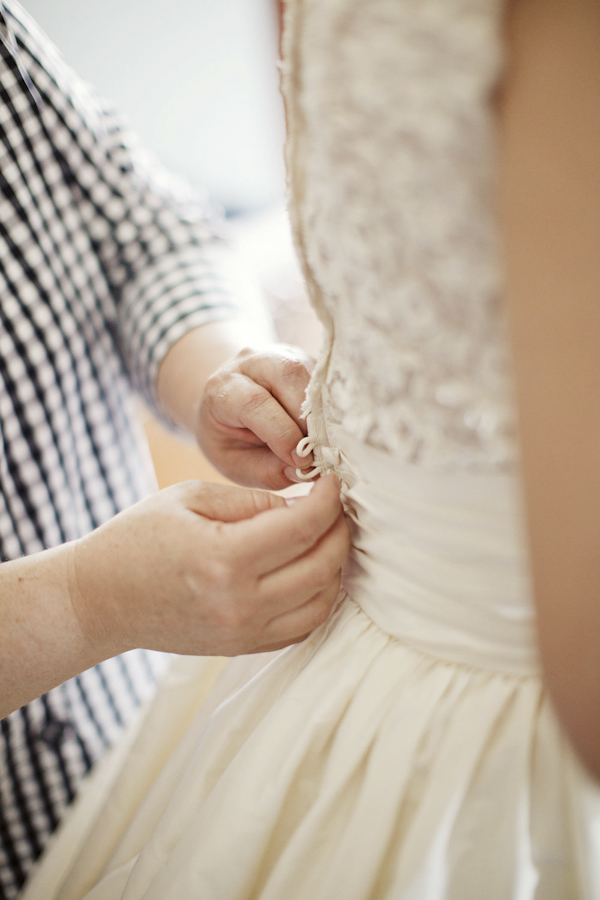 Junebug: How would you describe your personal wedding style?
Emily and Matt: Outdoor rustic. We used a lot of my family's furniture and other treasures they had laying around.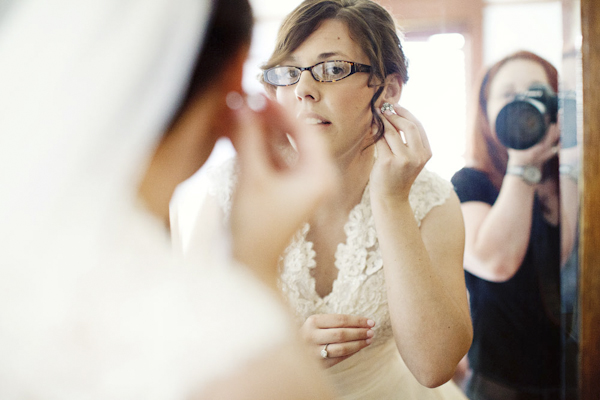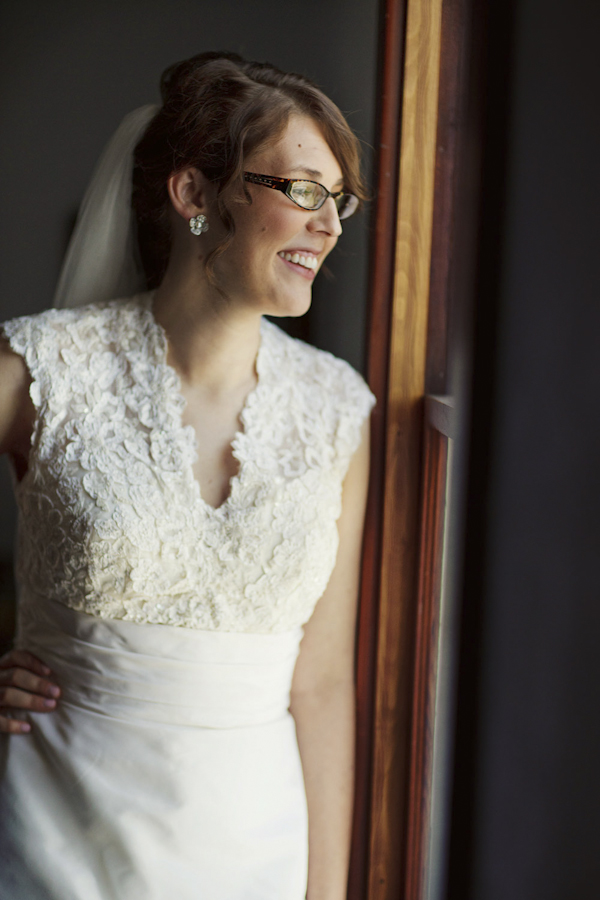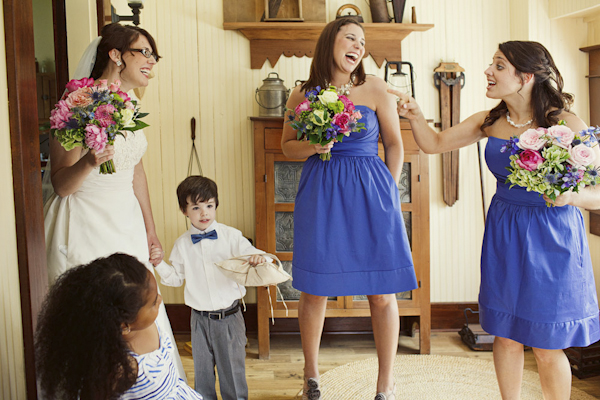 Junebug: Where did you hold your wedding and reception, and why?
Emily and Matt: We really wanted it outside and some place where the ceremony and reception could be at the same location. We really only saw one other place before we visited the farm and fell in love with it. There is just so much history and we knew that Bobbi and Mike could find so many awesome pictures there.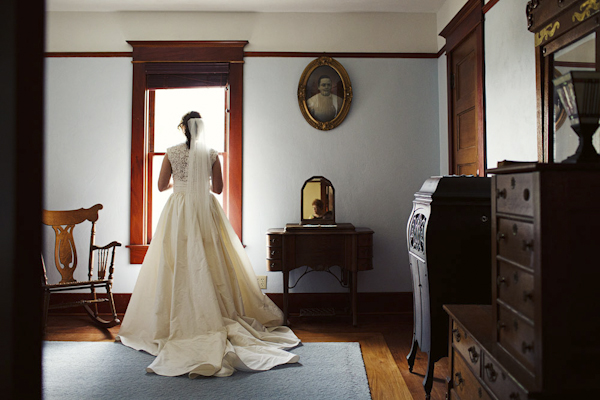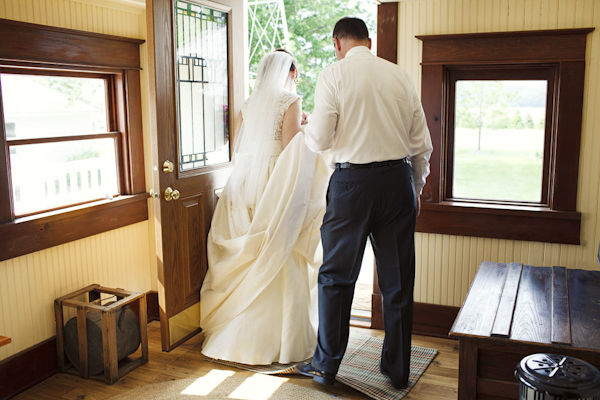 Junebug: What three adjectives describe your wedding best?
Emily and Matt: Dramatic, Unforgettable, Intimate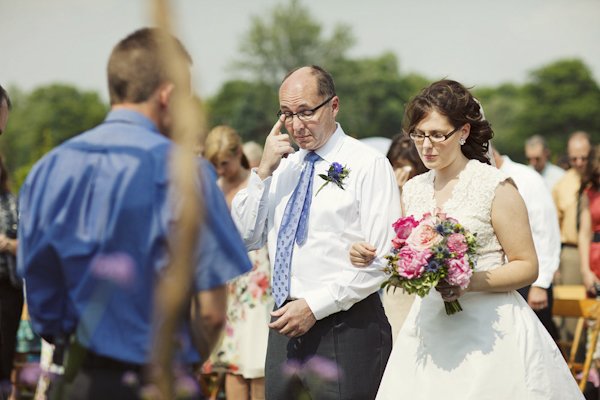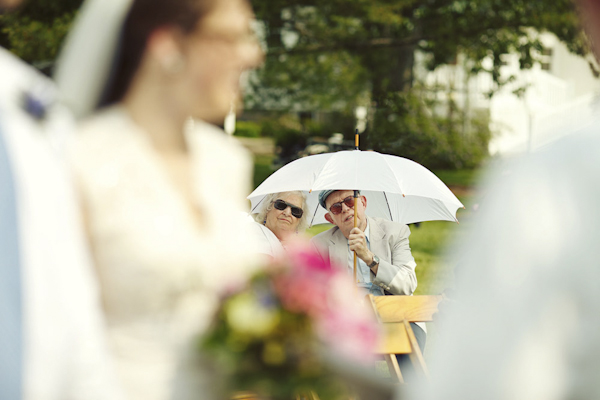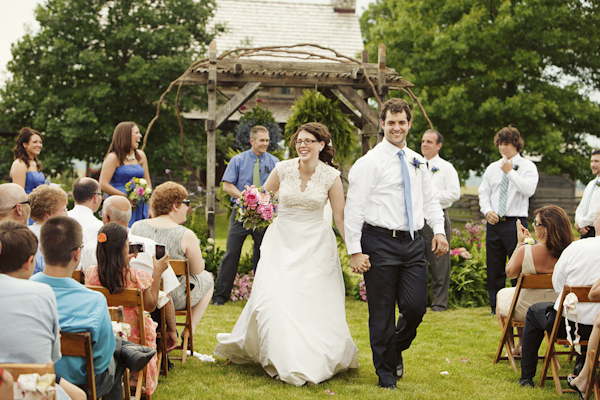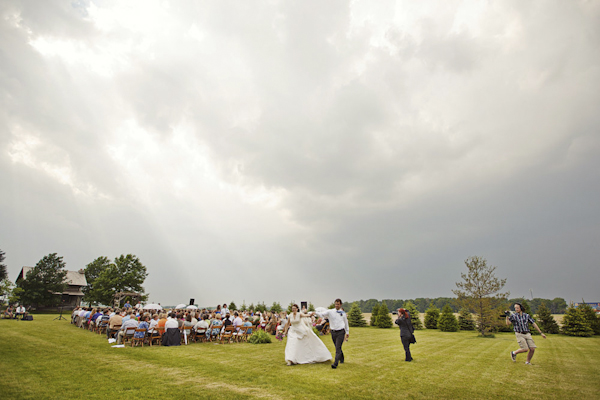 Junebug: Is there anything else you would like to share with us about your wedding, your love story or your lives?
Emily and Matt: We are so blessed to have worked with the people we did. From the caterers getting everybody fed before the tent collapsed, to Lori making sure the everyone was safe and keeping things running smoothly, to Bobbi and Mike who were able to get fabulous pictures despite the unfabulous weather, we just can't say enough about how wonderful everyone was! Our guests and family were all amazing, laughing and keeping calm despite the crazy conditions. God really protected us through everything and in the end, we were married and that's all that really mattered.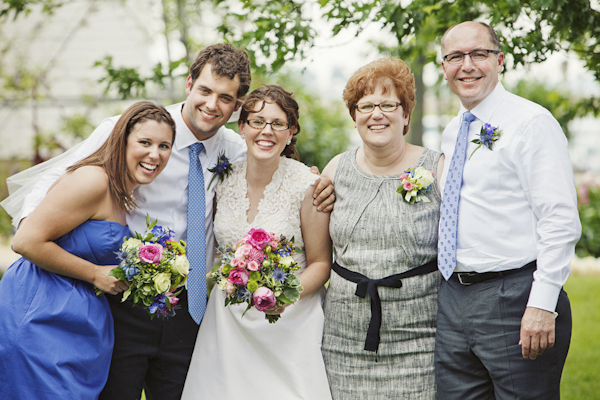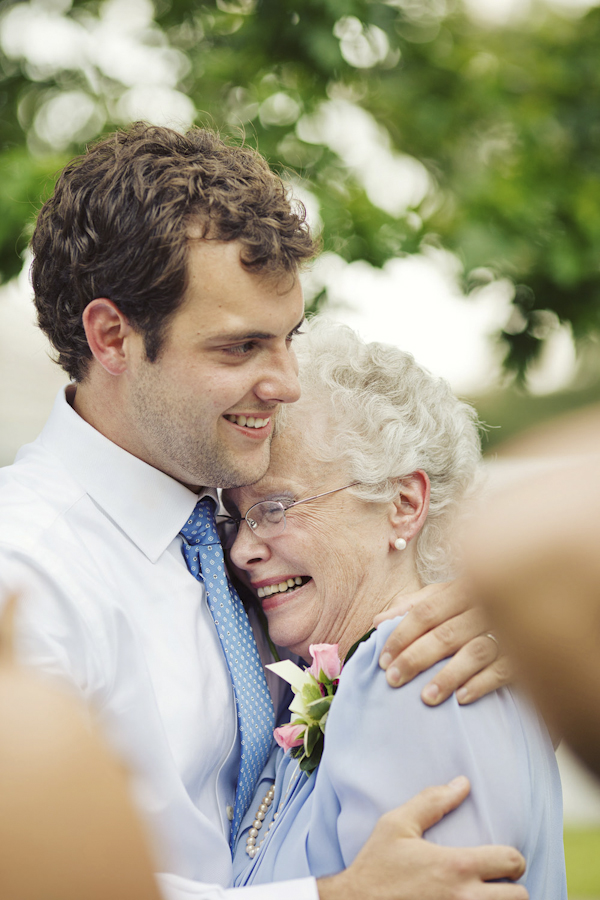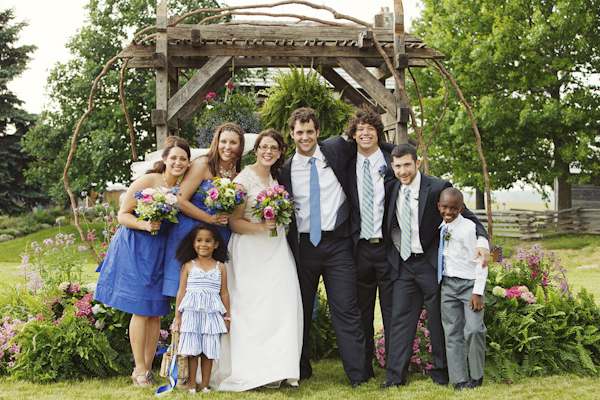 Junebug: What were you looking for in a photographer?
Emily and Matt: Someone who was fun and relaxed and could make us feel comfortable and have a good time. Both our families value pictures, so it meant a lot to us that we got some good pictures out of everything.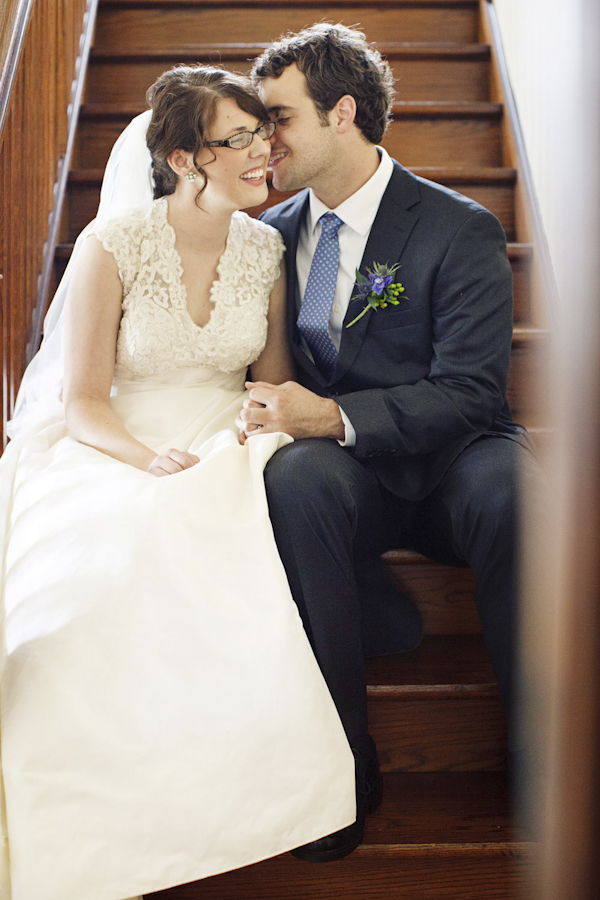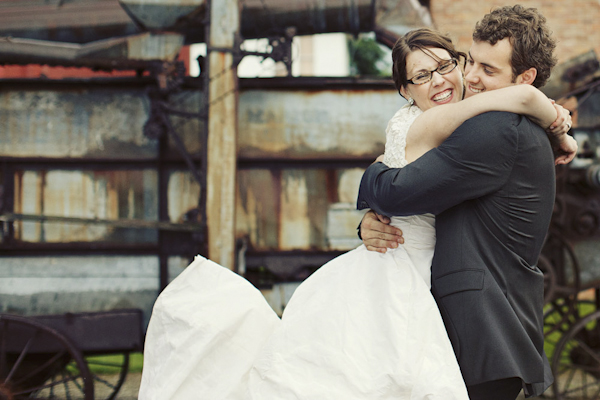 Junebug: What specifically drew you to Bobbi + Mike and their imagery?
Emily and Matt: You look at the pictures and one they are ridiculously good, and two they just seem to capture all the love and happiness between the people. We wanted the pictures to be natural and fun and capture both of our personalities. And then after meeting with them and talking with them for a bit seeing their love for each other, needless to say we were hooked.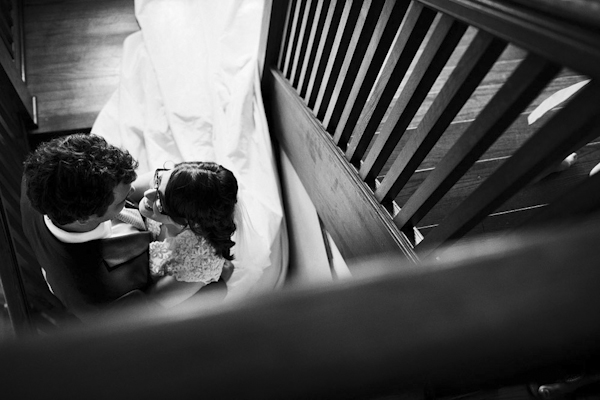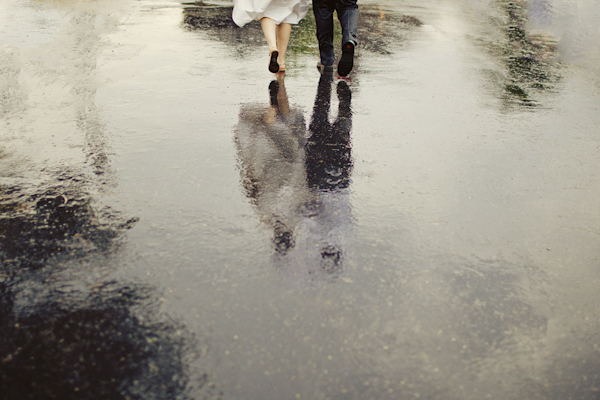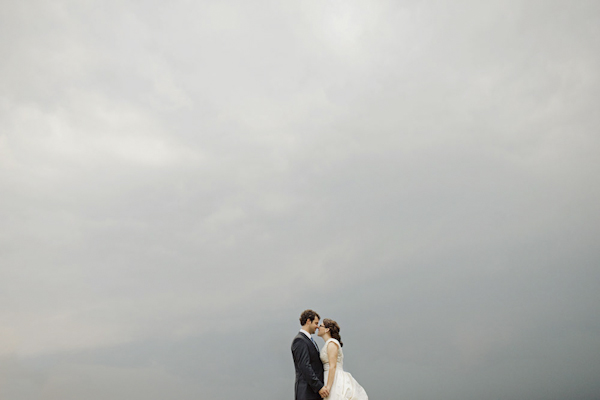 Junebug: What did you enjoy most about working with Bobbi + Mike?
Emily and Matt: Through all the chaos I knew we were going to get awesome pictures. They were so professional through all of the craziness and honestly made us laugh so much. It felt like family taking pictures of us and I think you can see that in the pictures. We just can't say enough how amazing and wonderful Bobbi and Mike are!
Junebug: What was the most memorable moment of your day?
Emily: Hearing the rest of the maid of honor speech and the best mans speech after the storm. With no microphone, no lights, them tag teaming it, and the people we love the most around us. That was just wonderful.
Matt: Definitely would have to be seeing the tent fall down. You cant really beat that!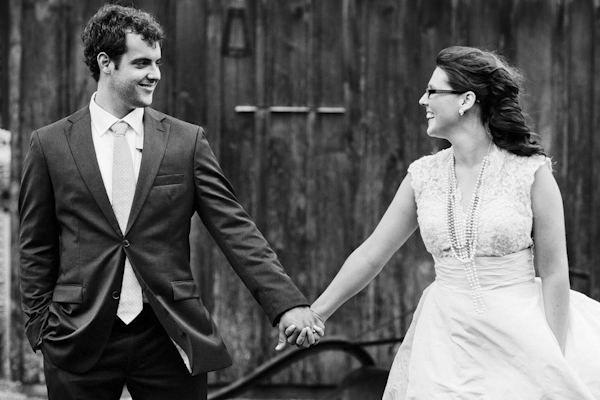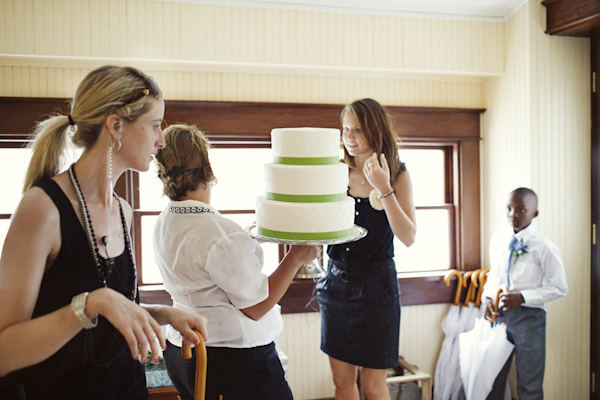 The Photographers: Bobbi and Mike
Junebug: How did you approach this particular wedding and what did you most want to capture during shooting?
Bobbi and Mike: We ask ourselves, "if this were my wedding, if this were my heirloom, how would we want it photographed?" We approached it the way any photographer should… it's the most important day of someone's life, they've entrusted us to capture it, and we give it our 100% and do the best possible job we can do… regardless of the situation.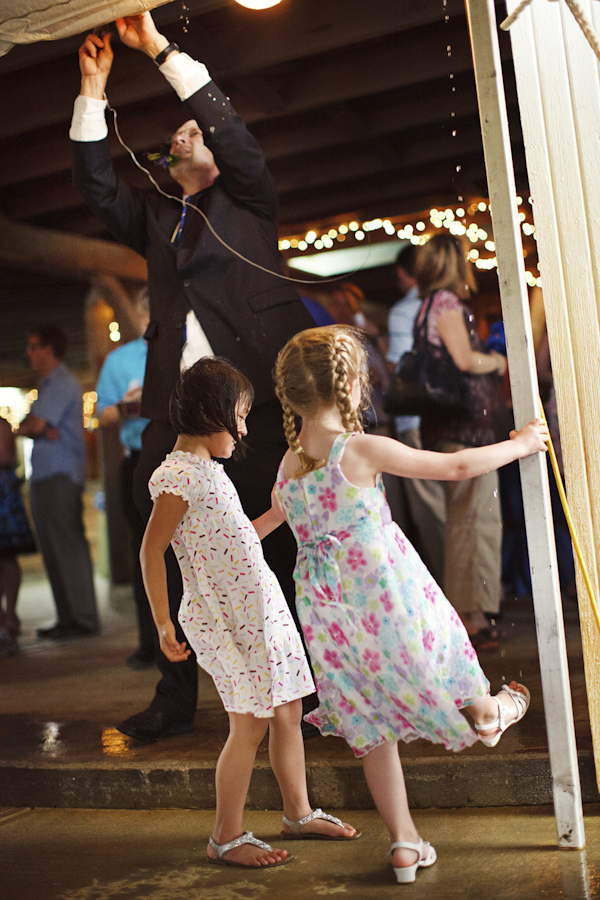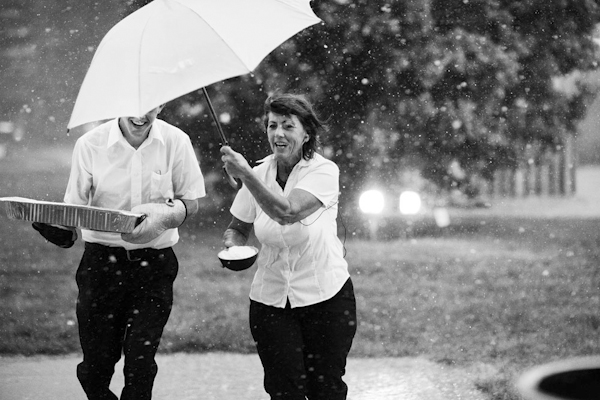 Junebug: Were there any special photographic requests from the couple that made this wedding especially exciting creatively or personally?
Bobbi and Mike: I always ask the bride, "What part about today you are MOST looking forward to?" That way I know to be ready when that moment comes. Emily's answer, "I'm just excited to be getting married!" So, to answer your question… there weren't really any special photographic requests. They simply wanted their memories photographed… and that's exactly what we did!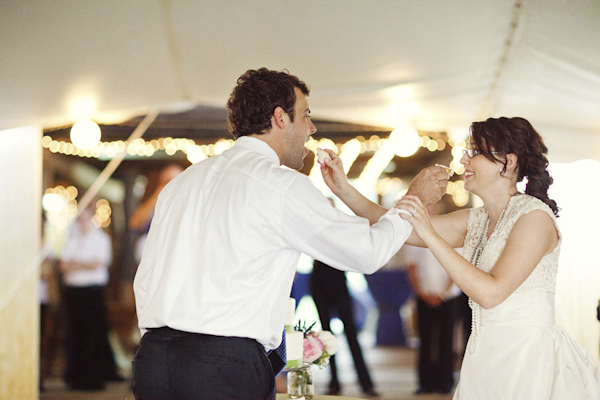 Junebug: What was the most fun part of this wedding for you to photograph?
Bobbi and Mike: We loved it all. We loved their families. We loved their wedding party. But most importantly, we loved that, at the end of the day… in spite of some crazy things that happened… Emily and Matt never stopped smiling. They knew that they were married and surrounded by all of the people who love them most.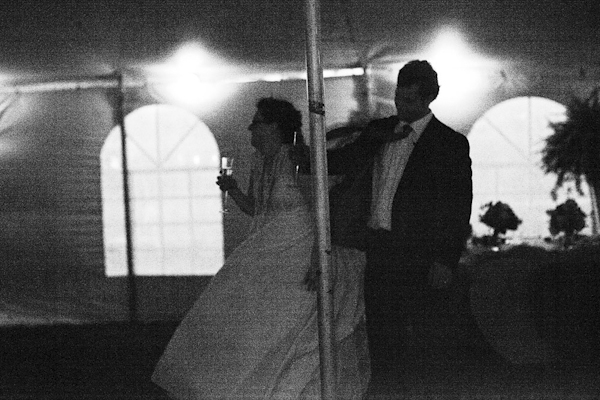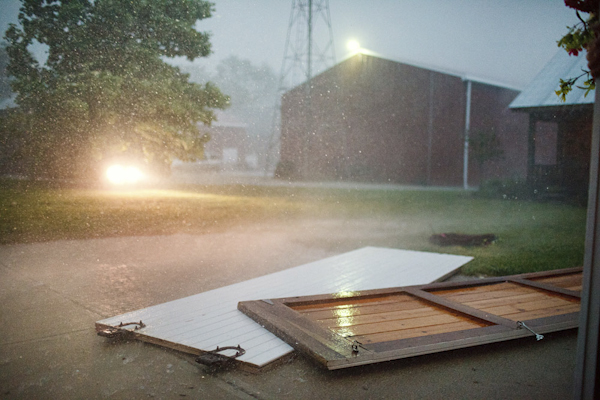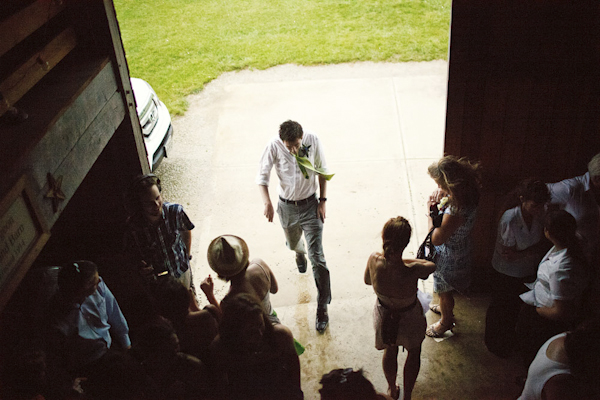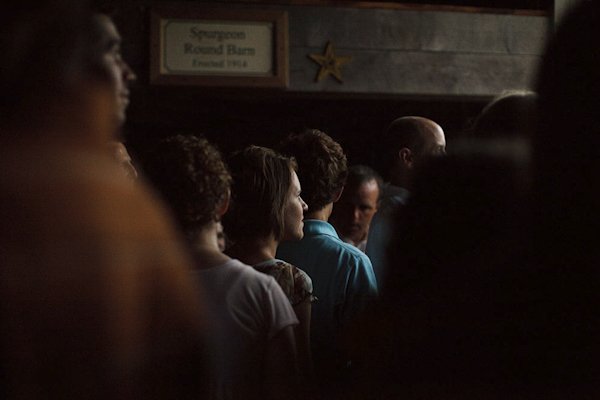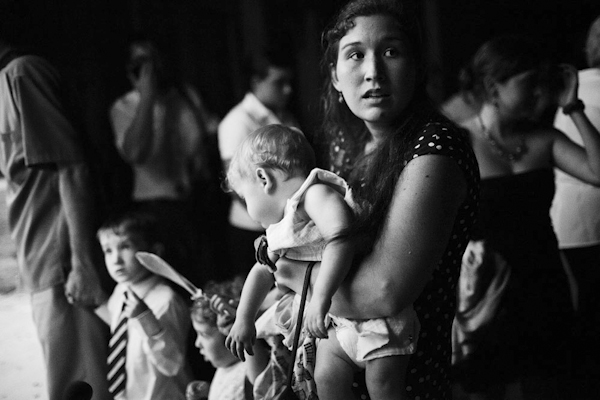 Junebug: How did the locations available to you affect the type of images you shot and how you shot them?
Bobbi and Mike: The locations didn't affect the type of images we shot as much as the weather did…we had to work fast and work with what we had within a VERY close proximity!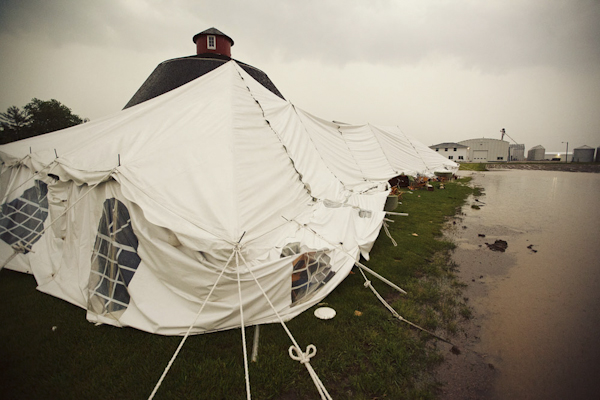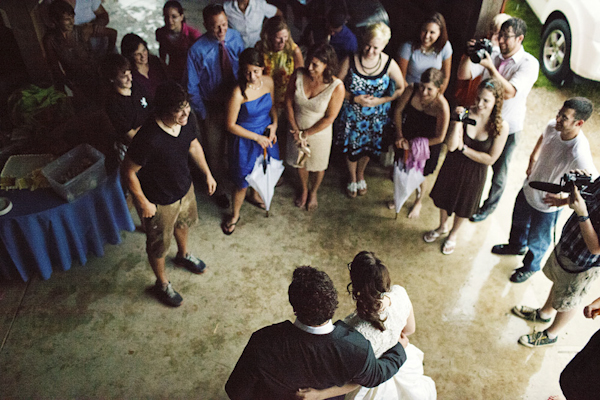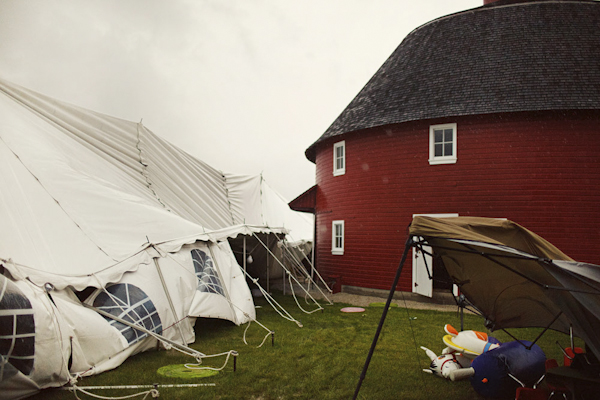 Junebug: Were there any special locations you were able to choose that made for really great images? (Great light, amazing backgrounds, interesting contrasts, etc)?
Bobbi and Mike: The house we waited in as the first storm passed over had amazing natural light that created some incredible black and whites. As the second, and much more major storm was a brewing, we took a photo of them with the clouds in the background… and it was pretty awesome!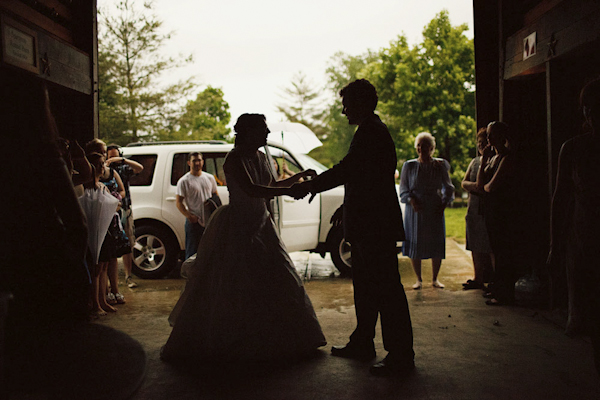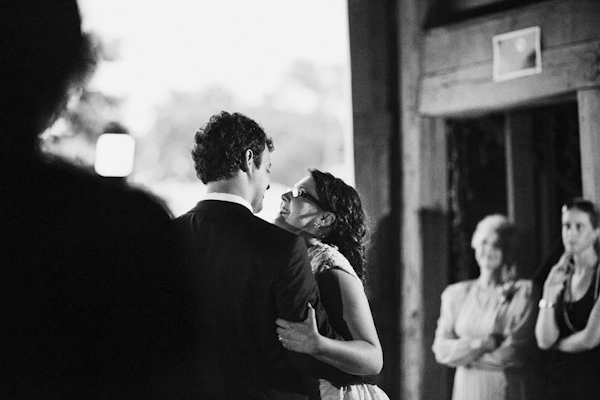 Junebug: What kind of equipment did you use while shooting this wedding?
Bobbi and Mike: Nothing out of the ordinary. Our standard mix of 5DmarkII's and prime lenses.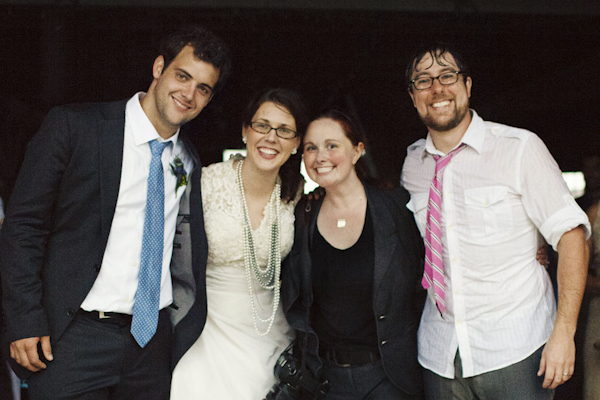 Junebug: Emily and Matt, any advice for future brides and grooms?
Emily: Dont worry about the little stuff. Unfortunately not everything will go perfectly, but enjoy it! Its the best memories you have when things go wrong. And in the end all that matters is that you're married!
Matt: DON'T PLAN AN OUTDOOR WEDDING!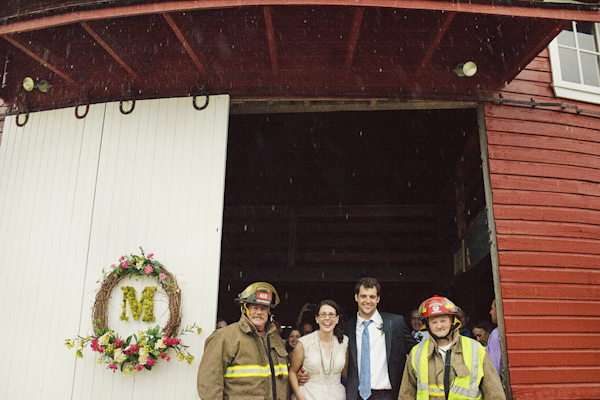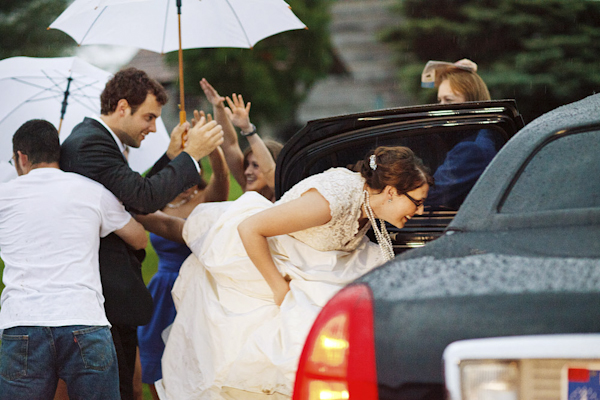 Wow, what an adventure! We're so glad you're all alright and here to share the story with us! Thank you again, Emily and Matt, for sharing your inspirational wedding with us, and thank you Bobbi and Mike for the gorgeous images!
To learn about all of the wedding professionals who brought this wedding to life, be sure to visit Emily & Matt's page in our Real Wedding Library!